BILL'S [Somewhat] WEEKLY COLUMN/BLOG PAGE
Go Get ' Em Ol' Man !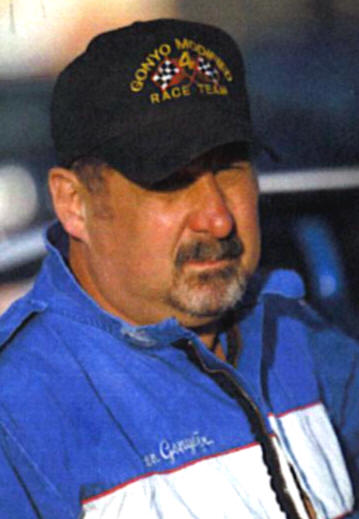 Devil's Bowl Site Photo

More than once I heard someone in Leon Gonyo's crew send him off to race with a hearty "Go get 'em, ol' man !" Leon had been racing a long time and had rightly earned this kind of loving affection from his crew and fans – but he didn't seem old. We lost Leon, while he was taking a familiar victory lap, at Devil's Bowl this last Saturday.
I had a great conversation with Leon not long ago at Devil's Bowl, and I was relishing the fact that he now knew me well enough to actually want to hold a conversation. Before this year, it was a little like pulling teeth to get much out of him. Besides trying to trace where his first race car might have ended up, we also discussed our ages [both in the 60's] and he pondered how much longer he would still "feel like racing", as he had put it that day.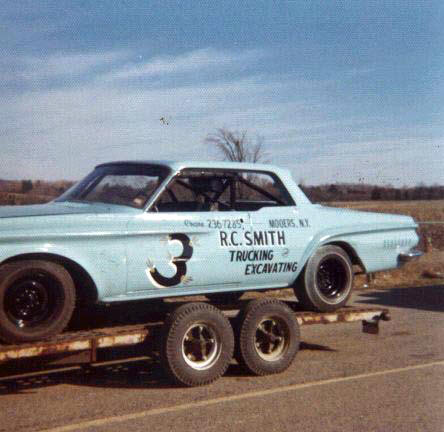 Ladabouche Photo
I am convinced this was the first Gonyo car. Jim Cayea turned it over to Leon after he [Cayea] started using the Charger car shown below.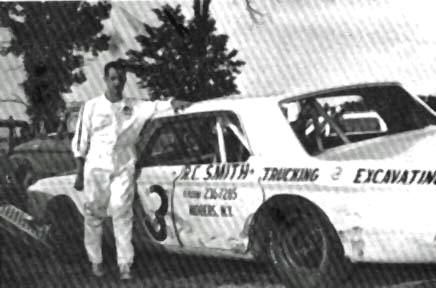 Ladabouche Collection – Source Unknown
From what I can determine, Leon had gotten into racing with a nudge from Airborne Speedway veteran Jim Cayea, then from Alburgh, VT. Cayea had already appeared at Catamount Stadium with a 1962 Dodge automatic transmission Hurricane Division car and finally eased out of there to concentrate his efforts at Airborne in its very similar Charger class.
Leon recalls Cayea helping him to get a similar Dodge with which – according to Gonyo – he made his racing debut at Catamount around 1975. As nearly as he can recall, it was a black color scheme with the familiar orange 4NY he would use frequently in his earlier racing days. I am fairly sure Cayea built a better Mopar to run in the Chargers at Airborne and maybe even Devil's Bowl and Albany – Saratoga.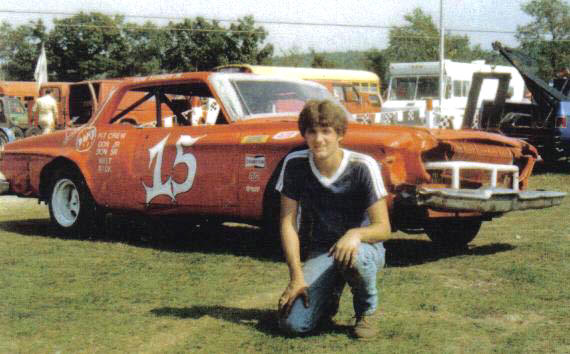 Courtesy of Andy Boright
Don Turner, Jr., in his first and only racing season, had the Dodge. Note the similarity between this car and the blue one above.
What you cannot see is that the bars inserted in the grill are the same in both shots. Gotta be the same one. Below – A young Leon
poses with the Cougar in this black and white publicity shot for Plattsburgh International Raceway.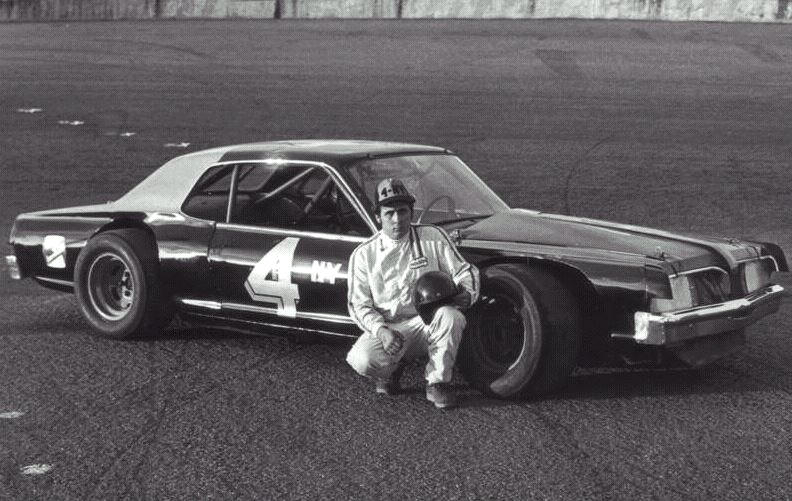 Courtesy of John Neveu

So, it is likely the original Cayea '62 Dodge went to Leon. Although Leon could not be sure what he did with that car, I am convinced the car enjoyed a long run in the Hurricanes at Catamount until the class was first merged with the six bangers and then phased out. It appears as though the last one to race the car is the present day Vermont Republican minority leader, Don Turner, Jr.
As Airborne suffered through considerably less prosperous times than its Vermont neighbor Catamount, Leon would field various cars [almost always Ford products] in whatever kind of division Airborne's latest administration was running. We have seen a Mercury Cougar he ran with the late models in the late 1970's. They ran until the track was taken over and turned into a dirt oval.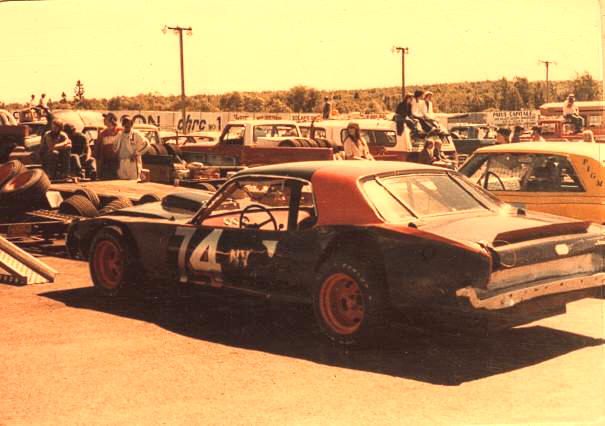 Courtesy of John Neveu
Leon's Cougar sits in the pits at Autodrome Val – Belaire around 1979. Below – Same car, awaiting some service at
Airborne around the same time.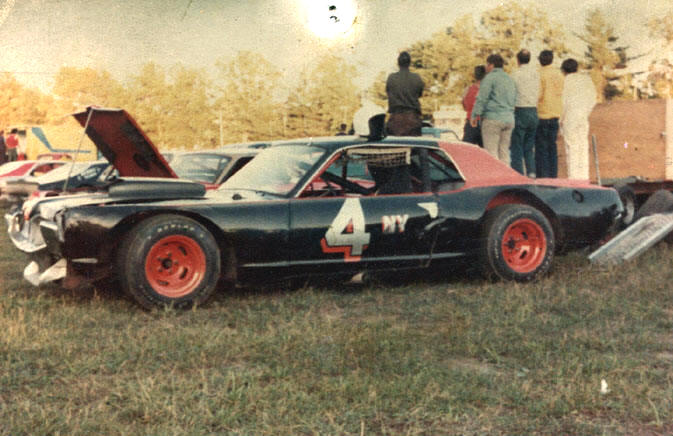 Dan Jerry Photo Courtesy of Jim LeClaire
The Gonyo Cougar was characteristically black, with some orange on the roof, a silver 4 with orange shadowing. While most of these Airborne late models were not running with the big bucks that were going into their NASCAR counterparts across the lake, the Airborne cars did run not only at the home track but also at some Canadian venues such as Autodrome Val-Belaire. Joining fellow Ford loyalist Danny Bridges, Gonyo could be counted upon to always be competitive. This Airborne bunch included the likes of Robin Branham, Bob Brunell, Bridges, Bernie Griffith, Vern Bruno, Charlie Trombley, and many others.
With C.J. Richards taking control at Airborne, the track was shortened from the long, flat [and deteriorating] pavement oval to a shorter, more banked dirt track somewhere between 3/10 and 4/10 of a mile. Leon came out with a dirt modified, sponsored by a Ford dealer and powered by a Ford engine. This was not common in those days when the Troyer Mud Buss, the Olsen Eagle, and the Conkey Show Car were all the rage. The motor of choice was usually General Motors.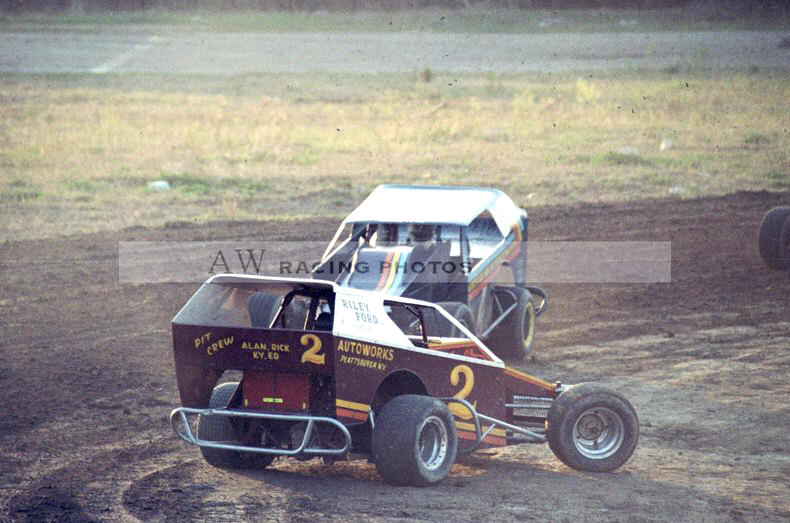 A and A Ward Photo
Leon loops that modified in front of Charlie Wilbur at Airborne around 1985. This is the car that took the spill off the trailer on the
way to the Bowl. Below – Leon, next to C.J. Richards poses with the best of the loyal CVRA drivers who stuck with Richards after
the organization went to the 358 motor in 1986. Among others here are Don Ackner, Don Ronca, and Bob Savoie.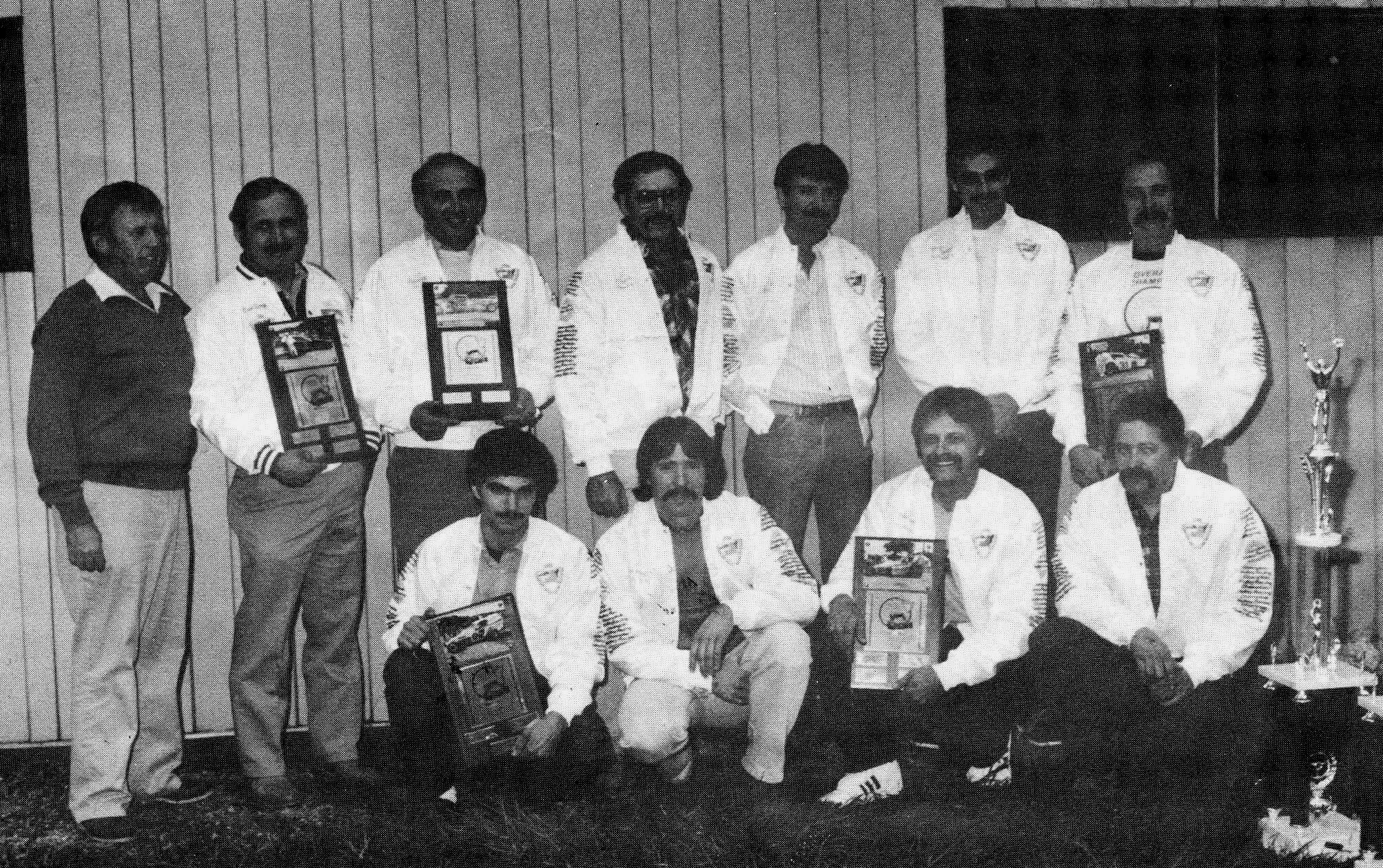 Source Unknown - Likely CVRA Archives
Leon would stick with Richards' Champlain Valley Racing Association when, in 1986, it threw out the revered big block engine and went to a 358 C.I. powerplant that had considerably lower – priced components than what was to be run at places like Lebanon Valley, Fonda, Utica – Rome, Granby, and the myriad of other popular dirt tracks of the day. Many of the steady CVRA competitors thought this was heresy and left; but not Gonyo.
Leon would be one of the CVRA stars, and was very popular with Ford fans. One of his more interesting experiences happened around 1986 on his was down to the track from Chazy, NY. Leon says he was motoring along, already slightly later than he wanted to be for the show at Devil's Bowl, when a careless move by another driver caused him to swerve and dump the stock car trailer over. The tow truck went with it. The results were catastrophic. Someone rushed to help him get what was left of the car onto their trailer and they pulled into the pits very late, to much fanfare.
About half of the pit area sprang to work and got enough of the modified back together so Leon could go out and make himself eligible to race in the feature. I don't recall the results, but he said he did very well that night. The car, as I recall, looked one of those run – what ya – brung jobs where the drivers often take the roof off, and but he ran what he brung !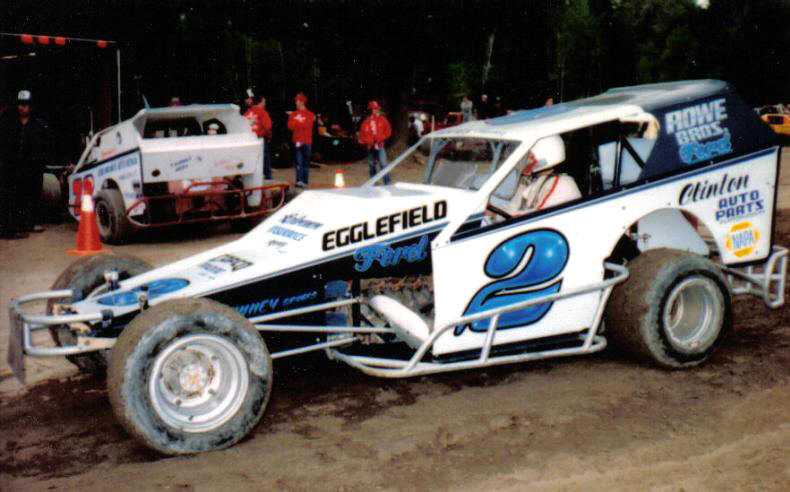 Ladabouche Collection
Leon heads out with one of his dirt modifieds at somewhere like Airborne, Devil's Bowl, or maybe Albany – Saratoga.
Below – Leon, in one of his earlier mods he ran on pavement.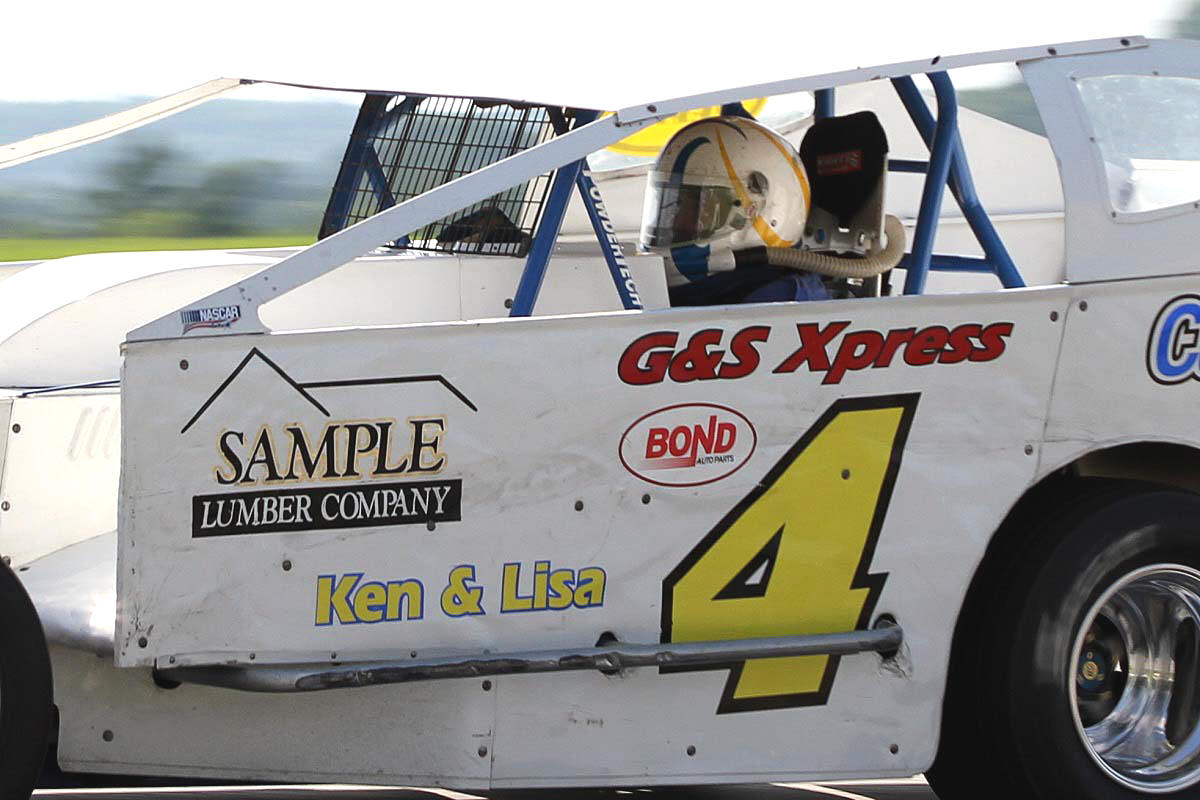 Devil's Bowl Site

Leon would continue dirt racing at various locations even after Airborne was taken over in1990 by ACT and turned back into a paved track. He chose not to get into that scene, running instead at Devil's Bowl Albany – Saratoga, and at some Canadian tracks. When Tom Curley and ACT finally vacated Airborne as a lost cause, fellow driver Mike Perrotte, with backing from his car owner, George Huttig, took over Airborne and decided to run dirt type mods on the pavement [an idea that DIRT's Glen Donnelly had come up with a few years before].
Leon, along with others such as Wes Moody, the Ormsby brothers, George Foley, Matt Woodruff, Bucko Branham, and others formed the first small field of cars to run for Perrotte. Later, as fields increased, Huttig was able to back away as local businessmen Steve Fuller [excavation] and Jamie Atkins [electric utility trucks] came in and injected capital into the track. Leon was one of the new operation's best drivers.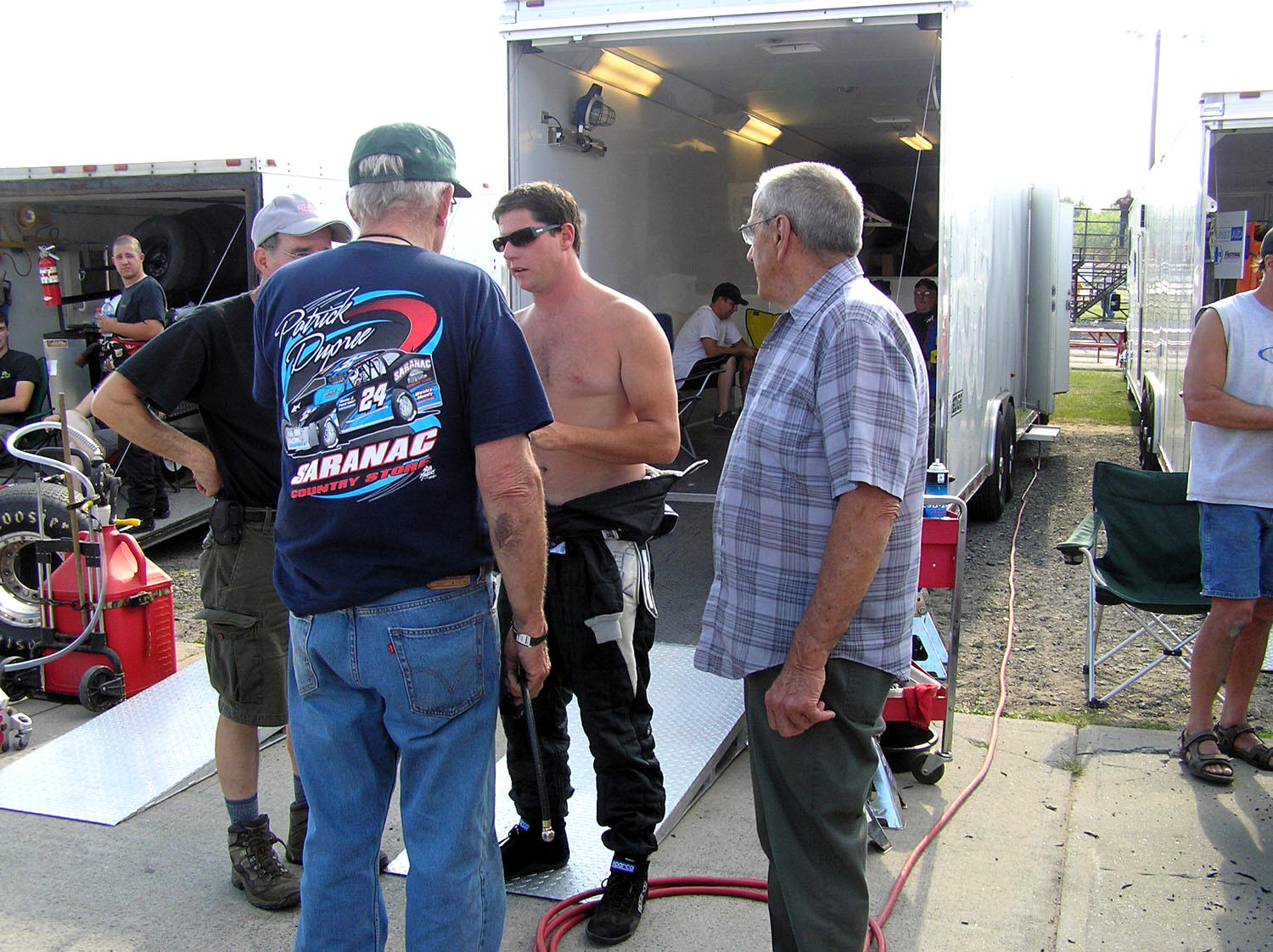 Ladabouche Photo
Leon would join teams like Wes Moody [back to camera] and Patrick Dupree [shirtless] in starting up Airborne's pavement – running dirt mods in 2004. Below – Leon is flanked by fellow "old guys" Vince Quenneville, Jr. and Ron Proctor. Given that several drivers are in their teens, these guys qualify for that term.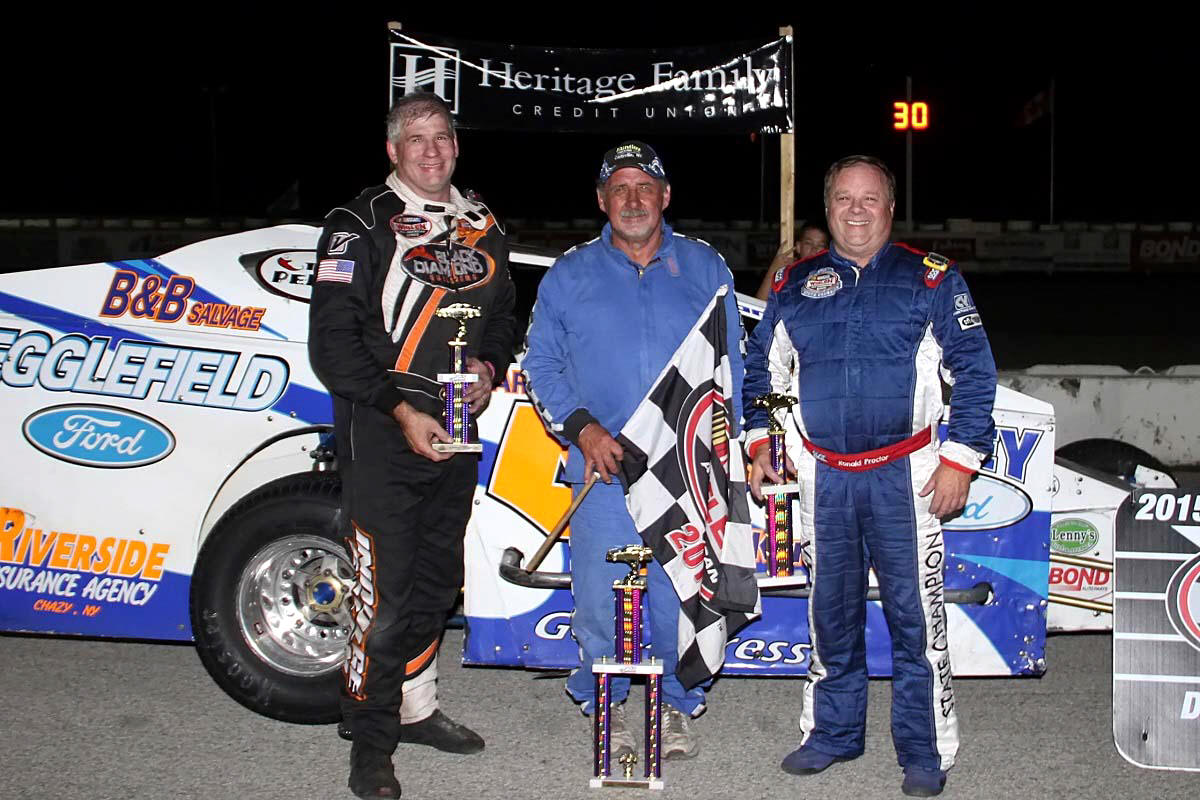 Devil's Bowl Site

Airborne went along on a very successful path with increasing fields and continual site improvement until some teams [most Canadian] began being allowed to come in with very expensive motors and – eventually – with custom made "dirt" mods made especially for pavement. Leon struggled to keep up with these "Troyer" cars, some having $30,000 motors. He finally made the decision to get a Troyer of his own or he would just be wasting time running for fourth or fifth place at best every week.
Although the Troyers have since been "dumbed down" and all motors are now the 602 spec motors, it was a lot like closing the barn door after the horse had already escaped. Airborne and its new NASCAR partner, Devil's Bowl, saw greatly reduced fields of cars. Leon, no longer having to race against so many insanely expensive cars, was back to being one of the top finishers.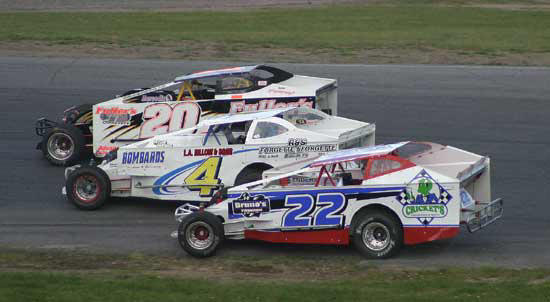 Gene Gagne Photo
Leon is flanked by Bucko Branham in this Airborne action. Also in the hunt is his last promoter, Mike Bruno in the 22.
The arrangement for the past few years was to run Devil's Bowl on Friday nights and Airborne on Saturday nights. Sometimes, the 4 team had a car specifically for each track; lately, they had changed the setup on the Troyer and kept the other car for dirt racing. Leon was still good at the dirt, running the occasional shows Mike Bruno would have at the Bowl with his little track inside the regular paved oval. No matter what the race, Leon was one of the stars.
Leon was a part of a small, but very good core of drivers who could be counted upon for some close competitive every week. While Leon ran both tracks, veteran Ron Proctor ran mostly at Devil's Bowl. Vince Quenneville, Jr, often races at both, as does Greg Atkins. Young Nick Heywood, representing the new generation, has become a force – particularly at Airborne. Race Director Mike Bruno hopes to build his fields back up from the relatively small fields he now has to work with at both tracks. With the loss of Gonyo, he will be without a major cog in that machine.


KC Photo Video
Leon dices with Jessey Meuller in 2014. Although both were running Troyers, the stark difference in operating budgets made it hard for Gonyo to compete. The 4 is covered with sponsors – many of whom are friends such as "Ken and Lisa" and his dear friend Geoff Trudeau. They gave what they could.
The Gonyo team has had the same loyal group helping him for a number of years. I am embarrassed to say that, other than Geoffey Trudeau, I don't know the names of the other guys; but suffice it to say there was no more enthusiastic or loyal team. When other drivers, such as West Chazy's Mike Wells, had a disaster at the track, the Gonyo team would be the first to help and the last to leave until the car was either fixed or declared as hopeless.
Leon was not, at least when I saw him, a particularly emotional man. He was enormously popular in the pits and the grandstands but was not a man to call much attention to himself. He went through a very rough patch this season when, in the space of around a fiscal month, he ran out gas in two races in a row and suffered wrecks in some other races. When he came in from running out of gas at Airborne, the second night in a row, I never saw a man any angrier. I really thought he was going to give himself a heart attack he was so exercised in that still car.
I guess he waited for a different time to do that. As Justin St. Louis said, what a great way for a race driver to go ….with a checkered flag in his hand. Good – bye, Leon – I'm gonna miss you ! We all are.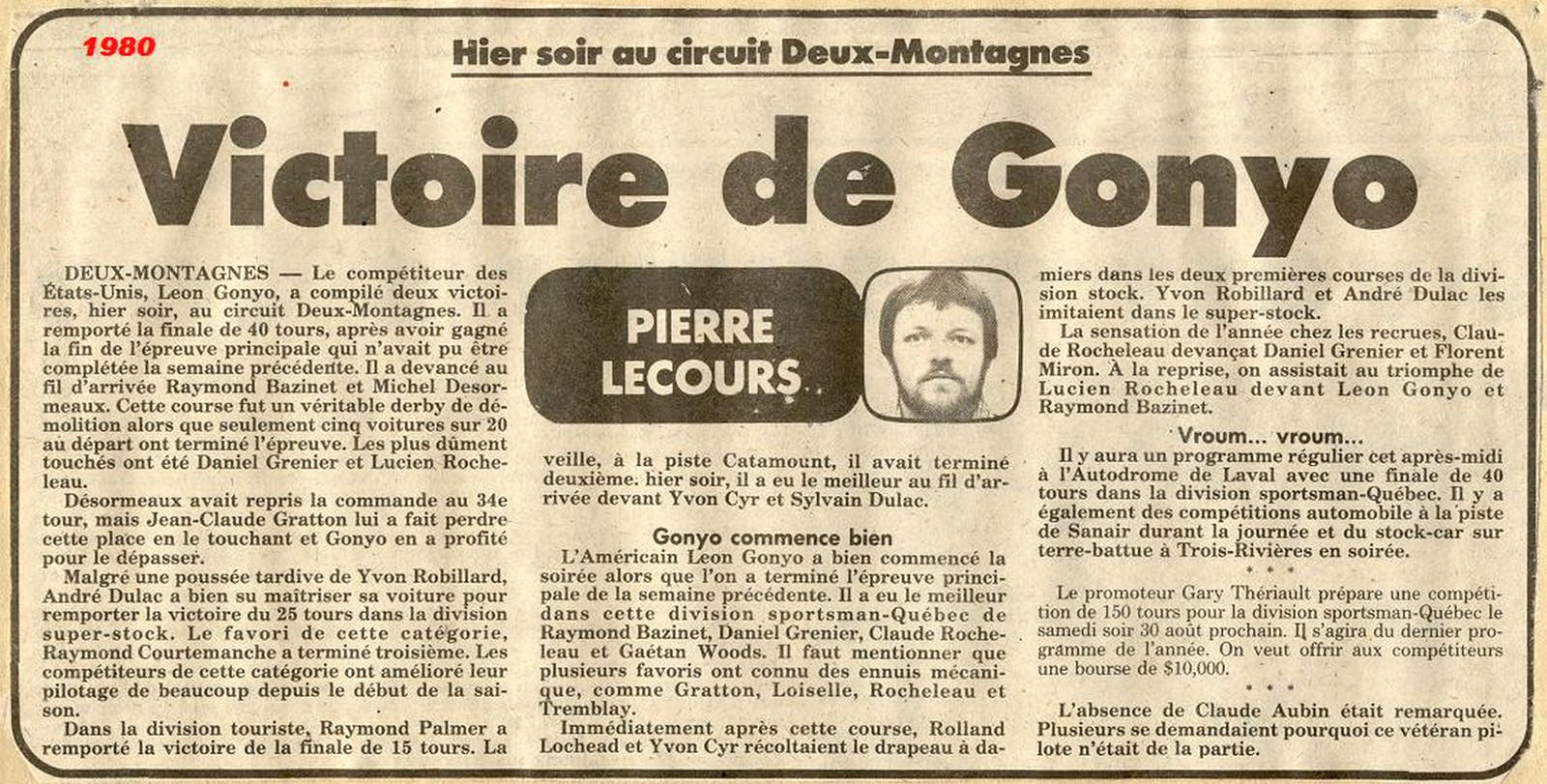 Source Unknown

This article from the '80's shows the high level Leon always kept his race operation running at. Below – Leon, goin" and getting' em'. God Speed.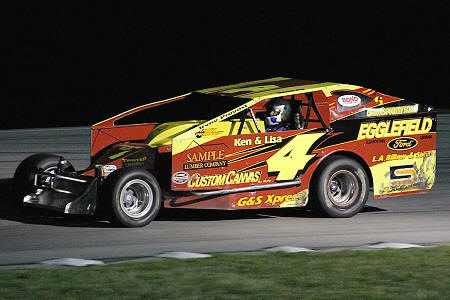 Devil's Bowl Site

Please email me if you have any photos to lend me or information and corrections I could benefit from. Please do not submit anything you are not willing to allow me to use on my website - and thanks. Email is: wladabou@comcast.net . For those who still don't like computers - my regular address is: Bill Ladabouche, 23 York Street, Swanton, Vermont 05488.
AS ALWAYS, DON'T FORGET TO CHECK OUT MY WEBSITE
www.catamountstadium.com
Return to the Main Page
Return to the Main News Page
Return to the All Links Page
Return to the Weekly Blog Links Page