THE BILL'S BACK IN TIME COLUMN PAGE
Copies of my column in Mark Thomas' "Racin' Paper"
BILL'S BACK IN TIME
By Bill Ladabouche
Column 71 From Original Column 86
BILL'S BACK IN TIME
By Bill Ladabouche
THOSE LITTLE NEW HAMPSHIRE COUPES
In the earlier days of stock car – let's say from the late 1950's to the early 1960's – the predominant car style to come out of the state of New Hampshire was that little, early-30's, flat-topped, flathead – motored coupe. While Ernie Gahan was one of the sole exceptions to this, making his way with the NASCAR – style 1936 Chevy sportsman coupe, even he started out with a flat-top.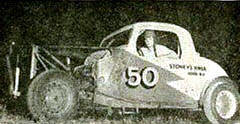 This very early shot of Ernie Gahan shows his only New Hampshire – style coupe. [Maine Vintage Racing Site Photo]
I would not make such note of these cars except for the fact that New Hampshire racers were highly influential in Vermont stock car racing. Up North, the Northeastern Speedway, in Lower Waterford, and Barre's Thunder Road International Speedbowl numbered, among their biggest stars Granite Staters like Ronnie Marvin and the famous Ingerson Brothers. Add to them, Harold Hanaford, and you had a big percentage of the top talent at those tracks.
In the Rutland / Addison County region, drivers had come in – to Fairmont and Otter Creek Speedways – from the Cheshire Fairgrounds of Keene, NH and from the race track at Claremont, NH. In that region, the stars included Sonny Rabideau, Art Cody, Buddy Bardwell, Ted Brown, and Cecil Bosworth [whose car was from New Hampshire].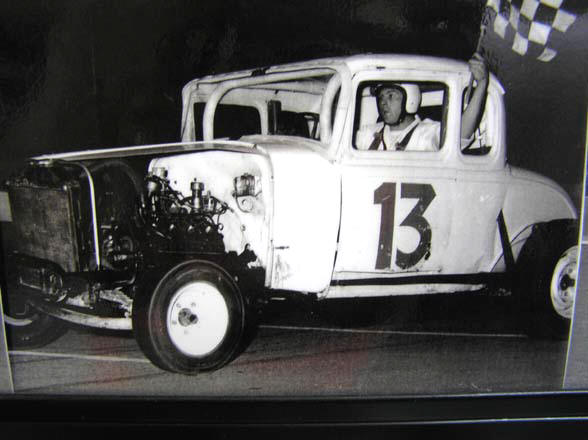 The huge and menacing Ronnie Marvin with a victory at Northeastern around 1959. [Courtesy of Cho Lee]
In the very southern reaches of Vermont, West Brattleboro Speedway saw a lot of New Hampshire drivers, while Bennington's Stateline Speedway was dominated by New Yorkers. Some of the sports more active teams, actually impacted all three regions within the space of a racing season. The best examples of these were Bardwell and Bradford, Vermont's George Barber, whose race operation was clearly New Hampshire – genre.
That which I call the New Hampshire – style coupe, was an early '30's, usually three - window, flathead coupe. The coupe was mounted low on a frame with any unnecessary weight removed. I suspect the roll cages were minimal. Many of these cars had cabin – mounted air cleaner systems to keep dust out of the intake. Hoods seemed optional and, often, the over-seized radiators rode up so high in the front that vision was not always clear for the driver.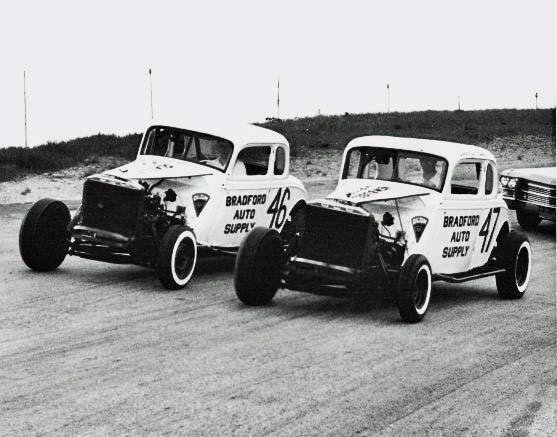 The last two of the original George Barber cars sit at Thunder Road, around 1962. These were driven by Pappy Forsythe and Leland Ingerson, at that time. [Courtesy of Cho Lee]
In those days, the wide racing tire was not being used at most tracks these little coupe competed at. Today, when you see them at vintage meets with big racing slicks, it isn't particularly accurate. I m sure I saw an early version of Bardwell's cars at Pico, as well as the occasional visit from George Barber [with Pappy Forsythe at the wheel]. But, the first time I was completely aware of them was in 1958, when my uncle and I drove up to the town of Colchester to see a widely – advertised extra – distance race at Colchester – Bayview Speedway [better known as Malletts Bay].
The little yellow #33 of Art Cody stiff-hitched up US Route 7 behind, most of the way. I had mistakenly thought the car, whose number I couldn't read en route, was the car of Henry LaVictorie. The car was definitely familiar, so Cody must have also driven at Pico. It took until the 1962 opening of Fairmont Speedway to really get a look at the Granite State contingent. That first year, Bardwell won early features at the track; Rabideau and Cody were frontrunners, and lesser stars like Dick Gerard and Walt Brown, Jr. were picking up heat wins.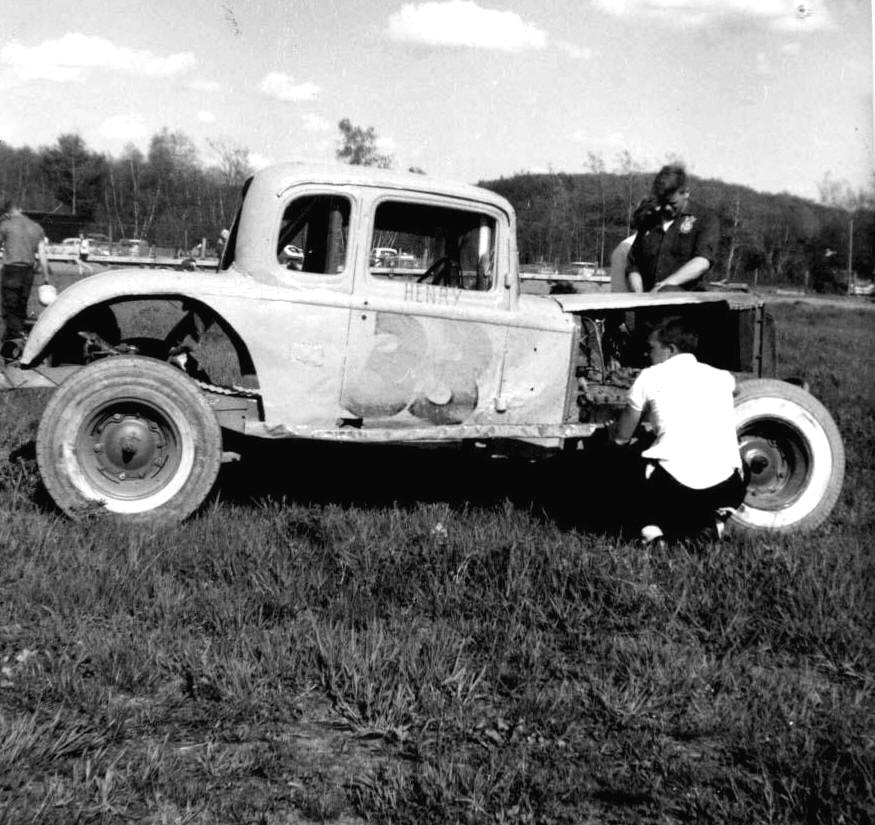 Art Cody's car was the first I could remember. Here, he walks away exhaustedly as
the crew tries to see what is causing problems. [Ladabouche Photo]

Then later in the season, Keene's Ted Brow showed up with a silver and maroon sedan drilled full of large holes to lighten it up. Brown would absolutely demolish that car in spectacular fashion that year, and finish up the year with a coupe with which he did very, very well. If had to make a value judgment of the 1962 season at Fairmont, I would have to say the New Hampshire stars outdid the New York stars in that particular season. This might be because the best of New Hampshire was coming over, as opposed to the Empire State teams who couldn't afford to run at Fonda.
One of the New Hampshire teams which actually came from Vermont was that of Londonderry, Vermont's Henry Abbott, who brought in a chopped – down little white three – window coupe #44. Abbott and owner Joe "Timmer" Majeski did not appear at the beginning of the year at Fairmont, but they managed to take at least two or three features later in the year. Abbott's car was absolutely minimal, in terms of sheet metal and bracing, and the car fairly flew when the pair was on their game.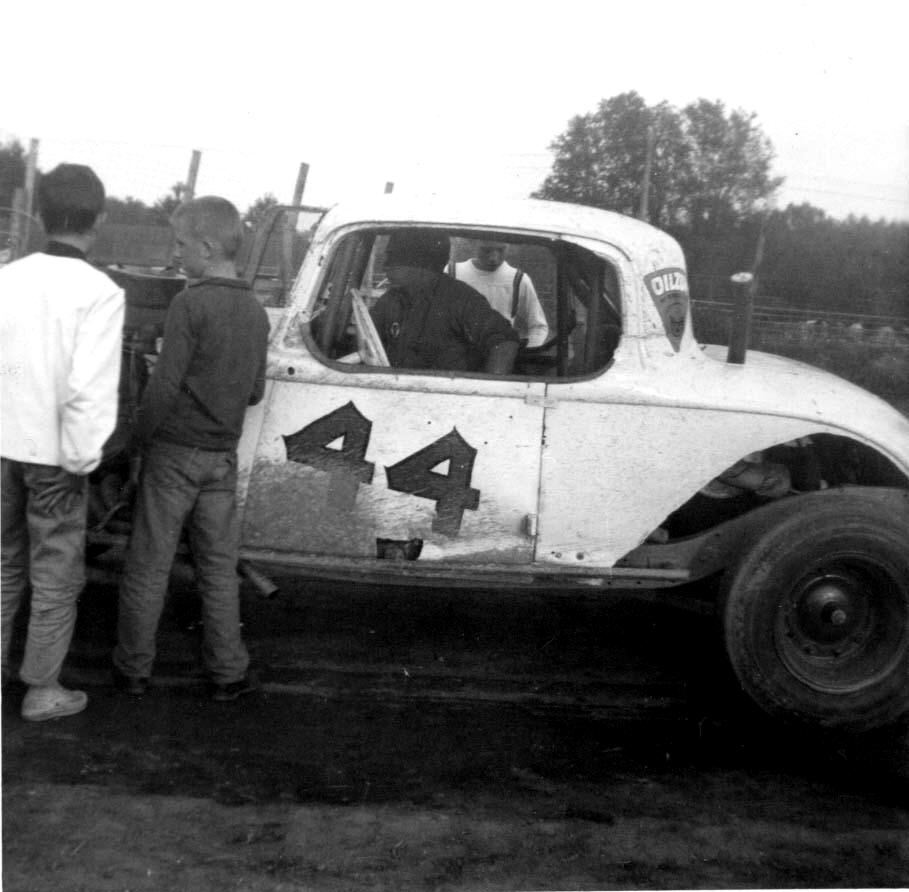 Henry Abbott sits in the coupe and waits for owner Joe Majeski to get him a tool after
races at Fairmont in 1962. Note admiring kids. [Ladabouche Photos]
I recall coming into the infield at the end of one particular program at Fairmont, and Abbott was sitting in the car, fussing with something that probably had to be rectified before they could stiff hitch back to Londonderry. Local kids were gazing Abbott, serenely puffing on a Camel, waiting for Majeski to bring him a wrench. Few other cars left at the track were commanding that kind of attention.
From what I can ascertain from Cho Lee and from others who know the most about Northern Vermont racing in that same period, very similar cars were run at Northeastern, Groveton, and later at Thunder Road. Apparently some Keene area drivers like Mike Cody, Larry Davis, and Bardwell would venture up the Nation's Site of Excitement and make Marvin, Hanaford, and the Ingerson brothers work for their trophies. Vermont had some good drivers and teams, too, but the Granite Staters were a stronger force, overall.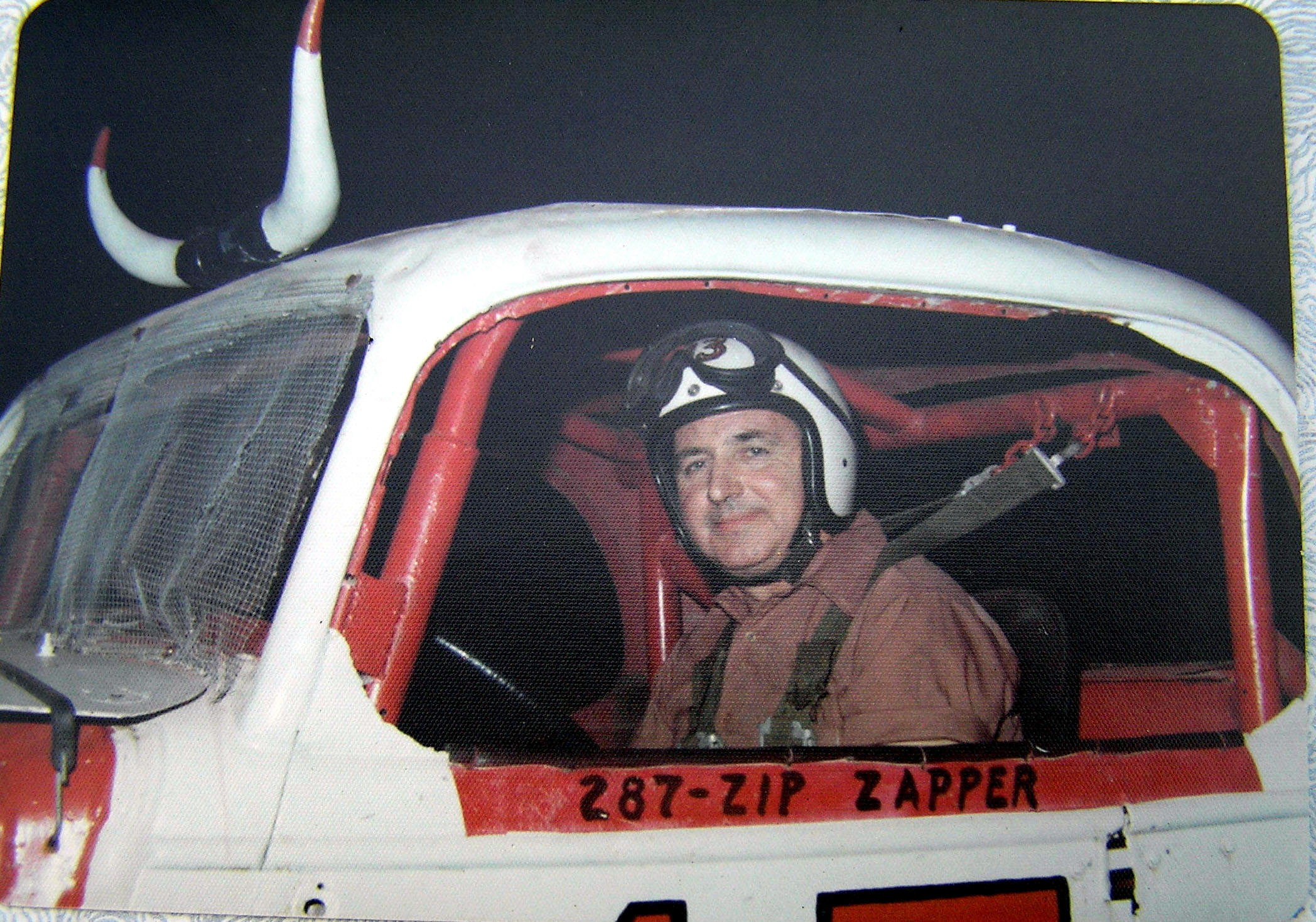 Keene's Buddy Bardwell covered a lot of ground with his Hudson and
won races about everywhere he went. [Courtesy of Paul Zampieri]
One could assume that any Eastern Vermont racing was ripe for the picking by their neighbors across the Connecticut River, and that the Western side might suffer the same fate by the New York contingent, across Lake Champlain. This was not true, however – at least not in 1962. Fairmont was the stomping grounds of the Claremont/Keene boys, and Malletts Bay was about a tossup – between the local Vermont drivers and some of the guys from Airborne Speedway in New York. As a matter of fact, the Green Mountain drivers could actually raise a ruckus in New York. You seldom heard of this same thing, in regards to Vermonters dominating in New Hampshire – at least not in the very early '60's.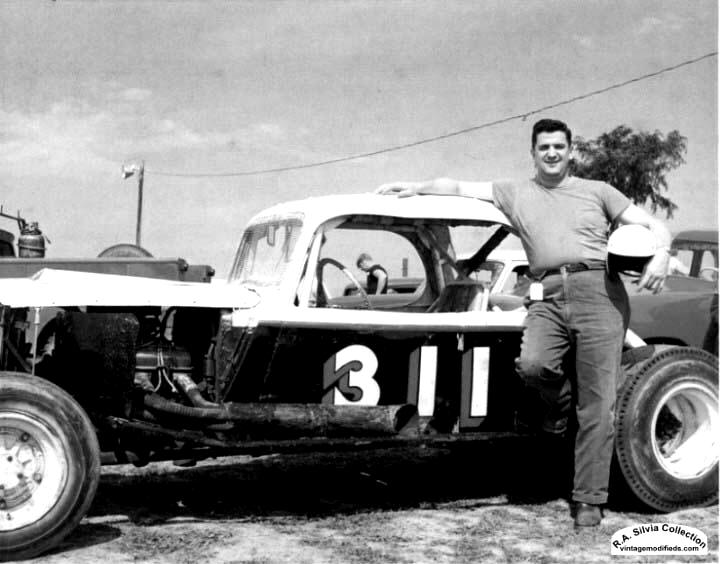 Moran "Sonny" Rabideau, a Vermonter, drove Stroker Smith's cutdown 311 to dozens of victories and the NEAR Hall of Fame. [Courtesy of R.A. Silvia]
The V-8 engine marked the decline of the New Hampshire Dominance. In 1965, Thunder Road's going NASCAR and bringing in the V-8's from Airborne and Canada marked the end of the flatheat engine there [and they never caught on at Catamount]. CVRA brought in V-8 sportsman cars at Fairmont in 1965 and – after a sort of standoff in the earlier part of that season – those cars eventually drove out the little flat head coupes.
Luckily for George Ingalls, Art Cody, Stroker Smith, and others who stuck with the flathead engine, George Barber opened Bear Ridge Speedway around 1967 or 1968 as a refuge for the beleagured flat heads to compete only among themselves, with no fear of dealing with the overheads. After a fashion, the little flat-topped coupes either disappeared or came back with small block V-8's. Soon, Vermont racing became the realm of the 1936 and 1937 cars with the V-8 power plants; and an important era in Vermont racing was over, only to be reawakened at vintage car reunions.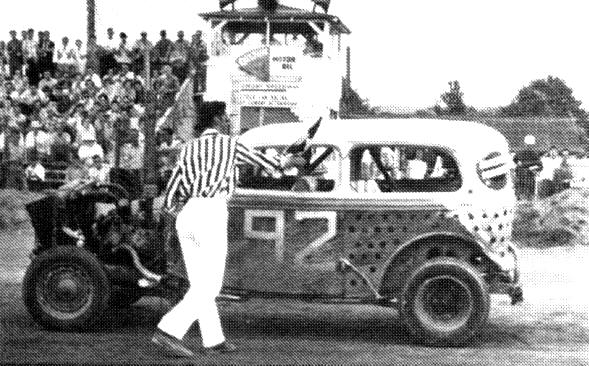 Starter Danny Rumpf awards heat checkers to Ted Brown before Brown demolished
this holey sedan off Turn One at Fairmont in 1962. [Courtesy of Norm Vadnais]
Return to the Main Page
Return to the Main News Page
Return to the Columns Link Page
Return to the All Links Page