THE BILL'S BACK IN TIME COLUMN PAGE
Copies of my column in Mark Thomas' "Racin' Paper"
Column #17 from Column 29
BILL'S BACK IN TIME
By Bill Ladabouche
1968 AN INTERESTING YEAR IN THE VALLEY
Someone sent me an envelope full of info and clippings this week. No return address; no name anywhere in the six handwritten pages of data. Thanks, whoever you are – I have the same problem with my classful of fifth graders. Poor little souls – so few of them were named at birth, apparently. I keep them in from recess; but, I will settle for my anonymous benefactor letting me know who he is.
A lot of the Xeroxed material centered upon Lebanon Valley, its feature winners and points leaders from the mid to late 1960's. I was particularly interested in the 1967 and 68 years. 1968 was especially pivotal in the history of the long-lived Northeastern New York dirt track. Several of the old Valley regulars were still active. But, D.D. Harris was deceased by then; Stretch van Steenberg was apparently retired; and Don Rounds had scaled down by then.

Photo Source Unknown
Lebanon Valley Champion D.D. "Rebel" Harris, before his death
Also, new local drivers had either become seasoned and established as stars in 1968; or, the track had imported some big names – particularly from a troubled Fonda Speedway. Doug Garrison and Butch Jelley had come to the fore and were now established veterans – in Gordon Ross's 19 and Martin Riiska's X, respectively. Joe Messina had long since left his #13 and # 3 and 1/7 Hudsons behind, and had taken the wheel of Ken Tremont. Sr.'s 115, now a Valley fixture. Eddie Delmolino, the 1967 track champion, had put in a lot of years on the Valley's high dirt banks, as well.
By 1968, the Valley had experienced an invasion from surrounding tracks [mostly due to disdain for the dominating attitude of NASCAR], an invasion that resulted in the 1968 track standings having four of the top ten places taken by these invaders. 1961 NASCAR National Sportsman co – Champion, Bill Wimble of Lisbon, NY, had won the whole thing largely on the strength of six wins. Former Fonda rival, Jerry Townley of Catskill drove the Floyd Wilcox #32 to second in the points. Jack Farquhar, the racing Judge from Euphrata, left modest success at Fonda with the gorgeous Vince Barbuto coupe and drove Barbuto to fourth place in the Valley standings. Connecticut driver Bobby Leach, with his M3, pulled down 6th. Among them, nine Valley feature wins came from Fonda ex-patriots that year.

John Grady Collection
Bill Wimble brought the Dave McCready 33 to a Valley title in 1968. This shot is at Fonda, however.
Probably the notable Fonda invader was the brilliant, moody, one-legged Pete Corey, from Crescent, NY. Disgusted with Fonda and NASCAR's treatment of him, Corey shifted his focus to the Valley midway into the 1967 season. A body man by trade, Corey had fashioned a beautiful 1955 Chevrolet – bodied car with his characteristic yellow paint scheme and the number 31 [as someone at the Valley already had Corey's #3]. Corey won two in a row in August of 1967 and he managed a third win the following year; but he became a magnet for the festering resentment from Valley regulars who chafed at the damned Fonda invaders with their state-of-the-art cars. So, Corey's cars went home in a basket more often than they did carrying trophies. One of the legends of New York auto racing, Pete never managed a top ten points finish at Lebanon Valley.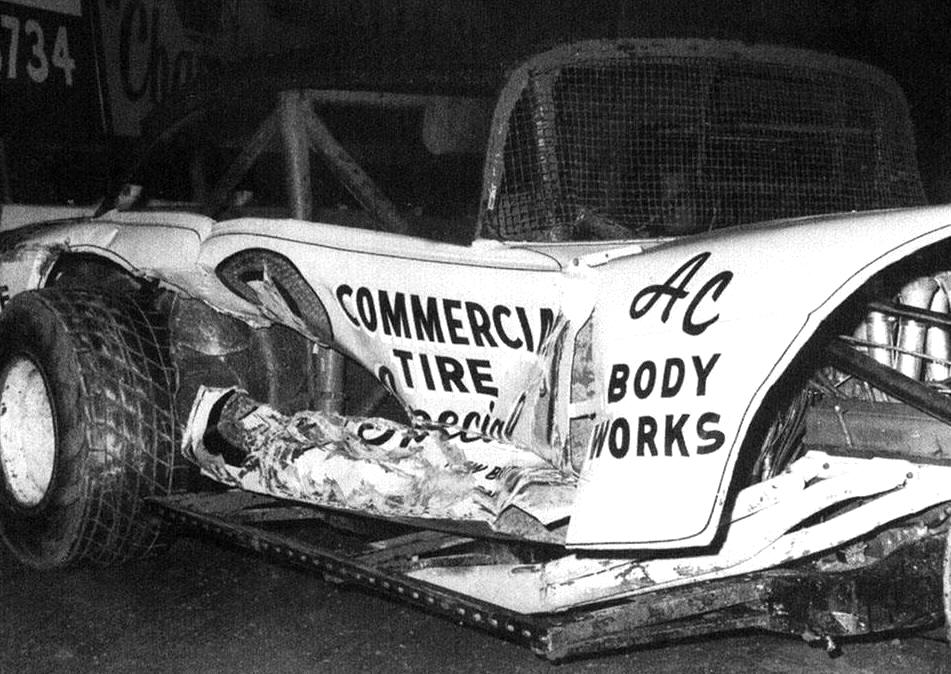 Courtesy of Arnie Ainsworth
Corey's late model Valley car was a beauty… and the Valley hard asses took particular pleasure in pushing it into a wall whenever they could. [Arnie Ainsworth Photo]
A few Hall of Famers- in – the – making were beginning to make some noise by 1968. Tommie Corellis, sometimes from Mechanicsville, had graduated from running at the Pine Bowl at in the semi late model division at Malta to nail down a ninth place points finish by 1968. He would then find himself as Valley champion, the following year, in the John Warren 28. From the Oak Hills, NY Ridge Runner Racing Team of Valley patriarch Fred Searing, came a young Mert Hulbert. Nicknamed "Socks", Hulbert had risen from Searing's #73 to the #78 of John Daniels. The Daniels family owned Champlain Construction, out of Middlebury, Vermont, and Hulburt brought them feature wins at the Valley, as well as a Devil's Bowl track title around that time period.
Add into the mix locally – grown stars like Latham, NY's Karl Haeussel, who took the 1966 track title with his unusually sharp Morris Body Works #900. Karl eventually turned the tables and invaded Fonda. Pound Ridge, NY's Ernie Marshall took his #77 to the 1970 Valley title, after kicking off his Valley career somewhere around 1968. Promising young car builder Dexter Dorr, who established a business in Cohoes, NY after beginning his career in Vermont, was among the emerging stars.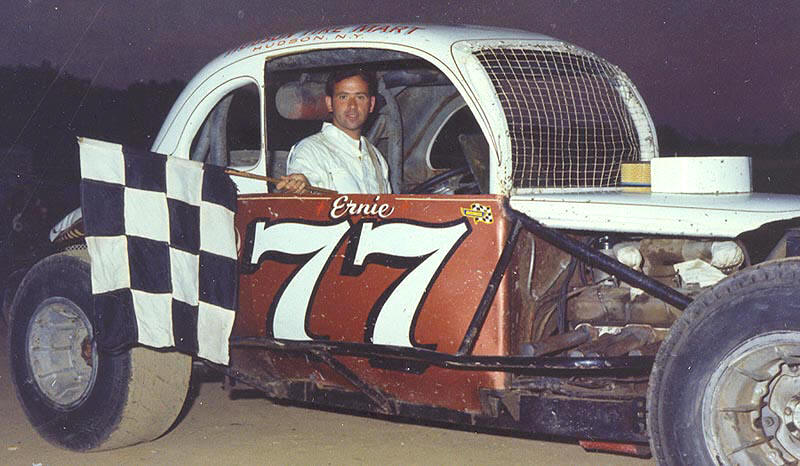 Photo Courtesy of Arnie Ainsworth
Ernie Marshall won the title with this car in 1970 [Arnie Ainsworth Photo
Add this all up and you end up with one of the really significant years in the long history of Lebanon Valley Speedway, a track whose story is intertwined with Stateline Speedway, Fonda, Fairmont, Devil's Bowl, Morris fairgrounds, and many more race venues in my region.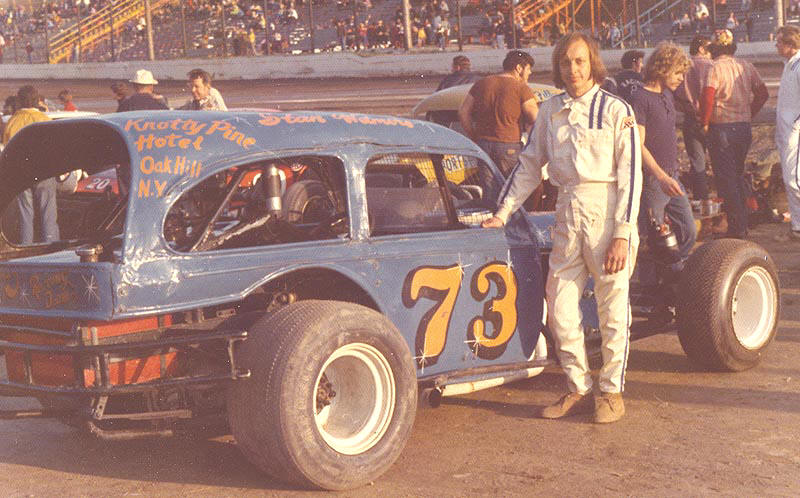 Photo Courtesy of Arnie Ainsworth
Stan Wetmore, a disciple of Johnny Flach, with his own successful ride at the Valley
Return to the Main Page
Return to the Columns Link Page
Return to the Main News Page