BILL'S [Somewhat] WEEKLY COLUMN/BLOG PAGE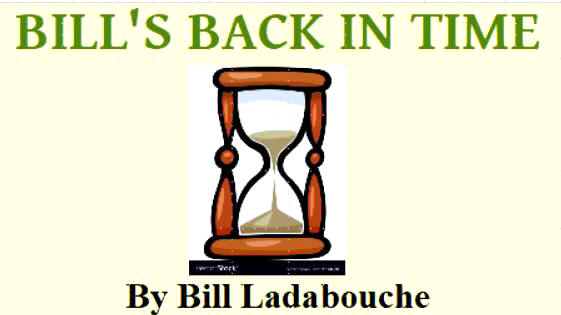 DA CHAMP: HE WAS A PIECE OF WORK BUT ACCOMPLISHED

Members of that "Greatest Generation" are all but gone. They stood, across the oceans, and watched the world turn to crap in Asia and Europe. Finally, Japan forced their hands, and they suited up, trained up, gave up much of their futures to go off to war and kick butt. When they came home, they were ready to live... and make up for lost time.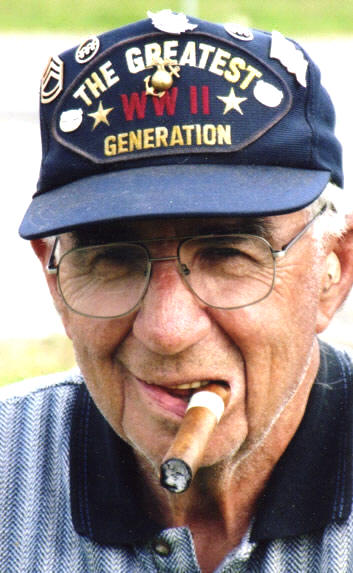 John Grady Photo

Someone had gotten this hat for Rene in the later years. Ken Shoemaker
had siad about Rene: "I knew he was a Marine and a pretty tough
guy, so I thought maybe he needed a little harder punch." [in discussing
the fight they ahd at Catamount in the 1960's.
One mode of expression to get going on living that life the new and burgeoning sport of stock car racing. Many, many men [and a few women] entered the sport, but a few made it big. Despite the best efforts of Hollywood and popular stereotypes, they weren't all from the Southeast. A ton of those participants came from southern and central New England.
Rene Charland was a rugged former Marine from Holyoke, Massachusetts. By the late 1940's he was already active in the sport. He drove a few various cars as he settled into racing at such places as Rhythm Inn Speedway in Millers Falls, MA; Brattleboro Speedway in West Brattleboro, VT; and the Cheshire fairgrounds track near Keene, NH.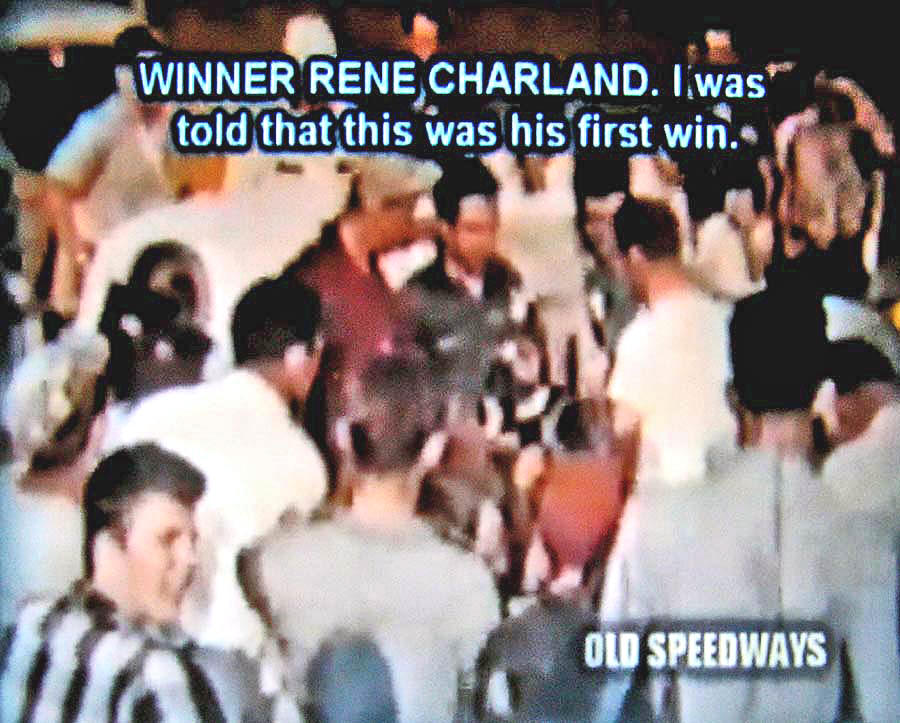 From Dan Ody's 8MM Old Speedways DVD's
This frame from old 8MM footage shows a crowd around
Charland at Brattleboro Speedway around 1951. This is
thought to be his fist win. Below – The Leo Matte car
driven by Charland at Brattleboro and other venues. Leo
waits patiently in the background for all this hoopla
do be over. See the hat in both photos ?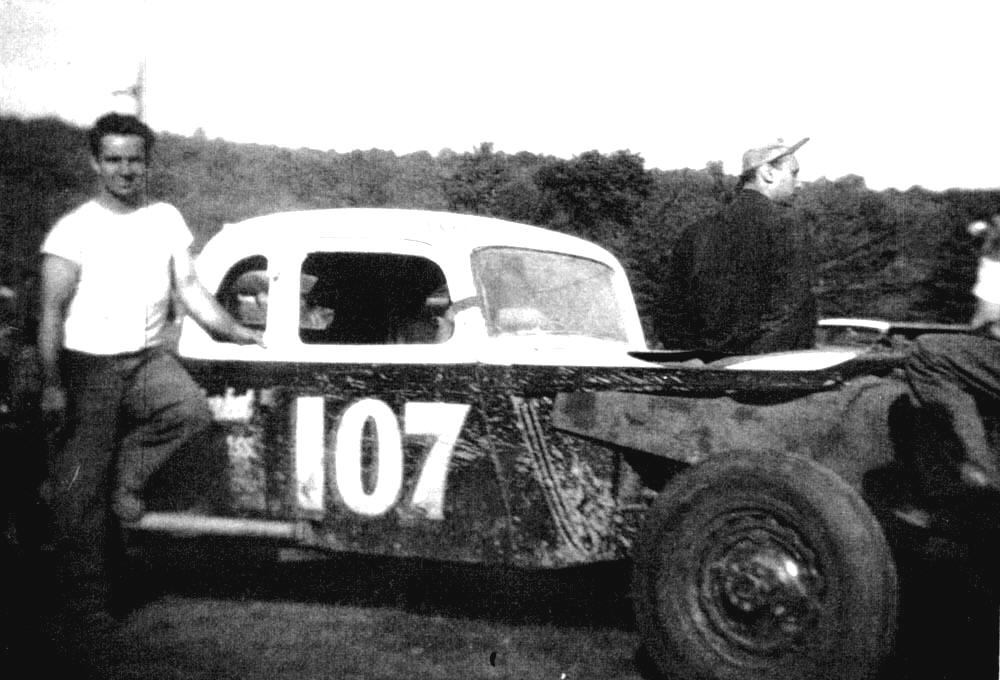 Courtesy of Cho Lee
This is not an attempt to document every detail of his career. Suffice it to say he bounced around with various cars, not the least of which was Arnie Delisle's X44 that was powered by an aircraft motor. Rene's first big break came when he began to drive at those three tracks [and as far away as Beech Ridge Speedway in Scarborough, ME] for owner Leo Matte. It is widely believed that his first feature win was in Matte's 107 at Brattleboro.
Charland, in that period of the early 1950's, had driven a 400Jr at Cheshire, the X44 at Rhythm Inn, a #12 at Rhythm Inn, and a car #12 as well. I believe he ran at places like the Manchester, VT fairgrounds before a mechanic who worked with him was accidentallly killed there and the track closed. He likely also drove at the Pico Raceway in Rutland, VT and may have spent some time in that highly – competitive circuit that involved Riverside Park, Agawam, MA; Pine Bowl and Empire Speedways in New York; and other venues.

Courtesy of Chip Cormie

Charland once drove Arnie Delisle's airplane – engine car at
Rhythm Inn Speedway. Eventually he switched cars and Arnie
Switched motors. Below – Rene, with a 400Jr tee shirt, at
Safford Park Speedway, Cheshire Fairgrounds, NH. That's
a young Ken Squier at right.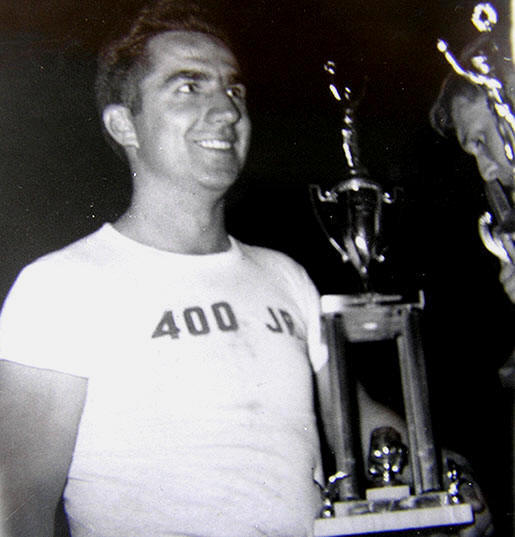 Keene Sentinel Photo via James Howard
Charland would eventually not only settle around the Springfield / Agawam, MA area, but he would begin to focus his racing efforts [which were becoming very businesslike by now] to NASCAR tracks. A very adept mechanic in his own right, Charland began to gather around him mechanical talent to his garage in Agawam. Eventually, such names as Fred Rosner and Godfrey Wenzel would pop up in connection with Charland.
The earliest 1960's, in Charland's chosen sportsman division, were the dominion of northern New York drivers, along with the Quebecers and others from all over the Northeast. The 1959 NASCAR National Sportsman champion was a California driver named Rick Henderson. New Yorkers Bil Rafter, Bill Wimble, and Dick Nephew were in the thick of the chase. The points chase appeared to be mostly among the New Yorkers and Southerners; so, how Henderson managed the win is unclear. Charland was not yet apparent in the chase.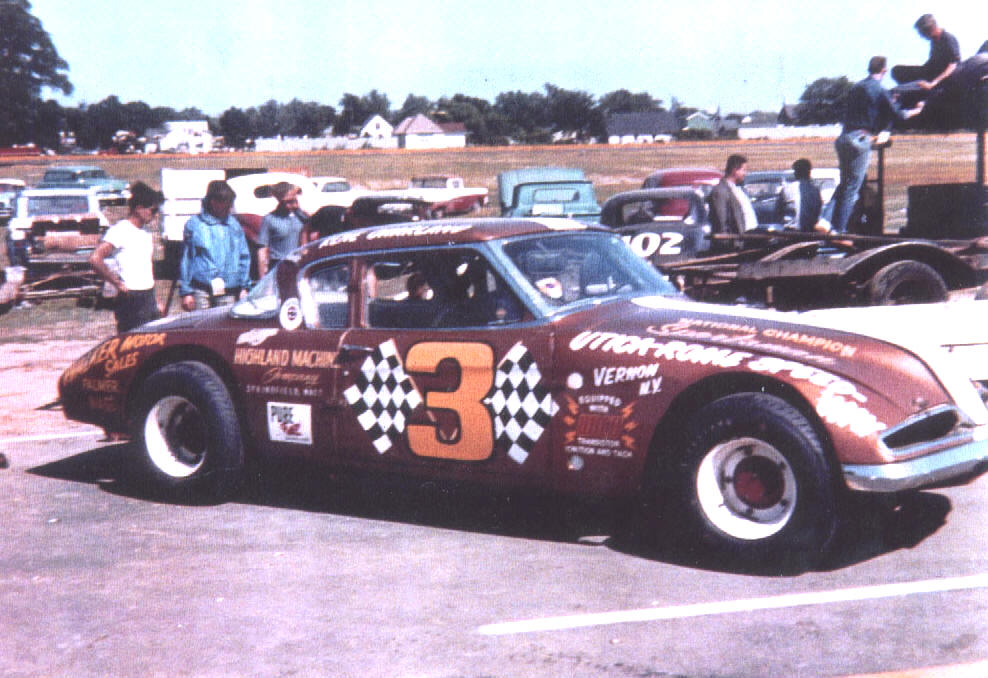 John Grady Photo
Charland figured out early that NASCAR's "special races" were where
the points were. Here he has a Studebaker at Daytona for the
points – rich Permatex race. Below - One of the familiar white
3's he ran his earlier championship campaigns with.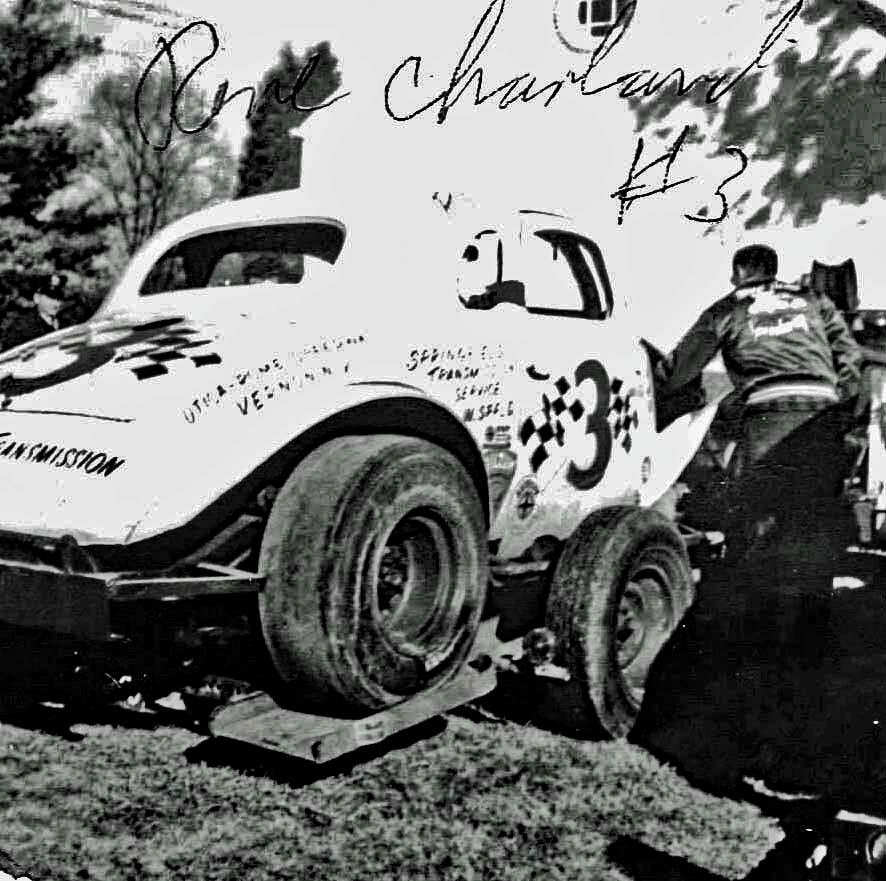 Courtesy of Brad Charland
By 1960, Wimble had bested fellow northern New Yorker Dick Nephew as national champion, and the two tied for the title the following year. By that 1961 season, the name of Charland suddenly appeared fifth in the national standings. He had begun to get the hang of how to gather large numbers of points in NASCAR's counter – intuitive system of gaining them By 1963, Charland had won the national title by a mile, with New Yorkers taking six of the top ten spots and Quebec drivers taking three others.
Rene Charland would go on to win the national title four years in a row – an unfathomable accomplishment equaled by few others. His campaigns were far from a mechanical, humdrum efforts even though those efforts must have been exhausting and gargantuan. To gather the kind of points Charland did, one had to excel at the NASCAR Speedweeks in February, run several times a week effectively in ones own neighborhood, travel off often to special races down South, hit all the national championship races in the region, and juggle one or two cars of ones own while maintaining relationships with car owners elsewhere from whom to occasionally borrow cars.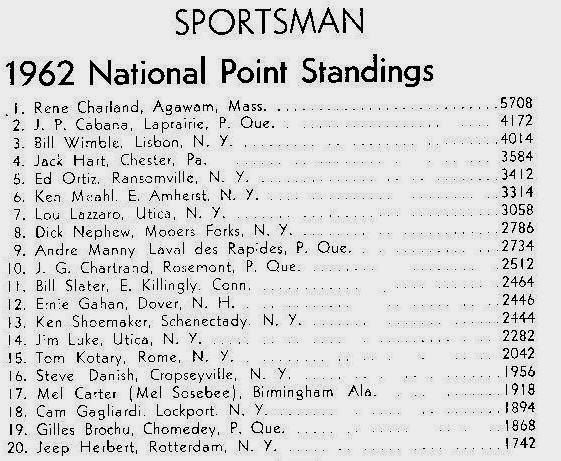 Ladabouche Collection

The final 1962 points show Charland had won by a wider
margin than usual. This would be a trade his title runs.
Below – Rene hoists the trophy from the 1963 NASCAR
National Sportsman Championship as Bobby Allison
and Richard join in.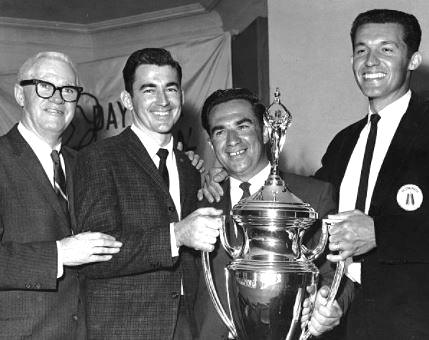 Getty Images

No one could do it quite like Rene Charland. Bill Wimble, Dick Nephew, and a few others did it very nearly as well; but, the huge quantities of earned national points by Charland were simply staggering. In 1962, he bested runnerup Cabana by 1576 points, almost as many as had been earned by the 20th place finisher. In 1963, he beat Wimble by over 2,200 points; 1964 saw him take the title again over Wimble by around 1,800 points; and in 1965, the final season, he beat Lennie Pond by nearly 2,000 points.
By the end of 1966, Charland had suffered the infamous [and self – named ] "French Barbeque" fire at Albany – Saratoga Speedway, rendering him unable to run another campaign for the national title. [He actually endured a second fire at Thompson that same yar]. The fire may not have been connected to anything questionable, but then there is the Jean – Paul Cabana story he told me three years ago. He said Charland showed up at an important national points race at one of the NASCAR tracks in Quebec.
Cabana pointed out that it was a long race. Charland appeared to not be pushing his car much, and the Canadian assumed Rene was stroking the car for points. In the course of the race, everybody had to pit for gasoline; everyone except Rene Charland, who kept on puttering around the oval, finally winning the race before the locals could make up the laps and pass him. Thirty years later, Cabana had occasion to ask Charland how he managed to do that. The Champ said it was easy – his roll cage was full of gasoline. So, the possibility of fire ? Yeah, maybe.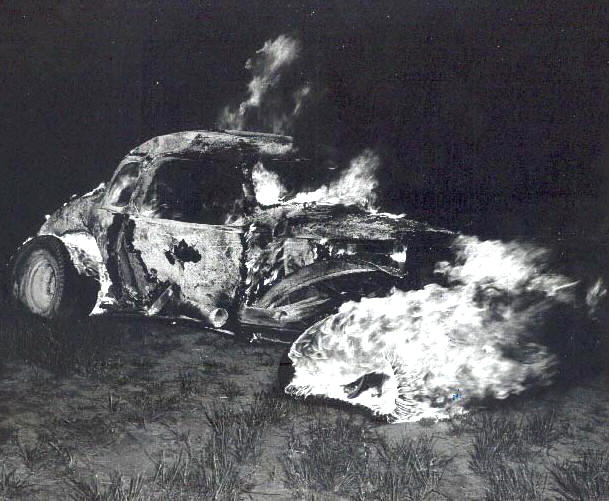 Courtesy of Flemke.com

Charland usually drove #3 cars in those runs for the title. His first chief mechanic seemed to be William Corrin. His second chief wrench was Fred Rosner, a master car builder, and he completed his four year run with Godfrey Wenzel, who then went off the to Reardon Garage team, fielding those familiar 03 sedans. He had familiar cars like the white #3's, the brown #3's, and later – the Wenzel – wrenched Smith and Son #3 sedan. He could run well at almost any facility. He'd drive the high banked quarter mile Thunder Road, Barre, VT in a flathead coupe one night and excel in a sportsman the next night on a dirt half mile. He kept this up for four years.
Charland was a promoter, a huckster, a prankster, a showman, and anything else he had to be to get by. One close associated told this story: "In the early 60's (The Bandit Days) NASCAR had a contest, the person that sold and was responsible for signing up the most new (NASCAR) members would win the next years Daytona 500 Pace Car. Rene sez "I'm gonna win the Pace Car" and he did. Remember we were racing 4 and 5 nights a week. every night (or afternoon) during the intermission before the feature Rene would go up into the grandstands and sell new NASCAR memberships to the fans or anyone else he could talk into it.....he sold a bunch and won the Pace Car.....but that's not the end of the story..........
Daytona 500 is in February it is now April and our racing season is beginning, Rene has the "Daytona 500 Pace Car". Rene has made a "Deal" with all of the promoters at the race tracks that we were running (remember 4 and 5 nights a week). Rene would "Loan" the Pace Car to the track for the night (for a small fee). That year he may have made as much money from the Pace Car as he did racing."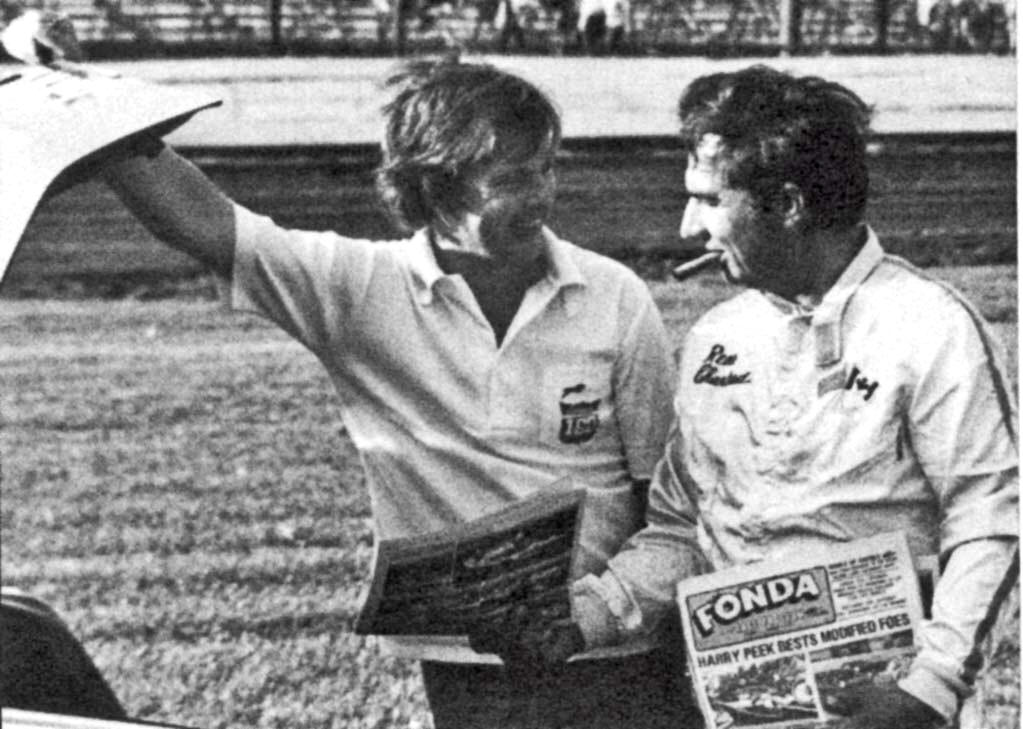 Gater Racing News Photo
"Hey kid, I'm gonna win that pace car ! Read all about it.
Below – Rene, at Islip in 1974 with Eastern Bandits Denny
Zimmerman [left] and Ed Flemke [right]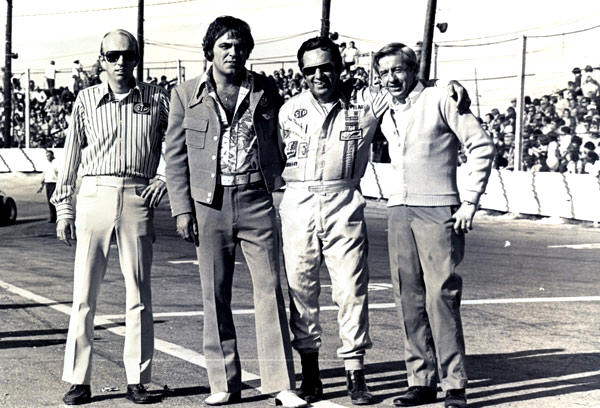 flemke.com

Throughout all those championship years, and for years after, Charland maintained a driving standard of excellence while simultaneous being one of the biggest pain – in – the – ass pranksters in the history of racing. It is often forgotten that, just before and during the championsip years, he was considered to be one of the famed "Eastern Bandits" - northeastern sportsman drivers who invaded the almighty South and showed the rebs how to set up a sportsman car. Charland, Red Foote, Denny Zimmerman, and Ed Flemke, Sr. were generally considered to be the bandits.
The way the story goes, the southern cars could out – power the New England cars any day of the week. But they handledmuch less well. The bandits – particularly Flemke and Foote – made a living outhandling the southern cars, eventually converting many of their rivals to their way of setting up a car [especially the Flemke front end setup]. Charland was down South more for chasing national points than for any other reason.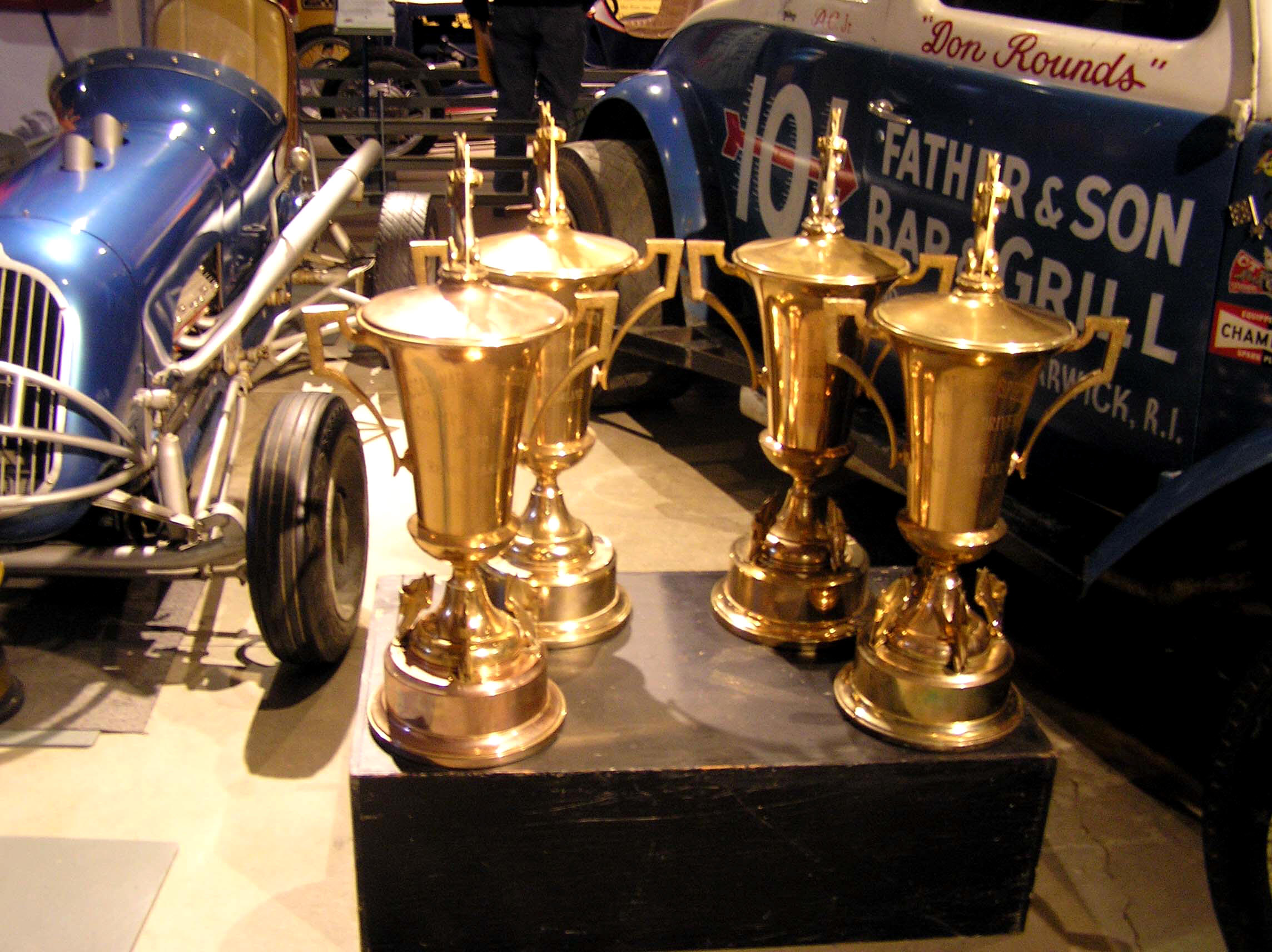 Courtesy of Saratoga Auto Museum
All four Charland national trophies on display at the Saratoga
Auto Museum. Below – Charland is recognized in New
York at what at that time was called the DIRT Hall of Fame
in Weedsport, NY. This does not even take into
consideration what he did on pavement in the
state.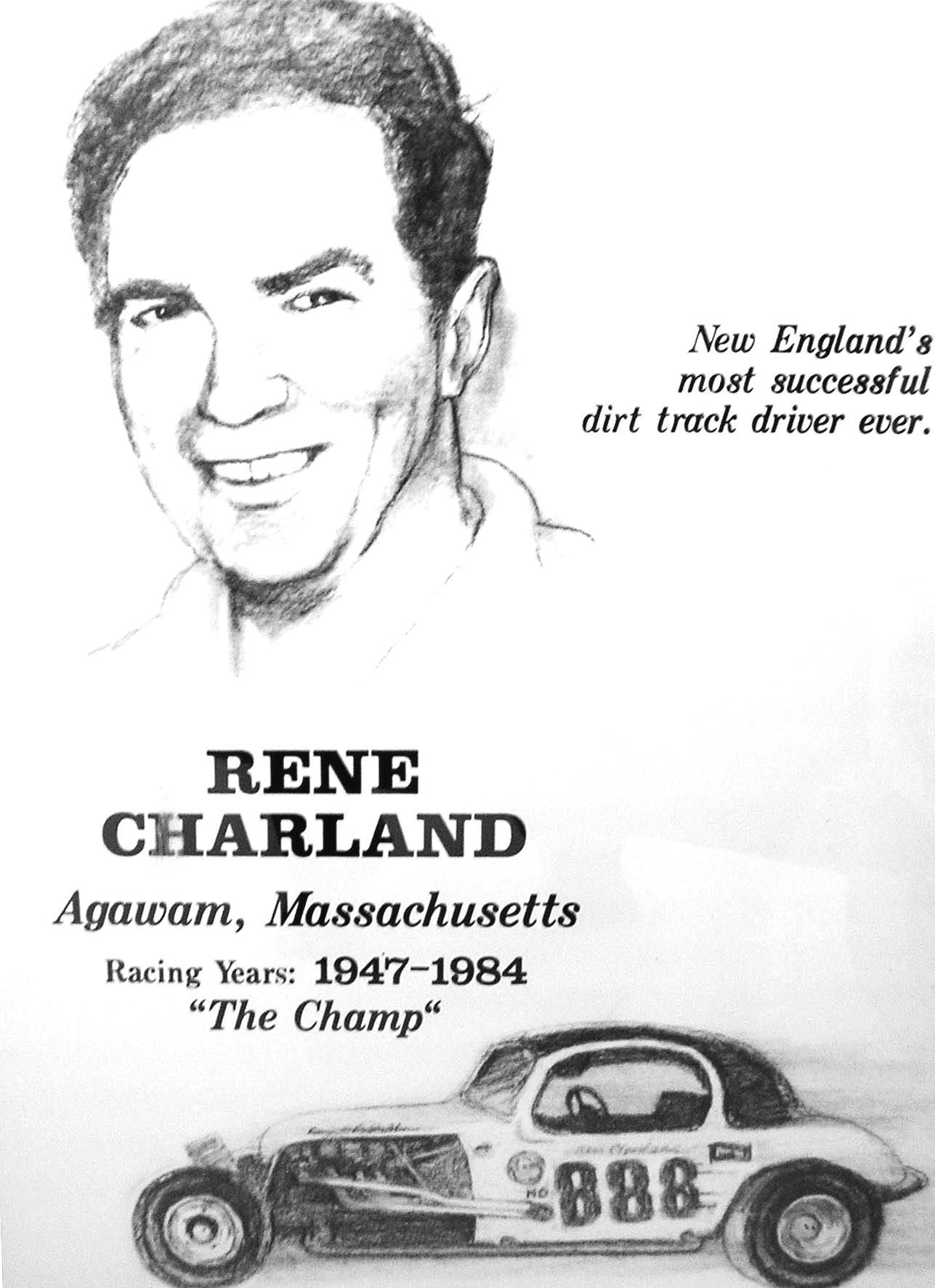 Ladabouche Photo

Mike Parenteau recalls going to the modest Charland "speed shop" in Agawam do seek some racing advice. He recalls that Charland seldom used the first person when speaking. He referred to himself as "the Champ". He was clearly a different sort. For myself, he was one of the most difficult people to try and talk to than I ever encountered in my work.
The years after the championship years were nothing to sneeze at. When the All Star Stock Car racing League was formed in 1967, Charland was a charter member. He was enormously proud of this and wore his ASL helmets every time he could. His was the only coupe to have a specially hand lettered referenced to his being in the League. Besides the ASL, he landed one of the best rides he would ever have.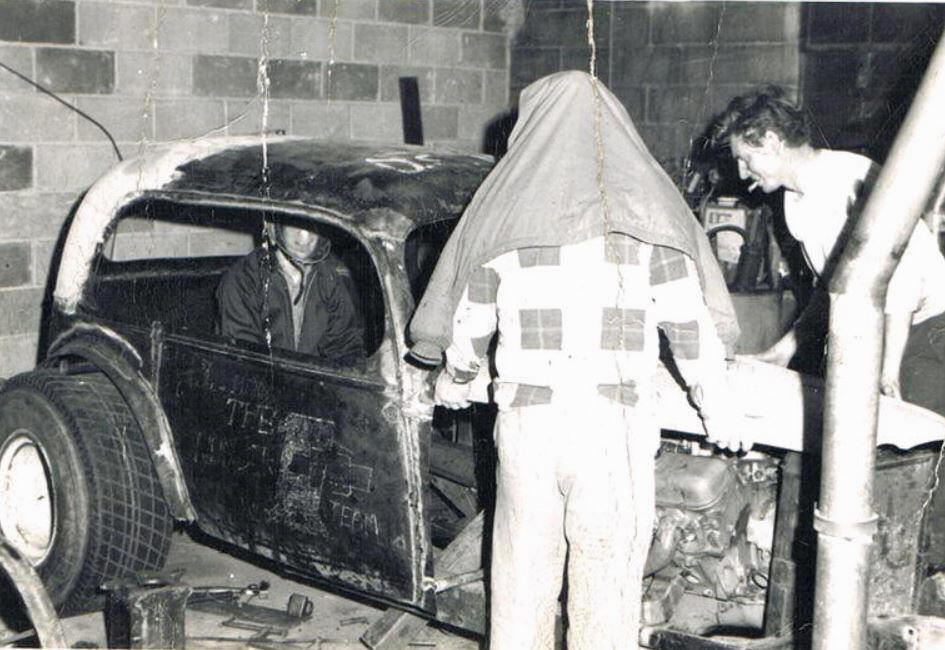 Source Unknown
Rene is fitted for a seat in a new sedan what would become
typical of cars produced by his Agawam shops in the late
1960's. Note hos modest the facility looks to be. Below -
This sedan that ended up at Devil's Bowl with Eddie
Allen was one such car.

Bob Frazier Photo Courtesy of Ed Elmo Allen

The Czepiels, known for their cars numbered 88 that had been driven by Danny Gallulo, hired Fred Rosner to construct two special, state – of – the – art three window coupes [the white 888 and the purple 888]. Charland was hell on wheels – particularly with the white car. It was fast on pavement, and – having the pavement setup – it was lethal at Fonda. He was very dominant with those Czepiel cars for a while.
Charland would go on to have rides in such high quality teams as the Russ Betz 59NY, the Roerig brothers 99NY, Bill Fowler's 27Jr., and many more. Along with Donny Wayman and Ken Shoemaker, he was a big figure in the era of veteran older drivers for hire. He was a serious contender well into the 1970's. He finally bowed out of the driving, but he remained active around teams, mostly in the New York.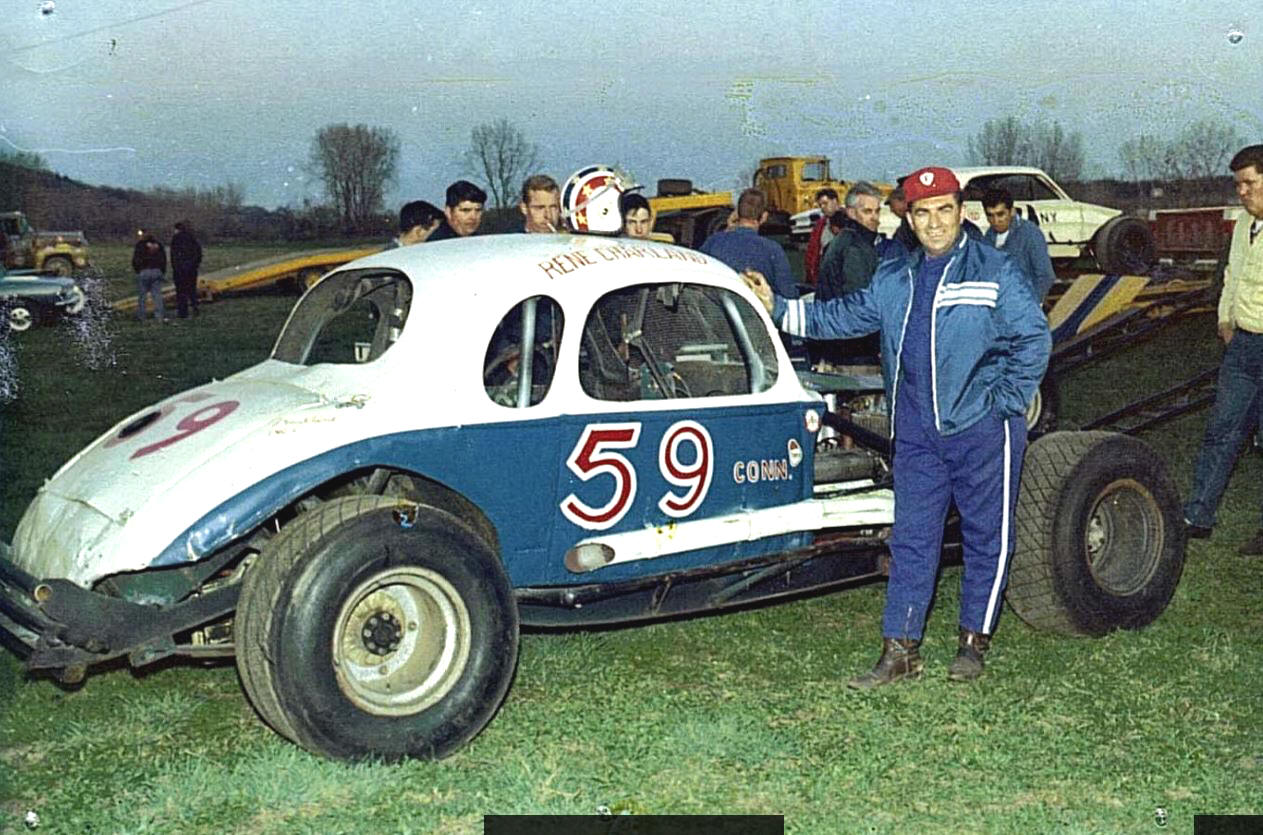 Russ Bergh Photo Ladabouche Collection
The 59 of Russ Betz was a successful later ride for Charland. His
first win after the 1966 fires was with this car. Below - The
Roerig brothers 99 was another late – in career good car for Rene.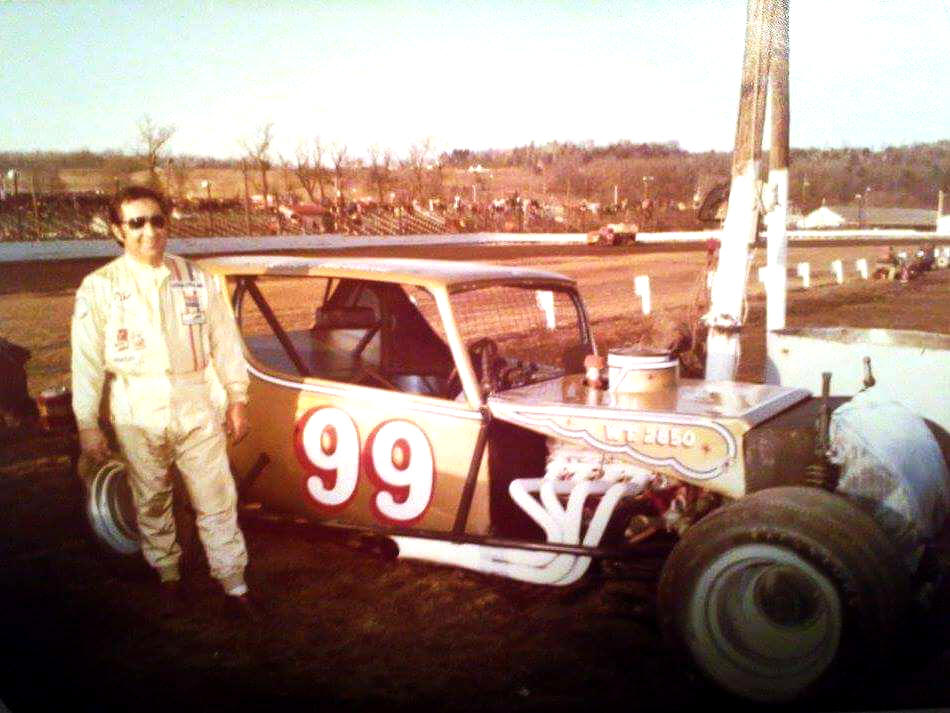 Rene "Da Champ" Charland sadly ended up in a care home in Amsterdam. Although he was still chasing the nurses, he was beginning to forget he was "The Champ". He left behind an amazing driving career, only a small part of which were the four national titles. This list says it all:

Rene Charland Accomplishments
Below is a list of some of his wins and championships:
2-time Rhythm Inn Speedway champion (1954-55)

5 Non-Ford wins at Waterford Speedbowl in 1959

4 Modifed wins at Riverside Park

1961 Norwood Arena Sportsman champion

2-time Stafford Sportsman champion (1961-62)

1963 Islip Sportsman champion

3-time Utica-Rome Modified champion (1961-62, 1964)

4-time NASCAR Sportsman National champion (1962-65)

1965 Old Bridge Stadium Sportsman champion (Tied with Pat Moon)

1965 New York State NASCAR Modified champion

1966 Vermont Governors Cup winner (Modified at Catamount)

1970 Fonda Speedway track champion

1974 Lebanon Valley 200 winner

Track champion at Brattleboro, VT; Keene, NH; Old Dominion Speedway, Manassas, VA; and Fort Dix, NJ

Please email me if you have any photos to lend me or information and corrections I could benefit from. Please do not submit anything you are not willing to allow me to use on my website - and thanks. Email is: wladabou@comcast.net . For those who still don't like computers - my regular address is: Bill Ladabouche, 23 York Street,Swanton, Vermont 05488.
AS ALWAYS, DON'T FORGET TO CHECK OUT THE REST OF MY WEBSITE
www.catamountstadium.com
Return to the Main Page
Return to the Main News Page
Return to the All Links Page
Return to the Weekly Blog Links Page