BILL'S [Somewhat] WEEKLY COLUMN/BLOG PAGE

BILL'S BACK IN TIME
By Bill Ladabouche
GUYS LIKE DAVE N' RED


We just lost Dave Gibbs, at too young of an age, in June of 2016. I could probably search for weeks and never find anyone with all of their marbles who didn't like Dave Gibbs. Thinking of Dave made me immediately think of another such guy – Red Mead.
Both Dave and Red came up in a support division at Catamount Stadium, some time in the 1970's. Both raced in various divisions; both ended up in the amazing division that I have always called the New Flying Tigers; and they even both liked blue cars. Both had red hair and were good – sized men. Other than that – nothing to compare :)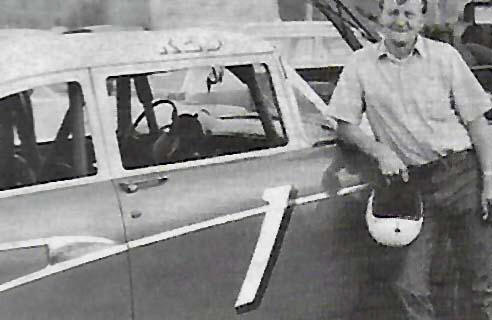 Catamount History Book
Red Mead came out first in the Hurricanes with a Larry Demar tribute scheme. Below – Larry Demar with a somewhat similar
pose. The cars were same number and similar colors. The car and the ad on the side were connected to George Hay.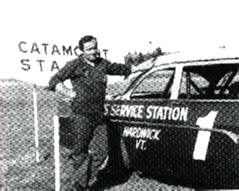 Courtesy of Cho Lee

Red Mead would have started first, coming out of his native Hyde Park, VT area [might have been North Hyde Park actually]. Red was one of the very first men to show up for Ken Squier's new brainchild, a new support division at Catamount and Thunder Road in 1970.
Squier's first idea was to call them the Night Riders, and have the large, automatic transmission, nearly stock cars race around with the track lights off [not much different than usual at T Road] using heir headlights, and even sometimes race clockwise. That didn't work for doo daw, and they eventually settled on being called the Hurricane class.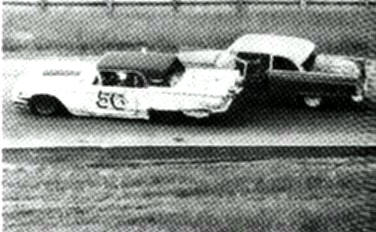 Ladabouche Collection
Red finds himself pinched in by the Thunderbird of George Wells, a sort of team mate to Norm Cyr in that first season. Red ended up
upside down. Below – Another view of Red and his first car – right at the Catamount start/finish line.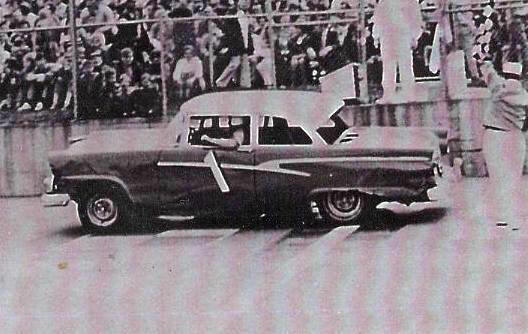 Courtesy of Andy Boright

While no one was showing in the early Hurricanes with a very fancy outfit, Red turned the most heads upon arrival as his 1955 Ford was towed in one the back of a full compactor garbage truck. He had chosen a two tone blue #1 car, in honor of Hardwick's Larry Demar, whom he idolized. It was very appropriate for the region as Demar's similar colors were in tribute to Hardwick's legendary car owner George Hay.
Red, a big man, showed up with only a very small woman [I'd say the girl friend at the time before he met Stella] as crew. He had a couple of lulu wrecks, and he didn't win a whole lot as that year was almost completely dominated by veteran Norm Cyr and his yellow Thunderbird; but, Red, developed a reputation as a really good guy and would have been up for a sportsman of the year award had the Hurricanes had such a thing. They were probably lucky if the champ got a trophy.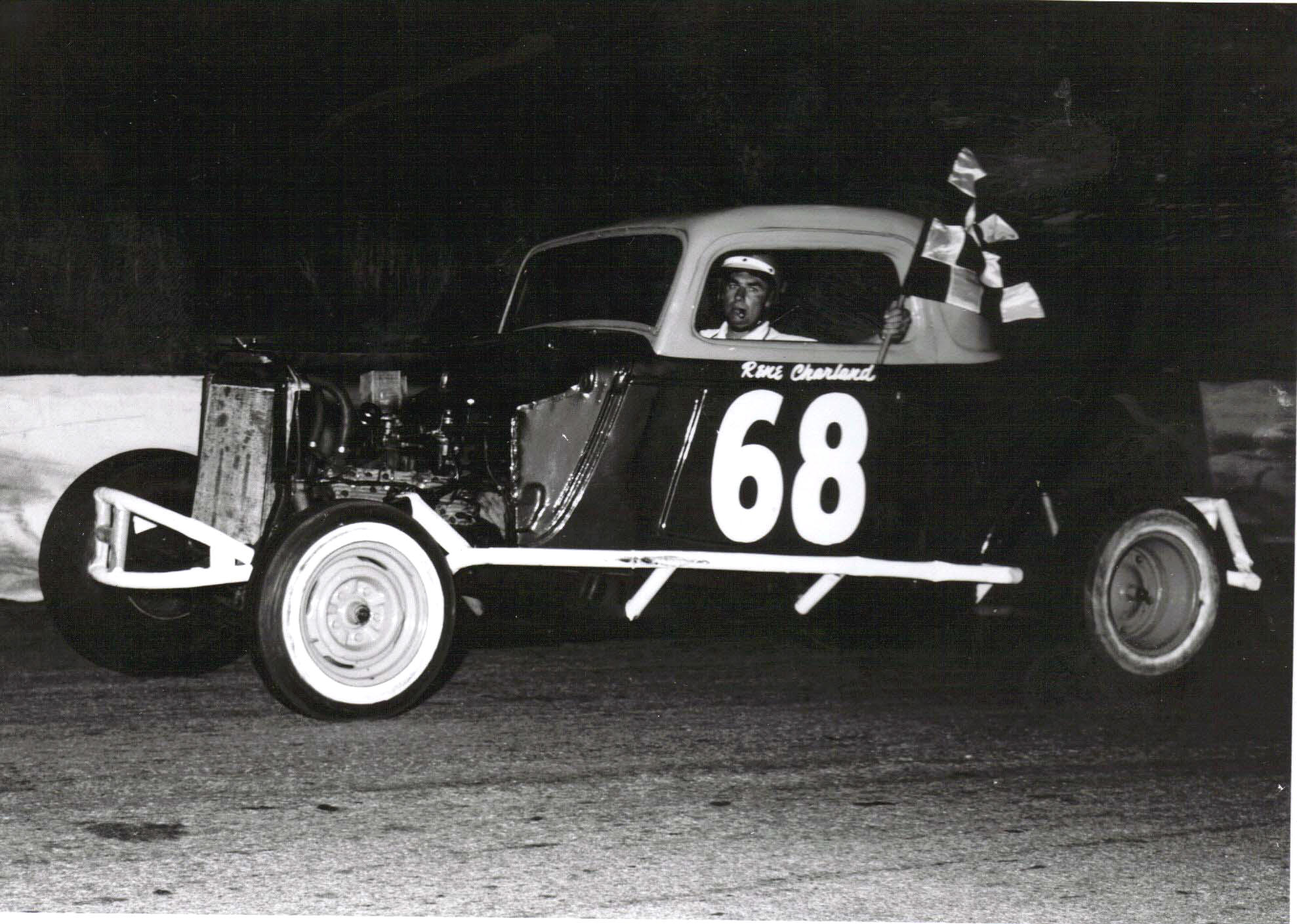 Courtesy of Cho Lee via Ken Paulsen
George Hay never used the number one, but his cars had that two tone blue color scheme honored by Larry Demar and Red Mead.
The above shot shows four time NASCAR National Sportsman Rene Charland using a Hay car in 1965 to garner national points.
Below – Red Mead stands behind his new Mustang in 1984, talking to Owen Wimble at Catamount.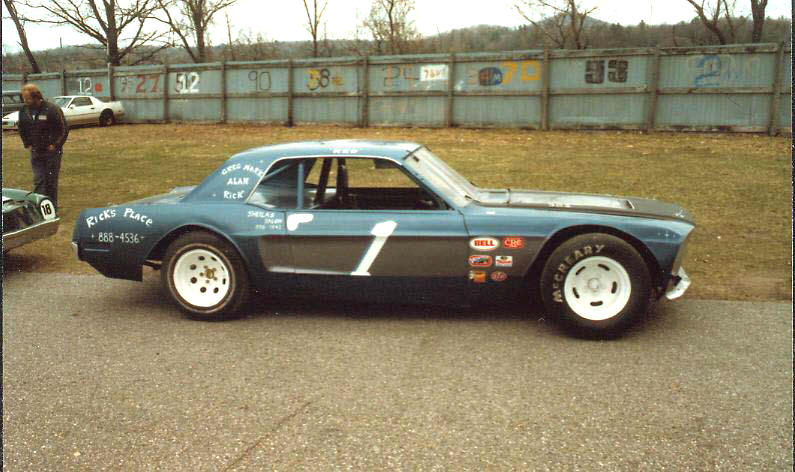 And A Ward Photo


The Hurricanes settled in and refined, losing most of the huge, lumbering cars like Tinker Pecor's '58 Buick, and the division developed its own new stars with Cyr's departure after one season. Red, Wayne Corwell, Jerry White, and others were familiar to Catamount fans. The class would eventually see names like Norm Andrews, Leo Bushey, Perry Poquette, George McRae, Larry Warren, Richard Buzzi, and dozens more [many of whom went quite far after leaving the class.
While Red would graduate to a six cylinder Grand American car, he would end up in what became known as the New Flying Tigers by the mid 1980's. Always fielding blue Fords, with help from neighbors Al and Andy Ward, to name two, he would put some handsome Mustangs and other compact Ford models during this time.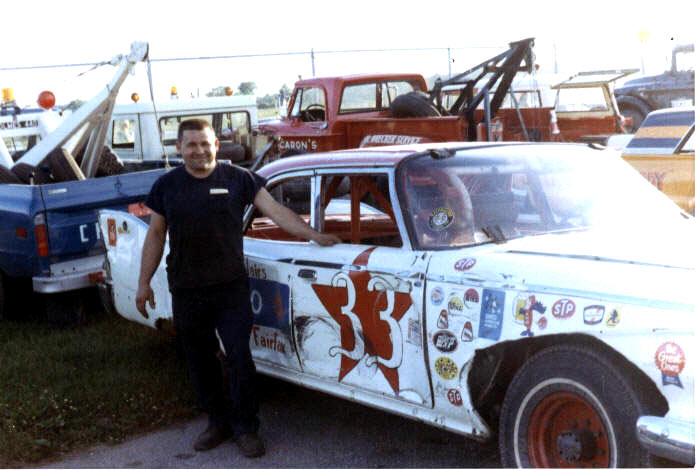 Courtesy of Jim Watson
Richard LeClaire's huge car was typical of Year One of the Hurricanes. Below – Milo Lockerby's car was a later, more refined car in that class.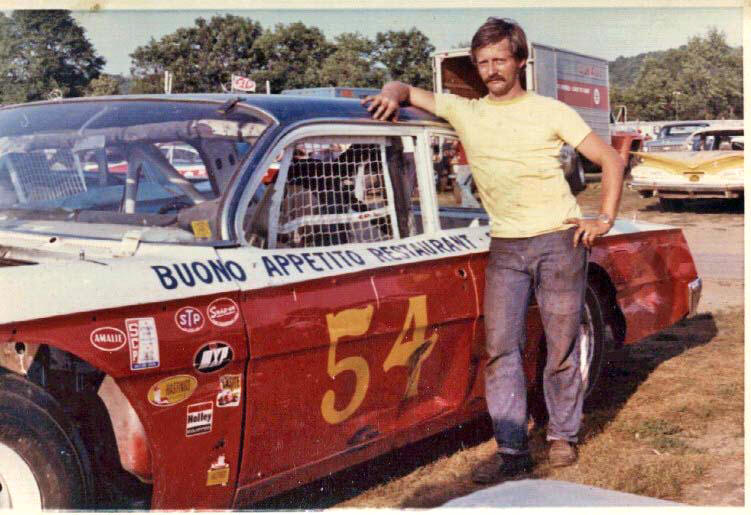 Ladabouche Collection

Red met and married Stella Yantz, from another Ford – oriented racing family, and the two were familiar figures at Northern NASCAR and ACT tracks for years to come. When Thunder Road had to be repossessed, in a terribly vandalized state, from Long Islander Tommy Kalimiris, Red and Stella were among the loyal legions of supporters who worked for hours to restore the facility for ACT racing.
Eventually, as time marched on, Red and Stella had had enough of the demands and rigors and demands of maintaining a race effort, leaving to live Down South. I still see Red occasionally as he manages to take in a Thursday night show at Thunder Road once in a great while. Once one of the familiar and recognizable figures at the races, he now can move in and out of the pits and grandstands almost undetected – as a vast majority of the racing people now were nowhere around when he did most of his racing.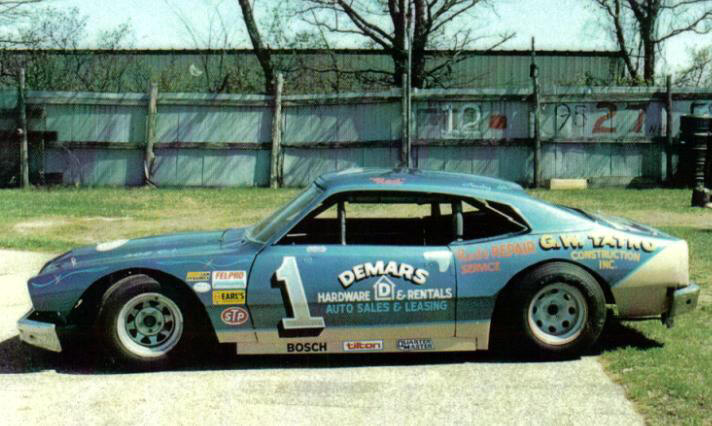 Courtesy of Andy Boright
Red produced some very attractive cars in his later years of racing, such as this Maverick at Catamount around 1986.
Below – Red and Stella, in the stands at Catamount in the late 1980's.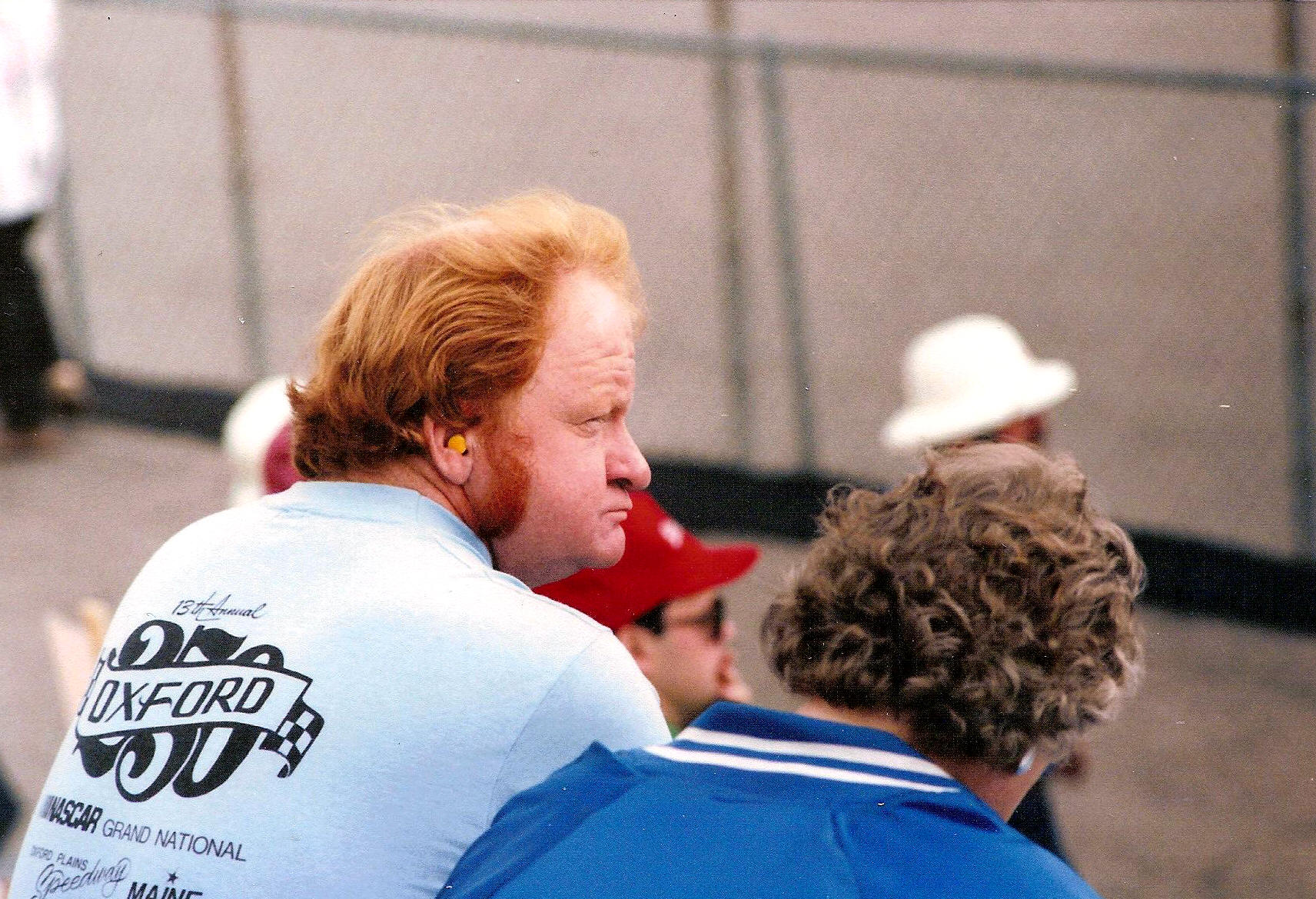 Norman Morley Photo

Dave Gibbs showed up at Catamount Stadium a few years after Red and raced in the Hurricanes briefly before going into the mini stocks. Dave seldom chose the same cars everyone else was running. The mini stock was a Pinto, as the vast majority of the class drove VW's. Dave had run a more typical Hurricane, choosing a big Mopar car like Andrews, Nelson, Paquette, Bushey, and others.
Somewhere along the way, the Hurricanes were grandfathered in for a season and the six cylinder cars were introduced. For the gradfathered year, the class was called Limited Sportsman, like the Tigers had been before in 1970. I am not clear on whether Dave was oin that Pinto then, or not. But, when the class became the six – only Grand Americans [arguable the best support class the track eve had] Dave brought out "the Javelin".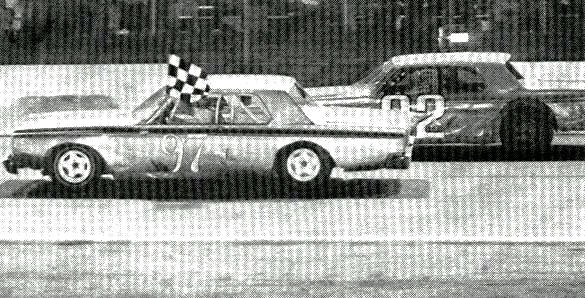 Ladabouche Collection
Dave Gibbs arrived in the Hurricanes years after Mead, and – unlike Red – he chose to run a predominant Mopar in that class.
Below – Dave's stint in the Mini Stocks involved this Pinto. Mary Gibbs also had one [or maybe it was this one].

Courtesy of Cho Lee

The highly – competitive Grand Americans were somewhat dominated by a few Camaros. Larry Caron, T R Waters, and Richard Buzzi were raising hell with very racy Camaros. Jay Yantz carried the Ford banner with a very good Mustang, and there were a few Mopars straight sixes such as Paul Donahue.
Dave Gibbs did briefly toy with a late model sportsman, in that short period of time when Tom Curley experimented with Friday night shows at Catamount to give the smaller teams a chance to race without the Beaver Dragons, the Chuck Bowns, and Jean – Paul Cabanas of the sport taking all the marbles. I am not clear what Dave used for a late model, although an American Motors car is not out of the question.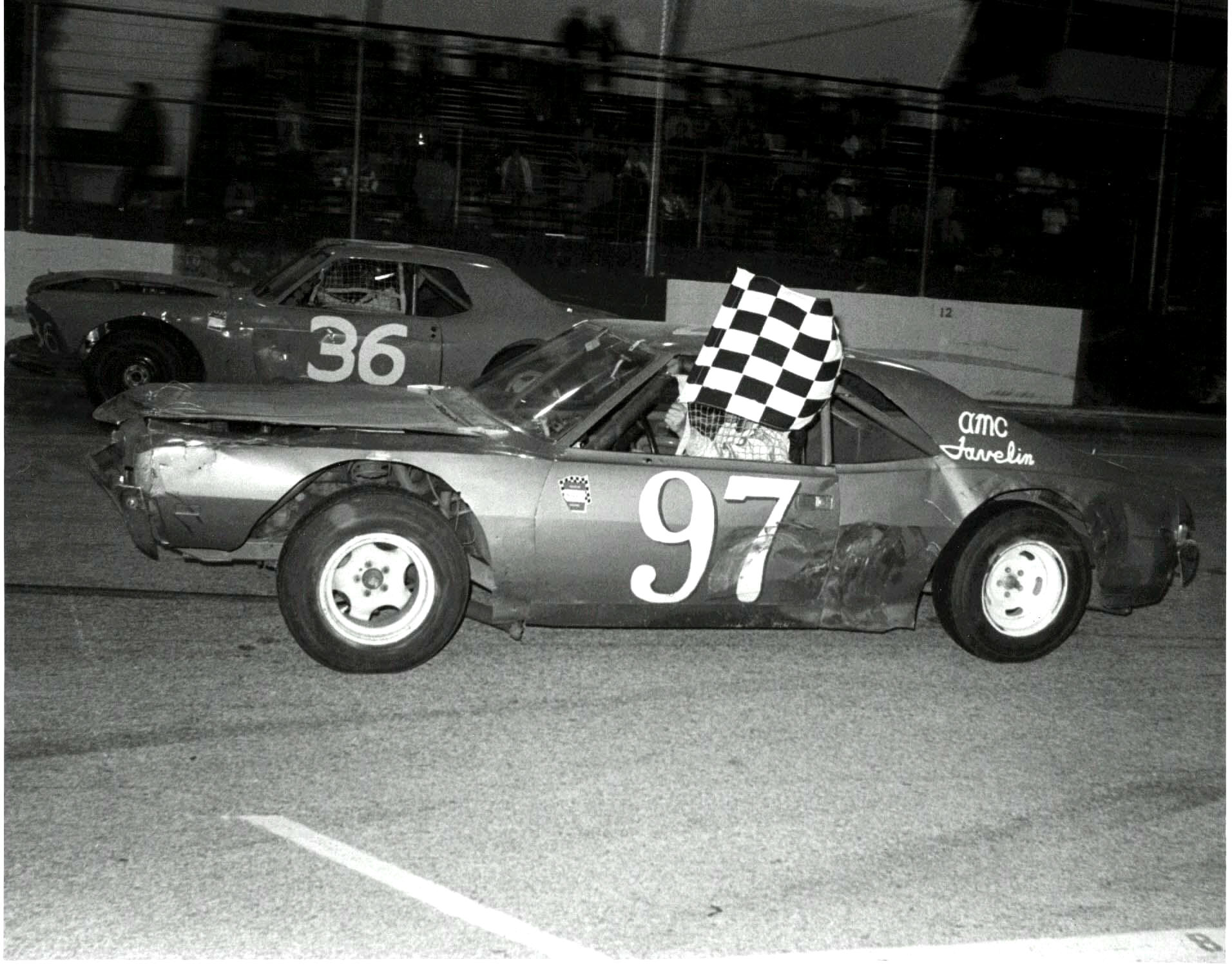 Ladabouche Collection
Dave's best - known car was this Grand American class Javelin. Here he is seen at Catamount in front of Larry Lambert.
Below – Judging from the tires, I would say this was the Gibbs LMS he would have run at the Catamount Friday night shows
in 1979. The late John Casey walks past the Gibbs LMS after a wreck at Thunder Road that
season. Dave is in red firesuit at left.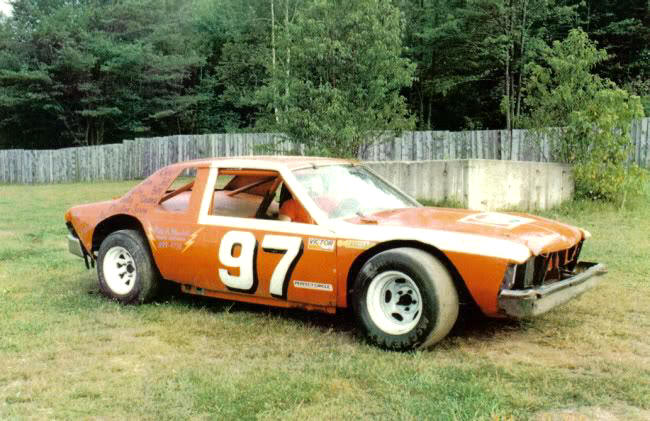 Courtesy of Andy Boright


Both Gibbs and George McRae raised a few eyebrows when they debuted American Motors cars in the Grand Americans. Gibbs had a Javelin, and McRae fielded smaller "Nashes" [which may have been technically called Hornets by AMC – not sure]. McRae attracted a little more attention with a pair of AMC's – one McRae orange, and one white; but Gibbs one his share, too.
Finally towards the end of the life of Catamount Stadium, Curley and Squier again began playing with the support classes. Along with a big, clunky streeet stock class that was reminiscent of the old Hurricanes, they began to think about bringing back the legendary name of the Flying Tigers.
The first Tiger division in the 1980's was perhaps the most interesting ever. It was composed a some leftover Grand American cars, some leftover street stock cars which had chosen not to remain in that class, some cars picked up from other tracks, and a few new – specially built Tiger cars. Those first shows were fascinating – and they were just the thing for Thunder Road. Catamount was, at that time, running a very limited schedule and did not have long to live; but the New Tigers put on their best shows at Thunder Road [at least in my opinion].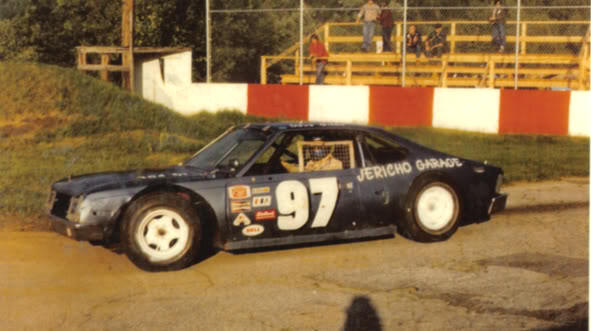 Courtesy of Andy Boright
This is reportedly Dave's New Tiger entry, at Thunder Road. Below – Richard Petty talks with Red Mead
at T Road in Red's last New Tigers days. Petty knew whom to talk to.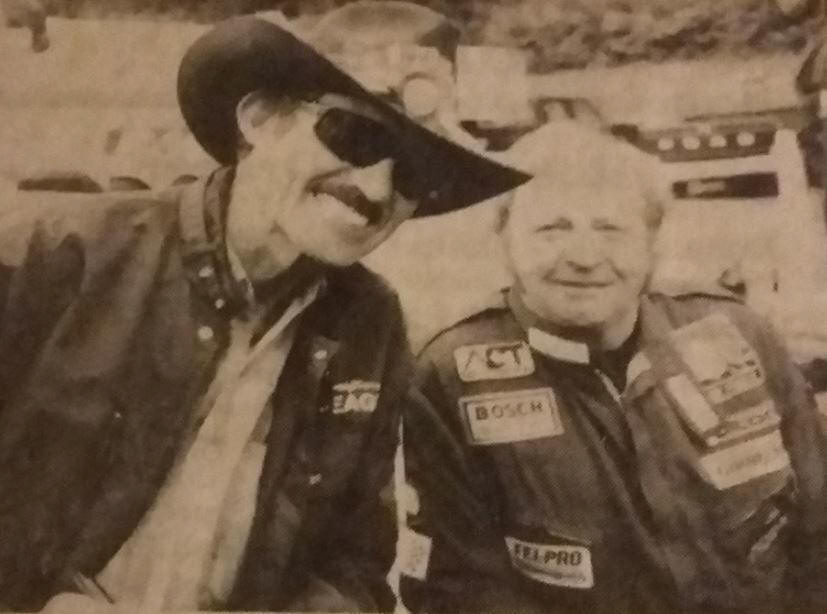 Ethel Williams Photo via Terry Williams

Dave actually did something Red never did – he put Mary Gibbs in a mini stock to race at Catamount. Records show she also ran a New Flying Tiger at least a few times. I think – other than the original classes of the coupes and the first Tigers, Dave Gibbs ran in every single division the organization put out there save one. [Street Stock, not too; sure – probably not].
Dave Gibbs would race in this Tiger class [sometimes with his wife] at least for a while. I am not sure now long as I wasn't at races much for a while after 1987. He and Red would again race on the same track for the first time probably since the elimination of the Hurricanes. In the mid '70's. Whether anyone appreciated them enough or not, when those two clean – driving and popular veterans hung up the helmet, the ACT scene was a lot poorer for having lost them.
Please email me if you have any photos to lend me or information and corrections I could benefit from. Please do not submit anything you are not willing to allow me to use on my website - and thanks. Email is: wladabou@comcast.net . For those who still don't like computers - my regular address is: Bill Ladabouche, 23 York Street, Swanton, Vermont 05488.
AS ALWAYS, DON'T FORGET TO CHECK OUT THE REST OF MY WEBSITE
www.catamountstadium.com
Return to the Main Page
Return to the Main News Page
Return to the All Links Page
Return to the Weekly Blog Links Page