THE BILL'S BACK IN TIME COLUMN PAGE
Copies of my column in Mark Thomas' "Racin' Paper"
Column #38 from Column 52
BILL'S BACK IN TIME
By Bill Ladabouche
A FAVORITE CAR, A FAVORITE DRIVER, AND MORE
<![if !supportLineBreakNewLine]>
<![endif]>
I hadn't been going to Fonda for too long when a most unusual car appeared on the scene. The 685, for one thing, was a 1938 Chevy, when most Fonda cars were either 1936 Chevies or 1937 Fords. Add to that, the very unique lavender paint, well – designed with white on a smooth body job and professional lettering done by Star Signs.
The car started out driven by John Miller of Amsterdam. He apparently didn't drive long, as he appears in the 1963 Fonda program with only a little over thirty points. The car was taken over by a new name, Jack Faquhar, from Ephratah. Farquhar went on to be Fonda's Rookie of the Year that season. I liked the car the driver's name also caught my fancy. Very British – sounding name !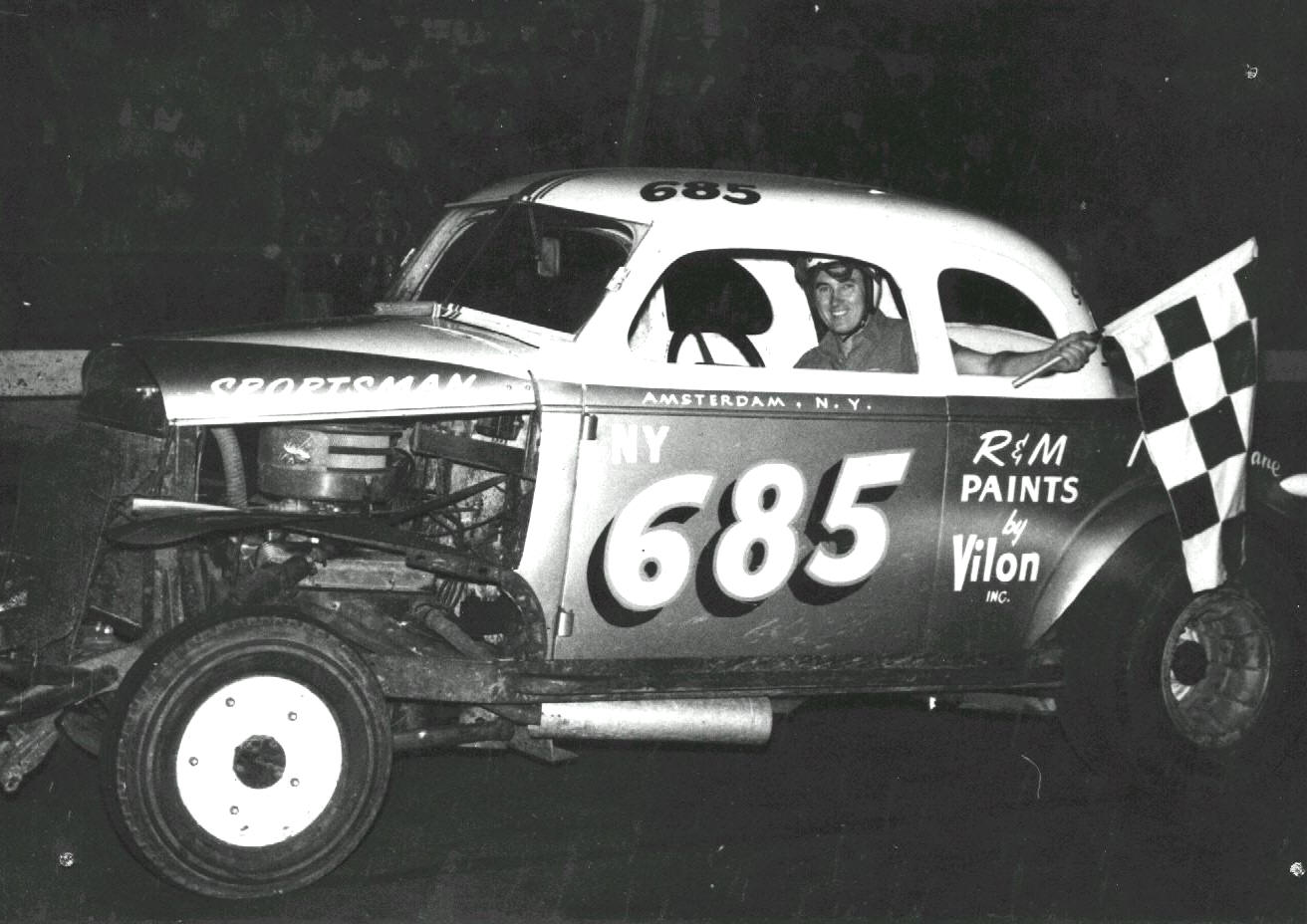 Jack Farquhar poses with the checkers after a heat win at Fonda. [Russ Bergh Photo]
After the 1963 season I didn't see much of Farquhar or the car. To be fair, I didn't get to Fonda all that often, so he may have been active. I learned a little more about the car in August, when Fonda staged its 200 lap National Sportsman Championship race. For the only time I can remember, the program listed the owners of the cars. The owners of "Kalamity Jane", as the tall, upright '38 Chevy coupe was nicknamed, were identified as Peter Teresco and Richard T. Mancini, both of Amsterdam. If Farquhar did much in the long race, I don't recall. The most memorable thing was that it was one of the big victories for Steve Danish.
A recent entry in a local website message board has shed some more light on the 685 and its personnel. Josh Teresco, grandson of Peter Teresco, writes this about his recollections: "It was really more Gramp's car but dad was drafted to work on it day and night. Old man Teresco had a couple Esso stations in Amsterdam till he keeled over in 69. He and some bookie named Mancini raced a few old Chebbies that they pulled around with a Supercharged Stude pickup. Dad remembers a few different people drove this one over the course of about 6 years, Johnny Miller, Billy Wimble and Jack Farquar was all he came up with for names. These photos are probably a little older than '67 but not much, thats just when they were developed. My Grandfather is in a couple photos breaking it down. In that sense, the apple doesn't fall far from the tree, parting out cars is like a second job for me. I think thats Jack Farquar with the checker at Victoria, early sixties."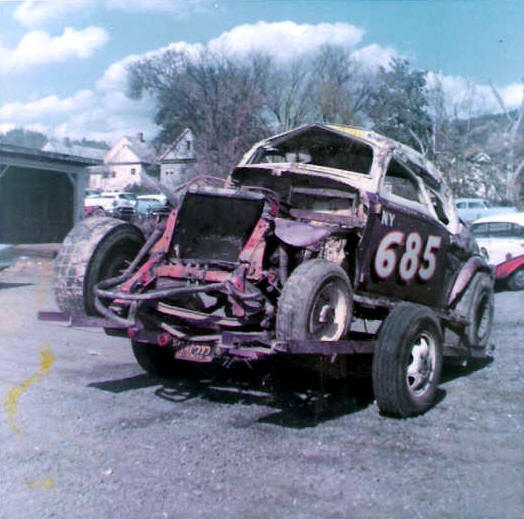 Peter Teresco [AKA the old man] would work to salvage items off the wreck of the original 685. [Courtesy of Josh Teresco]
I find this fascinating, when one considers that driver Farquhar was a racing judge. In New York state, many little towns have justices of the peace who act as judges in matters such as traffic offenses. He was a judge driving for a local bookie [if that is true]. At any rate, Farquhar eventually wrecked Kalamity Jane. "Old man" Teresco harvested everything he could from her and began to build a 1936 Chevy coupe to act as the next purple 685.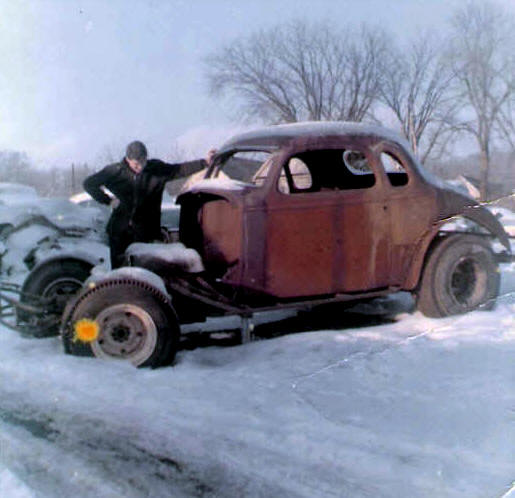 A man I assume is the elder Teresco examines the work in progress as the new
685 began to be built in the late winter. [ourtesy of Josh Teresco]
Apparently, the newer coupe worked better – or maybe Farquhar just improved. At any rate, the team managed to win at least one feature at Victoria Speedway, near Duanesburg, NY in the mid – 1960's. By the latter years of the decade, Farquhar had jumped into the equally – immaculate llk and white #2 of Vince Barbuto. Jeep Herbert had had some luck with the Barbuto car at Victoria, but Vince went on to lower the car and put Farquhar in it.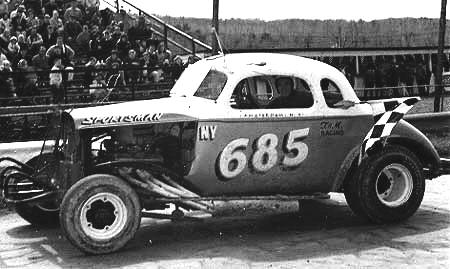 Jack displays the checkers at Victoria probably around 1965. [Otto Graham Site]
Farquhar and Barbuto did not stay at Fonda much longer. They changed the car number to 22 and headed for Lebanon Valley, where "The Judge" became a top runner. Farquhar was still running in the 1970's, with an ugly – looking late model – bodied modified. I don't know when he retired. I also lost track of Barbuto, because I never got back to a race at Fonda again after 1968. At least, thanks to Josh Teresco, I finally learned of the fate of Kalamity Jane.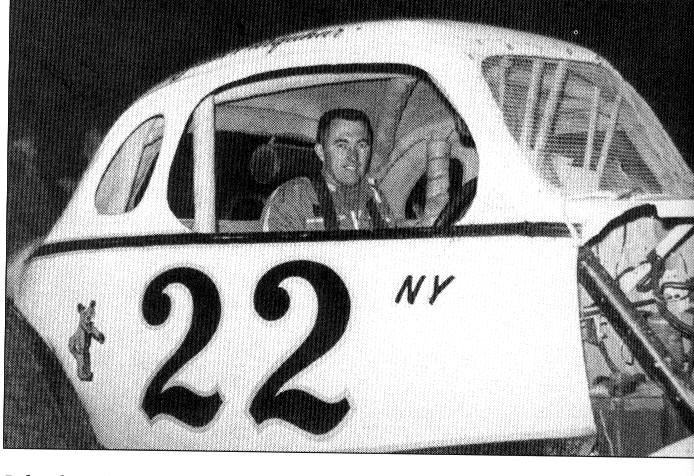 Farquhar had his best success with Barbuto's gorgeous #22 [Photo Source Unknown]
One of the damnedest rigs I ever saw was a car which ran at Saranac Lake and at Airborne Speedways in the earlier 1960's. Both Dick Nephew and Rod Ritchie were prominent drivers at the more-well-known Airborne; but , a great many of the Airborne competitors would make the relatively – short haul over to Saranac Lake and also run the dirt at Aaron Hoyt's alpine arena near Lake Colby. Famed modified driver Brian Ross recalls working for the Hoyt family, hauling used oil to the track from Albany in the '60's. Saranac Lake was never very famous, but it was well – loved. It also served as another venue for a few of the V-8 teams from Fairmont Speedway.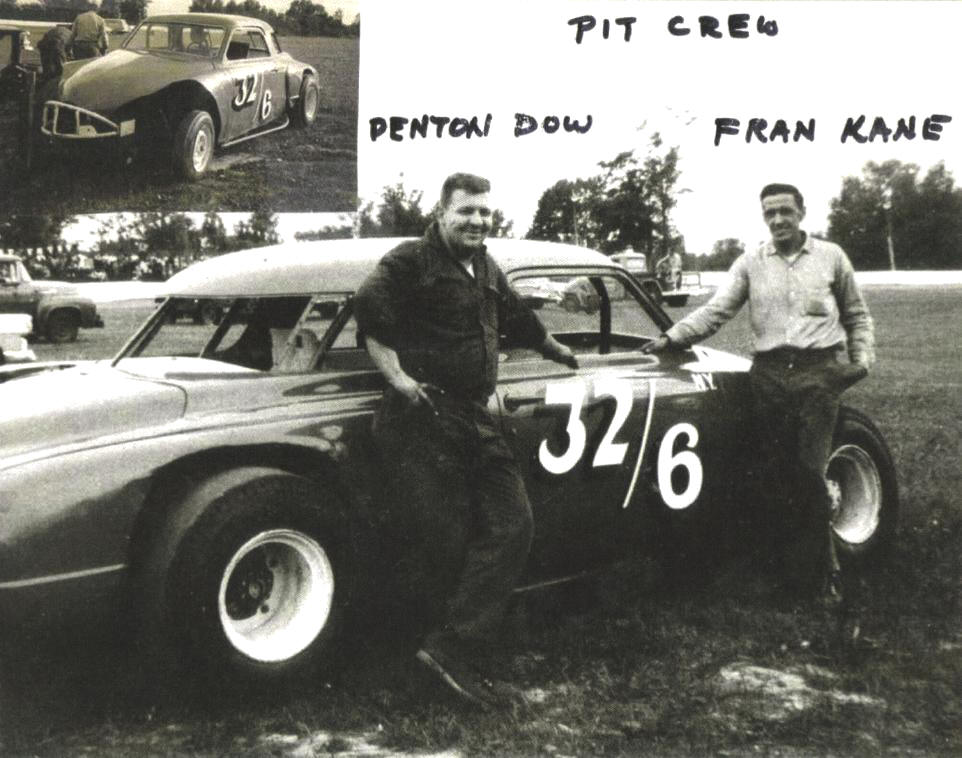 Here's the best photo of the wild-looking Studebaker, with Denton and Fran. [Bob Mackey Photo Courtesy of John Rock and Bobby Castine]
Getting back to the car, Dick Nephew had made a big name and actually won the 1961 NASCAR National Sportsman co – Championship with his signature red #6 Chevy coupe. Meanwhile, Rod Ritchie was also doing a great job with his familiar #32's. For a reason unknown to me, the two ended up sharing a car – one particular season. The 32/6 was a Studebaker – bodied car, and I believe it was run primarily at Saranac Lake. I am not sure who owned it, but the mechanics included Denton Dow, and Fran Kane – who is still active around Airborne today.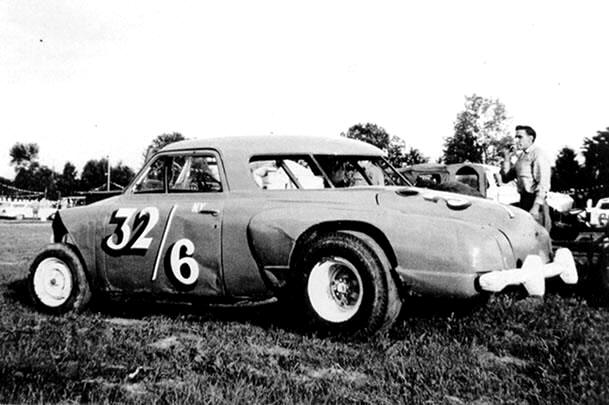 Fran Kane stands guard over the 32/6 in the pits. [Courtesy of Mike Watts]
Return to the Columns Link Page
Return to the Main News Page