BILL'S [Somewhat] WEEKLY COLUMN/BLOG PAGE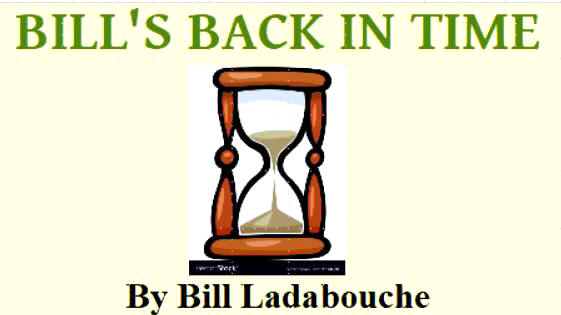 A LOT OF DICK'S PHOTOS HAVE MUCH TO SAY

At one of the past Lost Speedways conferences at the Saratoga Auto Muesum, Dick Britain handed me a DVD with a bunch of his photos on it. The photos centered around the C.J .Richards - promoted Fairmont and Devil' Bowl Speedways; Dick was somehow related to Richards. Many of the older photos' condition give certain testimony to the dusty, difficult conditions under which he shot the 1964 Fairmont group. However, all the photos are treasures, and many of them tell long stories if you just listen.
Briefly, the items he included seem to center around two times : a late season race program at the dirt Fairmont oval in 1964, and a Northern NASCAR late model sportsman event at Devil's Bowl [then paved] around 1973. Each set has its own unique appeal, although the better conditions make the D. Bowl shots much nicer in quality than the ones in the dirt, elevens years prior.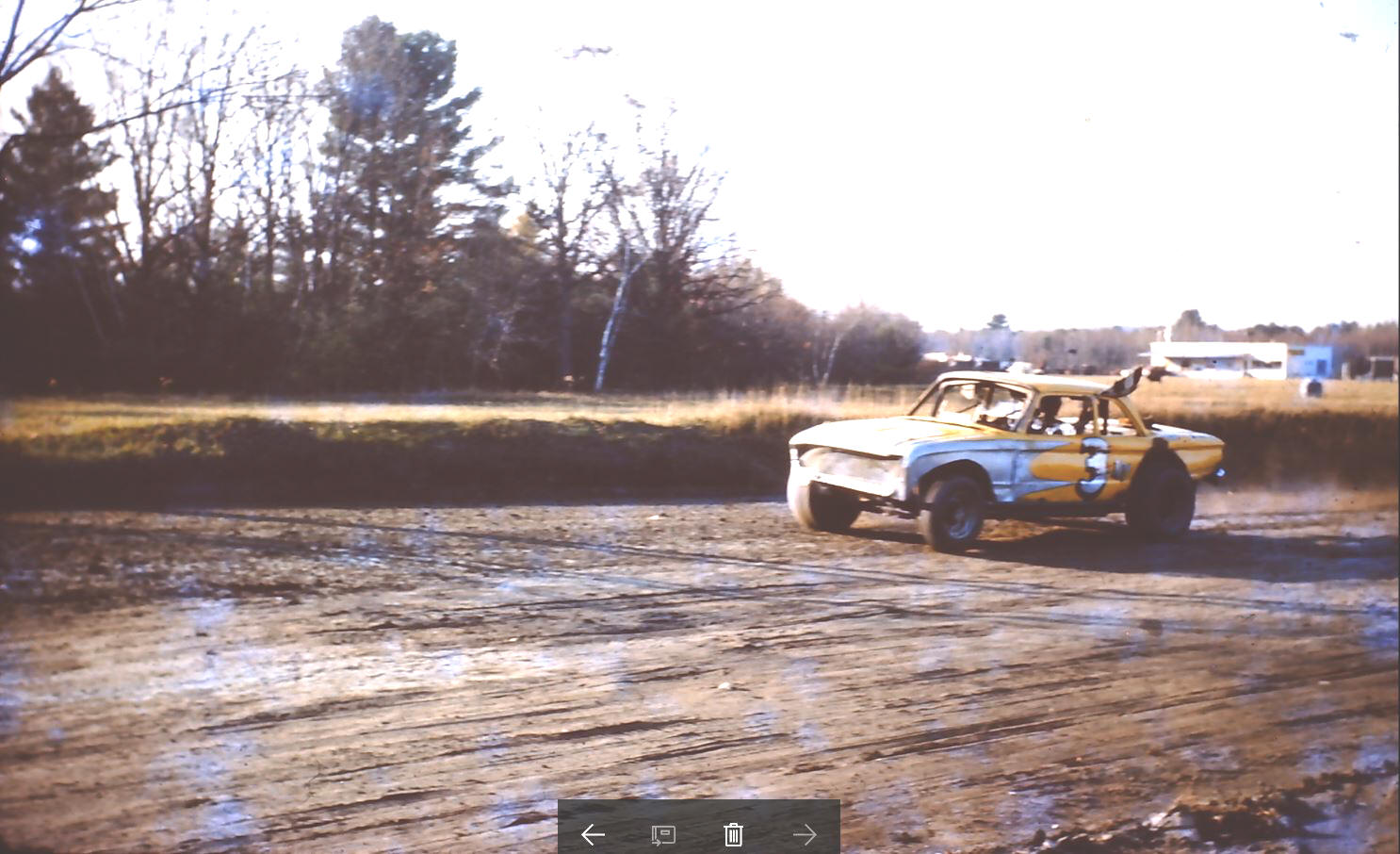 Dick Britain Photo
Pete Corey delighted the Fairmont faithful when he showed up late and dramatically at a
late season show at Fairmont in 1964. Obviously, he
had some success given the checkers he is flying on the backstretch.
Below – The Corey car is unloaded in the infield with the crew
[especially the guy in the hat] playing to the attention.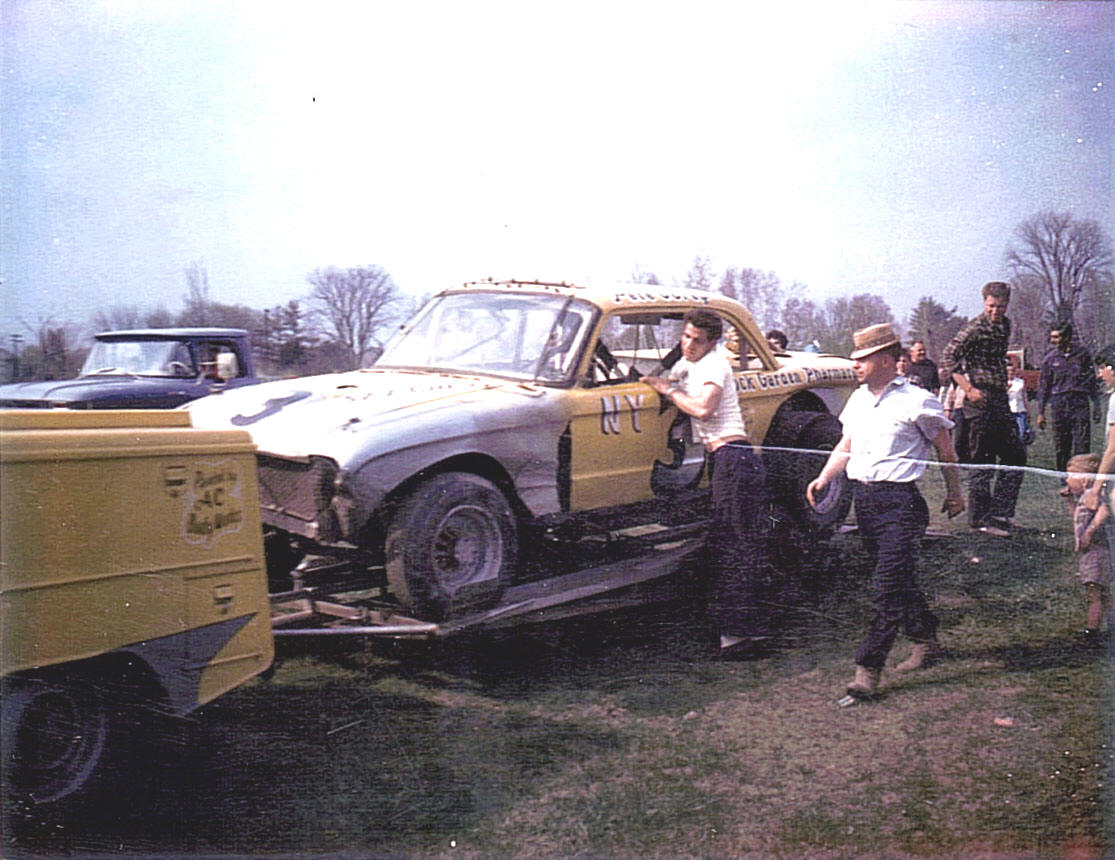 Photographer by Val Blicarcz

The first such photo is one of Peter Corey, waving checkers from his famous Falcon, on Fairmont's backstretch. He had come out with the Falcon, as something of a surprise, at Fonda and Victoria in the Spring. At first, the car had no front fenders. Later, I think officials made him add them on. And it looked a lot better with those and a more professional lettering job. I don't know that the body gave the car any advantage, but he had success with it at Fonda, Victoria, and Stafford Springs that year.
Corey had pulled into the track after the racing program had actually begun, and things stopped while he unloaded and was given a brief but showy practice session, all by himself. Not all the Fairmont regulars appreciated the favoritism, with one of the local stars calling him what could only be described as a politically incorrect name. Nonetheless, Corey was in the program after that and I think I remember his blowing everybody away.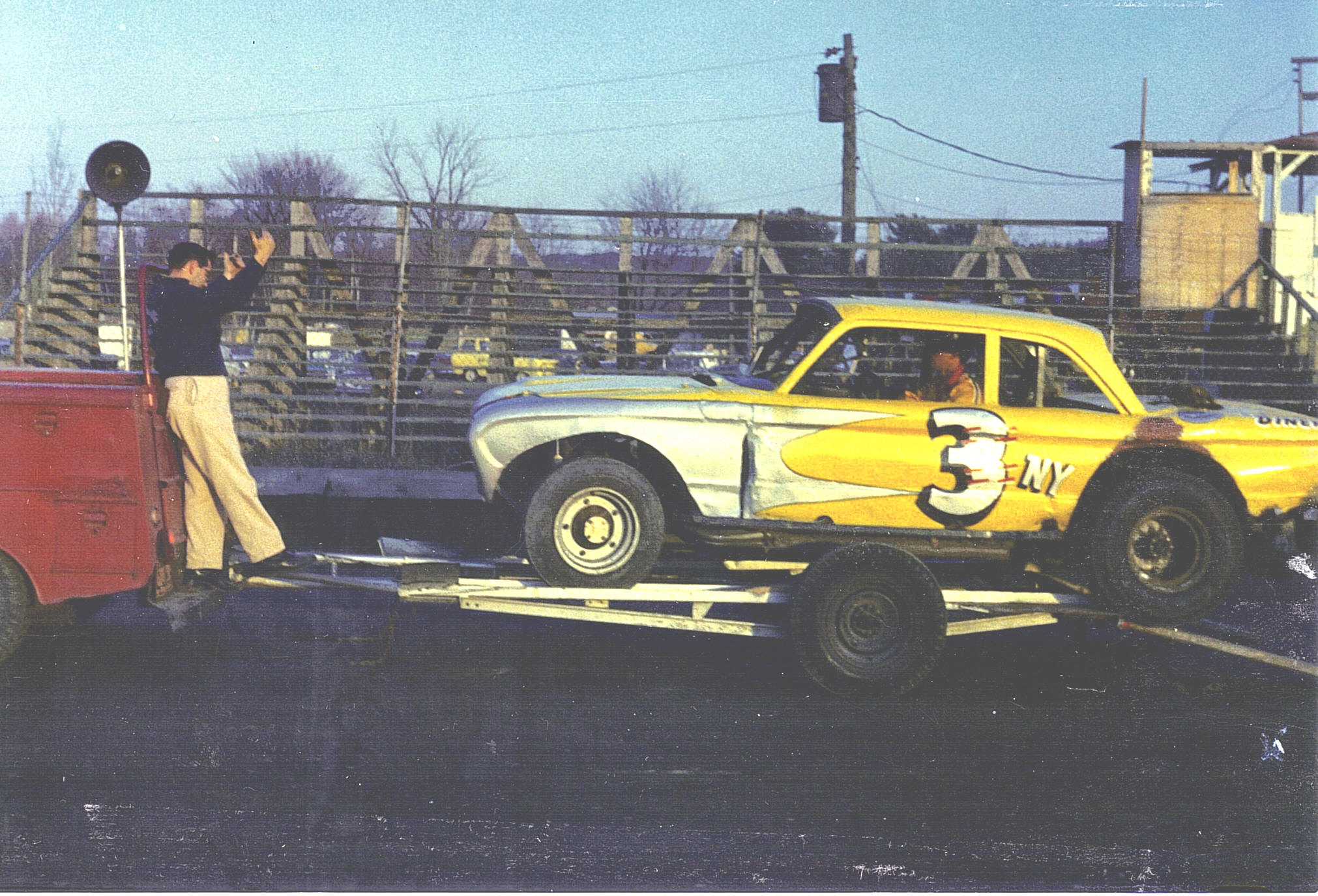 Photographer Unknown
Pete is directed onto the trailer in the failing twilight as dozens of
people [off camera] were still there to watch. Below – Dutch Reed,
a Fairmont regular, had the reins of the Tony Villano 37 that
day. The car was usually driven at Fonda by Jeep Herbert.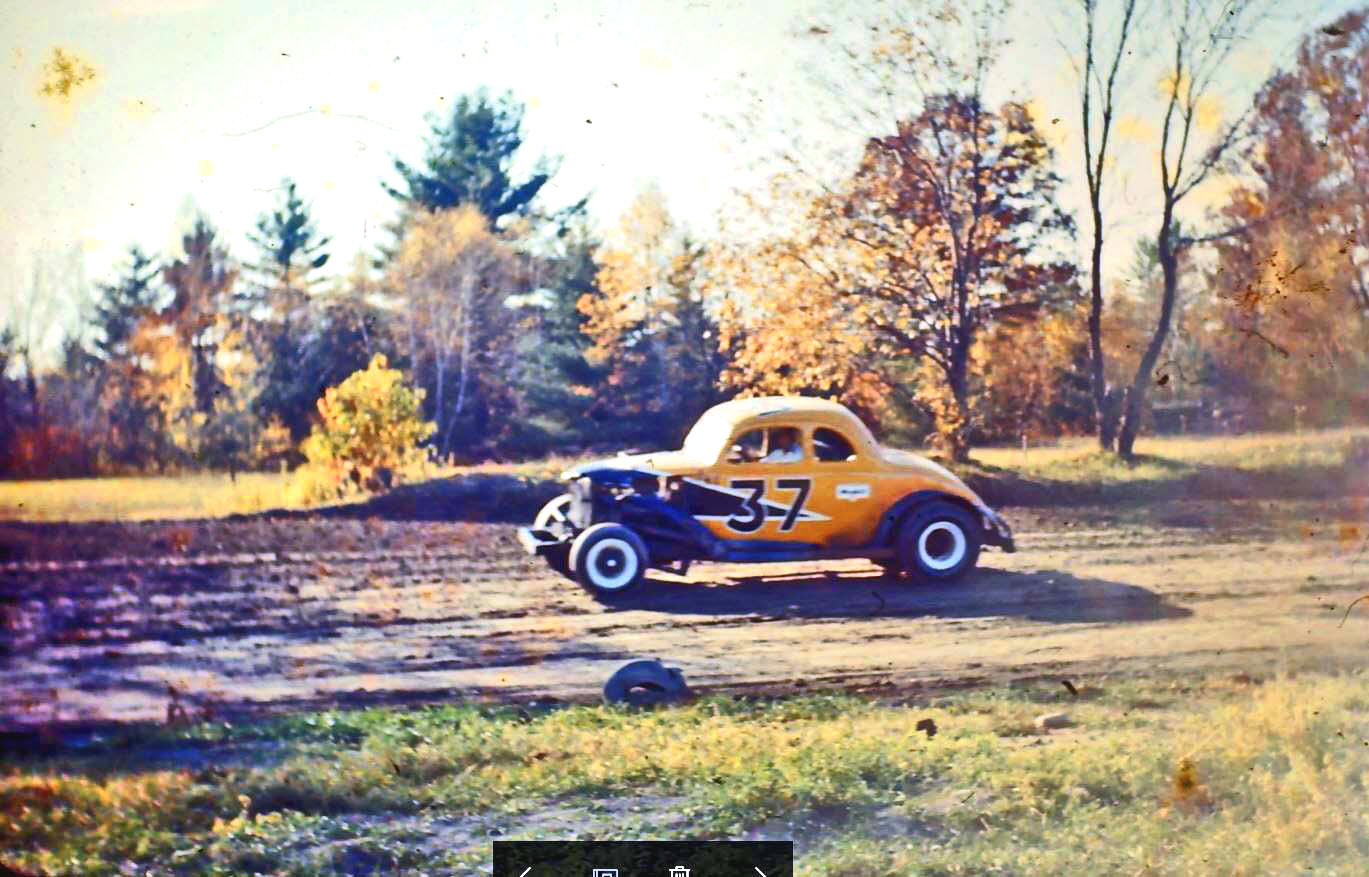 Dick Britain Photo
The Corey crew, obviously drinking in the attention, had strutted around the car, unloading and making a real show of their extensive preparations before he ventured out for his private run. He was not the only non – regular to make the trip to Fair Haven that day. The field included Roger Gauthier, with the Charles Habreck 53NY; Dutch Reed, with Tony Villano's 37; John Ryan, with a Valley '55 Chevy; Stan Wetmore and Louie Searing, with Searing Stable cars; and Valley regulars Carl Moore and Butch Jelley.
The regulars presented a varied mix of cars, ranging from New Hampshire – oriented cut down flathead coupes, to GMC sixes like George Rogers and the Loomis 111, to a number of other less impressive cars that the track didn't usually see run. A few of the lower handicap coupes actually seemed to run in with the Fairmont hobby class, late models [more stock] cars. Corey certainly stole the spotlight that day, and was closely watched by dozens of fans even after the Falcon had been loaded to go home.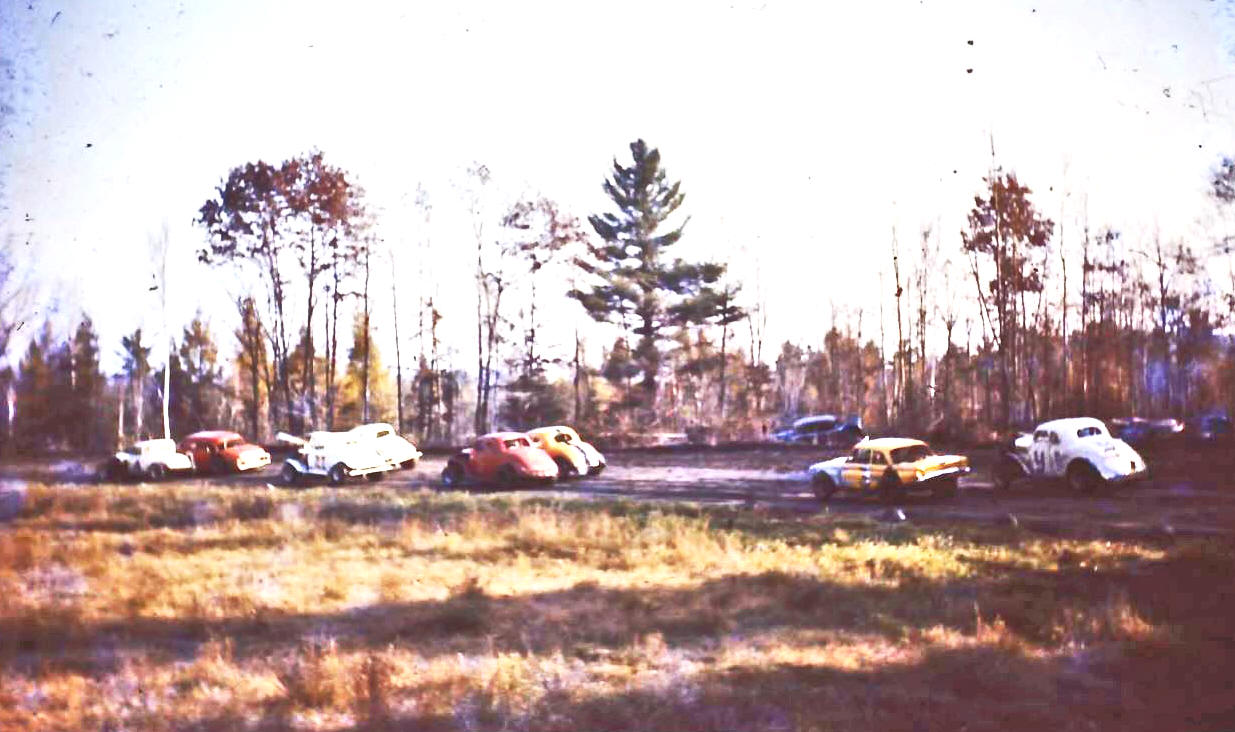 Dick Britain Photo
A fairly impressive high handicap heat nearing turn three. Vermont State Champion
Rudy Charbonneau's flathead #4, John Ryan's late model, Lou
Searing and Stan Wetmore with Valley cars, Gauthier and Reed, Corey
and Jelley. Below – A mixed field of hobby class late models and some
low end flathead coupes are ready to rumble. I can't make out the outside
pole car. Others include Charbonneau, Dale Provencher [11A], Herbie Swan [23],
Charlie Towslee [7UP], and Ronnie Wood [96]. 71 may be an early Don
Accavello car.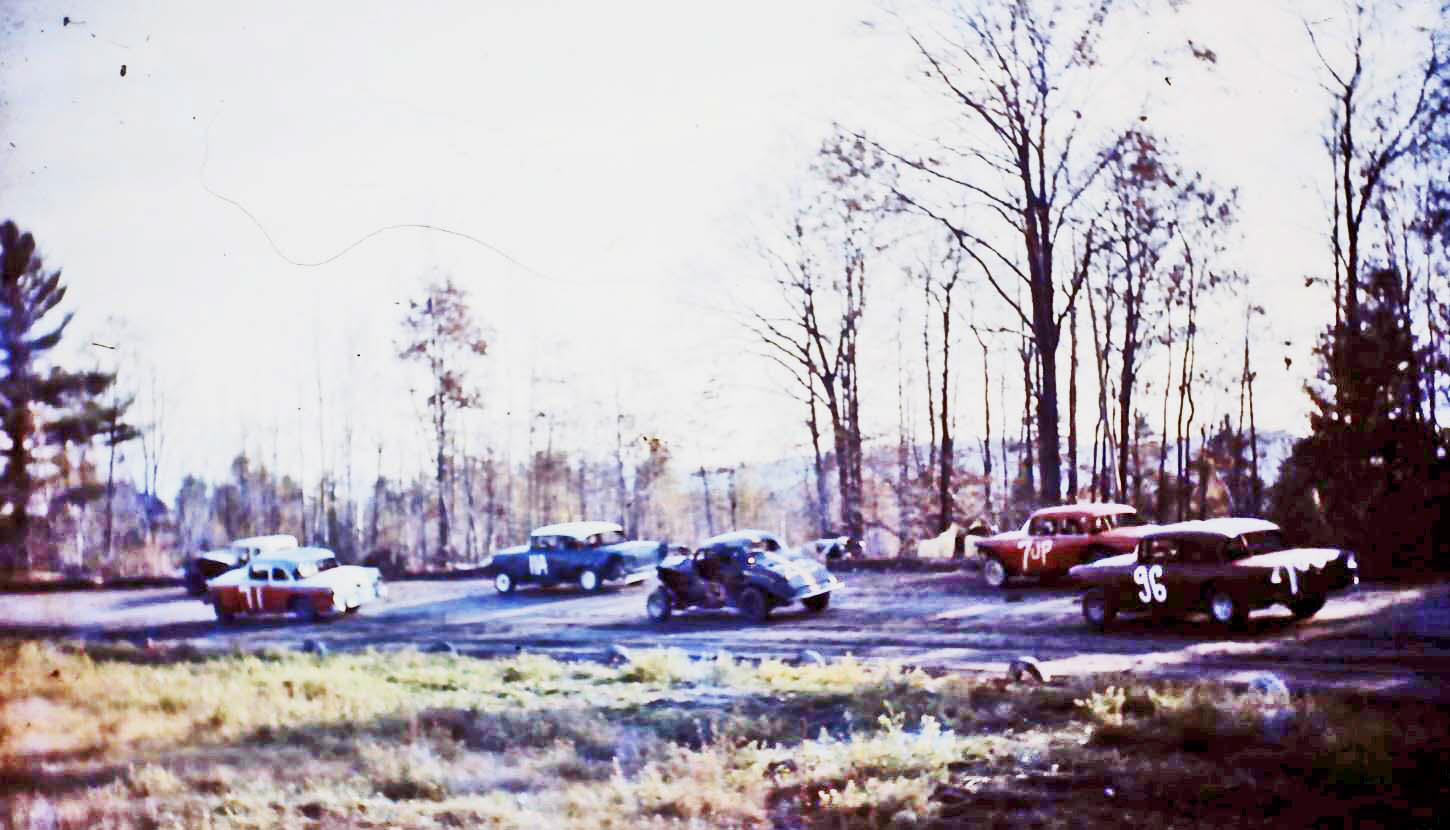 Dick Britain Photo

The next photo that caught my eye was one of what Devil's Bowl [as well as Albany – Saratoga and Airborne] would call "Chargers". This class was automatic transmission behemoths, along with a few smaller Chevelles and such. Catamount had a similar class that came to be called Hurricanes, although I don't think Chevelles were allowed. This class was developed for two reasons: at Malta, it was to replace the rapidly – evolving and increasingly expensive Semi Late Models; at Catamount, with late models taking over for the departed modifieds, it was the only support class [and Ken Squier was smart enough to have it compare to surrounding race programs of the time].
As a result, the Sunday night Devil's Bowl program could field its own regulars, as well as Chargers from sister track Airborne and a number of Chargers from Malta. Add to this a few Catamount Hurricanes such as Ron Bonnette and George McRae – and you had a helluva field of the things. The particular photo in question shows a Charger qualifier getting ready to take the green. You can see local star Ken Boutwell, with his #24 Mopar [ a regular at Malta]. The Catamount Hurricane of George McRae [big orange #65] is visible.
Albany – Saratoga stalwarts Tommie Tucker [with a massive 1958 Buick] and Larry Curtis, of Argyle, NY [#98] are also seen. Curtis was a popular figure with the fans because it was widely known he drove with one good hand and one prosthetic hand. Two more blue cars are unidentifiable, but I think they are most probably Malta regulars and likely Mopars. The Mopars were taking over with the Catamount Hurricanes at this time.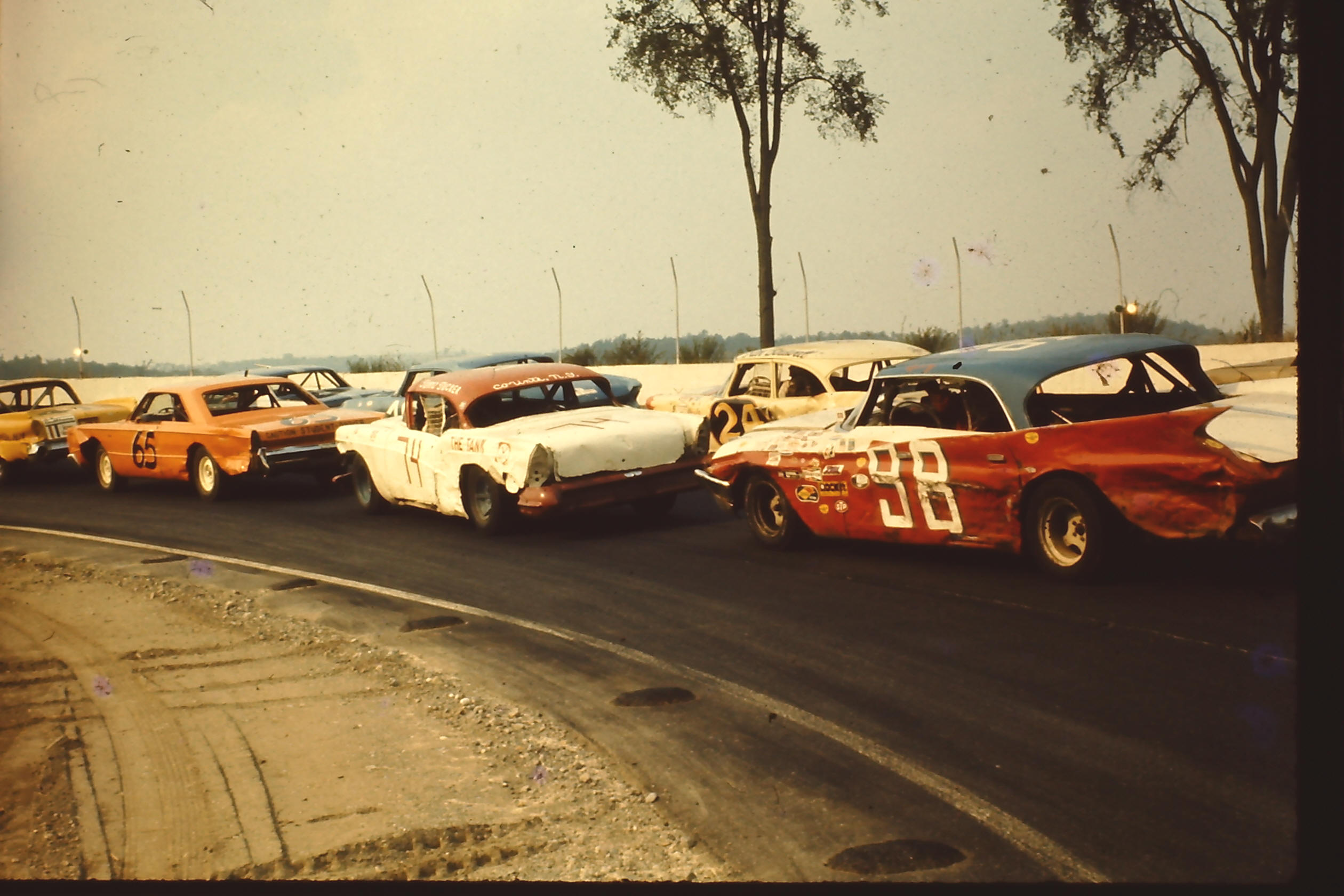 Dick Britain Photo
The behemoths are ready to roll on the backstretch at the Bowl.
McRae [65], Tucker [74], Boutwell [outside] and Curtis [98].
Below – Guynup, a second generation Airborne runner, takes
a Charger feature at Devil's Bowl.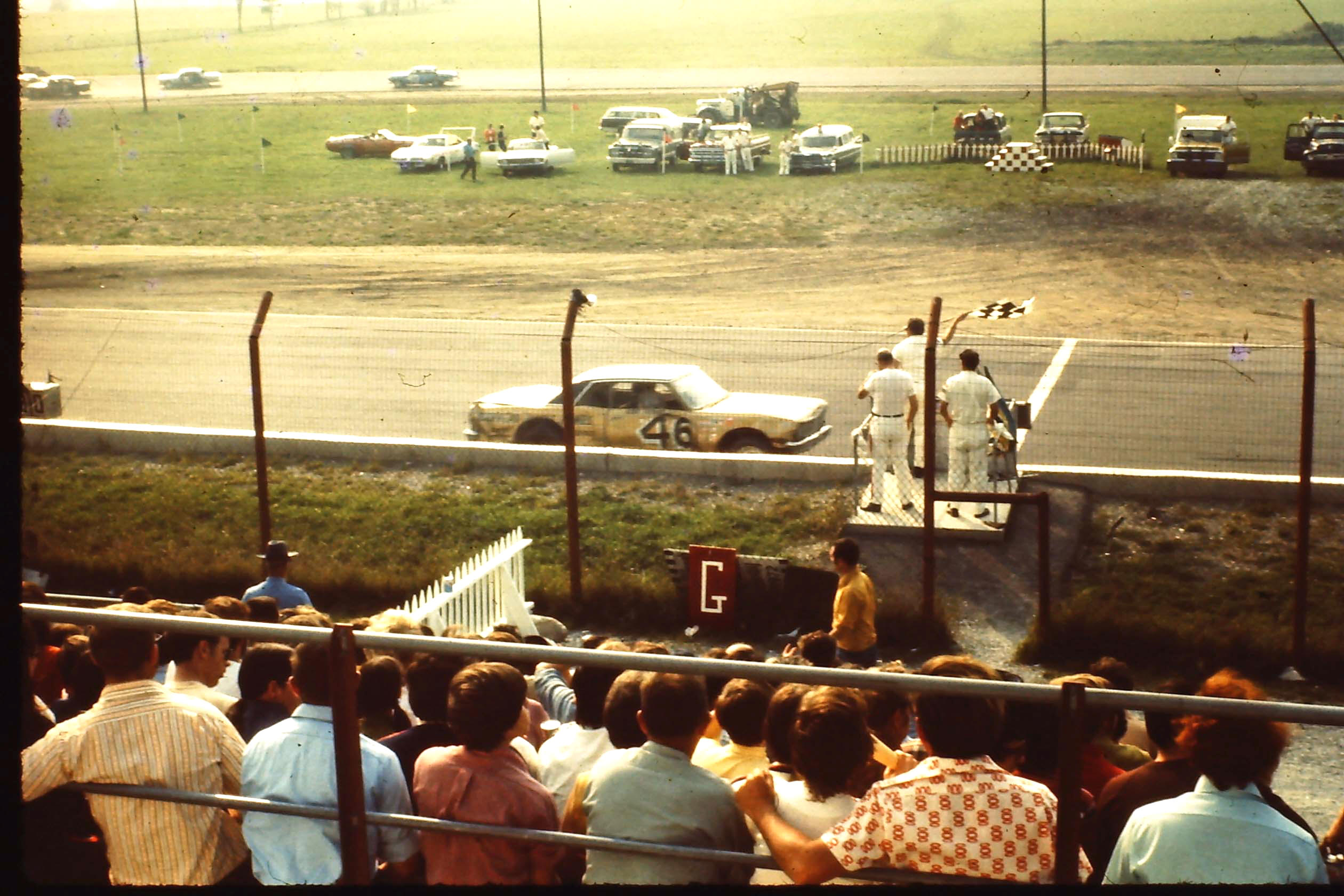 Dick Britain Photo

What you don't see in the selected shot is any of the fleet little Chevelles that were regulars at Airborne Park Speedway in South Plattsburgh. Gene Guynup would drive his #46 Chevelle to a track title that year [ I believe at Devil's Bowl] and Bill Conover was another Airborne driver with a smaller Chevelle. He had actually tried it with the Northern NASCAR late models a few times at Catamount. What else is not seen is the #19 Ford of Catamount's 16 year - old sensation Ronnie Bonnette, latest of a family of racing brothers from St. Albans.
The Chargers were nothing to sneeze at. The division spawned some great racing names: Brian Ross, Steve Luse, Bill Brooking, Jack Halloran, and others would go on to the modifieds; in some cases, they had Hall of Fame careers. Boutwell, primarily, carried the torch for Vermont at Malta. He was very effective in the division but apparently did not choose to move up to the more expensive modifieds.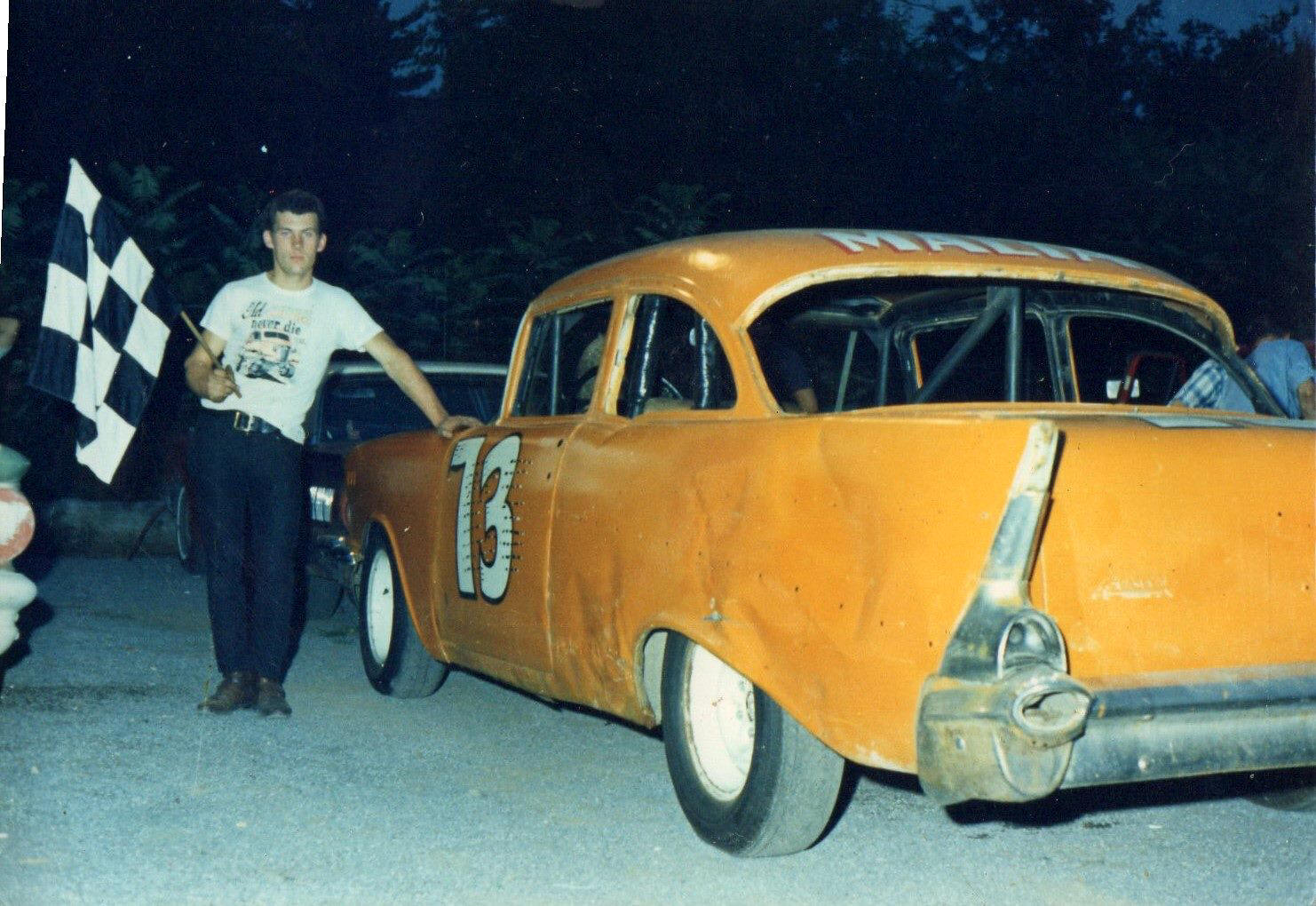 John Grady Photo
Brian Ross may be the ultimate Charger success story. Above – His Charger. Below – Ross poses with
an early modified of his own. He would drive for numerous top teams in a long career.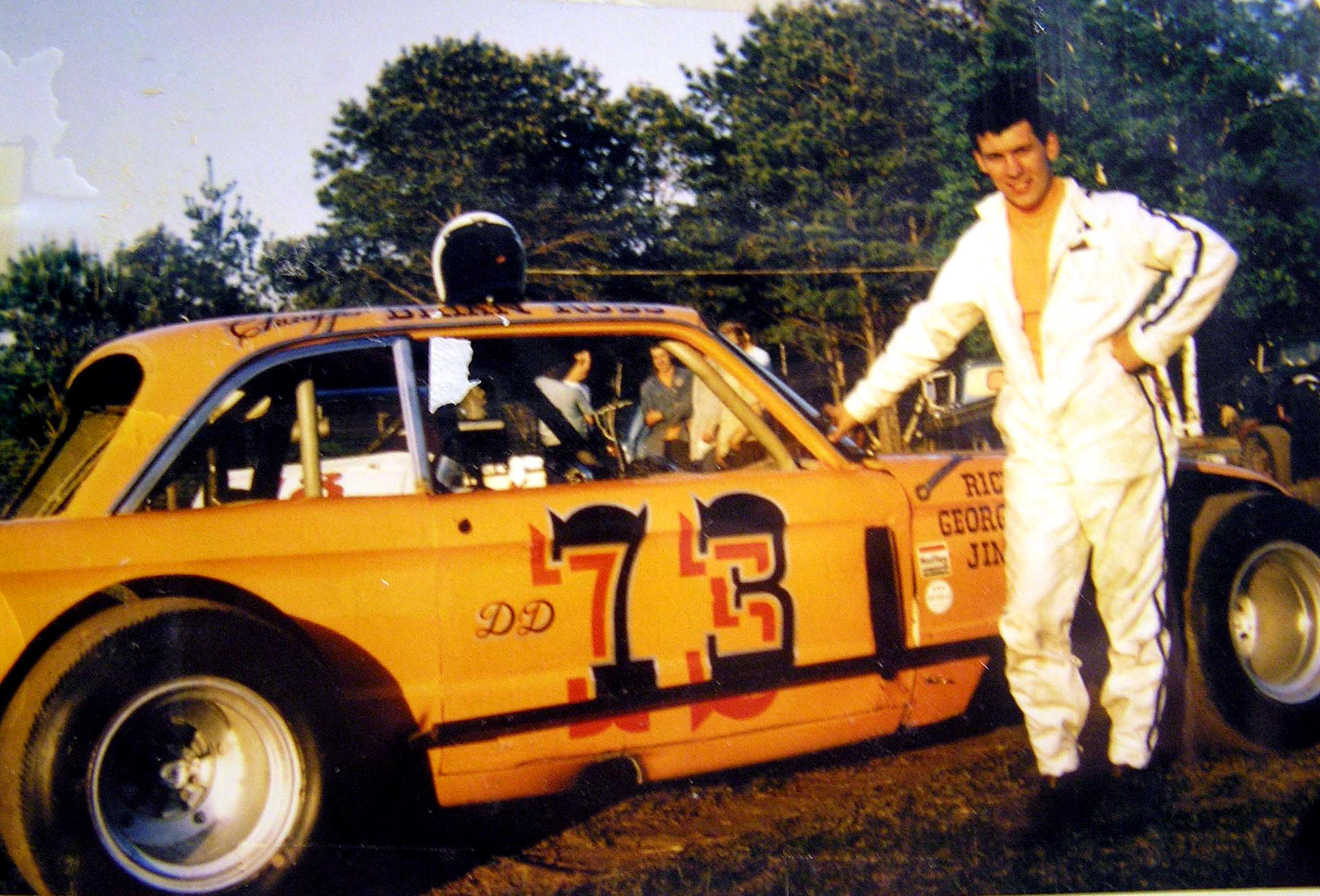 Courtesy of Andy Boright

Dick has a shot in the collection from late 1972, with the late models of Northern NASCAR at the Bowl for an extra distance race. Tom Tiller is seen circling the track under caution as a wrecker tows in the 75 of Beaver Dragon, a name as familiar to Bowl fans as to the fans of his hometown Catamount. Dragon, in 1970, had left Catamount with his brother, Bob after a perceived had been paid to the younger Dragon. Beaver was already a regualr at Devil's Bowl, running a sportsman coupe for Ray Richards.
The younger Bobby Dragon would take his 1969 entry, a pavement Flying Tiger '57 Chevy, convert it to dirt, and begin running the competitive Bowl alte model class in 1970. When the track was paved the following season, Beaver and the Richards team converted the coupe while Bob's people went to New Jersey, bought a Bill Wilson dirt coupe, and similarly converted it. The very upright coupe Bob had was always under somewhat of a disadvantage to the lower cars of his competitors.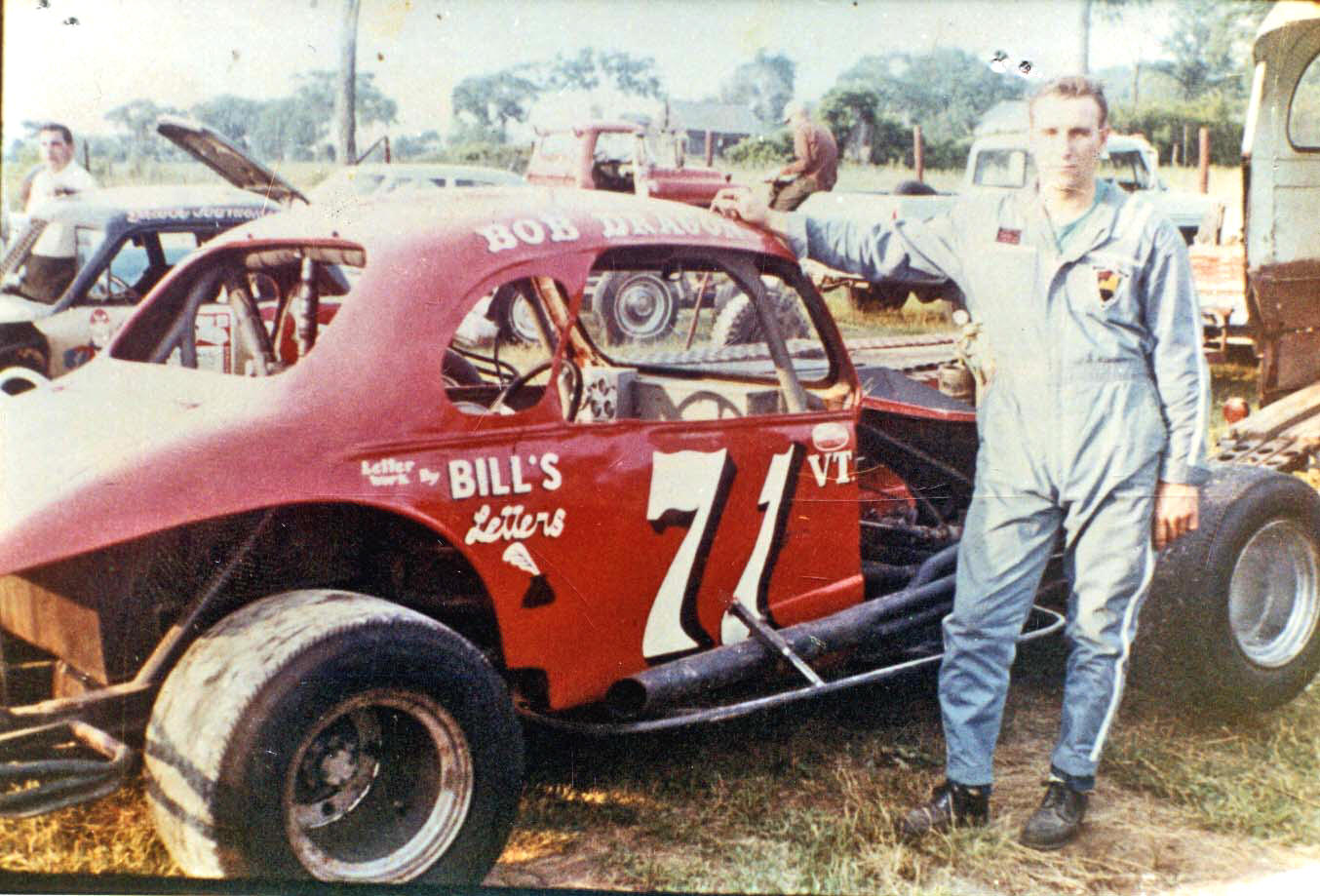 Bob Frazier Photo Courtesy of Rich Palmer
Bobby Dragon poses with his former Wilson dirt car at the
Bowl in 1971. Below – Beaver, with the pavement version of the
Ray Richards 75.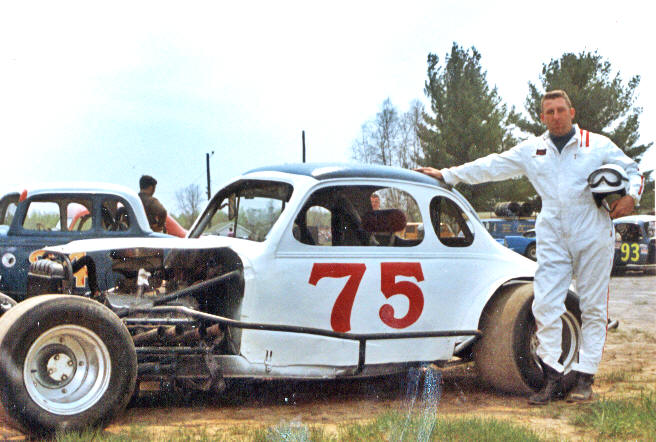 Bob Frazier Photo Courtesy of Rich Palmer

By 1972, as Catamount and NASCAR North were going with the late model sportsman cars full bore, both Dragons had made peace with the North and were ready to reappear there. Besides, Devil's Bowl and Airborne had joined the circuit.
Bob landed on his feet. A consortium of friends got the money together to buy a Bobby Allison car, and they never looked back. Bob said, in 2017, that once they had made that initial outlay, the hugely winning car never cost them any more of their own funds.
Beaver, on the other hand, did not have a ride. He bounced around with a few very inferior opportunities and seemed destined to fade off int oblivion until late in the season, his friends and supporters reached into their pockets and bought the highly – successful Chevelle that Russell Ingerson had been driving for Pelletier and Falzarano, out of the White River Jct, VT area. Principal owners Paul Robar and Herb Everest had also obtained the P & F hauler. Things looked rosey as they hired me to convert the number 51 NH to 75 VT.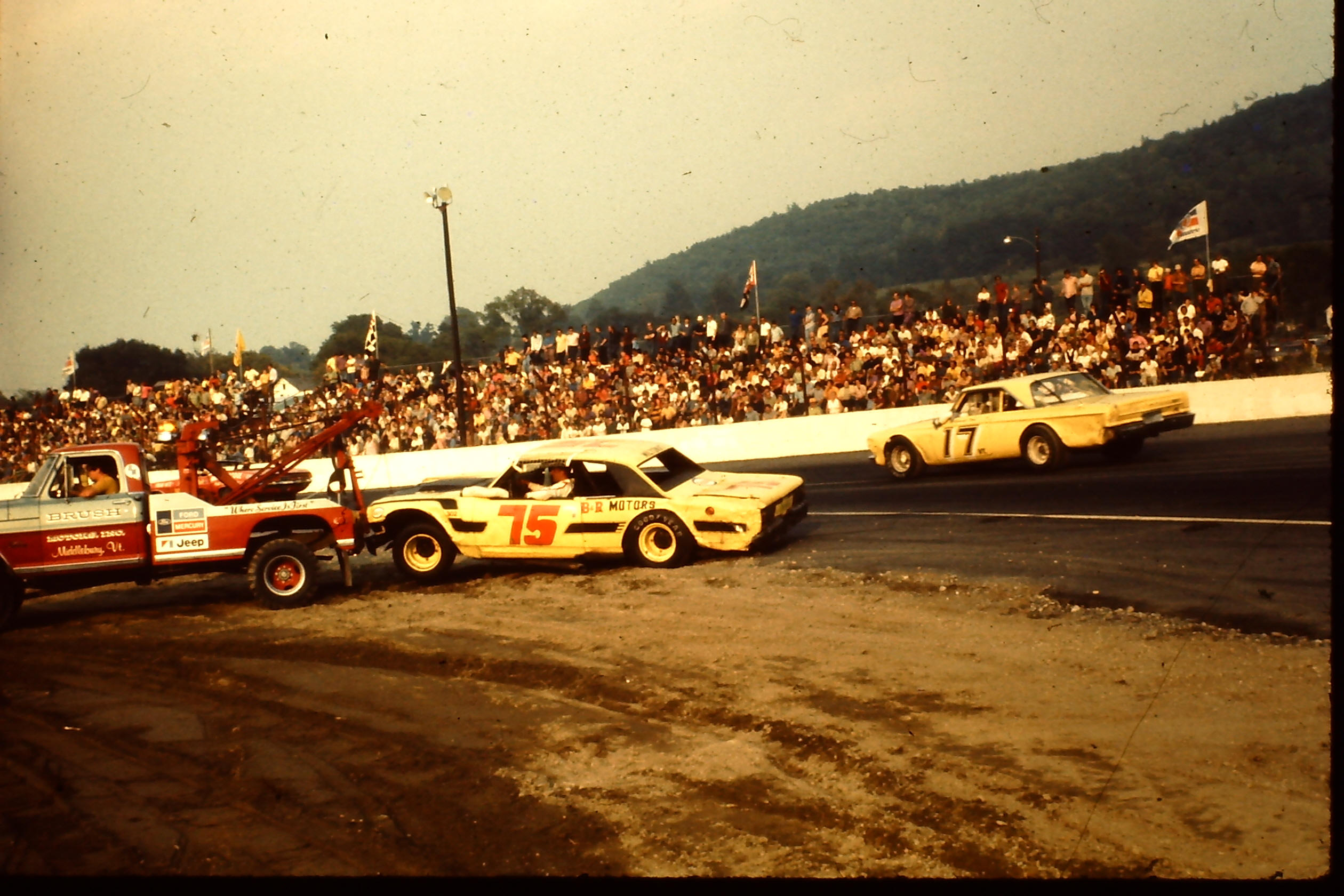 Dick Britain Photo

Just because things look rosey doesn't mean they are. Within a three week span, the engine had blown all three times. When it did run, Beaver had trouble understanding how Ingerson found it so easy to handle. The truth was, he didn't. While the car handled nicely, Ingerson told me the actual strength needed to steer the car was considerable. He said the Chevelle had been built on the chassis from the '57 Chevy limited sportsman that theyhad before and that necessitated setting something in the steering components back more than he would have preferred.
Beaver was a big enough man to handle the steering, and the team found out that – if they ran Sunoco in the car instead of Exxon – it stopped burning valves. But the whole experience with the former Ingerson car was less than happy. It is very possible that the photo Britain took of Beaver being towed in yet another time was for engine failure [if they hadn't discovered the fuel brand solution yet]. The Chevelle disappeared that winter and the team built a car that won the first two races of the hectic 1973 season.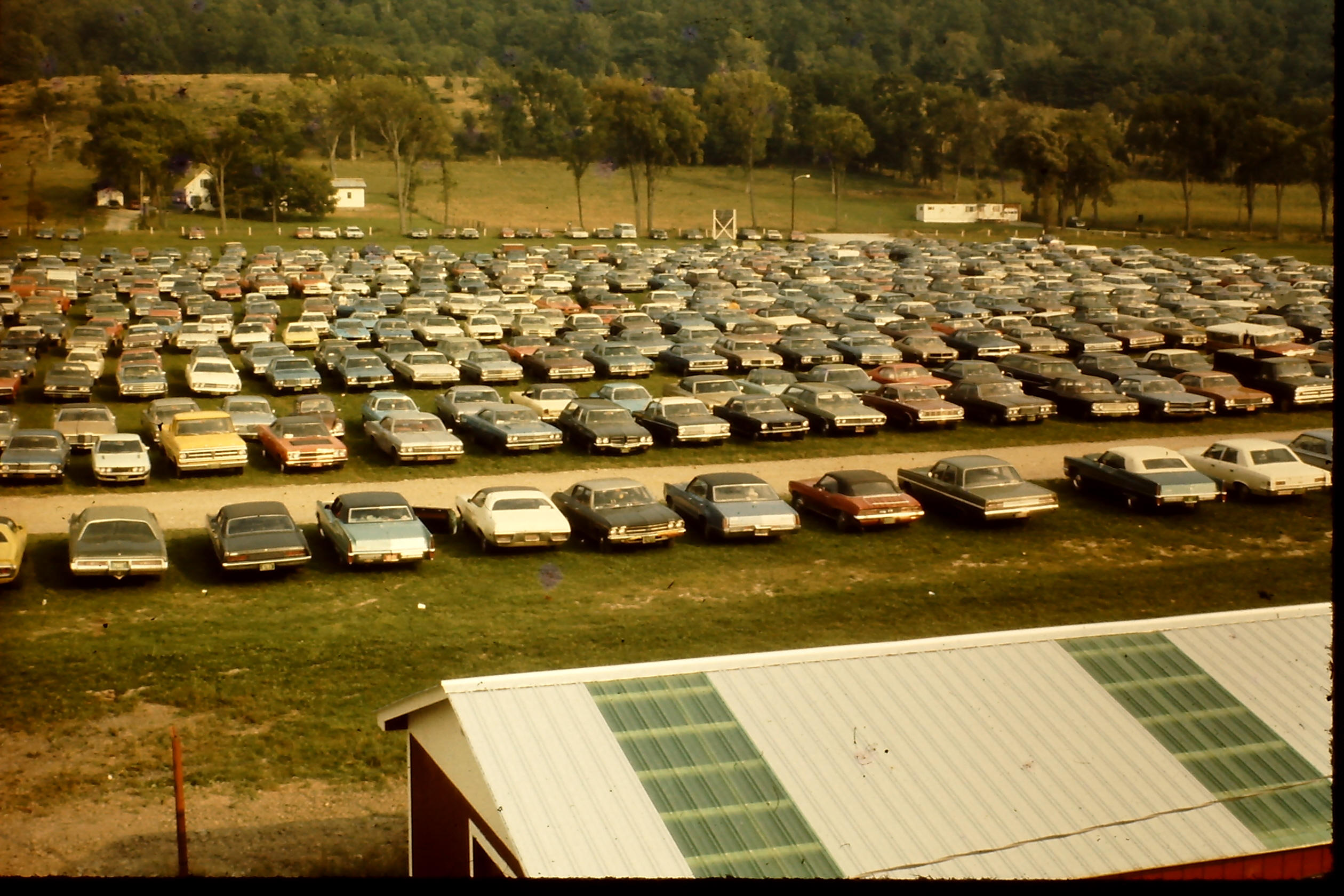 Dick Britain Photo
Dick snapped this shot around 1972. Even after the unpopular paving of
Devils Bowl, a good NASCAR North race would pull in fans from
areas other than local and fill the parking lot.

When C.J. Richards rolled the dice and had the Bowl paved for the 1970 season, it was hugely unpopular. The locals, who loved their dirt track, stayed away in droves. Except for one or two, his regular drivers stayed away along with the fan base. The cars that came to fill the void were largely unfamiliar. It was rough sledding that year. He had some legendary cars such as the newly – introduced Judkins 2X Pinto race there, but few cared or showed up to see it. With an eye North to the burgeoning Northern NASCAR circuit, he made the plunge and put his two tracks in the mix for 1972.
Crowd counts have been up and down – especially in the last ten years of the track's history. Having returned to dirt in 2018, owner and promoter Mike Bruno had finally seen crowds coming back and has seen a full parking lot like the one in the 1972 photo on occasions this past year. It looks like he has turned the corner. The Dick Britain photos have a lot of stories to tell if you just lean your ear in and listen.
Please email me at wladabou@comcast.net if you have any photos to lend me or information and corrections I could benefit from. Please do not submit anything you are not willing to allow me to use on my website - and thanks. For those who still don't like computers - my regular address is: Bill Ladabouche, 23 York Street, Swanton, Vermont 05488.
AS ALWAYS, DON'T FORGET TO CHECK OUT THE REST OF MY WEBSITE:
www.catamountstadium.com
Return to the Main Page
Return to the Main News Page
Return to the All Links Page
Return to the Weekly Blog Links Page