THE BILL'S BACK IN TIME COLUMN PAGE
Copies of my column in Mark Thomas' "Racin' Paper"
Column #12 from Column 25
BILL'S BACK IN TIME
By Bill Ladabouche
YOU NEVER KNOW WHO YOU'LL DISCOVER IN A HAULER AT AIRBORNE SPEEDWAY
One Saturday night at Airborne Speedway, I enjoyed a bonanza of new contacts for racing history resources. That late August show in the cool Plattsburgh, New York evening, yielded some unexpected successes in the long pursuit of racing history - especially keeping the history accurate. I had headed over to the hauler of Warrensburg's Terry Hayes, in the hopes that he was actually related to a driver I believe came from Warrensburg in the 1950's and 1960's - Sonny Hayes. That ended up in a dead end street.
However, in Hayes' hauler was a veritable treasure trove of new potential data. First, I met Bruce Keith, who knows a lot about the history of the old Warrensburg track. What's more, Bruce's mother is one of those women who, in being an active race scorer in the old days, kept a lot of data and materials from the era. If that was not enough, it just happened, by pure coincidence, that this night was the one and only time Queensbury, NY's Ralph Palmer had decided to drive up Interstate 87 and see Airborne. Palmer was a very active figure in the late 1950's and 1960's - around Fairmont, Lebanon Valley, and all the other tracks in that region.
Between Bruce and Rapid Ralph, we should have a bunch of new info somewhere down the road. What conversation I did manage to have with Ralph – before and during the modified feature, has cleared up a number of ideas I have kept in the back of my mind about the Warrensburg and Fairmont tracks for decades. Palmer, himself, was a mysterious figure to us locals around the Fairmont Speedway region because he simply appeared, almost out of the clear blue sky, in Pittsford, Vermont around 1963 or 1964. Pittsford isn't – and never was – exactly a Mecca of stock car racing in the area [unlike its rival neighbor Brandon].

From the Fonda History Book, Fuez Family Collection
Palmer's buddy Earl Maille, photographed with the Fonda contingent at an early 1960's Langhorne race. Like Palmer, Maille is the essence of the early stock car driver. The man to his right in this shot is the great Dutch Hoag. Like Ralph, Maille wasn't a big winner but he served an important role in the racing of that formative era.
As it turns out, Ralph Palmer had jobs in the plumbing and heating field; and he had been moved to the Greater Rutland, Vermont area by Colonial Plumbing & Heating, which had apparently bought out Rutland's storied old Lincoln Iron Works company [one of the three cornerstone industries in that region at turn of the century]. Ralph had come from the Glens Falls region and was already deeply involved in stock car racing by the time he moved to Vermont. Palmer had worked closely with a number of the stock racing pioneers from the Glens Falls / Warrensburg area; but he seemed to be closest to a burly young driver named Earl Maille, who is principally known for driving one of the Henry Caputo 111's at Fonda.
According to Ralph, the "flatback" sedan was an important part of his early career. The big 1937 Ford coaches were being used, quite extensively, by car owners then: Palmer had one numbered Circle 7; Maille drove another, #444; Jeep Herbert drove one for Lake George car owner J.R. Earl #991; the Clark Brothers fielded the well-known #45 out of Fort Plain, NY; and Dave McCready put Bill Wimble in a sedan for some Langhorne races.
Palmer had actually started out with his own #44 in 1958, a 1946 Ford coupe. [Maybe that is why he and Dexter Dorr would use that number, years later, when they formed a formidable combo on the modified circuit in the late '60's]. When Palmer was transferred to Vermont, he took another big sedan and numbered it 444. It is not clear to me whether this was the old Maille car, his old car, of an entirely new one. Palmer made enough of an impression on the CVRA officials at Fairmont that, when Oilzum prepared to include Fairmont in their famous periodical "Cavalcade of Auto Racing, Palmer was one of the teams represented. Ralph looks back now and wishes he could remember the names of the two crewmen standing with him. He had to scramble to form a hastily-arranged team, as he was not in his element over there in Vermont.

Bob Frazier Photo, Ladabouche Collection
Dexter Dorr had sold his beautiful maroon Chevy, seen here at Fairmont, and was preparing to build a kick-butt sportsman coupe. Dorr would go on to be a premier builder.
The 444 was a big, ungainly – looking car; but Rapid Ralph managed to drive well enough to capture the attention of two participants at Fairmont – Jerry King, the Rutland Rocket, who was then old enough to not have a strong desire to run his own cars, and up – and – coming young Dexter Dorr, a Manchester, VT native who could build great cars and could see where this would be more his strength than driving them. So, when Dorr prepared to move from the beautiful late model 1955 Chevy he had been running in the Hobby Class to a new sportsman coupe – he wanted Palmer to drive it. The Dorr coupe is another story for another day, as it survived for years to come; but, Ralph had already committed to King by then.
Ralph had met Jerry King in the course of his plumbing and heating work, and the two had become friends. They immediately had plans to field a sportsman at Fairmont, as Palmer had apparently not been satisfied with the sedan. They took a 1937 Chevy coupe and installed a 302 power plant in it. Ralph first drove the car in primer. I was not aware that Palmer was in the car, I did not see the car run much – something to do with college, drinking, college girls, drinking, studies, drinking, etc. [Did I mention that New York had an 18 year-old drinking age then ?] The team made it through the 1964 season, which culminated with C.J. Richards' late promotion at the Vermont State Fair in Rutland.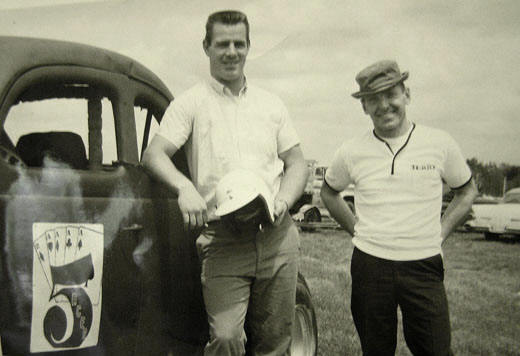 Jerry King Collection
Rapid Ralph Palmer stands by the 5Aces II car with owner
Jerry King – around 1964.
Here, the story diverges. King claims Palmer got clipped by Buddy Bardwell, crashed, and ended the career of the car. Palmer says he simply lost it in a wet spot and Bardwell totaled the car because he had nowhere to go to avoid the "sitting duck" Palmer car. At today's race track, the mishap would not have done this to a race car; but, given the very unsafe and un-race-worthy conditions at the fairgrounds horse track, Ralph and Jerry were out of business until Ralph did help King take the wreck, build a lower – set modified, and get it ready for the new Devil's Bowl track. Jerry would run the #99 for a few seasons more, mostly with hired drivers.

Ladabouche Photo
Rapid Ralph Palmer, in 2008, helping out with the Scott Depew team at Devils Bowl.
Dorr, in the meantime, had been driving his own Super 29 coupe during the last season of Fairmont; but, he still wanted a hired gun to drive the car. Before anything could happen for Palmer, the Super 29 was sold to Norm Scarborough and it became the lethal #38 that Vince Quenneville, Sr. drove to legendary results. Dorr realized he was a real car builder, and now he had a driver to help him with the project. Dorr moved his operations to Albany, NY, and Palmer followed. While building a few cars for other drivers, Dorr did produce two cars to run for himself and Palmer.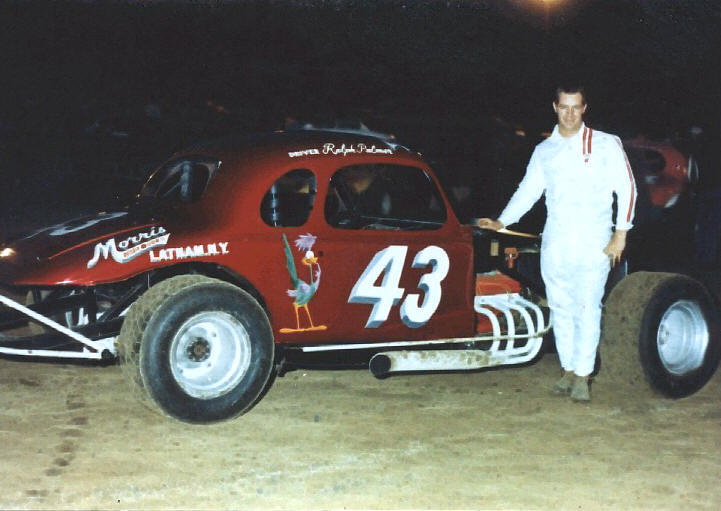 John Grady Photo
Rapid Ralph with his roadrunner – adorned Dorr creation.
The fruits of their labors produced two potent mods – Dorr's #143 fuel-injected sedan, which Dexter ran at Lebanon Valley, and the #43, in which Palmer appeared at Fonda and Devils Bowl, to name a few tracks. The Dorr cars used motors prepared by Ronnie Minch of Albany, a drag racing engine builder. Always an admirer of the Glens Falls veteran Little Joe Spellburg, Palmer had a cartoon roadrunner painted on the side of his car, just like Spellburg's car in the early seasons at Fairmont Speedway. Dorr, not to de-emphasize the whole theme, then had Wile E. Coyote painted on the sedan.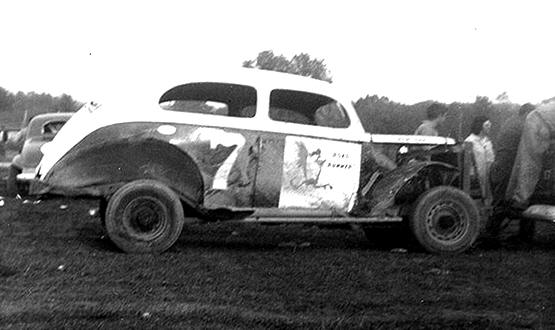 Ladabouche Photo
This grainy 1962 photo from my trusty Kodak Brownie
Hawkeye camera shows Spellburg's Roadrunner 7
near the end of the season [and the end of its lifespan].
In the course of his career and travels, Ralph Palmer has rubbed elbows with the great and the not – so – great of the Eastern New York / Western Vermont racing world. He can easily recall rather obscure drivers like Hollis Paige, of Fort Ann, NY; but, he can also tell you about the successful ones like Nelson Moore, and the high profile car owners from the Glens Falls area like Henry Caputo, Chris Drellos, Allie Swears, and J.R. Earl. Palmer has been involved, in some degree or another, in Stateline Speedway, Fairmont, Lebanon Valley, Fonda, Warrensburg, Mettowee in Granville, NY, at Otter Creek Speedway, and he can intelligently discuss more. He has helped build cars for Don Ackner, C.D. Coville, and dozens of others.
What I like about Ralph is his strong desire to not only recall and preserve as much of our racing history as he can, but to also make sure the little guys like Orlando Pappas and Ed Barnes have their place in that history. After all, it isn't all about Pete Corey and Vince, Sr. There are hundreds of guys, without whom, the Coreys and Quennevilles would have had no one with whom to race. I intend to extract as much information from Ralph Palmer as he is will and patient enough to give. Thanks, R.P. !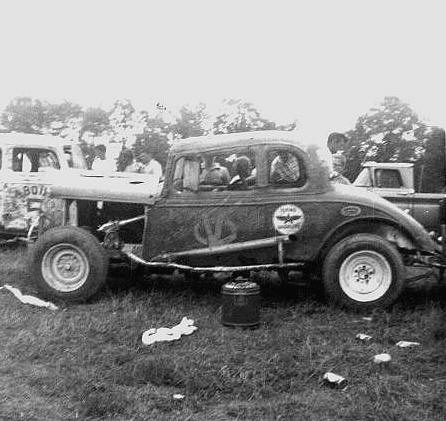 Ladabouche Photo
Ralph recalls the little guys like Hollis Paige. Here, his VO
sits beside the About 5 of Art Rivers, another little guy
from Palmer's home area of Glens Falls.
Please email me at wladabou@comcast.net if you have any photos to lend me or information and corrections I could benefit from. Please do not submit anything you are not willing to allow me to use on my website - and thanks. For those who still don't like computers - my regular address is: Bill Ladabouche, 23 York Street, Swanton, Vermont 05488.
AS ALWAYS, DON'T FORGET TO CHECK OUT MY WEBSITE: www.catamountstadium.com
Return to the Main Page
Return to the Columns Link Page
Return to the Main News Page