THE BILL'S BACK IN TIME COLUMN PAGE
Copies of my column in Mark Thomas' "Racin' Paper"
BILL'S BACK IN TIME
By Bill Ladabouche
Column 64 - From Original Column 79
GOOD-BYE TO STUBBY
It was another discouraging, gray, overcast drizzly Saturday night at Catamount – in a season that was marked by many rainouts. A few wet souls would wander from one schoolbus hauler to another, unless they sat in the cabs of pickup trucks whose trailers were open. Te few diehards in the grandstands who had tried to wait it out were now straggling to the parking lot, expecting to hear the cancellation announcement over the public address system at any time. Whoopee, what fun !
I found myself standing in the back of the late Harry Rathburn's schoolbus, looking out at he crappy weather and dreading the thought of going out into it to load the yellow and brown Camaro Harry prepared for either of his two drivers – Kevin Boutin, Sr. or Greg Lyman. Whatever the conversation was behind me – it wasn't holding my attention. A voice called into the darkness of the bus, from outside. I peeked around the corner to see Stub Fadden approaching the hauler.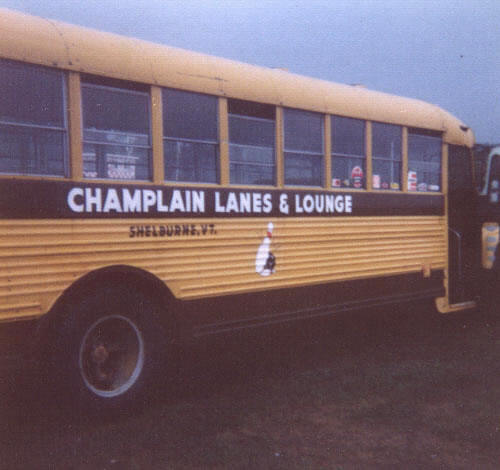 Harry Rathburn's hauler got a surprise visitor that day at Catamount. [LadabouchePhoto]
In he hopped, acknowledging every single guy standing inside. It occurred to me that you simply did not see late model drivers do that, unless they had just graduated up from the Hurricane division recently – and you SELDOM EVER would catch a top tier late model driver doing that. But that was Stanley Fadden. He recognized no social distinction when it came to people in the pits at any track.
I think some of it came form his upbringing, and certainly some of that came from the neck of the woods he came from. The Fadden name was very active around Bear Ridge Speedway, where everyone is a very regular person and the track owner was likely to walk into someone's pit and help out. Many of the Fadden sponsors, over the years at Catamount, were also in evidence at Bear Ridge. Fadden, however, was just as comfortable with the big dollar teams that started coming in at the end of the 1970's as he was with some guy hauling in on a rusty, open trailer with one crewman.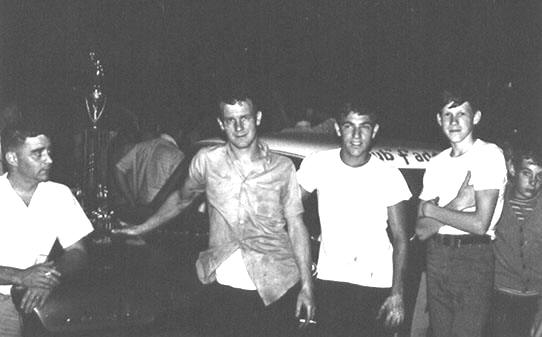 Stub, holding his trophy in Victory Lane with a very young [and very skinny]
Alvin at right. [Courtesy of Cho Lee]
For that reason, it didn't amaze as much as it should that – after my absence from racing of eighteen years, and considering his declining health, Stub still immediately recognized me when I happened to meet him and Alvin at the 2006 Milk Bowl. It wasn't like the Faddens had a lot to do with me at any one given time, they knew everyone and accepted everyone the same – warmly. It was a high point to that year for me, even though I felt badly for his state of health.
When I first arrived at Catamount in 1968, having started the first year of a forty – one year teaching career in Milton, Stub Fadden's #16 Chevrolet Flying Tiger was there. He was being called, at that time, "The Flying Fire Chief" by Ken Squier. I tended to lump him together with all those New Hampshire guys who were racing at Catamount in the 1960's. I would come to realize, after a fashion, that he did not necessarily run with the rough and tumble Ingersons and Ronnie Marvin – he was his own man.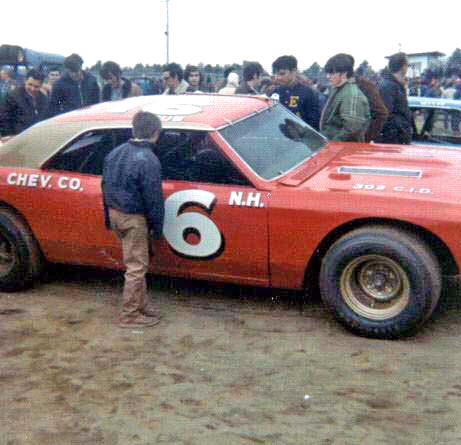 A very young Larry Wood checks out Stub's new Chevelle, which I think was the first one
sponsored by H. O Taylor Chevrolet. Larry was actually present in the bus hauler, a
few years later, when Stub visited Harry and the Bartons. [Ladabouche Photo]
What I came to notice about the Fadden racing effort is that, as much as possible, he kept up with the leading edge of what was happening in his division at the time. When the Limited Sportsman division came about, he blossomed out with a Mopar [which he didn't run for many years]. As the late model sportsman division developed in 1972, Stub arrived with his familiar H.O. Taylor Chevelle, a version of which he maintained for a number of years thereafter – just in differing color schemes. Taylor stayed with Fadden throughout those years, the ads adorning the sides of Chevelles, Novas, and whatever else the sheet metal du jour was in the LMS class.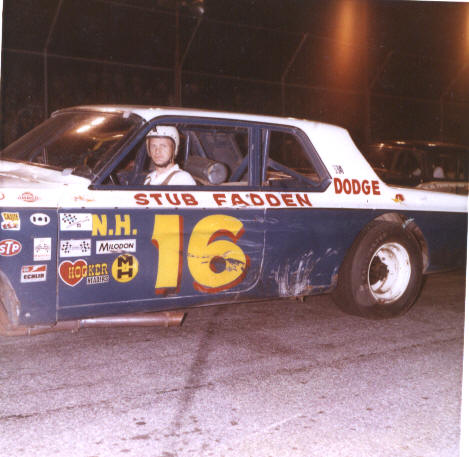 Stub, in one of those years he was trying his luck with a Mopar. [Courtesy of Rich Palmer]
Stub won his share of races in that NASCAR late model sportsman era – the longest era of his career. He went on to build a small Buick around 1985, when the technology started to escalate [along with the cost of running]. He had Patten Gas come on board as sponsor during that time. Taylor and Patten were probably two of his biggest supporters. When the big rift came in 1986, Fadden [if my memory serves me] did try an ACT plastic car, but he ended up in the NASCAR series eventually. If I am not accurate here, forgive me because I was no longer attending races very much due to other obligations.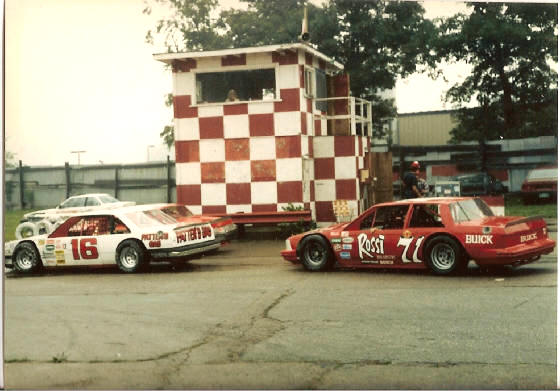 Stub, with the Patten Gas car, and Bob Dragon would both have to make decisions
about where to turn when NASCAR and Curley parted company. [Courtesy of Mike Cain]
Stub ran for more years with the Busch North outfit, while keeping an eye on the career progress of grandson, Mike Olsen. He finally retired around 1998. He was beginning to experience some of the health issues that would plague his last years. There isn't much else to say except for how much I [and everybody else I know] admired the way Stanly Fadden conducted his racing and his life. It is a considerable loss to the Vermont/New Hampshire racing community to be without him. I am sure, at the reunion of Northeastern Speedway in July, this will be a big topic of conversation. Farewell Stub !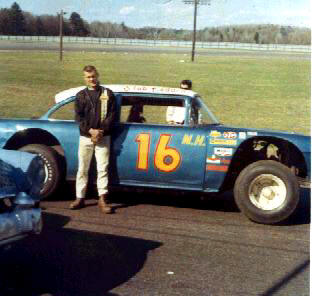 The Flying Fire Chief [Ladabouche Collection]
Return to the Main Page
Return to the Main News Page
Return to the Columns Link Page
Return to the All Links Page