BILL'S [Somewhat] WEEKLY COLUMN/BLOG PAGE

BILL'S BACK IN TIME
By Bill Ladabouche
This One Reads About the Reids and the Reeds
After a long famine in which I got to see no stock car racing for over eight years of my young life, a few scattered events occurred here and there until, finally, a permanent track opened nearby. My uncle and I had seen a few shows at the Rutland fairgrounds [not all of which even qualified as actualy stock cars]; we had seen [somewhat accidentally] a show on Staten Island; and we had ventured up to the track in Malletts Bay variously known as Malletts Bay Raceway and Colchester – Bayview Speedway.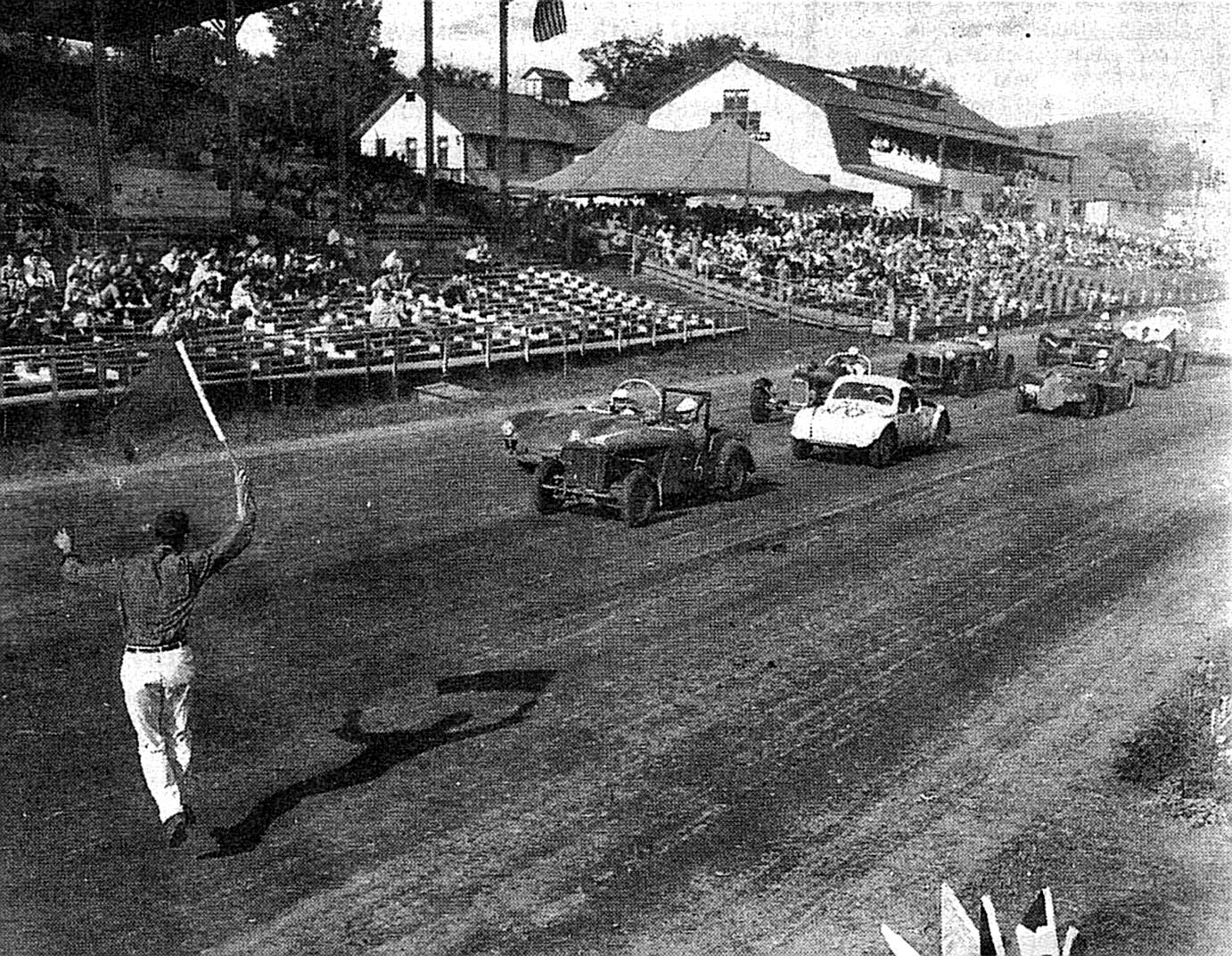 Aldo Merusi Photo
Not all of our races seen during the famine were even stock car. This is a show put on by the
Sports Car Owners and Drivers Association, at Rutland, around 1957.
But, when Hi Monroe and Lee Tucker opened their little rustic half – mile NASCAR – sanctioned track in Waltham in 1961, this promised some permanency. We were so happy we even sat through one show with snow in the air, not appreciating the drama concerning national points that was unfolding before us. At any rate, Otter Creek Speedway [being NASCAR] did offer easy national points, so there was a mixture of top echelon NASCAR sportsman teams mixed in with local hobby – style cars.
One of the sportsman teams from New York used the driver Loren "Dutch" Reed, of Glens Falls, NY. Reed was an off – again, on – again driver at Fonda who had actually won the first feature held at Otter Creek, driving the Royce Tucker – built 7VT [which would later be made famous at the hands of Jack Dubrul. Ironically, a second driver – Ernie Reid – also drove the car occasionally at Airborne Park Speedway, across the lake in New York. Dutch, probably by then driving Joe Romano's 97, would tear around the bumpy, dusty track, dodging the slower hobby cars, as did the likes of Ken Shoemaker, Paul Marshall, George Baumgardner, and other sportsman drivers.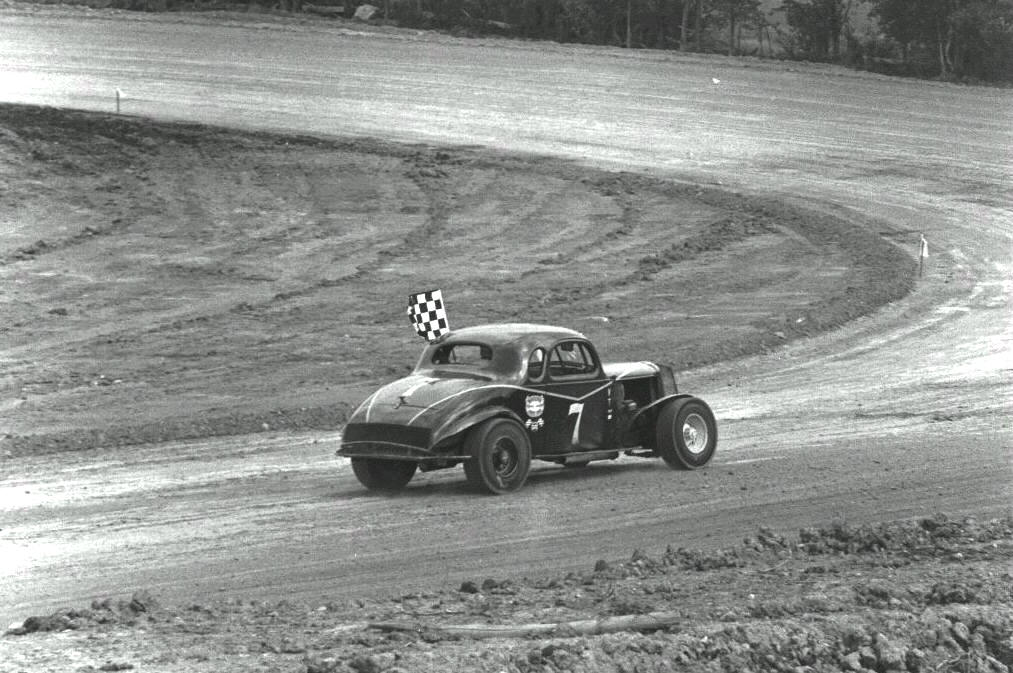 Courtesy of Cho Lee
Dutch Reed, winning the first feature at Otter Creek in the Tucker car.
Below- Dutch in Romano's 97, a car he ran at Otter Creek and Fonda after the Tucker stint.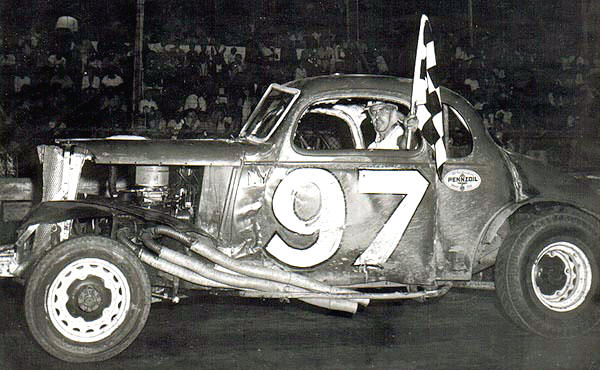 Courtesy of Jo Towns via Otto Graham
I was surprised to hear Dutch's name mentioned the next year, at the re-opened Fairmont Speedway, considering the cars there were not NASCAR and were not sportsman cars; but, Fairmont had a strong Glens Falls contingent and Dutch may not have just attended some races there – he may have defied NASCAR and sneaked into a race or two, anonymously, in someone's car. Dutch eventually seemed to settle into Bill King's [and later Tom Hammond's] 90A with limited success. In the early 1960's, Reed's name was usually found anywhere from the top ten to the top twenty in points standings at the incredibly – competitive Fonda track. By 1965 he had disappeared there.
In 1965 Reed had landed a ride in the Clayton Ryan #11 – a gig which pretty much finished out his career well. The car was good at Fairmont and places like Rebel Speedway in Granby, QC. He would settle down to drive that and the Ryan #211 at the newly – built Devil's Bowl track until being replaced by Win Slavin, at some point before 1970. Reed's time with the CVRA at Fairmont and Devil's Bowl was arguably his best and most consistent seasons. He seems to have been done by 1970.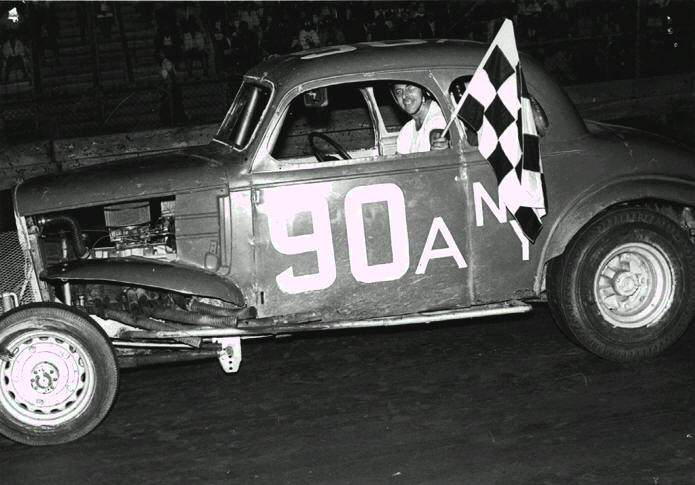 Ladabouche Collection
This is the car I recall Dutch in during my earliest visits to Fonda. Below -
The Clayton Ryan Ford - powered entry, one of Dutch's best [and ugleiest] rides.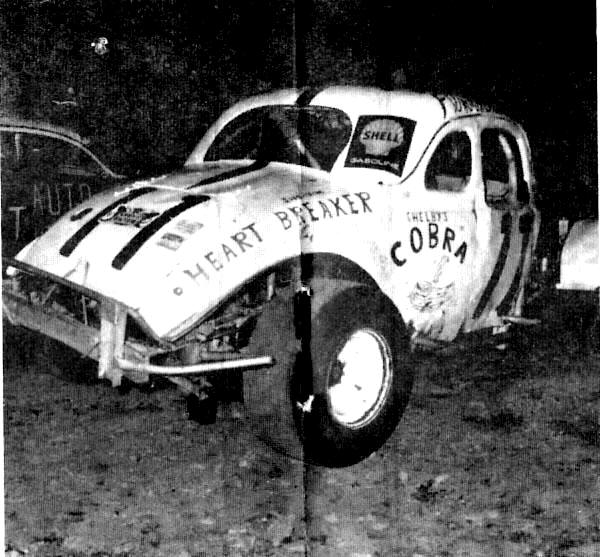 Ladabouche Collection


Meanwhile, across the lake, Massena, NY's Ernie Reid had frequently crossed paths with Dutch, especially at Airborne. The two had shared the same car, the Tucker 7VT and may have possibly also driven the first Tucker car, a gold #99. Ernie had broken into the sport with the usual crude early equipment before landing a ride in one of Mose Suprenant's cars by 1955. Teamed with Charlie Trombley, Reid was atop driver at Airborne in the Canadian Bred – sponsored car before moving off to other rides like Tucker's and Bert Ratigan's Studebaker cars.
Ernie spent time living in northern New York and in Vermont, working on construction jobs with his friend, Jackie Peterson – another top driver who drove some of the same cars as Ernie. Reid, driving cars for Ratigan, actually drove against Dutch Reed at Otter Creek Speedway in 1961. Ernie Reid ended up spending some time working as an official at some NASCAR tracks before his retirement. He was part of a strong corps of northern New York NASCAR sportsman drivers who spent some seasons in the early 1960's way up in the national points standings. Bill Wimble and Dick Nephew, from this group, were national champions.
Courtesy of Gaylord Rowell, Jr.
Ernie Reid with his first really competitive ride, the Mose Surprenant 99.
Below- Ernie, at Airborne with flagger, Art Prairie. Here he had Harold Healey's 70, a former Vic Wolfe car.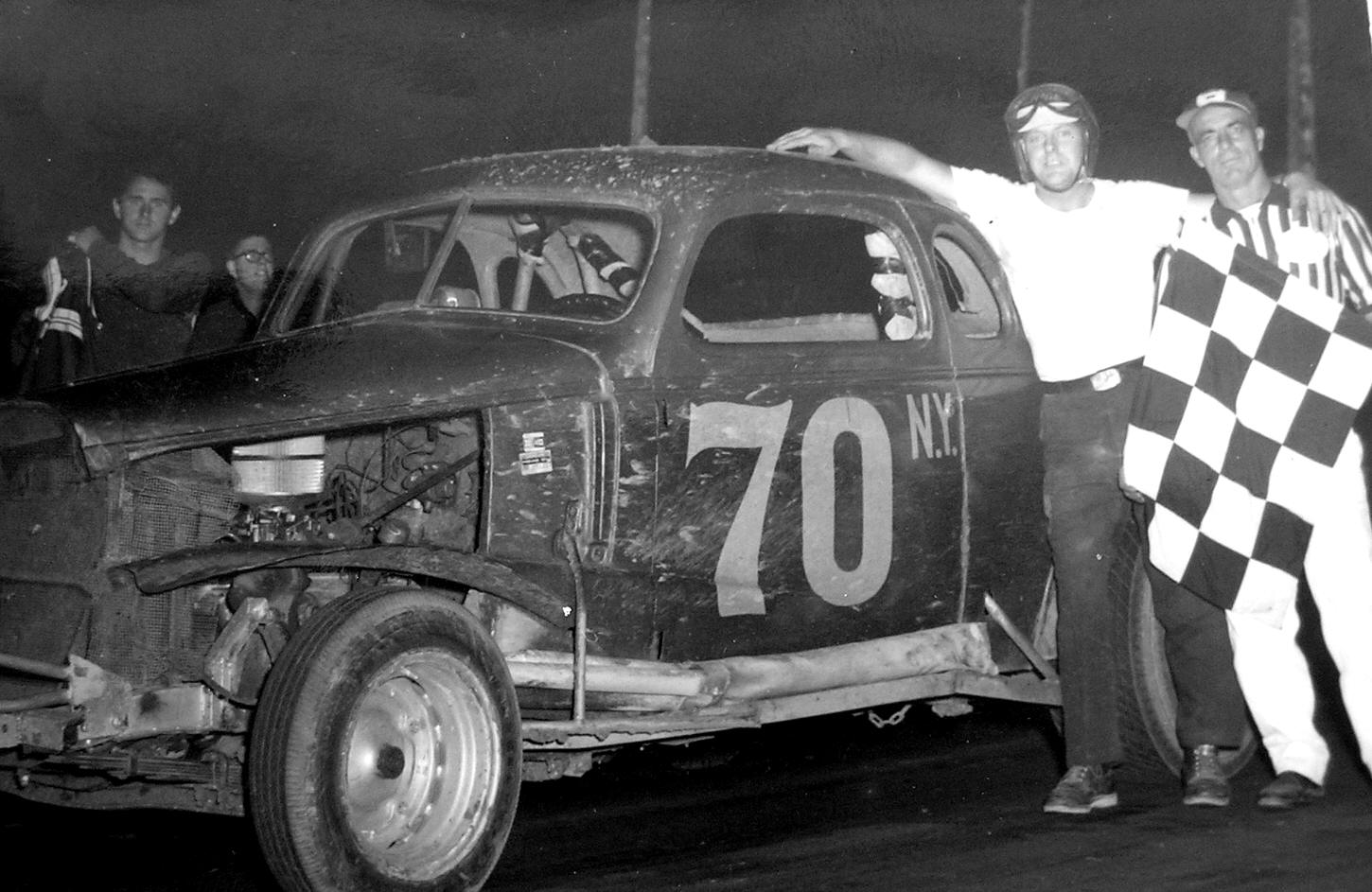 Bob Mackey Photo Courtesy of Phil Butler

The last Reeds were perhaps even earlier [or at least older} drivers – from northern New York, as well. Rusty and Bunn Reed grew up in Plattsburgh around their father's garage. Mr. Reed ran a business north of the city on US 9, the only major route to Montreal in that pre – Interstate time. Much like any earlier stock car driver, the Reeds – including another brother, Joe, were first mechanics and secondly race drivers. While Bunn and Rusty would go the stock route, Joe chose motorcycles and, therefore, got to race earlier and very close to the Reed garage.
Starting in the late 1940's, a horse track called Moffitt Park was being run approximately a little west of the present location of WPTZ, the local NBC TV affiliate. Moffitt Park opened its gates to motorcycle racing and some open wheel cars by 1949; but, stock cars were never included until 1953, when it was know as Border Speedway for one year. Joe Reed raced there with the likes of Big Bill Agonnier, another local whose family business was literally within sight of Moffitt Park. Jackie Peterson was close by, running a sprint car there, as was future Airborne Park flagger Art Prairie.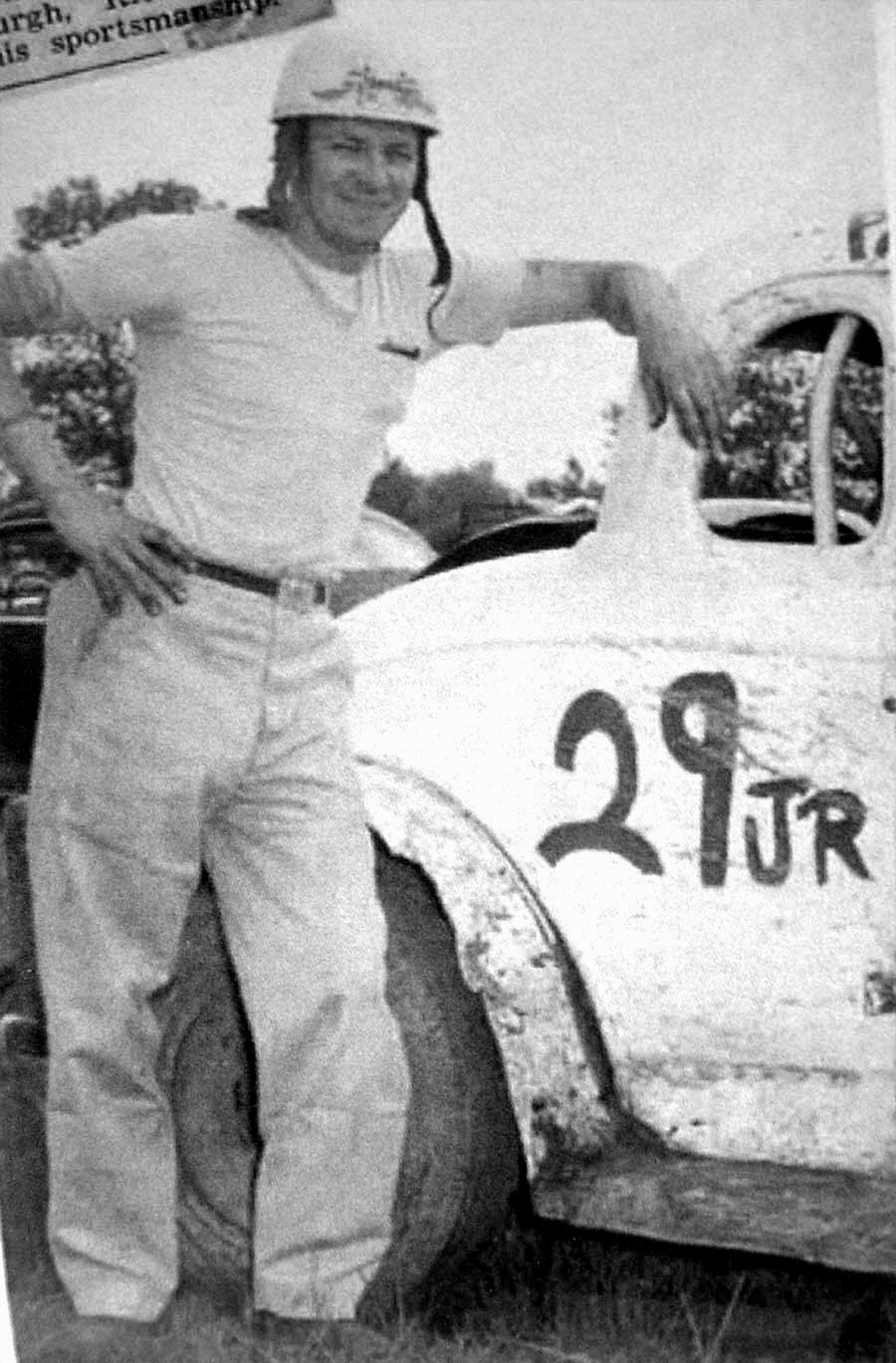 Bob Mackey Photo Courtesy of John Rock
Bunn Reed with what is probably his last stock car – at Airborne in 1954. Below - Rusty Reed poses
with the potent George Palmetier 6 and 7/8 car around 1954. He may have run this car in Vermont, as well.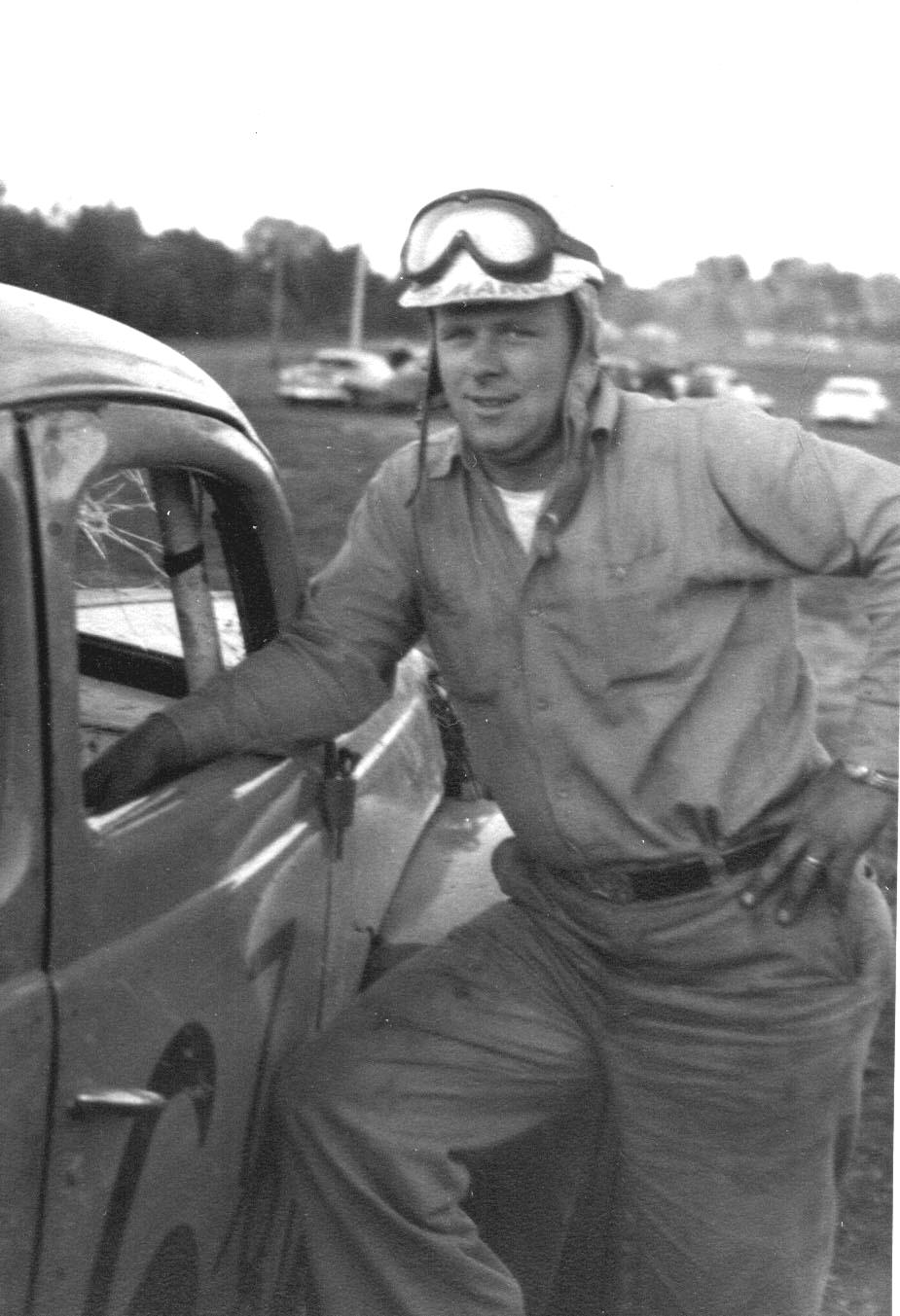 Courtesy of the Bushey Family via Jack Anderson

When the Moffitt Park track, now Border Speedway, brought in stock cars in 1953, Rusty Reed, Bunn Reed, and Peterson were there to give the track a try. The brothers Reed had been doing a little racing to the northwest, at the wild and wooly Fort Covington Speedway – located on Indian land so close to Canada that one turn was nearly in Quebec. The track, which had river bottom clay – some of the best in the Northeast – was like the wild west. Beer cans would fly out the windows of old coupes which had about six carburetors sticking out the hood. Fans were rowdy and the pits were like a seedy port of call on sailors' night off.
A good indication of how the Fort Covington scene was is told in a story I heard once. The promoter, whose name is lost to me right now, once declared in a pit meeting that the crowd needed some entertainment, so the drivers shouldn't be afraid to punch someone. So, not wanting to be of no help, some slightly snockered individual waited until the end of the meeting, strode up, and let the promoter have one in the face. It could have been Bunn, for all we know – he was usually a bit fortified at races.
At the Fort, the crowd really didn't need entertaining. Alcohol flowed freely, as did blood. Punching and being knocked off the stands was all in a night's experience in certain sections there [and those were just the women]. Apparently, the harried cops id keep a sort of understanding with the crowd to leave a few sections of the bleachers safe for "regular people", according to Jackie Peterson, who would reluctantly leave his feisty little wife, Corliss there.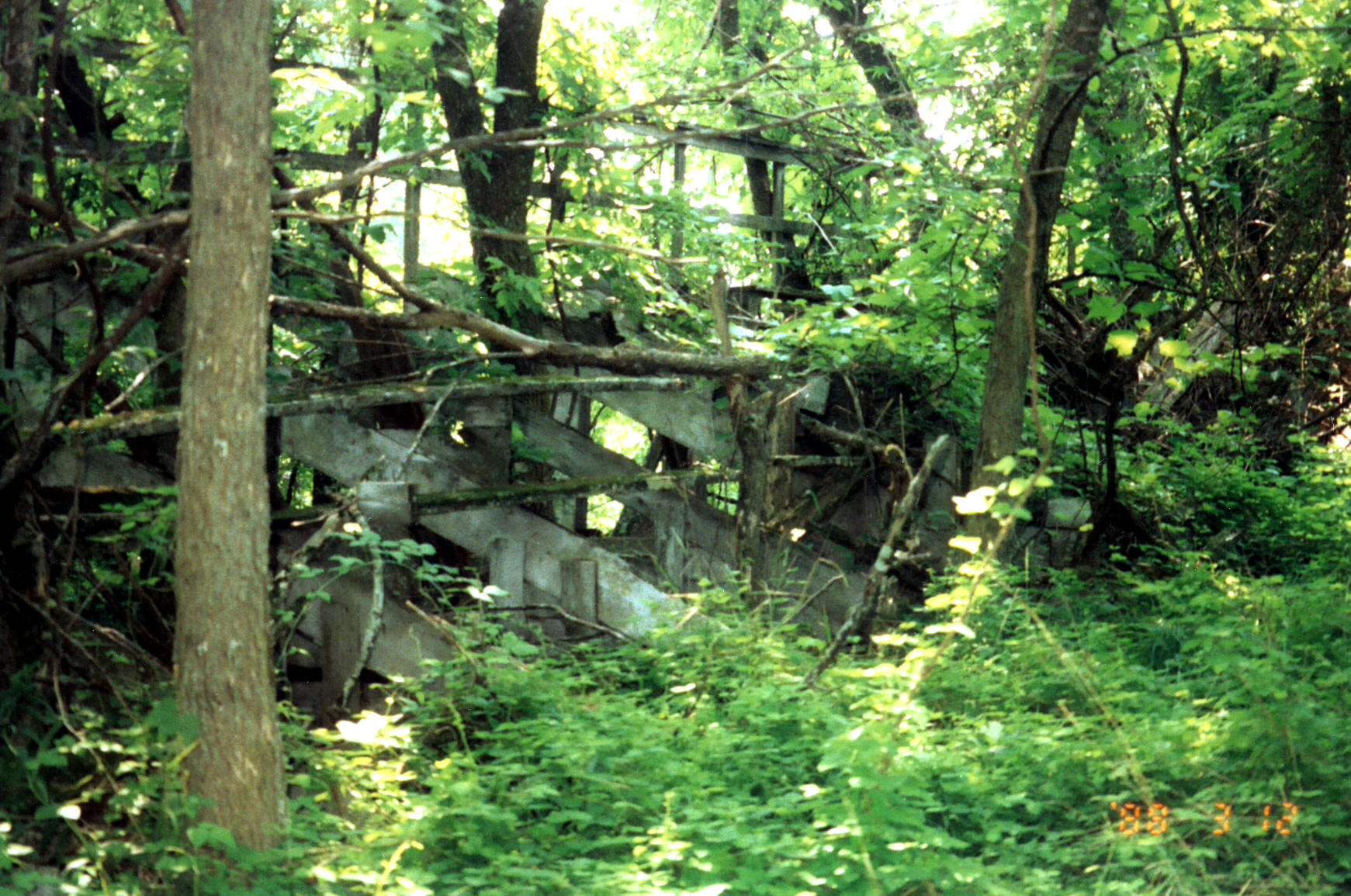 Bill Hoffnagle Photo
The remains of the grandstands at Fort Covington. Oh, if they could only talk, What stories they could tell. Once, the flagger accidentally hooked a wire going across the back of his stand and took out all the lighting at the track in one swoop. Below – Jackie Peterson, a friend of Reid and the Reed brothers, was a champion at Fort Covington.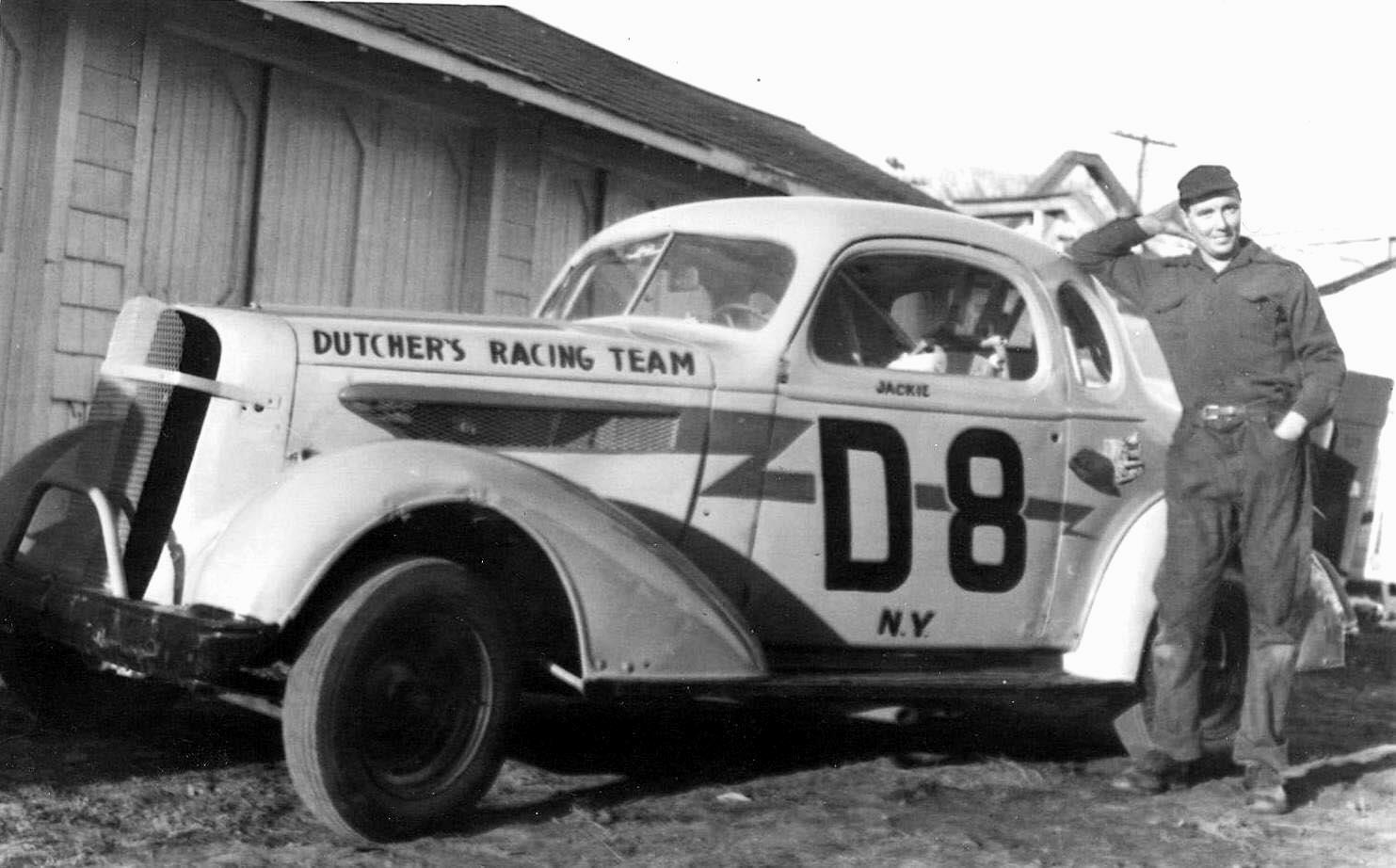 Courtesy of Rick Reome

Mr. Wells, father of present – day Airborne driver Mike Wells, tells a story about the racin' Reeds. He observed this at the tender age of seven. It seems the Reeds were headed up to race at Fort Covington, with one car in tow and one on a flat bed. Bunn's tow car broke down somewhere just south of the village of Fort Covington. Bunn decided to simply drive the car down the highway the remaining distance to the track.
Rusty and Jackie Peterson were both exceptional at Fort Covington. Bunn had a very bad wreck there, being thrown from the car. Another car, unable to stop, ran over Reed's head, breaking the helmet. He was "never right" after that, as Mr. Wells puts it, and died soon after. Both Reeds ran at Border Speedway in 1953 before moving over to the new Airborne Park Speedway in 1954. Rusty would take a turn with George Palmetier's 6 and 7/8 coupe [which was eventually taken over by Dick Nephew]. Bunn would drive a car #29 and ½ before the accident that ended his career.
Both Reeds were competitive at the track in 1954, but neither appears in the final top twenty in points in 1955. Bunn was likely gone by then and Rusty was getting older. Ernie Reid, working on the St. Lawrence Seaway during the week, finished in a tie for sixth in the lead division there in 1955 – racing against the likes of Bill Wimble, Jeep Herbert, Steve Danish, Peterson, Buck Holliday, Jim Luke, and many more.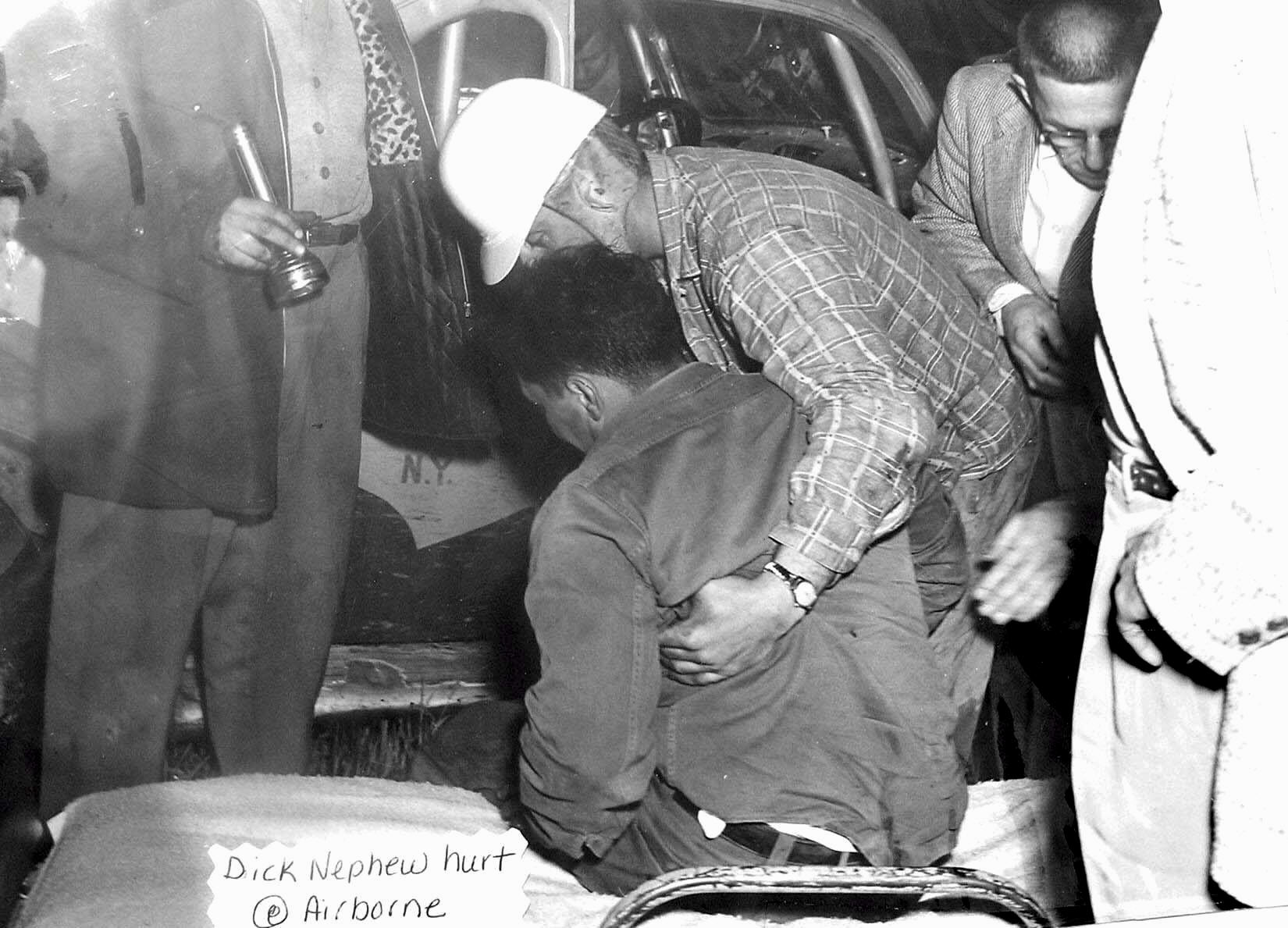 Bob Mackey Photo Courtesy of Gary Nephew
Ernie Reid helps an injured Dick Nephew, who had succeeded Reid in the Palmetier 6 and 7/8
at Airborne. Ernie, at a race in Quebec, before Healey changed the car to #70.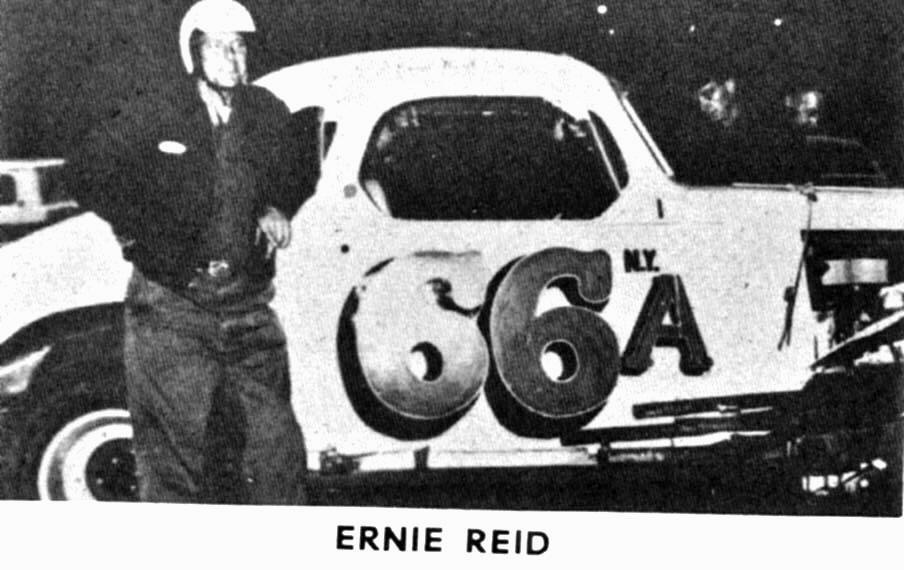 Cavalcade of Auto Racing Photo – From Bob Mackey
However it was spelled, the name Reed [Reid] was frequently on the lips of race fans from Plattsburgh to Fonda, NY – from Vermont to Quebec, in the 1950's. Dutch and Ernie made it into the 1960's; but neither raced after that. They came from an era when no two cars were alike, rules were lax, and races were sometimes settled outside the fence with fists and tire irons. They wouldn't fit in much in today's racing, but they sure were fun to watch then. [Just a note, I was tempted to add the great NASCAR driver from New York, Jim Reed, to this article; but I didn't have enough information to do it.
Please email me if you have any photos to lend me or information and corrections I could benefit from. Please do not submit anything you are not willing to allow me to use on my website - and thanks. Email is: wladabou@comcast.net . For those who still don't like computers - my regular address is: Bill Ladabouche, 23 York Street, Swanton, Vermont 05488.
AS ALWAYS, DON'T FORGET TO CHECK OUT THE REST OF MY WEBSITE
www.catamountstadium.com
Return to the Main Page
Return to the Main News Page
Return to the All Links Page
Return to the Weekly Blog Links Page