BILL'S [Somewhat] WEEKLY COLUMN/BLOG PAGE

BILL'S BACK IN TIME
By Bill Ladabouche
A TRUE LOVE FOR RACING:
The Story of Russ Truelove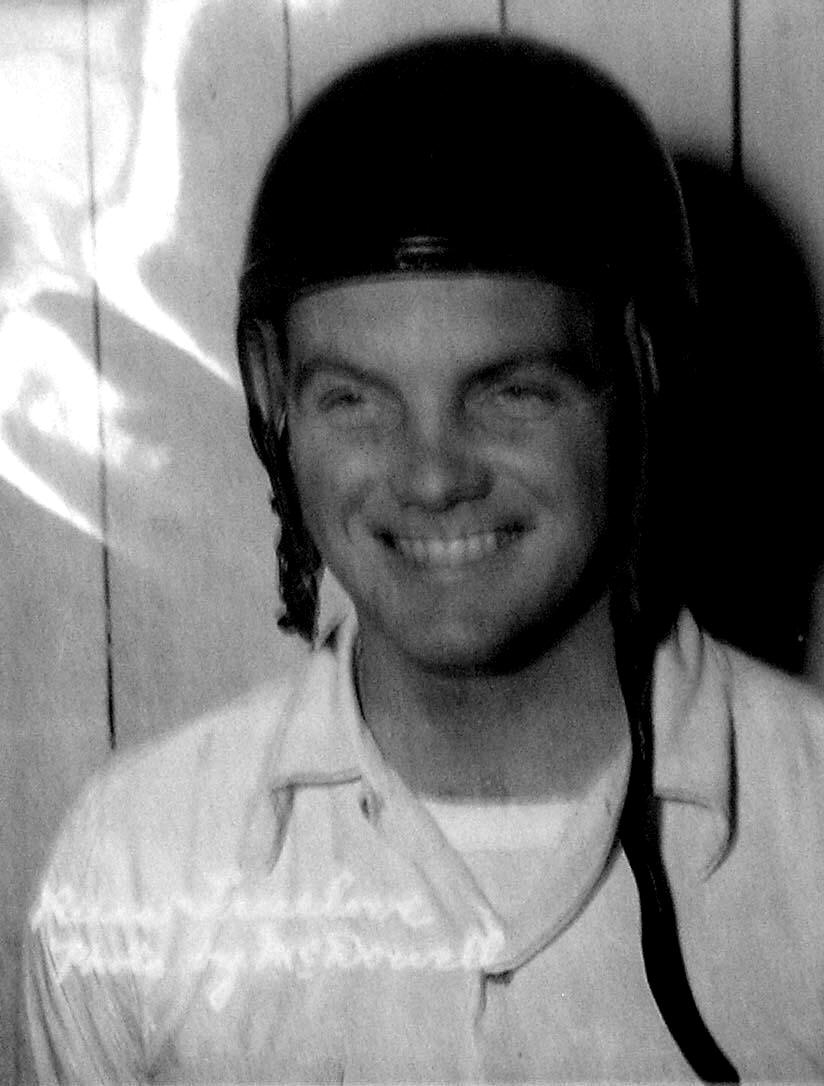 Bob McDowell Portrait Courtesy of Ken Gypson
One of the years I was doing talks at the Lost Speedways conference at the Saratoga Auto Museum, I was circulating around before we started the talks, and I kept rrunning into a slightly stopped, pleasant man who seemed to alternate from being pretty much totally ignored to being swamped by attention, depending on whom he happened to be around. I decided he was not a run – of – the mill attendee, like most of us. I found out this was Russ Truelove !
This one is for regular readers who don't know much about this interesting man, Russ Truelove. I realize that in the circle of guys who are from that era or who may have crossed paths with Russ in his time in Opens, stocks, or NASCAR, it is likely a pretty incomplete story. I know only what I have learned from Russ, himself, and what little else I have run across – usually in the search for information on someone else. He is a man well worth being informed about.
Russ was one of many young men who ventured into open wheel racing first and had his career altered by a couple of factors: the virtual coma that auto racing went into during WWII and the subesequent post – war explosion of that phenomenon known as stock car racing. He, Jackie Peterson, Ted Tappett and maybe even Wally Dallenbach, Sr. were men who were affected similarly by these two factors – with varying results.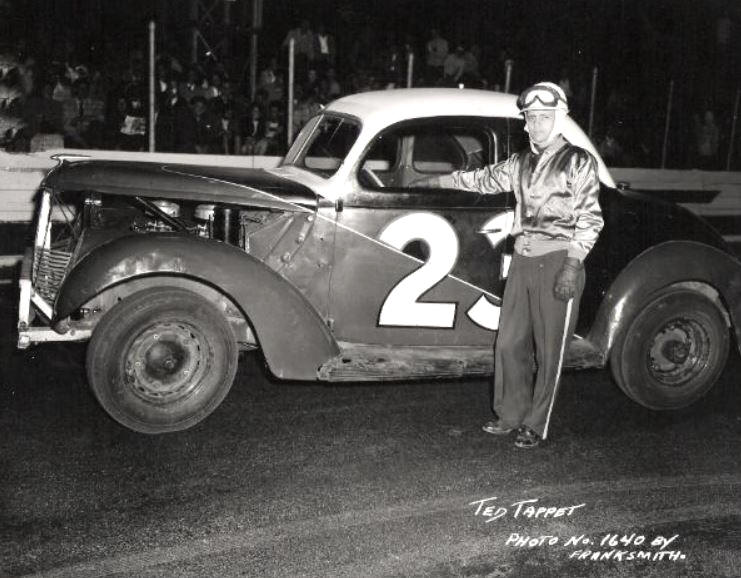 Frank Smith Photo via the Midstate Racing Club
Ted Tappet [aka Phil Walters] poses at Rhinebeck Speedway, where he would race against Russ Truelove in stock cars.
Below – A Rhinebeck or Empire tangle-up involving Russ [53] as well as future NASCAR official Al Keller [89], Ray "Zero" Brown,
another open wheel guy turned stocker, and Bob Tator in the Ross 19.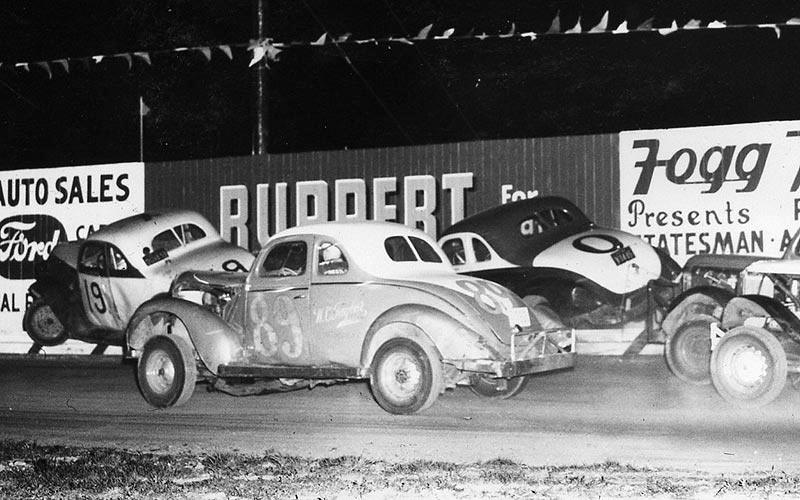 Ross Family Collection Courtesy of Dick Hansen

Russ went into the U.S. Navy and served during the war. His interest in car racing had already been piqued before that time. When he was discharged, he began midget racing in 1947 at places like Danbury Racearena in Connecticut, and the track in Rhinebeck, NY. I have seen one photo of Russ Truelove in an open wheel car.
Working in his native Waterbury, Connecticut and likely living nearby, he would race for a while in these open wheeled cars before switching over to stock cars. Although I have not been able to determine from listening to Russ speak or from bios of him, I would draw the conclusion that he raced local stock cars at places like Danbury, Rhinebeck, Savin Rock, inWest Haven, CT, Plainville Stadium, Stafford Springs Speedway, and maybe Empire Raceway in Menands, NY before he tried bigger league NASCAR racing. I base this on the apparent style of his stock car. It looks like an early '50's cars and they would have evolved into considerably different cars by the late '50's when he would be getting done with NASCAR.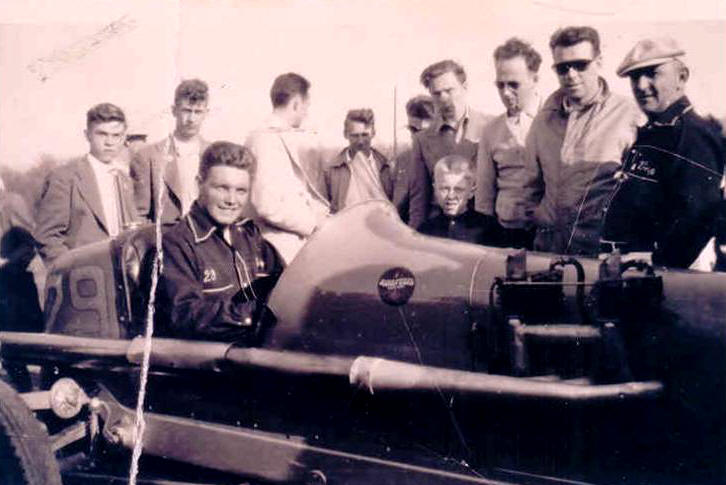 Truelove Collection
Russ shown in either a sprint car or what they called a "big car". Below – Russ featured on the cover of an early Rhinebeck program.
Rhinebeck, Empire, Riverside, and sometimes other tracks in that area featured arguably the best talent in the Northeast
at that time.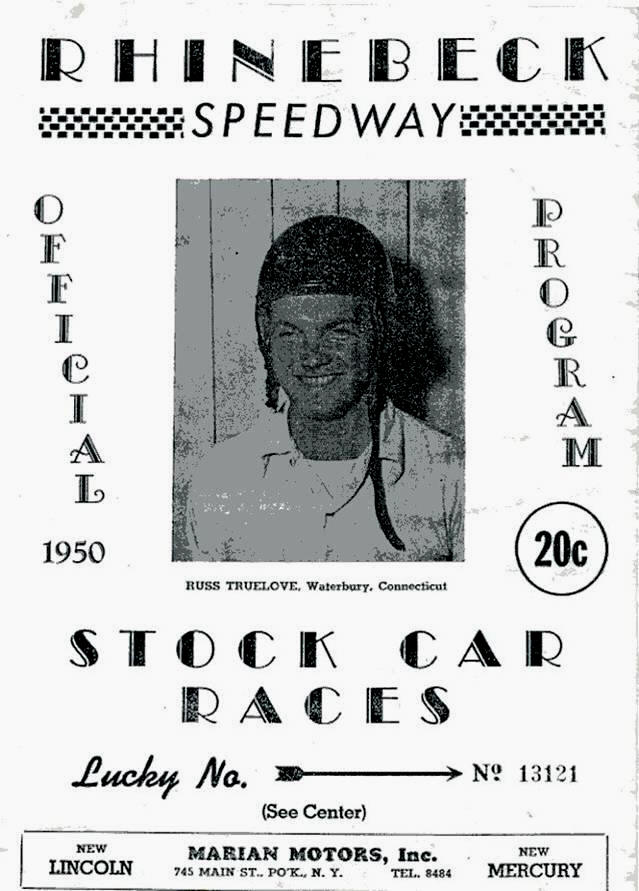 Truelove Collection
This much is sure: he raced what was called a Crager midget, and raced in that or the stock cars for seven years before attempting NASCAR. He is often seen with a #53 coupe at Rhinebeck and he spoke of the Warren Hanson #00 Plymouth coupe that he also drove. By 1953, having met NASCAR offical Bob Sall, Russ had been attracted to NASCAR. He still ays he had great admiration for Bob Bill France and feel that France may have saved auto racing in the U.S..
According to one Truelove bio, a movement was afoot by one particular U.S. Senator around 1957 to completely ban car racing in the country because of the number of fatalities it had seen. France stepped in and convinced Republican leaders [including President Dwight Eisenhower] that he was developing racing with full – sized passenger cars and that safety was becoming their priority. It sidetracked the whole push for a ban.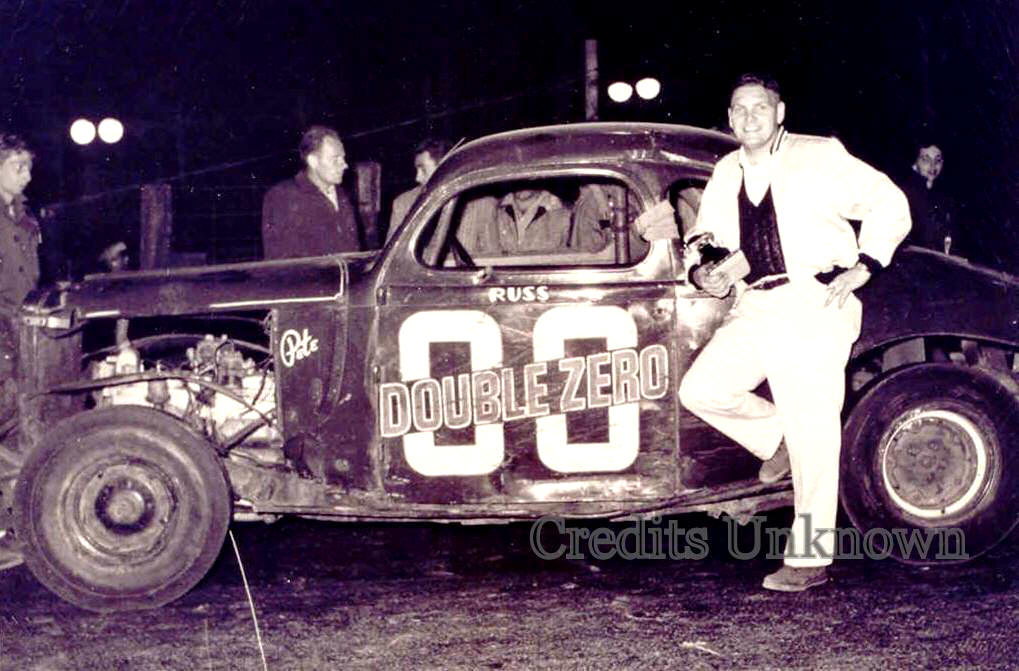 Courtesy of Roger Liller
Russ also spoke of driving the Warren Hanson 00. Below - Jim Reed, another rival both in the the
coupes and in early NASCAR divisions, is shown here at Empire Raceway with an early stock car he ran in
that same region as Truelove.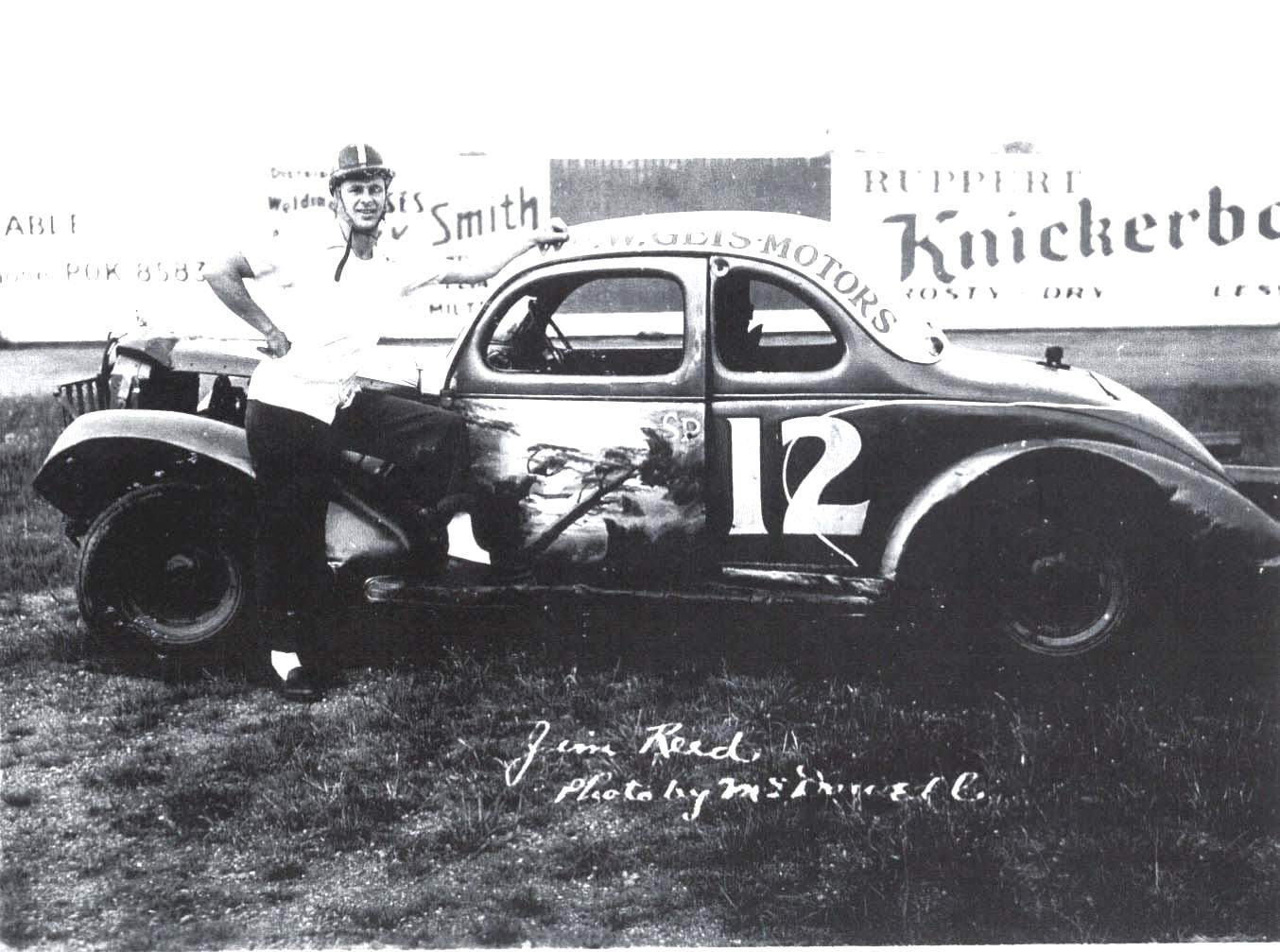 McDowell Photo Courtesy of Phil Miller
The big story with Russ Truelove is always "The Mercury". Having had Ford – related jobs at dealerships, his first venture in racing on the Daytona beach course was with a 1955 Ford. While that may not have had spectacular results, he got that one paid off and bought a 1956 Mercury Monterey. The Merc, while heavier, had a biggere 312 C.I. Motor. Absolutely stock and being paid for on the $50 per month installment plan, the Mercury was being prepared for the upcoming Daytona Speedweeks.
Russ loves to tell the story about his insurance man. He had already had the car lettered up for racing when his insurance unexpectedly showed up at his place of work. Russ had a hell of time trying to talk his way out of that one; and it isn't clear how successful he was at it. At any rate, the completely stock car was driven to Florida by Russ in early February.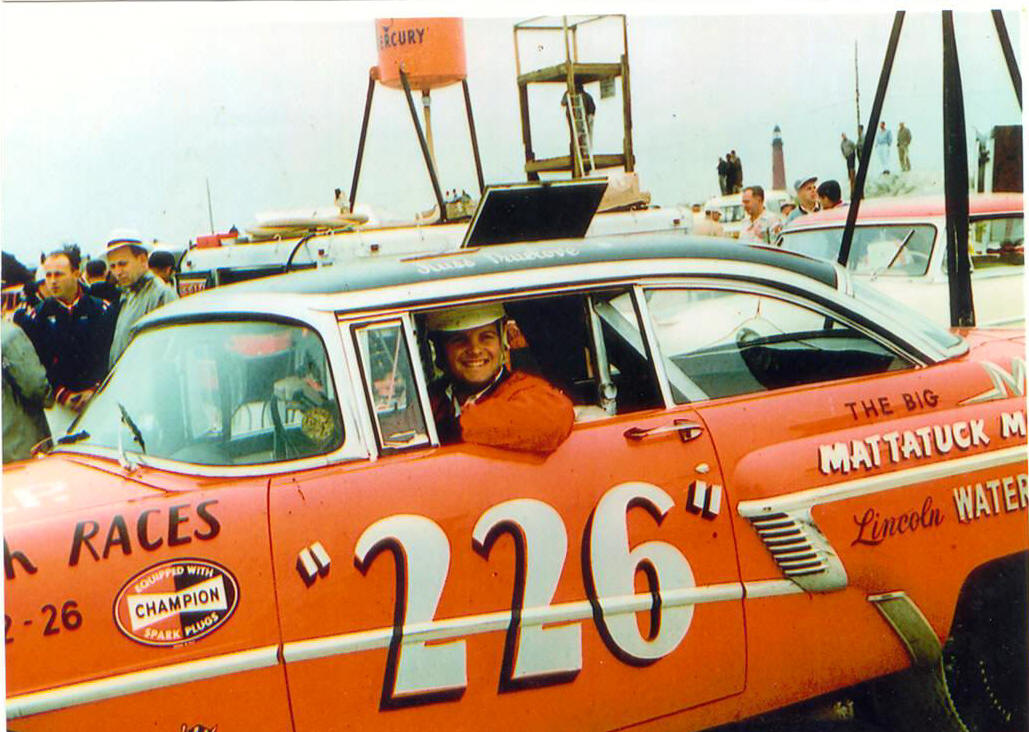 Truelove Collection
Russ, in the 226 Mercury, when it was still in one piece. Below – Some enterprising lensman got
almost the the same shot with Russ in the restored car in 2003.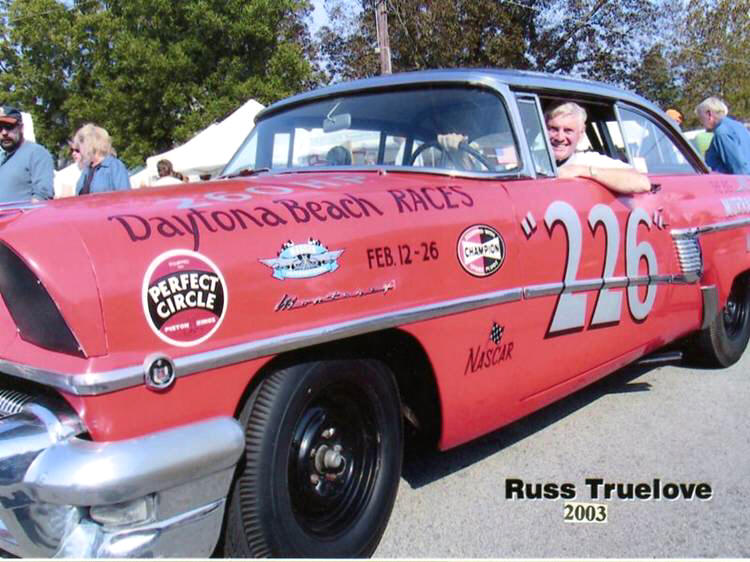 Truelove Collection
Russ described the beach course in glowing detail, obviously quite taken with his two trips there. He pointed out it was a four – mile course with nearly two mile stretches: the beach portion and U.S. Rte A1A [a two laner] as the other. The turns were prone to the sand softening and presented the biggest perils by far. The north turn had a restaurant well situated with stands and an outside photgrapher's perch in place.
In the fateful race, Russ had humming right along, having as much if not more power as any of the others when he sought to pass fellow Northeastern standout Jim Reed, from Peekskill, NY. Reed who woould go on to be reknowned in the NASCAR Short Track division, did not have the power that Russ had and was not among the faster cars. Russ chose the wrong spot to pass.
The big Mercury got caught up in some soft sand on one of the turns and began a famous series of flips. The wreck happened to be well photographed and made it into one of the national periodicals like LIFE, Time, or LOOK. [I suppose the insurance man read some of those mags, eh?] The incident put Russ in the Haifax hospital – as much to put him up for the night as for any severe injuries. Russ recalls being in a room with two injured teenagers who had crash while drag racing illegally.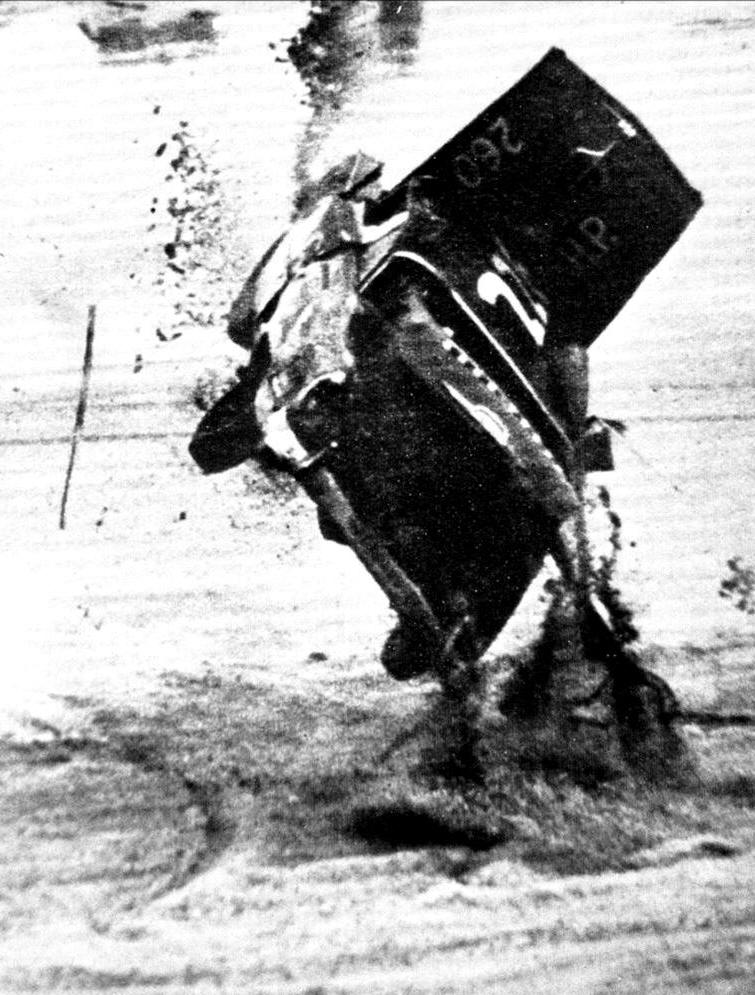 Truelove Collection
Russ begins the wicked series of rolls and flips. Below – further along in the sequence, it doesn't look any more
fun than the preceding shot. The series became one of racing's more enduring wreck images.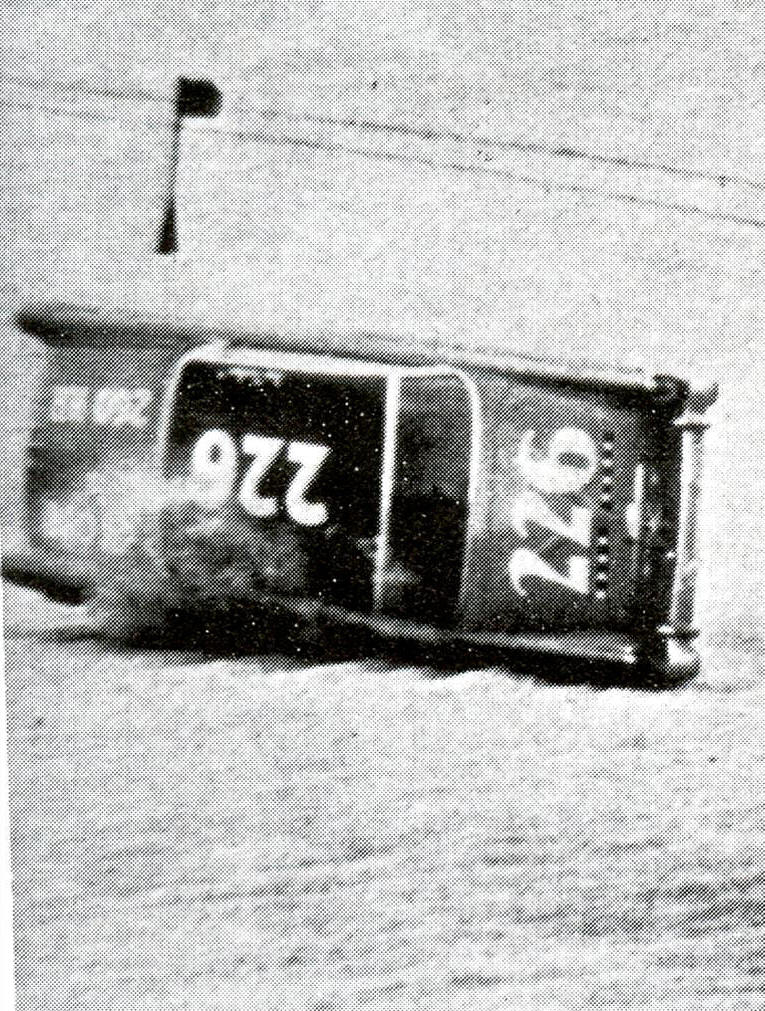 Truelove Collection

Having to stash the wounded Mercury somewhere in Florida, Russ caught a ride home with a friend named George Clark, who had been hired to return a repossess Ford to Connecticut. They ended up also bringing Eddie Flemke along with them – on his way to New Britain. Russ would have to spend some time working and continuing to pay for the wrinkled Mercury as it sat down South. His plight reached the attention of Ford and Mercury enthusiasts Bill Stroppe and John Holman.
Stroppe would be going on to several years of fielding competitive Mercurys in NASCAR and other organizations. He was interested in the fact that this Connecticut guy had come down with A Mercury and had done well up to the crash. Holman, who may have begun shis relationship with New Englander Ralph Moody, had that connection to Russ through Ralph, apparently. They got Russ a new body for the car, and he would race for a while longer with it before a blown engine help him decide it was time to stop.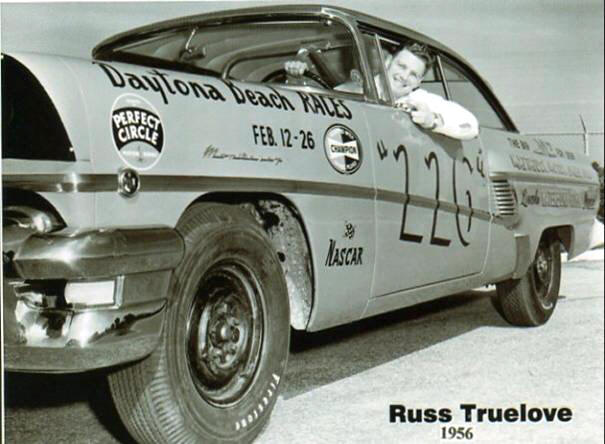 Truelove Collection
Russ smiles for a NASCAR promotional photo in 1956. Bet he wasn't smiling later.
Below – The powerful Mercury powerplant that got him going so fast.

Huneycutt – Frazier Photo
Russ made repairs to the Monterey and drove it home to Waterbury, where he would end up leaving it with his father. He had moved out to Grand Rapids, Michigan to work for Bill Leer. Russ would be uninvolved with racing until 1989, when his wife gifted him with a kit to build a sports car. Russ would compete with the four cylinder spec racer until an accident [and SCCA officails} convinced him he was getting a little too old for that.
Russ is active in the Living Legends of Auto Racing organization and can be called upon to speak at reunion – type events. I heard him at the Lost Speedways conference at the Saratoga Auto Museum around 2012. He is one of these guys whose name is familiar to many, but whose story is totally unfamiliar. I hope this helped.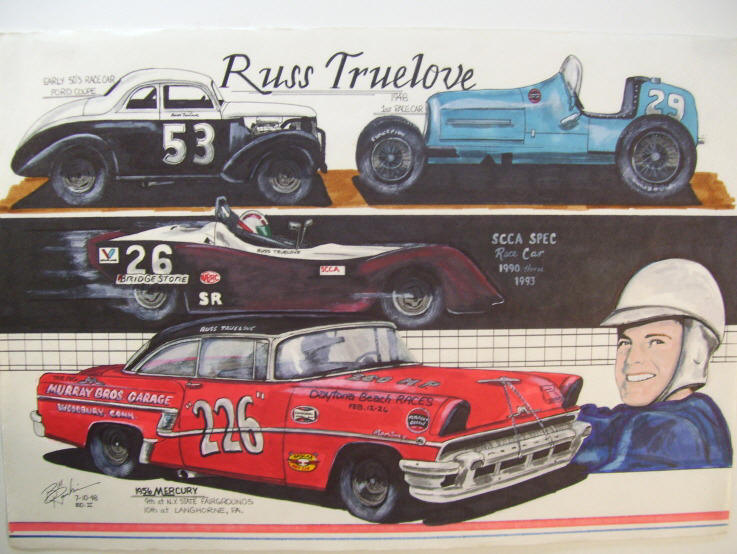 Bill Rankin Illustration
Artist Bill Rankin did this great rendering of cars that were important in the Truelove career. I don't
pretend to know much about the SCCA car. Below - Ford had Russ pose with the Monterey for a big anniversary.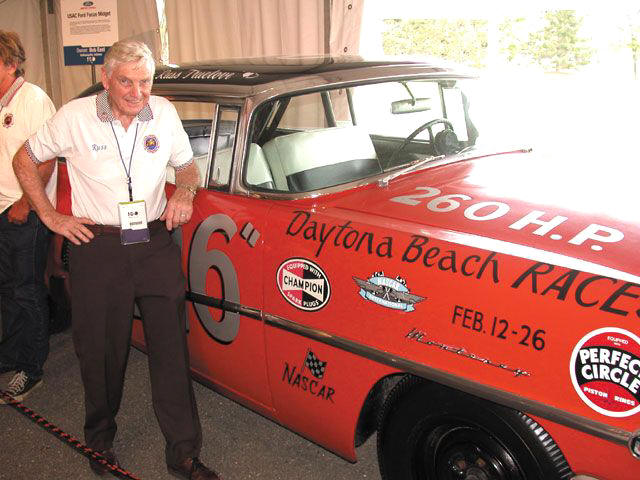 Ford Motor Company Anniversary Photo


Please email me if you have any photos to lend me or information and corrections I could benefit from. Please do not submit anything you are not willing to allow me to use on my website - and thanks. Email is: wladabou@comcast.net . For those who still don't like computers - my regular address is: Bill Ladabouche, 23 York Street, Swanton, Vermont 05488.
AS ALWAYS, DON'T FORGET TO CHECK OUT THE REST OF MY WEBSITE
www.catamountstadium.com
Return to the Main Page
Return to the Main News Page
Return to the All Links Page
Return to the Weekly Blog Links Page