THE BILL'S BACK IN TIME COLUMN PAGE
Copies of my column in Mark Thomas' "Racin' Paper"
Column #9 from Column 22
BILL'S BACK IN TIME
By Bill Ladabouche
FINDING THE RIGHT NAME IN THE PILE
If you were to put the name "Gene Coleman" on a search engine these days, the internet will spew out a pile of people – doctors, strength coaches, ministers, and authors. But I met a Gene Coleman, last Thursday at Thunder Road, who was of far more interest and significance to those of us who read newspapers like this one.
This particular Gene Coleman is the owner of Coleman racing products, out of Michigan. A good friend of Dennis and Trampas Demers, Gene comes to Barre at least once a summer to take in the unique atmosphere there; and those at the track who are lucky enough to realize who the unassuming man is can benefit from conversations with him. Gene is one of the most important men who might visit the track all year, but he was able to sit in the pit grandstands, practically unnoticed.

Coleman Website
The head of the company could sit, practically unnoticed, at T Road.
In keeping with my role and interest in the history of the sport these days, we got to talking about where some of today's racing innovations and parts came from. I thought what Gene had to say was pretty interesting – despite the fact there are some ten year – old girls who know more about mechanics than I do. I had to keep tempering Gene with cautionary comments like "Gene, remember, I don't know what one of those are" as we talked about items in or on Trampas' late model car.
For example, Gene explained to me that fuel cells are all, with few exceptions, twenty – two gallons. It seems the same in NASCAR, ACT, and anywhere else that racers are required to put them in their cars. This comes from post-war racing in NASCAR, when one of the prominent men in the organization then had seen enough of dangerous and fatal fires on the race track. He took the idea from the fuel tanks in the wings of fighter plans, which were twenty – two gallons and had rubber bladders to try and protect, as much as possible from fire.
The first fuel cell came in these wings.
Gene pointed to the hubs that Charlie Smith and Rich Palmer were laboring over and told me that most of today's modern racing hubs are still somewhat modeled after 1937 Ford truck hubs – for three quarter ton rear ends because the gear ratio in many of those vehicles were set for inner city deliveries, with which high speeds were seldom achieved. Gene says this rear end used to work well on the many quarter mile race tracks, where the cars were not going to reach [let's say] Daytona speeds but needed a lot of pick up.
Coleman is proud to say it is he who developed the snap on, push – button – removable racing steering wheel. Before this, drivers had to keep track of a pin to keep the wheel on – and they often forgot to put it back in. That made for some interesting race maneuvers when the wheel came off at speed. Once in a while you used to hear of stories where a particularly muscular driver would muscle a car in using only the steering shaft in his hands after that happened.
According to Coleman, the racing rack and pinion steering setup came from Randy Sweet, out in Kalamazoo, Michigan; and the bodies that so many of the teams are using at the track now were first developed by Fran Prestay [Gene didn't know how the name was spelled], who founded Five Star out in southern Wisconsin. It seems Fran put together an aluminum body, in his gas station, for a friend who needed a body fast. Not long after, Fran experimented with fiberglass; and then he soon couldn't keep up with the demand in his little gas station. The rest is history.

ACT Site Photo
Most of today's late model bodies came from the ideas set forth by Five Star. This body wasn't made in any gas station.
Coleman couldn't decide if the quick change rear end started with Frankland or Hallibrand; but he did mention that Ed How was the first to mass produce late model race cars, all of which were exactly the same. So, just like Maynard Troyer in Rochester, New York, Howe made enough cars for him to be required by the Feds to put serial numbers on them. God knows how many Howe cars came streaming out of Beaverton, Michigan. For years, it was thought that most of the stock car innovation came out of the South, but it looks like the upper Midwest has had its share.
I recently had the privilege of sitting with Rutland, Vermont's Jerry King for a few hours on a Sunday morning because Jerry is one of the last and best sources of information on Rutland's long-defunct Pico Raceway. Jerry raced there in 1951, and I, a five year-old kindergarten kid, remember being brought there for my first races. I never got over them and neither, apparently did Jerry. He went on to race [quite successfully] at Bennington's Stateline Speedway, Fairmont Speedway, Mettowee Speedway, Malletts Bay. Fonda, and Devil's Bowl.
Jerry has interesting stories to tell about racing, when there was more fun, more innovation necessary, and a lot more colorful characters. I was just talking last night, at Devil's Bowl, to J.C. Hyde, a guy my age who works on fuel injection and engines and who laments the loss of just those three things in racing today [along with the fun]. At any rate, Jerry tells one story of going to Stateline with his newly-built 1939 Ford and having the thing running on about four cylinders in the turns.

Ladabouche Photo
The infamous Stateline carburetor.
So Jerry had a machinist cut stock carbs in half and they blended the parts into a hybrid four barrel, with which he proceeded to kick butt down there. The carbs were from a flathead Ford and were 97 Strombergs, he is quick to point out. Then all the track regulars got all sorts of grumpy and wanted him banned from the track until the legendary Steve Danish, pretty much the kingpin at Stateline [and one of the guys Jerry beat that night] stepped in and told them all to let him alone. Jerry went on to compete with some of the regions best drivers for the track championship.

King Photo
King's Stateline car, at home, on Muzzey Street, in Rutland.
King briefly fielded a 1937 Ford at C.J. Richards' Fairmont Speedway in 1964 and 1965. After driving a few times himself he eventually installed Pittsford, Vermont's "Rapid Ralph" Palmer in the car until the track closed – to move out to the Devil'a Bowl site a year later. Palmer eventually wrecked the car at a race at the Rutland fairgrounds. King would go on to alter the car into a Devil's Bowl modified and drive a little himself, before giving way to such drivers as Hall of Famer Mert "Socks" Hulbert [who won two features with the car. Other guys who sat in the King #99 were Fonda driver Ray Sitterly, Butch Jelley, Sonny Rabideau, Wes Moody, Tommy Correllis, and Chuck Ely. The King car became a sort of Enterprise rental car for drivers at the Bowl whose own equipment had failed and who needed to stay in the points chase.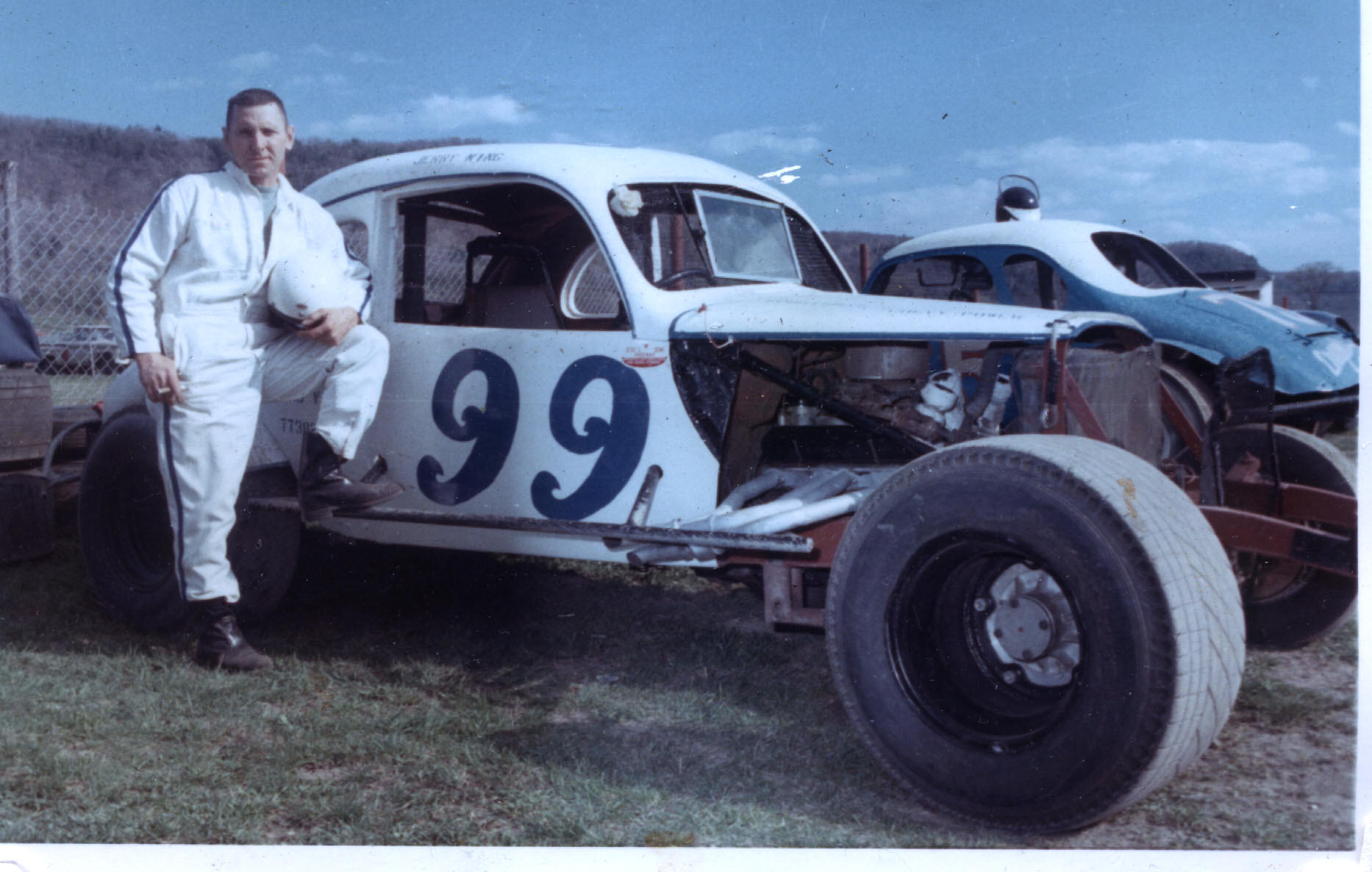 King Photo
King, with the 99, before he started putting others at the wheel. This is probably 1967.
Jerry actually ran with NASCAR sanctions one year and he was scheduled to go to the great Langhorne race held near the end of the year. He could not scrape together the finances necessary to do this. This is apparently one of his great disappointments as he mentioned it at least three times. At that time, getting to Langhorne was almost as good if not better than someone today getting to Daytona.

King Photo
Posing with the original 5 Aces outside one of his bases of operation – Don LaFrancis' Tydol gas station across from the fairgrounds in Rutland.
King's stories are colorful and typical of life and racing back in the 1950's. When he couldn't run his stock car, the "5 Aces", at Pico, he would hop into the John L. Cootey Pontiac wrecker and serve in that way. It may have been Jerry whom I remember getting stuck trying to extricate a stock car from Pico's infamous first turn infield quagmire. That scene is one of the few things I can remember from going there in the early 1950's. He tells of one time on Muzzey Street, where he kept a small garage operation for years before becoming a gunsmith. This is in the city, mind you, and he decided to take the race car around the block to test it out. He came back down the street, lost the brakes, took down a neighbor's clothesline, and the police knew just where to go and wait for him to get back into his yard. I feel lucky we still have a few Jerry Kings around to talk to.
Please email me at wladabou@comcast.net if you have any photos to lend me or information and corrections I could benefit from. Please do not submit anything you are not willing to allow me to use on my website - and thanks. For those who still don't like computers - my regular address is: Bill Ladabouche, 23 York Street, Swanton, Vermont 05488.
AS ALWAYS, DON'T FORGET TO CHECK OUT MY WEBSITE: www.catamountstadium.com
Return to the Main Page
Return to the Columns Link Page
Return to the Main News Page