THE BILL'S BACK IN TIME COLUMN PAGE
Copies of my column in Mark Thomas' "Racin' Paper"
BILL'S BACK IN TIME
By Bill Ladabouche
Site Column #45 from My Column 60
WHAT'S THE MATTER WITH THE CAR I'M DRIVIN'
CANTCHA SEE THAT IT'S OUT OF STYLE ?
Billy Joel's lyrics often put him in the role of someone who was cool once but would not change with the times. That's OK if it sells CD's [or records, in the day]; but does it work in the trend –conscious world of racing ? Hell, there was a time that, I swear, if one of the Catamount drivers had come into the pits wearing a rabbit turd pinned to his uniform, they'd all have one by the third week. It's a little harder to be like that today with everything like crate motors, the official tire, and uniform car bodies.
Over the years, before so much uniformity, there was always someone who was running with the big guys using a noticeably "yesterday" car type. Some guys, for whom I have no photos, come to mind, In particular, I remember Hugh Woodman, Jr. at Oxford Plains with "Woodie's Little Goody". It was a Christine – style 1957 Plymouth running against much more modern cars. I think it was the late model division, as well. The car was reminiscent of the cars I saw running at OPS in 1969, when on my first honeymoon – and I think I saw Woodman darn near the end of the 1970's.
<![if !supportLineBreakNewLine]>
<![endif]>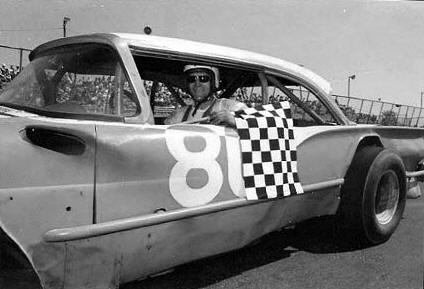 Woodman's car would have been more comfortable against cars of the era in which Ray Penfold raced this 1958 Ford at Wiscasset. [Courtesy of the Maine Vintage Racing Ass'n Site]
I also recall Dave Goltz running down at Monadnock with a coupe against what even then were low – slung, modern modifieds. As I remember, he wasn't doing all that badly either the year I went down there with the infamous Jim Barton / Harry Rathburn Southern Tour from Catamount. The competitors at Mad Dog were good to us, and the show was great. Sadly both Jim and Harry are gone now – well before their time.
The first car that I saw running a bit out of its era was at Fonda [and I never really realized it, being only 14 and mechanically challenged]. I can't remember the exact year, but the coupes at The Track of Champions were beginning to be lower and more sleek, in every respect. The upright coupes of the late 1950's and very early '60's were beautifully – prepared cars, but their days were numbered. It was against this backdrop that the legendary Steve Danish was running in the twilight of a career so great I donlt have the adjective to describe it. But, Danish was not a man to change things very often, right down to the color scheme and the neat, home – painted, very austere numerals on the sides of the Danish Chevrolet.
Steve had run Fonda for years, successfully racing against V-8's with beautifully – prepared six cylinder engines. His car was that older style, upright 1936 Chevy coupe, and he was beginning to have to contend with equipment that was becoming more and more ahead of him. I have no doubt Danish could have out – "teched" most of them if he wanted to – but he didn't want to. That was Steve. So, it was difficult to watch that year, in which victories were becoming fewer.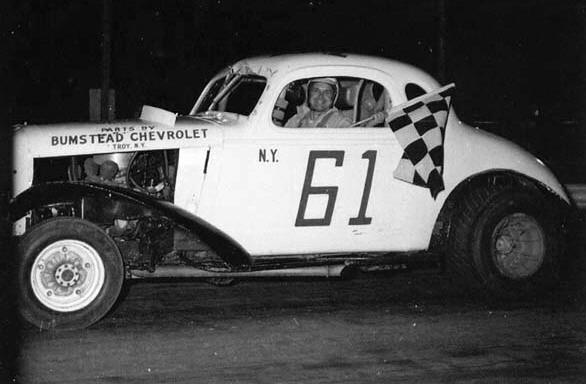 Steve and his familiar car during happier days around 1962. [ Danish Family Collection]
Steve had two high points, toward the end, that I can personally attest to. In 1963, Fonda staged one of its first long – distance modified events with a name something like the Mohawk Valley 300 [or something similar]. Much to the surprise of many, Danish took the old Chevy and won that grueling event. Part of it was determination and part was the amazing physical conditioning he always did. Steve's other big win was at Fairmont Speedway, in what I believe was 1964. The Vermont track had attracted Steve, Guy Chartrand, and a few other famous names for a hundred lapper. The Chartrand 901 led most of the race; but, on lap 98, the rear end failed. Danish, who had been s distant second, had the equipment that could last and he won the race.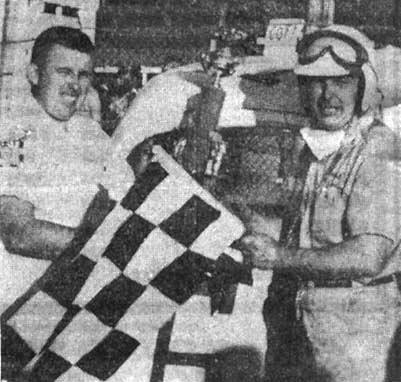 In this grainy old Rutland Herald photo, Danish is seen getting the spoils of one of his last victories from promoter C.J. Richards. [Herald Photos by Aldo Merusi]
I never got to see Thunder Road International Speedbowl until at least 1969; but I have a pretty good idea of the types of cars that raced there in the early sixties from the considerable collection of Bob Doyle photographs being archived by historian Cho Lee. Cho tells about one very unusual – looking, kind of throwback car that ran there with some regularity in the earlier days of Ken Squier's q uarter mile paved track. The 28 and 9/10, of Marty Harty was numbered as such to reflect the price of gas at the time. [How significant today !] The make of the car body escapes me, although Cho has told me, but it looked very upright, square, and odd out there with all those little flathead Ford coupes at T Road.
Apparently the Harty car, with assorted drivers, did all right at Thunder Road. I saw the car mentioned on a Fairmont Speedway program roster in 1963 – listed as being driven by Ralph Atkins of Troy, New Hampshire. I never saw it show up at Fairmont. Cho assures me that Atkins was ordinarily the car's sponsor. Maybe he thought better of it. I might Marty at a Ron Bouchard vintage car meet in 2006. He is an unforgettable character, just like that old [but pristine] sedan.
The Marty Harty car, seen here in a precarious position at Thunder Road, was one of kind. [Bob Doyle Photo Courtesy of Cho Lee]
Getting back to the Fairmont Speedway, one of our over – the – hill cars was actually still winning – frequently. BY 1965, C. J. Richards and the Champlain Valley Racing Association were switching over to the V-8's, and encouraging the construction of sportsman cars similar to what ran at Fonda and Lebanon Valley. Obviously, he hoped to attract some of these cars, even though he, too was running on Saturday night at the time. The first test for this new program, however, was during the Sunday afternoon programs he held before it was warm enough to run nights.
As teams like the Gael Dundon #3, with driver Vince Quenneville, Norm Scarborough, with his new star Russ Shaw, and the newly – formed Taggart team with veteran driver Cecil Bosworth were trotting out these new sportsman beauties, Stroker Smith and Sonny Rabideau, a team that had, at times, dominated the Vermont half mile, showed up with the same old cutdown Ford coupe and its powerful flathead Ford powerplant. More than one tracksider scoffed, wondering aloud how the flathead could possibly even qualify against these new local cars and the invaders like Jerry Pennock and the Bill Fowler 27Jr, coming in from New York.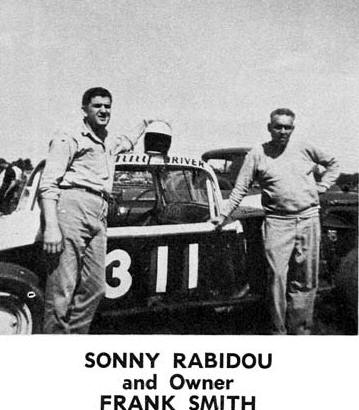 Sonny and Frank were at the height of their careers when this shot appeared in Cavalcade of Auto Racing, around the early 1960's. [Cavalcade Photo, Photographer Unknown]
When the dust cleared, the first weeks, however, the sportsman cars were found to not be up to the task of catching Rabideau and the ultra-light cutdown. In fact, until the little #311 started blowing up engines with some regularity, the Fairmont crowd was split between the delighted and amused flathead loyalists and the disgruntled folks who were ready for the sportsman coupe era to begin. Well, begin, it finally did when Stroker got sick of blowing his engines to try and keep up; but the 311 more than did itself proud for a lot of that year. Later, at Claremont, it blossomed out with a V-8.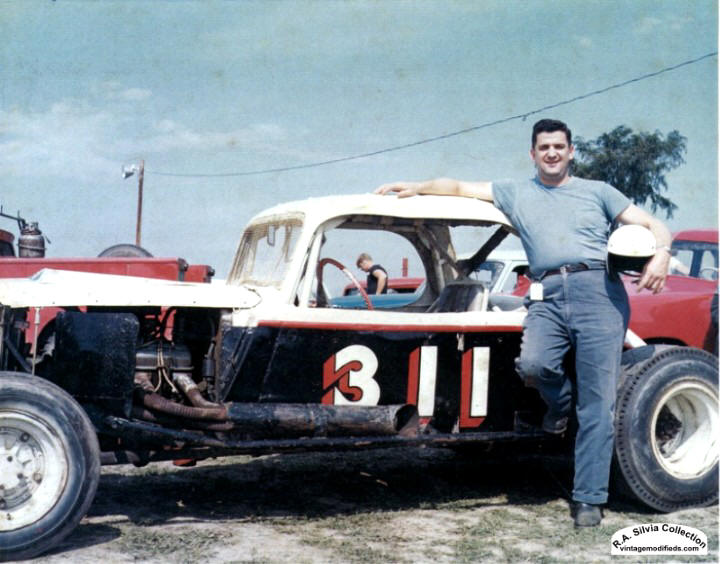 Sonny poses with the little cutdown coupe around 1966. Notice anything different? Varoom ! Varoom ! [Courtesy of R.A. Silvia]
My final car is the one that tickles me the most. Never one to avoid controversy, Newburg, Maine's Ralph Nason had gotten into it with Northern NASCAR about something concerning his Chrysler kit car. It was different than the one that had been welcomed at Catamount in the earlier 1970's, and Ralphie was not happy. So, the Sachs Sex Machine was born. Through some loophole or rules quirk, the ancient 1968 Chevelle body was still on the legal list for NASCAR late model sportsman cars.
Nason would take his sponsor, Sachs Dolmar chain saws and their orange and black color scheme, and he would create one of the homliest and most outdated – looking cars to ever hop onto Catamount against the state – of – the art Banjo and Laughlin cars of the day. The Sachs Sex Machine only looked out of date. Make no mistake, underneath was a modern car just like everyone else's, but it looked weird for what looked to be an old holdover from years past to be out there, running neck and neck with the best Northern NASCAR had to offer. It was the ultimate tweak of the Vermont officials' noses.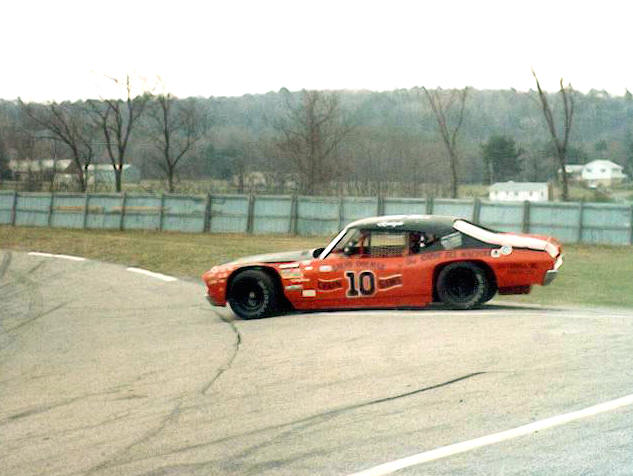 Ralph the Racer and his Sachs Sex Machine take to the track at Catamount. [Denis LaChance Photo]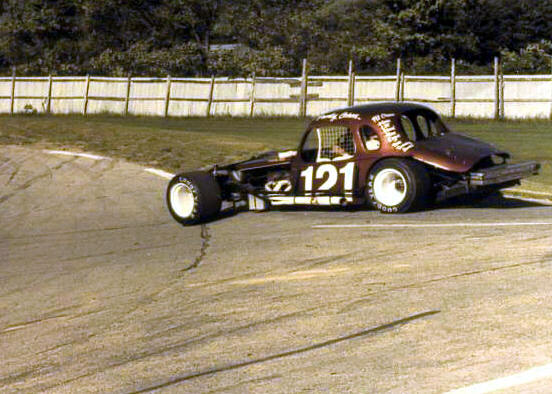 A lot of people also thought Goshen, NH's Punky Caron was driving a vintage coupe against the latest low - slung mods of the day. Don't be fooled. [It was what was underneath that counted]. [Terry LaFerriere Photo]
Just a quick note before closing. I see where Bruce Jaycox won a race somewhere recently – it may have been Canaan USA. I remember Bruce from the good old days at Catamount where he managed to run a full – sized Ford [with a six cylinder power plant] against the much smaller, more technologically-advantageous Camaros of people like Richard Buzzi, Larry Caron, and the Vance brothers #51. And Bruce did all right. Good going Bruce !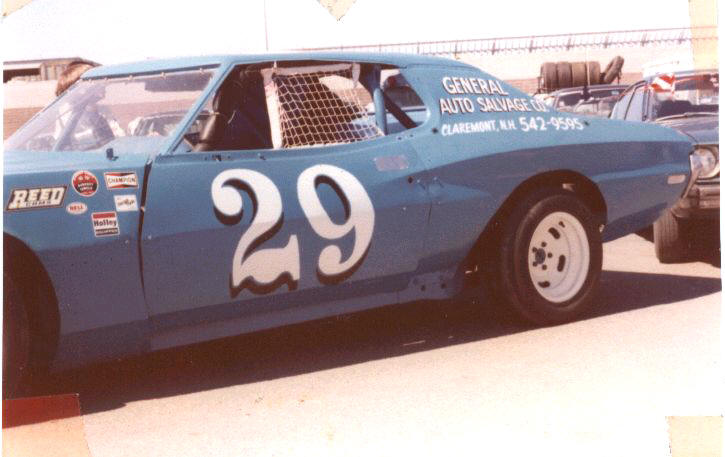 Bruce Jaycox's full – sized Ford with the six cylinder, Grand American – legal engine. [Courtesy of Mark Austin].
Return to the Columns Link Page
Return to the Main News Page