THE BILL'S BACK IN TIME COLUMN PAGE
Copies of my column in Mark Thomas' "Racin' Paper"
BILL'S BACK IN TIME
By Bill Ladabouche
Column 61 - From Original Column 76
IT'S TWO DOLLARS BECAUSE OF THE SPORTSMAN
My uncle and I had been trying to get up to the little pasture track in Waltham Vermont as often as we could in 1962. Before C.J. Richards re-opened Fairmont in 1962, Otter Creek Speedway was the first and only stock car racing we had seen since our one trip to Malletts Bay, three years before. Fairmont was much closer and we were becoming familiar with its regulars, by the end of the 1962 summer, so venturing way up to Waltham took a special reason.
That special reason happened to be advertisements in the Rutland Herald and on the local radio stations featuring a big NASCAR race at Otter Creek with the big names of the NASCAR sportsman division [which, by the way, were almost all from nearby upstate New York]. With names like Kenny Shoemaker and Bill Wimble being bandied about, we felt we had to go – even that meant not getting much sleep for my uncle before his night job as the Proctor, Vermont town cop. Add to this, the promise of some names less familiar such as Dick Nephew, from the Canadian border in New York, Ernie Gahan, from Dover, NH, and somebody named Ed Pieniazek –and the temptation was too great for us to resist.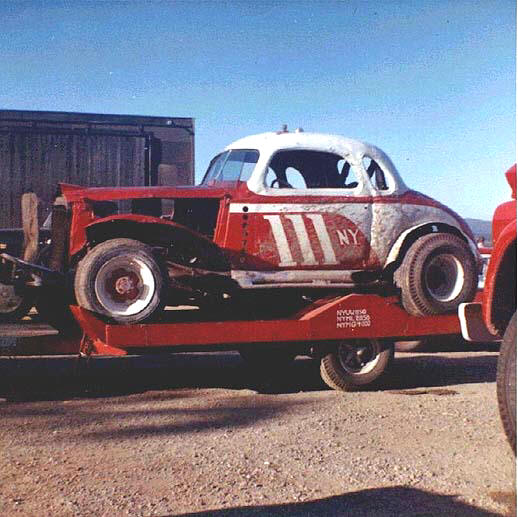 Whoopee. We're going to see Kenny Shoemaker. I'd never seen him before. This is his victorious
Drellos car leaving the grounds. [Ladabouche Photo]
We were familiar enough with the track, having gone there at least eight times in the past two years; but, we did notice different signs out by the highway. As usual, some guy with a nail apron was standing in the middle of the access road entrance to Hi Monroe's farm, the location of the race track. Monroe and Lee Tucker ran the rustic race operation from one of Monroe's pasture hillsides and out of most of his out buildings. The track we had visited in 1961 was long, quite flat, dusty, bumpy, and had the problem of water running across the track right after you exited turn four onto the front stretch. The infield, which did not serve as the pit area, had a pond in the middle, and the pathetic excuse for a water truck loaded up there.
The water truck, alone, used to be something to behold. It was a bulk tank on one of Hi Monroe's farm trucks which let water run down a wooden chute. The water then struck a large board which would splash it out, onto the track unevenly. This made the track get bumpy and they never worked the water in long enough before any race. Couple that with sunny afternoon racing and you had a dustbowl to rival the 1930's one. Meanwhile, back to our arrival in 1962. All I could see from the passenger side of the 1953 Chevy was that nail apron, with red tickets snaking out of one pocket, a big hand full of small bills, and none-too-clean blue jeans.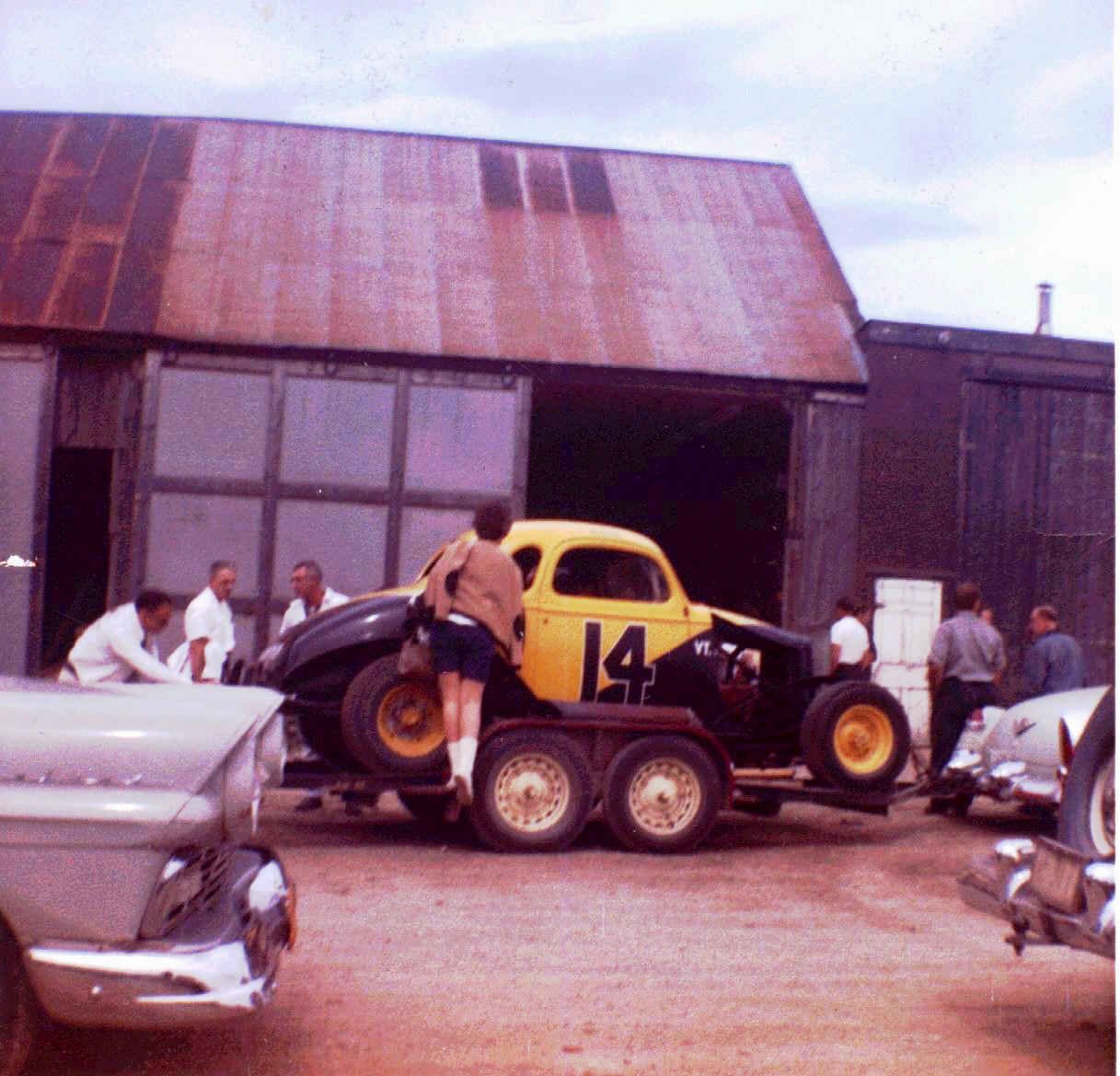 Seeing a car like the brand new Tucker 14VT was almost worth the extra dollar. That's builder Royce
Tucker directly behind the car facing left. [Ladabouche Photo]
"It's two dollars today because of the sportsman", came the important-sounding voice from behind the nail apron.
My uncle pretended to be horrified. In those days, two bucks to get in was about like finding out it was going to cost thirty a head to get into a race at Bear Ridge in 2009. But, being the great guy he was, he forked out six bucks for him, me and my friend Ed, who could actually could give a poop less whether he ever saw a stock race or not.
After parking where we usually did, we noticed it was a little harder to get a seat in the small bleachers on the top of the hill overlooking the track. Jake and I immediately noticed that management had shortened the track from its seemingly-endless half mile expanse of the previous year. Turns one and two cut well inside the obvious outline of the old turns one and two and the banking was a little steeper. But, judging from the clouds kicked up by the slowly circling cars running in the track, the dust problem hadn't improved a lick. With more of the powerful sportsman coupe on it, the dust may have actually been worse. Fortunately, the crowd almost was too far away to get very dirty [at least any dirtier than most of 'em already were].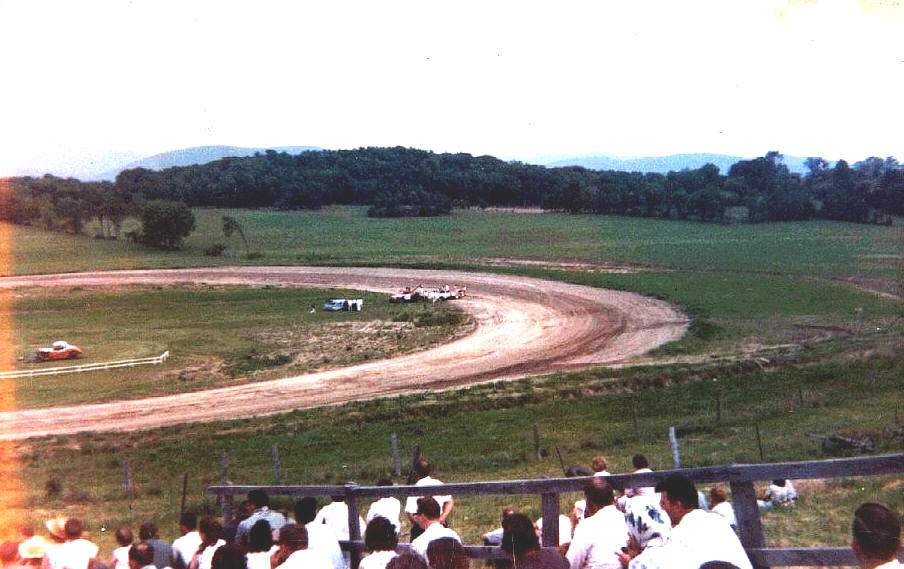 This view shows the outline of the old turns one and two, from the longer track of 1961. [Ladabouche Collection]
Ed was immediately off in search of hot dogs. But, race tracks were possible the only place this teen may have thought of something before food. I recognized the robin's egg blue Young/Vine #75 that George Baumgardner had driven all the year before, and I saw that #7VT from up near Burlington. What I didn't know was that it was no9 longer owned by the Tucker family or driven by Dutch Reed. This was the sportsman debut of Black Jack DuBrul, who apparently had run the 1961 season at Otter Creek in a flathead Thunder Road coupe he had picked up from Rex Shattuck.
The track announcer was pointing out the big boys. I saw an impressive, although graphically non-descript red and white #111A, which was attributed to "Kenny Shoemaker" of Albany" and a black, maroon, and white #33 which was supposedly reigning 1961 NASCAR National Sportsman Co-Champion Bill Wimble, of Lisbon, NY. Those, alone, were the worth the two bucks Uncle Jake had to fork out, but there were many other sportsman coupe there I didn't recognize. They turned out to be a brand new, absolutely breath-taking yellow and black 14VT built by the Tucker family, a few Fonda backmarkers like Wayne Coon and Bill Chepulis, and a couple of pretty respectable coupes" Jim Koehler of Coventry Connecticut with a brown #31 – and Tom Kotary with Joe Romano's 97 out of Johnstown, NY.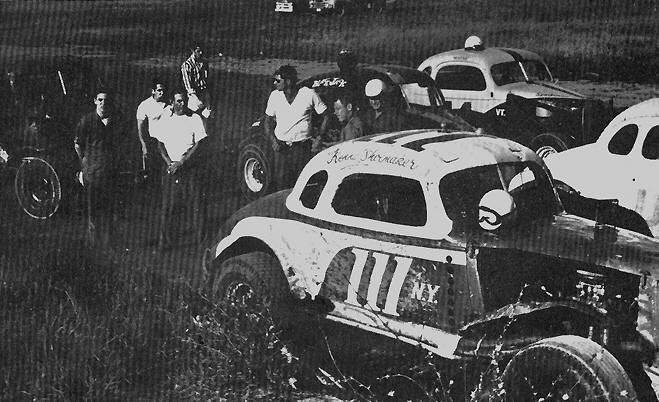 Some of the sportsman stars stand on the track before the race begins. I can recognize [from left]: unknown in dark shirt; Wayne Chandler beside starter Danny Rumpf, Ken Shoemaker with hands folded, Jack DuBrul looking left, Tiger Tom Kotary, and unknown in helmet. One of the unknowns could be Harley Chamberlain. [Bob Frazier Photo Courtesy of C.J. Richards]
I would come to note that this bright red, #77 identified by the announcer to be Eddie "Pun – NEE _zeck" from Schenectady, was probably the third fastest rig there that day. Nephew, Wimble's co-champion from 1961, would later tell me he really didn't like the track and had a hard time running it; so he didn't do much to catch my eye that day. I do recall that the Allie Swears red and white #51 was often at the track, but I don't remember whether Nelson Moore or Paul Marshall was driving that day. A white car with the unusual numeral # 10-10 turned out to be Mike Michaels [real name Mike Suraske], all the way from Whitesboro near Oriskany, NY Loren "Dutch " Reed, a multi-feature-winner at Otter Creek probably had the Tom Hammond 90A in the field.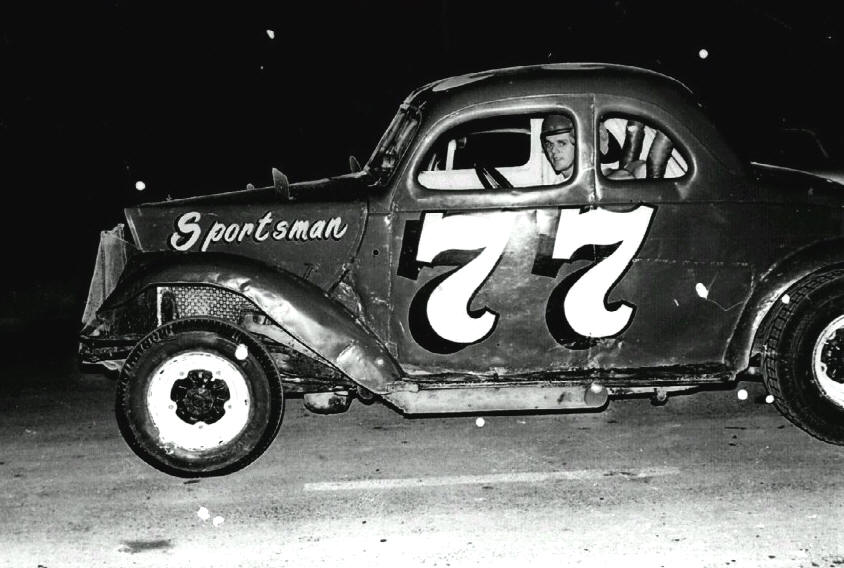 The immensely popular Eddie Pieniazek [pun-NEE-zeck] in the Richard Welch 77 was fast that day at Otter
Creek. I had never heard of him, way up in Vermont. [John Grady Photo]
The usual locals were there with what was called the hobby class, and that included Ed Foley, who was featured in one of the most recent columns I did. These cars would have to run in with the sportsman cars – at least some of the time – or there weren't enough for a good field ever at Otter Creek. Here, you would get future hall-of-famer Vince Quenneville [00], as well as Foley [30], Sonny Gover [AAA], Phil [Checkmate] and Bob Russell [115],and a number of other darned good runners. The wily Rex Shattuck, who had provided DuBrul with a competitive hobby car in 1961 was there with a red #19, a car that faster than most on a weekly basis.
I actually cannot remember who did what in that race [it was, after all, over four decades ago] but I do know that Shoemaker won. For many of the sportsman cars in that field, it was either their first season or maybe even their first race. Wayne Chandler, a former Malletts Bay runner and the owner of a speed shop near Burlington, ran that beautiful 14VT. He went on to drive it, at least once, at Fonda; but the car never did much and was eventually sold to Bernie Kentile to run at Saranac Lake.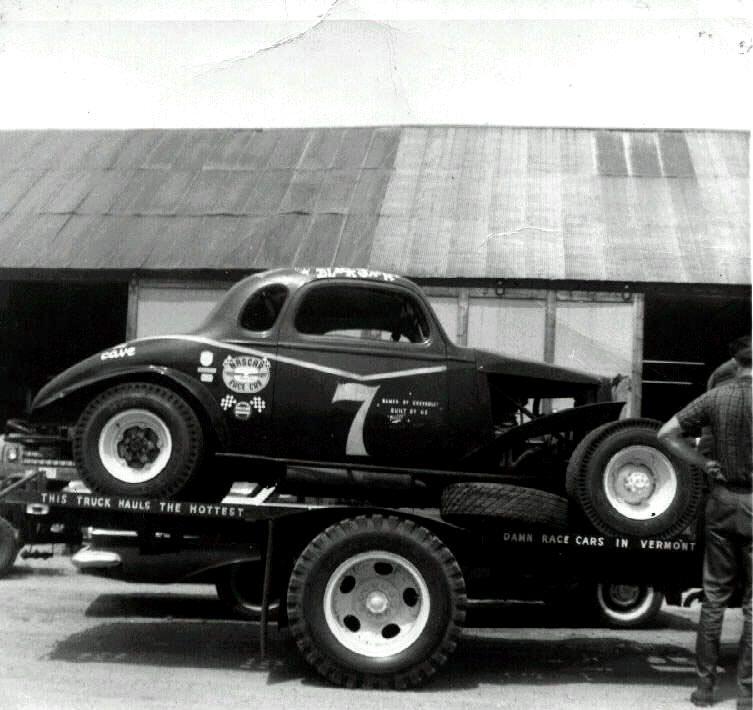 Black Jack DuBrul, with his color-coordinated rig, arrives for the big day at Otter Creek. Note Hi Monroe's
construction barn in the background. [Ladabouche Photo]
For the U21, Harley Chamberlain, it was inexperience and running on a small budget. Several of the New York cars were Fonda field fillers, and Kotary [who often drove with considerable personal anti-freeze] spent much of the day spinning coming out of turn two. I imagine Shoe and Wimble pretty much ran away, and probably Koehler nearly kept pace. I recall Baumgardner [another well fortified driver] spinning on the last lap in turn four and finishing the race backwards, in reverse. I have never found out who Bill Chepulis was, or even if he was a real person. NASCAR drivers sometimes got so far into their fake racing names they'd use them when not necessary. It is also very possible that Chepulis was somebody's mechanic who just tried driving that day. At any rate, he earned 40 points from somewhere at Otter Creek.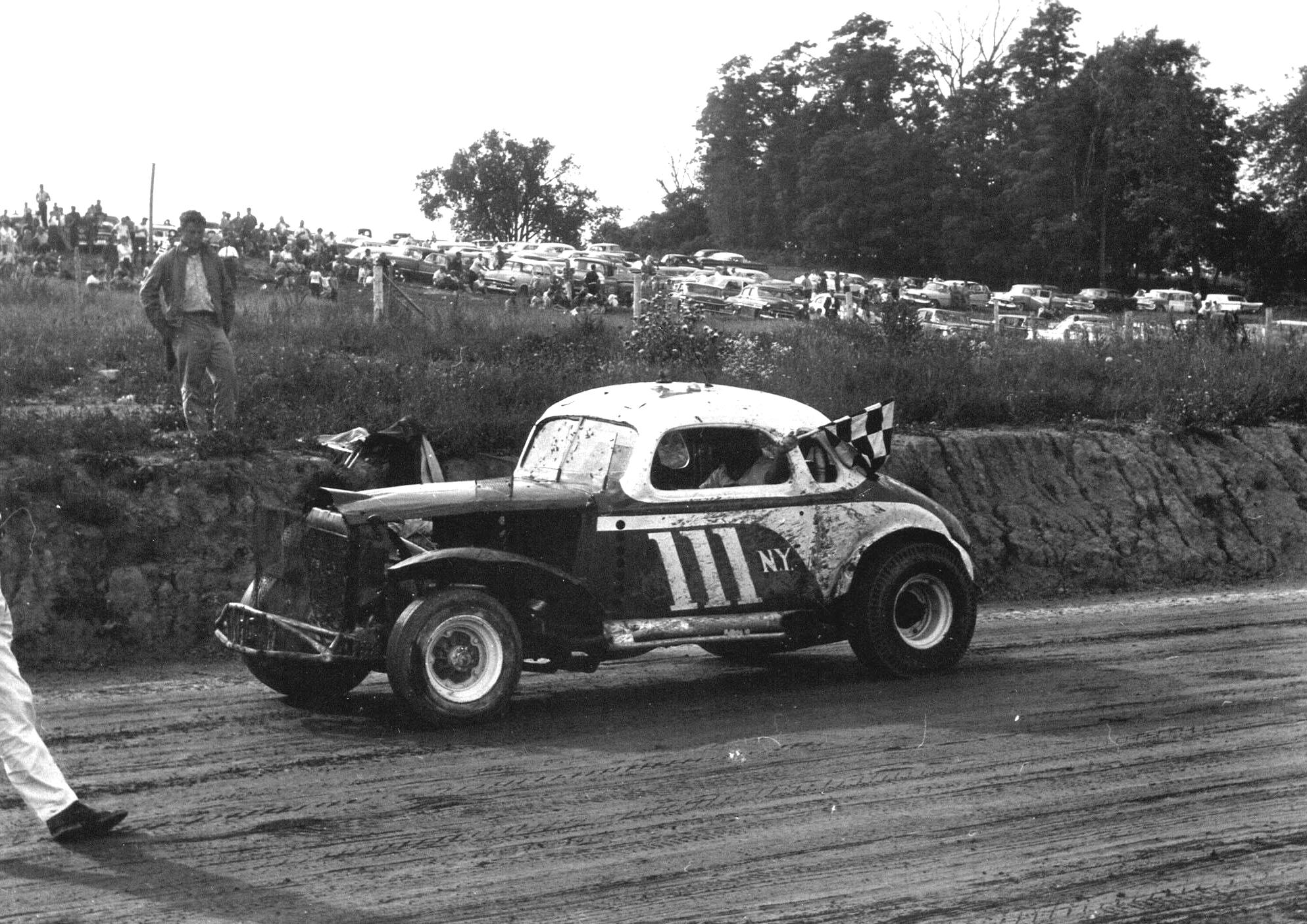 One thing I do remember is that Ken Shoemaker won that day. The only shot we have that looks up
from the track. [Bob Frazier Photo Courtesy of C.J. Richards]
I cannot tell from the NASCAR point standing s at the track that year how anyone else finished because Shoemaker and a few other ran again that year. Ed and I got a few photos that day, although his were better and he didn't want to snap many. He got two beauties of Dave McCready and his familiar Cadillac towing the Wimble car up, out of the track area, through the Monroe door yard. I have colored beauties of Shoemaker, the Chandler/Tucker car, and some of the familiar flathead cars that came up from Fairmont. I had color film in the old Kodak Brownie Hawkeye that day and it worked beautifully.
Otter Creek would face big changes by 1963. To some extent, Monroe and Tucker either got out or took to the background. C.J. Richards moved in with the Champlain Valley Racing Association and did a very good job of running the track. Later, with background support from Richards, driver Joseph "Little Joe" D'Avignon would promote the track as Hillside Raceway. The poor old pasture track would go through one more promotional phase with one of the Senecal boys in the very late 1960's, and now it sits, overgrown and forgotten near Vergennes, Vermont.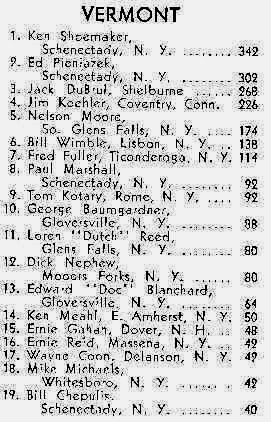 The NASCAR record book shows the NASCAR points from that season at Otter Creek [Courtesy of the Nephew Family]
C.J. Richards would, later on, continue the tradition of bringing in the big boys at least once a year, whereby he developed a good friendship with Will Cagle. Cagle and his barnstorming modified buddies would show up anywhere they could earn a buck. Richards' All Star shows were at a time I was in college, and I somehow missed most of them. But that one particular afternoon at Otter Creek was the best there was until Jake and I started to go down to Fonda a few times a year. And that's a whole "nuther" story.
<![if !supportLineBreakNewLine]>
<![endif]>
Return to the Main Page
Return to the Main News Page
Return to the Columns Link Page
Return to the All Links Page