BILL'S [Somewhat] WEEKLY COLUMN/BLOG PAGE

BILL'S BACK IN TIME
By Bill Ladabouche
Bomoseen Raceway and Fairmont Park
Peeks Into Rutland County's Racing Future
I grew up in the Rutland County area, and was fanatically interested in racing and race tracks since my parents and Aunt and Uncle made the fatal error of taking me to races in 1951 at the old Pico Raceway near Rutland. While the sport virtually died in the area after 1952, I remained interested – even though I was still only six at the time. My neigbor in Proctor, VT, Tony Provencher, was one of the stock car drivers.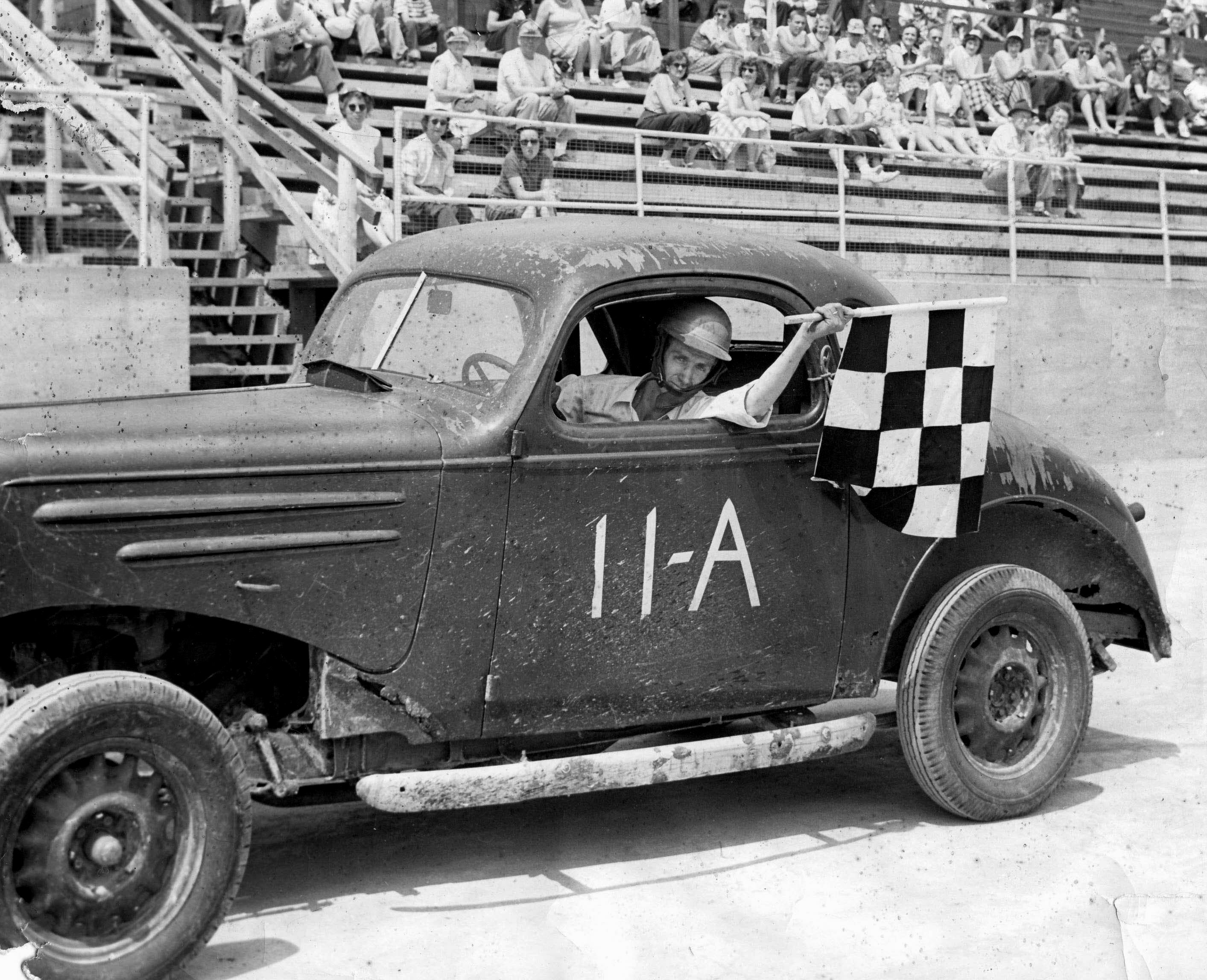 Courtesy of Deb Provencher Danforth
Steady Tony Provencher was our local hero, running first at Pico and then some at Fair Haven. This shot is at Pico Raceway, 1952.
After 1952, with the demise of Pico, and with the Fair Haven track having closed a year before, it was very difficult to see racing – especially when you were not particularly driven to go [as was the case with my folks]. Seeing a stock car program meant traveling "all the way" down to North Bennington to attend races at Stateline Speedway or traveling west to North Granville, NY to catch a program at the Mettawee Speedway.
We tried Stateline once and got rained out. We went over to Mettawee only to have Ed Barnes hit a power pole [and they were too close to the track, to begin with] and put out all the power to the track; that show was summarily stopped right then. I never saw another racing show until, in 1957, these things belonging to the Sports Car Owners and Drivers association [SCODA] put on a show at the Vermont State Fair in Rutland. They were such crude and strange rigs, I thought I was seeing stocks cars.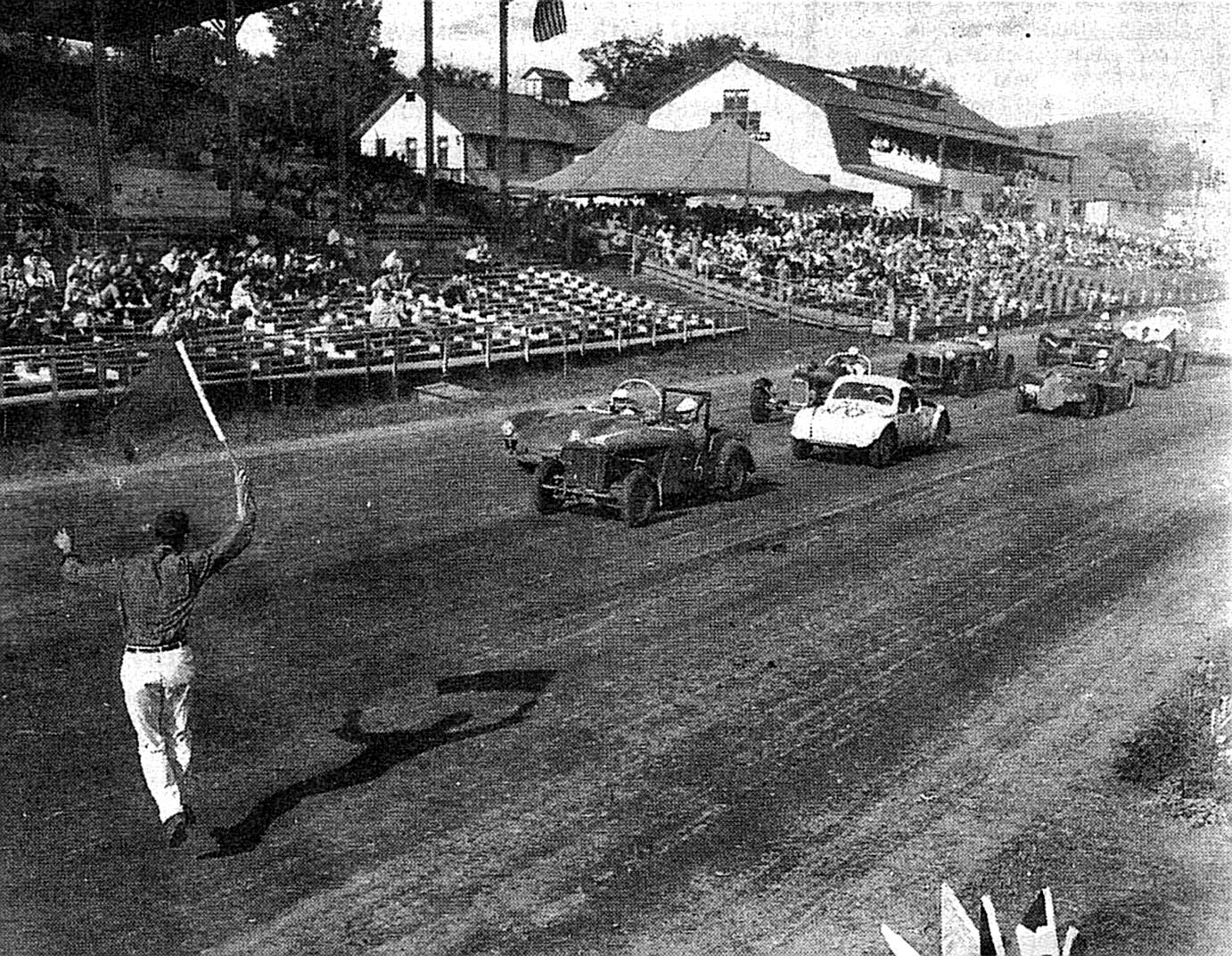 Rutland Herald Photo by Aldo Merusi
A flagger sends off as field of SCODA cars, which seemed like half stock/half sports cars.
The point is, I was very hungry for racing. I drew pictures of race cars [much to the irritation of my teachers]; I tried to recall every detail of what I had seen in 1951 and 52; and I would sit and listen to family friend Jim Haley speak of driving down to somewhere called Fonda to watch familiar names like Jeep Herbert and Steve Danish race there. You would have thought I would have known if there was am old track anywhere around; and, I would have tried to make my poor uncle driver me over to at least walk on it.
But, the truth is, I had been to Hydeville, Vermont; but, I had never been aware of any race track there. From what I can gather, Bomoseen Raceway was a horse track named for the lake it was located beside. Lake Bomoseen is the longest lake in Vermont, if you don't count Lake Champlain. Apparently, while the Loomis family used it almost entirely for racing the oat burners, at least one or two programs were held wherein cars were raced on the track.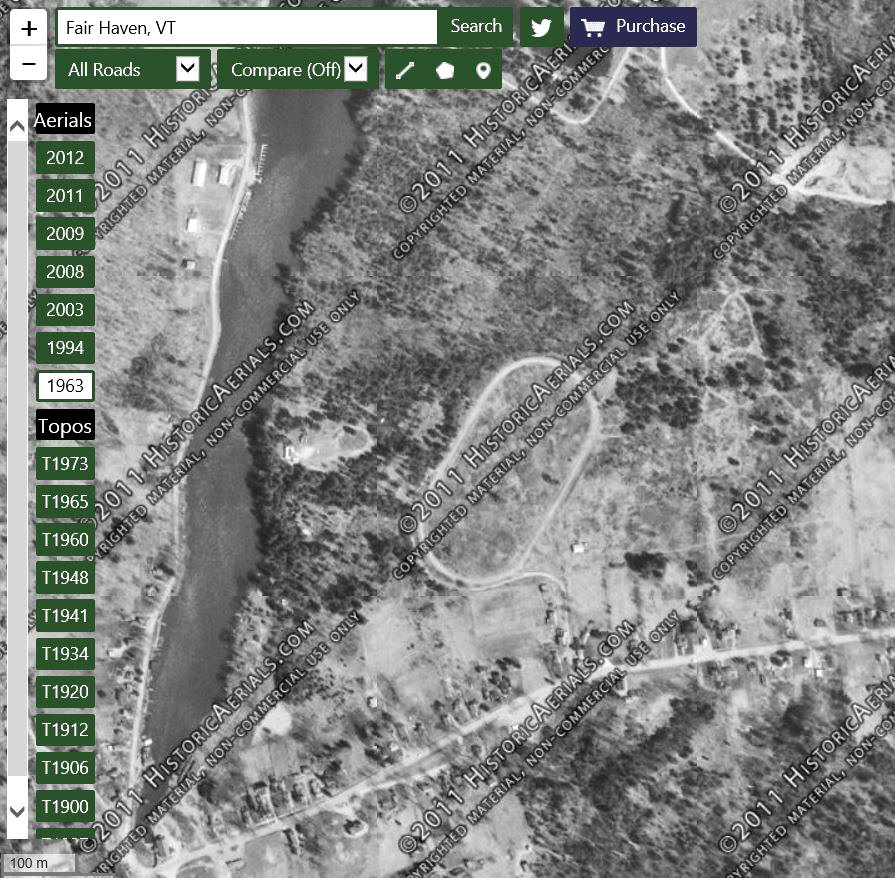 Courtesy of Historic Aericals.Com
All the while, Bomoseen Raceway was sitting there, just off Route 4, but none of us knew it. Below – Cars like this one,
a roadster belonging to Thurlow Woodcock of Saratoga Springs, NY, would be what was available to run in 1948 in our region.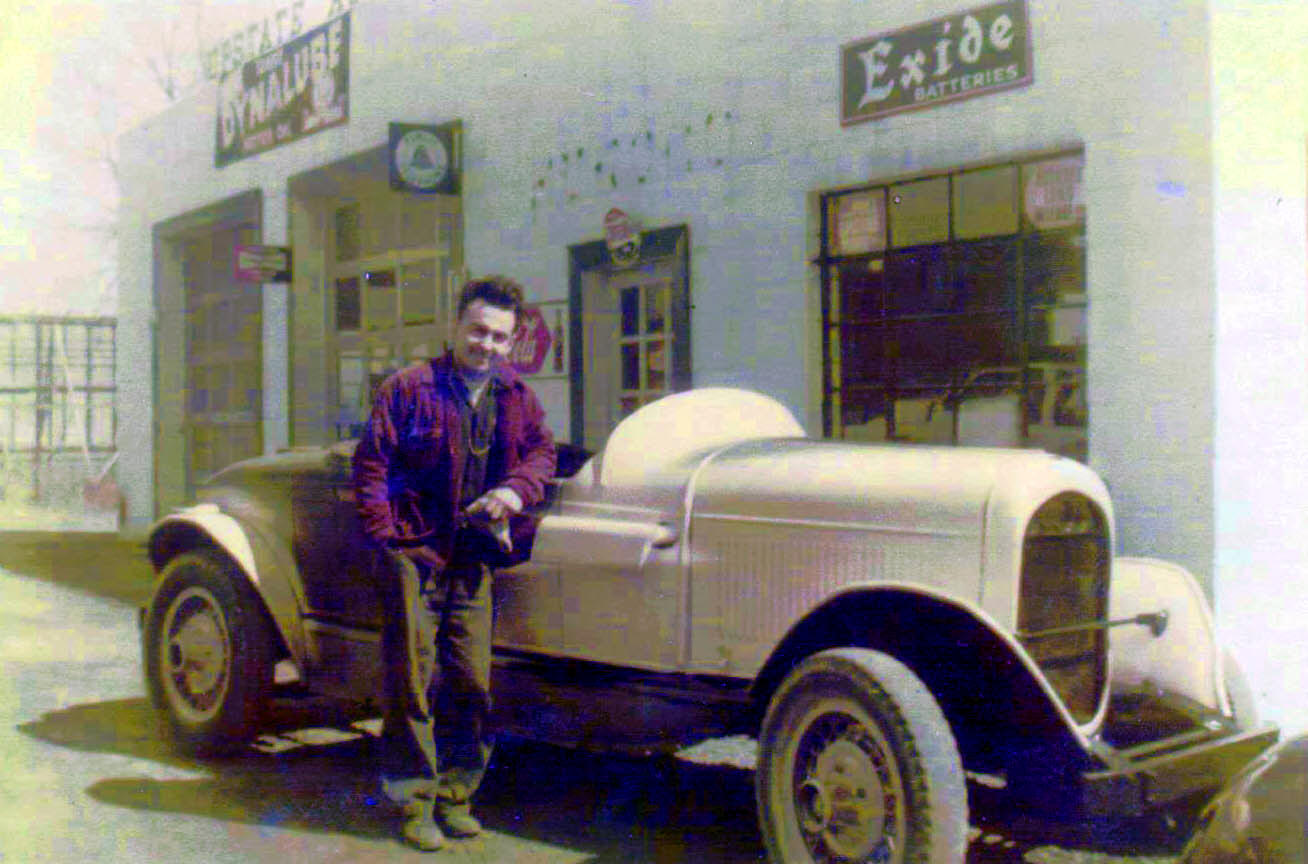 Courtesy of Joe Staiger
From what it looks like on aerial views, the track was nicely laid out; but, it probably wasn't well suited to cars because most horse tracks do not have a surface that is prepared to withstand heavier cars, with skinny tires digging in and churning up the dirt. I cannot tell from the aerials if the track had any kind of fencing or spectator areas.
I guess I would have never known about the track had Steve Hibbard, a team manager and crew chief in the NASCAR K&N series, not sent me a digitized copy of a ticket from that track. The track operated for car racing at least in 1948 for a race or more. According to Mike Richards, the Loomis family owned the land and ran the track, which is very close to the eastbound lane of US Route 4 west of Castleton Four Corners, Vermont.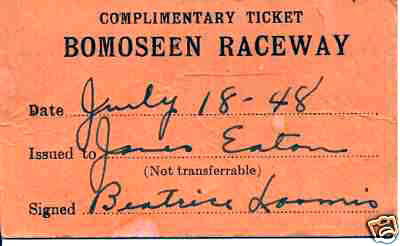 Courtesy of Steve Hibbard
This complimentary ticket shows that the Loomis family had serious designs for Bomoseen Raceway. Something caused the project
to be terminated while Fairmont Park was rejuvenated one year later, four miles west in Fair Haven. Below - The rather feeble attempt at
arrows shows how the track is still visible in 2009 if you try hard.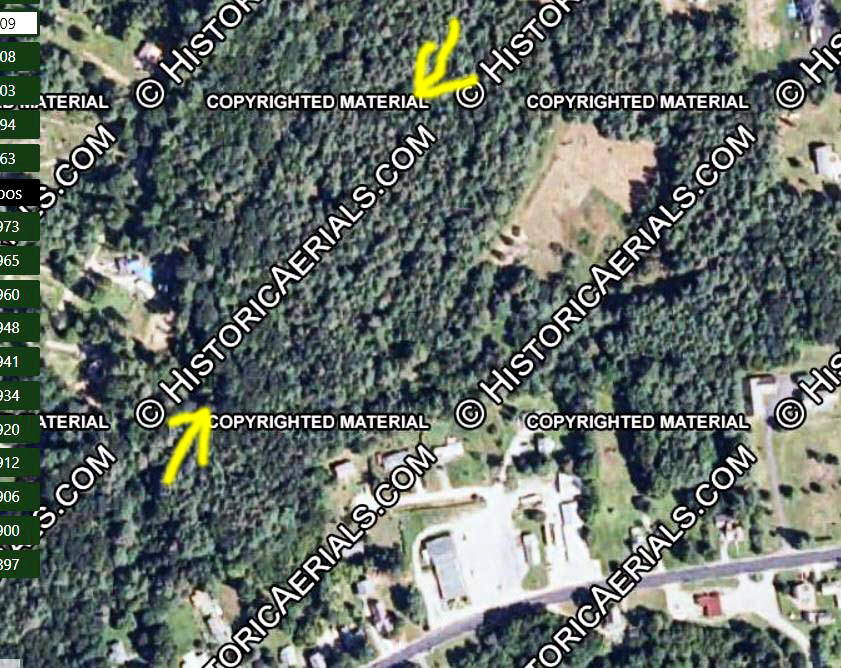 The complimentary ticket, issued to one James Eaton from Beatice Loomis, lists the date as July 18, 1948. That is about all I know about the Bomoseen Raceway. I would have only been two years old at the time of its race programs; so, I obviously have no memory of it even being discussed – whereas, at age five, I do clearly remember my father and my uncle talking about Fairmont Park Motor Speedway [and even attending there].
The Bomoseen track probably had a short life for a number of reasons, although no one knows exactly. The family according to locals, was directly related to the Granville, NY - based Loomisws, who not only had a trucking company but were involved in auto racing through car ownership and possibly through the Mettawee Speedway in North Granville. At any rate, according to those same locals, the Loomises died in a house fire on that property; although, it seems as though the track had been discontinued by then. The old track is still somewhat visible today.
The facility near Bomoseen, that goes back even further was the old Fair Haven fairgrounds facility which, as such and at that time, only hosted horse racing. At the time the location was still a fair grounds, and it had the same track that still can be seen from the air on the site now. The location – just off the New York border on old US Route 4, had those same nice old covered grandstands all those venues had, and was hosting horse races up into the middle of the 20th century.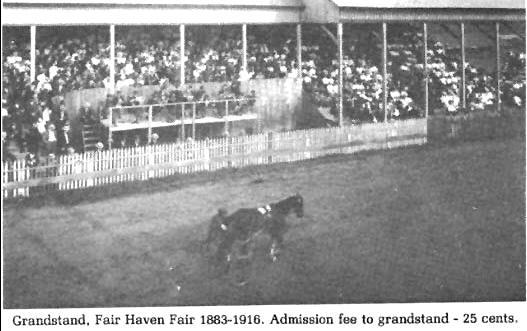 Courtesy of Dorothy St. John via Russ Farr
The old Fairmont Park, the fairgrounds in Fair Haven, VT, featured nice grandstands and horse racing until around World War II.
Below – There are cars in evidence here, but only horses were racing at this time. The dairy, often visible in 1950s and 60s photos
of Fairmont is apparently not built yet.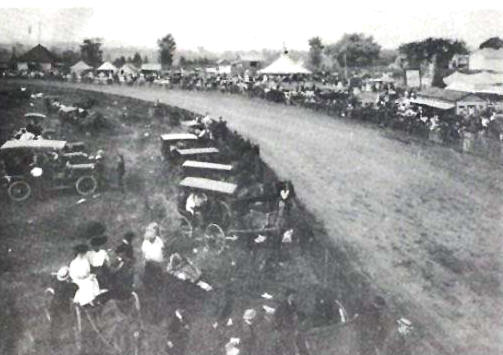 Courtesy of Dorothy St. John via Russ Farr
The site appears to have been dormant by 1947, the earliest aerial view I could get. It is not clear when the old grandstands went. They were not there when Hugh Young opened Fairmont Park Motor Speedway around 1949 or 1950. I would have to assume the old fairgrounds must have been called, at one time or another, Fairmont Park.
The old judges' stand, then located in the infield, was apparently spared from the wrecking ball. It very likely that the old grandstands were becoming too rickety to be passes as safe when neighboring landowner and farm equipment dealer Hugh Young wanted to use the venue for auto racing in 1949, perhaps inspired by the brief Bomoseen Raceway adventure.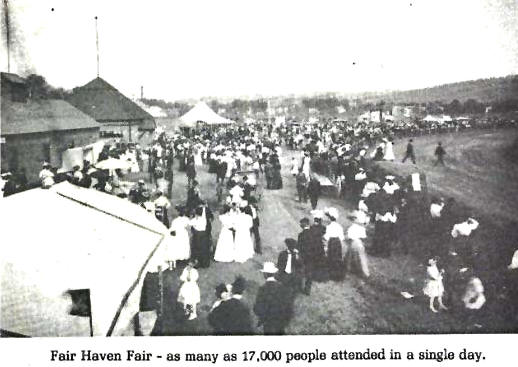 Courtesy of Dorothy St. John via Russ Farr
The atmosphere for the spectator area at Fairmont Park was very relaxed. The sulky racers going by the stands posed little threat to their safety.
Below – Contrast that with the sparsely – populated, minimally protected bleachers of the Fairmont Park Motor Speedway era.
That's Manchester's Dave Brooks winning yet another race.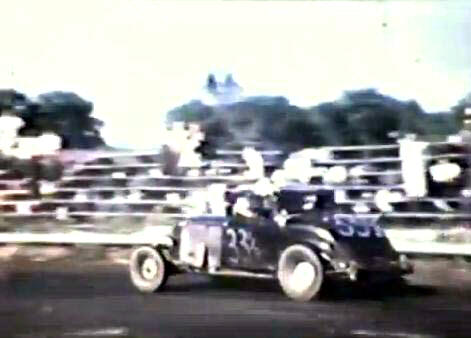 Courtesy of Bud Brooks
The remaining fairgrounds buildings that survived into the Fairmont Park Motor Speedway era were the paddocks that were located behind the grandstands. These old stables were not really used much by Young, although I may recall there might have been a concession stand in there somewhere. These buildings, while prominent in many photos of C.J. Richards' promotion ten years later, are not seen much in photos of the early '50's track.
The Young promotion, cut short by 1952 when Marty Vinci, a local who had sneaked into some trees beside the track to watch for free and was killed by an errant wheel, was indicative of "jalopy racing" of 1949 and 1950. His fields were usually a mixture of roadster cars [model T jalopies with no roof, no cage, and often no seat belts]; some more sophisticated roadsters, lower level stock cars, and some regional stars with fairly good race cars.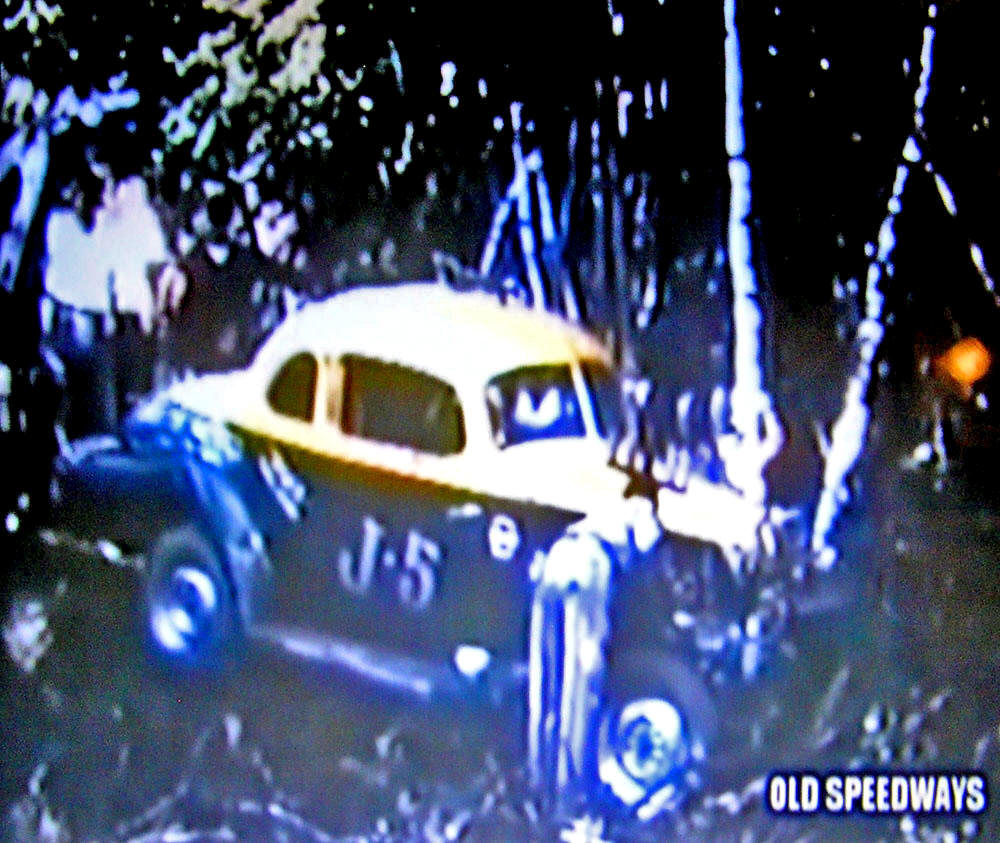 |
From Dan Ody's 8MM Old Speedways DVD
The woods off turns three and four served as a great trap for errant cars like Henry Bouchard's J-5 Hudson in 1951.
Below- This shot I took of the Loomis Brothers 111 of Nelson Moore shows a portion of the paddock building left over from the fairgrounds days.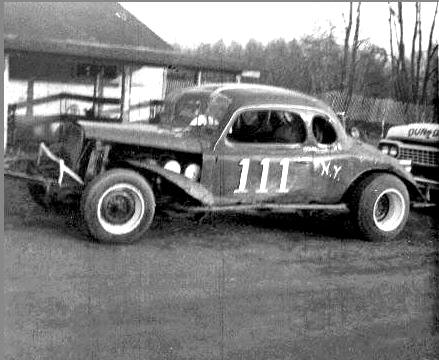 Ladabouche Photo
Steve Danish of Cropseyville, NY; Spencer Parkhurst of Saratoga Springs, NY; Dave Brooks of Manchester, VT; Charlie Morse of North Adams, MA; Gene Tetreault of Manchester Depot, VT; George Rogers of Castleton, VT; Al Parry of Saratoga Springs, NY; Hank Schmidt of Gansevoort, NY; and Jeep Herbert of Rotterdam, NY were among the big names running against the locals and the jalopies.
Local drivers like Rogers, Tony Provencher of Proctor, VT; Vic Love of Fair Haven, VT; George Pritchard of Castleton, VT; and others were in the mix but seldom had the equipment to keep pace. One old 8MM movie of Fairmont, taken by the Dave Brooks family, shows Provencher finishing third in a race and being invited to Victory Lane. For the deliberate Provencher, this was the only such finish he ever managed. As a matter of fact, his red and white 11A was wrecked in turn one at Fairmont. A grandson is still in the sport, serving on the crew of modern star Todd Stone.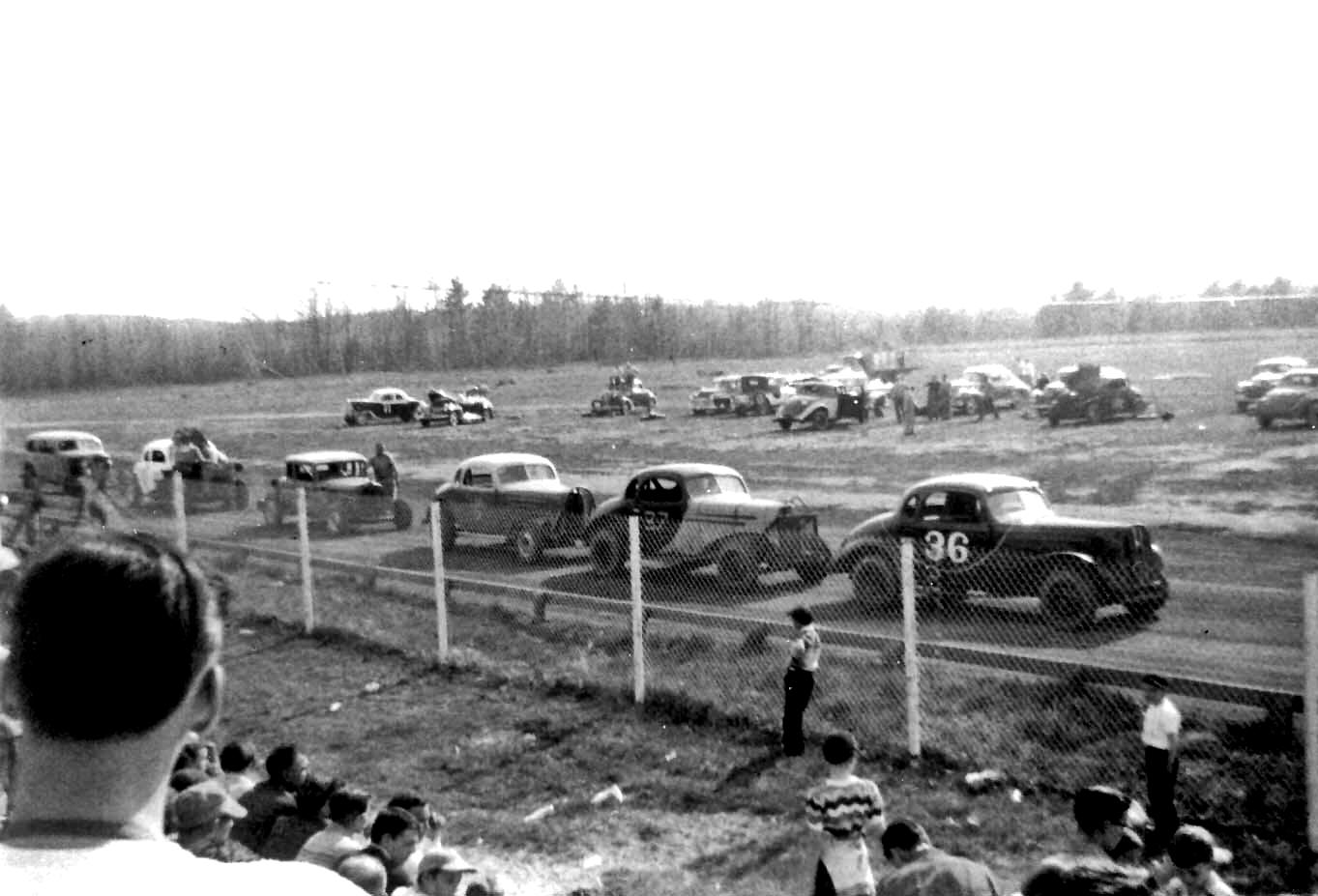 Courtesy of Mark LeFrancois
Spence Parkhurst leads a "Georges Wild" field of 1951 Fairmont cars that includes George Pritchard [37], George Rogers, and
George Gowie [1]. The angle and view is similar to the one seen in the early photo of the spectator area above.
Below - This grainy 8MM frame capture shows local driver Vic Love [inside] driving a homemade jalopy against Charlie Morse's
more traditional Ed Winn - owned #467 stock car coupe around 1951.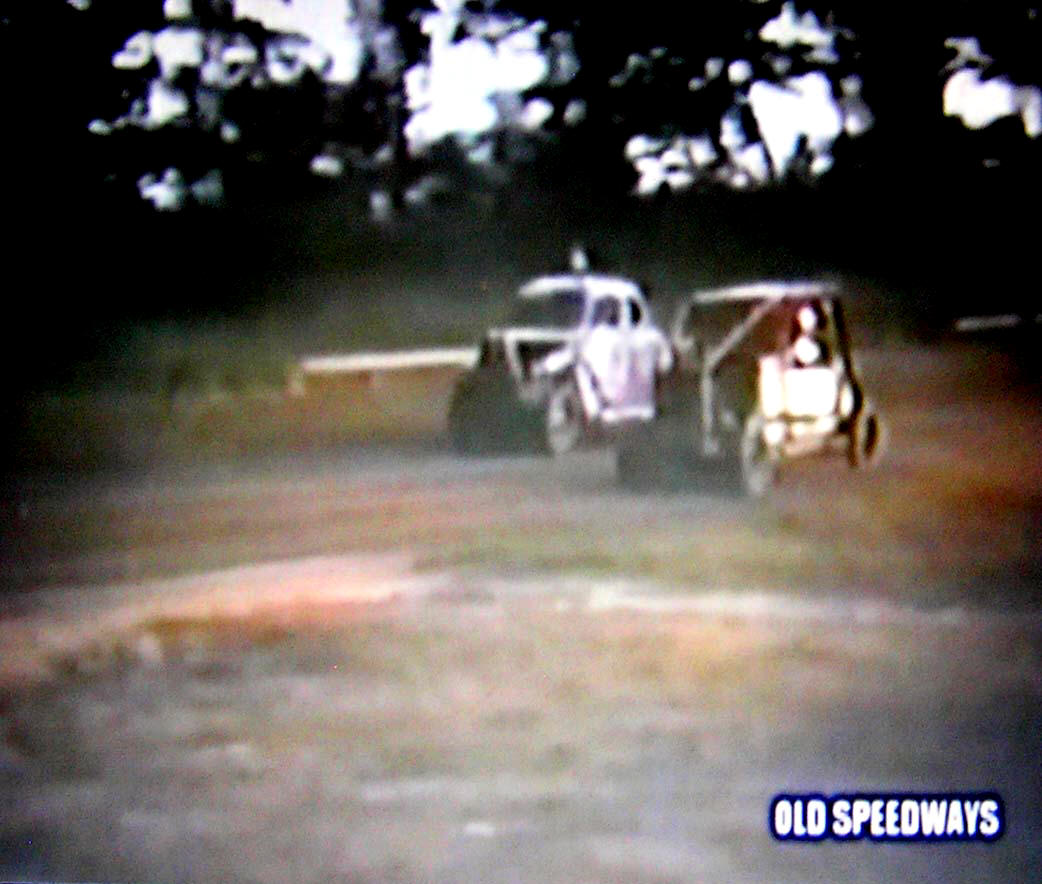 From Dan Ody's 8MM Old Speedways DVD's
Old photos and 8MM movie frames show that the Fair Haven track gave its promotion a real good effort, having events like what appears to be a Miss Fairmont Speedway contest. The contending girls stood in front of the crowd, on the frontstretch. The flagger would hold his checkers above the head of each girls and the corresponding applause was informally measured.
When Pico Raceway opened near Rutland in 1951, Fairmont Park did its best to compete, hiring hillbilly music jamborees and whatever else Young could think of to compete with the newer Pico track. In the end, Young gave up by 1951, while Pico drowned in a sea of red ink in 1952. Drivers from Fairmont continued on to such places as Stateline Speedway, Mettawee Speedway, and even to Fonda Speedway. Several drivers returned in 1962 when C.J. Richards re-opened the Fairmont oval for five years.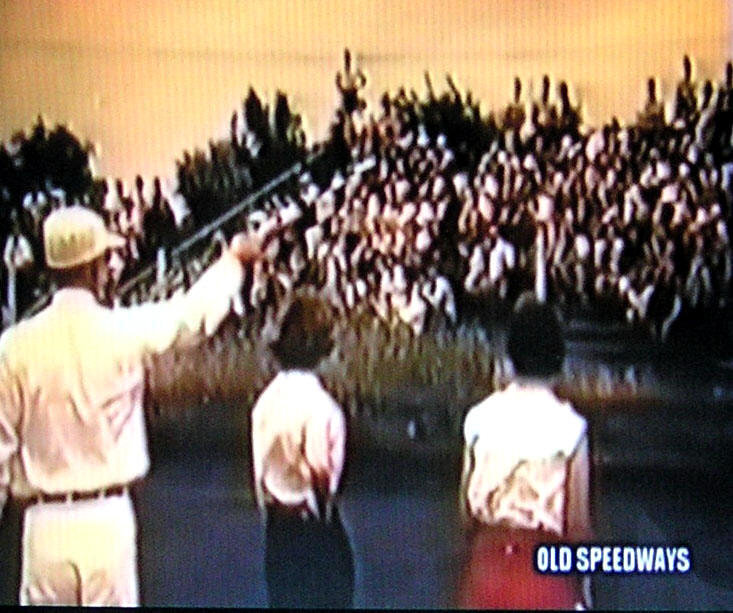 From Dan Odys's 8MM Old Speedways DVD
Above – And now, ladies and gentlemen, give it up for this girl ! Below – Miss Fairmont clutches her trophy. Don't you love the fashions ?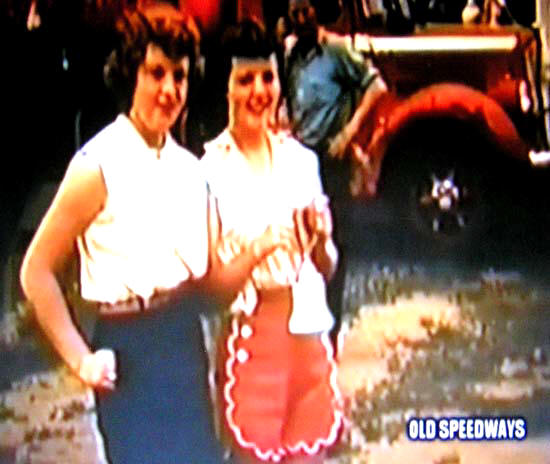 From Dan Odys's 8MM Old Speedways DVD
As years went by, Bomoseen Raceway, while visible, continued to blend into the woods that grew around it. If one knows where to look, it can still be found. When Richards opened Fairmont up in 1962, he had moved the judges' stand across the track to near the stands. For 1962, 63, and 64, cars would enter from Academy Street and sign in at the payout booth, one of the surviving buildings from the old fairgrounds.
As they checked in or lined up to be paid, the cars would sit in from of the paddock building. The roof of the paddock, for a brief while, served as a perch for people who could not get seats in Richards' small bleachers. Reluctant rent – a – cops would battle with people to come down off the roof; but, seldom did they have much luck in the first two weeks.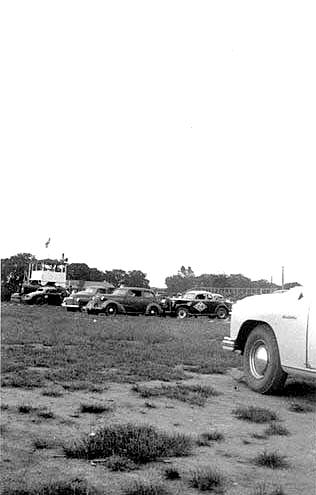 Courtesy of Ron Hoffer
This view of Fairmont from 1950 shows the judges' stand as located in the infield. Below – This shot of Ralph Chittenden,
winning a r ace around 1963 shows the same stand now on the spectator side of the track.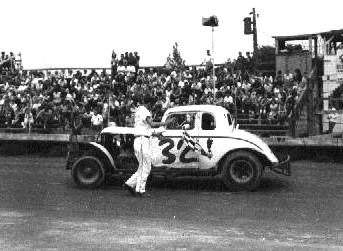 Bob Frazier Photo Ladabouche Collection
Later photos reveal that, after C.J. Put up more stands, the paddock roof seemed to remain unoccupied. The creamery building, just off turn one on US Route 4, was another background in many Fairmont photos. After the horse racing era [in which the track was set in a fairly open venue], woods grew up around the track – particularly by turns 3 and 4. These woods harbored interlopers who tried to see racing for free and served as a snare trap for the occasional errant stock car.

Bob Frazier Photo Ladabouche Collection
This photo from the first CJ Richards show in May of 1962 shows a full paddock roof in the background and a cop way
too old to deal with it. Below- Frank Hatch's winning shot in the same season shows an empty roof and more bleachers.
Ironically, Hatch's M2 was the team car to Jelley's Y for the Ed Winn stable out of northern Massachusetts.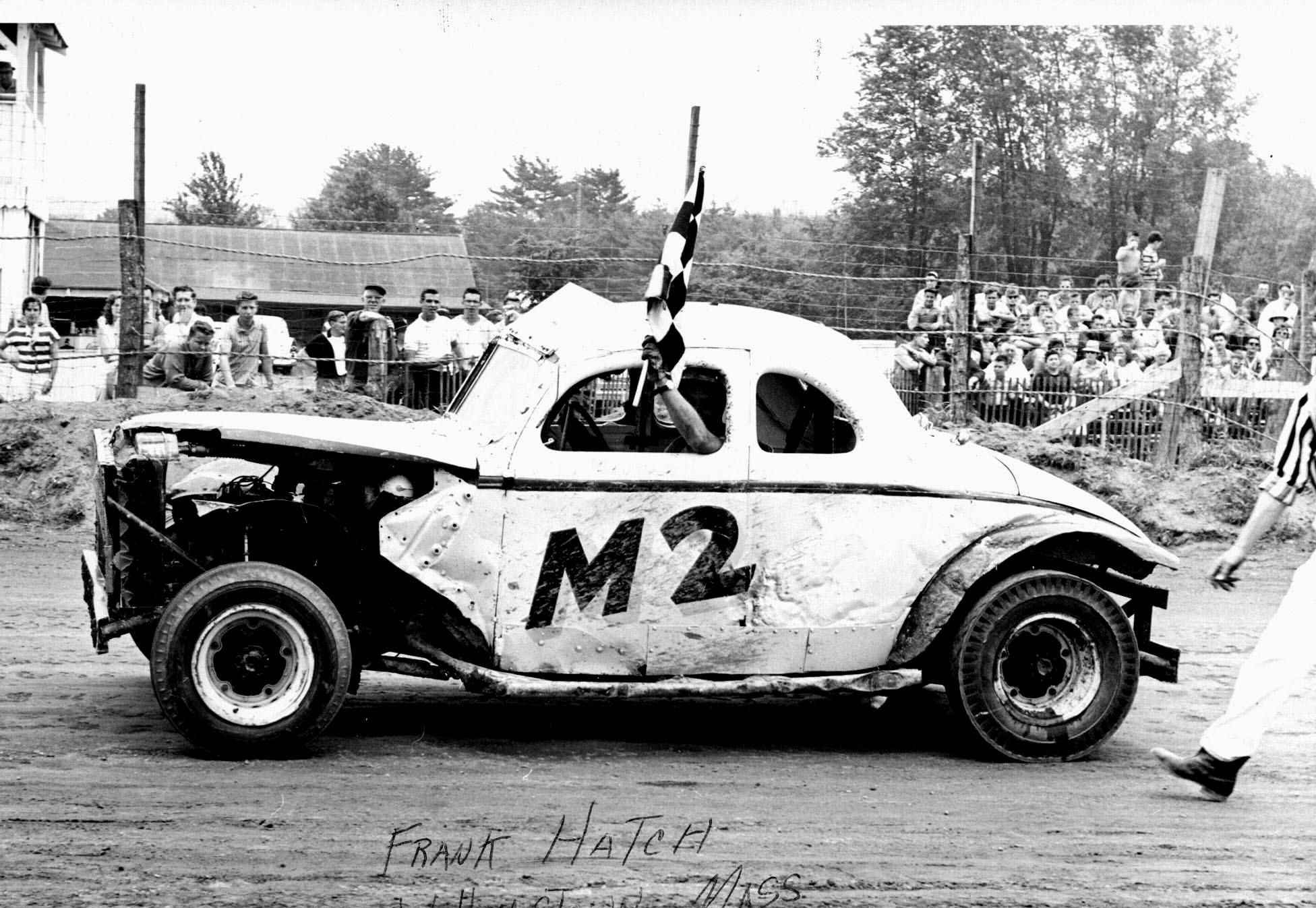 Bob Frazier Photo C.J. Richards Collection
Today, the track still survives as a circular path around a solar farm on the site. Only the cement wall Richards built in turn four exists as infrastructure. The end of Academy Street, long the main entrance to the track [and fair] grounds, was sealed off, leaving little evidence of the track from the town.
Bomoseen and Fairmont served as the springboards to Vermont racing that still continues today – at Devil's Bowl. Sadly, there is almost no possibility racing will ever be as affordable or healthy as it was in those days.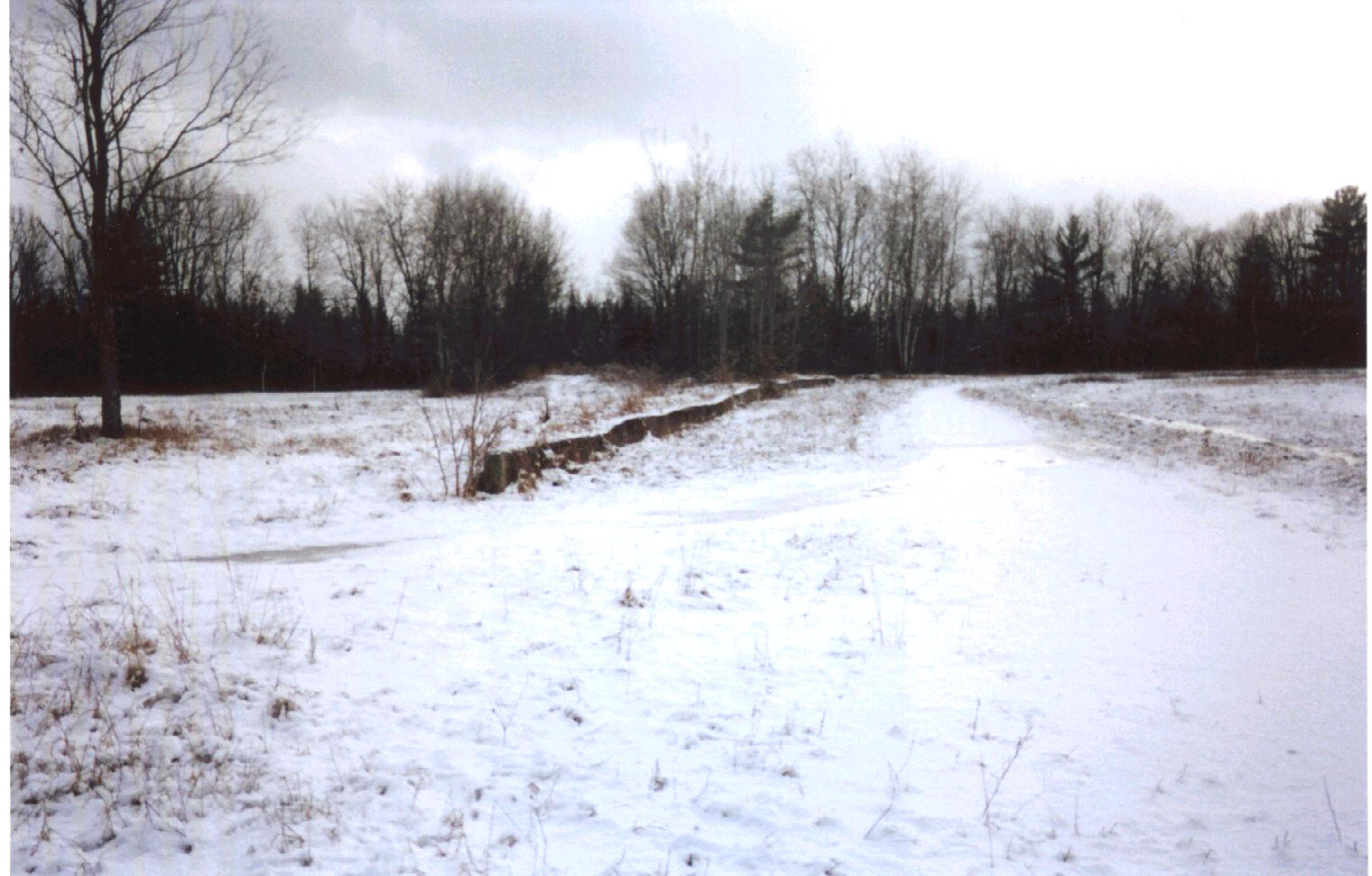 Ladabouche Photo
Very little is left to see on the former Fairmont site. But the fourth turn wall was still there a few years ago.
Below - This 2006 aerial shot shows the track is still very much there.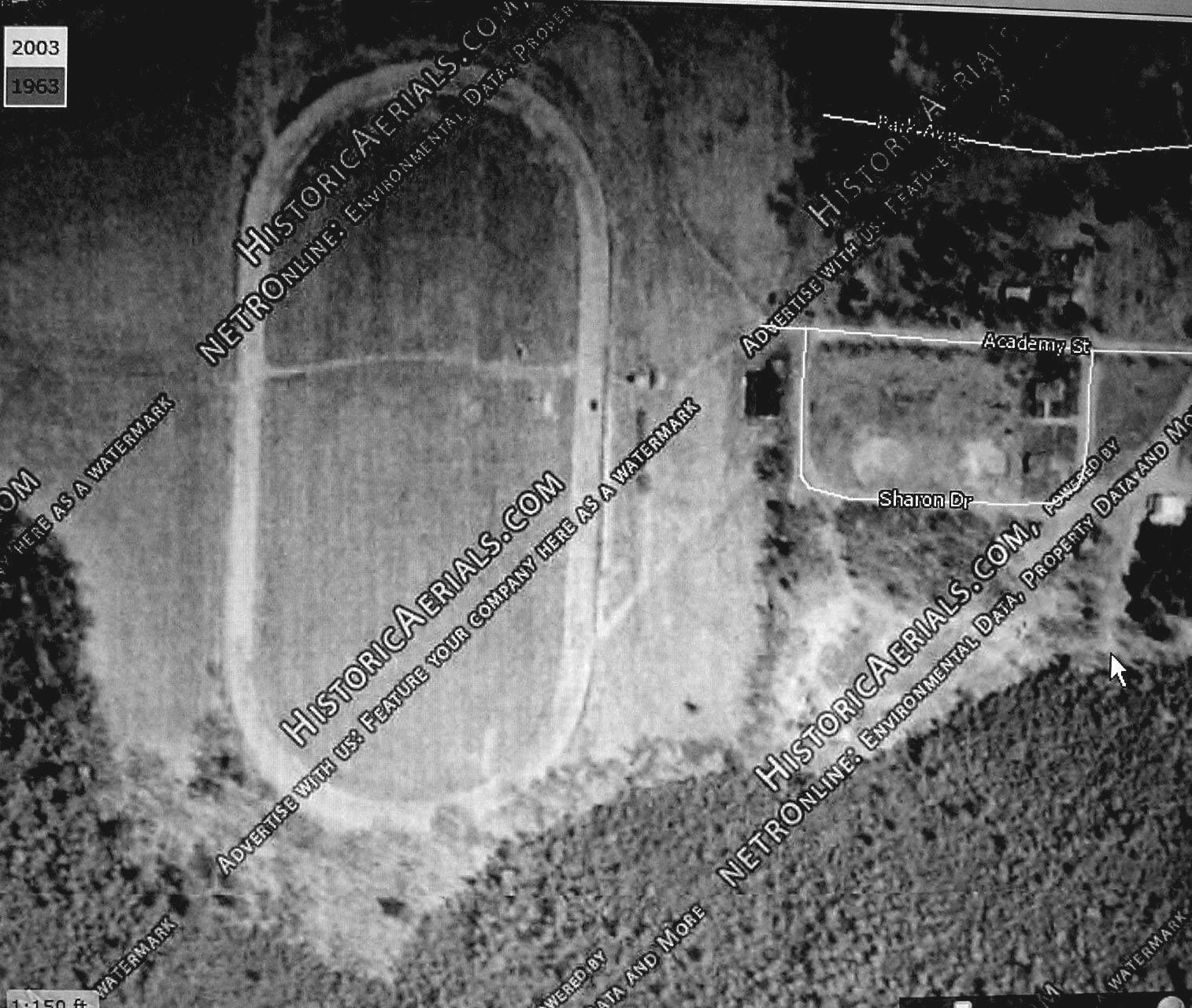 Courtesy of Historic Aerials.Com

Please email me if you have any photos to lend me or information and corrections I could benefit from. Please do not submit anything you are not willing to allow me to use on my website - and thanks. Email is: wladabou@comcast.net . For those who still don't like computers - my regular address is: Bill Ladabouche, 23 York Street, Swanton, Vermont 05488.
AS ALWAYS, DON'T FORGET TO CHECK OUT THE REST OF MY WEBSITE
www.catamountstadium.com
Return to the Main Page
Return to the Main News Page
Return to the All Links Page
Return to the Weekly Blog Links Page