BILL'S [Somewhat] WEEKLY COLUMN/BLOG PAGE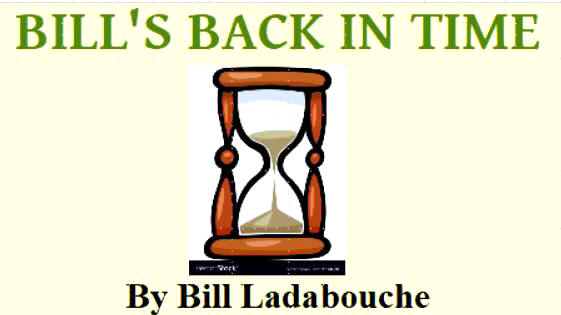 THE GUY TO BEAT

I was looking at an article that a New Hampshire historian wrote [ I have no information on who he was or how long ago it was written] and the gist of his article was that particular tracks would sometimes [or often] have one driver who, for one reason or another, simply could not be beaten. His article centered only on Granite State tracks; but, this can be said for venues in almost any part of the racing – history – rich Northeast.
This NH writer pointed out the Route 106 Midway race track that was eventually to become the site of New Hampshire International Speedway. The man in question here was popular driver Paul Martel, who came from somewhere nearby there in northern New Hampshire. Starting first with a very sophisitcated car #444, Martel won until basically he was "excused from the track". He then returned with his familiar 3J, pretty much totally the same as the competition, and he still won all the time.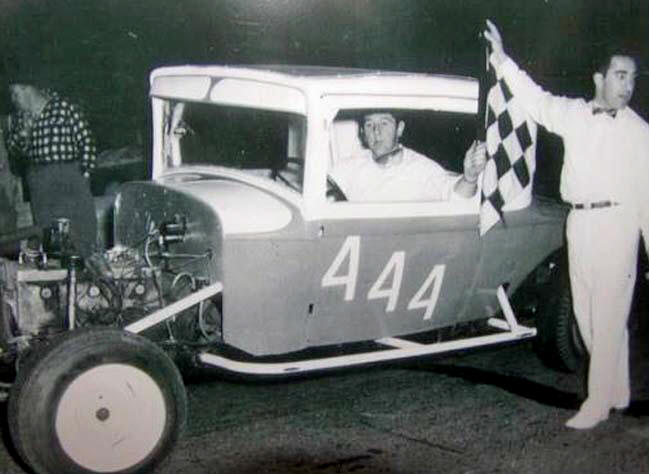 Courtesy of David Topham
Martell wins another in Red Thurber's Triple 4.
Another man singled out was ageless Sylvio Bilodeau, from Whitefield, NH. I recall this car at Thunder Road and many years later, running at Newport, VT's Can – Am Speedway [famous for being on a land fill there]. Sylvio shone the brightest at Groveton, NH's Riverside Speedway with a purple sedan #92. A very pleasant man, he suffered patiently through the boos and jeers there because he won over half of all his division's events. A Mr. Silsby of New Hampshire has brought that exact purple sedan out, restored – for the New England Antique Racers.
In Vermont, it is more difficult to come up with anyone who absolutely dominated a particular race track; however, there were certain years at certain venues when someone was a real problem. The most prominent example in my mind was Fairmont Speedway – 1964 – 65. The hobby class had a team which not only won a huge percentage of the races they finished in; but, in 1965, "The Unbeatable Lennie Wood [and owner John Maguire literally never lost a race in which they finished – against cars of their own class.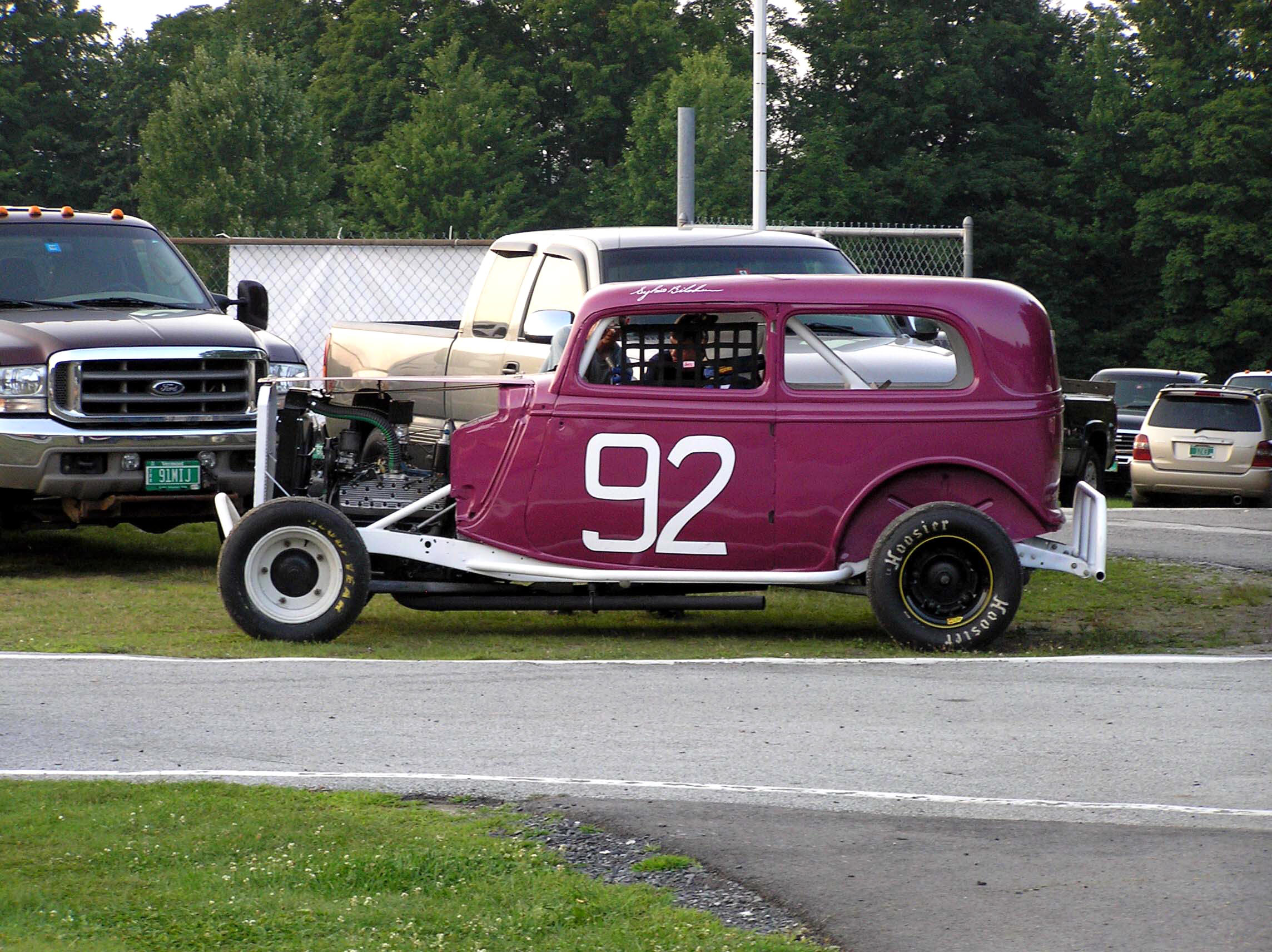 Ladabouche Photo
Silsby's restoration of the Sylvio Bilodeau sedan.

That might have continued into Fairmont's final season, 1966, had the team not been banned for life at the end of the 1965 season. It seems that Chuck Ely visited the track with a Lebanon Valley late model whose class rules allowed it to have mechanical advantages over Wood's F30. When Ely won the race, the track asserted the Wood win streak was over. A huge hassle ensued, with even Ely arguing on behalf of Wood. An irate C.J. Richards banned Wood and Maguire for life. Richards' next track, Devil's Bowl, saw a period at the end of the 1960's when Will Cagle [a friend of Richards] came in with a Bob Rossell – constructed sedan and proceeded to run roughshod over the Bowl competition [which was, by not means, a bunch of ham and eggers]. Local hero Vince Quenneville, Sr. and then – car owner Norm Scarborough became tired of what they thought was some illegal edge the Wily one had. Scarborough would pace around the Cagle car, measuring chassis dimensions by footstep. That, and a little more espionage resulted in the 38 team coming out with the "Cagle Killer" sedan, which did [supposedly] go out beat Cagle immediately.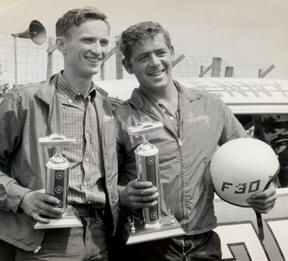 Bob Frazier Photo
The Unbeatable Lennie [right] and car owner John Maguire.
Not long after that [and, I am sure nothing to do with losing any race], Cagle started having Butch Jelley drive some of his sedans. The Devil's Bowl – dominating, square – tubed Rossell sedan got sold to Brandon, VT's Curt Scarborough who had the thing torn down and examined. He was exercised to find out that, not only was not cheated up, but rather didn't have as much tech in it as some of the Bowl regulars. That particular Cagle car ran the Valley some before it was sold off to Arnold Fleury. It seemed to usher in the construction of a slew of similar sedans for a while.
New York tracks Fonda Speedway and Airborne Park Speedway both had their highest examples of domination in their inaugural seasons: Fonda – 1953 and Airborne – 1954. In the first season, the great Steve Danish, of Cropseyville, NY won so many features that season that the record still holds in 2018. Danish, a perfectionist and very professional in his approach, excelled there for years – running a six against overhead V-8's.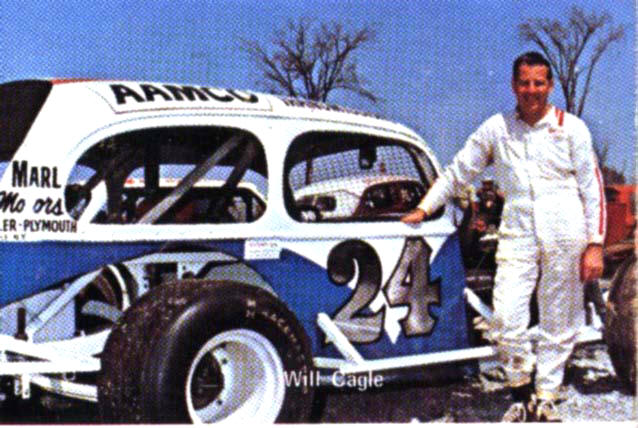 Bob Frazier Photo
Will Cagle with what one Devil's Bowl driver called "that miserable damned car".
Below - Steve Danish with a typically immaculate car.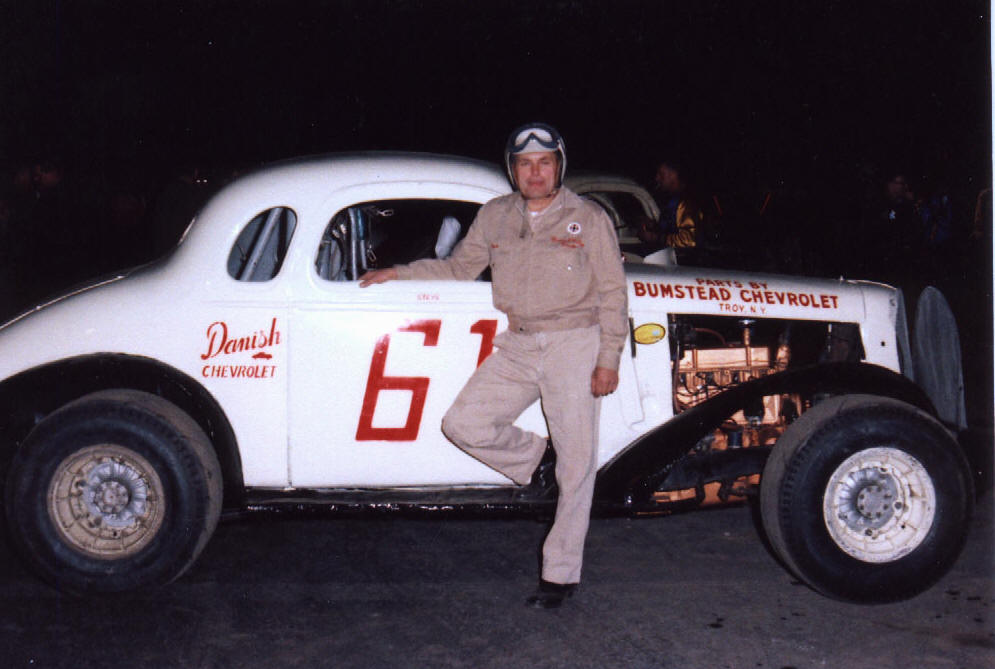 Russ Bergh Photo Danish Family Collection
The very fussy Danish was way ahead of his time back then. He worked on the garage floor to get ready for the season; he was professional in team appearance, the car's appearance, and in the way he handled his sponsor; and he came up with a number of innovations. When stock car racing came into popularity, Danish was already a bit older than most of his competition. By the middle of the 1960's, racing was beginning to be more of a struggle and less rewarding. He didn't linger on; he bowed out while still a top driver.
In the case of Airborne, when it opened in 1954, northern New York did not have the racing background that its rural eastern neighbor Vermont had. Vermont's Chittenden County, around the Queen City of Burlington, had six tracks operating almost simultaneously. The Vermont cars were lightweight, almost cutdown racers, and several of the teams had really honed their skills. There were a number of teams who not only excelled in their area, but who traveled into New York, Quebec, and even other venues to often beat the locals.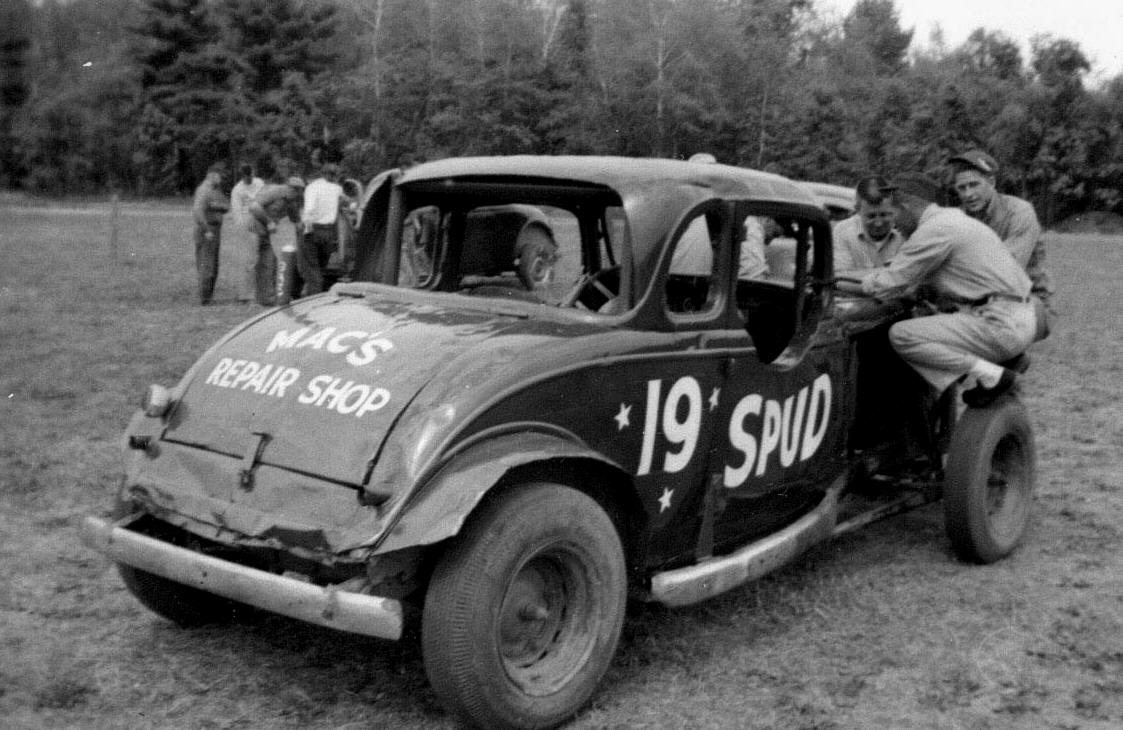 Bushey Family Collection via Jack Anderson
Bob Bushey [with hat facing us] set his record with this car, seen here at Malletts Bay Speedway in Vermont.
Below - Quite possibly the FRank Hart car, in transit on the Lake Champlain Ferry Co. boat around 1954.
The invaders Vermonters came in droves.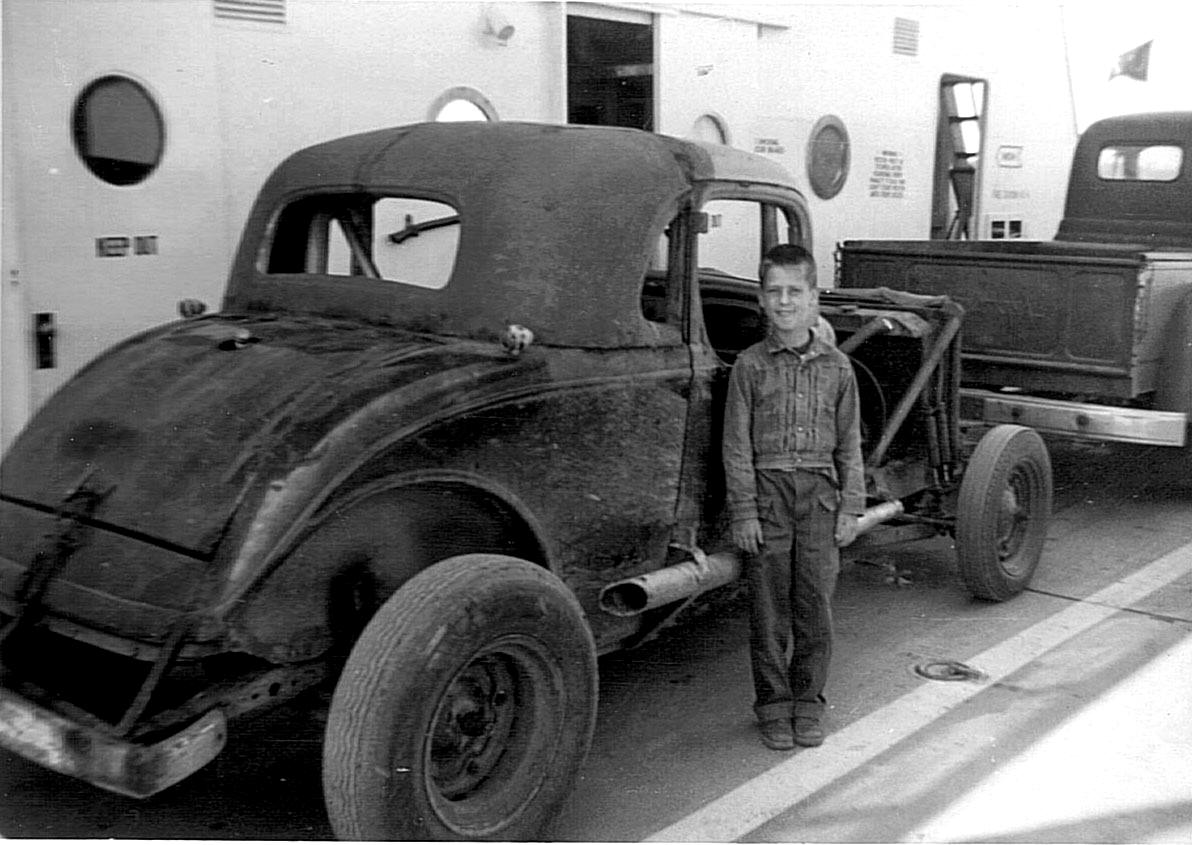 F.E. Hart family Photo via Arnie Hill
Into this situation came the opening of Airborne – immediately accessible by Lake Champlain Ferry. Among the several highly – functioning teams that invaded New York were Gordy Owen, Jackie Peterson, Frank Hart, and a relatively – new team with driver Bob Bushey of Burlington and his car owner, Ralph Bushey [no relation]. Bushey's car the Spud 19 [Ralph was a wholesale potato dealer] was lighter and faster than most of what was running at the newly – opened Airborne, and he set a feature win record that is still not broken, 64 years later.
While Danish continued on in excellence into the mid 1960's, Bushey faded out after a few years. Racing in that part of Vermont went more and more to pavement – and that was not Bob's forte. Saranac Lake Speedway, near the famed ski resort, went through a period in its spotty history where the rural track was pretty much dominated by Airborne regular Bob Bruno, driving for owner Vic Wolfe. Bruno, then a school teacher by trade found himself vilified in the local paper and roundly booed at every appearance. He told me once this was very disconcerting to him.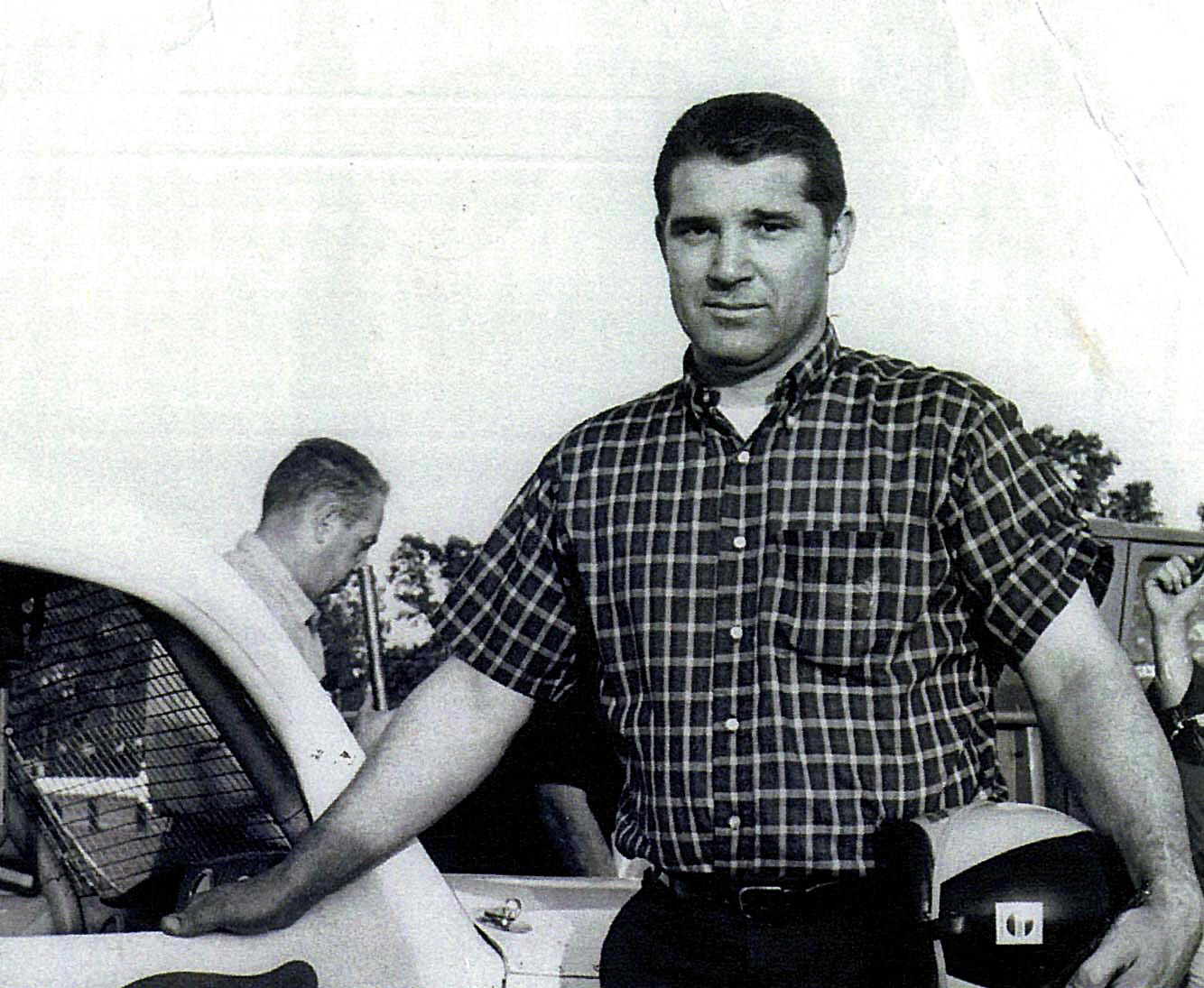 Bob Mackey Photo Bruno Collection via John Rock
Bob Bruno with one of the Vic Wolfe 66 coupes. Below - Ralph Cusack, the scourge of Beech Ridge.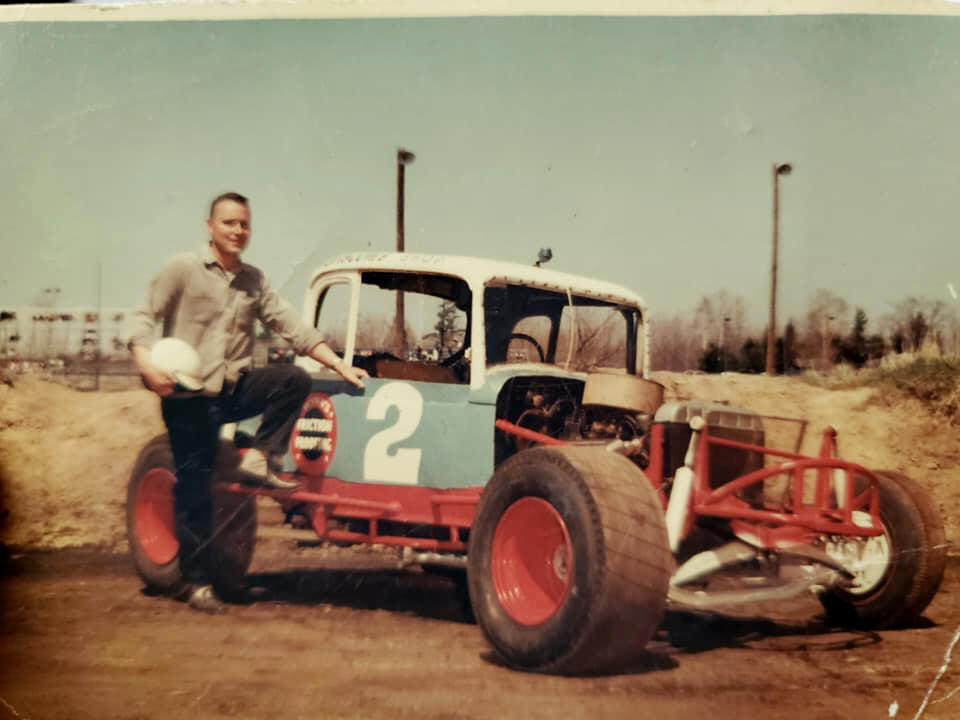 Courtesy of Matt Lude
Beech Ridge Motor Speedway, in Scarborough, ME, has a pair of examples of very strong performance in the records of Ralph Cusack and Dick Wolstenhume. The former ran primarily in the race track's headlining divisions and is said to have 12 track titles. His career would have taken him through periods when the Ridge ran stock cars, as well as when it ran something more similar to a limited supermodified. Wolstenhume made an entire career of running at the top of the track's second division before eventually moving up. Both men have deservedly been inducted into the local hall of fame. Neither is a driver whom I got to see traveling down to Vermont to run in the NASCAR late model sportsman cars we had, but their names in the Pine Tree State are hallowed.
Stock car racing is a sport where dominating teams can easily have a field day for a year – or for longer. As rules become strictly uniform and efforts are made to have competitive parity, this will happen less and less; but, back in the day, some teams ruled the roost for long periods of time.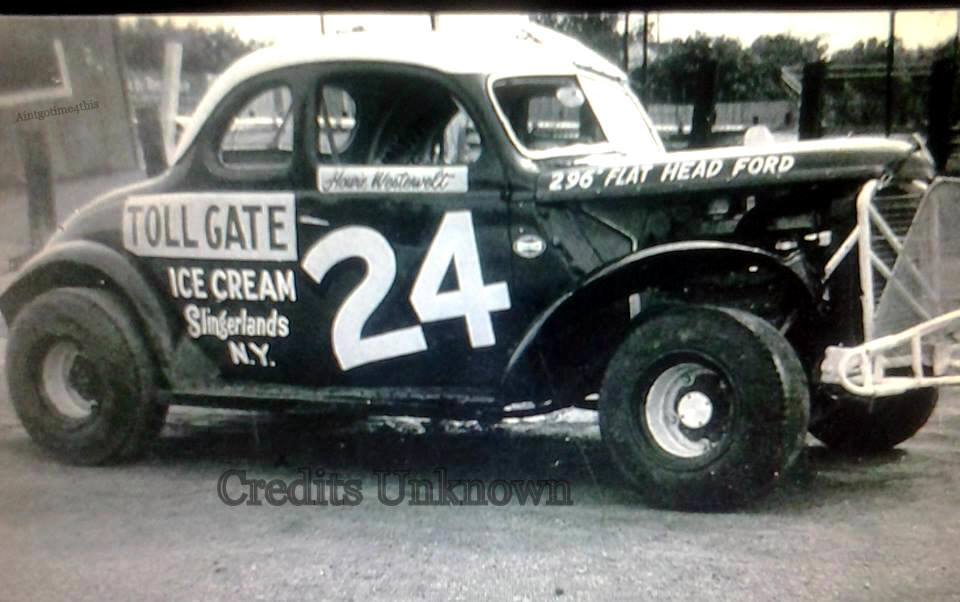 Courtesy of Chas Hertica
As an afterthought [a well deserved one] the unbelievable 1959 season Howie Westervelt had at Lebanon
Valley Speedway was a marvel to behold.
Please email me at wladabou@comcast.net if you have any photos to lend me or information and corrections I could benefit from. Please do not submit anything you are not willing to allow me to use on my website - and thanks. For those who still don't like computers - my regular address is: Bill Ladabouche, 23 York Street, Swanton, Vermont 05488.
AS ALWAYS, DON'T FORGET TO CHECK OUT THE REST OF MY WEBSITE:
www.catamountstadium.com
Return to the Main Page
Return to the Main News Page
Return to the All Links Page
Return to the Weekly Blog Links Page