BILL'S [Somewhat] WEEKLY COLUMN/BLOG PAGE

BILL'S BACK IN TIME

MORE OF THOSE STRANGE LITTLE STORIES YOU CAN
ONLY GET FROM THE FORMATIVE YEARS OF A SPORT
When someone tells stories of the first years of the struggling new National Football League, you hear some of the goofiest, most compelling yarns you would ever hope to hear about football. Guys were playing on mud -filled quagmires with leather helmets and the like. Poor pay for what today must seem like superhuman efforts against impossible odds. But, there were also all those quirky little anecdotal tales that made it all seem so human.

Courtesy of Mark LeFrancois
Early New Hampshire racing is typified by some rudimentary cars racing around a muddy bog of an infield at Fleury's farm in Claremont, NH.
That is not so far from our sport of stock ar racing – only about twenty years later in history, when guys seemed to take on gargantuan tasks of driving ill – handling, unsafe cars in mud – filled quagmires of tracks, wearing some equally –inadequate helmets. And, just like those early pro football players who labored in the shadow of the hallowed college game, these early stock car drivers were trying to compete with the established open wheel AAA stars who would tour to the local fair each year, carrying their famous names with them.
Many tracks in the early 1950's had to depend almost solely upon bloodlust to attract fans to a sport which did not yet have enough dignity to cultivate a following based on personality or on technical excellence. In that vein, the most crashes, the better. Apparently more than a few promoters had a "go – to guy" to whom they could turn when they needed a crash. At the Colchester, Vermont race tracks [and there were at least five], that guy was Myron "Rollover Ronnie" Farnsworth, twin brother to the flagger at most of those tracks. Farnsworth would roll his Hudson for five bucks. It is said that when Ron worked for one of his promoters, Ivanhoe Smith, at Smitty's Used Cars, he would be told in Smitty's heavy French accent not to show up for work on Monday if he hadn't rolled at least once.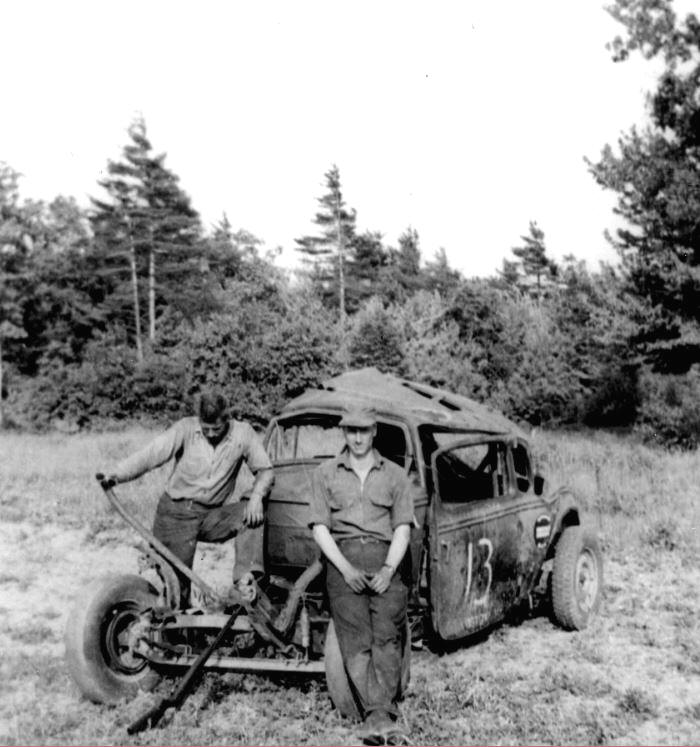 Courtesy of Linda Farnsworth Hedelund
Rollover Ronnie Farnsworth and brother, Ira [right] surveying what is left of one of Ron's #13 Hudsons.

An anonymous man, contributing to a racing message board added this: "I spoke with a former Pine Bowl racer named Rodney yesterday. I showed him this thread on a monitor at work and he said that there used to be a guy named Cliff Wilsey [a.k.a. "Rollover Wilsey"] that used to get paid $5 by the track for every time he could roll his car over, then back onto it's wheels, and keep going. Cliff became very adept at it and knew just where to turn into the berm at Pine Bowl. It was said that Cliff made more money doing this than the race winners ever did. And of course the fans loved it too!"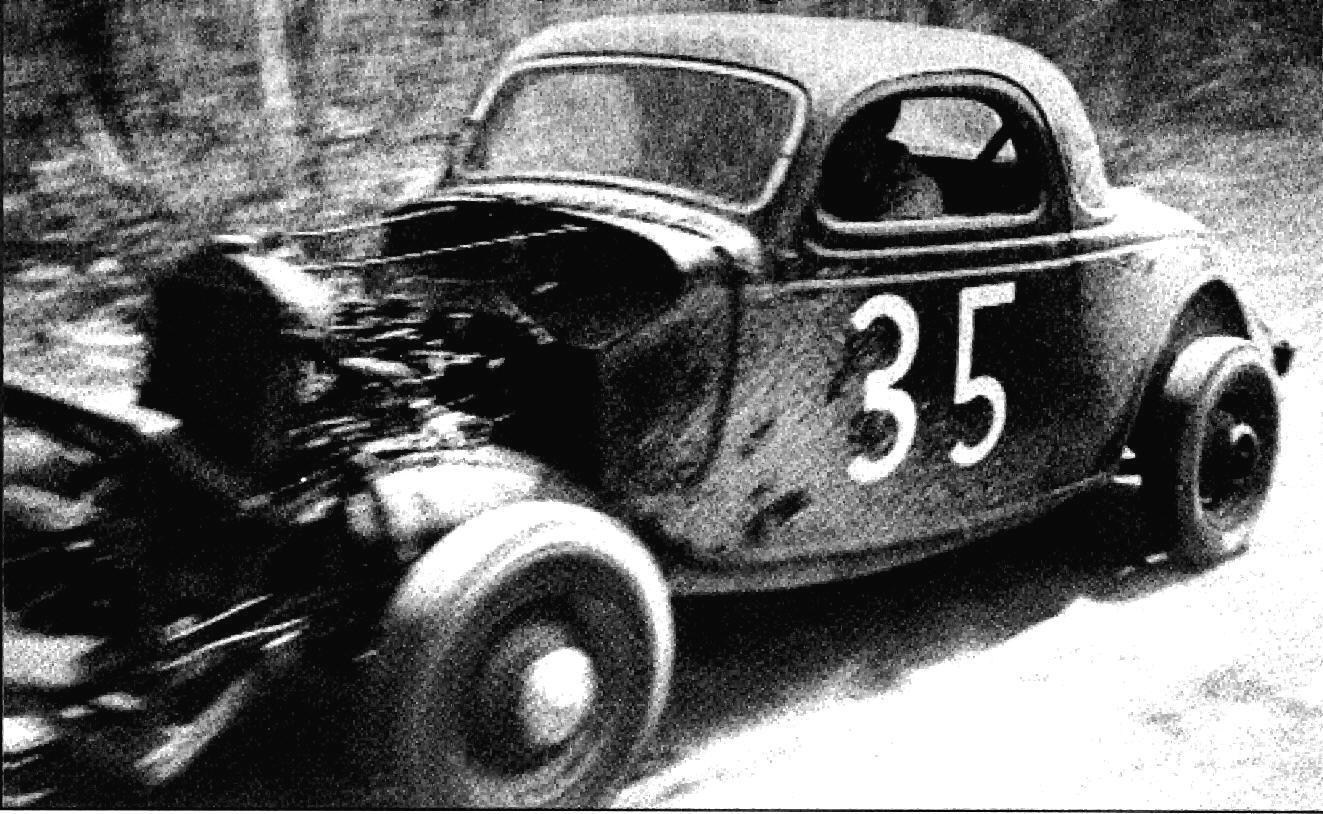 From the Fonda History Book – Possibly Pete Corey Jr Collection
Pete Corey steers as Ken Shoemaker tows the first stock car into some track around 1951.
Racing costs were down a bit, too, in the earliest days of the sport - unlike now, when racers strap themselves financially to half million dollar haulers, paid mechanics, and a chassis for every track situation. Pete Corey, the legendary driver from Crescent, NY, shared the story of buying his first car [with Ken Shoemaker] for $35. This allowed for the black coupe's being numbered 35. Corey and Shoemaker would both go on to hall of fame – level careers, but no thanks to that car. Corey also had a stint with those horribly – dangerous, uncaged roadsters [which might have convinced him to buy the black coupe].
The Pine Bowl, previously mentioned with Rollover Wilsey, also featured a brief appearance by the Film brothers, Gary and Anson. As teens, they pooled their meager finances to buy a 1949 Mercury from a hobby class driver who gave up on getting the car to run right. The brothers soon discovered the guy had the plugs wires on wrong, robbing the flathead motor of most of its potential. After that, the car ran great at both Pine Bowl [which was p[art pavement and art dirt] and at the paved Empire Raceway in Menands. Anson would actually drive one week, and the underage Gary, using his brother's name, would drive the next week. Try getting away with that today.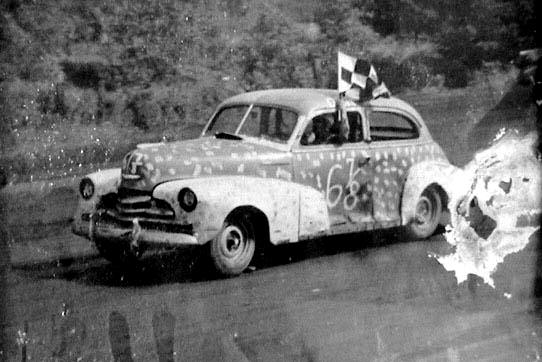 Source Unknown
I don't know why anyone would suggest any of the Pine Bowl cars were low dollar. This beauty is likely D.C. Coville, father of Super CD, in a bomber car.
The early promoters were something to behold. Famous announcer and sportscaster Ken Squier recalls, as a teenaged announcing sensation in Vermont, being directed down to the Colchester Raceway by its promoter, Ivanhoe Smith. Driving around the vacant track in Squier's little Studebaker, Smith stopped on one of the turns and pointed proudly to a building built of newly - milled roughsawn lumber.
"Dere ! You see dat ? Dat's a brand new ! No udder track has anyting dat good !"
[Keep in mind, Squier added, the twelve – holer had no plumbing and was lucky if the ladies had a wall between them.]
Another similar outhouse story comes from back in the Capital District of New York – at that same Pine Bowl Speedway. A new promoter named Ed Ryan taken over the track, and he had big ideas. He's show those previous promoters how to get people to the track ! He decided to advertise an upcoming race on WRGB, Channel 6, out of nearby Albany. 2100 more people came to the races than he had expected. While the men could just go pee in the many section of woods surrounding the track, the women were another problem. As the races were getting ready to begin that day, Ryan orchestrated the immediate construction of a twelve – hole outhouse on the grounds, within two hours. It must have been a beauty.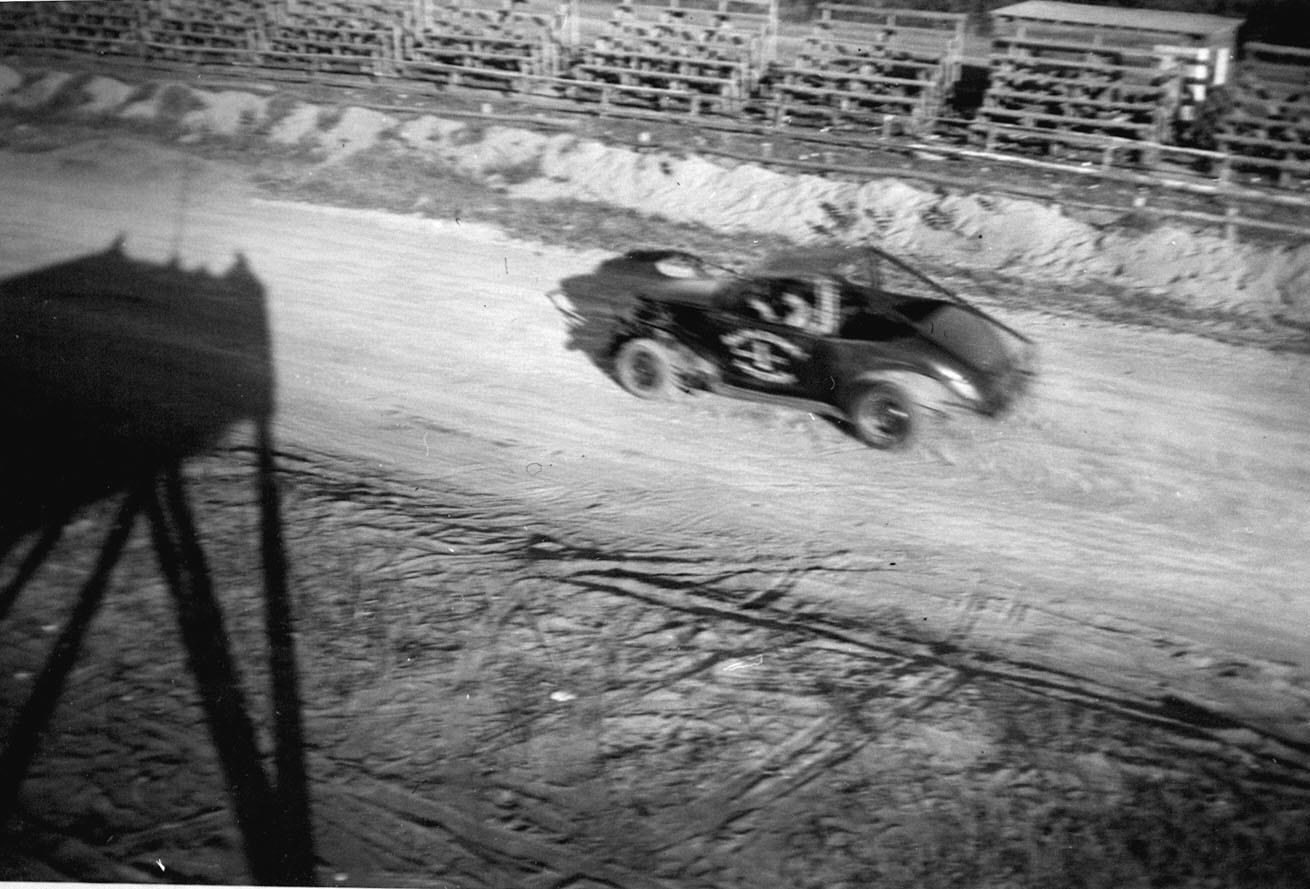 Courtesy of the Bob Bushey Family
Gordy Own practices with Ralph Bushey's car at the Green Mountain Raceway in Colchester, Vermont. As you can see, the spectators were protected only by a post and rail fence and a dirt berm. This is why Ronnie Cooley once went through the barriers and tore down the stands [luckily on an unattended practice day].

Lakeville Speedway's promoter Dan Meservey had a unique idea with what to do with an otherwise very unremarkable men's toilet shack. The men's toilet building was apparently located on one of the turns at the always – struggling race track; and patrons using the facilities could actually watch the action while they peed. That must have had a few unintended consequences for the track management as men are usually bad enough at aiming when they are paying attention.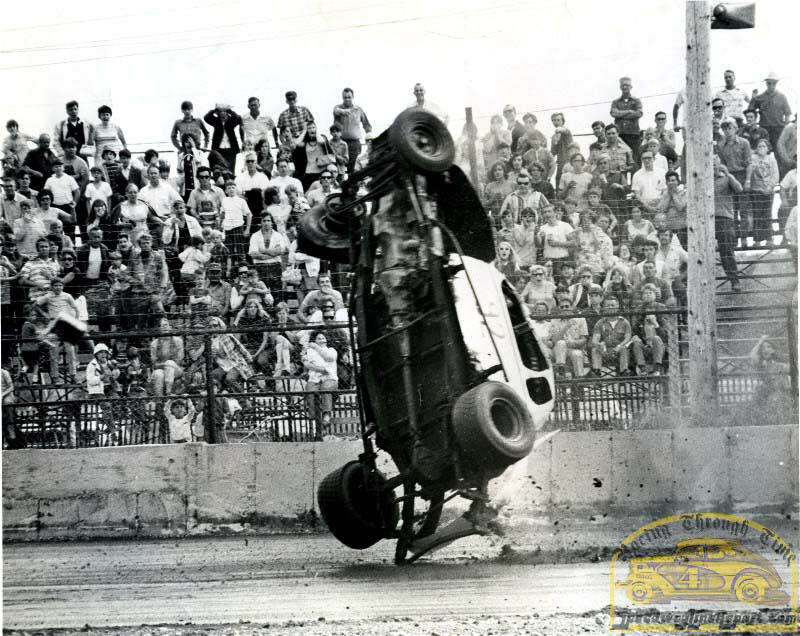 From Dave Dykes Website
If Lakeville fans were afraid that a wreck like this might make them wet their pants, they could watch it from
the convenience of the mens' room. Who said Lakeville was a crude throwback ?
The Pine Bowl promoters would continue to think, and – thereby – cause themselves extra headaches. In 1958, Jack Schleicher wanted to come up with a way to get a large crowd and also save himself some money. He decided to heavily advertise and a 200 lap race and pay $1,000 to win! This was a huge payout in the 1950's – especially at a backwoods track like Pine Bowl. He planned on winning his own money back by having his own driver, Sayles Casey [a man dominating the track that year] to drive for him.
Schleichers's extensive promotion of the race backfired. He attracted a number of the high – powered Connecticut teams from the Riverside Speedway region – some of which had run at the Pine Bowl in the early '50's. In came the likes of Dick Dixon, a wealthy Warehouse Point, CT businessman; future Eastern Bandit Red Foote; Steady Eddie Flemke; and past Bowl runner Buddy Krebs – to name a few. The poor, under - gunned Casey could do no better than seventh. The disaster so strapped Schleicher, he had to close the track for the remainder of the 1958 season.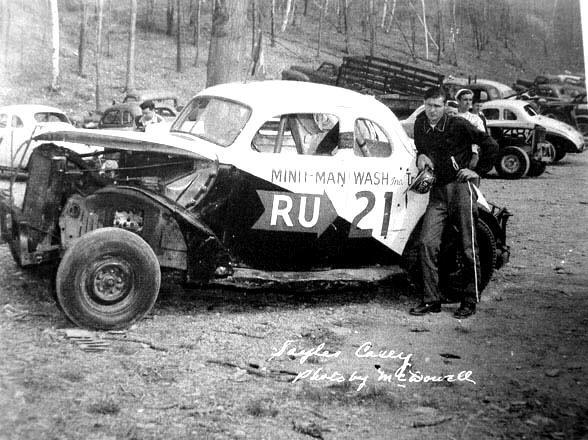 McDowell Photo Courtesy of Ken Gypson
Sayles Casey and Jon Van Vricken's dominant RU21 were no match for the likes of Red Foote and his souped up V-8 [Below]
Courtesy of Lew Boyd
Things could be just as unpredictable back in the rural state of Vermont, which was surprisingly far up in the forefront of stock car racing for such a small, backwoods state. Ken Squier points out that, at one point in the early 1950's, 22 different tracks were operating in the state at once. It is quite possible that eastern New York, New Hampshire, and Maine could not equal that total together then. One such bucolic operation was happening under the promotion of Howard Connelly in the town of Morrisville.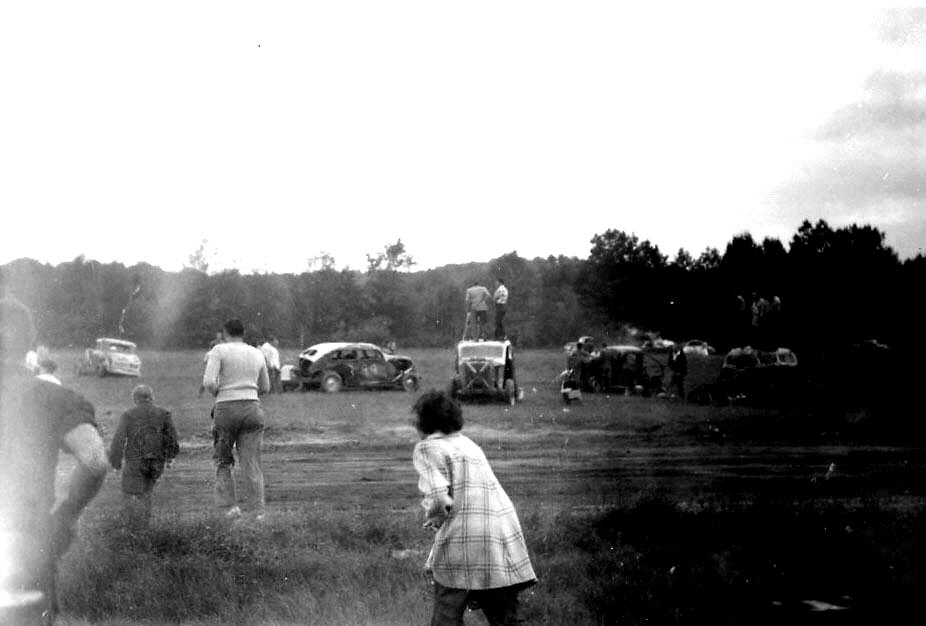 Courtesy of A and A Ward
The crowd spills out, onto the track after an apparent wreck at the track near Morrisville. There were
no fences, security or bleachers at tracks like this one.

The northern Vermont drivers had been running at a number of tracks like Morrisville for months. It is likely few or none of these venues had fences, bleachers, or any other amenities. The northerners had crude heavy stock cars – many, with the roll cages outside the body. After a week or so of running races, there began to appear stock cars from the Chittenden County area; and these were smaller, faster, and lighter cars than the locals had. Naturally, the interlopers began to dominate the action. It wasn't long before resentment began to brew; and, according to racing journalist Phil Whipple, his father, Henry, made arrangements for Newport, Vermont's Albert Kincaid to come to the track with his car called "The Lucky Old Son" to rough up the invaders a bit.

From Article by Scott Wheeler
This was typical northern Vermont stock car, from the Veterans'
Park track in Newport. Below – A Webster Flats car from Lyndonville, VT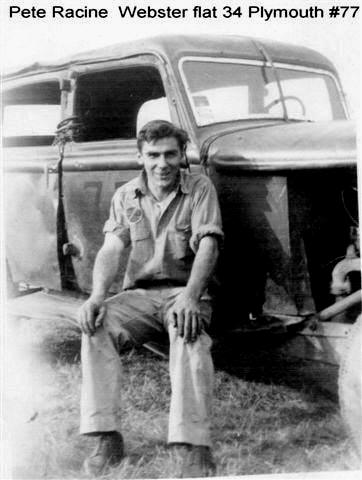 Courtesy of Pete Racine
The following week, with at least one Chittenden County team arriving with a brand new car, the lighter west Vermont cars began to fly off the track with astonishing regularity. When the driver with the new car saw his work virtually destroyed, he got hold of Kincaid while the latter was still sitting in the car and commenced pummeling. A riot ensued so bad that Squier and most of the track officials took refuge under a flatbed truck. The National Guard, which happened to be drilling nearby, was called in to break it all up. Soon thereafter, Connelly got out the promotion business.
Northern Vermont did have its share of weird stories. There were three tracks nearby Morrisville – two in Sheldon and one in Enosburgh Falls. The E Falls track, called Davis Road Speedway, was so short, that Jackie Peterson claims most of the Chittenden County cars would fly right off the first and third turns, having built up too much momentum. The earlier Sheldon track, at the fairgrounds near what today is he Sheldon Casino, was operated by one "Wild Wes" Menard, who also drove, and his partner Bob MacKenzie.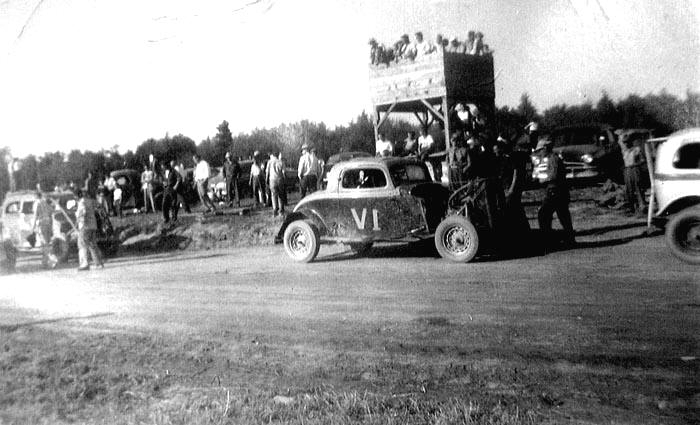 Peterson Collection
Jackie Peterson, with one of his first stock cars, at one of the Sheldon, VT race tracks in either 1949 or 1950. He's probably
watching out for Wild Wes. If this is Menard's track, those guys in the tower were taking their lives into their hands.
Jackie Peterson tells how he was warned to watch out for Menard, whose Mercury sedan had 15 more horsepower than the competing Ford flatheads [and he was rougher than sandpaper]. Peterson tells how he was getting ready to pass Menard, and he knew Wes would swerve over to strike him. So, at the right moment, Peterson hit the brakes, Menard swerved, and went off the track into the trees. Wes disputes this story hotly; but he does tell of one local driver who lost control and knocked over the track's announcer's platform, with people jumping for their lives.
Peterson also likes to relate the time when Harold "Cannonball" Baker [every racing Baker in those days used that nickname after the nationally – famous open wheel driver] had bragged to him that, if he beat Baker, Baker would dance on the track in a grass hula skirt. Well, Jackie had heard how Baker had filled the original gas tank in his car with cement to achieve some advantage in weight distribution, while the others, not being allowed to tie down any suspension, would corner with one rear wheel almost spinning off the track.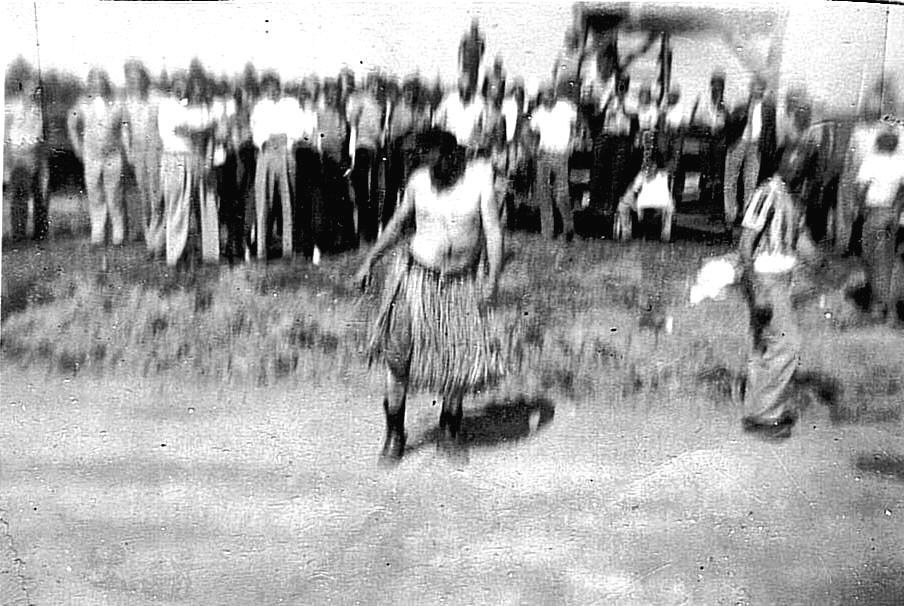 Peterson Collection
Cannonball Baker gets into his routine after losing to Jackie Peterson in Sheldon. It is not clear if this is
the Sheldon Casino track or the Green Mountain track on the Moore farm.
After the Baker cement cache was removed by track officials, he couldn't beat an egg with a wire whisk. Of course, the fleet Peterson went on to win the race. There is a grainy photo of a balding, hairy, paunchy man, with a grass skirt and engineer boots dancing on a track in front of a small crowd of amused people. That would be Cannonball. Although, everyone who knew Baker or his pal, Basil Royer, said they were nice guys, and the northern counties / Chittenden County hatred did not extend to the two Sheldon tracks.
I am sure that, if you contacted the right people in New Hampshire, Massachusetts, or Maine, you would get plenty of the same kind of stories. The sport, in the 1950's, was quirky – for want of a better term. Guys were doing it primarily for fun in the North Country – unlike their more serious compatriots in the South and in the New Jersey/NY/ Pennsylvania area. With such crude tracks, many of which having equally crude racers, one could not hope for much more than to have fun.
Please email me if you have any photos to lend me or information and corrections I could benefit from. Please do not submit anything you are not willing to allow me to use on my website - and thanks. Email is: wladabou@comcast.net . For those who still don't like computers - my regular address is: Bill Ladabouche, 23 York Street, Swanton, Vermont 05488.
AS ALWAYS, DON'T FORGET TO CHECK OUT MY WEBSITE
www.catamountstadium.com
Return to the Main Page
Return to the Main News Page
Return to the All Links Page
Return to the Weekly Blog Links Page