BILL'S [Somewhat] WEEKLY COLUMN/BLOG PAGE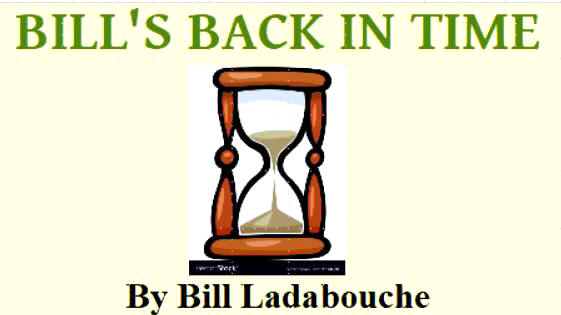 C.J. SURE HAD THE KNACK

Whether you were a fan of his or not, it would be singularly one track minded and unfair not to admit that legendary Vermont stock car promoter Charles "CJ" Richards had a unique gift for making certain critical decisions at just the right time. Having worked for him briefly, myself, I got to see some of this firsthand.
For the one or two percent of you who don't know who he was, Richards promoted Fairmont Speedway, races at the Vermont State Fair, Otter Creek Speedway, Devil's Bowl Speedway, Airborne Park Speedway, and Albany – Saratoga Speedway in his long promotional career. He did so after a brief try at actually racing stock cars, himself.

Courtesy of C.J. Richards
A very young C.J. Richards poses with the sign to his
soon – to – open Fairmont Speedway in 1962. Below -
Now as a senior statesman in the sport, Richards stands
with fellow promoter Chuck Elms of Bear Ridge
Speedway and Bardahl rep Bob Doyle.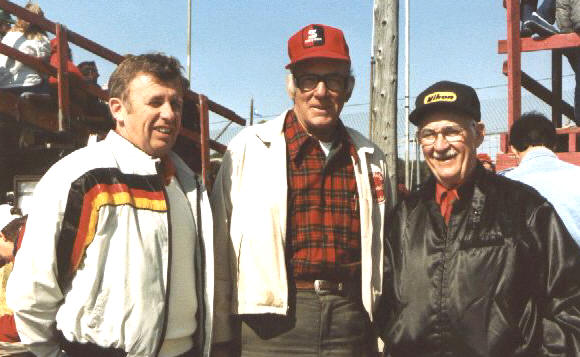 Ladabouche Collection
Growing up on a dairy farm in the Fair Haven, Vermont area, a young Charles was first introduced to racing going to the old Fairmont Park Motor Speedway with his father, Leon – sitting on the flatbed and watching a few local stars, a lot of New York drivers, and a few roadsters fly around what had once been the old Fairmont Park horse track.
He also got to witness the death of racing in his immediate area, as Fairmont closed down after the 1951 season mostly due to a spectator death and Pico Raceway [in nearby Rutland] folded in 1952 in a sea of red ink. Save for the Mettawee Speedway in North Granville,NY, there were no races for folks in the Rutland County to see for many years.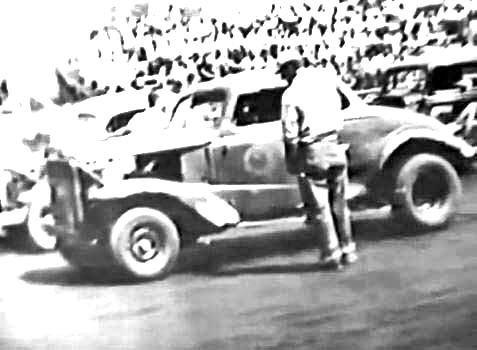 Courtesy of Bud Brooks
The 91 of Gene Tetreault sits on the racing surface at the old
Fairmont Park Motor Speedway in 1951. Below – C.J.
wisely brought Tetreault back to race in 1962...and
he ran the same car !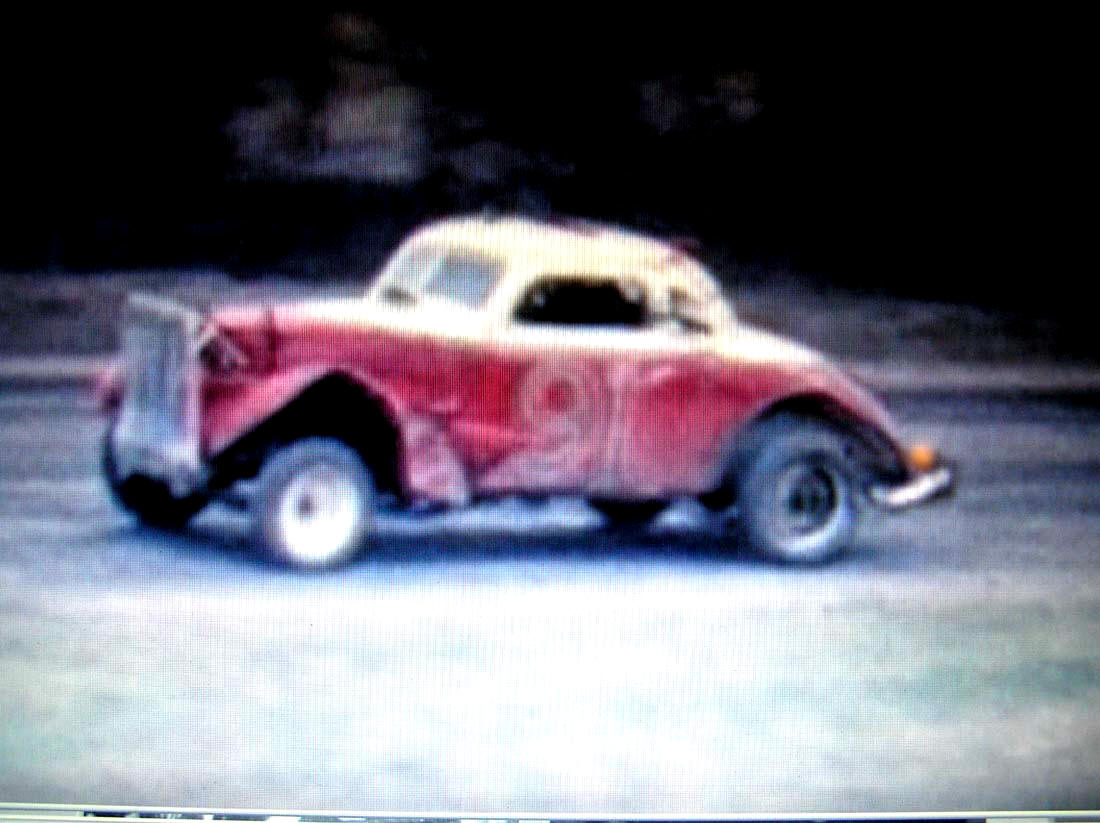 From Dan Ody's 8MM Old Speedways DVD's
CRITICAL DECISION 1: Decision to promote racing at Fair Haven. The young local farm kid had, by 1961, decided to try running the old, long – dormant track at the former site of the Fairmont Park horse track and the old Fair Haven fair. Apparently, while working hard on the family farm, he had kept a finger on the pulse of racing around the region. Long hungering for some races to go watch, Charles Richards knew there was a need in his county.
Richards was aware that, by 1961, most of the tracks anywhere near his home town were closed. Warrensburgh Speedway [or Ashland Park Speedway] had shut down around 1960 after a somewhat suspicious fire had wiped out the grandstand at he old fairgrounds up there. Some say they tried putting up other bleachers, but that important venue was all but kaput after the fire.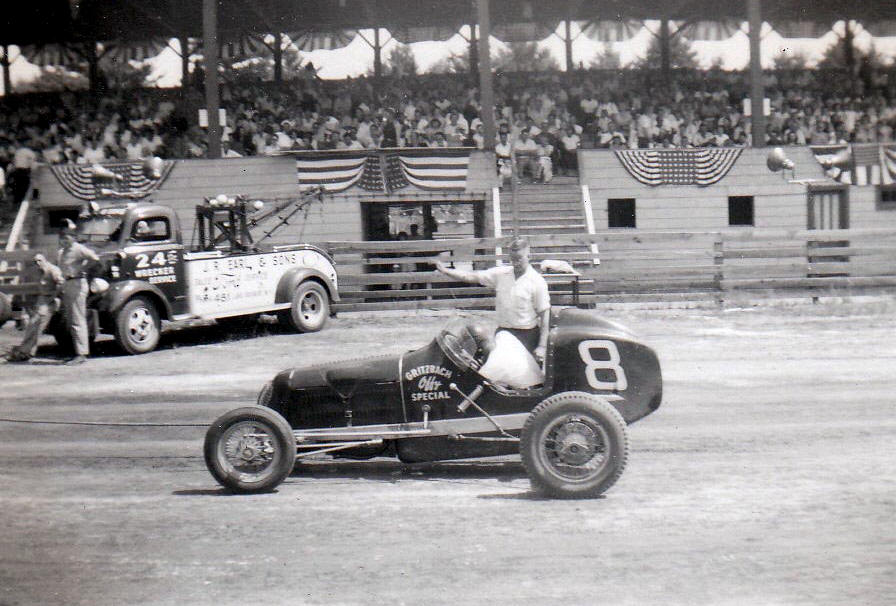 Courtesy of Dan Ody
This shot shows the nice grandstands that once stood at the track
in Warrensburgh, NY. The destroying fire was suspicious. Below -
A look at the Whites Beach judges' stand on the frontstretch.
It shows modest bleachers behind and track champion
Ernie Martin.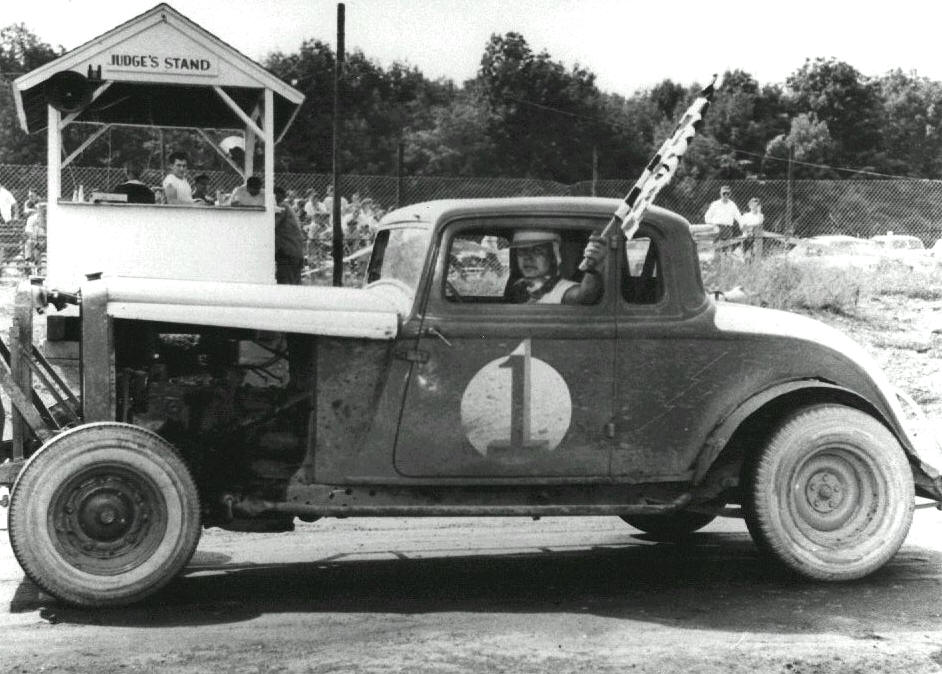 Source Unknown
Whites Beach Speedway, in Ballston Lake, NY, had closed its doors by 1961. This track had attracted many of the lower dollar racing teams in that racing – intensive part of New York that could not afford to run Lebanon Valley or Fonda Speedways. The closure of Whites Beach and Warrensburgh [somewhat of a sister track at times] had left a ton of teams looking for somewhere to run.
Finally, the prominent Stateline Speedway in North Bennington, VT and the Mettawee track near North Granville, NY were also both done. Richards realized that Rutland County had not had a race track since 1952. Some people theorize he had something to do with Lebanon Valley Speedway staging a race at the Vermont State Fair in Rutland in 1961, a popular event that got the juices flowing again for locals who craved local racing action.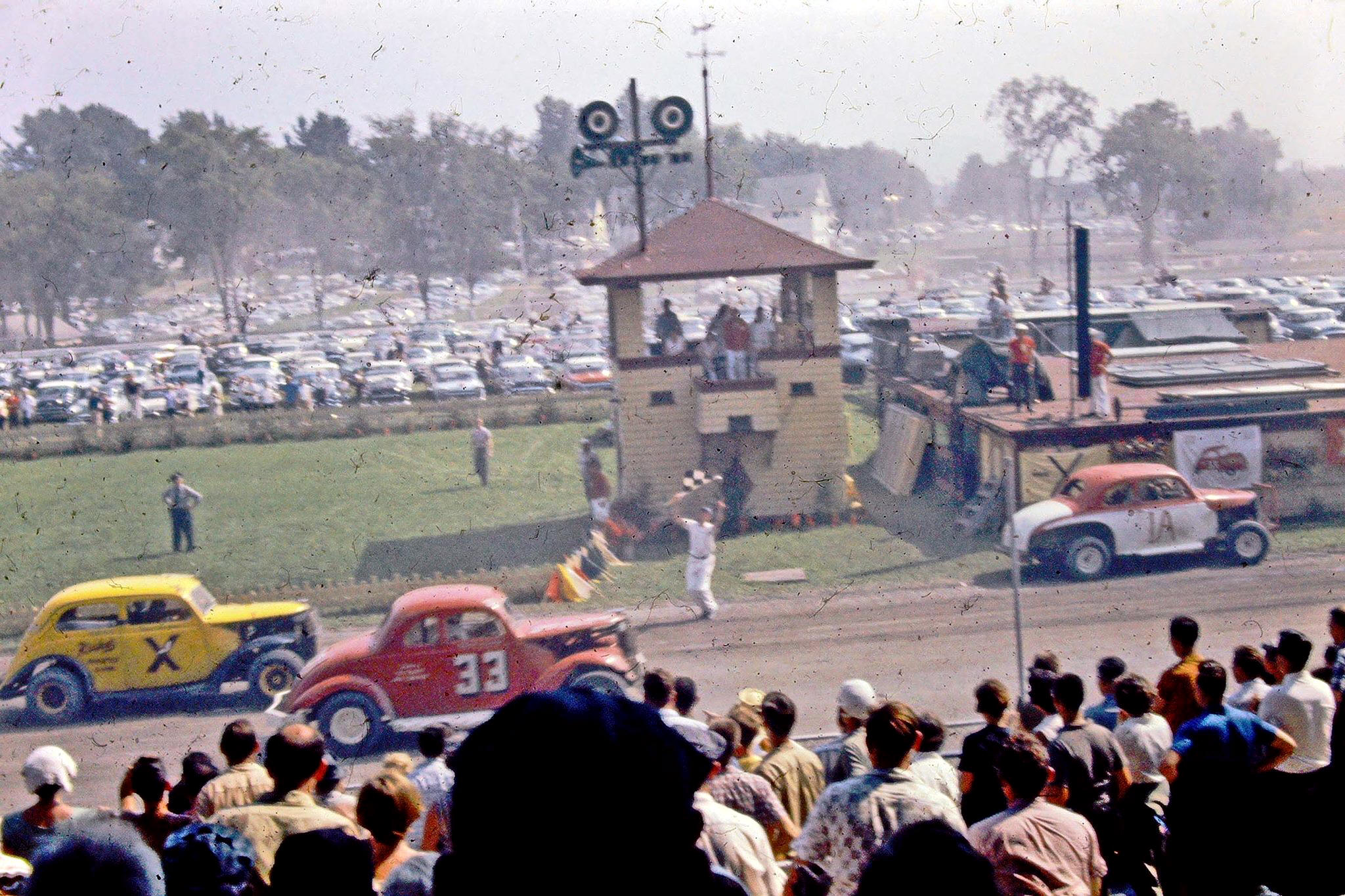 Source Unknown
Bill Webb's 33, the Martin Riiska Yellow X, and a local"Car1A are
seen at the Valley's stages show at the 1961 Vermont State Fair.
Below – C.J. Richards took the opportunity at that show to sign up
Johnny Flach to appear at his opening program a year later, but
Flach never came.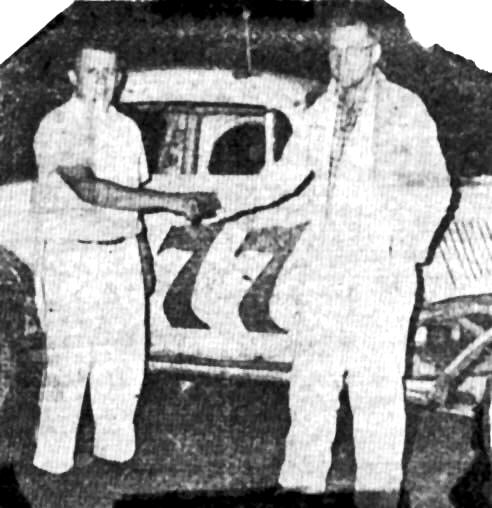 Bob Frazier Photo Rutland Herald
So it was that, in early 1962, Richards began grooming the old Fairmont track for racing again. The announcer's stand was moved from the infield to the bleacher area; new bleachers had to be built; an old track surface had to be refreshed; officials and track workers had to be rounded up; and – most important – word had to be circulated to come race at his track.
He did it all and they came. 1962 was very successful, and Charles Richards [suddenly now C.J. Richards] had his Fairmont Racing Association going. Capitalizing on the memory of the Valley show in 1961, he stage a late season program at the fair in Rutland in 1962, attract the single largest crowd for a sports event in Vermont in history [10 to 15,000 people]. That "open" race attracted some teams from further north, and thought brought about the next decision.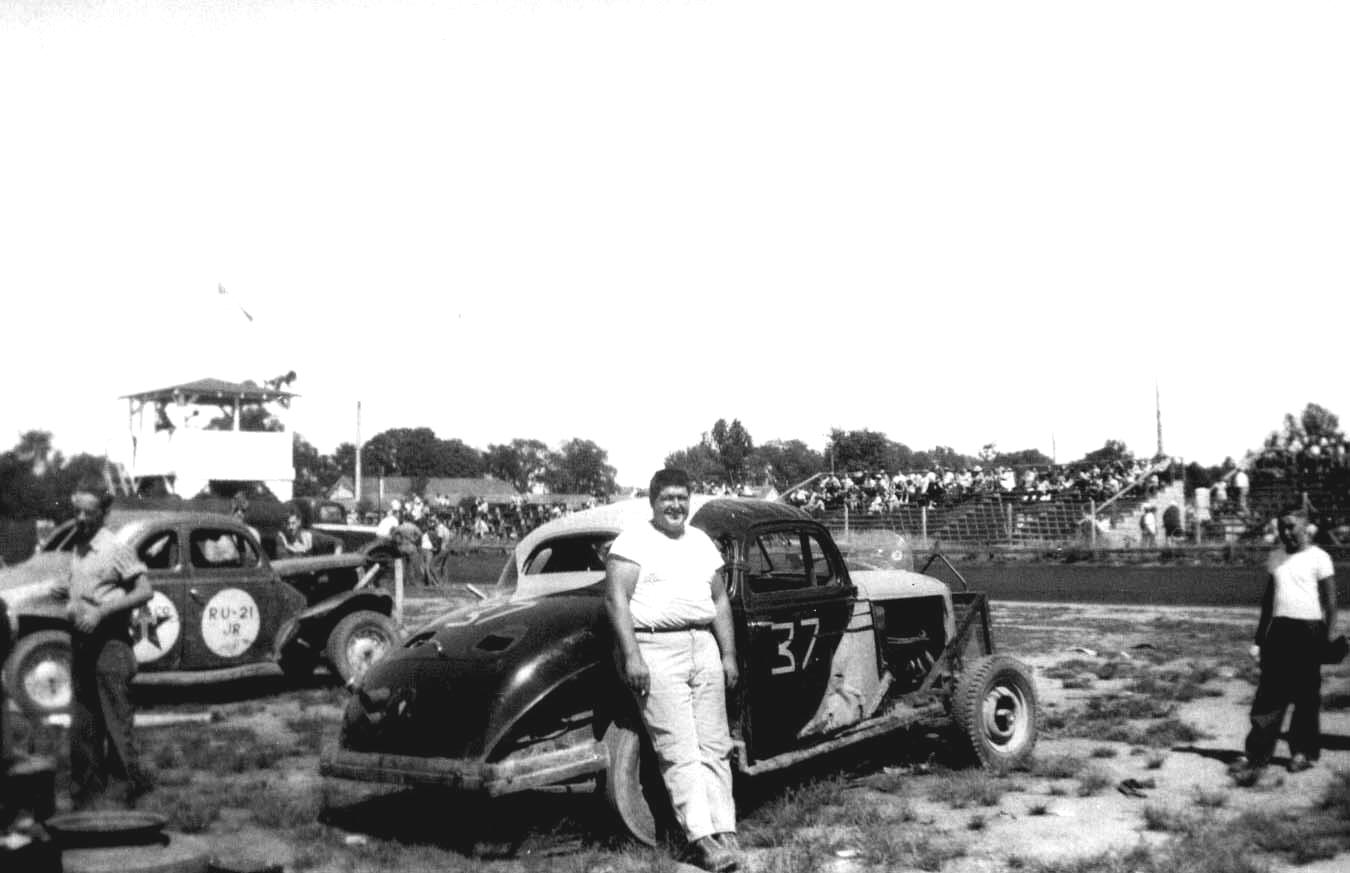 Courtesy of Mark LeFrancois
This photo of a young George Pritchard at Fairmont Park Motor
Speedway shows the announcer's tower in the infield. Below -
in one of his bigger projects, C.J. moved it to the
other side of the catch fence in 1962.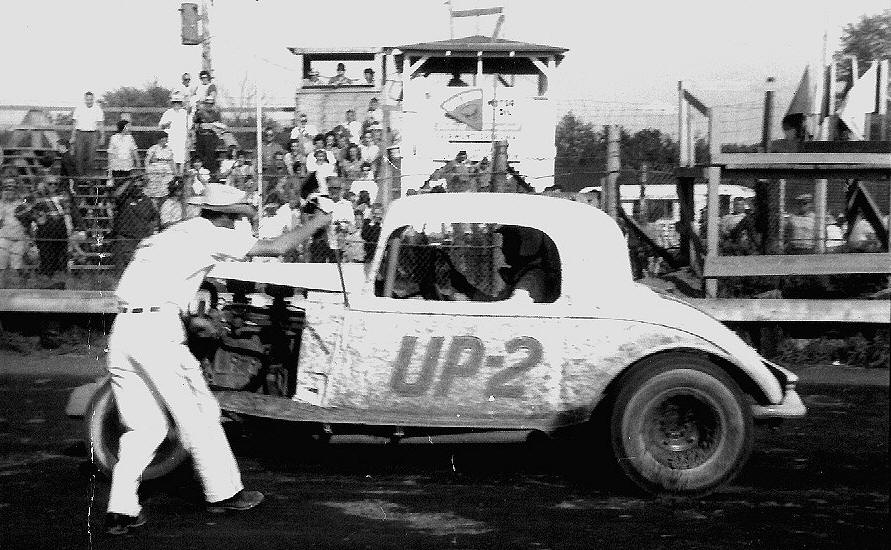 Ladabouche Collection
CRITICAL DECISION 2: Decision to get involved with the track near Vergennes, VT. In 1961, perhaps in reaction to the lack of dirt track racing in northern Vermont, Waltham farmer Hi Monroe and partner Lee Tucker had hastily built Otter Creek Speedway in one of Hi's pastures, and they wisely attracted NASCAR as a sanction. The track struggled through a few late season shows in 1961, attracting some big names in NASCAR sportsman racing due to the close national points races that year that was ultimately to end in a tie between northern New Yorkers Bill Wimble and Dick Nephew.
C.J. Richards had kept an eye on this track. He had friends and associates such as John Quenneville and others who were running in the hobby class there. He knew the potential of the place and – also – its failure to thrive despite the participation of some huge New York racing teams. He was smart enough to know that the local who were sitting up on the hill watching were far more interested in the local drivers than they were in Kenny Shoemaker and the Drellos racing team out of Glens Falls, NY.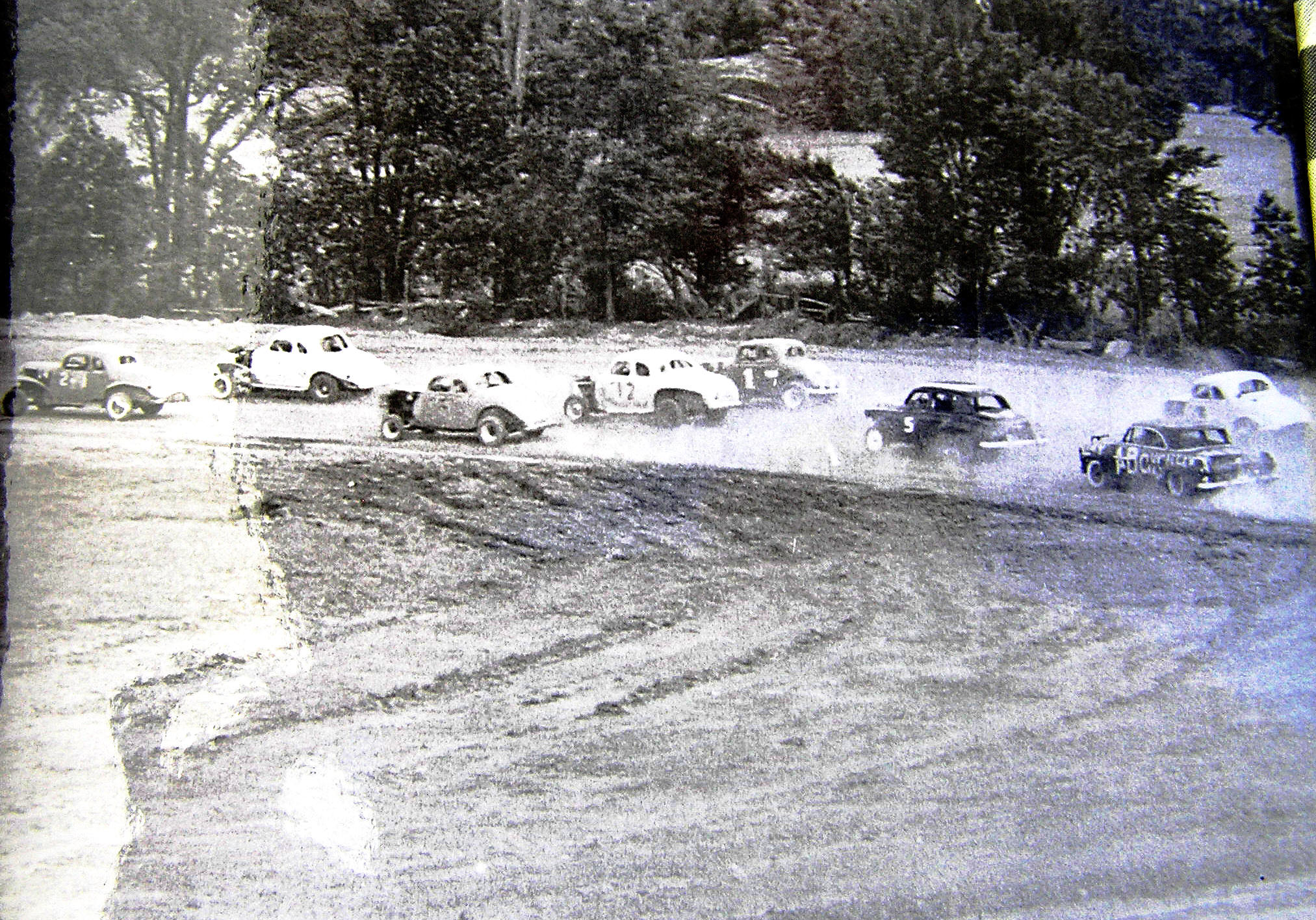 Bob Mackey Photo via Cho Lee
A field of hobby cars thunders down the long backstretch at the
newly – opened Otter Creek Speedway in 1961. The field includes
future luminaries like Beaver Dragon and Jack Dubrul. Below -
The hillside seating did not afford a close look at the racing
at Otter Creek. This shot shows Richards regulars Vince
Quenneville, Sr. [00], Phil Russell [yellow and black],
and future track promoter Joe D'Avignon [last]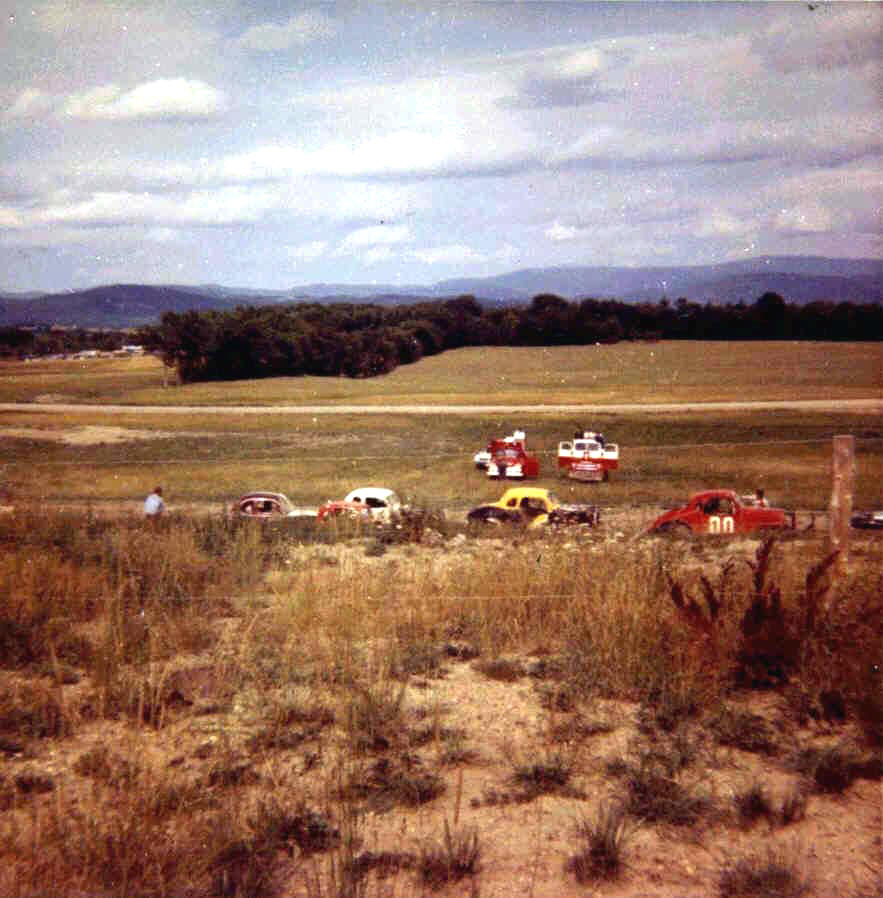 Ladabouche Photo
By 1962, as Otter Creek was still running with Monroe and NASCAR, Richards already had his fingers in the frosting at Vergennes. A number of the local hobby cars, including Vince Quenneville, Sr [Norm Scarborough's 00], Phil Russell, Ed Foley, and more were also running some of his shows at Fairmont Speedway. By 1963, NASAACR was gone, the Fairmont Racing Association was running the show, and Monroe was just the lessor.
Richards recognized that the long, dusty, bumpy Otter Creek racing surface had to improve. He shortened the track by moving in turns one and two. He groomed the track better, and tried to stem the spring water that ran across the outlet of turn four. Oddly, he never moved the stands closer to the track; watching races at the track was never an intimate experience. You almost had to have binoculars to feel part of the action. He did wisely move the pits to infield, giving the crowd a little more to watch. He even had the wisdom to stage one more "sportsman show" in 1963, giving him an excuse to jack up admission for that week.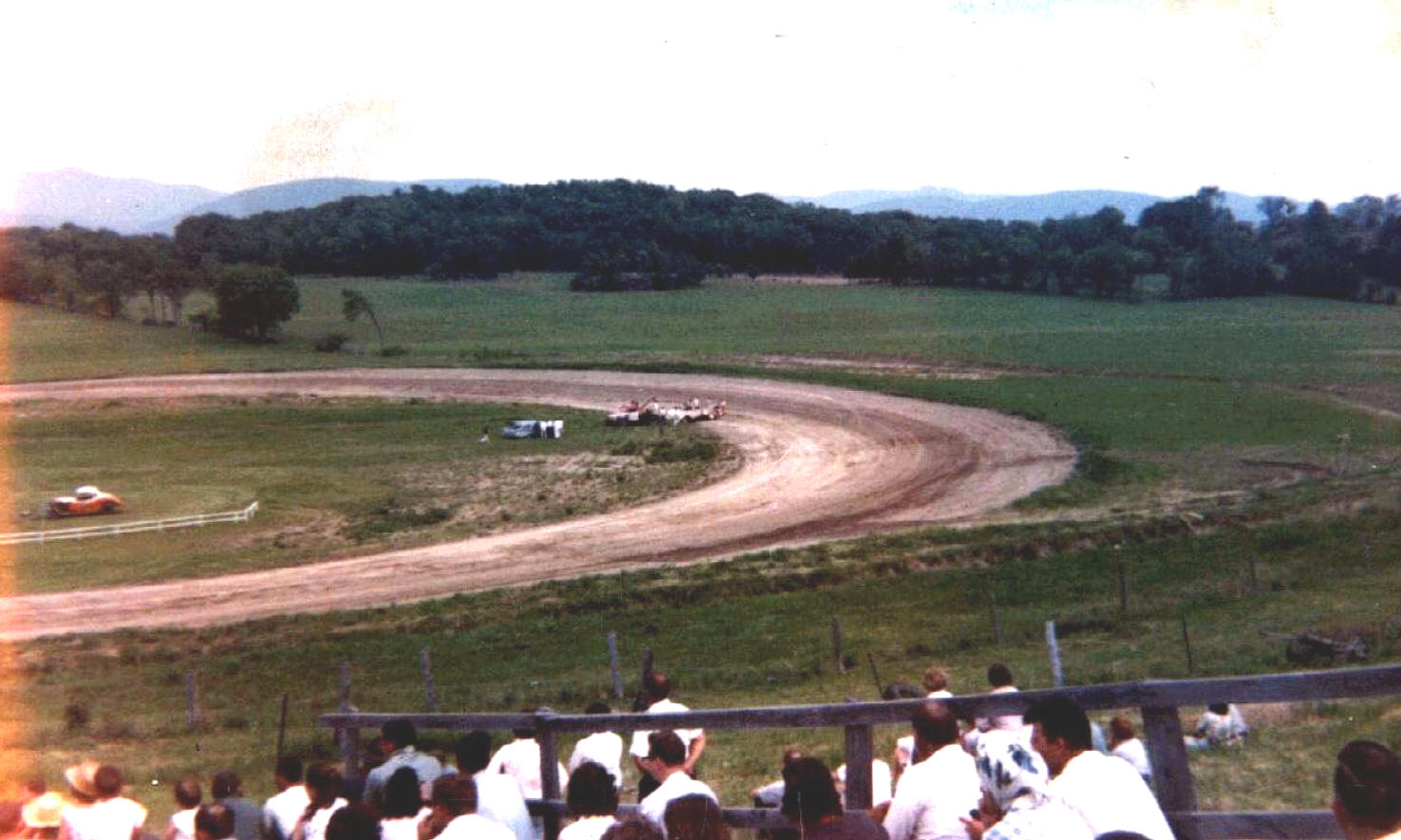 Ladabouche Collection
These two photos show how C.J. shortened the Otter Creek track
and what the infield looked like as the pits during the
Hillside Raceway era with Joe D'Avignon.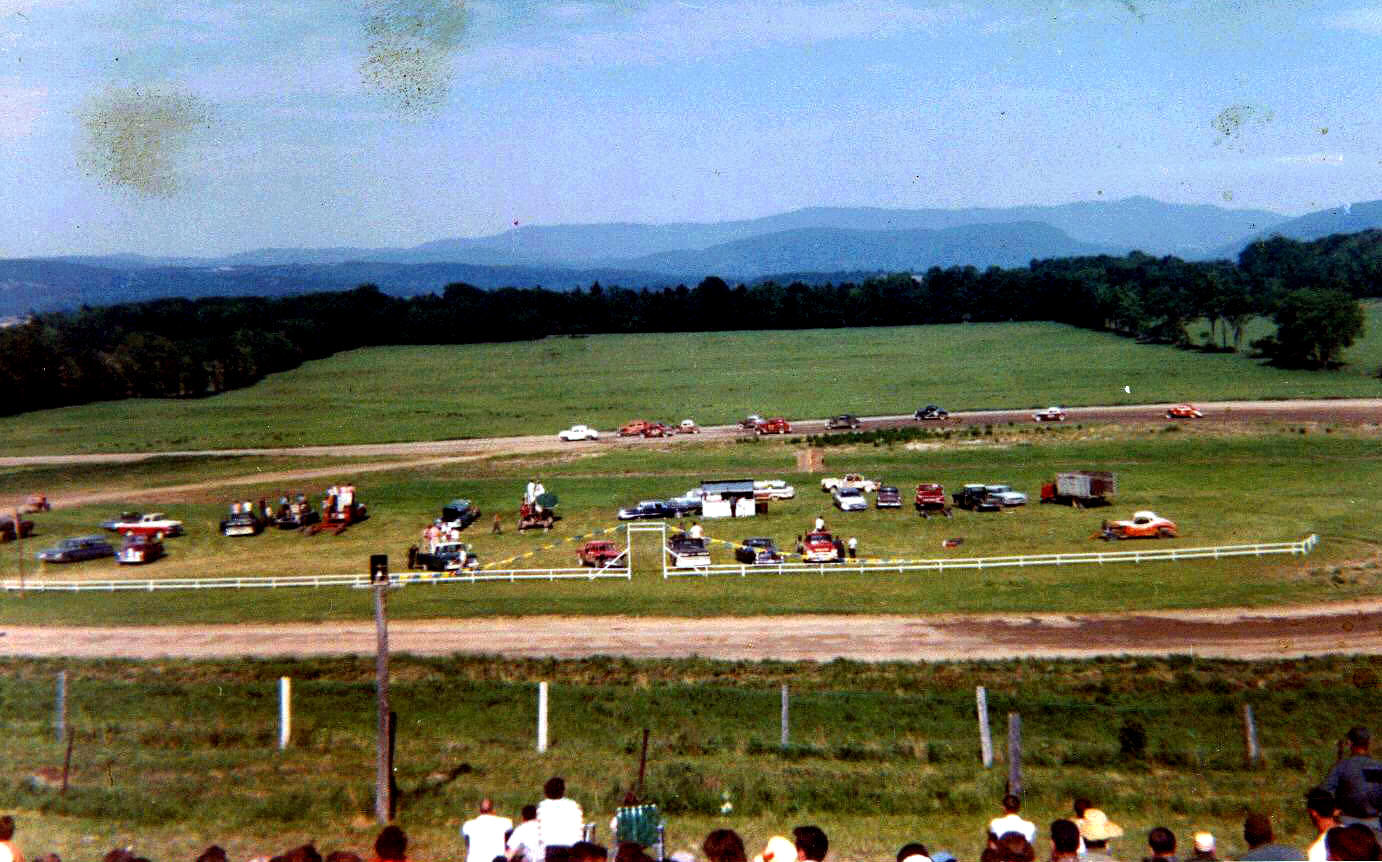 Ladabouche Collection
The Vergennes track would sit idle in 1964. In 1965, Richards driver and former Otter Creek driver Little Joe D'Avignon would promote races as Hillside Raceway. By now, Richards' headline class was a small block overhead V-8 sportsman car, although a number of six bangers and flatheads still competed regularly. The Sunday shows at Hillside gave Richards one more track for his cars to use, thereby attracting more teams away from New York ovals.
By 1970, C.J. knew his beloved Devil's Bowl would no longer be dirt, and he knew that this was an unpopular decision among the local teams in the track's immediate area. He had talked one of his late model drivers, Lou Senecal from Proctor to try promoting the Vergennes track as a place people could still race dirt in the region. This revived the dormant property for Richards and gave him a chance to keep dirt racing going. Although the track failed, it was basically a good idea. After 1970, I can't say what happened to his involvement there.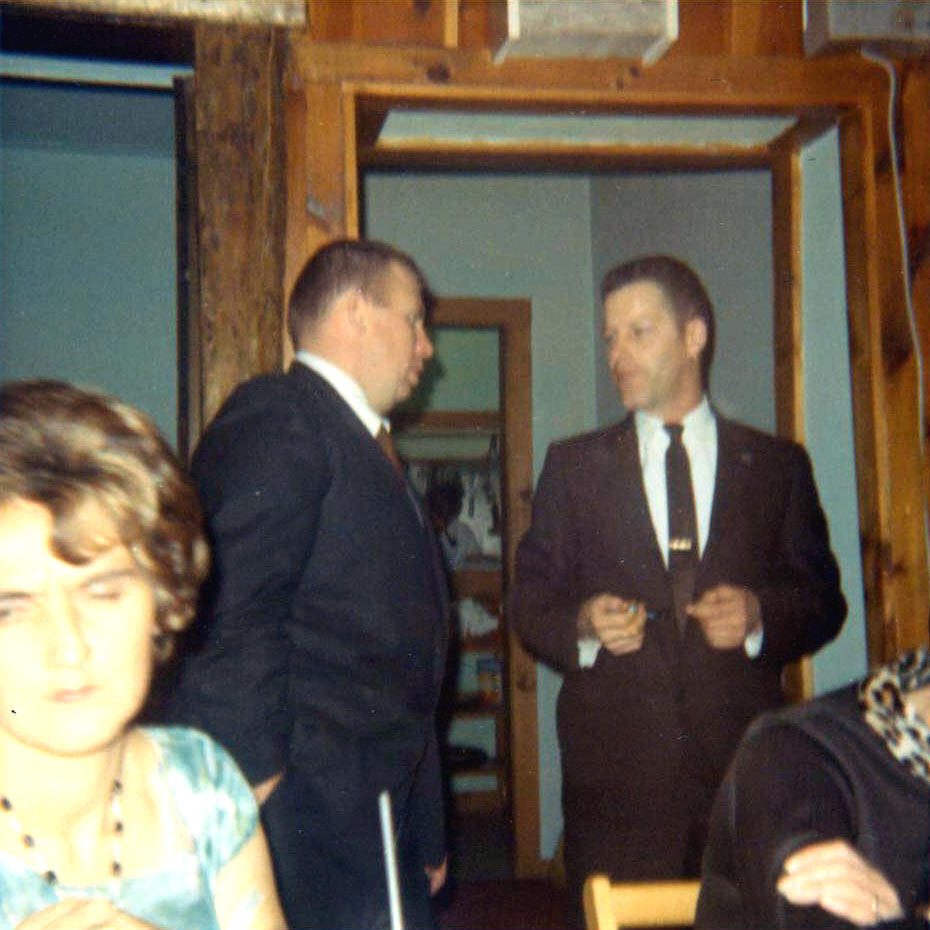 Courtesy of Lou Senecal via Diana Peters
C.J. Richards talks to his late model driver Lou Senecal
at the 1969 Devil's Bowl banquet. Maybe he is convinving
Lou to run the Vergennes track here. Below – A photo
taken while the track ran as Rainbow Ridge Raceway.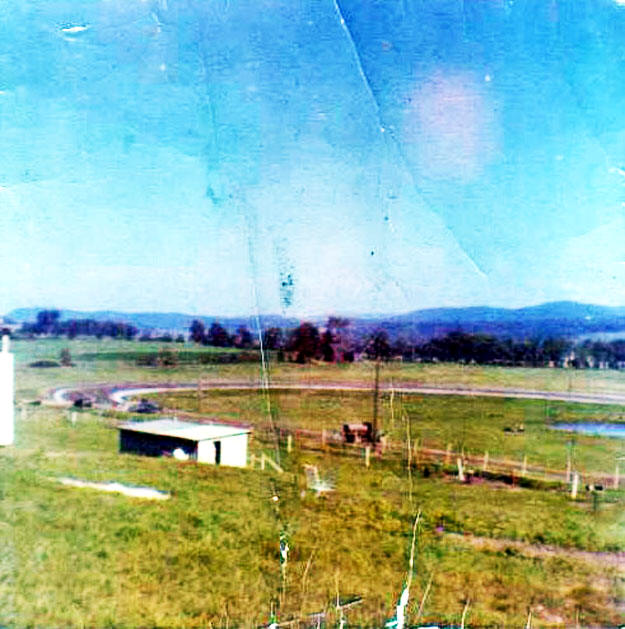 Courtesy of Lou Senecal via Diana Peters
CRITICAL DECISION 3: Decision to stop racing at Fair Haven and build Devil's Bowl. Most people know that, by 1966, the Town of Fair Haven had pretty much badgered Richards out of town. It was their loss [of revenue]. He bought some family land up the road in West Haven, and built Devil's Bowl. Despite a rough start due mostly to late rising frost in the track surface, the Bowl ended up having a good run from 1967 through 1969 or 70, attracting not only many of the old Fairmont teams but also many Lebanon Valley teams and Fonda teams looking for somewhere to run a Sunday night.
It was long be debated why he chose to pave the track in 1970, but it turned the track on its ear. He went through unpopular pavement modifieds, an affiliation with Ken Squier's Northern NASCAR circuit, and a brief flirtation with New Hampshire mods before tearing up the asphalt [that was rumored to have been paid for]. C.J. would have to spend years rebuilding his organization [now called the Champlain Valley Racing Association or CVRA]. This would bring him to the next big decision.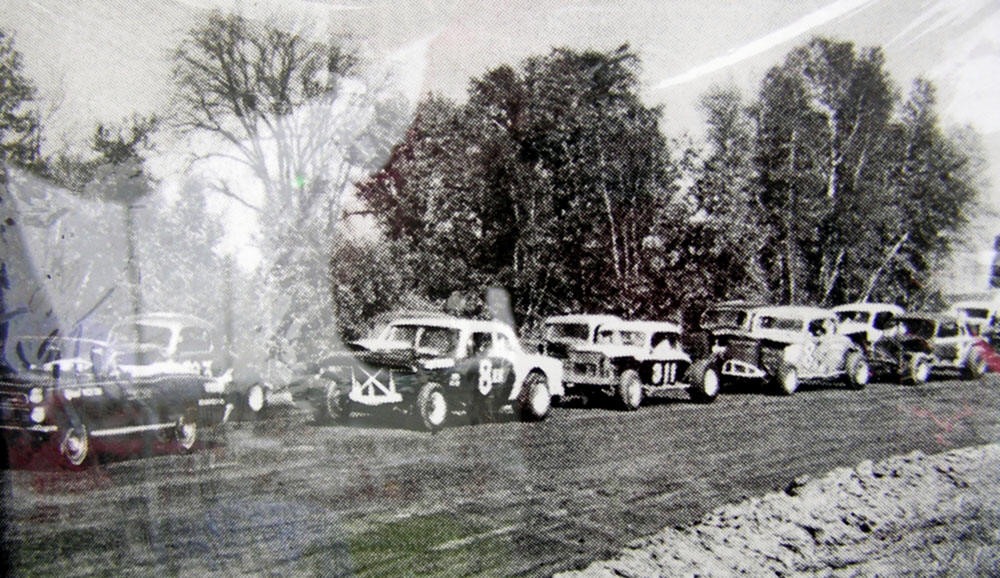 Courtesy of Davis Family
A sportsman lineup at C.J.'s final year at Fairmont, 1966. Below -
The sign in a field off VT Route 22A tells it all.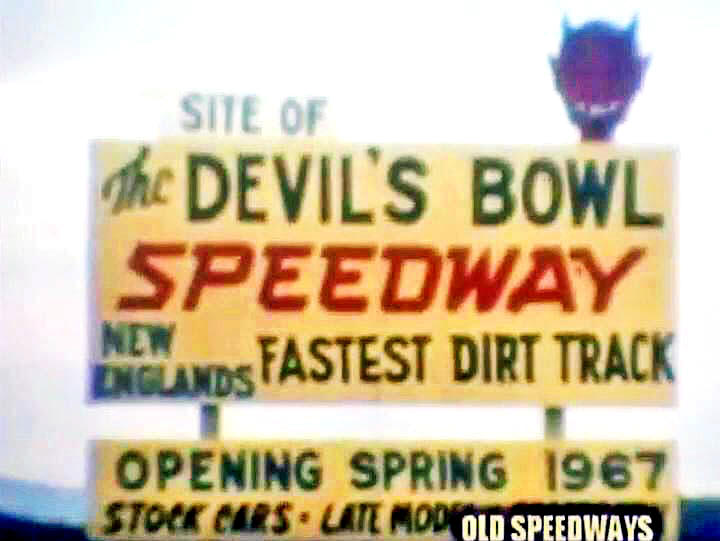 From Dan Ody's 8MM Old Speedways DVD's
CRITICAL DECISION 4: Decision to promote and acquire the track in Malta. The CVRA had gotten involved with the often – struggling Plattsburgh, NY – based Airborne Park Speedway during the pavement era. C.J. had a circuit or sorts with Airborne on Saturday night and Devil's Bowl on Sunday Night. During the rigorous years of the Northern NASCAR involvement, his tracks retained those same nights, causing Devil's Bowl to often come out on the short end of the stick after a long week of racing had depleted the fields of late models.
Albany – Saratoga Speedway had been built in 1965, the same year as had Catamount Stadium. The Malta, NY track had attracted top teams due to its sisterhood to the Utica – Rome track and its relation to big promotional names like Harry Hebenstreit, Larry Mendelsohn, and others, But, the Malta track was experiencing a hiccup by the time C.J. was looking at it. It was still a paved track sitting in the middle of some of the most intense dirt racing anywhere, and Utica – Rome was considering going to dirt.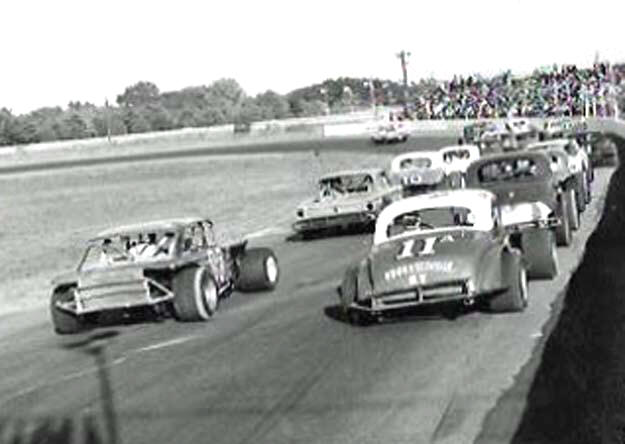 Bob Mackey Photo via Ardyce Blohm
A 1970 mod lineup at Airborne includes Guy Chartrand in the
famed Cloce Hemi Cuda. Below - A mod lineup at Albany – Saratoga
just before C.J. converted in over to dirt.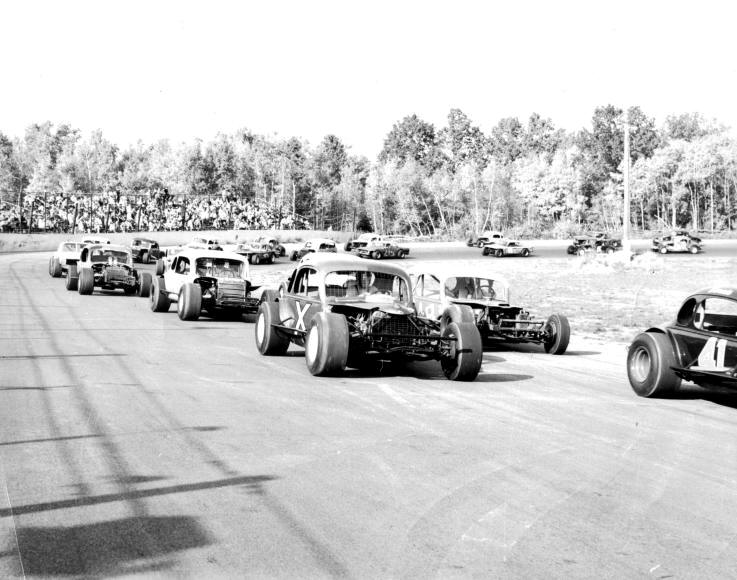 Source Unknown
Richards was able to make a deal for Malta [I'm embarrassed to say I don't know the year] and he had clay brought from the Devil's Bowl site to lay on top of the Malta pavement. This unique style of dirt surface always had some drawbacks, but Richards got to where his Friday night schedule attracted some very big names from all over the Northeast dirt racing community. He dubbed his new project The Great Race Place, and it seemed to take off running.
There were some underlying consequences of this big undertaking. Devil's Bowl went into enough of a decline to where Richards stepped away from it for two or three years, leaving it to operate under friends, Tom Perry as West Haven Speedway. Even that was cloudy, as there was already a West Haven Speedway in Connecticut. Airborne fell out of the fold and West Haven struggled along for a few years until the CVRA came out of the cloud and appeared to have weathered the whole change.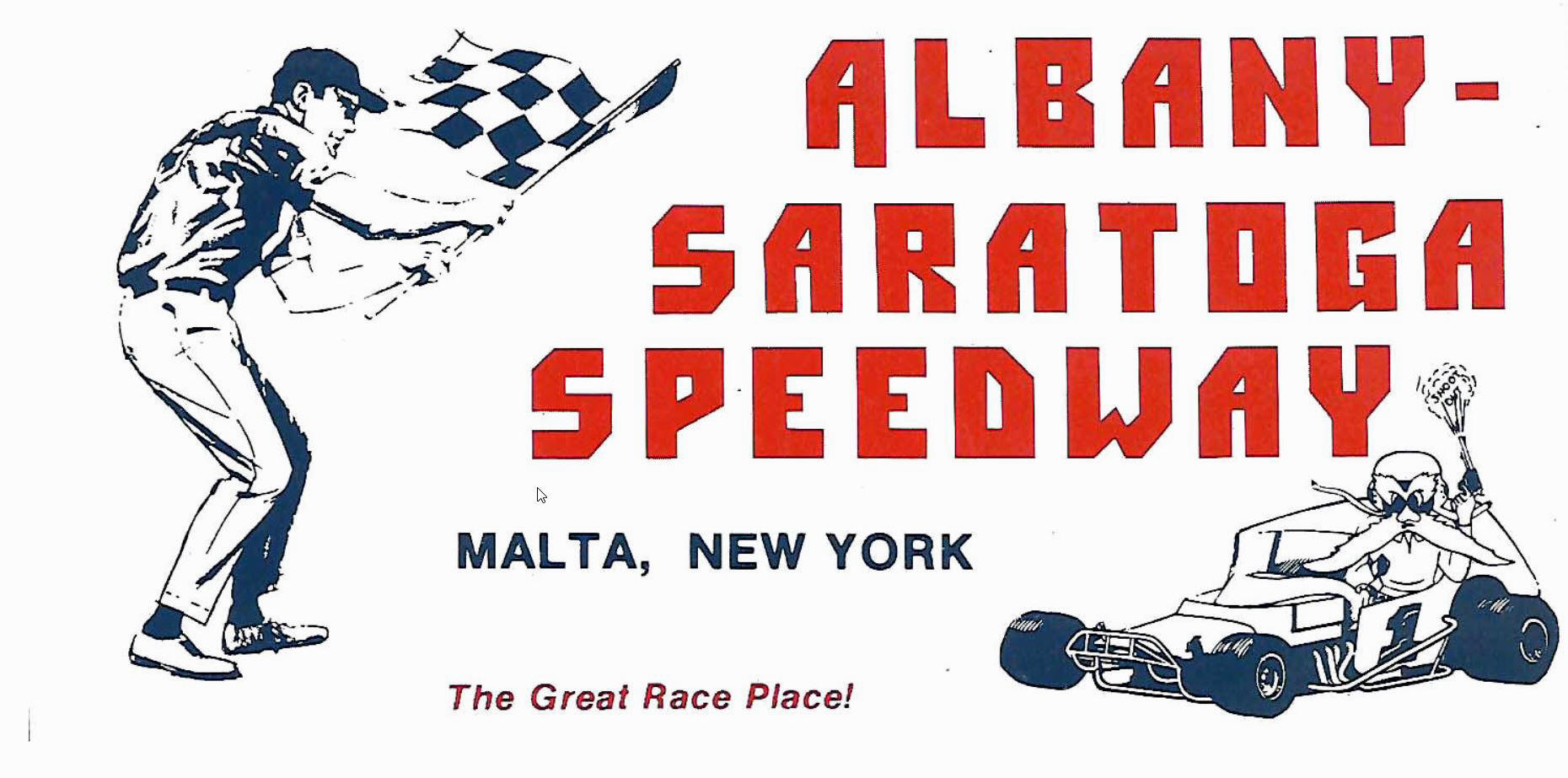 Ladabouche Collection
Albany – Saratoga sailed on as the Great Race Place while
[below] C.J.'s original baby, Devil's Bowl, was left by the wayside
to struggle as West Haven Speedway for three years.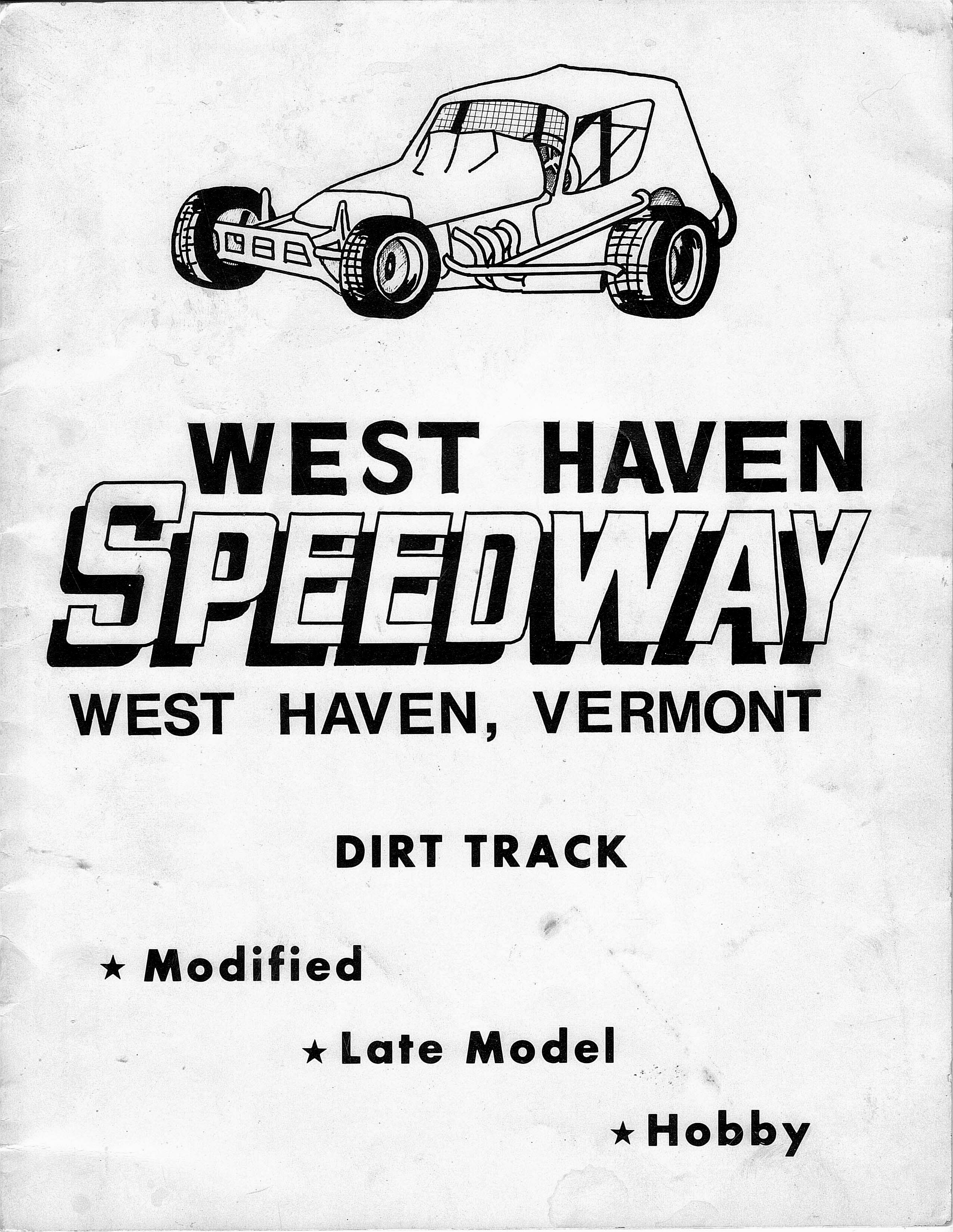 Courtesy of Mike Richards
By the earlier to mid 1980's, with Albany – Saratoga purring along and Devil's Bowl back to health, C.J. would again turn his attention to the Airborne track. It had gone through some bad years, barely surviving with local promoter's trying to run late models and had recently been turned into a dirt track [reported by Richards]. C. J. would restore the facility and – for a while – he had a thriving three – track circuit going by the mid '80's. But, the cost of racing was beginning to rear its ugly head and the ever – observant Richards noticed this.
CRITICAL DECISION 5: Decision to dump the big blocks. After the season that driver Wes Moody had promoted Airborne for Richards, a meeting was held in Fair Haven in the offseason and a decision was made that shook the dirt modified world. Considering how many of this teams were finding it increasing hard to afford to race, C.J. made the gutsy choice to drop the big block motor from the CVRA in favor of the 358 C.I. powerplant. Not only would they run the smaller motor, but he included rules to further cut costs such as using less expensive motor components. This came at a time when modifieds could not spend enough money trying to outdo each other with the very latest innovations.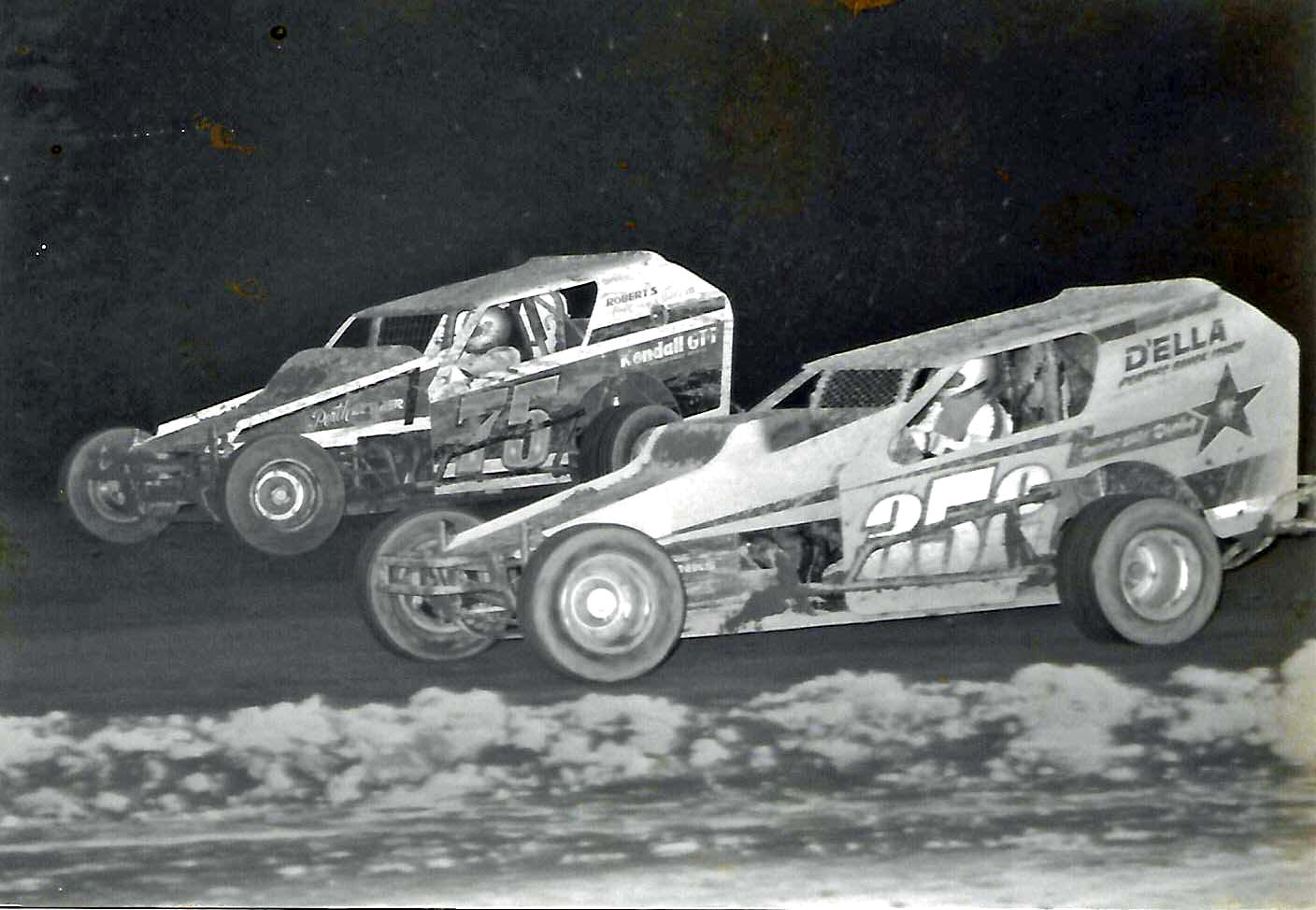 Dick Britain Photo
John Proctor and Bob Savoie, in CVRA action. C.J. was noticing the strain
of affording these big block motors by 1985. Below -
Gene Munger, with the Mike Richards modified at Malta. Teams like
this were able to keep going with the 358 changeover.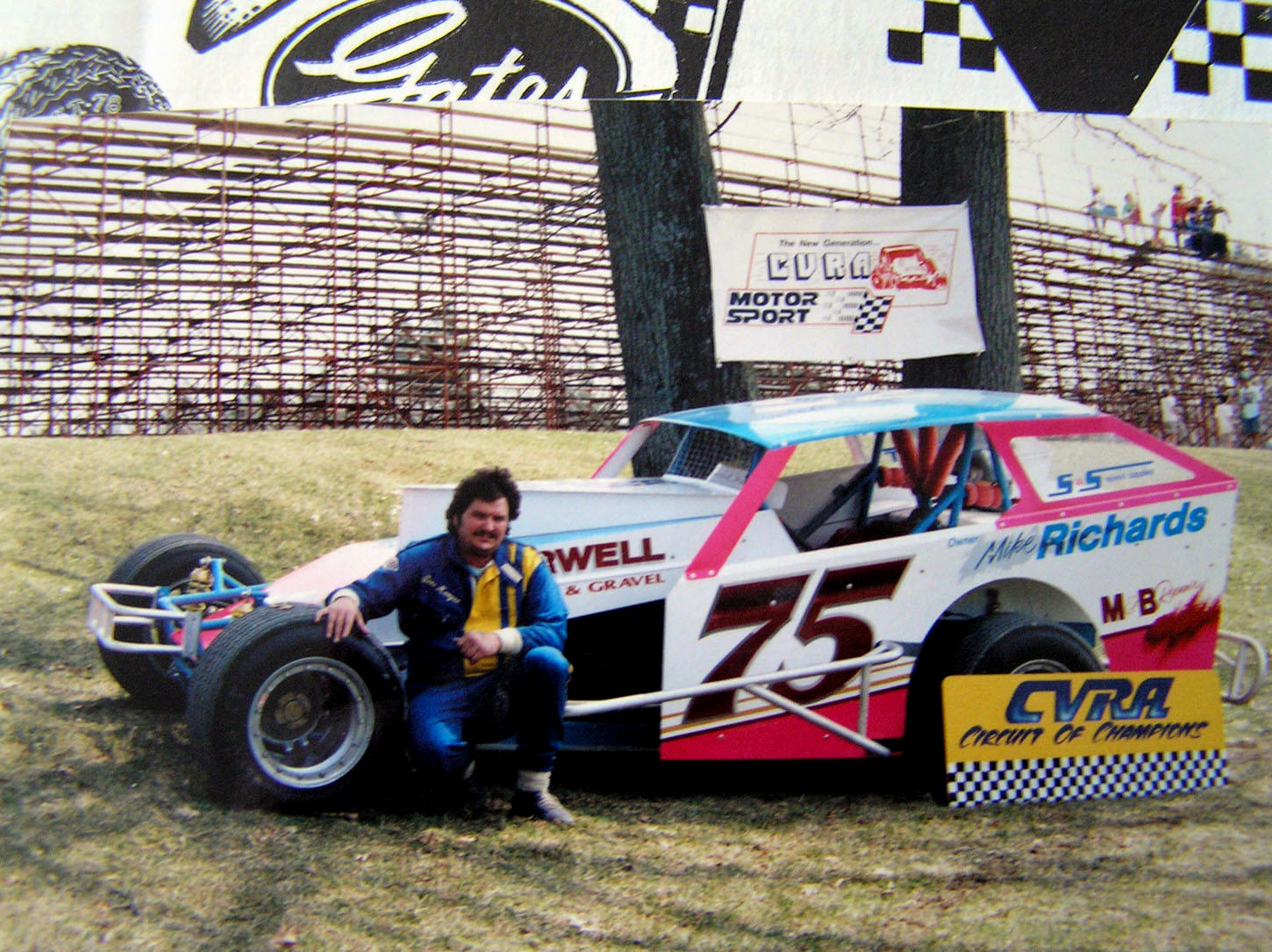 Courtesy of the LaFond Family
The initial reaction was big and catastrophic. Many of his teams [particularly bigger name teams that were running Malta] left CVRA rather than race with those "tiny engines" ! For some, it was just that they already had an investment in big block motors and parts and did not want to start over. Richards had a core of loyal teams that made the switch and stuck with him through that trying first year. Eventually, he had good fields everywhere again.
Ironically, we are seeing the same thing happen again – this time with the 358 motors seen as the harbingers of racing doom. Many tracks are dumping the 358's in favor of the 602 spec motor that costs a little more than ten percent of what a good 358 goes for. The big blocks remain untouchable, despite their astronomical costs; but the big teams that run them could care less with deep pocketed owners and sponsors.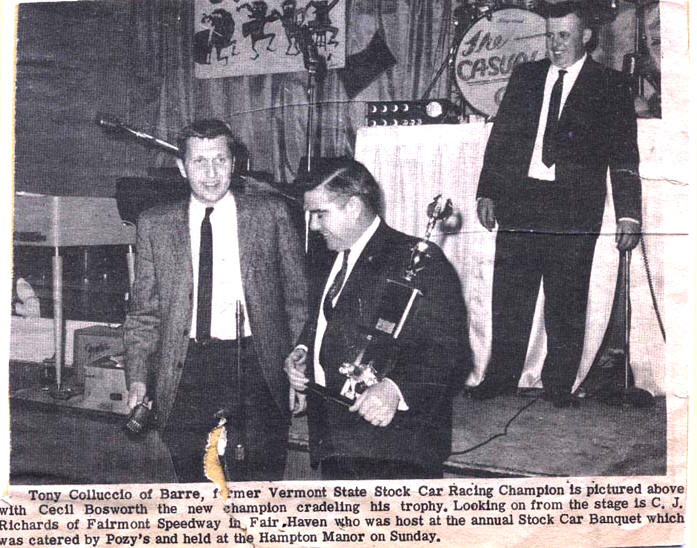 Courtesy of Barb Laduc
C.J., early in his promotional career, looks on as Cecil
Bosworth gets an award at an early Fairmont banquet.
Below – C.J., after retirement, with John Casey and
Jean Paul Cabana at a reunion at Thunder Road.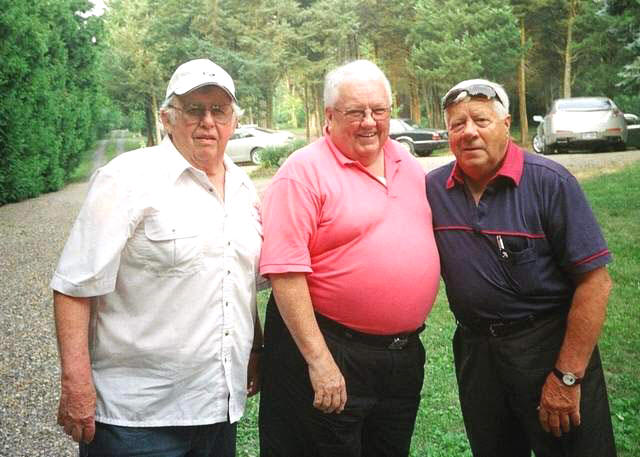 Dan Kearney Photo
C.J. Richards got through decades of race promotion in very good shape by, as he put it " seeing things coming". He knew the right time to run; he knew enough that a well fed racing crowd is a happy race crowd; he kept things that worked and did not hesitate to scrap things that didn't; and – most of all, he was a showman. When you run a list of the sport's all – time great promoters, you're just not paying attention if you leave Charles J. Richards off that list.
Please email me at wladabou@comcast.net if you have any photos to lend me or information and corrections I could benefit from. Please do not submit anything you are not willing to allow me to use on my website - and thanks. For those who still don't like computers - my regular address is: Bill Ladabouche, 23 York Street, Swanton, Vermont 05488.
AS ALWAYS, DON'T FORGET TO CHECK OUT THE REST OF MY WEBSITE:
www.catamountstadium.com
Return to the Main Page
Return to the Main News Page
Return to the All Links Page
Return to the Weekly Blog Links Page