THE BILL'S BACK IN TIME COLUMN PAGE
Copies of my column in Mark Thomas' "Racin' Paper"
BILL'S BACK IN TIME
By Bill Ladabouche
Column 69 From Original Column 84
THE OTHER CAN-AM SPEEDWAY
Since I have been writing for this newspaper, I have mentioned Can-Am Speedway, Newport, Vermont, in this column. I also had a column on the track in 1981 when it was actually in operation. Ordinarily, I would not repeat a topic so soon after it had been covered, but I have had request to expand on the subject, in view of newly - discovered information.
For a large number of years, most people thought of a dirt track on the New York/Canadian border when they heard the name "Can-Am Speedway". Being affiliated with DIRT, the latter version of Can-Am was getting a fair amount of publicity and carried on for a number of years. But, when I think of Can-Am Speedway, I think of the track in Newport, Vermont that was thrown together – on a landfill – in 1971.
Newport, Vermont had been a stock racing venue in stock racing's earliest years – at the old Veterans Park horse racing track, on the shores of Lake Memphremagog. The cars were very crude and the racing wasn't much by today's standards, but it was an important part of the development of stock car racing in the northern part of Vermont. More importantly, it was where a young Charlie Nadeau got the racing bug, participating as a driver there and further East near Lyndonville.

Drivers like Ken Hitchcock drove jalopies around the stately old Veterans' Park in the
very early 1950's at Newport. [Ken Hitchcock Photo]
Eventually, like almost every other early track, the Newport racing venue closed down, as did the other tracks Charlie Nadeau tried driving at. But he kept thinking about and remembering how much he loved racing. Northeastern Speedway, way up in the corner of Vermont in Lower Waterford, provided racing for the Northeast Kingdom of Vermont for almost a decade. Nadeau also could see successes at such farflung Vermont tracks as Thunder Road, Catamount, Stateline, and even the relatively newer Bear Ridge. He realized there was a bank of available cars from Bear Ridge, Groveton, New Hampshire, and even across the border at Granby, Quebec.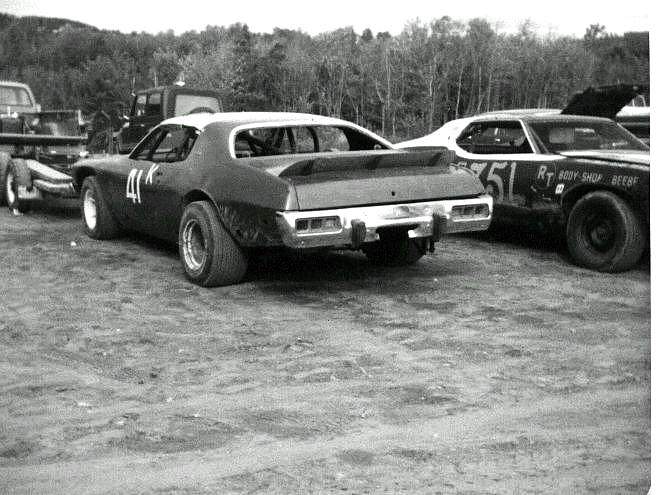 The potent late models of Granby competitors Keyworth George [41] and
Michel Garand sit in the late model pit area. [Ladabouche Photo]
Finally, in 1980, Charlie, now a successful landfill owner near Newport, decided a portion of his landfill grounds near the main road could be groomed into a third mile racing oval and that the hillside nearby would be a good vantage point for fans. So, Can-Am Speedway was born. Along with partner Bert Bertolini, Nadeau went ahead and carved out the little rural track and its outbuildings right there, atop a no – longer - used part of his landfill. The track opened, with little fanfare and even less coverage, later in the 1981 season.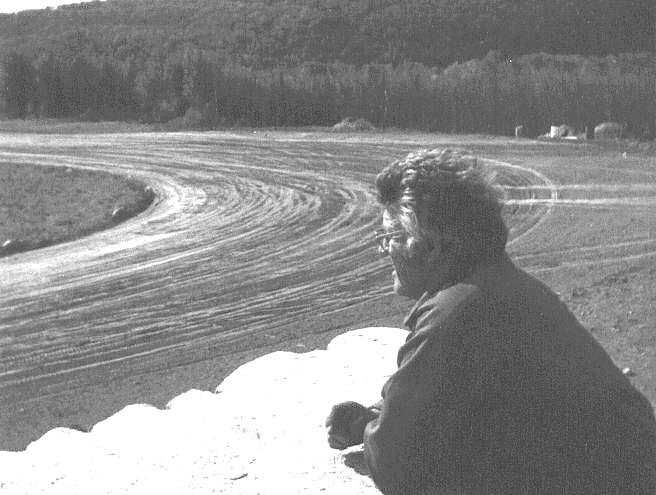 Charlie Nadeau surveys preparations at his new track, built on his landfill. [Ladabouche Photo]
It was not without its problems, suffering with a poor grade of clay and whole lot of rocks at first. Shows did not go off very smoothly either. But the views off the backstretch would rival some of the scenes seen in Vermont Life magazine – especially in foliage season. The sparse grandstands were surrounded by nice lawns, and while terribly sandy – the pits were roomy enough. The track was trying to run two divisions: late models and a sort of hobby class, drawing primarily from Riverside Speedway in Groveton. But it was also getting some cars from Bear Ridge, Granby's Rebel Speedway, and a few cars from the Catamount / Thunder Road area.
The new track on the block did not get exactly a flood of media support. While it was getting plenty of coverage from the local Newport paper, The Chronicle, Can-Am was barely mentioned in the Burlington Free Press, the state's largest newspaper, except for a somewhat caustic reference to the fact that the track was located on a sanitary landfill. The WVMT race program called "The Inside Groove" mentioned it on a somewhat regular basis, but the track was far from a household word – ever. Too bad, a race track with panoramic views and concession stands made from renovated railroad cars definitely had some obvious charm.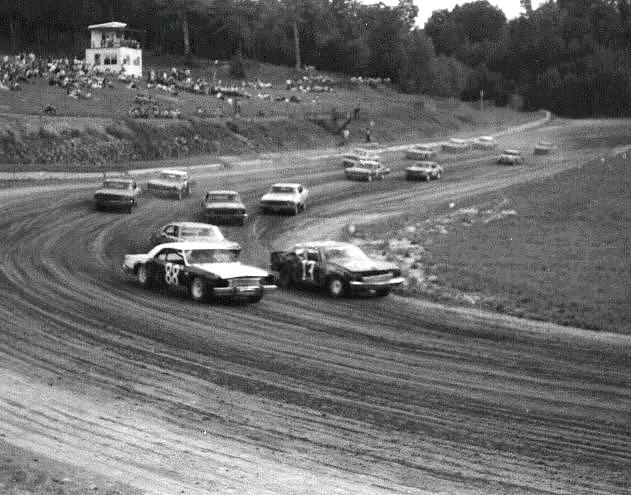 Buzz Sheldon and Mal Hayford [13] lead a field of six cylinder support cars
past a modest crowd at Can – Am Speedway in1981. [Ladabouche Photo]
Nadeau and Bertolini were an interesting pair, thrown together with a common dream to revisit Newport's racing heritage. Charlie, a stocky bespectacled man with the thick-fingered hands of lifelong hard worker, owned the landfill and – while supervising most of the track grooming – spoke seldom. Bertolini, the more verbal and out-going partner was more apt to speak at meetings and buzzed around the grounds in an old Buick filled with tools, photos, signs, and other paraphernalia needed to run a grassroots racing operation.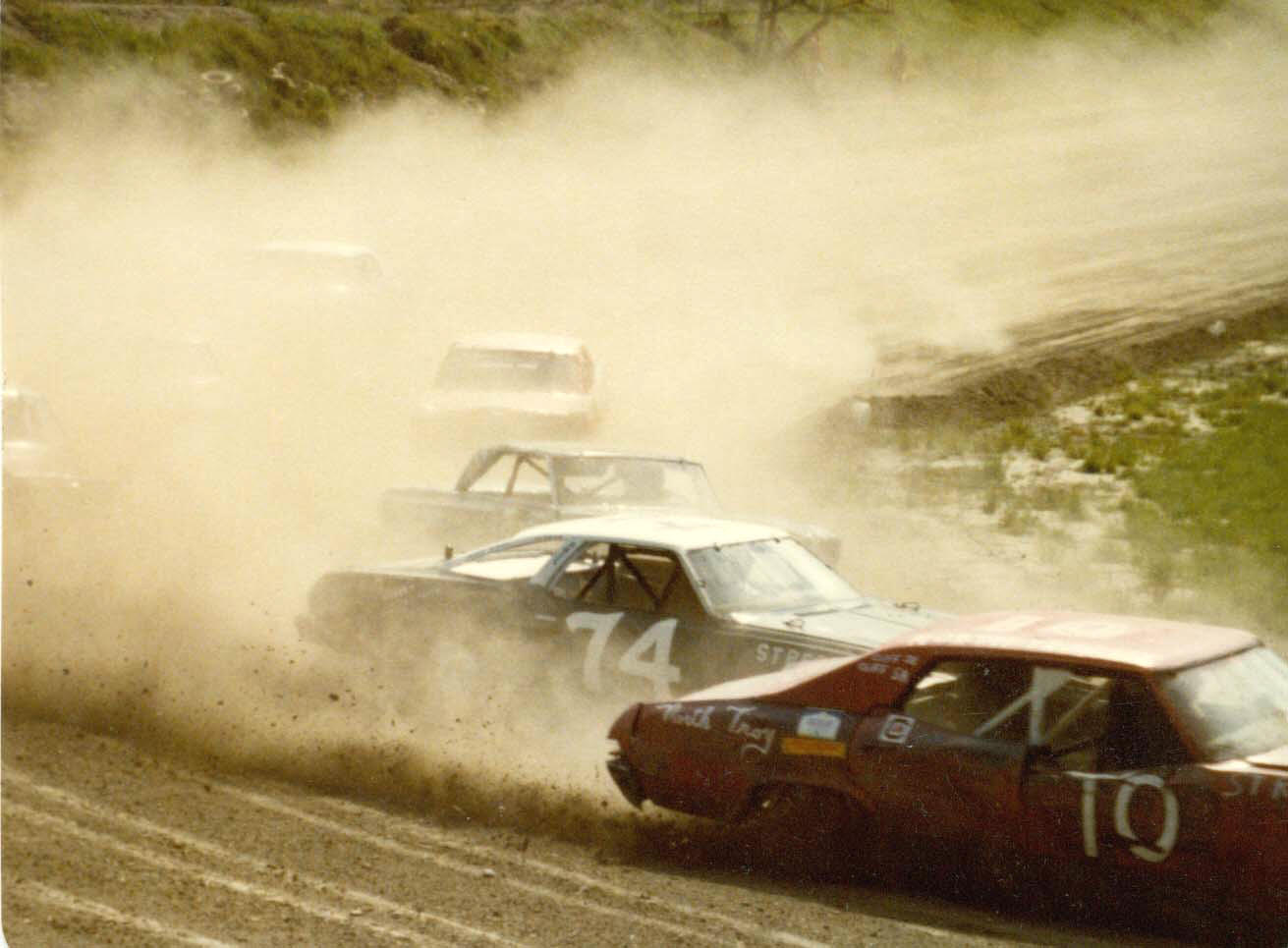 Cliff Dillon, in a Groveton car, leads a heat that shows the dust problems
encountered when a dirt track is run in the daytime. [Ladabouche Photo]
Restricted to daylight hours due to no lights, Can-Am would face the same problems all the old tracks faced – dusty conditions brought on by racing in the sun. Bertolini and Nadeau were aware that nearby Granby had a dirt surface as hard and smooth as pavement from the liberal use of bunker oil; but their track was in Vermont, where this track treatment was unthinkable. The only dirt track alternative to oiling the surface was soaking – a technique used to great effectiveness by the legendary Fonda Speedway. Unfortunately, between the fact that Nadeau did not have good clay and also that he just not devote countless hours and thousands of gallons of water to the project, the Can-Am track remained pretty dusty throughout most of the programs.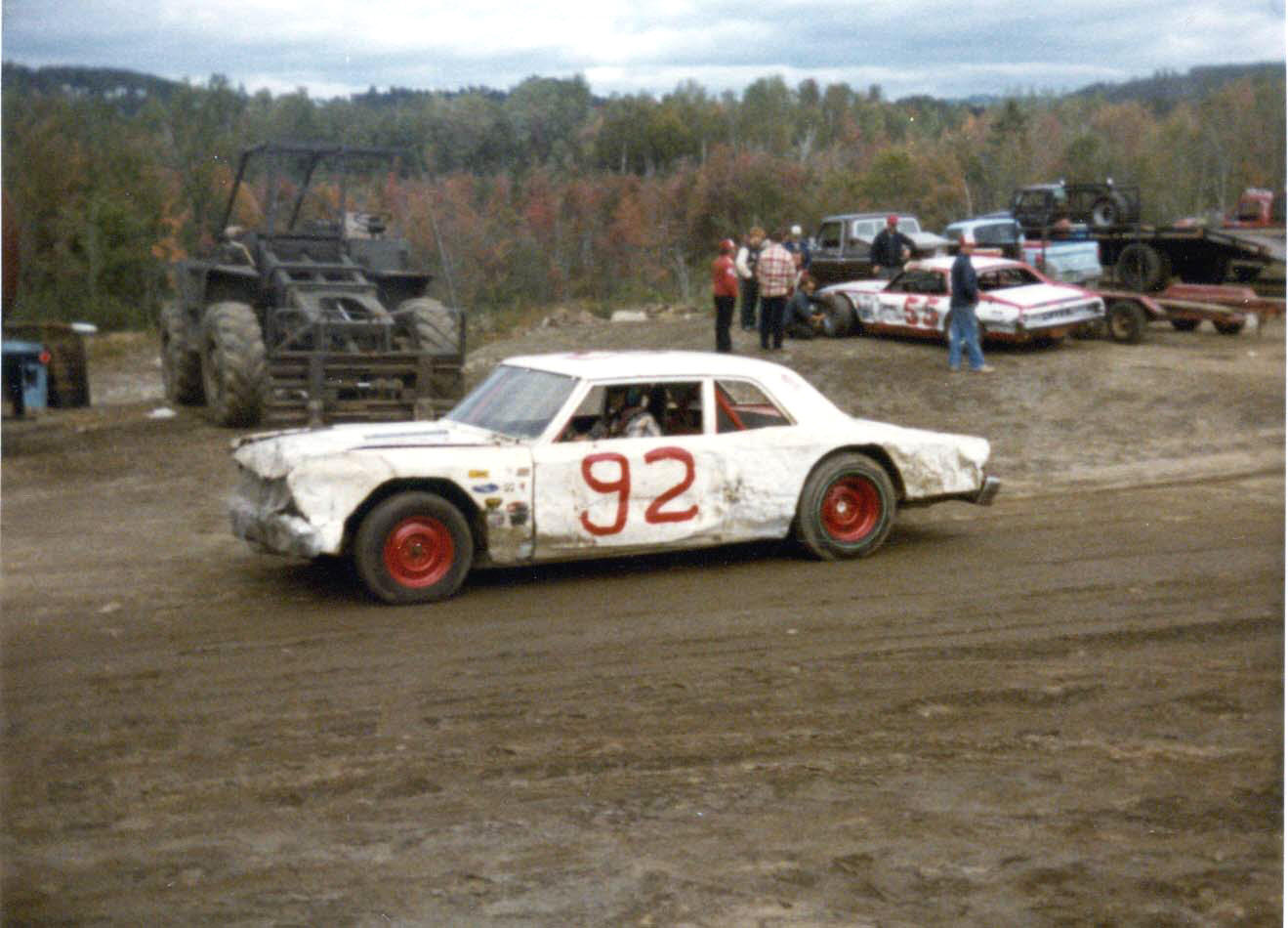 Sylvio Bilodeau, an old [and I mean OLD] Thunder Road competitor,
heads out for a heat race in his ancient Chevelle. [Ladabouche Photo]
Getting to the actual race track was interesting. Having bought a ticket at the periphery of the landfill, the customer would then wend his way through a web of roads to get into the section of Nadeau's property where they track had been carved out. Once arriving near the track, someone with press connections more or less negotiated themselves into the pit area, while the regular fan moved on to the spectator parking. When announcing to the impassive Nadeau that I, in fact, wrote for that esteemed rag Speedway Scene and that I was Bill Ladabouche, Nadeau simply grunted "Oh yeah? Go ahead in, I guess". So much for the fame and fortune of racing journalism !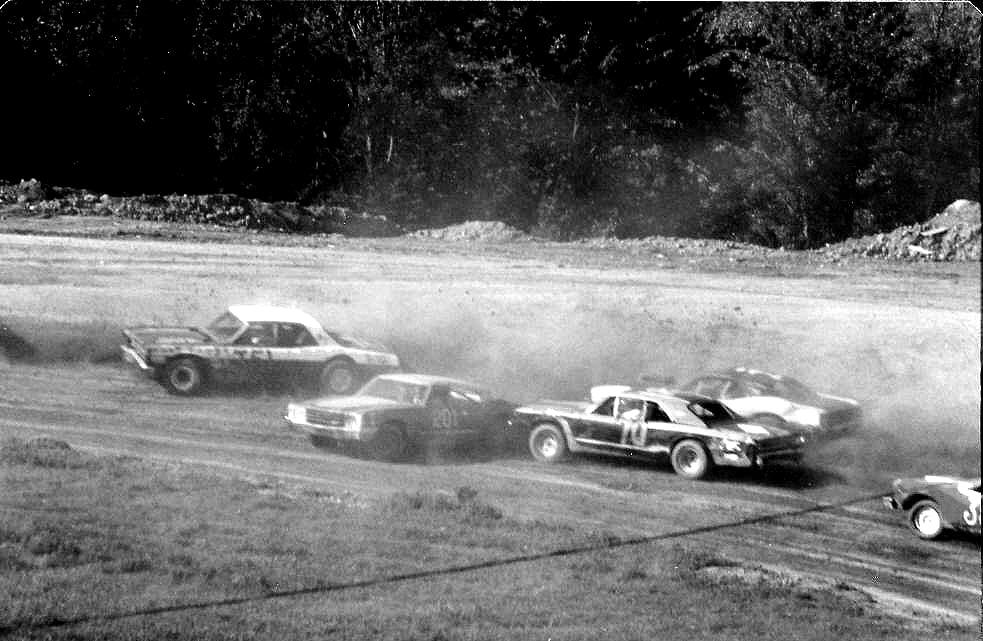 Can-Am late models, with Michel Garand in the lead, mix it up in turn two. [Alan Ward Photo]
For a while it seemed like the track had hit upon a great idea when they had special shows for the coupes from Bear Ridge Speedway; but – alas – the track was not to last for more than a couple of seasons. Nadeau carried it on a bit after Bertolini's departure, but they just weren't attracting big fields or crowds. Today, even with Google Earth or Terraserver satellite, you cannot make out a trace of Can-Am Speedway, outside of Newport. I have found the landfill, but I can make out nothing that resembles an oval. It would have been nice if Newport could have kept their low-budget, affordable race track, but it wasn't in the cars.
Now Vermont is down to two tracks, and it is a struggle for one of those tracks to survive. With the way things are today in the state, I doubt if anyone could even attempt another track in Vermont. Too bad Nadeau couldn't have stayed grandfathered, just in case. Can-Speedway was the way racing was decades before, and I liked it !
Return to the Main Page
Return to the Main News Page
Return to the Columns Link Page
Return to the All Links Page