BILL'S WEEKLY COLUMN/BLOG PAGE

BILL'S BACK IN TIME
By Bill Ladabouche
VERMONT TRACKS WITH ORIGINAL AND NOT SUCH ORIGINAL MONIKERS
You sort of expect a track, way in Vermont, with a name that is not particularly run – of - the - mill – sounding to be probably be very original, maybe even one of a kind. From the 1950's when Vermont saw at least twenty different tracks – if not more – to the twenty – first century, when there are only three, with some of these sometimes barely surviving, the state has seen some beauties for track names.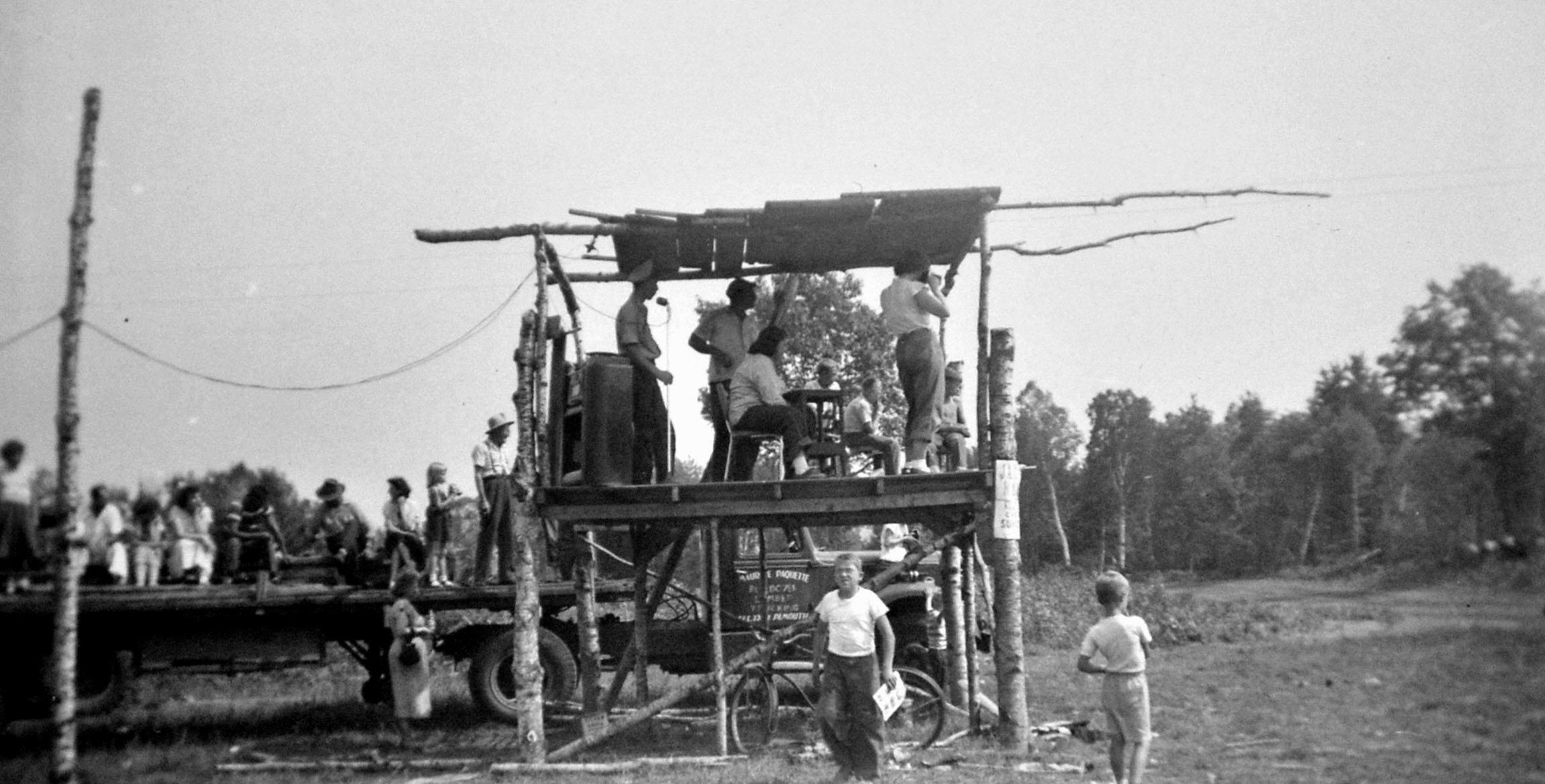 Courtesy of Ed Gould via George Hill
The incredibly rustic officials' area at Ge-Jo-Clin Speedway, around 1950.
The very late 1940s and the first two years of the fifties saw more tracks come and go than most people can imagine; and – with that – there was a huge variety of track nomenclature from the nameless ovals on up. Without a doubt, the strangest name to this day was the Ge-Jo-Clin Speedway track in Boltonville, near Wells River. Named for the beginning letters of the first names of the track founders, it was little more than a round path through the brush – and did not last very long.
One of the earlier tracks in the state [probably resulting from its close proximity to the stock car – pioneering state of New York], was Fair Haven, Vermont's Fairmont Motor Park Speedway. Most of us assumed the Fairmont was a hybrid of Fair Haven and Vermont, while the rest was somewhat self – explanatory. Lately, however, it has come to be known that a rather important venue from early automobile racing was a horse track named Fairmount Park Motor Raceway, near Philadelphia.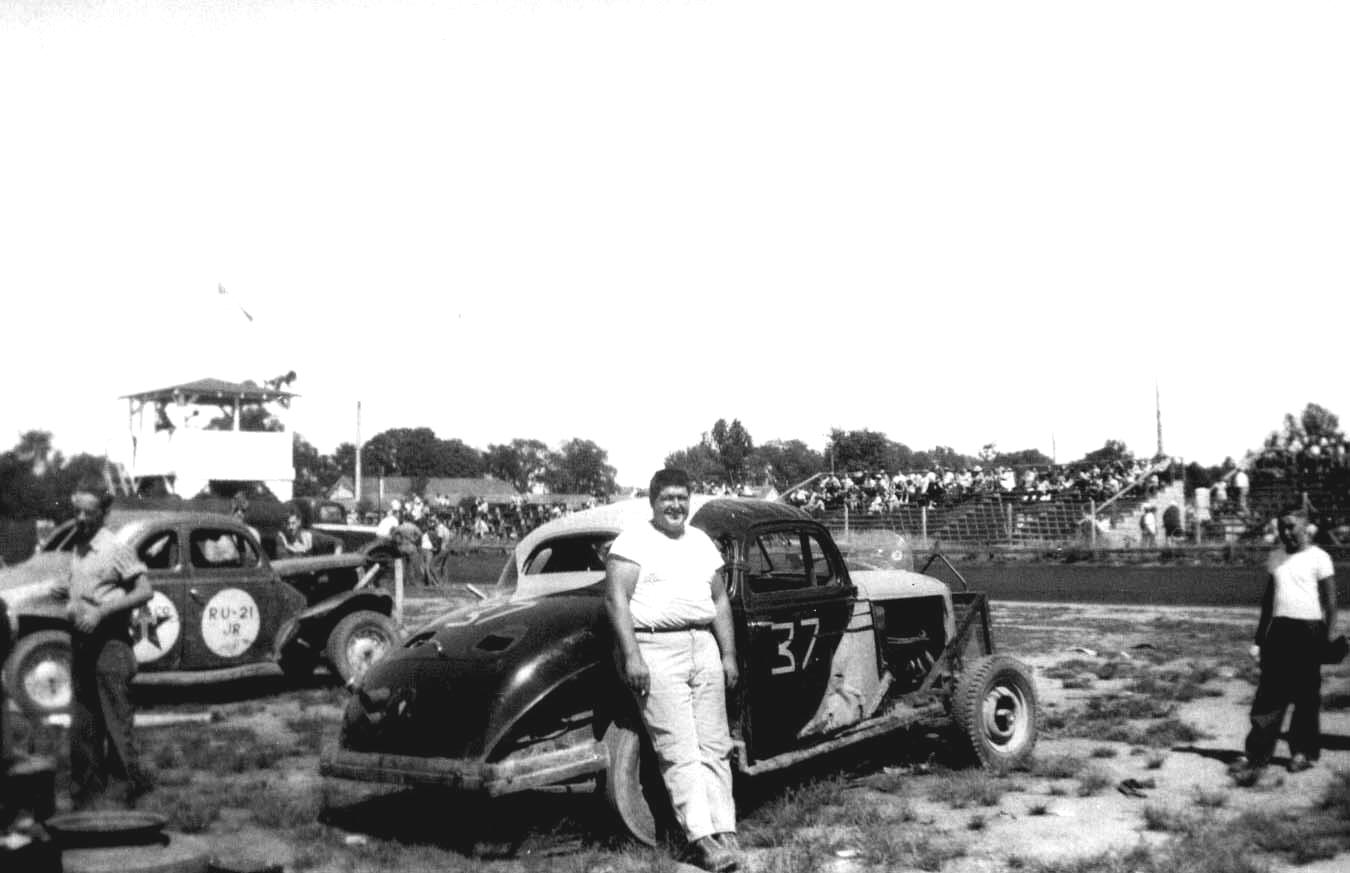 Courtesy of Mark LeFrancois
Local Fair Haven driver George Pritchard poses, with a Poestenkill, New York car, RU21,
in the background at the Fairmont Park Motor Speedway in 1951.
The track's dalliance with the new motor car racing seemed to coincide with a sort of golden age of auto racing, which included the fist Indy 500 in 1911. The rigor of running a circuit on the Fairmont venue resulted in surprisingly few fatalities, but it make for a number of frustrating losses to last – minute tire failures and other mechanical woes. Such areas on the course as the Sweet Briar turn and "the dip of death", when cars went under an actual rail road bridge, made for nervous drivers and titillated spectators.
The Vanderbilt Cup racing, the newly – growing Indianapolis 500, and later, World War I all served to bring an end to the Fairmount auto races, with the horses continuing the park's big attendance. That area of the country did not have another chance to hose big – time racing until Langhorne began staging its big races. Fairmont Park Motor Speedway in Vermont only lasted from 1949 to 1951, seemingly killed off by two factors: first, the death of unpaid Spectator Marty Vinci, hiding in the trees by the race track was too much for landowner and then – promoter, Hugh Young; second, it appeared as thought the more modern and aggressive Pico Raceway, roughly twenty – five minutes to the east near Rutland, was taking most of the drivers and crowds.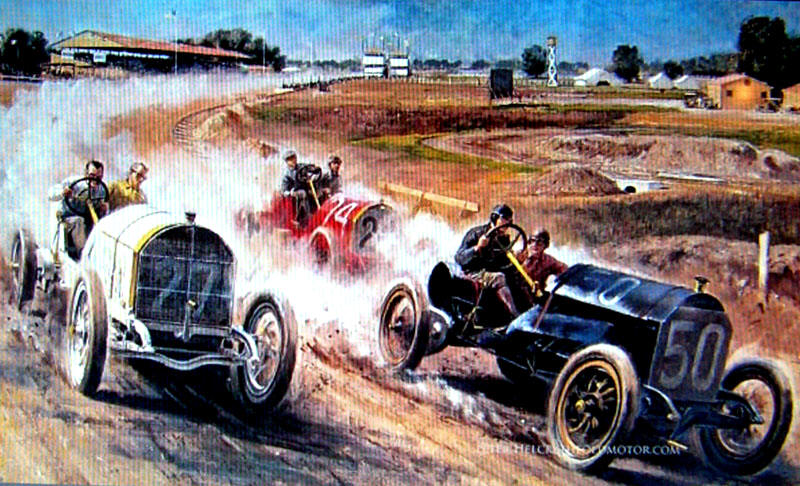 Artwork by Peter Helck
Motor car action at Fairmount Park Motor Speedway in Philadelphia.
<![if !supportLineBreakNewLine]>
<![endif]>
Despite the fact that Young was despondent, had he waited another year, Pico would fold, from not paying its bills, and Young would have had most of the Rutland County spectators and a lion's share of the racing teams. The track would re – open in 1962, with the "Park" and "Motor" dropped from its name, by a young C.J. Richards, a neighbor of Young's and whose family was likely a customer of Young's farm equipment business.
The fifties were the time when three different tracks decided they should use the familiar "Green Mountain" in their name. It is unclear which venue grabbed the name first. It is likely it was the track on Don Moore's farm, in Sheldon, Vermont, that run by Bob McKenzie and driver "Wild Wes" Menard. That track is mentioned by most of the old fellows who have survived from that "catch – as _ catch – can" era of racing. It didn't last long. Menard went into the service and the fact that insurance policies made the track move the stands to a less advantageous viewing point cost them a lot of spectators. Besides, there were near ten other tracks nearby.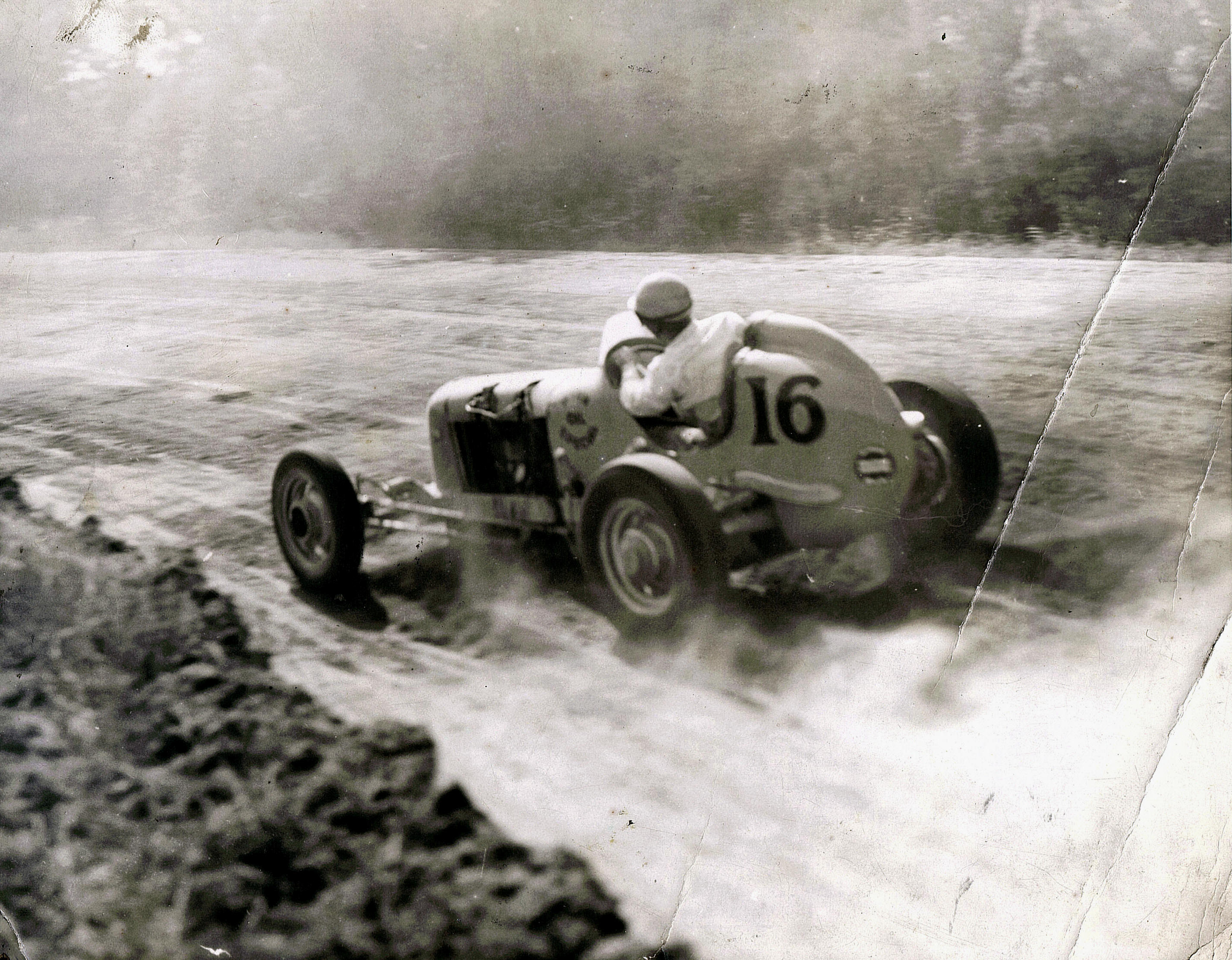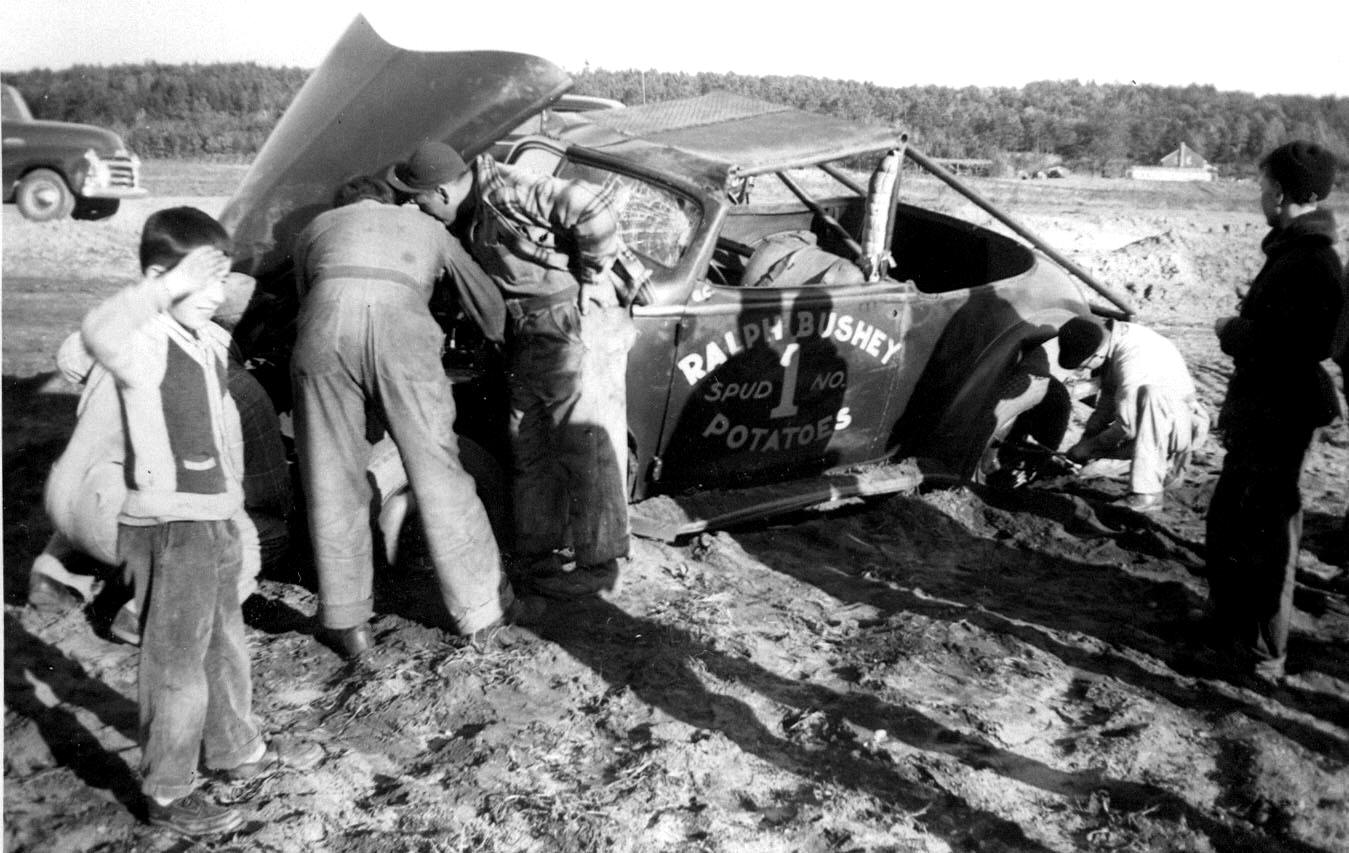 Peterson Family Photo Bushey Family Photo
Jackie Peterson powers his sprinter around the Sheldon, VT Green Mountain track in 1949. Peterson pal Gordy Owen and the Ralph Bushey crew make the most of a privatepractice session at the Colchester Green Mountain track in 1950. [Below] Tri-City hoped to use the nice Pico Raceway infrastructure to start its own Green Mountain track.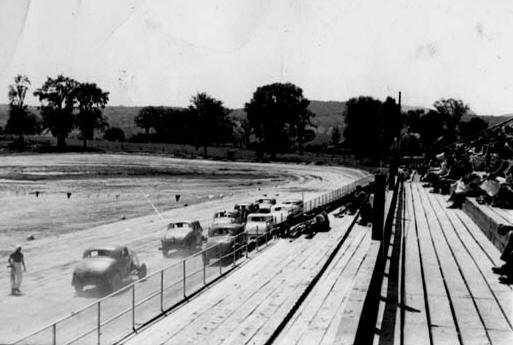 Courtesy of Jerry King
It is a tossup which of the other two tracks grabbed the name second. Harvey Moody established an crude five – eighths mile track on a sandy plot on his father – in – law's truck farm, off Williams Road, in Colchester. Unfortunately, there were four other tracks in the same town of Colchester, almost simultaneously, and Walter Barcomb's Malletts Bay Raceway seemed to be the strongest. Moody's in – law, truck farmer Sam Brigante, worried constantly and paced up and down the Williams Road until the racing was done. The track had a short life.
The third Green Mountain track had the shortest life. The Tri – City racing group that was running established tracks such as the Empire Raceway, in Menands, NY and the Stateline Speedway, near Bennington, tried taking the defunct Pico Raceway in Rutland and re –opening. However, despite claims, advertising, and strong efforts, the local racers did not want to run for unguaranteed purses, and the third Green Mountain track would only stage one, poorly – attended race, around 1955. The name then went to the horse and dog track that opened in Pownal, Vermont [which is also now closed].
INSERT:BARBER_BEARRIDGE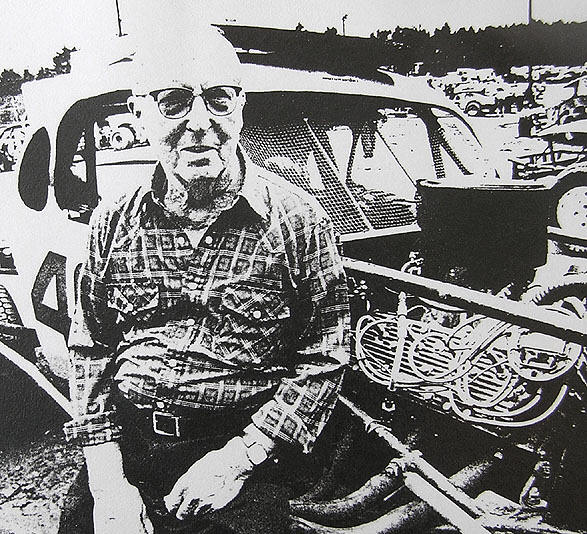 Courtesy of Cho Lee
Nobody else, before or after, used George Barber's Bear Ridge name.
Remarkable names like Catamount Stadium, in Milton, and Thunder Road International Speedbowl, in Barre, seem to have stood the test of uniqueness, as has the rustic Bradford, Vermont track Bear Ridge Speedway. One would have thought that C.J. Richards' brainchild, Devil's Bowl Speedway, which he built a few miles from the Fairmont site, would have been reasonably safe – even in the face of old tracks like Satan's Bowl of Death, and the like.
However, the Vermont D Bowl came along in 1967; and the Mesquite, Texas track of the same name was established well before that- in 1949. It is debatable, however, if even the Texas oval pre – dated a little – know track outside of Concord, Vermont. I am not sure when that track which, according to Stowe, Vermont's Ed Kaiser, was loosely named "Devil's Bowl" either in 1949 or1950. The Vermont Bowl was not much, with fans sitting on a bank looking down at an informal track in some farmer's pasture. The track can still be seen today in aerial views, but it was short – lived and would have been upstaged by the small, by reasonable sophisticated Northeastern Speedway, built in 1959 only about two miles away, as the crow flies, in Lower Waterford.
INSERT:CONCORD HERE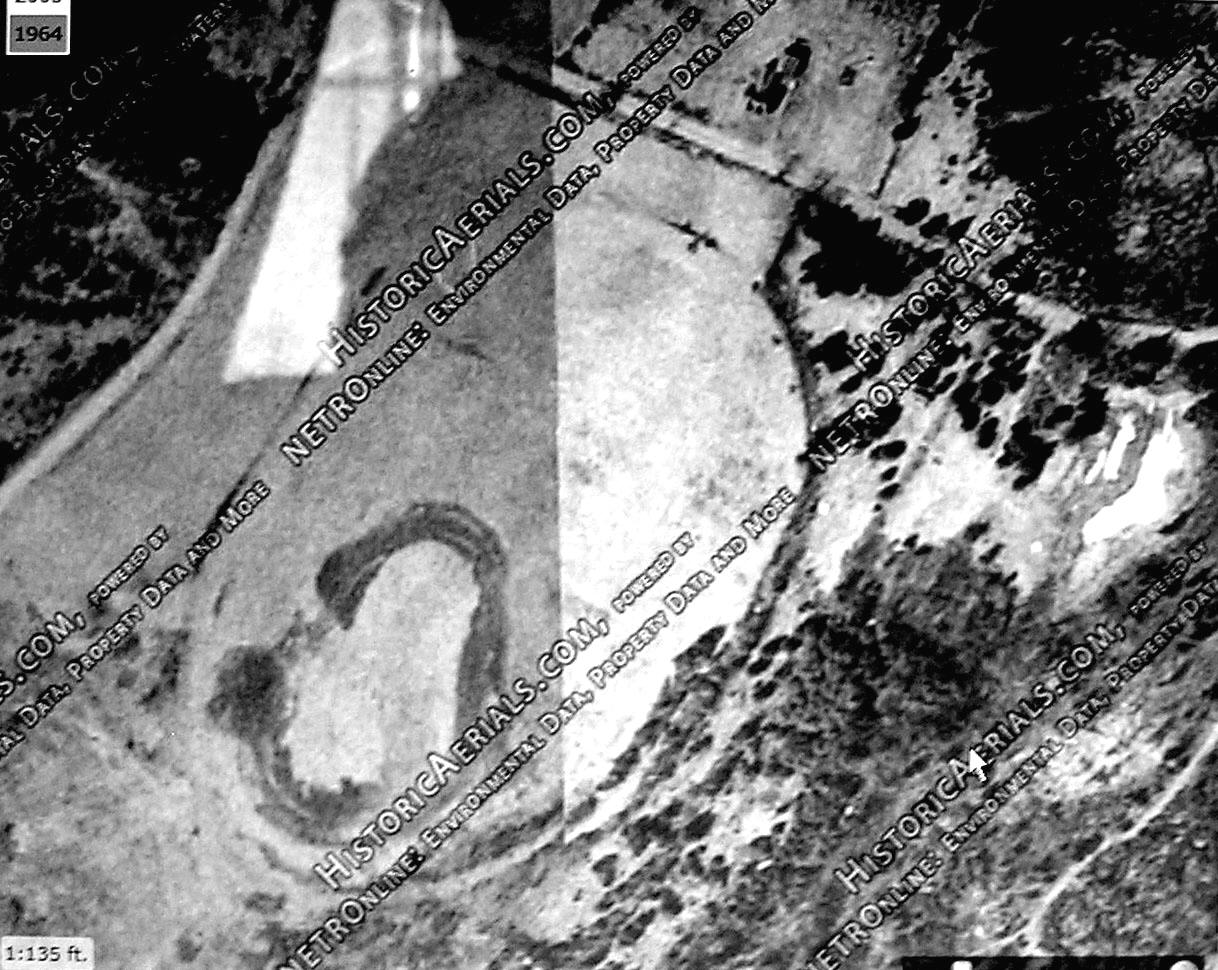 Historic Aerials. Com Photo
There are no known photos of the first Devil's Bowl, in Concord, VT; so this 1964 Historic Aerials suffices
well. Below – An early Mesquite, TX Devil's Bowl car wreck.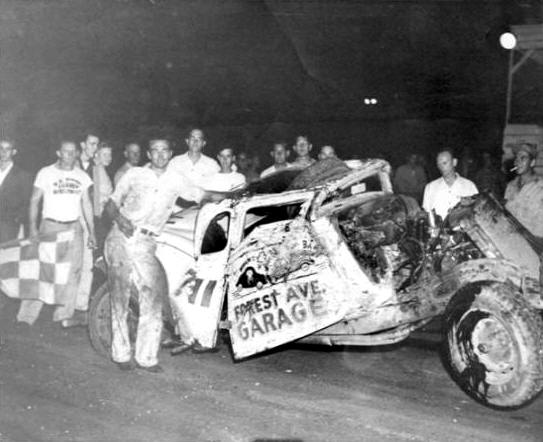 Devils Bowl Site Photo
<![if !supportLineBreakNewLine]>
<![endif]>
There are a lot of other tracks like Veterans' Park, Newport; Otter Creek Speedway, Waltham; Webster Flats, Lyndonville; Can – Am, Newport; and numerous unnamed enterprises in spots like East Montpelier, Enosburgh Falls, South Alburgh, and more. It is unlikely that there will, ever again, be tracks named Ge-Jo-Clin or anything even close. With the anti – business climate in the state, it is even more unlikely Vermont will ever get another track, period. So, we have to appreciate the names of the ghosts that lie in the woods and pastures all over the state.
Please email me at wladabou@comcast.net if you have any photos to lend me or information and corrections I could benefit from. Please do not submit anything you are not willing to allow me to use on my website - and thanks. For those who still don't like computers - my regular address is: Bill Ladabouche, 23 York Street, Swanton, Vermont 05488.
AS ALWAYS, DON'T FORGET TO CHECK OUT MY WEBSITE: www.catamountstadium.com
Return to the Main Page
Return to the Main News Page
Return to the All Link Page
Return to the Weekly Blogs Link Page