BILL'S WEEKLY COLUMN/BLOG PAGE

BILL'S BACK IN TIME
By Bill Ladabouche
SMALL, OUT – OF – THE – WAY TRACKS LIKE EXETER KEPT THE FIRE BURNING UNTIL THE OXFORDS AND CATAMOUNTS OF THE WORLD CAME ALONG

Oftentimes, today, the contemporary race fan is wither too young or has come on the scene too recently to realize that North Country stock car racing has not always been about enclosed haulers, website coverage, and large, modern, bright – lit tracks such as Airborne Speedway, in New York; Thunder Road International Speedbowl, in Vermont; New Hampshire International Speedway; or Beech Ridge Speedway, in Maine.


Richard Moody Racing Site Photo
Ben Rowe's car is serviced at Oxford Plains Speedway. Many of today's fans
think this type of facility is what racing was always about. Not !

Especially in that false boom period of the early 1950's, when race tracks came and went sometimes within a month's time, racing was begun at old fairgrounds horse tracks and in pastures with carved – out tracks and little infrastructure. With this in mind, the little – known fairgrounds track near Exeter, Maine would serve as a good example of this situation.

There were many, many stock car venues that had arisen from the taking over of active or dormant local fair horse tracks. Some, like Fairmont Park Motor Speedway near Fair Haven, VT, had little infrastructure left after years of having remained unused. Others, like the Montgomery County fairgrounds in Fonda, NY and the Cheshire County fairgrounds near Keene, NH took good existing facilities and built strong, critically – important racing venues.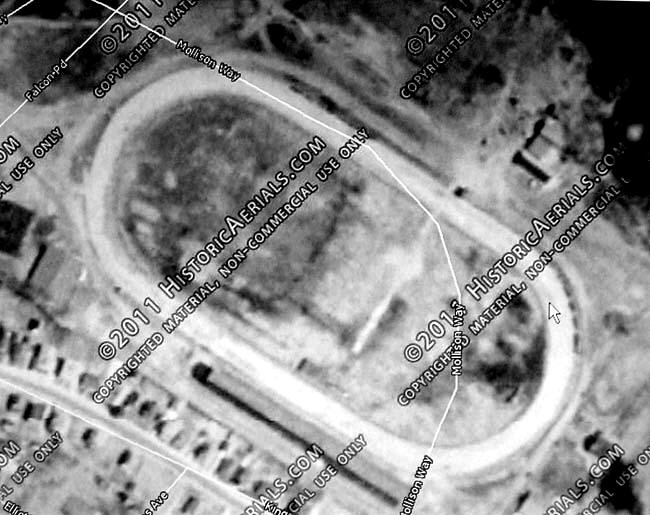 Historic Aerials. Com Photo
The Lewiston, Maine fairgrounds track, barely discernable today by satellite, was
almost certainly the first to host a stock car racing event in the state. This 1953
aerial shows the venue more clearly than recent shots.
The little fairgrounds at Exeter were sort in between. The grounds had the typical half – mile dirt horse track that was in generally usuable condition. There still existed some grandstands, and the track even had a judges' stand of sort [or tower] overlooking the track. So it was that the first owners of Exeter Speedway, did not have to launch into extensive contouring or construction in order to get their shows off the ground. A Town Of Exeter document that is on the internet has supplied almost all of the information I have for this background, although the actual author's name is not available.


Ron Clark Photo
A typical scene at early race tracks: a car unloads onto a small bank in the infield at Exeter Speedway around 1965.
Below – A modest lineup of mostly sedans prepares by the tower in the mid 1950's.
<![if !supportLineBreakNewLine]>

<![endif]>Ron Clark Photo
<![if !supportLineBreakNewLine]>
<![endif]>

The document states that the original Exeter fairgrounds were established as early as 1967, and that the grandstands and track are nearly that old. The Exeter Fair, itself, never quite recovered from being put in mothballs during World War II and – after a five – year re-opening, it closed for good in 1950. Along came the Exeter Speedway, first in the hands of the Gudroe and Wyman families of Dexter, Maine, who leased the facility for the Exeter Fair Corporation in 1952.
<![if !supportLineBreakNewLine]>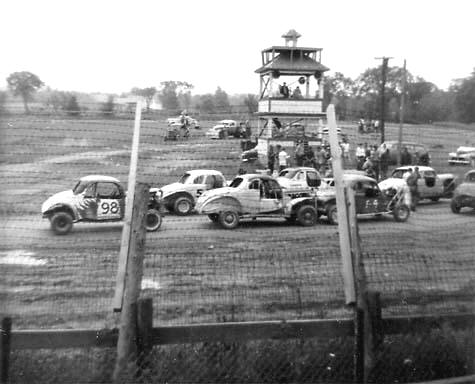 <![endif]>Ron Clark Photo
This photo shows t hat the Exeter site had decent facilities with which to stage stock car racing shows. Having an announcer's stand with a roof and an actual built – in public address system put it ahead of ¾ of its rivals. Car 98 is the legendary Blackie Hilliard. Below – Harold Pappy Wilcox was one of the early Exeter competitors.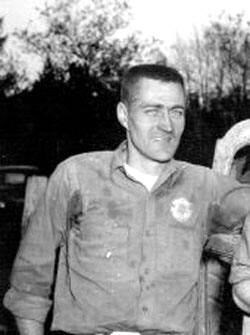 MVRCA Site Photo
During these early years in the 1950's the track apparently enjoyed at least some periods of success. Some of the top names in early Maine racing are said to have raced at Exeter. Early photos of stock car lineups on the clay surface show the likes of Maine Hall of Fame driver Manchester, Maine's Leonard "Blackie " Hilliard and his unusually – decorated coupe. Harold "Pappy" Wilcox, another Maine hall of famer, also began racing at Exeter in the early '50's, often running against Hilliard and future Oxford Plains regular Si Parlin. Late model star Dana Graves, a fixture at places like Speedway 95, also got his start on the dirt at Exeter.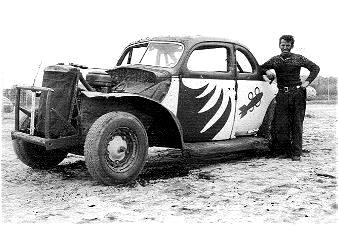 <![if !supportLineBreakNewLine]>
<![endif]>MVRCA Site Photo
Blackie Hilliard, in the prime of a short but great career in the earliest days of Maine stock car racing, and
Dana Graves [Below] in the very beginning of his career, both raced at Exeter, but probably not against each other.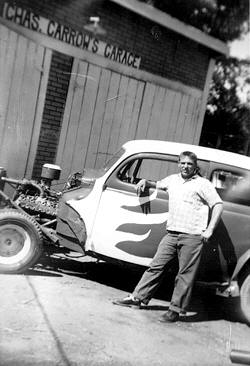 MVRCA Site Photo

In fact, it was the 1967 opening of the modern Speedway 95 in Hermon that put the last nail in the Exeter Speedway coffin. The track had run, off and on, from 1952 to that final year of 1967, going from the original ownership team of the Gudroes and Wymans; through Shirley Brooks of Corinth; and finally with the ownership group of the Wiggin and Bean families - along with Kenneth Buswell of Corinth.

The site was used a few times for snowmobile races after 1967, and there a large, 9+ hour rock concert headlining Steppenwolf held on the grounds in 1978; but, the Exeter Fairgrounds was never again the site for stock car racing. Today, the location is still visible, but is rapidly becoming overgrown. Like so many other forgotten locations all over the North Country, the Exeter Speedway came, served its purpose, and slipped away under the waves of change in the sport.


USGS Terraserver Photo
Although clear and visible in this 1990's aerial shot, the old Exeter fairgrounds track is fast
becoming overgrown and hard to find, as seen below in a 2007 view. There is evidence that
the track was shortened at least once [to the right].

Historic Aerials Website Photo
Please email me if you have any photos to lend me or information and corrections I could benefit from. Please do not submit anything you are not willing to allow me to use on my website - and thanks. Email is: wladabou@comcast.net . For those who still don't like computers - my regular address is: Bill Ladabouche, 23 York Street, Swanton, Vermont 05488.
AS ALWAYS, DON'T FORGET TO CHECK OUT MY WEBSITE
www.catamountstadium.com
Return to the Main Page
Return to the Main News Page
Return to the All Links Page
Return to the Weekly Blogs Link Page
<![if !supportLineBreakNewLine]>

<![endif]><![if !supportLineBreakNewLine]><![endif]>