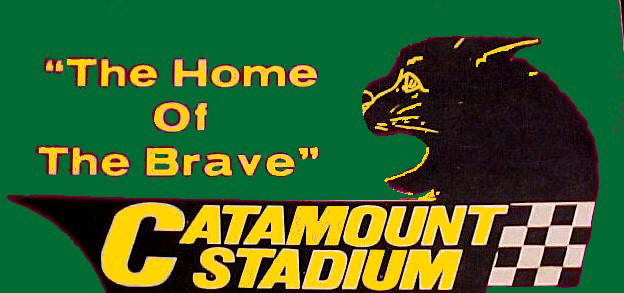 BILL'S SOMEWHAT WEEKLY BLOG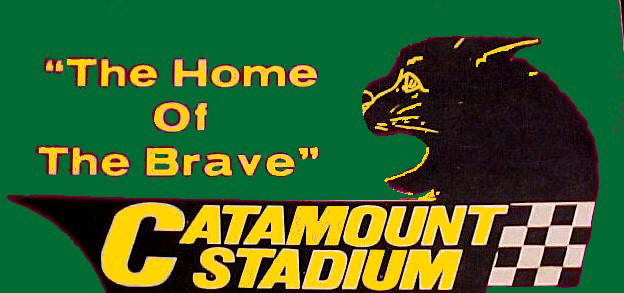 ---
Since I seem to have lost my forum, Mark Thomas' "Racin' Paper", I will apparently enter the 21st Century and start doing my column as a
blog. In certain times of the year, this may not be weekly; but I promise to keep it regular. Many of the site regulars have only been able to
get my columns via this site, anyway, and representing the very newspaper that was given out at Thunder Road gave me no press courtesies.
So, I might as well do it this way and reach some different readers. Let me know what you think. -Bill
Week of May 28, 2012

BILL'S BACK IN TIME

THE CRESCENT HILLBILLY:
ONE TEMPERAMENTAL CHARACTER
For years, I held the very mention of the Fonda Speedway in awe, as my uncle and my father would remind me that some of the best drivers I had ever seen at our local Pico Raceway, in Rutland, VT, were only a few of the big stars at that faraway track; and – THEY RACED AT NIGHT ! That was totally unheard of in our neck of the woods. Racing was occurring at sites like Mettawee Speedway, in North Granville, NY and at the unique Stateline Speedway, in North Bennington – a track that straddled the state lines of Vermont and New York.
But, alas, we were not attending races in those days. It was too far away. My family had tried Mettawee, only to have Ed Barnes swerve off the track, into the infield, shear off a power pole and interrupt a feature in which Nelson Moore and the Super 38 out of Warrensburgh were dominating the field. Then, too, they had tried Stateline, only to have it be rained out. I recall sitting hopeless in the rain [must have been before the covered grandstands] and watching them trying to run in the track in the rain. I recall one silver coupe with mud dancing on the roof.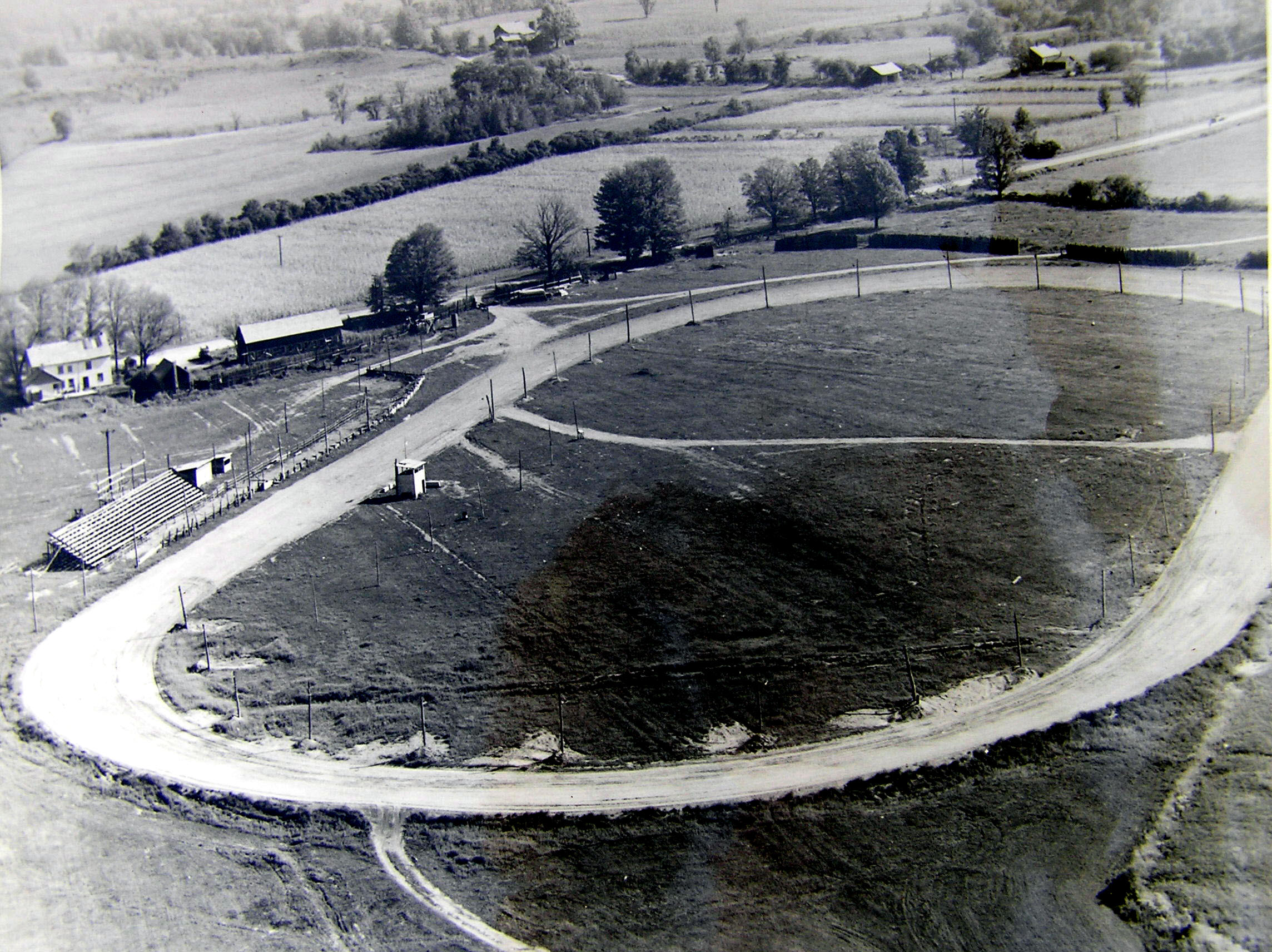 Mettawee Speedway was OK, if they could keep the power poles up.
[DeWolfe Aerial Photo Courtesy of Ray Wilson]
So it was that names like Steve Danish and Jeep Herbert became more and more legendary to me, as I never saw them race and only heard of the exploits from men who were lucky enough to attend. One afternoon, listening to Jim Haley, a family friend and regular Fonda attendee, the name Pete Corey was brought up. I didn't know the name; but Jim gruffly insisted I had watched him race at Pico. Corey apparently was running the same circuit as pals Shoemaker and Herbert, as well as the legendary Steve Danish and more.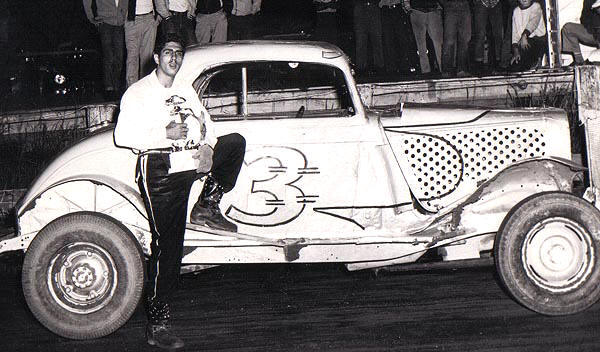 How could you not know Pete Corey ? Here, he sports his classic leg – on – the –bar pose as he had chalked up another win in the unbeatable Bob Mott 3. NASCAR would soon outlaw this car, giving Pete his first ammunition for a giant grudge.
[Courtesy of Jo Town via Otto Graham]
Finally, in the early 1960's, my uncle could stand it no more, and we took off to see races at Fonda Speedway. The wait was interminable, watching them flood the track, run over with tractor – like machinery, and then finally go around it for what seemed to be hours with what appeared to be demolition cars. For one fleeting moment, I feared these junks [from Gigi Conover's junk yard] were the Fonda cars. At last, it was time for the practice laps.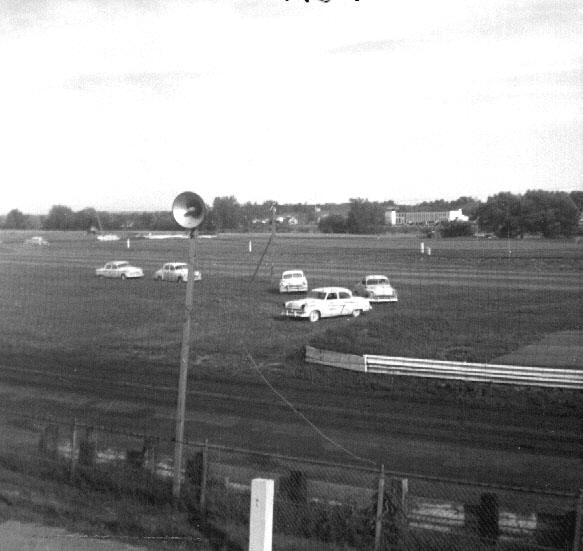 Good God ! Were these the cars ? [Ladabouche Photo]
My uncle and I were not prepared for the speed these sportsman coupes would achieve, leaving us both laughing in disbelief. The one car I remember best in those first two dizzying warmup laps was a yellow #37 coupe with a black stripe over the roof and one the sides. The car would scream into the first turn, not slow down one bit, and be thrown into a broadslide, with the driver's matching yellow helmet sticking right out the driver side window ! This turned out to be Pete Corey, in Tony Villano's car.
Corey had already had a considerable career before driving that one year for Villano. He had had a run with the Whitbecks, from nearby Canajoharie before Bob Whitbeck decided to become a track official. He had also run Bob Mott's yellow and silver #3NY until NASCAR decided to put the dominant team out of business by enforcing its rule about not allowing pre -1937 bodies. It is not clear what Corey might have been driving when he ran at Rutland.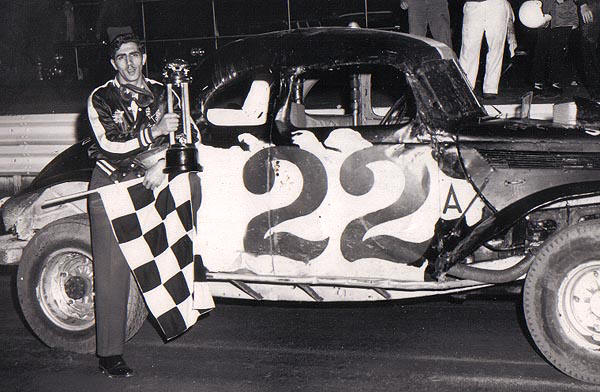 Pete, with the Bob Whitbeck 22, winning another of his fifty Fonda wins. [Source Unknown]
Pete would go on, after Mott, running a #37 coupe for A.C. Caprara, the man who owned the 37 team before Villano. Corey had run against the 37 team at Stateline, but then it was operated by Gibby Wolf and Sam Kittler. Caprara, in buying out the team, had apparently convinced Pete to come on board. It was in this Caprara 37 that Corey, on one fateful night in 1960, took his derring – do a little too far and lodged the yellow coupe into the board wall at Fonda.
One of the heavy planks had come into the car and pinned Corey's leg. The rescue crews – none too trained in those days – struggled and hesitated, not knowing what to do for the swashbuckling, handsome driver from Crescent, NY. Finally, in true Corey form, he yelled out for a cutting torch and cut himself out of the predicament. He would end up losing the leg.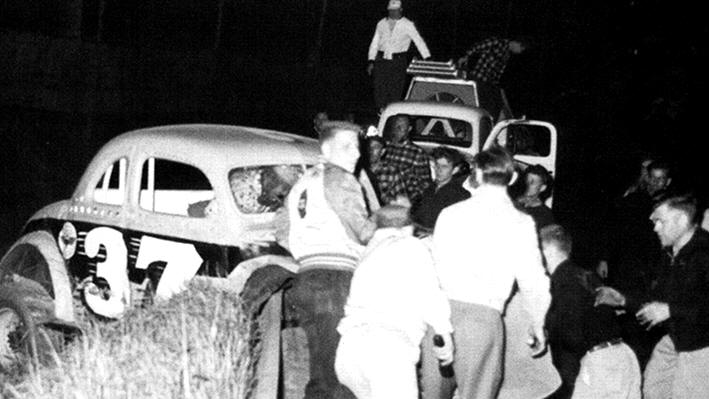 This dramatic shot shows helpless track crews watching as Corey, still wearing his Cromwell helmet, is cutting himself out of the car. That might be owner, Bob Mott looking away, and Chet Hames, in white, in the background. [Ed Fuez Collection]
From that point on, Corey's numerous Victory Lane photos were different from those jaunty poses, with one leg placed up on the rub rail. Most shots of Corey show him half – sitting on the fender or wheel of the race car – definitely leaning against it in some way. He had installed partial hand controls in his cars, from that point on, and he never let the injury slow him down.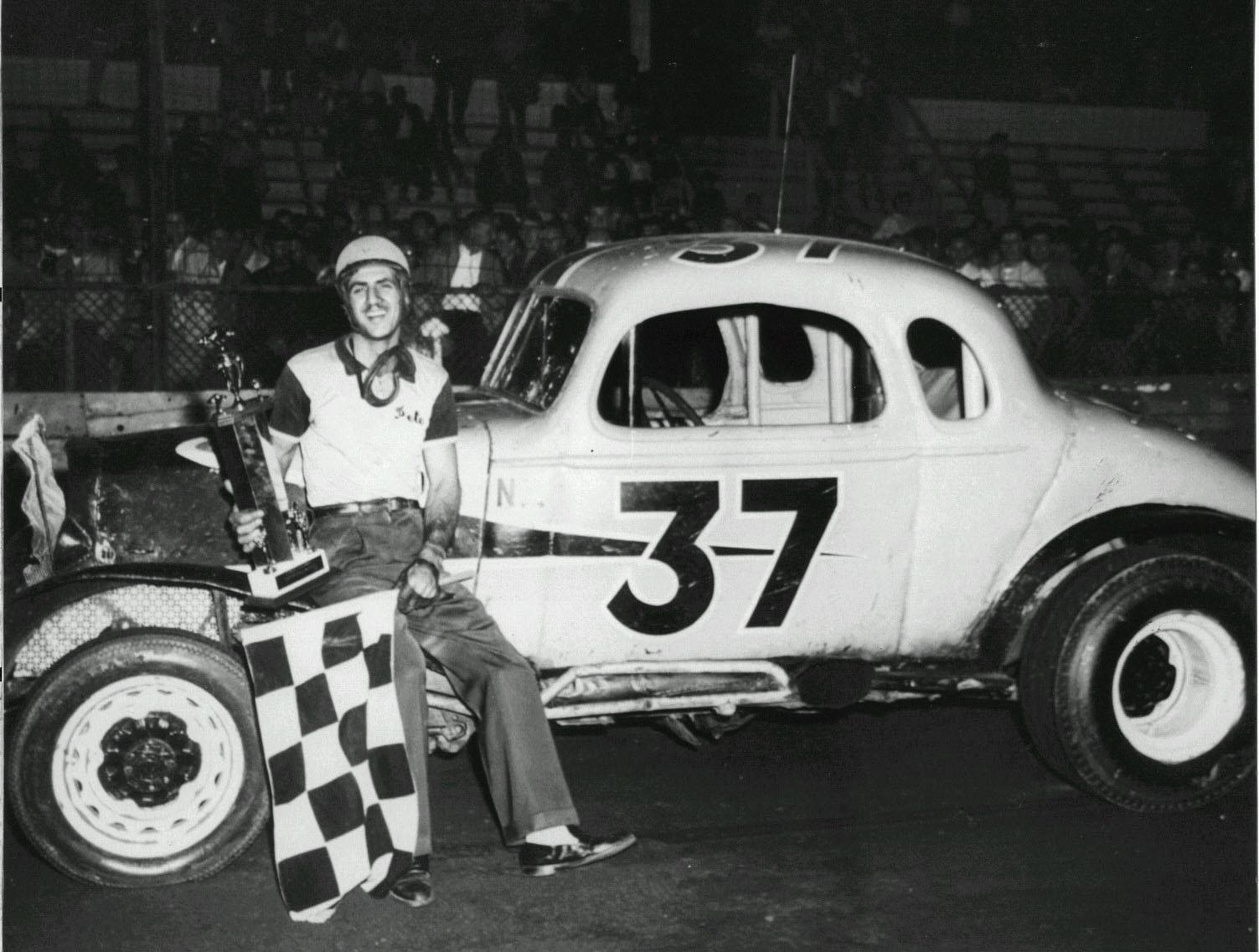 From the injury on, the classic Corey pose would involve sitting or leaning against the car. Here, he has gotten another
win in the Tony Villano version of the 37. [Russ Bergh Photo, Ladabouche Collection]
After A.C. Caprara had sold out to Villano, Corey drove the 37 to a successful year at Fonda, Victoria, and some other tracks in the region. He then went on to the short – lived but highly successful Chris Drellos team, operating out of Smith's Basin, near Hudson Falls. Drellos, having bought out Henry Caputo's red and white coupes, had enjoyed great success with lead driver, Ken shoemaker, while having considerable problems with the second car – which had been alternately driven by Paul Marshall, Jeep Herbert, and others.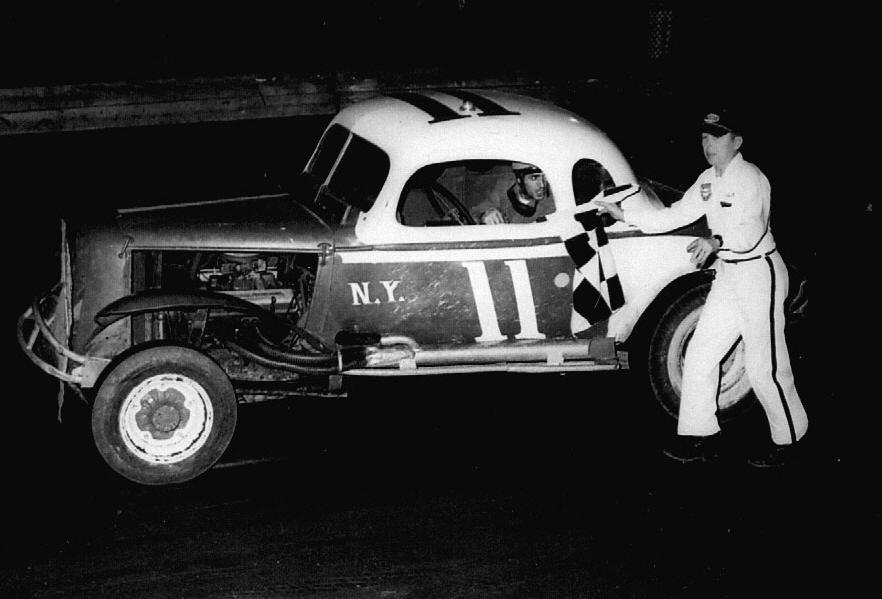 Pete never missed a beat switching over to the Chris Drellos team. Here, he hands checkers back to Chet
Hames after a heat win around 1965. [Ladabouche Collection]
Drellos fielded a new car for Corey around 1963, designating it as #11 to go with Shoemaker's tradition #111. Corey flew with the car everywhere they went – and that ranged from the familiar Fonda – area tracks to down south, into Stafford Springs, Connecticut and other further – flung venues. Drellos fell ill and got of the sport the next year. Corey then went back to preparing his own cars.
He came back with a bang, having constructed the ground – breaking Falcon in either 1964 or 1965. He had two, in the course of that season, with friend, Irv Taylor building his own. Soon after, Corey came out with a Studebaker – bodied modified, which tore Fonda competition apart during the early season, when the track was wet and heavy. As the summer progressed, and track conditions became drier and harder, the big car became a liability and Pete found himself more in the way than competitive. In true Corey fashion, he cut the car up and fitted out the old Falcon chassis with a traditional 1937 Chevy body. That took all his considerable body skills to fit the Chevy and make it look like it look like it belonged on that frame.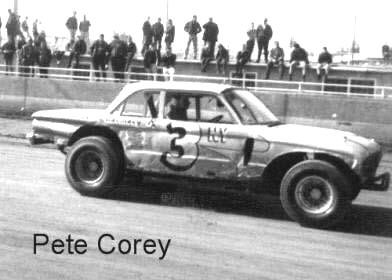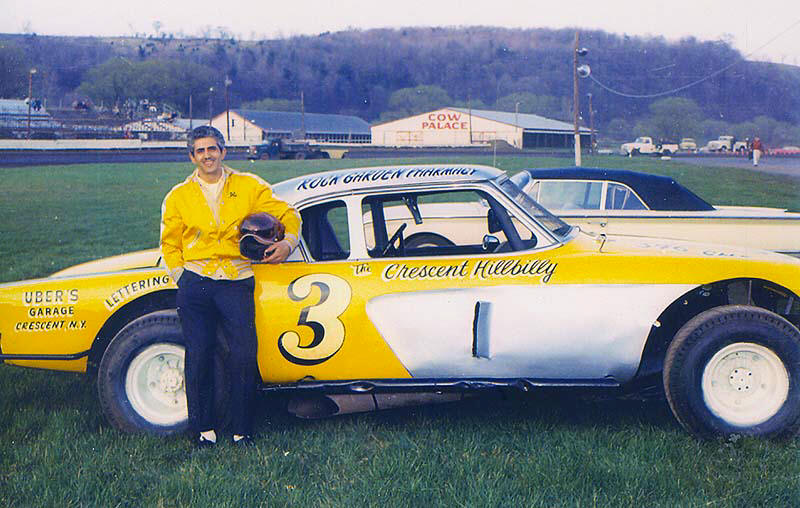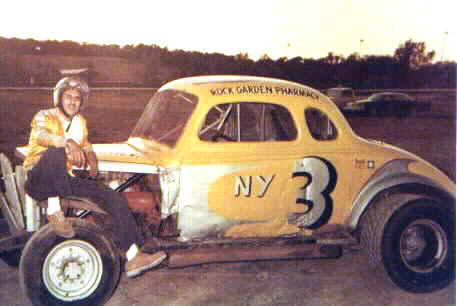 The next part of Corey's career involved his own cars: the famous Falcon, the Studebaker, and the coupe
that was made to fit in the Falcon frame. [Ladabouche Collection and Arnie Ainsworth Photos]
The Studebaker had been the first of the Corey cars to sport the moniker "The Crescent Hillbilly" on the door. Corey, who had always been close friends with Ken Shoemaker, had apparently exasperated his friend during some race, and Shoemaker had referred to him angrily as "that damned Crescent Hillbilly", referring to where Corey had settled down to live and run his body shop business. So much was Pete identified by that nickname, that – in 1968 – when the late model division came to Fonda, Burtonville's Bill Russell bought Ed Brockett's Studebaker semi late model and painted on it,
The Burtonville Hillbilly".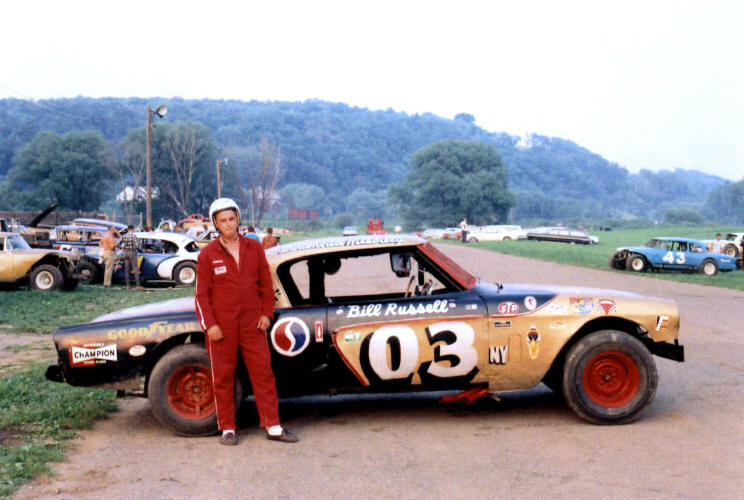 The Burtonville Hillbilly. [John Grady Photo]
By the latter part of the 1960's, Corey and his dependable assistant, driver Eddie Pieniazek, were producing beautiful modified coupes, one for each [with Irv Taylor driving occasionally]. Later, selling one coupe to Chet Doaner at Devil's Bowl, Corey left the other for Pieniazek while building one of the most beautiful Mustangs you'd ever hope to see on a stock car track. He had made occasional visits with his cars, to Vermont, and Doaner had seen the 1NY perform at the Bowl. He replaced Corey fuel – injected modified engine with a 358 and proceeded to compete against rival Eddie Allen, who had picked up a Charland car.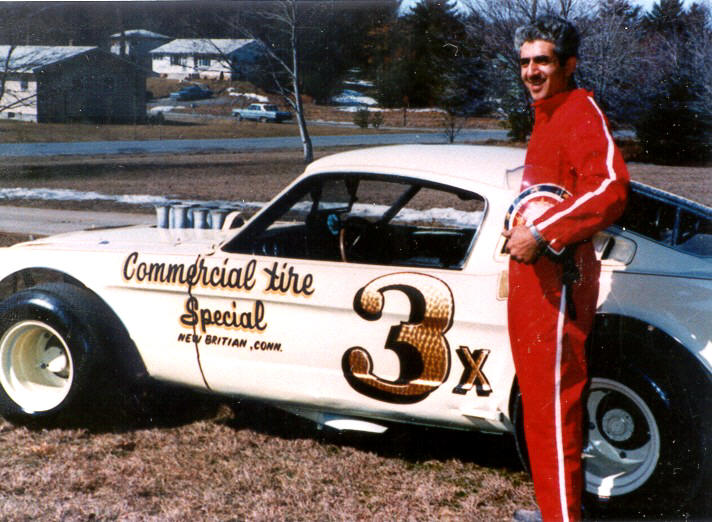 As the gray is creeping into his hair, Pete poses at home with the beautiful Mustang fuel - injected
modified he ran at the end of his career. [Ladabouche Collection]
The Mustang carried Corey through most of the rest of his career. He ran it with his customary Commercial Tire Corporation sponsorship for a season or two before painting it an un-Corey-like red and taking on a Schmidt's Beer sponsorship around 1971. He had also spent some time running a Lebanon Valley, the archrival of Fonda. Corey had some bitter disagreements with some scoring decisions that had been made at The Track of Champions, and – being the testy individual he could be – had left in a huff.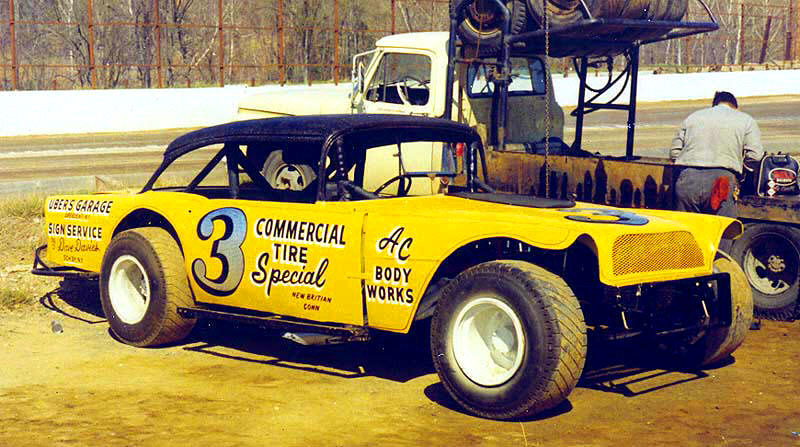 The Valley modified was beautiful [Arnie Ainsworth Photo] but seldom stayed that way, as seen below.
[Fonda History Book Photo]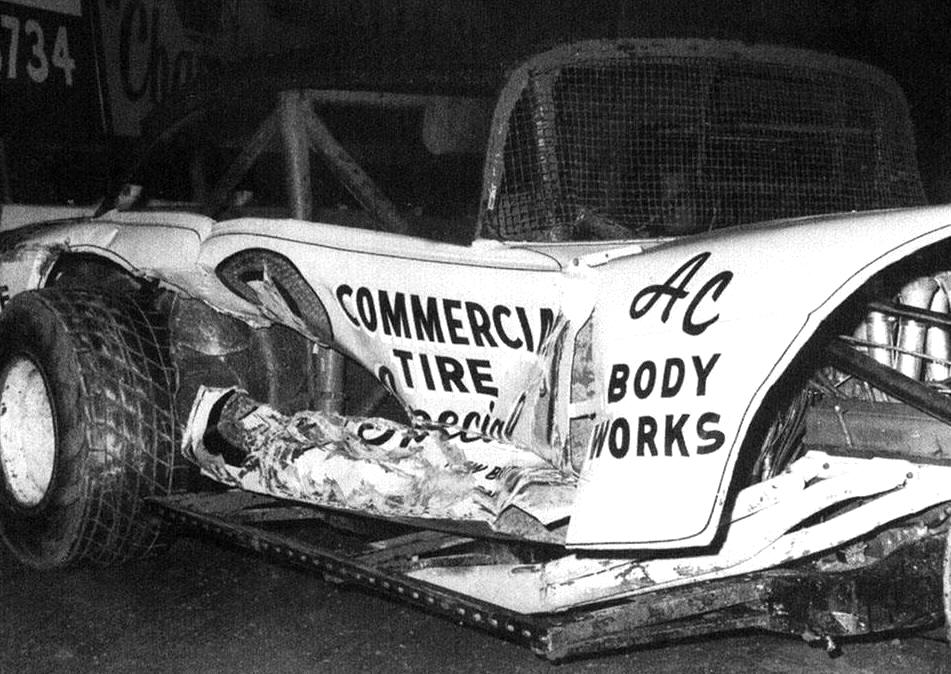 Running at the Valley meant building a late model – bodied modified, and he constructed a traditional yellow 3NY 1955 Chevy. The Fonda history book describes the Valley period as a bad one for Pete. The Valley regulars did not want him there. They were already putting up with ex – Fonda drivers Bill Wimble, Jack Farquhar, and Jerry Townley. Many Valley regulars had a bad history with Corey from the early days of racing around the Capitol District of New York, and – most weeks – Corey towed back to Crescent all wrecked up.
After sitting out the sport for a brief while, Corey returned to Fonda in the early 1970's to drive a car for Malta's Jerry Rose. Corey had already had some bad blood with the New York track he used to call home. Then he experienced another scoring decision with which he disagreed vehemently. This time, he quit the sport for good – from point on refusing to even discuss the sport. Rose put his friend, Pieniazek in the coupe and went asphalt racing.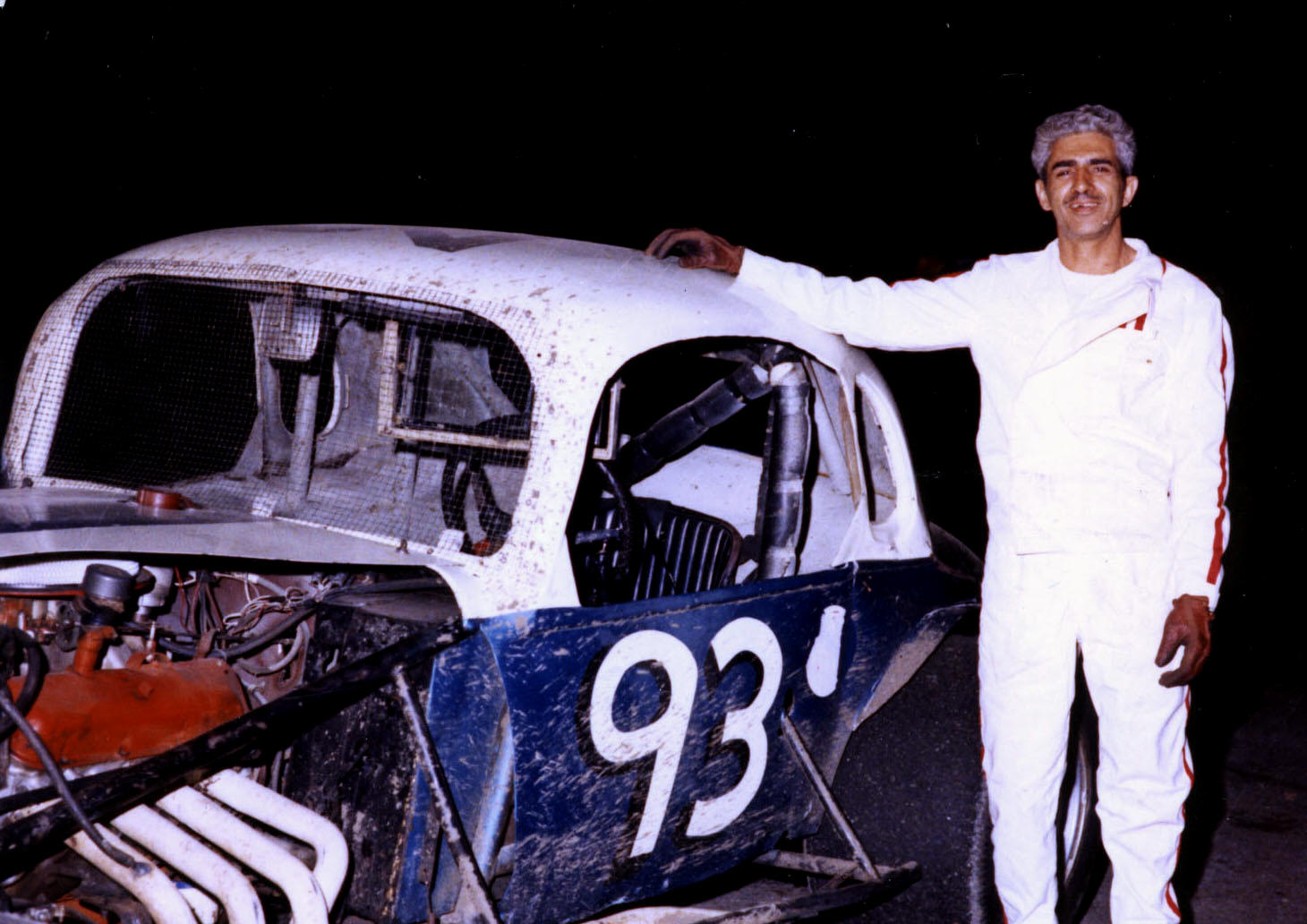 Pete, with the Jerry Rose 93 when it was still running on dirt. [Grady photo]
Corey spent some time hunting and doing other pursuits, but his health was declining. It was believed he had cancer – perhaps from the ever – present cigarettes he was seen with all those years. If an admiring fan happened to run into Corey anywhere in those days and attempted to approach him about his career, he was most often snapped at and was told to leave Corey "the hell alone'. Towards the very end, Pete was lodged in a hunting camp in northern Canada, and he happened to be sharing the camp with fellow racing legend, Harmon "Beaver" Dragon, from Vermont. Dragon has said that – even then – Corey would not discuss racing with him.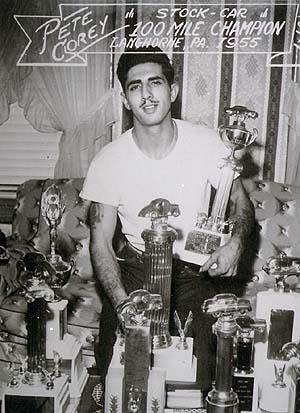 Pete, in a rare moment of letting someone invade his privacy, showing trophies from races like the prestigious Langhorne victory. [Courtesy of John Grady]
We have since lost the Crescent Hillbilly. I still think of all those chintzy yellow and black racing jackets I would see parading around the spectator area at Fonda. Most racing jackets then were kind of tacky, but – no matter what condition they were in – the wearers sported them with pride. That was a bit like Pete , himself, No matter how crusty and unapproachable he could be, the admiration and the fan following never wavered. People either loved him or hated him.
Probably the quintessential scene for Corey would have been once, right after the Studebaker had been replaced with that odd – looking coupe. Most of the cars in the pits had been called out to run in the Fonda track after a brief shower had goofed up their always – impeccable track prep. When Corey's new coupe went by the stands on the trailer, a voice rang out "Put 'im in the river !" ,which was Fonda talk referring to the fact that the Mohawk Canal was only scant feet away from the backstretch. Another voice, from further up in the stands answered "Your f-----g car couldn't go fast enough to push him there !"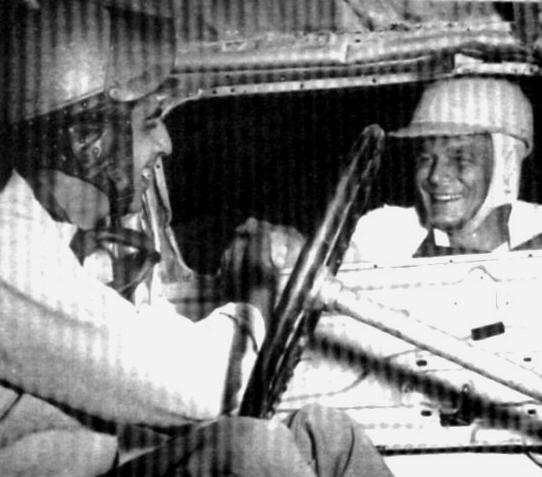 One of my favorite Corey shots – with pal, Jeep Herbert, in the early days. [John Grady Collection]
Please email me if you have any photos to lend me or information and corrections I could benefit from. Please do not submit anything you are not willing to allow me to use on my website - and thanks. Email is: wladabou@comcast.net . For those who still don't like computers - my regular address is: Bill Ladabouche, 23 York Street, Swanton, Vermont 05488.
Return to the Main Page
Return to the Main News Page
Return to the All Links Page
Return to the Weekly Blog Links Page