THE BILL'S BACK IN TIME COLUMN PAGE
Copies of my column in Mark Thomas' "Racin' Paper"
BILL'S BACK IN TIME
By Bill Ladabouche
Site Column #53 from My Column 68
THE RIDGE RUNNERS OF OAK HILL, NEW YORK
During that most exciting and rare glimpse into stock car racing – the 1960 Rutland Fair race staged by the management of the Lebanon Valley Speedway, one of the names I remember was that of Johnny Flach. Now I remember it so well because of the reference made by Uncle Art Stuart, the Valley announcer, about the "Ridge Runner Racing Team" It's a name that would strike the fancy of a young race fan in those days. I also liked the blue light on a pole that Flach had on his roof.
What I came to find out [although I have very little direct information on this topic] was that the Ridge Runners were out of Oak Hills, New York and I came to guess that the garage was probably located on a ridge in that township. The patriarch of the team was an extremely likeable man named Fred Searing. Fred and group raced at the Valley, and – apparently – at some other New York tracks such as the Pine Bowl,. the Morris fairgrounds and tracks of that nature.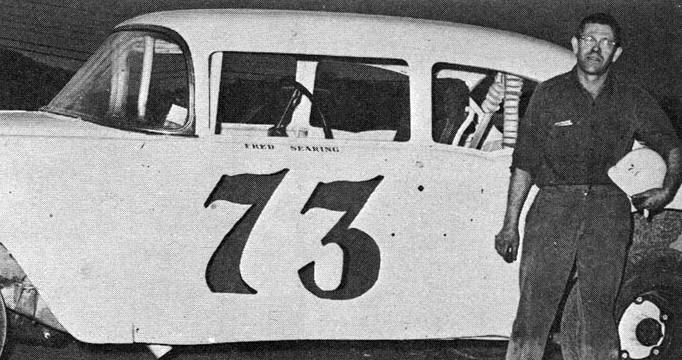 Fred Searing, the driving force behind the Ridge Runner Racing Team, with his Lebanon Valley late model.
[Cavalcade of Racing Photo]
In the Spring of 1962, news began to circulate that the old Fairmont Speedway, in Fair Haven, Vermont was going to be re – opened. In the Rutland County area, we had not seen decent racing of any kind since the demise of the Pico Raceway in 1962. True, we had Stateline Speedway down in Bennington, and Mettawee Speedway over in Granville, New York; but, if you couldn't get rides, they were too far away. Then, a Rutland Herald photo appeared in which it was announced that Johnny Flach would be appearing at Fairmont's first show.
As it turned out, Flach never showed for the first race but – no matter – because I always tried to keep track of the team after that. Flach, of course went on to a Valley title in 1962. Flach first appears in the Valley win list in 1959. By 1960 he finished 7th in the points, and – by 1961 – he was up to 5th. Searing apparently continued to run , as well, but Flach was the team's headliner. Flach appears in a 1962 photo with two young crewmen, who I believe to be a young Louie Searing and, most likely, an equally young Stan Wetmore.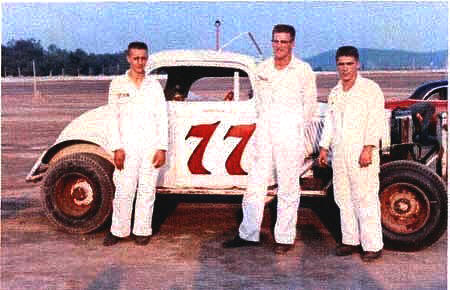 Flach and the young Ridge Runner crew at the Valley around 1962. To Flach's left is
probably Stan Wetmore, and Louie Searing is at right. [Arnie Ainsworth Photo]
The Flach name does not appear in Valley stats after 1962, which is maybe why he blew off the Fairmont opener. By this time, Searing was being joined behind the wheel by son. Louie, and by the team's next star, Stan Wetmore. Wetmore seems to have inherited the team's #77 car from Flach, while Louis adopted the number 27. The cars were extremely similar. We start to see references to Harold Montayne in a #73 by 1965, but it is not clear whether this is an Oak Hill car or just the same number. Around that time, Mert Hulbert, who was from that town, was appearing [and very successfully] with a Ridge Runner sportsman coupe at Fairmont. Hulbert would parlay that successful start with Searing into his Devils Bowl – title winning run with the Daniels/Champlain Construction #78 a few years later.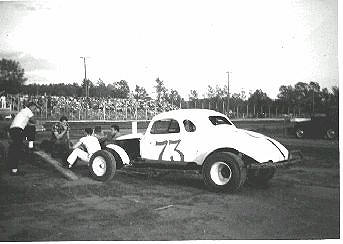 Mert Hulbert, seated on the front bumper, was an instant success at Fairmont and then Devils Bowl.
[Ladabouche Photo]
During the 1964 Fairmont season, the Louie Searing 27 made several visits to the track. Wetmore came less often, but he had a couple of impressive finishes. The popular Louie made a good enough impression on C. J. Richards to be one of the cars on the front cover of the CVRA calendar that year. After that time, I tend to lose track of the team. It hadn't appeared in the top finishing results at the Valley since the departure of Flach. Obviously, at least up to 1965, there was a team.
Arnie Ainsworth has a few shots of Wetmore and Louie Searing, later on into the end of the 1960's and the early 1970's, but not much more is known by me about how they fared. The great little 73 sportsman disappeared from our area as Mert Hulbert went on, first to the Daniels 78 team and later with Bruce Carmen's potent #23's. Louie stopped coming to Vermont, and we only heard of Wetmore in Lebanon Valley news. I have one photo of what I believe to be Fred Searing's old 1955 Chevy late model, with some guy named Barry posing with it – but I have no idea who or where.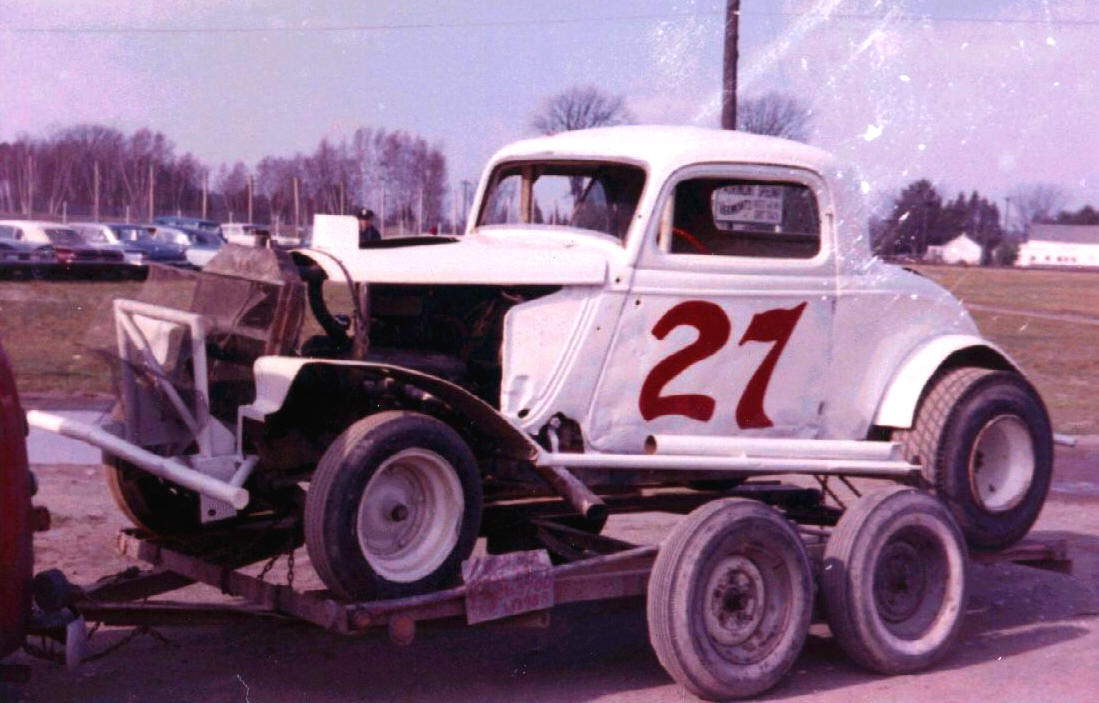 Louie stopped showing up at Fairmont by 1966. I missed his traditional little coupe.
[Photographer Unknown]
No matter where the team went after the mid 1960's, Fred Searing certainly did his part to maintain racing in his own time and further the sport in the years after he no longer raced. It appears that he was a racing father to at least five young drivers, some of whom became extremely successful in the sport. Just being known as a popular and pleasant figure in a sport which had many guys who were not – is a great tribute to Fred. Names like Keith Flach now carry on that tradition. Probably, there are young descendents of Fred, Himself, driving too – but I just don't know a lot of the new names. The Ridge Runner Racing Team of Oak Hill, New York richly deserves its place in the history of the sport.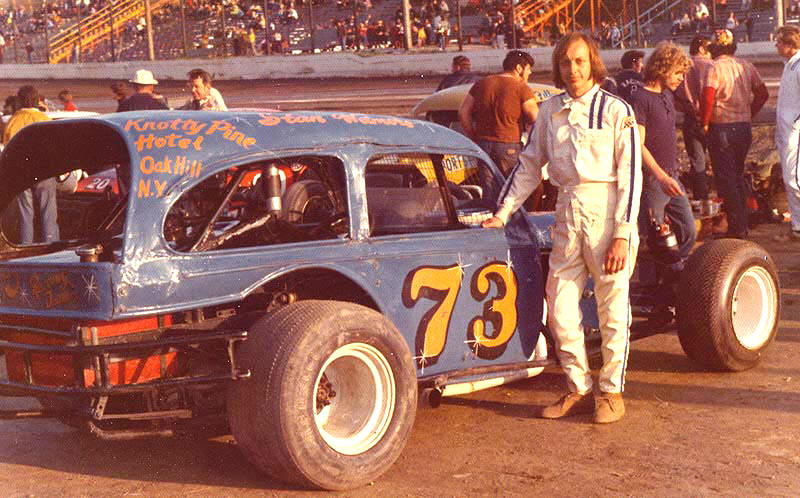 Stan Wetmore poses for a shot with a sedan – type sportsman popular at the end of the 1960's.
[Arnie Ainsworth Photo]
Having finished with the Ridge Runner photos, I happened across a photo of one of the snazziest cars to ever grace the racing surface at Catamount Stadium- the #51 VT of St; Johnsbury's George Horn. George started out, from what I can determine in that strange late model division that grew up out of Northeastern Speedway and then Thunder Road, right around 1960. Horn had a big old Dodge Coronet Mopar with the number 95 on the side. The car, still sporting its antenna and original factory paint, was nothing like the manicured beauties Horn would drive later.
George poses with the questionable – looking Coronet – at Northeastern - , right about 1960. Nice antenna.
[McIver Photo Courtesy of Cho Lee]
Soon after that experience, Horn branched out of his local area with a modified coupe. I recall seeing him make an appearance at Devils Bowl, although he apparently ran it on asphalt, as well, at places like Malta. I remember thinking that St. Johnsbury was a very unlikely place for a Devil's Bowl driver to come from. I have no information on how successful George was with the coupe. By 1970, he was showing up at Catamount with the famous 409.
The 409 was a 1961 Chevrolet limited sportsman. Horn was the only one to attempt running the huge GM powerplant at Catamount, as far as I can ascertain. He captured the attention of the fans with the roaring monster, but the car blew up as often as it won anything. Soon thereafter, the 409 was gone in favor of a nice Chevelle with a normal – sized engine. Horn was an occasional feature winner in his earlier days with the Northern NASCAR circuit.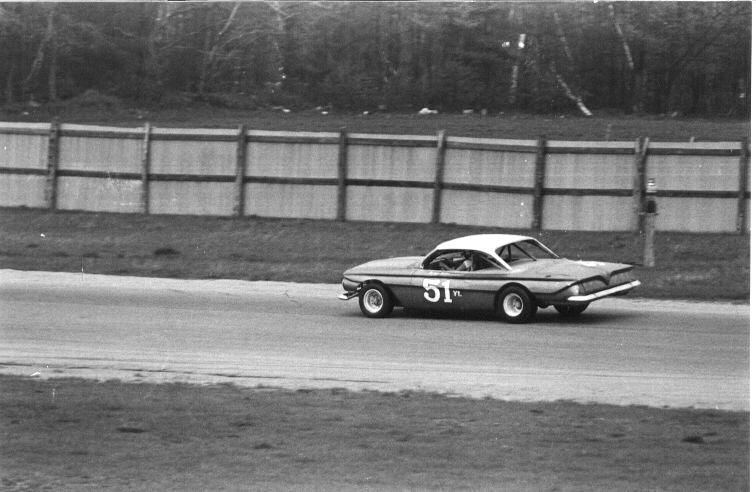 George puts the 409 through its paces at Catamount. [Photographer Unknown]
The Chevelle was one of the nicer – looking cars Catamount ever had. Horn had a running battle going with another #51, the 51NH of Ed Pelletier and Doug Falzarano. The 51NH was driven by Russell Ingerson, who had little time spent at Northeastern and, therefore, wasn't a particular big rival of Horn's. But, their cars were certainly in a race for best – looking awards. Horn had some success with the light purple version of the Blake and Loso Chevelle; but, he was never consistent at showing up on a weekly basis.
By the mid 1970's, the Chevelle was still sponsored by Blake and Loso; but, Horn had done away with much of the fancier body work and had gone to a more basic red and black scheme. Soon after, I wasn't seeing George around much more. The car ended up in the hands of his former rival, Russ Ingerson, who had it re-numbered as 72. Ingerson never had much luck with the car and – as the trend on the circuit went to the Novas, it just died out.

Horn, with the great – looking Chevelle he debuted in the early 1970's.
It had that unique Horn color scheme. [Courtesy of Rich Palmer]
After the Chevelle era, I am not sure what George Horn did. If he raced anywhere, I am not aware of it. He will always have a niche in the memories of racing fans in the northern Vermont area, primarily because of that 1961, 409 – powered Chevy. And I must say, I can't recall of anyone else coming out with that particular brand of purple he used either. Horn's career spanned junkers, to high – powered modifieds, to the sophisticated NASCAR late model sportsman cars. I guess, even if he never set foot in another car, he had the full experience. He can say he did it pretty darned well, too.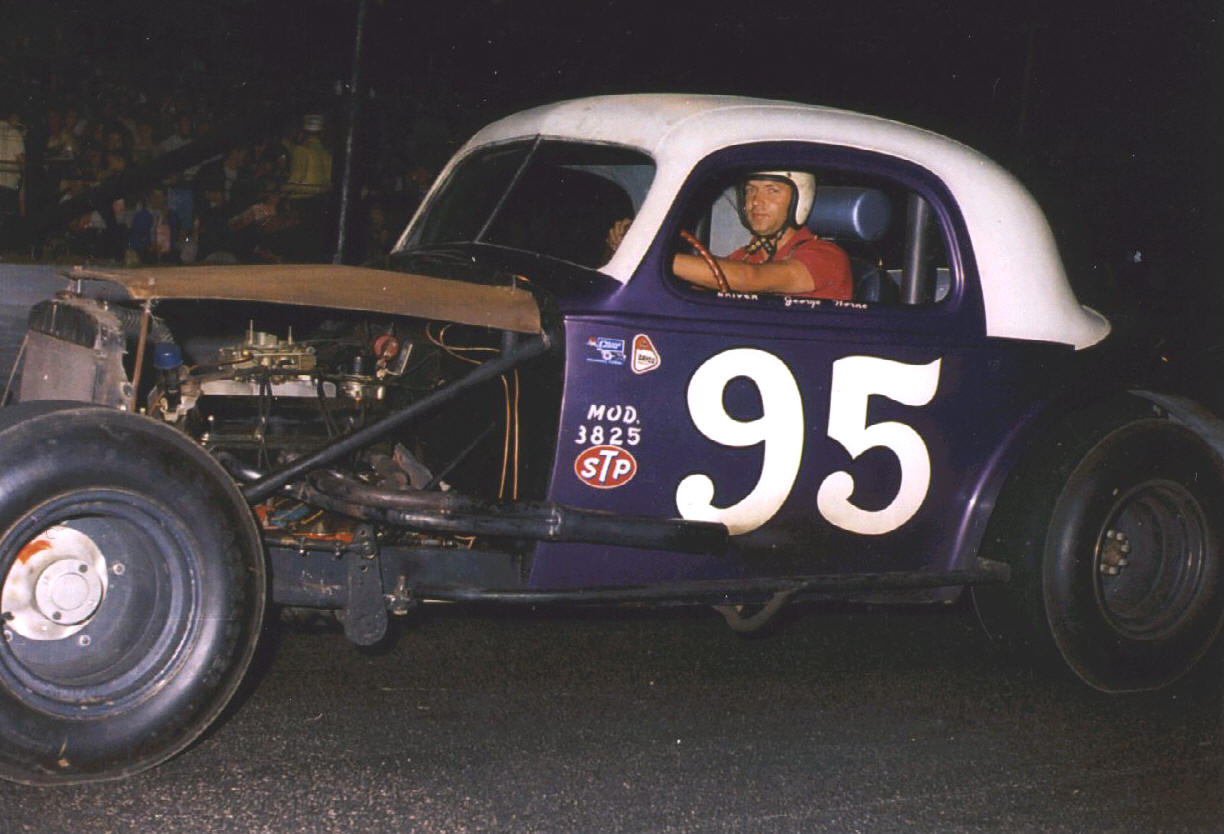 George poses in the coupe, probably at either Malta or Catamount. [John Grady Photo]
Return to the Main Page
Return to the Main News Page
Return to the Columns Link Page
Return to the All Links Page