BILL'S [Somewhat] WEEKLY COLUMN/BLOG PAGE

BILL'S BACK IN TIME
By Bill Ladabouche
THE RISE AND FALL OF THE GRAND AMERICANS
The National Association for Stock Car Auto Racing has never been afraid to try divisions that would support, but not impinge upon its lead class - now called the Sprint Cup. Back when the group started running its Grand National division, stealing the name from a horse racing series, it has had other, lesser divisions such as the Short Track division, Busch Grand National [after the lead series became Winston Cup], the convertible division, and more.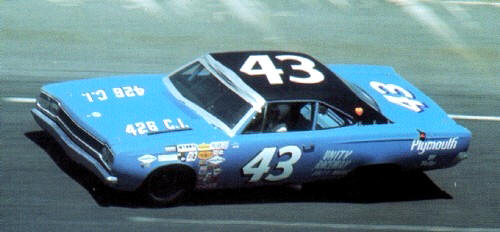 MVRCA Photo
The Grand Nationals, while the headliners of NASCAR were dominated by
a small cadre of well – financed teams like Richard Petty's. Below - The short track division had been one of the support classes
within NASCAR's big leagues. Here, multi – time short track champion Jim Reed wins in a Hudson Hornet.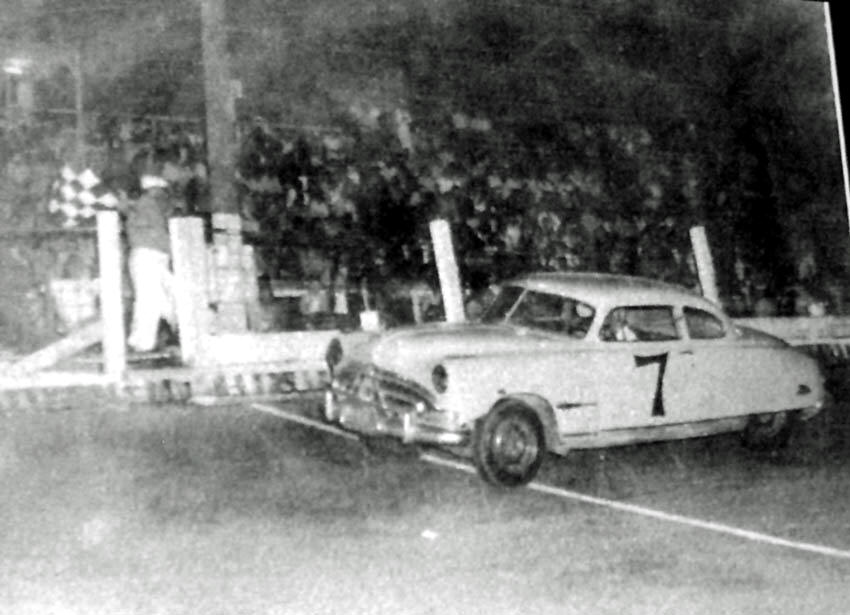 Courtesy of Ken Parrotte


There had been another class, a knockoff of the NASCAR Grand Nationals, called The Grand American division. It was part of Harvey Tattersall's United Stock Car Racing Club out of Southern New England and – while a pretty good idea, it never achieved very great fields. The fastidious Tattersall sought out his stock car regulars to drive these cars, mostly older late model cars than those of NASCAR's premier class.
Tattersall's show would have the likes of Danny Gallulo. Bill Greco, Dick Dixon, Buddy Krebs, and many other major modified stars driving late models against a few Grand American regulars Such as Roy Hallquist, the division's biggest name, Mal Delameter, and former open wheel driver Bob Devine. I saw this class run at the Vermont State Fair in the early '60's; it was not a great show in view of the fact that the old horse track was not safe for large, speeding cars and that there were precious few quality cars in the field. It died out in the decade of the '60's.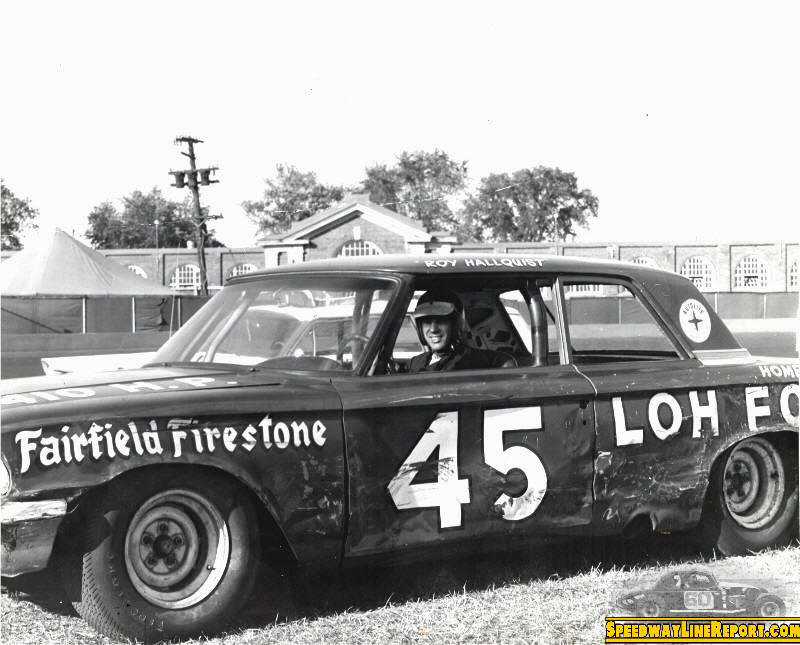 Courtesy of Tom Ormsby
Roy Hallquist, who seemed to concentrate on only the Grand American division, also seemed to have the best equipment in the class.
Below – This 60 Ford, seen here with Ed Patnode, was very fast in the division – especially in the hands of Dick Dixon.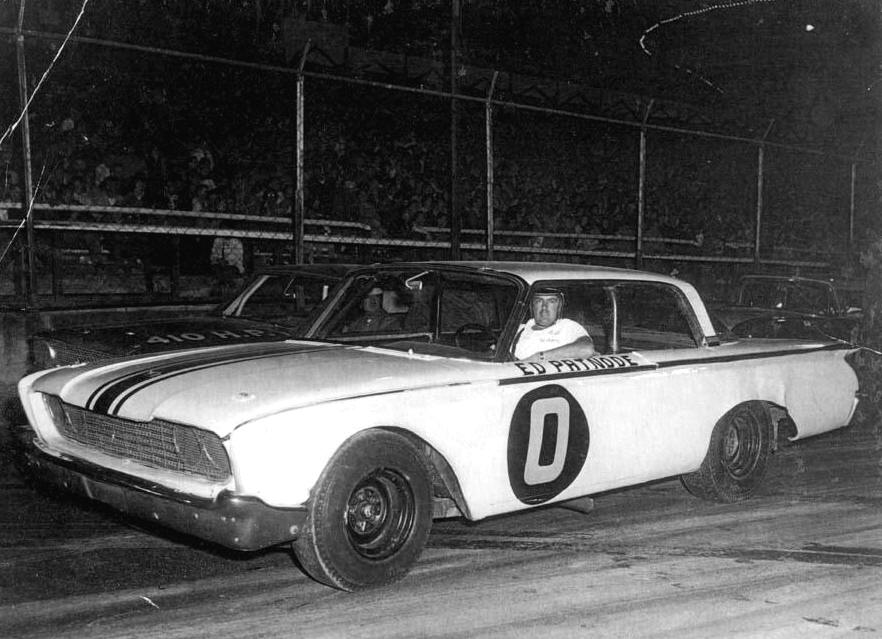 Courtesy of Cho Lee
In the latter half of the 1960's, in a period when I would describe the Grand Nationals as not particularly fascinating, NASCAR decided to get in on the popularity of the burgeoning "pony cars" coming out of American car makers – General Motors Camaros and Firebirds, Ford Mustangs and Cougars, Chrysler Barracudas, and AMC Javelins. They hoped to fuse this with the successful road racing done by cars such as these, and – maybe – even include some foreign makes. Frankie Schneider had once driven a Jaguar in a Short Track Division race in the 1950's.
The new division was, at first called the Grand Touring Division, keeping that popular word "grand" in the title for recognition. The name suggested that there would be involvement with at least some road circuits in its schedule. While the class was probably intended for development of up and coming drivers [or perhaps even lower budget teams], it was also to attract the attention of younger Americans who likely did not make much of a connection with the huge, lumbering mid – to – late '60's cars that were running, at that time, in the Grand Nationals.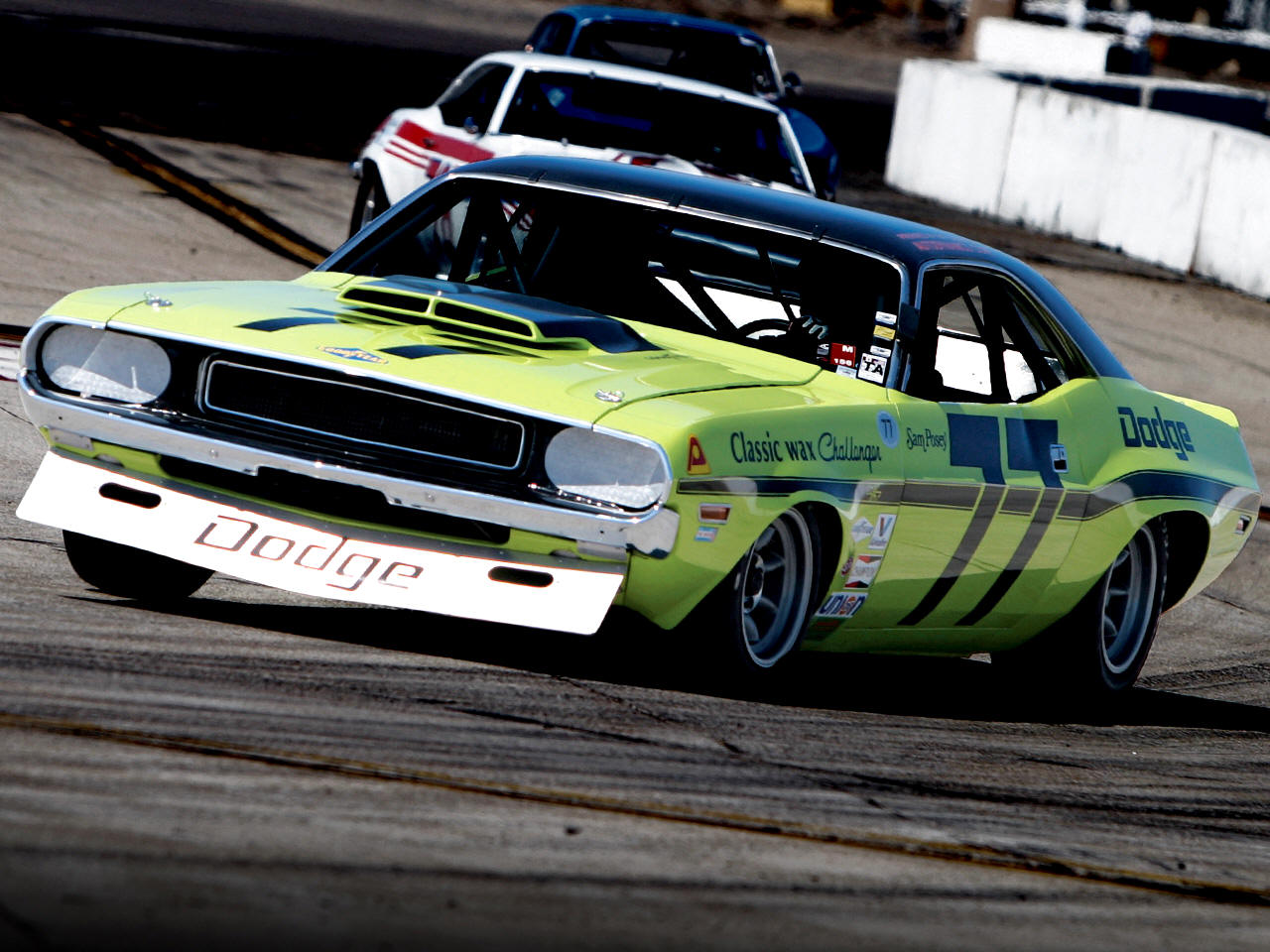 Hemmings Motor News Site
The sports car people were ahead of NASCAR in using the popular pony cars in racing. This one was prepared by Dan Gurney for Sam Posey.
To be sure things would get off to a good start, it was allowed that some of the bigger racing enterprises would be putting forth cars for the class. Bud Moore, known for fielding those maroon and black Mercury's driven by such as Darrell Dieringer, would be building some Cougars. Holman and Moody fell short of fielding a formal team; but, they did stand at the ready to develop some Ford power. Performance – conscious AMC would be looking to get involved, as well. At first, it did not appear that General Motors or Chrysler would be doing much for the Camaros , Firebirds Barracudas and such.
The 1968 inaugural Grand Touring season came down to a points race among veteran Buck Baker, then driving a Camaro, DeWayne "Tiny" Lund, driving primarily for Bud Moore's Cougar team, and sports car driver Jack Ryan in a Porsche. Lund would win the first race ever held for the division – the Sandhill 250 at Rockingham. He and Baker would take turns having hot and cold streaks, while Ryan remained the most consistent finisher.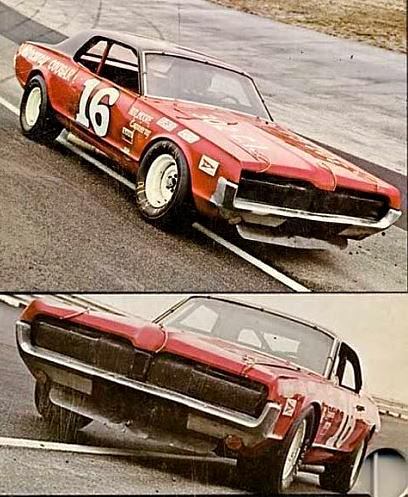 GeoRacingHis.Com
Bud Moore would build a top shelf Cougar for Lund. Below – Buck Baker, Lund's principal rival for the duration of the series, started
out with a Camaro but spent most of his Grand American seasons with this Pontiac Firebird.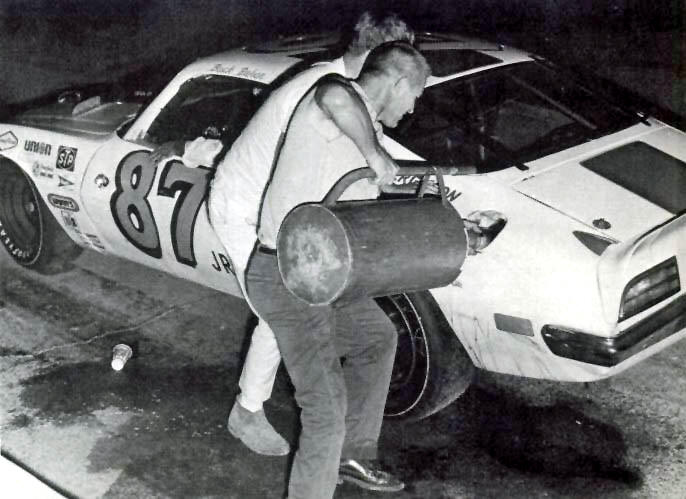 Courtesy of Dennis Andrews
The final results, as shown in the NASCAR Record Book of 1969, were confusing, to say the least. Lund was the series champion, with 1,047 points to Baker's 1,017. Ryan was third with 1,012. But Baker is listed as the top car owner for the year. This is likely explained by the fact that he drove only his car while Lund ran a few races for owners other than Moore. Then in the number of top ten finishes for the season, Ryan was shown as the best. Camaro far outdid Cougar in manufacturer points due to sheer force of numbers, with Mustang third. Porsche, primarily thanks to Ryan, outdid the AMC Javelin for fourth. Chrysler never did get off the ground, although Dodge Dart and the Barracude had a few points. Also in the final results were Austin Cooper and Alfa Romeo.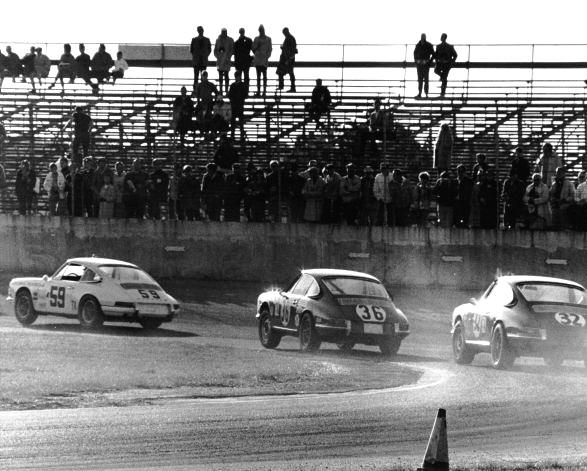 TimesUnion.Com Photo
Above - Jack Ryan [36] chases Dr. Wilbur Pickett's 59. Both ran a number of Grand Touring races.
Below - Established sports car driver Peter Gregg also drove frequently in the division.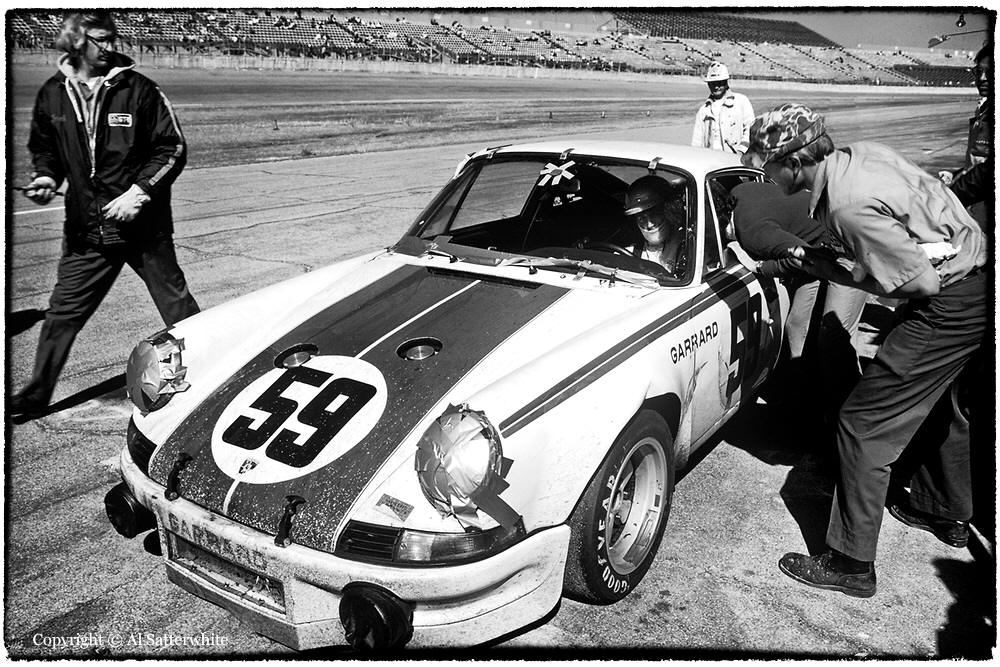 AlsAfterWhite.PhotoShelter.Com Photo
Obviously Lund, Baker, and Ryan were the headliners in the 1968 season. Donnie Allison [Huggins Mustang #27] and Bobby Allison [M.L. Jospeh Construction Mustang] attracted some attention as well. There were few other big names involved. The bulk of the fields were filled with the likes of Ernie Shaw, Al Straub, Billy Yuma, Frank Sessoms, and many others like them who towed to most of the shows and picked up points with little hope of winning. Drivers like Sessoms would score the occasional second place finish, and that was like a win for them as there would always be at least one big dollar team with a star driver in the field.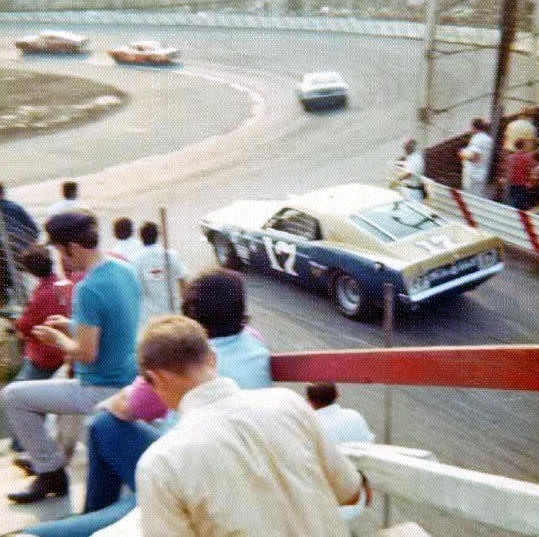 Tory, From RandyAyersModelingForum
The Grand Touring/American division was always a contrast between have's and have not's. Above – Ernie Shaw, who is said to have never missed a race, struggled along with a small budget and an underpowered Mustang. Below- Bobby Allison raced when he chose with a potent, well – financed Mustang.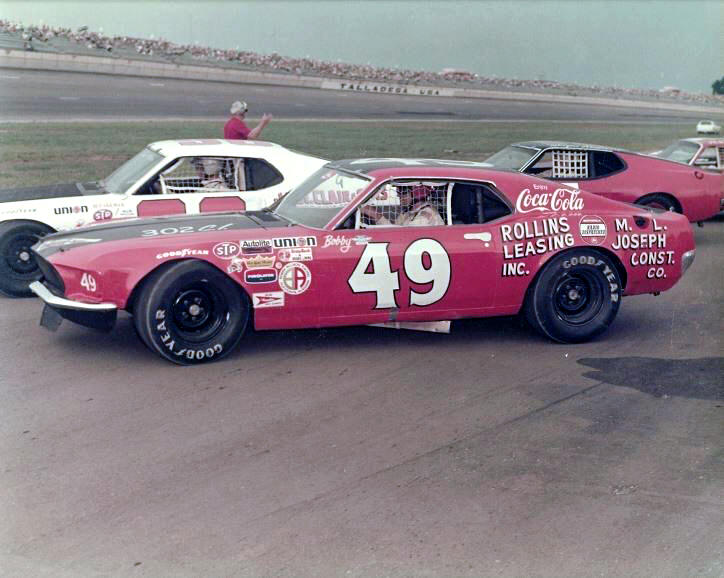 Ken Adams Photo

The Javelins would get going in subsequent years, with Jim Paschal as their main star driver; but, in 1968, the banner was first carried by Florida sportsman legend [and Vermont native] Paul Connors of West Palm Beach. Connors produced a #33 AMC car that carried his familiar number. He never won any races and actually got out of the division at mid season. He recalls one of the big thrills in his long racing career as the day he was towing to a Grand Touring race somewhere in Georgia and he spied a roadside sign advertising the race. Of course, someone like Richard Petty was at the top; but, underneath, headlining the GT race was a photo of him and the Javelin.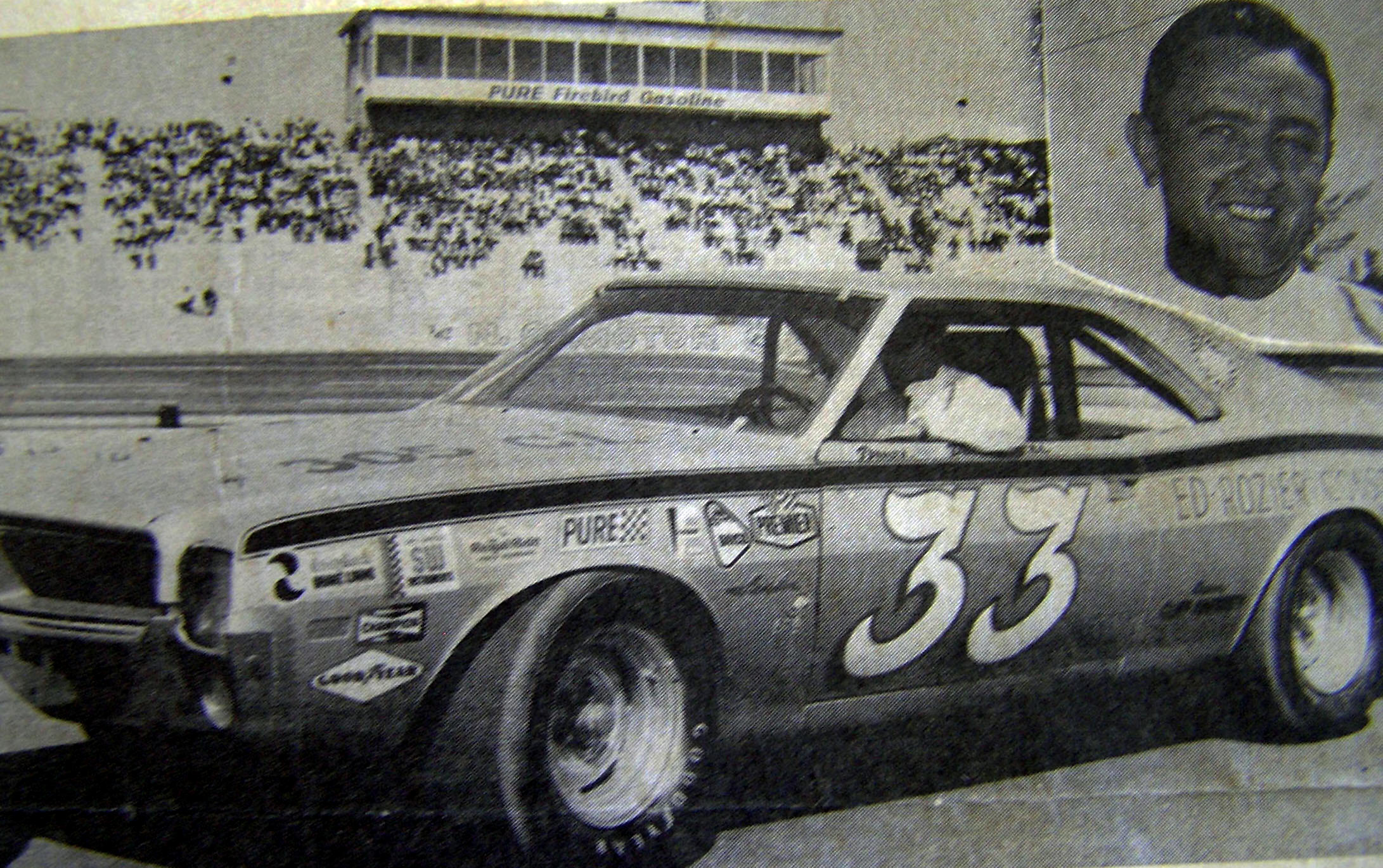 Courtesy of Paul Connors
The Javelin story began with Florida's Paul Connors; but, Jim Paschal's potent, Huggins – owned Javelin was financed enough to win many features. Huggins had switched from Mustangs. Also, Paschal drove another well – supported car for Warren Prout.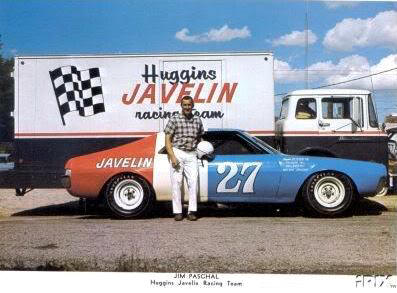 Ladabouche Collection


The total list of GT drivers for 1968 includes small pretty fascinating names: Dr. Wilbur Pickett [sports cars], Ralph Earnhardt, Bunkie Blackburn [the mooshiner who often drove Smokey Yunick cars], country star Marty Robbins, Peter Gregg [sports cars], Lloyd Ruby [USAC star], Swede Savage, and Chargin' Charlie Glotzbach. Some drivers who finished with few points in 1968 would go on to be steady stars in the class in subsequent years. These included Stan Starr, Phil Wills, C.B. Gwynn, and Randy Hutchinson. Some of the old NASCAR stars from the '50's who ran the Beach course and other vintage venues hung around in the GT class. T.C. Hunt was among these, as was "The Wild Indian" Roy Tyner.
The 1969 season saw a de - emphasis of the foreign cars, but the division kept the Grand Touring moniker. This would be the year Javelin got strong support, with the team of Jim Paschal, who would win five times. Lund again dominated the victory total with 15, but only finished fifth in the final standings. Thirty – eight year – old veteran Ken Rush, with car owner Johnny Wheeler, appeared on the scene and took the championship, while winning a relatively – modest three times. Rush showed up and always stayed in the hunt. Pete Hamilton had the confusing distinction of winning 12 features while finishing down in 12th in the points. He, Donnie Allison, and Paschal showed up for only certain races and finished high; but much like today's Nationwide invading stars, they lost points positions to Rush, Sessoms, Lund, Baker, and T.C. Hunt, all of whom made almost every show.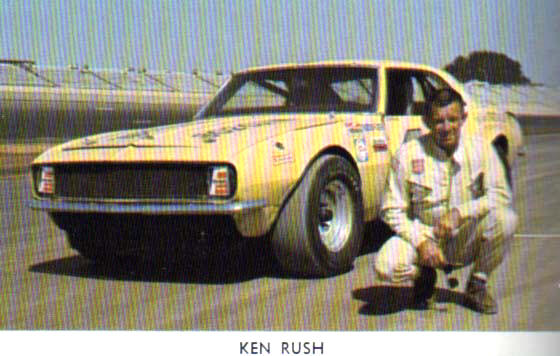 Courtesy of Robbie Watson
Ken Rush won the second GT title and continued to be an effective and successful runner in the division for as long as he participated.
Below – Bill Ward, surprise Talledega winner in 1970.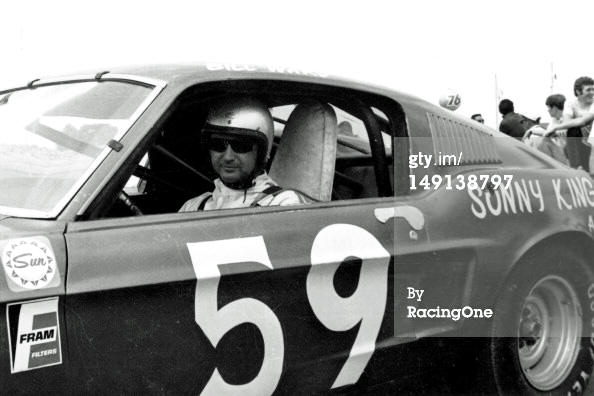 Racing One Photo

If one was to look at which driver actually made the most of the starts he did make, one would still have to look at Rush, who averaged 50.54 points per start. The twelve feature – winning Hamilton, on the other hand averaged 49.50. Paschal was considerably lower. Sessoms, who finished second to Rush, had the third best average at 49.02. This speaks to not only how Rush and Sessoms saved their equipment but also how they did feel they had to finish high in every race they could. Lund, who started 33 races, and Buck Baker [all 35 starts] had very similar averages. Both had top equipment.
Future star car owner Richard Childress finished sixth behind Lund, ahead of Charlie Blanton, Al Straub, C.B, Gwyn, and Ernie Shaw. Most of these regular and lower – finishing GT runners took every race seriously, but they had to save equipment and make sure they finished well enough to make some money, as opposed to the hot shots who could use up their expense cars and go for broke. Ernie Shaw was areal piece of work, tooling around the inside of the track and staying out of trouble with his Mustang. He was once observed making a pit stop under green just to get a cigarette. Peter Gregg and Wilbur Pickett were, again, listed as entrants, but there were no mentions of foreign makes in the manufacturers' standings.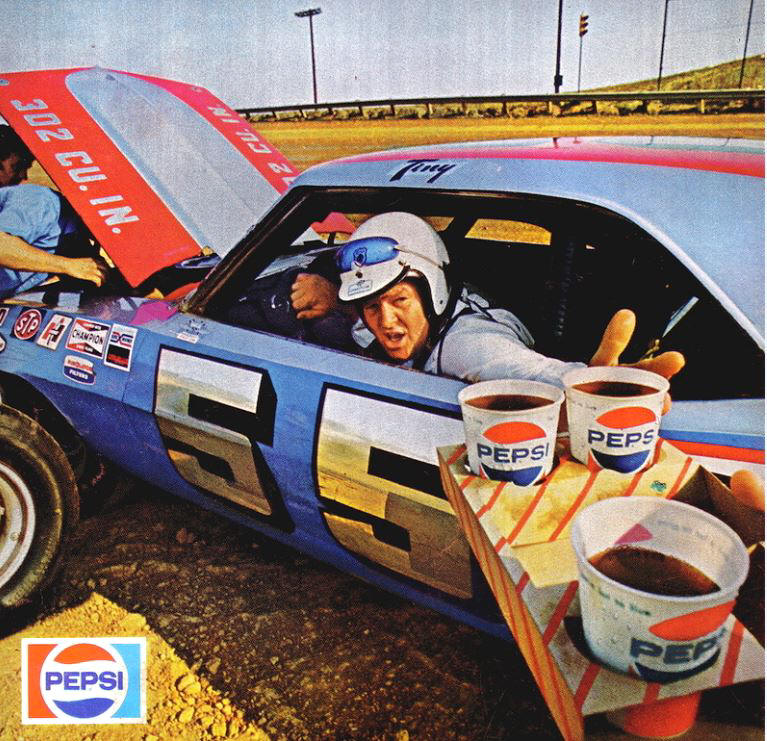 Source Unknown
Tiny Lund got to drive quality Cougars, but he drove more Camaros in a Grand Touring / American career that included dozens of wins and three championships. Below – Texans H.B. And Janice Bailey fielded Firebirds #36 and 96 for himself and several guest drivers.

Courtesy of Legends of NASCAR
Chevy Camaro was even more dominant than 1968. They won the lion's share of the races whereas, the year before Cougar won the most. Camaro would win the title by having many more cars entered than any other make. They were likely cheaper to run. In 1969, they won the lion's share thanks to Lund's and Hamilton's participation. Baker, had switched to Pontiac, won only one race. The sheer size of the Chevy contingent netted 1,266 points – more than the remaining makes combined. The factory – supported [but few] Cougars finished well in second and had the Rookie of the Year, Wayne Andrews. The 1969 manufacturer list included Camaro, Cougar, Javelin, Mustang, and Firebird in the top five. Then came Porsche, Dodge Dart, Chevy II [thanks to Frank Strickland's one appearance at Catamount Stadium in Vermont], Fiat, Copper, Barracuda, and Alfa Romeo.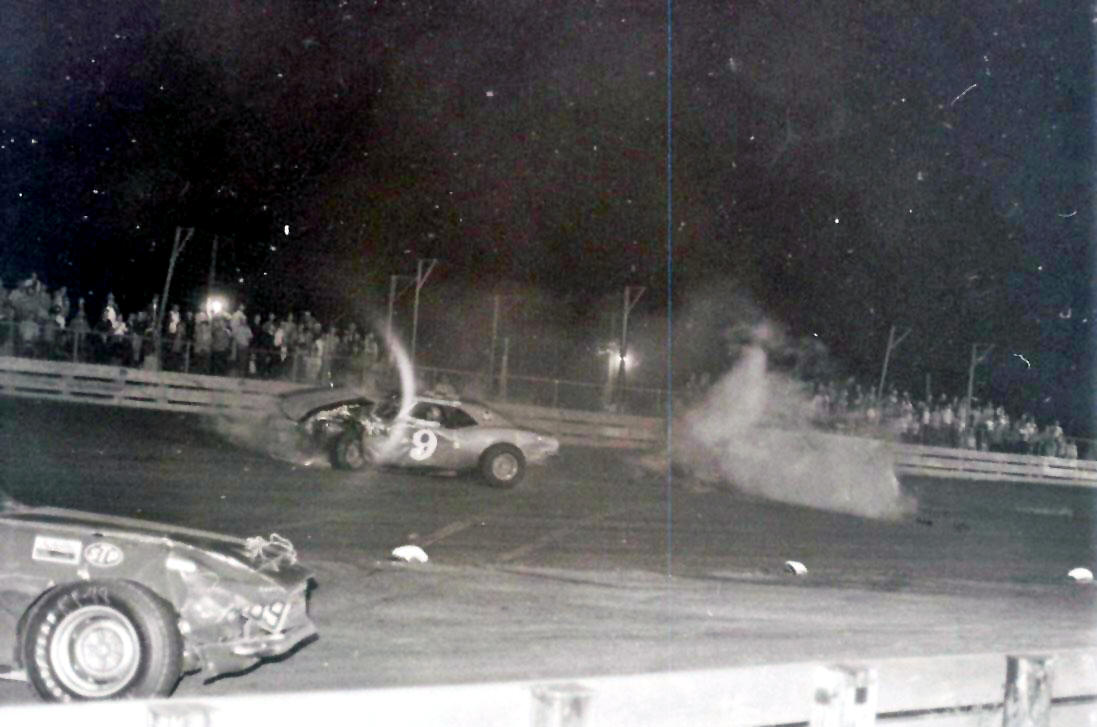 From HAMB Site
Division regular Stan Starr was injured in this collision at Flemington Speedway in New Jersey, back when the series had a northern tour. Below – James Hylton entered few races, but he won the Citrus 250 at Daytona with this Camaro.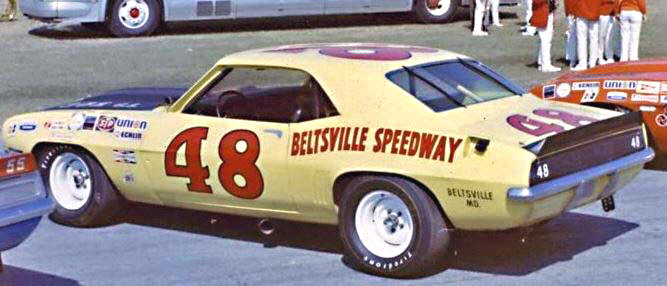 Courtesy of Robbie Watson
The 1970 season would see the series name changed to Grand American Division. This sounded less international and more America. Money talked and not everyone walked – through the thirty – five race schedule this time. For whatever reason, defending champion Rush entered only 22 races, and – while doing very well in them – finished far down in the standings. This time, the big money teams were making the whole schedule. Lund, who won 19 times, was the champion again, ahead of Paschal, who won 10. This left only six races for anyone else to win. Grand National regular James Hylton had grabbed the first race of the season and Ken Rush managed to win one of the 22 he entered. The series – loyal Baker took two that year. The fifth "other" feature was won by Southern modified driver Max Berrier.
Someone named Bill Ward [who didn't even finish in the top 35 in points] won one. Ward is a special story. An Alabama insurance executive, he entered only one race all year - The Bama 200 at Talladega. He fought off determined bids by Paschal and another unknown named Harry Gailey to win the event. He then went home and didn't race any more that year. Ward drove a Mustang to the super speedway victory. It makes one wonder who built the motor. Rush, while driving a limited schedule, did earn over $16,000 that season, making him 5th in earnings among over 35 drivers.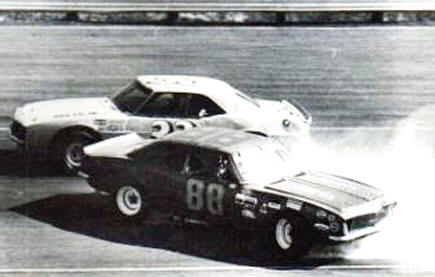 Courtesy of Robbie Watson
Veteran T.C. Hunt spins and Joe Dean Huss barely misses in 1969 action. Below – Two well – financed teams go
at it: Bobby Allison leads Jim Paschal in Warren Prout's 14 Javelin.


Courtesy of Robbie Watson

The 1970 top ten had the usual names such as Lund, Paschal, Baker, T.C. Hunt, and the consistent Ernie Shaw. Richard Childress moved in, as did defending rookie of the year Andrews, Phil Wills, Jimmy Vaughn, and the 1970 Rookie of the Year, David Boggs. Driving out of Morrisville, NC, Boggs barley beat out Joe Dean Huss and Paul Tyler, both of whom finished right behind him in points. Another notable newcomer to the upper points ranks was Danville, VA's Bobby Fleming, who started out helping Wendell Scott's Grand National operation.
Camaro won 21 of the 35 races, with the Javelin taking 11. That left three for other makes – one of which was Ward's Mustang victory. Paschal won 10 of Javelin's 11 features; it is unclear who won the other. Ronnie Hopkins owned the potent Lund Camaro while Warren Prout held the purse strings behind Paschal's first class AMC operation. The division was typical of most NASCAR racing – the big money took all the wins and the others drove to scoop up what was left. Ironically Richard and Judy Childress, who finished fourth in owner standings, were underdogs in those days. It is hard to know if the small guys, like the eighth place owner / driver Ernie Shaw, could break even with the point funds and their purse winnings.

Ladabouche Collection
Jimmy Capps makes a pit stop under green at a Grand American race. Below – Reknowned Indy driver
Jim Hurtubise took a turn in one of the Joie Chitwood cars in one Daytona race.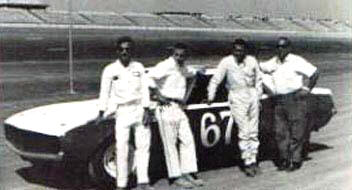 Courtesy of Robbie Watson

Some of the eye – catching names buried in the 1970 standings included Joie Chitwood, David Pearson, Dave Marcis, Friday Hassler [the ultimate GN independent], and Florida sportsman standout Bobby Brack. Bobby Allison, once a top runner when he chose to compete, ran only once. Phil Spiak, from Troy, NY, became a regular in 1970. He was related to the legendary NY driver Steve Danish. Al Hammond, a regular at Oxford Plains Speedway in Maine, also made a race.
The 1971 campaign saw the schedule trimmed to 17 races. Lund would again claim the title, while only winning six races. He won the lion's share of the purse money, at over $22,000, about as much as places four through eleven made combined. The ever – present nemesis of Lund, Buck Baker, took second, winning over $13,000 and winning two races. Bobby Allison, who didn't even finish in the top 35, entered a few races and won two. First 0 time winners included the Texas Pontiac enthusiast H.B. Bailey, Dick Brooks, veteran modified driver Frank Brantley, and someone named Billy Ries. Ries was so obscure he didn't even get a bio in the NASCAR record book that year.
This does not equal seventeen features, but the NASCAR record book leaves no clue as to who won the rest. Fifth in the points, behind Lund, Baker, Wayne Andrews, and Jimmy Vaughn was the 1971 Rookie of the Year, Bob Williams. A Louisiana native racing out of Mississippi, Williams beat out Jimmy Capps, Baxter Price, and Ronnie Trout for the award. Capps and Price would go on to active careers in the upcoming NASCAR Grand National East division in the future. Among the interesting names in 1971 were Comedian Dick Smothers and old Grand National runner E.J. Trivette. Jim Paschal scaled back on his Grand American schedule and finished only sixteenth in the standings.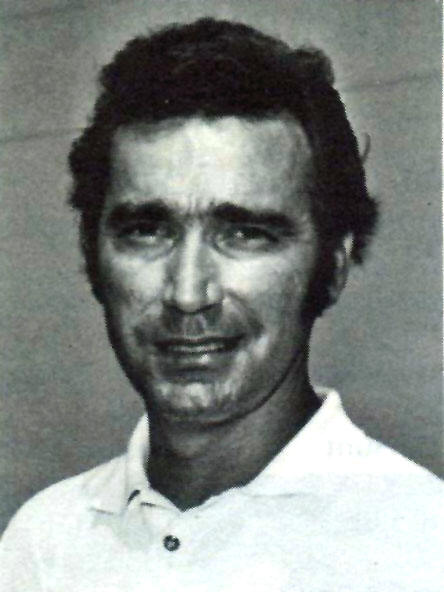 From the NASCAR Record Book
Bob Williams came into the Grand American division in 1970 and finished an amazing fifth place in overall points. Below – Pete Hamilton had an amazing second season with this Camaro, winning 12 features in 1969.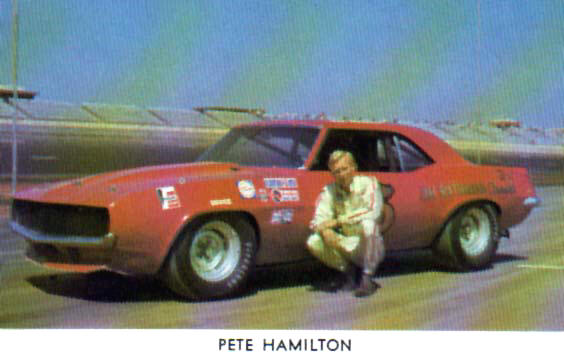 Courtesy of Robbie Watson
NASCAR couldn't help but notice the division was not on the rise. Fewer races and – even at that – only Lund and Baker made them all. Many of the top twenty finishers scarcely made it to ten races. Perhaps, the class was becoming tired of racing for second or third. Something had to change for the 1972 -and the Florida – based sanctioning body came up with one of their best [and least well received] ideas ever – The Grand National East division. For years, they had maintained a sort of separate West Coast class of Grand National – class cars; but now, this new group would run most of the Grand National events of less than 250 miles. And, the Grand Americans would run right with them.
The 1972 Grand American schedule had only five exclusive races of its own because they could run in all of the GN.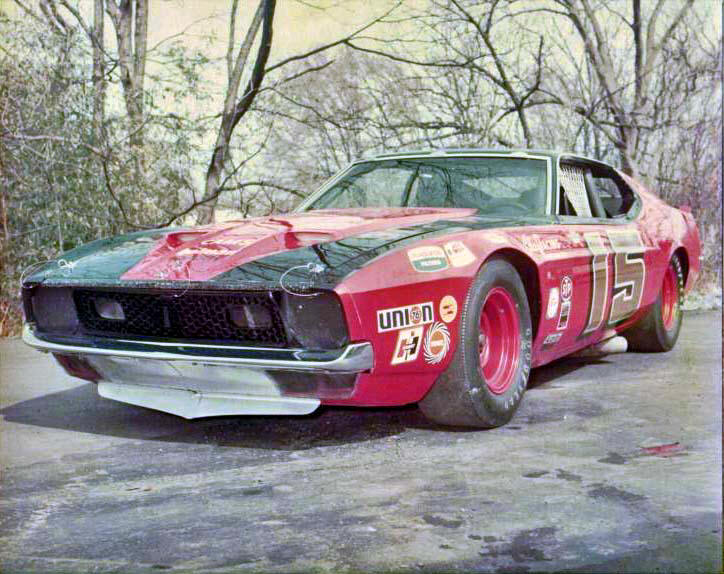 Grand National East.Com Photo
Virginia modified stalwart Max Berrier shone in races at tracks he was familiar with. In some of those events he was driving Reid Shaw's Mustang, vacated by Wayne Andrews. First Grand National East champ, Neil "Soapy" Castles drove his shoestring operation with help from Carolina furniture dealer Richard Howard, who liked to support underdogs.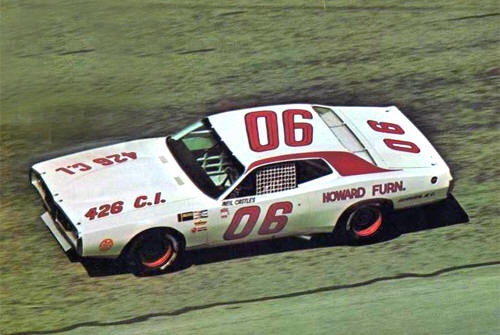 Grand National East.Com Photo
The inaugural East champion was a very capable, albeit seldom – funded driver named Neil "Soapy" Castles, from North Carolina. Sometimes a Hollywood stunt driver and sometimes a driver for hire with the li East shows – and many did. The concept of the Grand National East's creation had its own spin from NASCAR; but, for whatever reason, it served as a place for the under – financed and less experienced members of NASCAR's big leagues to be somewhat able to race among themselves without being buried by the big – money Pettys, Woods brothers, Moores, Holman – Moody's, and the like. If the eventual Grand National East champion was any indicator, it accomplished that goal. Although it did not last many seasons, the series was a great idea, and it gave the Grand Americans a little longer to racekes of Buck Baker, Castles had been around the Grand National scene for years. This time, using his own #06 Mopar, he had missed the first East race before entering all the rest, winning two, and finishing in the top ten all but once. Second place Elmo Langley, while winning only once, had otherwise identical success and only lost out by 7.5 points to Castles.
The Grand National East final standings bear out how, at least in that first season, the little guys had a chance to shine. Behind Castles and Langley, came Grand American driver Jimmy Vaughn, always a steady finisher, who started all 15 races. Fellow GA regulars Baxter Price and Ernie Shaw rounded out the top five. The remaining top ten finishers were Wayne Anderson, who actually won the abbreviated Grand American title that year; venerable Wendell Scott' E. J. Trivette; and Tiny Lund.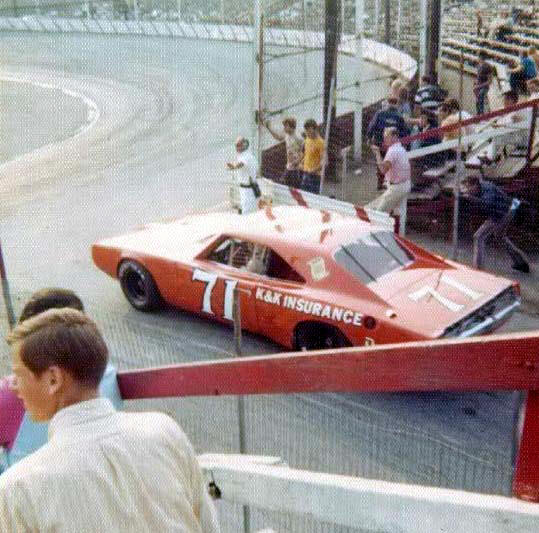 Courtesy of Tony, Randy Ayers's Model Forum
One of the few well – heeled outfits to run in the Grand National East was the Nord Krauskpof 71 of Bobby Isaac, seen at the Islip Speedway GN East show. Below – The presence of the big wigs like Isaac made it harder for small runners like Jimmy Vaughn [also at Islip].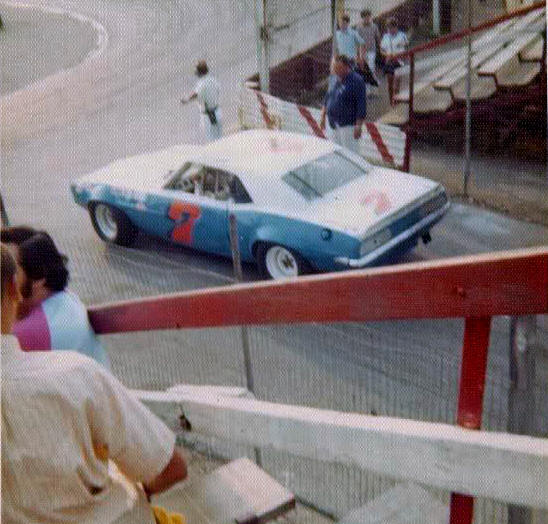 |
Courtesy of Tony, Randy Ayers's Model Forum
Bobby Allison, usually driving the Joseph Construction #49 Mustang, won four features in the 10 races he entered. Castles and Max Berrier won two races each. Well financed with the Nord Krauskopf team, Bobby Isaac matched Allison's four wins. Along with Langley, the other winners of one race included all Grand National stars: Buddy Baker and David Pearson. The series ranged from as far north as the Albany – Saratoga Speedway in Malta, NY – to as far west as International Park Speedway in Ona, WV, to the usual southeastern venues. The quarter – mile, absolutely - flat Bowman Gray Stadium track in Winston – Salem, NC was the most difficult track they tackled. Local driver Max Berrier, a "home driver" there, was winner and fast qualifier.
The 1972 season would spell the end of the Grand American division. Many of the team continued on another year in the Grand National East. For whatever reason, NASCAR changed the schedule around radically, taking out several familiar locations and adding a number of Midwestern sites, which a large number of the East faithful chose not to haul out to. Therefore, after champion Tiny Lund and his customary lion's share of the victories, the next biggest winner was Bruce Gould, who took all three of the races in Ohio and Indiana. Other unfamiliar winners were ASA ace Bob Senneker and someone named Tom Colelia. Buddy Baker and Bobby Allison dominated the Carolina tracks, winning 5 between them.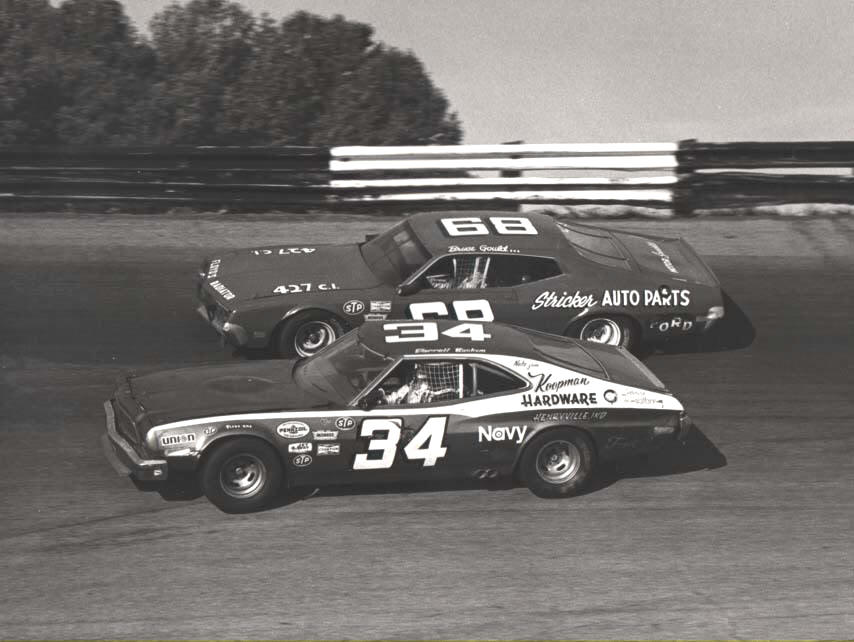 Jimmie's Old Time Racing Site
Bruce Gould [68] may have used this full size car in his three Grand National East wins. Below - Wayne Andrews [15] and Tiny Lund were both big figures in the Grand American division. Here, they needed more room.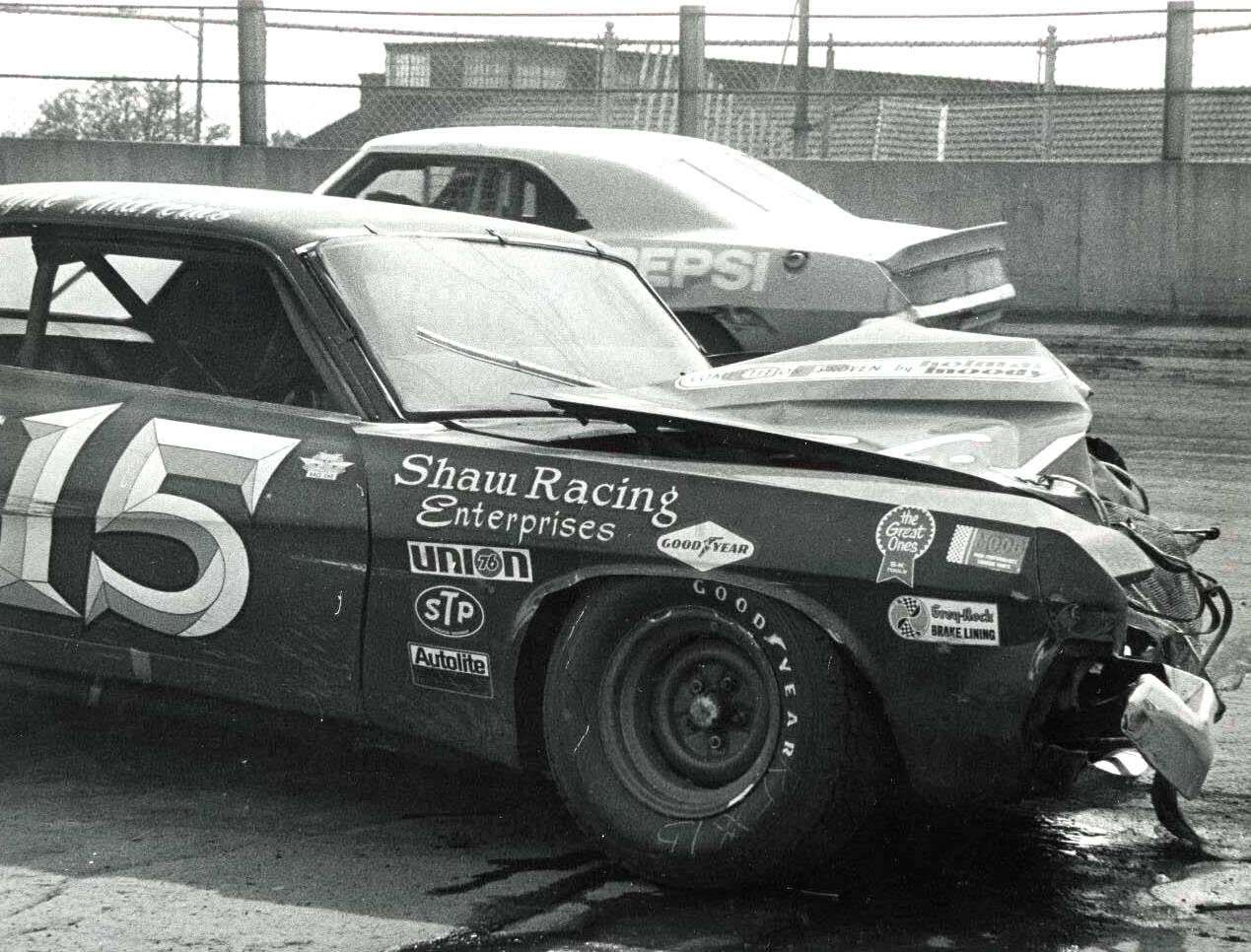 Courtesy of Robbie Watson
This would be the end of the Grand National East experiment and the last chance for the Grand American pony cars to compete in a major NASCAR class. Rex Robbins' American Speed Association continued on with an excellent series for that type of car, and – later – an All Pro series would start up in the Southeast, as well. These two series would produce many top notch major league drivers for NASCAR. But, the opportunities for the Ernie Shaws, the Wayne Andrews, the Baxter Prices, and the dozens of others like them were mostly gone. Some tried vainly to make a go of the increasingly expensive Grand Nationals; others dropped out entirely or went down to local racing. Between this loss and the loss, the next year of the All Star Stock Car Racing League for modifieds in the Northeast, two wonderful racing series were lost forever.
Please email me if you have any photos to lend me or information and corrections I could benefit from. Please do not submit anything you are not willing to allow me to use on my website - and thanks. Email is: wladabou@comcast.net . For those who still don't like computers - my regular address is: Bill Ladabouche, 23 York Street, Swanton, Vermont 05488.
AS ALWAYS, DON'T FORGET TO CHECK OUT MY WEBSITE
www.catamountstadium.com
Return to the Main Page
Return to the Main News Page
Return to the All Links Page
Return to the Weekly Blog Links Page