BILL'S WEEKLY COLUMN/BLOG PAGE

BILL'S BACK IN TIME
By Bill Ladabouche
THEY SURELY TRIED TO GET THEIR
KICKS ON ROUTE 66

wikipedia Image

Although the famed U.S. Route 66 does not figure into this story, New York state route 66 has a few little stories of its own. It is pretty likely that hundreds of people living in and around the Poestenkill, NY area would finish watching the vintage TV program with the cool guys, driving their Corvette along US 66 to venture out and attend the movies at the Hollywood Drive – In Theater or – perhaps take in some stock car races at the Hollywood Bowl Speedway.


Courtesy of Ken Gypson
Pete Winnie 00 rams a competitor as an appropriately – numbered car looks for room at Route 66 Speedway.

The Bowl had previously been named Route 66 Speedway by creator, Harold Garstang, a garage operator and the erstwhile co-promoter of Burden Lake Speedway, nearby. Actually, the area around Poestenkill, including such metropolises as Averill Park, West Sand Lake, and Snyders Corners, was loaded with race track. Burden Lake, which had actually made the pages of a national magazine when a stray wheel from the races almost killed people picnicking nearby, was the one of the first stock car tracks anywhere.

Garstang, who had been around the post – WWII auto racing scene for a while, had begun with pre – roadster jalopies at the old cinder track near Fultonville, NY. He was there when the slightly – more – sophisticated roadsters took to the track at Burden Lake, and was one of the racing movers and shakers who could see that the dangerous roadsters were not going to be socially acceptable for long. Stock cars were already beginning to take the place of the roadsters at Burden Lake by the time Harold Garstang was fixing to leave.


Ladabouche Collection
Harold Garstang and an apparent team mate await jalopy action at Bob Whitbeck's
cinder track in Fultonville in the 1940's.

If he learned anything from his experience at the West Sand Lake, NY track, he realized that – if someone was going to all the trouble to actually build a track, why not make it on even ground ? Burden Lake went up and down like a roller coaster. By 1950, Harold Garstang was locked in a heated disagreement with Burden Lake property owner Charlie Whitford about proceeds from the beer stand, and he stormed off to found his own operation, nearby. Garstang chose a spot very close – as the crow flies – from Burden Lake. His track would be located on the corner of NY Rte 66 and NY Rte 351, near Averill Park,

Garstang and partner Bud Heffner would name their new track Route 66 Speedway, probably to not only make the location clear but to also cash in on the popularity of the TV program. Harold had a garage on the hill of turns 3-4 which was also the corner of routes 351 and 66. Some of the Route 66 regulars included Boyd Sousi, the Wait brothers, Jack Sweeney, a driver named Canfield, Lou Hacker, Ray French, and one of the first Northeast African - American drivers - Johnny Kettel. The well – traveled Hacker, a very straight – laced – looking man usually, was probably one of the bigger stars, having already run at Burden Lake, Greenport, and other venues.


Courtesy of Ken Gypson
Along with Bo Green, Johnny Kettel was a pioneer in the stock car racing game for African –
Americans wanting to get into the race programs on the track.

Garstang and Heffner would run the track through the 1959 season, a season that was tough on tracks all over the Northeast. After 1959, they decided the large concentration of tracks in the greater Capital District of New York was probably going to render their little operation unprofitable. After having been involved – in some capacity or another – in racing since before the war, Harold Garstang retired up the hill to run his business and watch the races for free.


Courtesy of Ken Gypson
Check out the wheel heading for the M6 of Cohoes, NY driver
Marcel Moore in a 1958 tangle. Note the spectators parked
above the turns with no catch fencing. Nice Harold !

In 1960 Ed Ryan, who was promoting Pine Bowl and Rhinebeck Speedway, took over and renamed it Hollywood Bowl...in deference to that drive-in movie theater just east of the track. Most everyone though, knew it as the Hollywood Hole. The track closed at the end of the season never to open again...but....one really neat thing happened that last year. A very young Mario Andretti drove a cream colored, Crosely - powered TQ midget there under the American TQ Midget Racing Association.
Mel Kenyon Site Photo
Mario Andretti [left] may well have run against midget legend
Mel Kenyon [right] at the Hollywood Bowl track in 1960.
The Hollywood Drive – In, a definite icon from days gone by, still shows movies in that area. Most aerial views of that stretch of Rte 66, near Johnson Lane and Rte 351 still show the oval outline of Garstang's track. By that fateful 1960 season, there weren't many tracks left: Stateline Speedway, over near Bennington had closed, as had Burden Lake. Tracks like the Pine Bowl [very near Rte 66], Whites Beach, and Empire Raceway were not long for this world.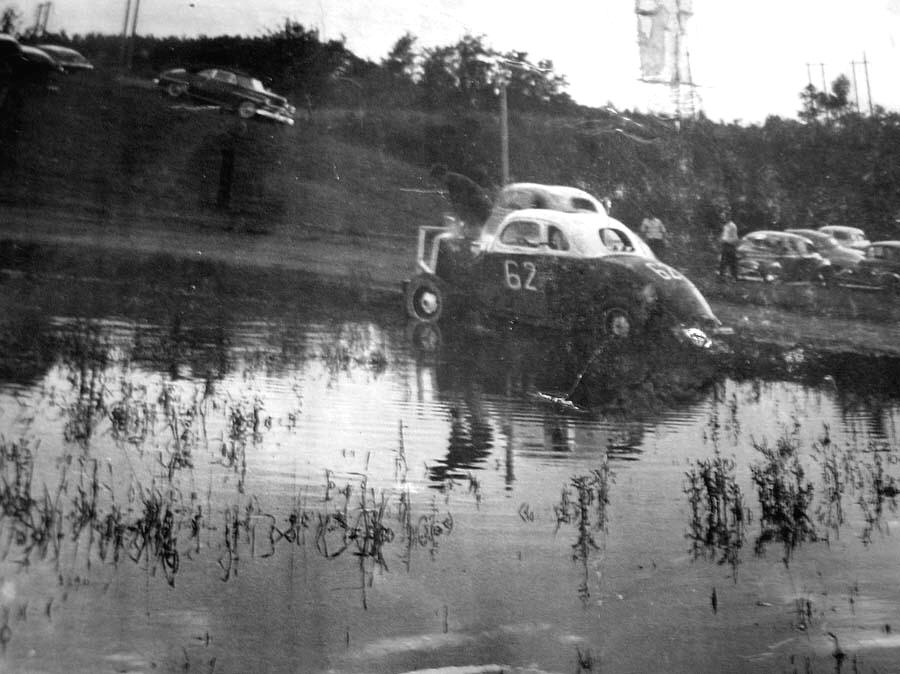 Courtesy of Ken Gypson
A car that might possibly be Carl Fink explores the shores of Lake 66.
Garstang and Heffner had constructed the track in what actually was a natural bowl in the terrain. This might have made the initial grading easier, but it also caused some drainage problems. The infield of the track could become a pond of considerable size after the preceding week had seen a lot of rain in a short time period. If Harold also was blessed with fairly good clay- that would only add to the problem. One can only guess the mosquitoes must have been legendary.
By the mid 1960's, only the strong had survived : Lebanon Valley, Fonda, and Fairmont Speedway, over in Vermont. Racing began to become more of a business, and more and more of those little, two – bit teams could no longer compete – even at Fairmont, which was attracting sportsman teams from New York. Just like Colchester, Vermont, which once had six tracks either in its borders or in close proximity – 1959 and 1960 were fateful years, after which nothing much was left.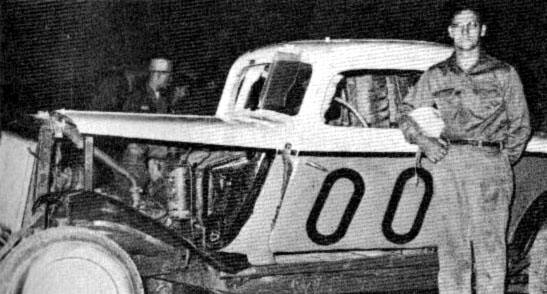 Cavalcade of Auto Racing Photo
Lou Hacker, here with one of his usual wide grins, was one of Garstang's established
stars at Route 66 Speedway in the beginning.
The best of the Burden Lake, Route 66, Whites Beach, West Glens Falls, and Stateline drivers ended up either at Fonda, or the Valley, with the majority at the latter. Fairmont would attract a few who did not feel they could afford the other two venues. Just like television went color and the programs became more sophisticated, so did stock racing in that area of New York…… and some of the fun went out of it.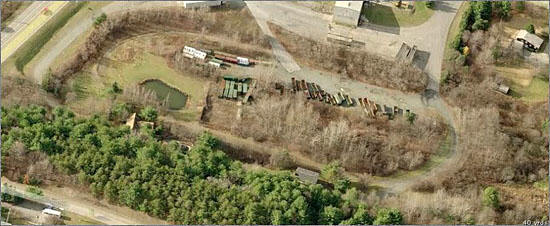 Fast Video Photo
The track is still very obvious in this aerial shot. I think the big buildings above the
track must be where the Garstang garage was in the 1960's.
Please email me at wladabou@comcast.net if you have any photos to lend me or information and corrections I could benefit from. Please do not submit anything you are not willing to allow me to use on my website - and thanks. For those who still don't like computers - my regular address is: Bill Ladabouche, 23 York Street, Swanton, Vermont 05488.
AS ALWAYS, DON'T FORGET TO CHECK OUT MY WEBSITE: www.catamountstadium.com
Return to the Main Page
Return to the Main News Page
Return to the All Link Page
Return to the Weekly Blogs Link Page