THE BILL'S BACK IN TIME COLUMN PAGE
Copies of my column in Mark Thomas' "Racin' Paper"
BILL'S BACK IN TIME
By Bill Ladabouche
Site Column #50 from My Column 63
OF AIRPLANES AND BONNEVILLES
It is positively amazing how dead it can be on the historic preservation front, and how hectic it can get a few days later. Often, the mention of a particular car or driver [or even a lost track] will spark a flurry of emails and information – offers. This phenomenon was never more evident than when the subject of the old Harold Hanaford Pontiac Bonneville came up at a reunion in Barre, Vermont in 2006. By the time that was over, we had an entire web page devoted just to the car and almost enough interest to write a book. I will return to the Pontiac later.
Recently, when I decided it was time to have a page on my website devoted to the long – abandoned Rhythm Inn Speedway near Millers Falls, Massachusetts, I was not prepared for what was coming next – all around one car. As it turned out, there was a nice little bunch of photos available from guys, mostly on the racersbored.com website and Chip Cormie; and, I used these to start a Rhythm Inn page. Ok fine. We got to see the lesser – known guys like Mac McDonald and George Yconic, as well as the Buddy Krebses, the Roy Forsythes, and the Ray Browns.
However, one of the photos was the damnedest – looking car I had seen in some time [and in the racing history game you see some pretty weird stuff]. The 44X or maybe X44 appeared to have no motor under an unusually-low –set hood.

The first photo of the airplane car, as we call it, shows Rene Charland as driver. Neil Delisle
says well – known driver Ray Delisle was the owner. Somehow, that guy doesn't
look like Ray, however. [Chip Cormie Photo]
Later on, a second photo became available, with an older-looking driver. If someone has ever told me who the guy was, I can't locate the notes. It is clearly the same owner, however. The hood appears to be in a more normal position. I don't know if that means the airplane engine wasn't in there at the time or not. Something tells me the driver may be someone named Maurice Forsythe, whose relation to Pappy I don't know. I always understood Pappy's real name to be Roy.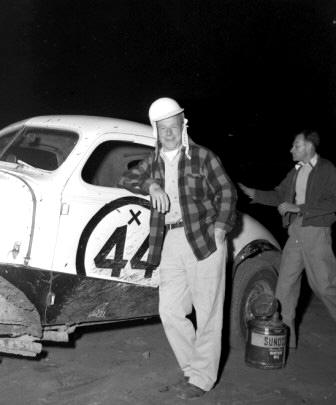 Maurice Forsythe poses with the "airplane car" at Rhythm Inn in 1953. Note, the
same owner is fussing around in the background. [Chip Cormie Photo]
The airplane car topic did more to excite interest in racing in that northern Massachusetts region than anything else I have tried doing. It is the first time I have a.) really known anything about that area, which did affect Vermont racing and b.) it has brought about great advances in what I know about New York tracks like Pine Bowl. Apparently, the geographic distances between the Rhythm Inns, the Pine Bowls, the Lebanon Valleys, and other such places are not particularly great. I wouldn't know, my experience in that area is two trips [in my life] to the Valley and a couple of attempts to track down John Danish in Crospeyville, New York.
The original high – impact car subject was that of the 1959 Pontiac Bonneville that Jean-Paul Cabana acquired from Elmo Langley after its time limit on body age had expired in the NASCAR Grand National division. I have written a ton about the Pontiac, and I won't repeat it all here. A couple of thought-provoking things have muddied the waters a little bit concerning "the Pontiac". First, it now appears that, while possibly owning the Pontiac for a while after Jack DuBrul, Bob Pratt did not drive the car at Otter Creek in any of its rare appearances there. Pratt's buddy and former 1950's driver Gordy Owen apparently was driving the over-weight late model when it would spins its huge tires down the backstretch, trying to compete with some of NASCAR's best and quickest sportsman coupes.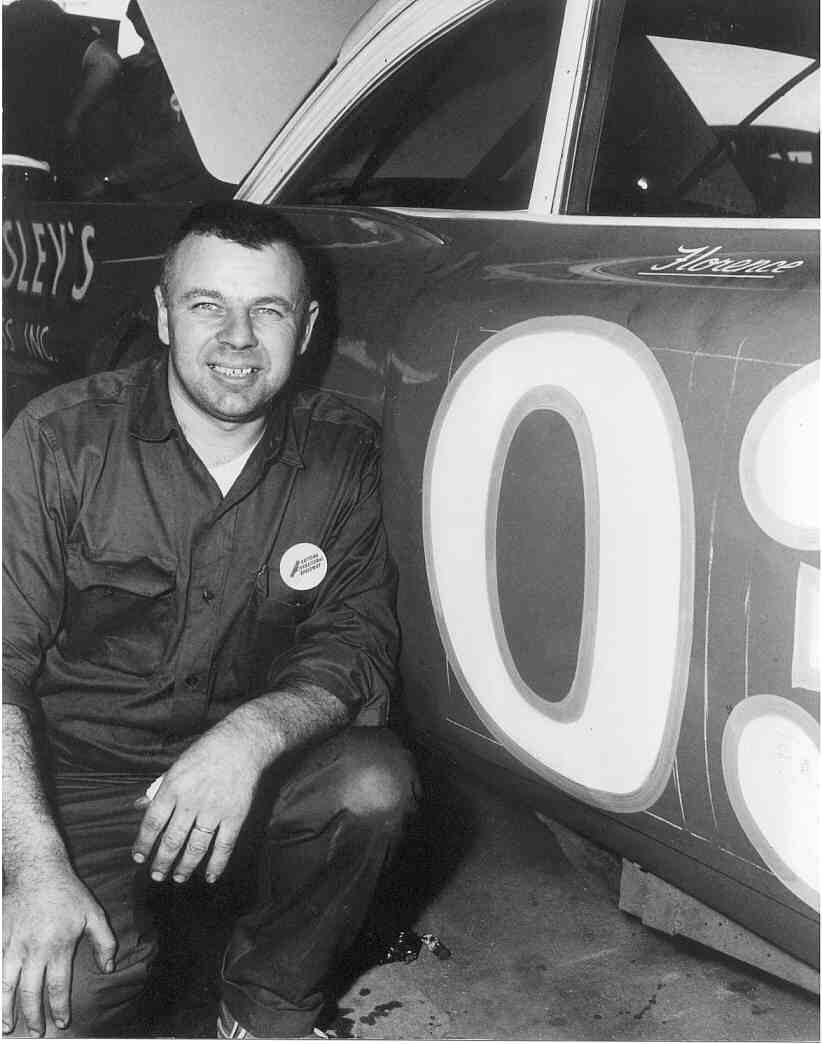 Harold Hanford is certain that there was only one Pontiac – and he drove it to
at least one victory, heavy or not. [Little Photo]
The other fly in the ointment is much less certain. There are those in the DuBrul/ Pratt camp that insist the Hanford / Mosely Express purple 03 Pontiac was NOT the same car as the former Cabana / DuBrul Bonneville. I have no way of knowing that, but Harold Hanaford seems to be very sure they bought the car from people in northern Vermont, and – for now – that's good enough for me. All the hoopla about the Pontiac resulted in a darned good column and an entire web page on my site. I'm happy with that.
Switching gears a bit, I used to attend a few races at Bear Ridge, back in the early 1980's, when no one at home gave a damn where I was or whether I was coming home that night or not. It was about the only way I would tackle a trip of that distance for a day trip. Anyway, one night, I met this very pleasant young guy who turned out to be Ricky Marvin.
Eventually, the inevitable question came up: " Have ya evah heard of my fah –tha ?" [Ricky had a magnificent Connecticut Valley accent]. Well, hell yes, who hadn't ? His father was none other than the Behtlehem Bombshell, Ronnie Marvin, driver of the #13's for all those many years – from Concord, Vermont in the mid 1950's to the Sanair complex in Quebec in the late 1970's. A giant of man who could intimidate with one sour look, Marvin was the old school driver – rough.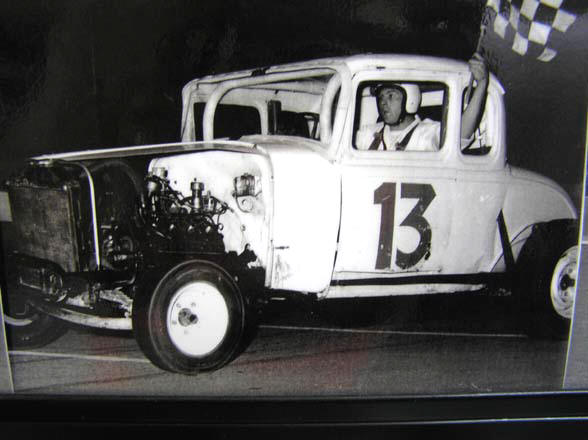 Check out how big Marvin appears in this little coupe around 1960.
[Courtesy of Cho Lee and the Bob Doyle Museum]
Dave Morse, a lifelong Lamoille / Caledonia County journalist and close friend of Ken Squier, tells of first seeing this huge man driving a small white coupe at the old Concord race track, a sort of forerunner to the nearby Northeastern Speedway [these being in the St. Johnsbury, Vermont area]. Morse recounts how the man would climb into the car through a hole in the roof, which was probably the only way he'd fit. Marvin, a New Hampshire logger, was not a man to be trifled with – on or off the track: loyal to his friends, but quick to retaliate.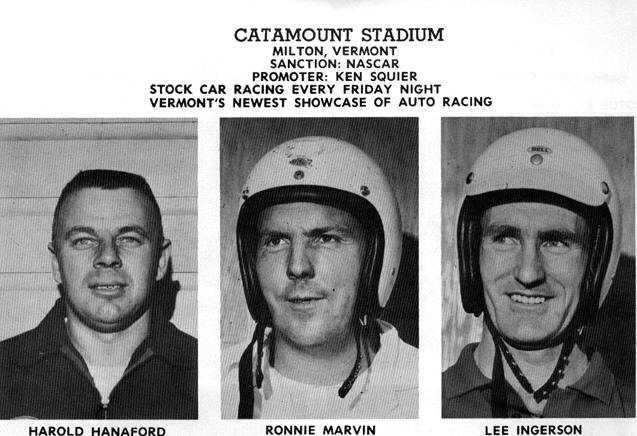 Marvin joins two other New Hampshire flathead stars from Thunder Road in the first section in Cavalcade of Auto Racing in 1965. Not having run anything yet, the new track had to resort to photos from its sister track. They were misleading, as few flatheads actually chose to run the longer Milton track. [Cavalcade 1965 Photo]
I had only heard the name when I moved up to the North Country to teach in Milton, Vermont in 1968. Marvin, by then a legend at Thunder Road and the defunct Northeastern Speedway, had been featured in the very fist Catamount Stadium promo photos in Cavalcade of Auto Racing in 1965, but I received the distinct impression that – as the flathead coupes had quickly died out after the NASCAR V-8 sportsman coupes moved into Thunder Road in 1965, Marvin had gone into a sort of retirement. But, the stories remained and they grew each year they were told.
Ron poses with the checkers in the Buick – after it had been through a couple
of pretty rough seasons. While uglier, it got faster. [ Courtesy of Dan Nolin ]
Then in 1970, when Catamount was introducing a new limited sportsman class to improve its ratty – looking Flying Tigers, Marvin teamed up with friend Fred LaPrade to build a very sharp – looking Buick Special, the only one of its kind at the Chevy and Ford – dominated track. As would be true with anyone who hadn't driven for a while, Marvin wasn't much at first; but, as the season went on, the Buick became a factor when it was running right. The Buick engine could be cantankerous.
After a a couple of Buick years, the team went to Chevelles – a 1964 body one year, and a 1968 Chevelle for a couple of seasons. This was Marvin's best late model ride, so far, and he began to get that old aggressiveness back. About the time the Northern NASCAR circuit was beginning to get some ink on Stock Car Racing magazine, Ron was said to have become tired of the very fast – driving, long – haired Robbie Crouch, who had breezed in from Tampa Florida and had become one of the circuit's popular fair-haired favorites. Much like a heel in pro wrestling, Marvin decided he had about enough of that and stuffed Crouch in the wall at Catamount.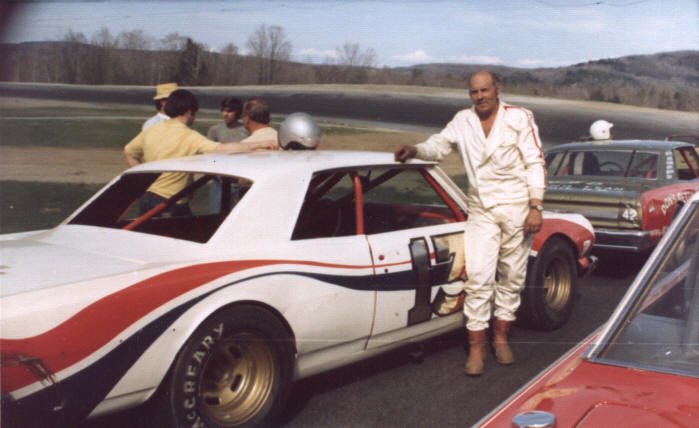 On the front stretch at Catamount, Marvin dwarfs the '64 Chevelle as he poses for a promotional photo.
He is lined up behind fellow Granite Stater, Brad Kennedy. [Courtesy of Jim Watson]
Supposedly, when asked by irate officials what on Earth made him do that, Marvin simply growled, "He was going too fast." Of course, Stock Car Racing got all the mileage out of that one they could, dubbing Ronnie Marvin the Mauler. The heavy role kind of stuck with Marvin after that, until he contracted cancer and had to fight a much harder opponent than somebody in the next pit. As Ron lost ground and size to the disease, the racing fraternity kind of close ranks around him until the end.
Ron's last car, still a plain white number 13, was a 1985 Buick Regal. He remained a contender , even at an older age, until health issues took their toll. One cannot think of Thunder Road, its New Hampshire connection, and the golden years of the little flathead Ford coupes without thinking about Ronnie Marvin. The New Hampshire contingent of Marvin, the Ingerson brothers, Harold Hanford, Mutt Dexter, Freddy Mills, Stub Fadden, and Roy Forsythe join other Granite Staters like Sonny Rabideau, Buddy Bardwell, the Codys, Ted Brown, Punky Caron, and many more to give the state a distinctive and prominent racing heritage that drivers today like Rocket Roger Brown and even Dave Dion, at his age, carry on.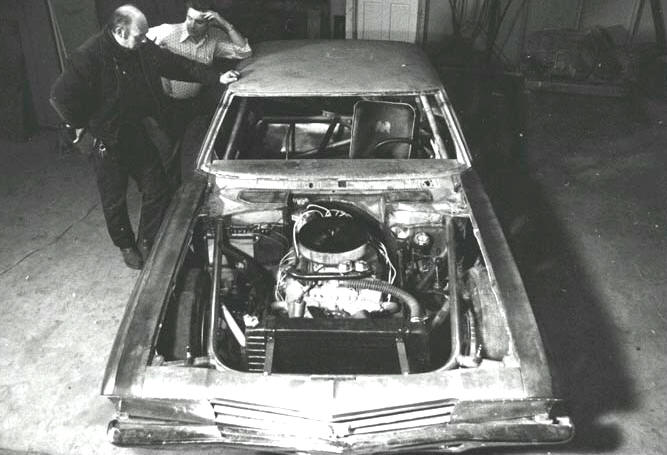 Ronnie drops in to oversee the construction of the 1968 Chevelle – the one that
enforced speed limits at Catamount Stadium. [ Photo Source Probably Cho Lee]
Return to the Columns Link Page
Return to the Main News Page