BILL'S [rarely] WEEKLY COLUMN/BLOG PAGE

BILL'S BACK IN TIME
By Bill Ladabouche
GROVETONA: It Takes a Lotta Love
After years of not being able to get much of anything on the Riverside Speedway, Groveton, NH track history, I have been fortunate enough lately to stumble upon some hard work done by such writers as Tom Herzig, Rick Clogston, and Fred Carpenter. On the less fortunate side, early photos of the place are still nigh impossible to scare up. One thing is clear from the scarce articles on the track by the Connecticut River, it takes a lotta love and perseverance to be a Grovetonian. Between the cold weather and the pervasive economic gloom in that area, the track has seldom had a chance to catch its breath in a struggle to stay alive.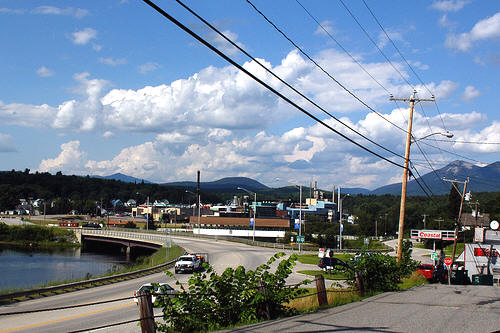 NH Images Photo
Groveton was doing just fine as long as the mills were open, not well when they were not [below].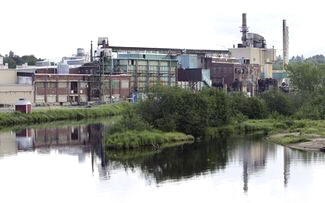 Daily Herald Photo
I have been to the track twice in my life. The first time, during the tenure of Mike Beattie, I went over in the late 1970's and – while being treated very well, nearly froze to death. In 2011, I accompanied the Eric Badore #04 Tiger Sportsman over there for a "Tiger Tour" race and, again, nearly froze to death. Tough people over there. The track hadn't changed much, and that's not meant as an insult. To be fair, both times I went were late in the season.
The track always struggled under being the less familiar track to some other, higher – profile Riverside Speedway elsewhere. In the early days, it played third fiddle to the Riverside track in Laval, Quebec which – as a NASCAR track - was featuring some of the biggest names in the top twenty of the NASCAR national sportsman standings. Later, with that track closed, it still had the famous Riverside Park track in Agawam, Massachusetts that ran some of southern New England's most famous drivers while operating within the grounds of a well – known amusement park. It even went through a brief period when NASCAR North was running at a Riverside track in Nova Scotia and giving that track a lot of ink.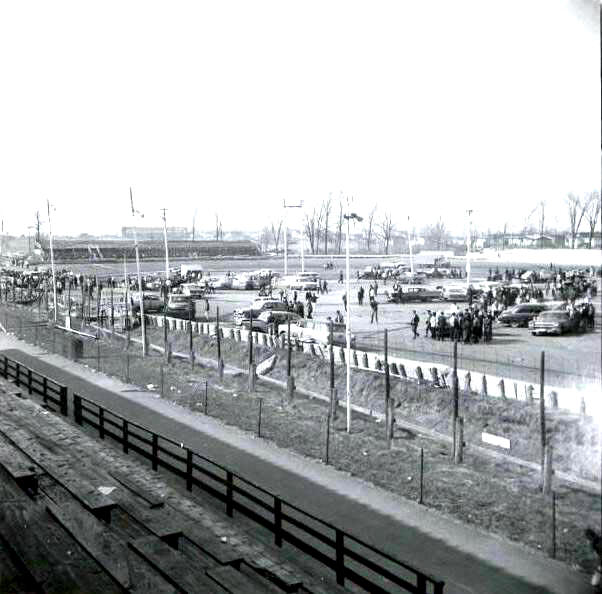 Courtesy of Paul Pleau
Above – the Canadian Riverside track ran NASCAR sportsman cars from Quebec and the northern U.S. Below – Riverside Park in Agawam was the most famous of the three tracks with than name. I don't know when the term Stadium came into play - the place was always Riverside Park.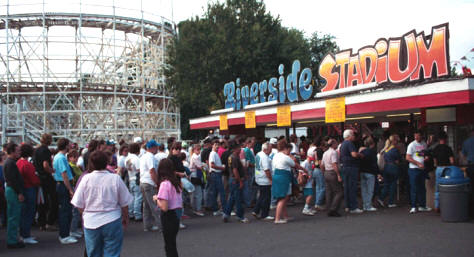 Howie Hodge Photo
Clogston writes that the track was conceived of in 1965. While its hopeful inception and newness was a boost to the Groveton region, it was the final knockout punch to a struggling Northeastern Speedway – not far away – in Lower Waterford, Vermont. Northeastern had already been cold – cocked by Ken Squier's building of Thunder Road, and it had lost many of its cars and fans by the end of 1964. Riverside's birth meant that no other attempts would be made to revive the short – lived but brilliant Lower Waterford track.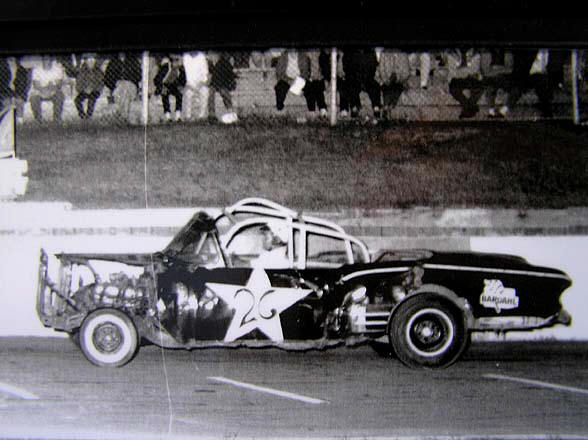 Courtesy of Cho Lee
Local Groveton native Freddy Mills, a regular at Northeastern, would have run both places had Northeastern stayed alive.

Riverside was the project of the McLain brothers, Doc and Chet. The track was sanctioned and officiated by "some long-gone, shadowy and much-maligned group known then as The Association", as Rick puts it. Apparently several Clogstons helped populate the early track official staff, as pit steward, scorers, checkers [whatever that was] and other positions. The track has a history of heavy involvement by a core of dedicated families. Melinda Kennett, the town clerk and tax collector for the town of Groveton, has served in a number of official positions such as handicapper, while her father, former driver Peter Marshall, was the flagger.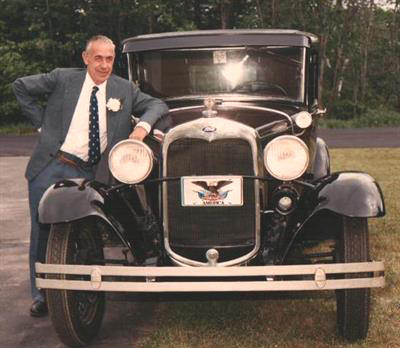 BaileyFH.Com Photo
Chet McLain was one of the fathers of Riverside Speedway. Below - Peter Marshall, in more recent years.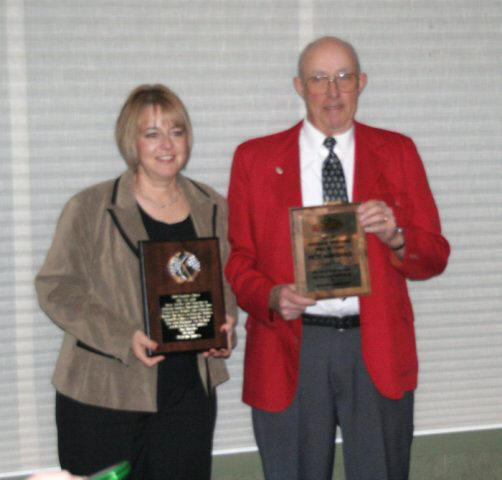 Riverside Site Photo

Clogston points out that he original racing surface at Riverside was some of the worst clay ever laid down. It was mostly sand, really. Apparently its proximity to a river did not give it the advantage that tracks like Devil's Bowl and Fort Covington got from similar locations. The McLains chose to add a lot of old drain oil [a common practice in the old days], the try and firm up the surface and hold down the dust.
It didn't work. But it did make a lasting impression. Racing on this track turned that oil-soaked sand into a fine, black talcum powder that covered everything and slipped through every crack and crevice. The cars in the parking lot looked like they'd all been dipped in coal dust. While Rick recalls the fun of working at a race track and riding home, stopping at a great hamburger joint, he also recalls being heckled by another track worker with a PA system on his car, pointing out to everyone in the town how dirty the Clogston family car was.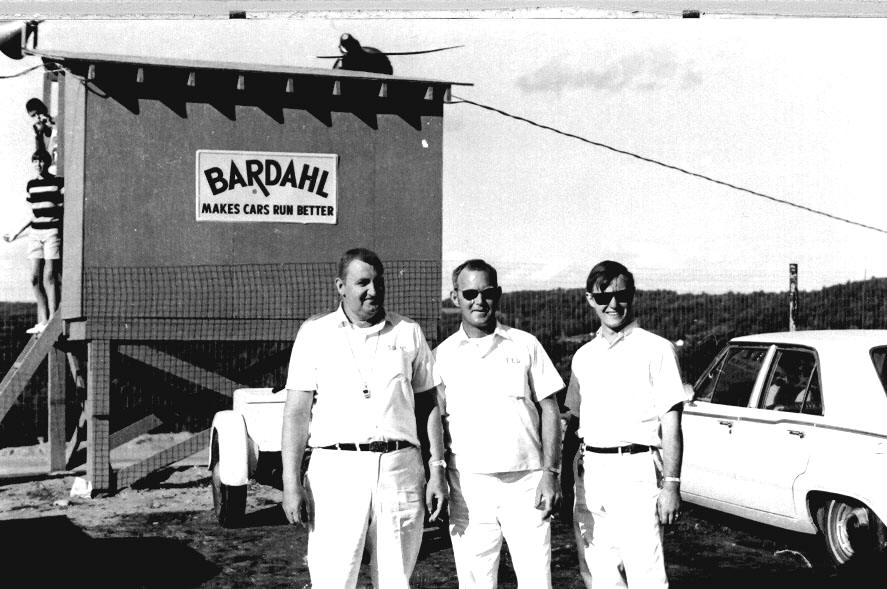 Courtesy of Cho Lee
Ted Winot [center] posing with other officials when he worked
for Bear Ridge Speedway [probably while still flagging at Riverside]. Below – The old Burden Lake
Speedway in New York shows similar track oiling as with Groveton.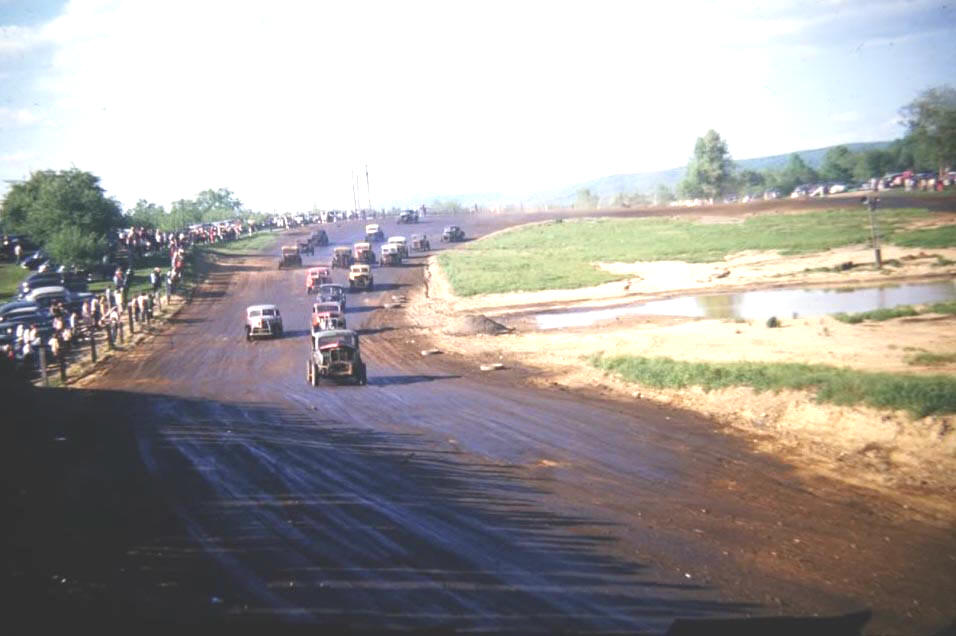 Courtesy of Cho Lee
St. Johnsbury's Ted Winot was the track flagger in the early years. Perhaps, Winot was unable to crack the job at the established Northeastern Speedway [which, by the start of Groveton was dying out] because the job was firmly held by Archie Blackadar, he did distinguish himself at Riverside and down south at Claremont Speedway before have a stint at the newly – opened Bear Ridge track in 1968. Because of the McLain track treatment, Winot could have been mistaken for a 19th century black minstrel show participant by the end of a Riverside program; only the skin under his clothing would give testimony to his actual race.
The area in which the track is located is and has been the poster child for depressed northern New England mill towns. Groveton, NH was a paper mill town and, within a short space of time – some years back – both the Groveton Paper Board and Wausau Paper Corporation mills closed their doors, leaving an empty mill complex, hundreds of unemployed people, and a depressed town. As if that was not enough, sometime later, one of the Ethan Allen furniture factories closed nearby, as well. A few miles outside, outside that depressed town, the track has struggled, ever since, to keep going. At least over in my neck of the woods, not a lot of positive commentary is ever heard about Grovetona, as the track has been fondly called for decades. This negatively is largely based on the dire economic straits the facility was usually in.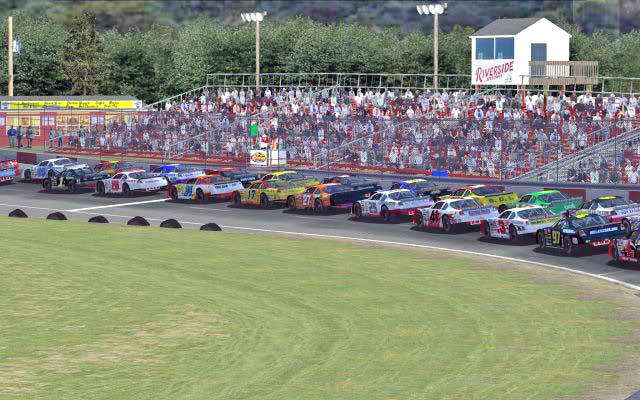 Racing Grafix
This is a grphic rendering of the present building atop the grandstands. It doesn't appear
to serve the function of a snack bar, as did the first building.
Rick Clogston, however, had some observations in an August, 2009 blog on his "Dirt Track NH" site that give the old track some due: "The facility was way ahead of its time, once you got past the racing surface. It was the first banked track I ever saw, and it was big, too. This meant the cars went like bats out of hell. The grandstand area was also beautifully thought out. Instead of bleachers, you had seating for probably 1500-2000 people that stretched the length of the front straight. At the top was the concession stand, which had plenty of room and they had it set up so you could have two lines in and out. And, they could all see the racing while they ordered their food!
Above the concessions was a further floor with more or less a VIP lounge, and atop that a big, roomy judges stand. At the bottom of the stands was a cement retaining wall topped with an excellent chain-link fence. Built into that cement wall was an alcove that served as the flag stand, with a set of steps actually built into the wall for ingress and egress. The only mistake they made with this was that the door in and out of the flag stand was on the turn-4 side of the alcove. This meant that if a car went up the wall, the flagman had to go toward it to get out and into the seating area."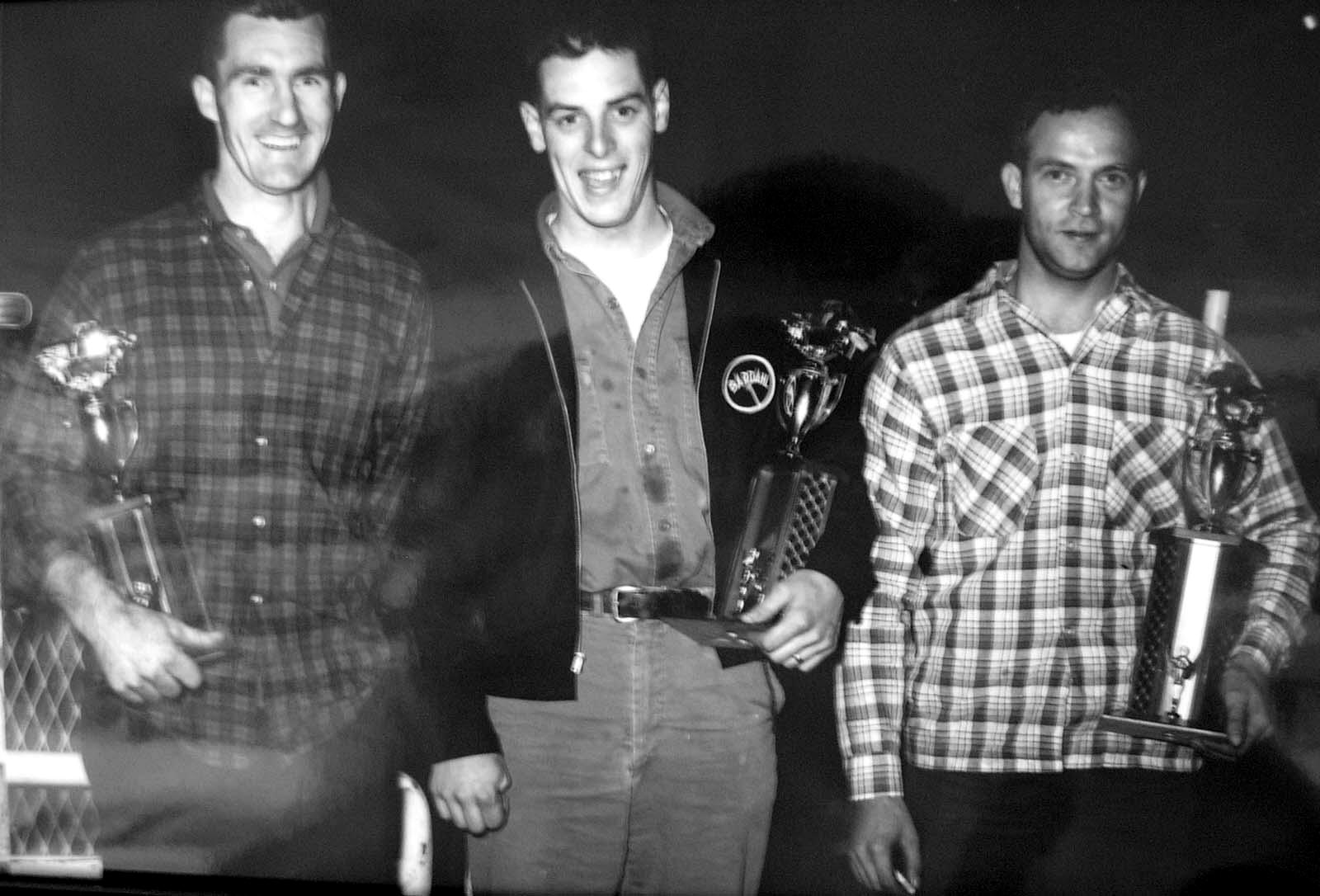 Courtesy of Cho Lee
Second Riverside owner, Mike Beattie poses after a B class win at Thunder Road. Leland Ingerson [left] and George Horn were both from areas that would suggest they may have tried Riverside in its earlier days. Below – Beattie, being inducted into the track's Hall of Fame around 2009.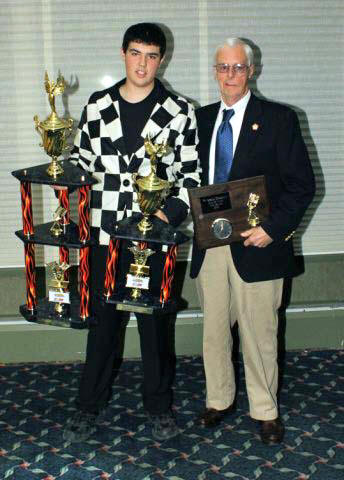 Riverside Site Photo

Fred Carpenter, in an article whose location and age are unavailable to me, was a little less kindly as he described a visit during the Mike Beattie era. I have not been able to tell why the McLains sold Riverside to Beattie, a former class support division star at Northeastern Speedway, Thunder Road, Catamount Stadium, and Riverside. From what I can ascertain, the change of ownership was in 1968, just as Bear Ridge was being built – not too far away – in Bradford, Vermont.
Carpenter wrote this: "The first view of this track and stands gave a quick impression – midget craze …late forties." According to the visiting Carpenter, Beattie soon pointed out that, in fact, the bleachers were only ten years old. He added that the condition of things, as Carpenter found them, was the result of the horrible winter climate and of the neglect of the previous ownership. One section of those stands [so praised by Rick Clogston] was so bad that Beattie had to hitch up a truck and tear it down.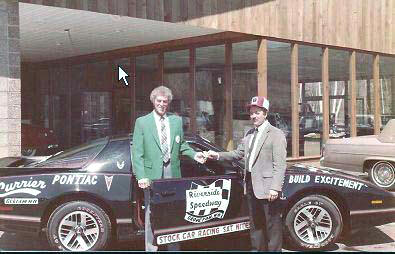 Source Unknown
Mike Beattie, fashionably afro - coiffed for the era, picks up a pace car from a local dealership. He wouldn't need a perm to make his hair curl once he got into all the problems the track had. Below – Ralphie Stygles, in an actual early Riverside photo. There aren't many.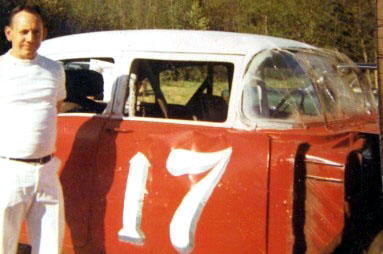 Courtesy of George Hill
At the time of Beattie's acquisition, part of the track was that oiled dirt and part was paved. The McLains had planned on paving the whole thing as their dwindling budget would allow. [They obviously didn't make it]. In 1968 the track was described as D – shaped and somewhat banked. To add to Beattie's problems, the paved portions, having been laid directly over that oiled sand, were beginning to break up. According to Carpenter, Beattie had to grade the unpaved parts of the track "after dark" when it would cool down and did so almost constantly throughout the program.
The racing divisions during the Beattie era were two: a late model class and a charge division of six cylinder cars. These classes would keep the track in good competition for years, even helping to support the fledgling Newport, VT track, Can – Am Speedway, which operated on top of a landfill area at the end of the '70's and beginning of the '80's. The Newport track owner, Charlie Nadeau, had established a relationship with people in the region around Groveton in the early 1950's when he raced at a track in Lyndonville that was operated by a relative Ray Nadeau. That participation at Can-Am would attract some Canadian competitors to Riverside for a few seasons.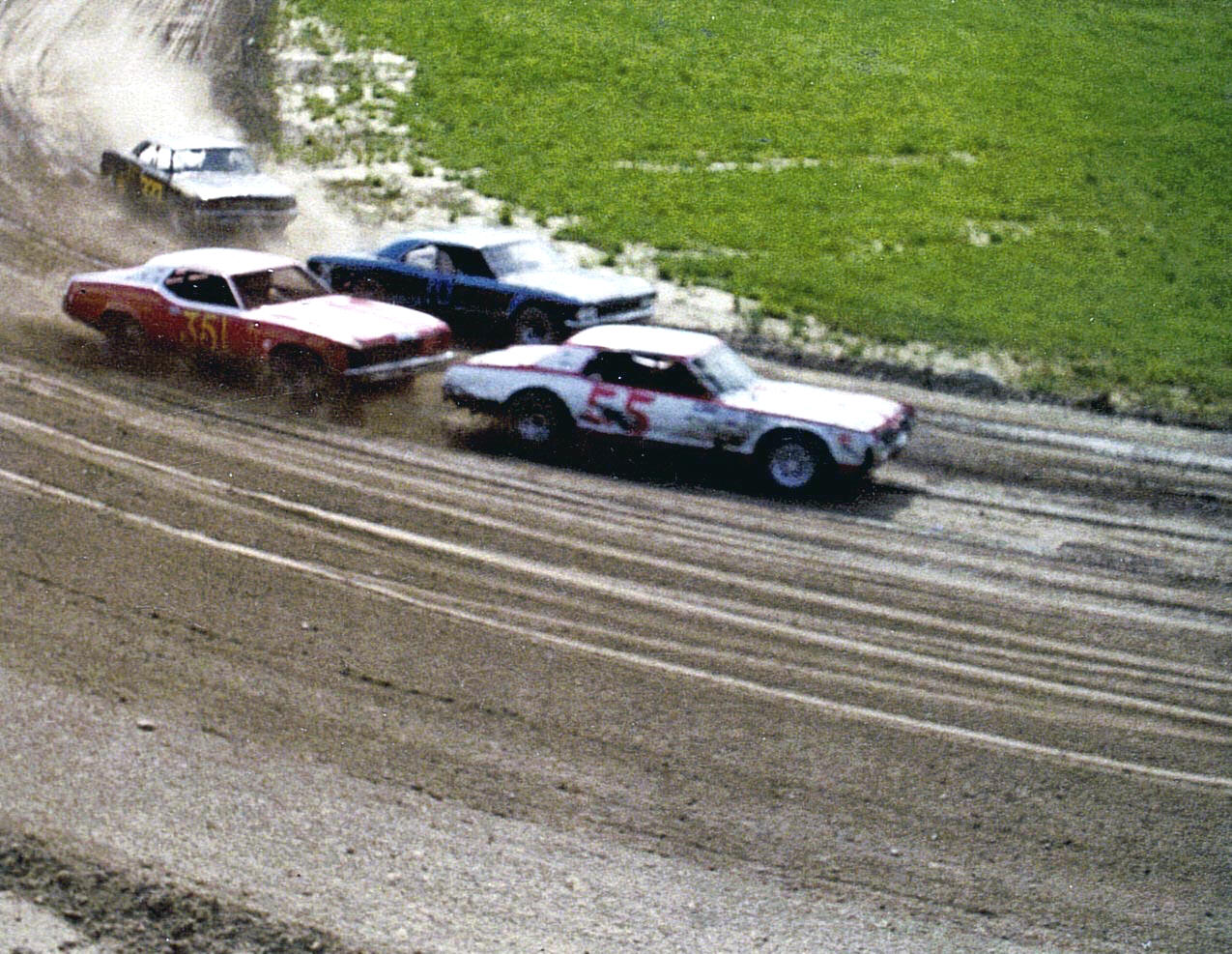 Ladabouche Photo
Groveton regular Bob Ailes of St. Johnsbury [55] leads a field of late models at Newport, VT's Can-Am Speedway around 1980. Middle – Ancient Sylvio Bilodeau of Whitefield, NH brought his equally – ancient Groveton Chevelle to Can – Am. Below – The hobby division Chevelle of Riverside regular Don Kenison sits in a sloped spot in the Can – Am pits.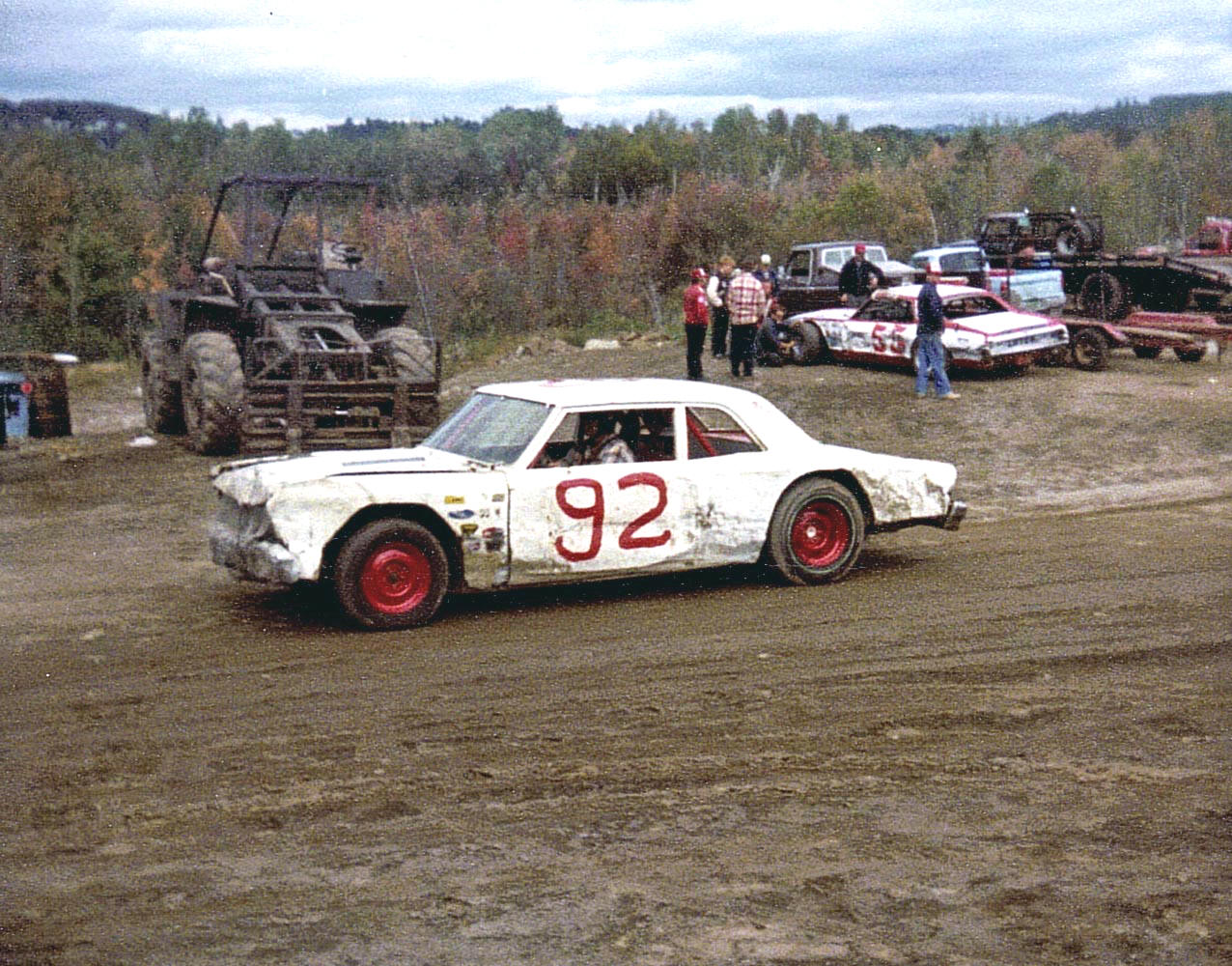 Ladabouche Photo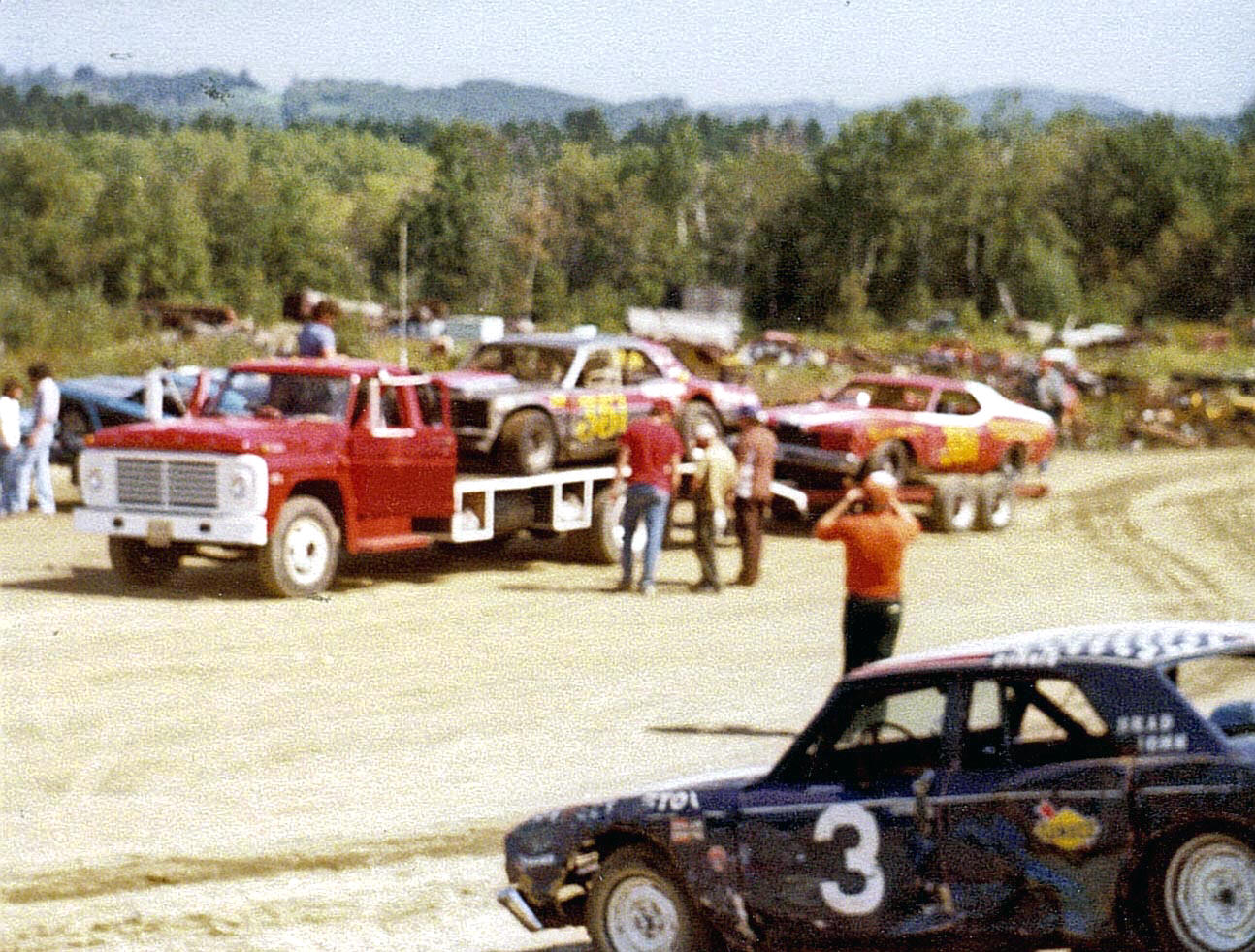 Ladabouche Photo

Eventually Beattie would sell the track off to C. J. Robinson. C. J., who did not end up having the effect on racing that another C.J., [Richards] had at the Fairmont and Devil's Bowl tracks further south. Robinson would operate the track before beginning to lease the track off to some promoters such as Dick Therrien, Jean LeBlanc, and Dan Fournier. Lyndonville, Vermont's Therrien, now successfully running the Canaan complex, gave Riverside the old college try. He took over as manager at Riverside in 2005 and used some considerable publicity skills hoping to draw crowds of 2,500 and 3,000 to the crumbling track. That wasn't to happen.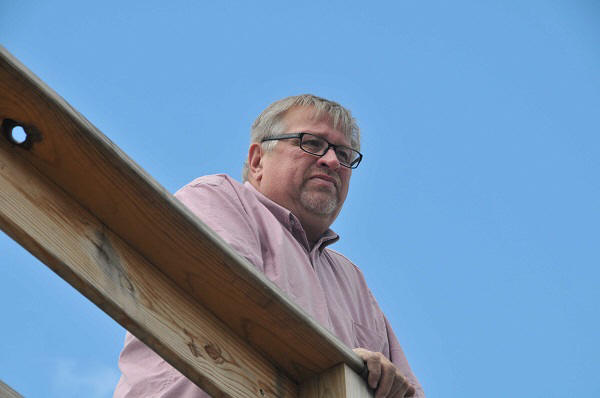 Source Unidentified
Dick Therrien really gave it the college try at Groveton before moving on to Canaan. Below – Reno Gervais
of Island Pond, VT one of the many late model drivers who got his start at Riverside
around the Therrien era gets an award from Dick.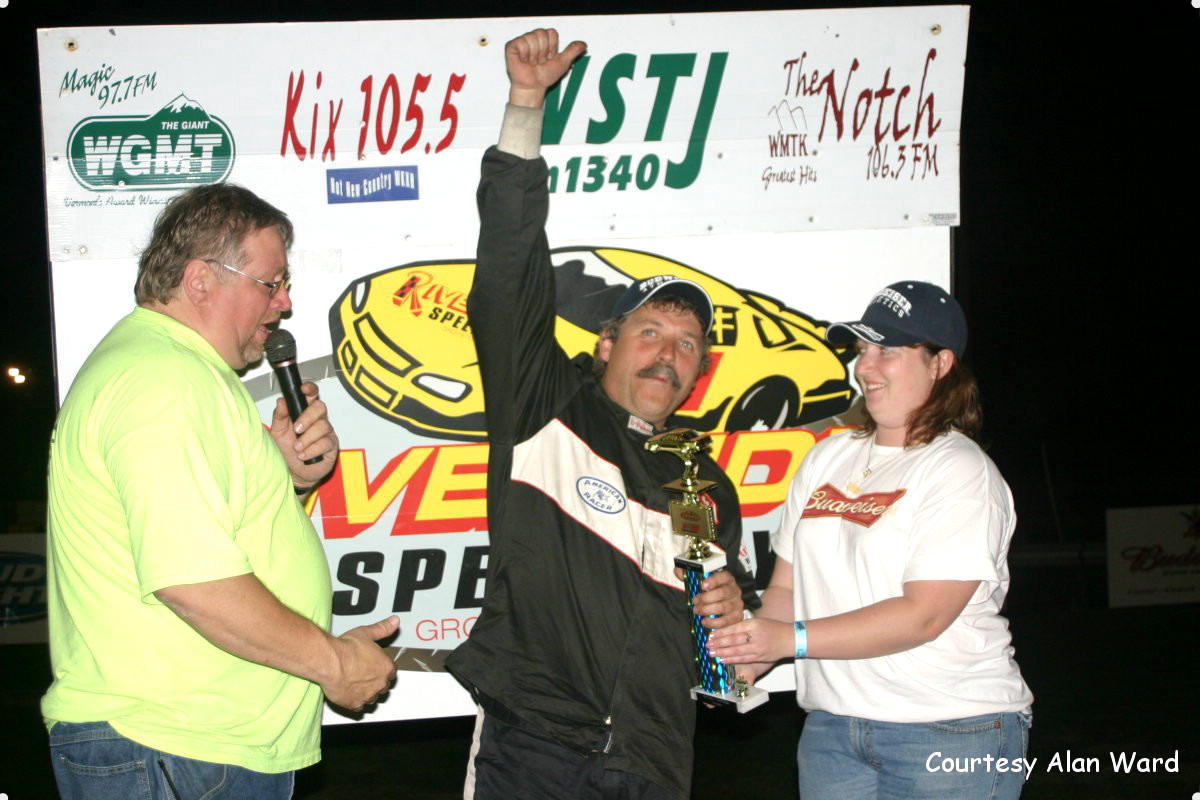 A and A Ward Photo

Therrien pointed out, in one article about him, that he would hopefully be doubling and sometimes tripling the population of Groveton on some of his better nights at Riverside. It was not lost on the locals that his reference referred to what this influx might be for local stores. In his first year, he managed to get the anemic attendance average from 350 at the start of the summer to around 550 at the end. By 2008, he was getting closer to 800 fans and as many as 400 paid pit admissions. The influx of more money was put directly into the facility.
He faced a deteriorating track surface [that was now totally paved] and rundown grounds. One internet article whose author is unavailable stated, " the Therrien crew used about 35 gallons of paint and some new boards for the grandstands to give the place a facelift. He and his family, as well as some friends, also hauled trash out and mowed the unkempt racetrack and campground facility. Then, he upped the winning purses in the first steps of his quest to give the track with a "rough and tumble reputation" a little bit more appeal."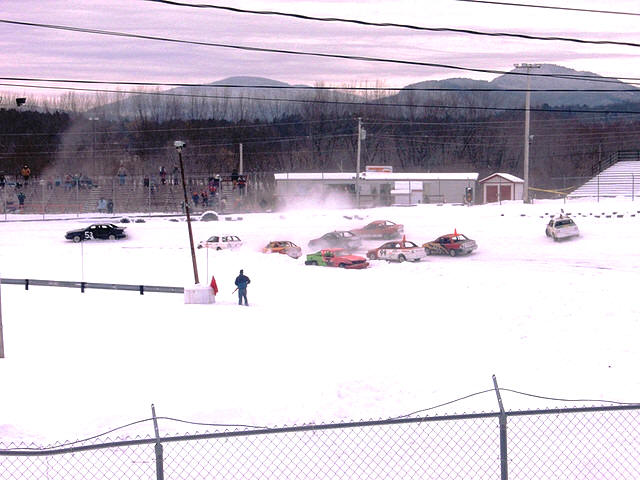 Static Flickr.Com
One of Therrien's legacies is Groveton's famous Hangover race. Below- Action at Riverside around 2007, with Tiger
Sportsman cars including the long – time ACT driver Mark "The Hammer" Barnier [0].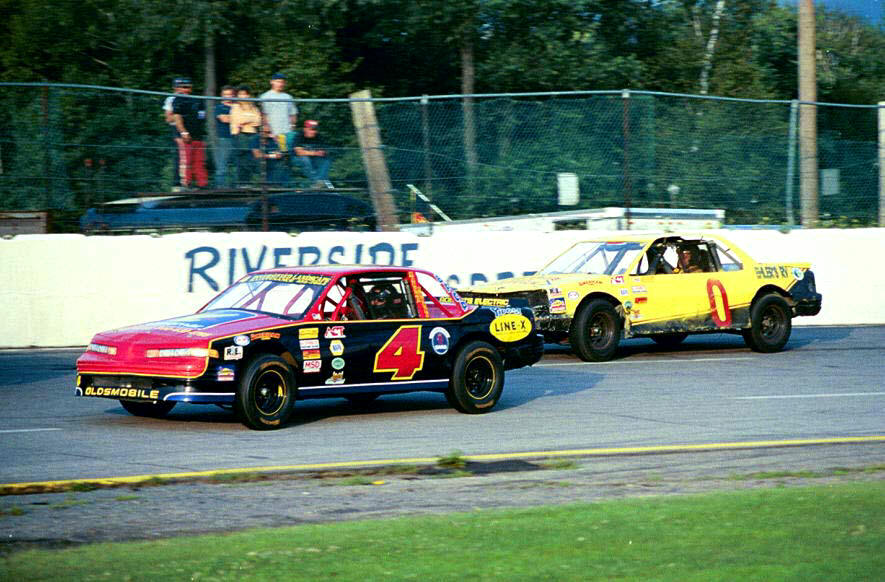 A and A Ward Photo



Dick's tenure at the track did leave a couple of significant innovations that are sort of trademarks of the venue: the "Hangover" race in the winter and the Youth Daredevil Division for very young competitors. By 2007, having moved from manger to lessee, he upped the purses and brought the popular late models back to the track. By 2011, Therrien had done all he could for the northern New Hampshire track and was not happy with the returns; he ended up falling into a good situation at Canaan USA. Jean LeBlanc would now try his hand at running his local track.
LeBlanc did all he could with the same conditions faced by Therrien. He even drove a street stock car at Barre, Vermont's highly successful Thunder Road to attract some attention to his track. He welcomed in a Tiger Tour race, as well, and several of the younger late model drivers at the Road had run or were running at Groveton. Now, in 2013, Colebrook, NH car dealer Dan Fournier has taken over running Grovetona. Fournier does have one ace card – the PASS race held there annually. Like Therrien, Fournier tapped into cold weather racing with a November enduro that brought much – needed capital into the track.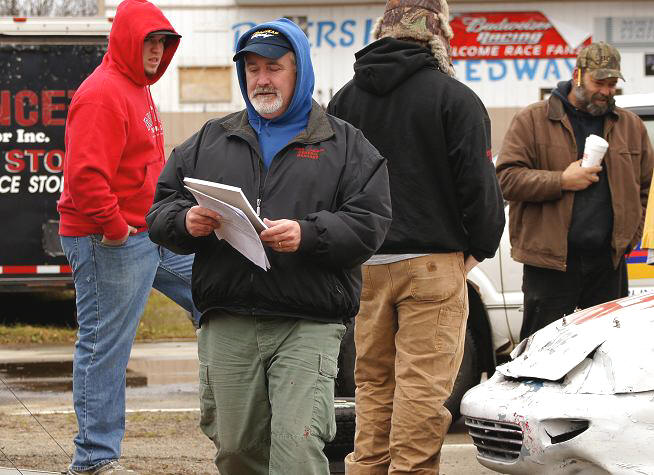 Suitors Garage.Com Photo
Promoter Jean LeBlanc looks appropriately attired for the balmy Groveton climate as he
sees to details during his tenure at Riverside.
The track, which started with the likes of Freddy Mills, Mike Beattie, Harold Hanaford, and some of the Ingersons, was popular enough to survive the popularity of other tracks like Thunder Road. The popular names switched to the likes of George Stone, the Kennisons, Bob Turner, Bob Ailes, Steve Burgess, Steve Stiles, Gary Dodge, and Aaron Bennett. Tracks like Catamount Stadium, Can – Am Speedway, and others came and went – and Riverside was still there, albeit sometimes crumbling. It weathered the eras of very good and really bad times much like Airborne Speedway, over in New York.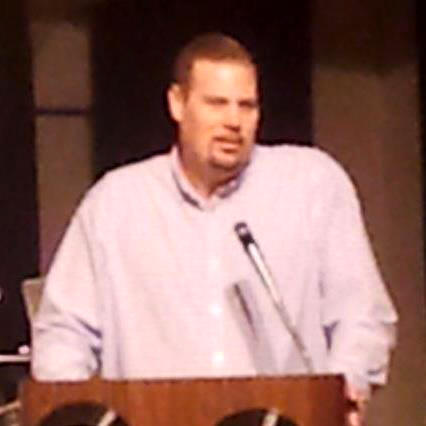 Fournier Facebook Page
Dan Fournier, from nearby Lancaster, is the latest to take up the gauntlet of promoting Riverside. Below-
Whitefield's George Stone was one ofthe track's first and all – time greats.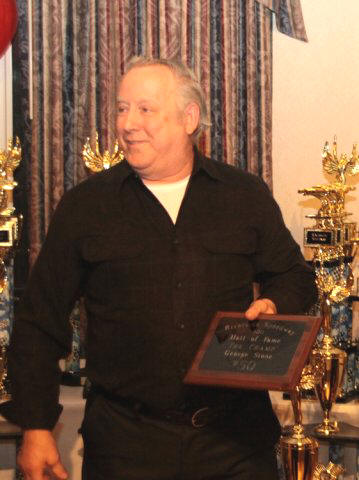 Groveton Site Photo

The track has provided a number of top runners to Tom Curley's ACT, such as Rocket Roger Brown, Quinney Welch, and Randy Potter. Some of Thunder Road's current younger drivers like Brooks Clark started as late model runners at Groveton. The Fournier administration has high hopes for bringing the beleaguered track back to life despite the horrible economic climate of that area. So, too, Groveton hopes for a rebirth of the American paper industry – re-awakening those perfectly good mills in town. It will take all those families like Clogstons and Kennetts, as well as those devoted families who either tow a car to the pits or a blanket and cooler to the stands.
Either way, if you want to experience complete devotion to a race track by a local population, give Riverside a visit. Just go in the warm season.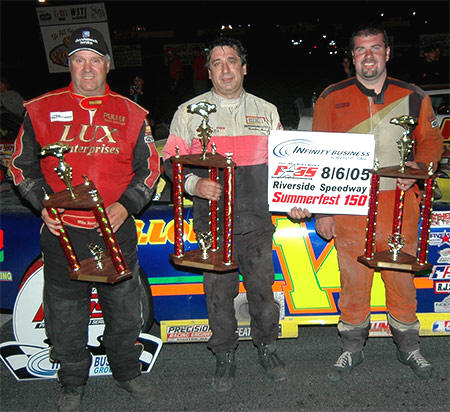 From the PASS Site
In recent years, Riverside now relied heavily on its visit from the powerful PASS tour late models. Here, winner Rick
Martin is flanked by the legendary Mike Rowe and by PASS star Johnny Clark.
Please email me if you have any photos to lend me or information and corrections I could benefit from. Please do not submit anything you are not willing to allow me to use on my website - and thanks. Email is: wladabou@comcast.net . For those who still don't like computers - my regular address is: Bill Ladabouche, 23 York Street, Swanton, Vermont 05488.
AS ALWAYS, DON'T FORGET TO CHECK OUT MY WEBSITE
www.catamountstadium.com
Return to the Main Page
Return to the Main News Page
Return to the All Links Page
Return to the Weekly Blog Links Page