AUSTIN DICKERMAN
Money Talked, Nobody Walked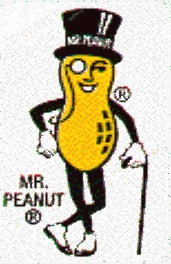 It seems like I remember something to do with peanuts on the Dickerman's Motor City sign.
When you search the internet, there almost nothing that comes up on Austin Dickerman, except some Civil War soldier and an occasional mention of some car he bought for Eddie Delmolino. That doesn't seem fair, somehow, with the flamboyance of his life, with the number of years he was a businessman in Brandon, Vermont, and with the role he played in 1970's racing in the Northeast. Hence, this page on Austin, with all that I have on him.
For those who read all this, I am still looking harder for the 1964 Chevelle that Dickerman bought from Jack DuBrul and eventually sold to Ray Richards fro Bob Ellis. I have it as the DuBrul #1 and the Ellis #76, but not the 57 or 357, blue and yellow version Austin had for Ed Foley.

From the Fonda Book
This is the only good shot I have of Austin, whose legacy seems inevitably intertwined with Joe Leto.

Courtesy Arnie Ainsworth
Eddie Foley,
Leicester, VT


Courtesy Arnie Ainsworth
Vince Quenneville with a
357 they ran in
Canada in the '70's.

Probably John Grady Photo
Butch Jelley with the
infamous station wagon
that ran Fonda, among
other places.

Schenectady Collection
Otto Graham Site
Jelley an the wagon
again.

Courtesy Chris Companion
Eddie Delmolino with a
Dickerman Vega.


Courtesy Arnie Ainsworth
Vince Quenneville with a
Gremlin.

Courtesy Arnie Ainsworth
Eddie Del with a
yellow 357 Vega.

Courtesy Arnie Ainsworth
Eddie with what I consider
to be classic Dickerman colors.

Courtesy Arnie Ainsworth
Quenneville with same
Canadian Gremlin and
Stan Wetmore in background.

Courtesy John Grady
Don't know who this
is but the Dickerman
hauler is in the background.
Return to the Main Page
Return to the Main News Page
Return to the All Links Page