BILL'S WEEKLY COLUMN/BLOG PAGE

BILL'S BACK IN TIME
By Bill Ladabouche
Don Wayman "A True Champion"
When there existed a website run by Conde and Parry [a real treasure of photos and information on the history of central New York stock car racing] Rick Parry wrote up a background on driver – for – hire Don Wayman, from Cobleskill. It was very clear from the comments that Parry holds Wayman in high esteem, even if Don never was state or national champion. His premise was that only a great driver would hire on with so many good teams.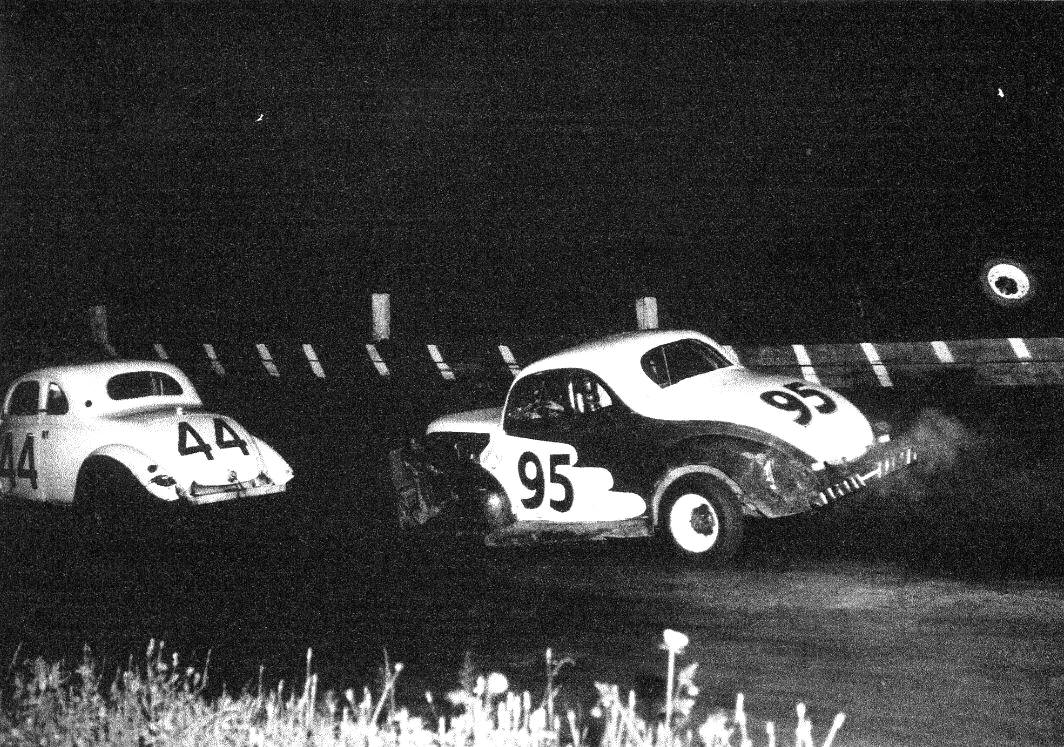 Vogel family Collection
This is the only shot available of the 44, at Fonda, leading the Ted Vogel – owned 95 which is losing a wheel. Below - Don Wayman, of Cobleskill.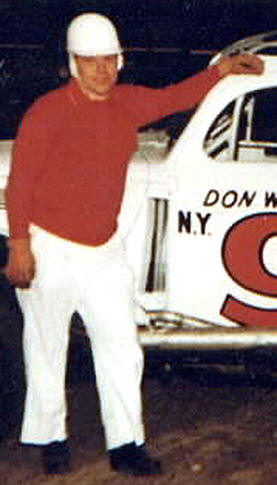 From the Former Conde and Parry Website
I must credit Parry with most of the background information for this column. I have just added my two cents because I share Rick's admiration for the man from the rural New York community where my daughter attended SUNY to learn plant sciences. I told her about Donny Wayman and – being a girl who never cared much for racing – her enthusiasm was certainly somewhat contained. Nonetheless, Don needs history told. This may be the second article I have done on him, but it's really good subject matter.
Don started racing about 1946 in the #44, a six cylinder GMC – powered 1934 Chevy sedan at Westerlo Speedway. At that time, Westerlo and most tracks of that era had some involvement with those hairy, dangerous roadsters. It is unclear if the 44 was a roadster; but, being a sedan, it seems doubtful.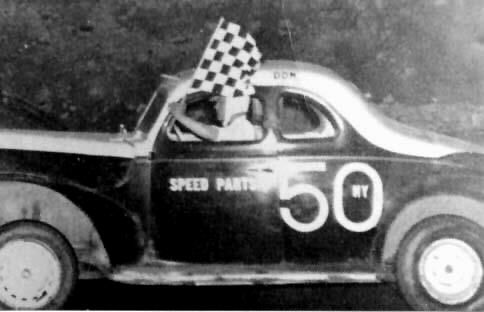 From the Former Conde and Parry Website
One of Wayman's first real rides was the McCoy brothers' 50NY – seen here at Sharon Speedway. Below – Don,
with the Clarence All 48 sedan usually driven by fellow Cobleskill driver Harold Betts.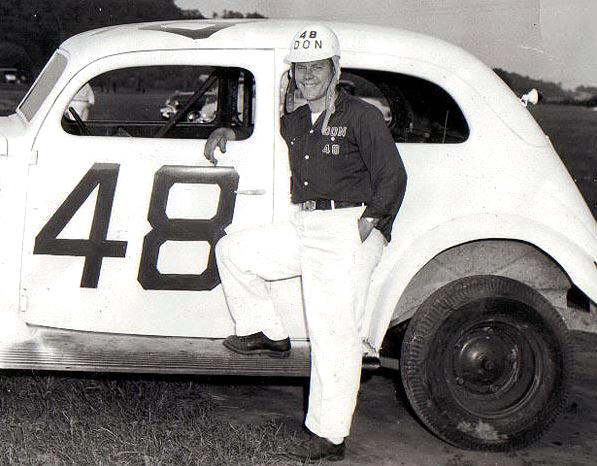 Courtesy of Jo Towns via Otto Graham

Then Don and Harry McCoy built the #50. After a while, they then the constructed the#55, a car that is often associated with those who know Wayman's career. They raced this for about five years - mainly at Sharon Speedway. They probably should have kept it there. One particular night, when Jerry Jerome was hot under the collar after his flathead entry had been disrespected by New Jersey invader Don Stumpf, Wayman and the 55 found themselves in the wrong place at the wrong time.
Jerome had been pushing his #550 NY to the limit, moving up in a field of primarily overhead V-8 sportsman cars in pursuit of the cocky Stumpf, who had already had an unpopular win at Fonda earlier in the year. Jerome got around Wayman coming out of turn four and Don dove back under him in the front stretch. The cars touched, precipitating one of the worst wrecks in the history of Fonda. The result was the Jerome car was on its side, in pieces. Doc Blanchard was bashed up in Herb Roots' H2, and Wayman hung out the window of the 55, briefly unconscious. That concluded that ride.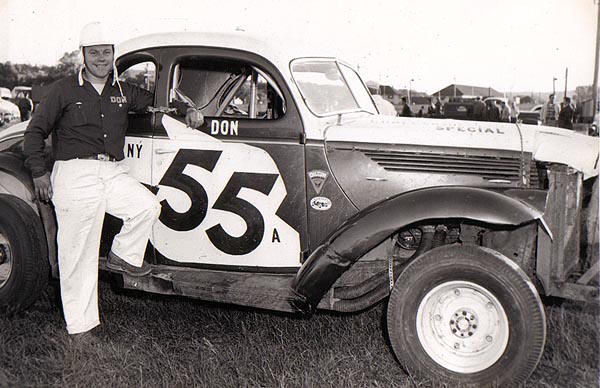 Courtesy of Gene Strenkowski
The McCoy – built 55 in happier days. Below – [Left] Jerry Jerome sits, dazed, atop his wrecked car in the wreck aftermath.
[Right] The destroyed Wayman car.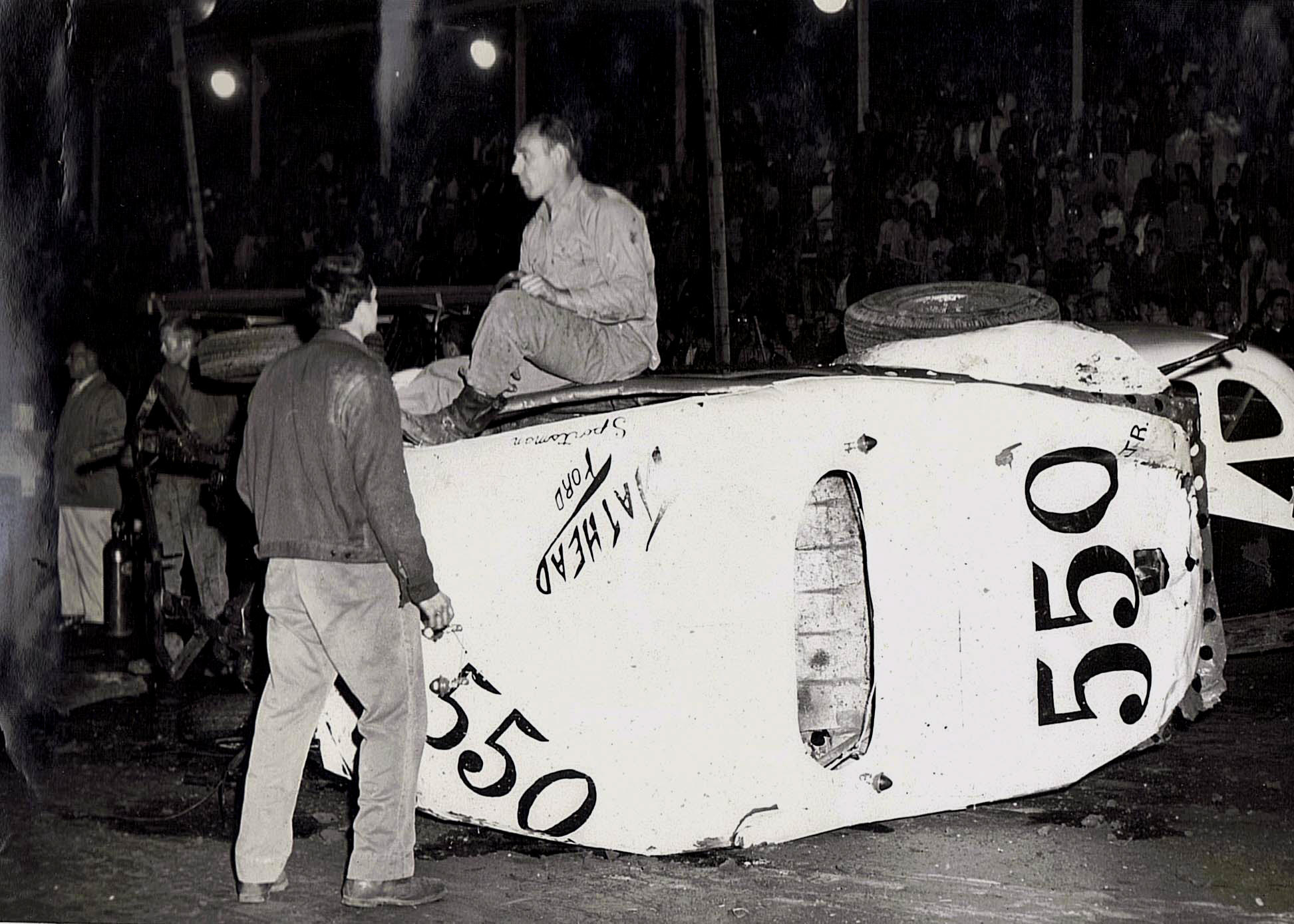 Courtesy of the Starin Family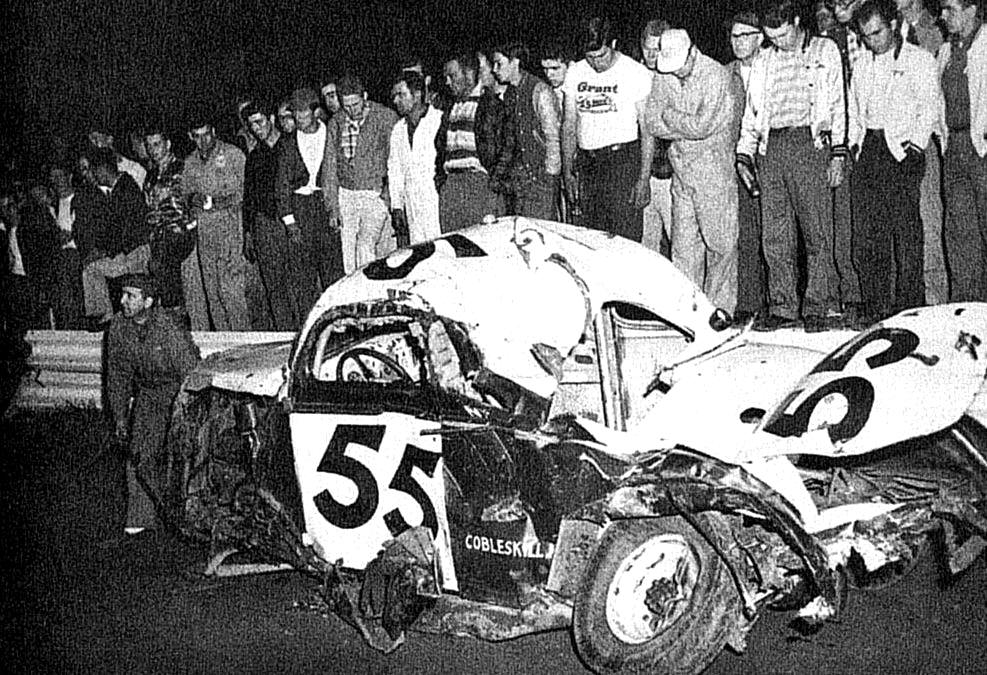 Feuz Collection from Fonda Book
Afterward, Don also raced the #555 for Bill Southard of Middleburg, N.Y. Don also raced the #48 for Clarence All in Fonda in the early 50's. The white 48 cars were usually associated with Harold "Bugs Bunny" Betts, a Cobleskill neighbor of Wayman's. All had fielded both a coupe and a sedan ,at one point or another, with help fro Betts and his pal, Bob Deming.
Don bounced around from ride to ride between 1954-60. In 60 he picked up the first of his legendary rides in the Bernie's Liquor Shop #71, in which he stayed with until mid-way 62 when he was asked to drive the Zautner Bros #83 to fill in for the injured Howie Westervelt. Wayman won a curious championship at Fonda with Don Bennett, owner of the 71. He is seen in one particular photo as the "Ford Champion" at Fonda, back when tracks sometimes had special categories like that or , perhaps – flatheads.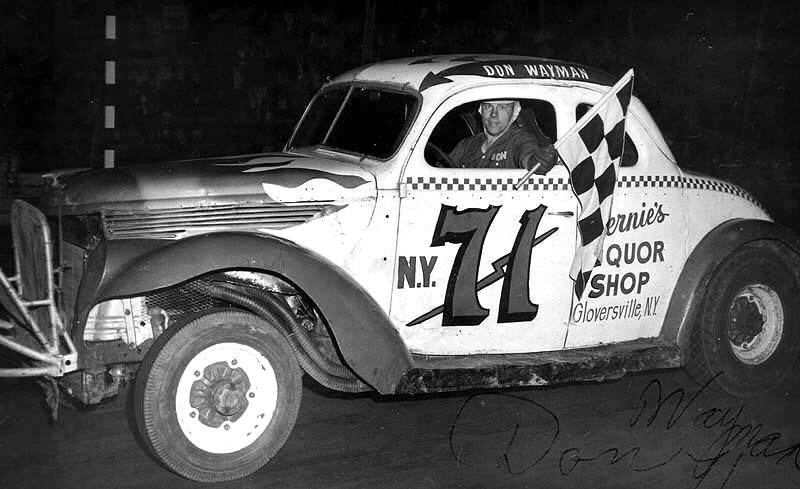 Courtesy of Mike Russo
Don, with another win in the Dick Bennett's Bernie's Liquor Shop 71, a ride many drivers enjoyed.

In 1963 he drove a second car the 9a "Toll Gate Ice Cream Special" for the Zautner Bros.and chief mechanic/ co-owner Cliff Wright. In 1964, in a third car [which became the legendary 24] Wayman continued on with the Wright/ Zautner Bros. team until the ride was taken over by Ken Shoemaker. Of course, Shoemaker would have tremendous success with the team as it slowly transitioned over to mostly pavement racing and was eventually replaced by Don MacTavish.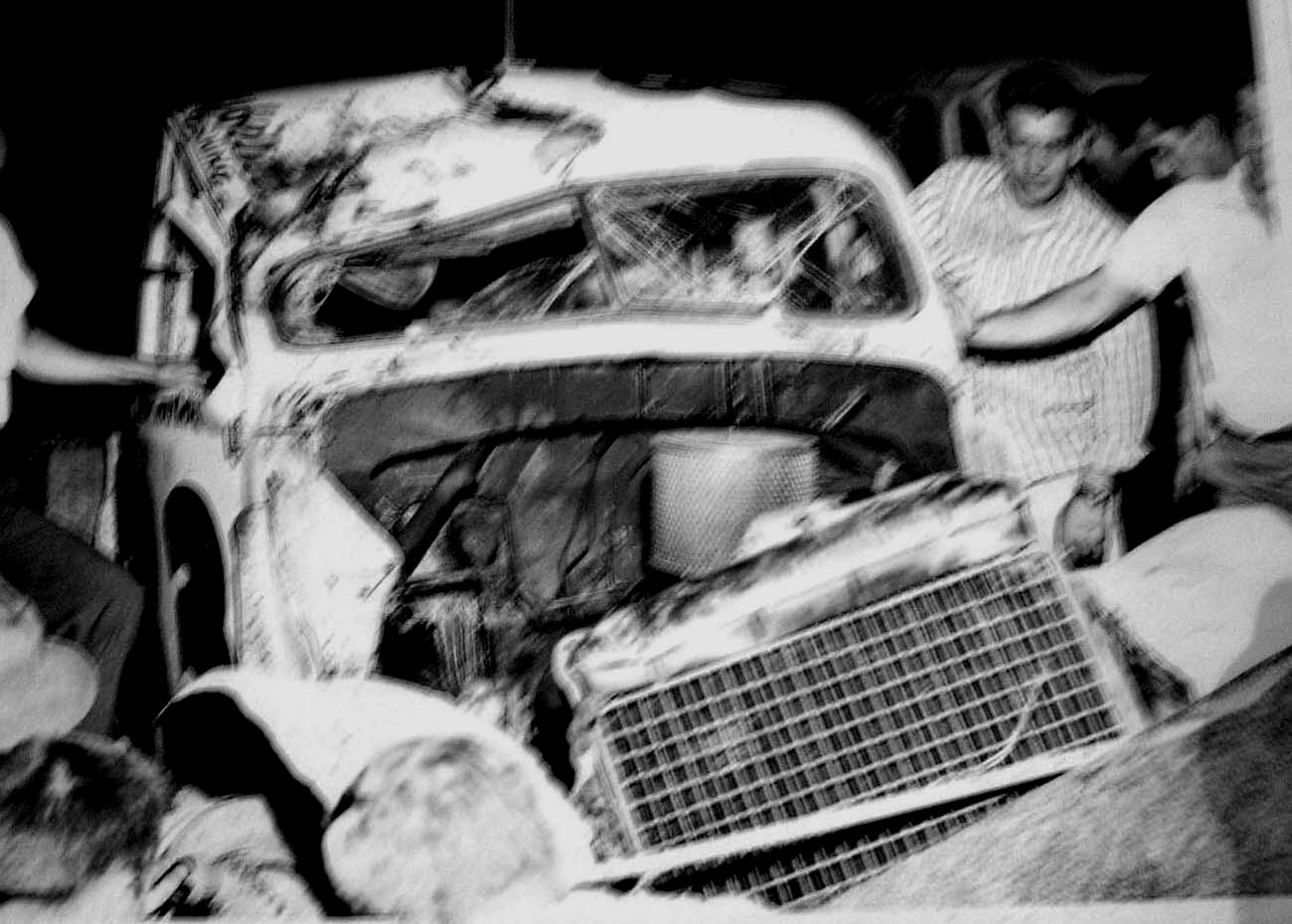 Courtesy of Dan Ody
Wayman briefly drove the Wright/Zautner 83 before wrecking it at Fonda. Below – The new replacement Ford for the team – their last Ford. Further Below -|
The innovative 24 Chevy coupe - and last chance for Don. When Wayman did not achieve what Wright and Zautner expected with the
car and its advanced characteristics, Shoemaker got in and went crazy with the thing, winning everything in sight.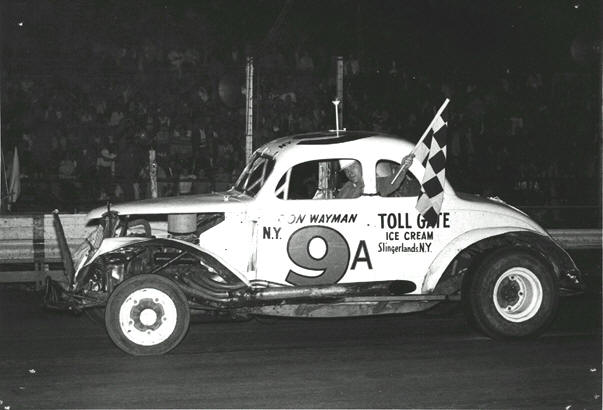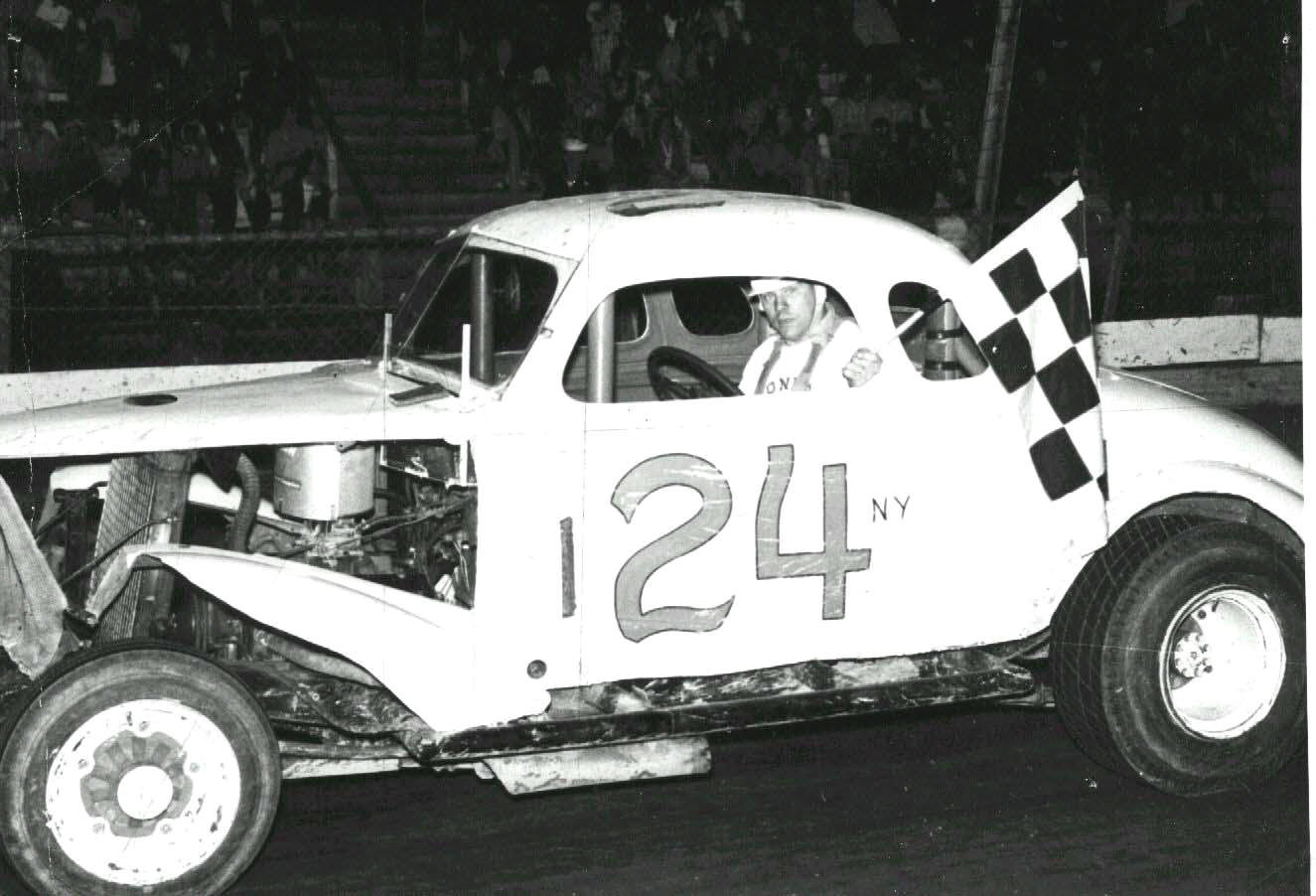 Russ Bergh Photo Ladabouche Collection
Wayman also ran at other venues in that time, when he was in and out of the Toll Gate Ice Cream cars. He did some driving with a #43 at the Midstate Speedway in Morris, NY. That car also ran some races at Lebanon Valley and it might be assumed he was involved in some of these. It can also be assumed he was running with other teams, as well. The 43 showed up one afternoon at Fairmont Speedway in Vermont without a driver and was handed over to Sonny Rabideau to try.
For 1965 Wayman had no real good ride available until he settled into the Smith Bros #00 which the raced three nights a week Stafford, Fonda and Victoria. The Godfrey Wentzel – wrenched sedan, made famous by Rene Charland in the years he was chasing national points championships, had been changed over from the 3MA to a more steel blue – colored #00 [done to simulate moon eyes]. The coach, also driven by Utica, NY veteran Jim Luke, was always a contender.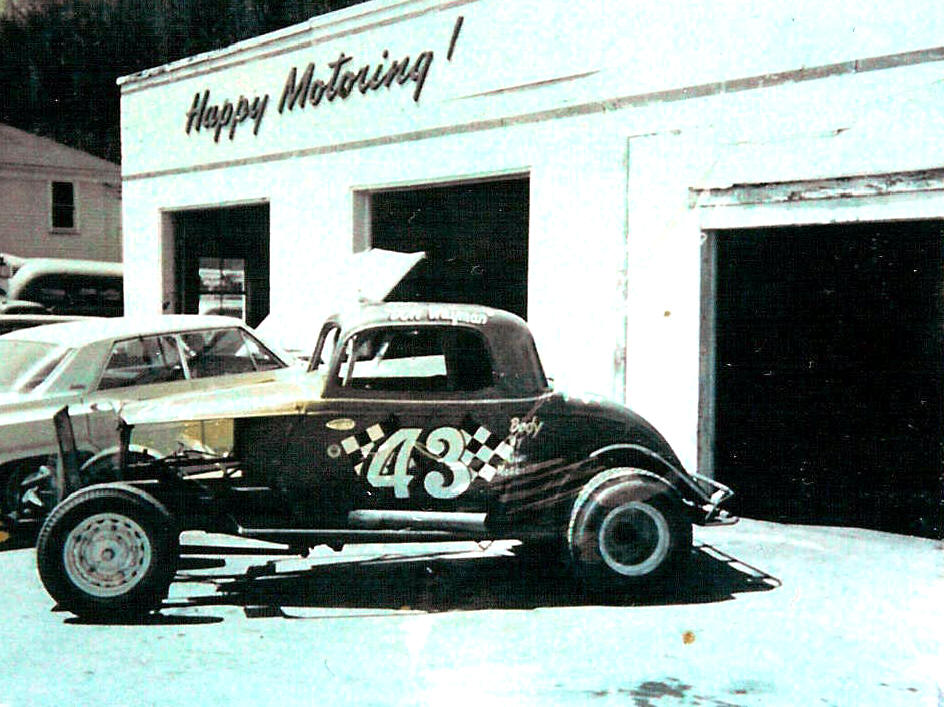 Ladabouche Collection
The 43 car which Wayman drove primarily at Morris. Below - Don, with Godfrey Wentzel's Smith and Sons Jewelers 00 sedan,
the same car Charland often used at Fonda and Utica – Rome as 3MA.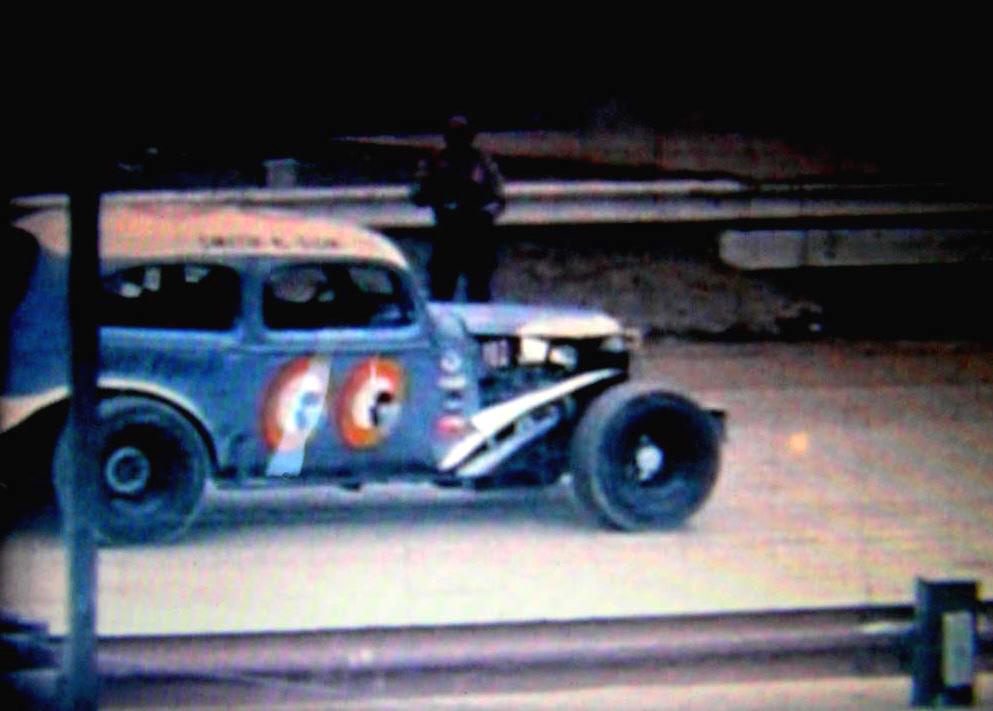 From Dan Ody's 8 MM Old Speedways DVD

1966 he drove the Godfrey Wentzel coach again – now white and re – lettered as the Reardon's Garage 03. Wentzel would eventually build a lower, faster sedan also lettered as 03, and Wayman would be replaced by Irv Taylor while Maynard Forrette got the new car. The similar – looking Wentzel cars got almost instant notoriety when they were photographed side by side and placed in one of the All Star League programs.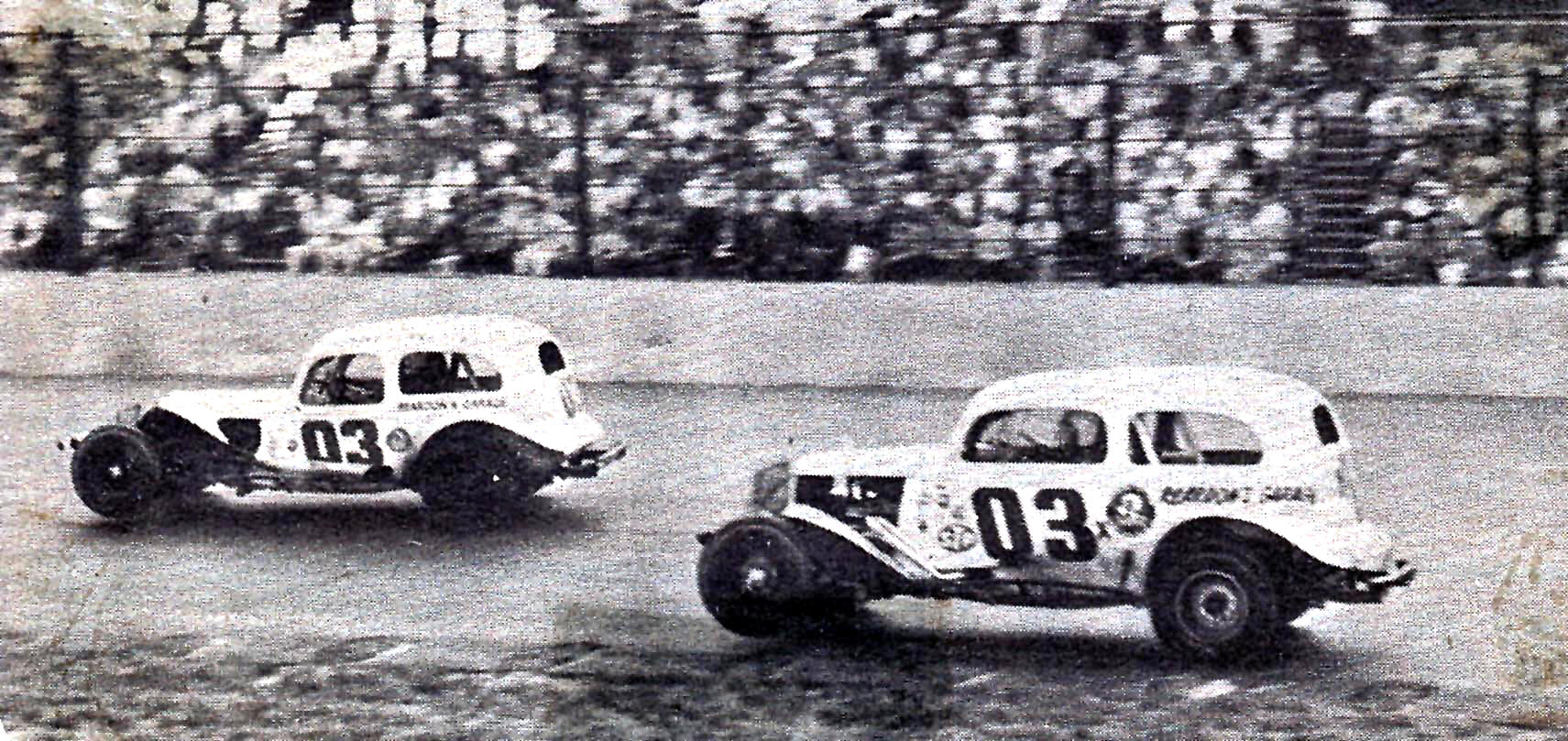 From an All Star League Program
Maynard Forrette leads Irv Taylor in the 03 Godfrey Wentzel cars. Similar setup – they're both lifting the inside front. Wayman drove the car Irv in.

1967 Don teamed up with the Legendary Frank Trinkaus to drive the #62. He would be the Trinkhaus driver, alternating with others and again from 1966 to 1969. His tenures in the 62 made him part of a history that included Ken Shoemaker, Jeep Herbert, Paul Marshall, George Gallup, and even – on one occasion – Steve Danish. Trinkhaus would eventually settle in with a fuel injected car and veteran Lee Millington. After a pair of bad accidents, Trinkhaus got out of the sport for good.
1970 was a year of accomplishments and controversy. Now behind the of the #59CT owned by Russ Betz, he scored 16 top 5's, 7 heat wins, and 2 feature wins. BOTH feature wins were scored as a tie: one on June 6th with Pete Corey; and the other on August 8 with Dave Lape. These victories represented different things to different people. For Lape, it was the beginning of a hall of fame career at Fonda. For Corey, it was getting near the end of a brilliant career there. For Wayman, both wins made up the pinnacle of a career.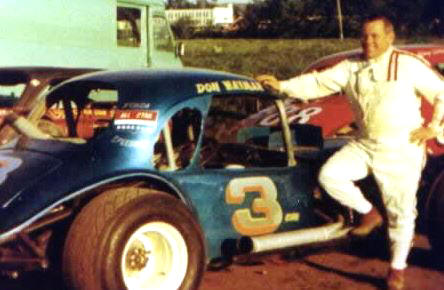 From the Former Conde and Parry Site
Don poses with Rene Charland's 3MA. The roof still bears the Champ's All Star League sign. This was about the time Wayman was actually in the League, himself [Fonda team - 1971]. Below – Like Charland before him, Don took a turn with Russ Betz's potent 59 CT.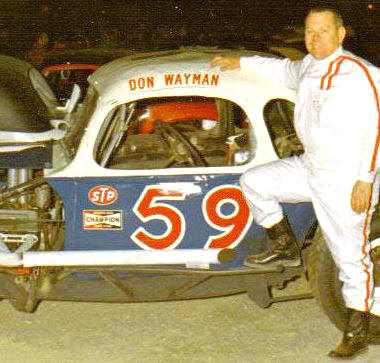 Courtesy of Steve Judd
From 1971-75 Don drove a few more good cars picking up a win here and there. He would stints driving the 3CT, a former Rene Charland mount; Wally Albro's 9NH; and the Agawam Speed Shop Special, #40 a Petty Kit car. Around 1975-76 his last ride would be the 17, the Paul Braver - owned Jay and Linda Broderick - sponsored car. Don had sat in for most of the greatest car owners of the Golden Age of New York Fonda area NASCAR sportsman and modified racing.
Perhaps, he did not pile up the number of wins of a Corey, a Shoemaker, or a Wimble; but, he had a career deserving of inclusion in any number of halls of fame. He demonstrated versatility and the ability to jump in and out of rides and still function. Contrast this with a Bill Wimble, who was lucky enough to have the same basic team for years. The Wayman versatility served him well in his one year of participation in the All Star Stock Racing League, when he was on the Fonda team in the 1970's.
Don's desire to drive was a strong one and would race for anyone who needed him which brings back memories of a "TRUE CHAMPION".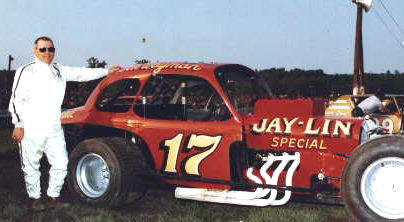 Courtesy of Otto Graham
Don finished out a long career with a beauty of a car.
Please email me if you have any photos to lend me or information and corrections I could benefit from. Please do not submit anything you are not willing to allow me to use on my website - and thanks. Email is: wladabou@comcast.net . For those who still don't like computers - my regular address is: Bill Ladabouche, 23 York Street, Swanton, Vermont 05488.
AS ALWAYS, DON'T FORGET TO CHECK OUT THE REST OF MY WEBSITE
www.catamountstadium.com
Return to the Main Page
Return to the Main News Page
Return to the All Links Page
Return to the Weekly Blog Links Page