BILL'S [Somewhat] WEEKLY COLUMN/BLOG PAGE

BILL'S BACK IN TIME
By Bill Ladabouche
Richie in the Promised Land
Recollections of Crewman Phil Bowler on that Summer of 1972
It promised to be one helluva season for Ken Squier and the Northern NASCAR circuit. The year before, Squier and his brain trust had seen their first year of having full – fledged NASCAR late model sportsman cars go very well. 1971 had seen dozens of teams join his familiar teams running at Catamount Stadium and at the original track, Thunder Road International Speedbowl had been joined by the crumbling but important Airborne Park Speedway in Plattsburgh, NY, a mecca for Canadians.. The circuit had elevated its Flying Tigers [NASCAR hobby] division to limited sportsman cars for the 1970 season, and had then gone for broke…….. and it took !

Courtesy of Andy Boright
And it took ! A heat field of 1972 late model sportsman cars shows drivers from four states and Canada and multiple car makes.
[There were Fords, too]. Panch host Tom Tiller is 77.
So, in addition to all the establish stars like the Dragon brothers, Tom Tiller, Stub Fadden, Clem Despault, 1970 State Champion Ron Barcomb, Tom Tiller, Moe Dubois, Bobby Giroux, and many more, teams had come up from Norwood Arena and down from the Province of Quebec to add many more competitive teams and new makes of car to the mix. Jean – Paul Cabana and Andre Manny from Canada had joined John Rosati from Massachusetts in seeking the Northern NASCAR gold and its national points. New Yorkers once very dominant at a brand new Catamount, were returning in force.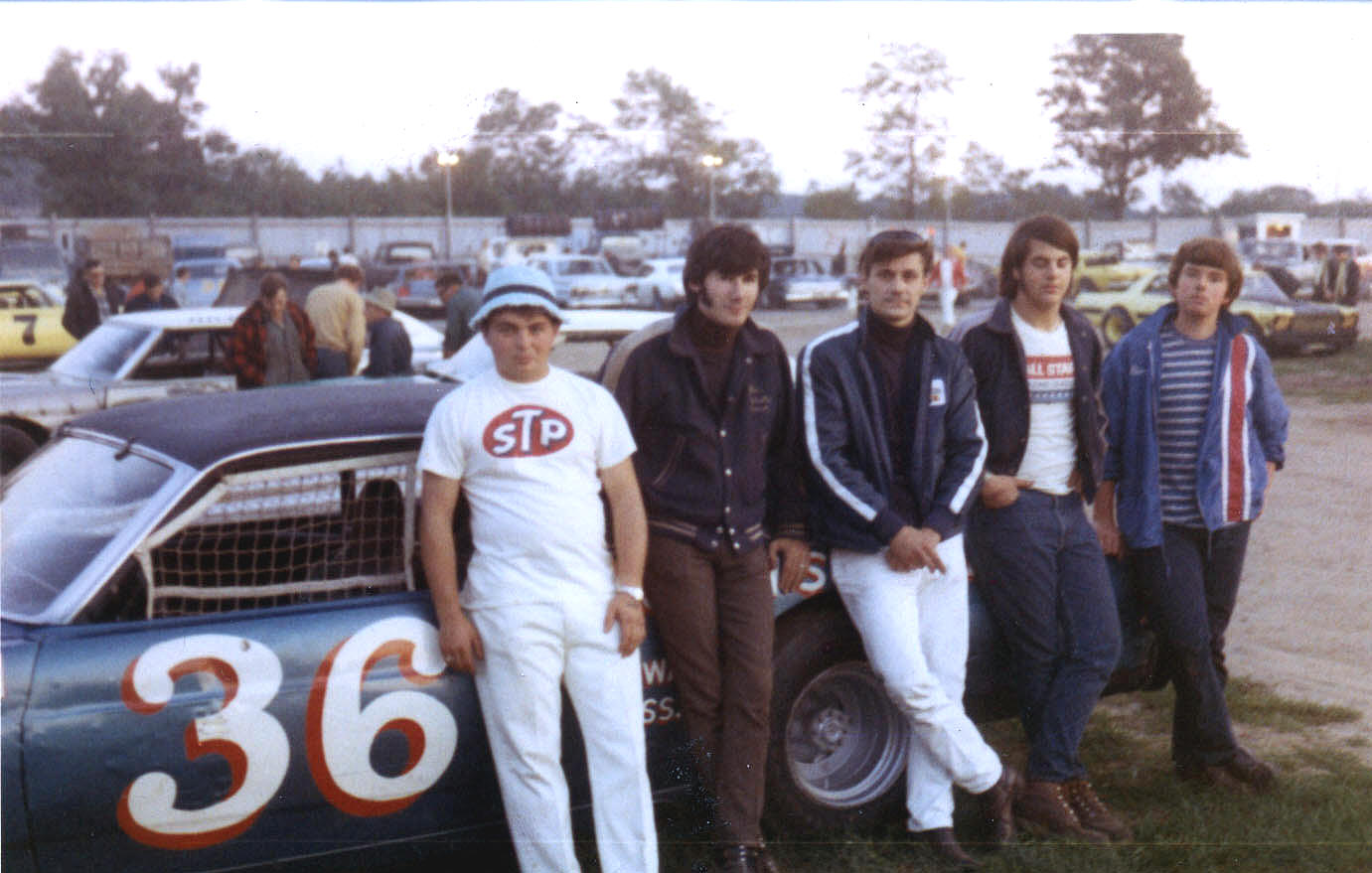 Courtesy of Cho Lee
John Rosati had already blown in, in 1971 with his twin Ford, matching hauler, famous car builder [Fred Rosner], and his crew
of teenaged wunderkinds. At left, my neighbor, John Barrette; far right, my friend, Steve McKnight.
Over the winter of 1971-72, word began to circulate that Marvin Panch's sixteen year – old son, Richie, was "being sent North" to learn the ropes in late model sportsman racing for the '72 season. Had this been the only show in town, we would have been hanging on every news bit about it; but, we had the Cabana/Bob Dragon feud [good-natured], the emergence of Dave Dion, the return of Little John Rosati and his entourage, and a number of other equally – compelling things to occupy our minds. So, during that first practice at Catamount in April, I was almost surprised to see this new yellow Chevelle in the pits.
Several noteworthy cars were attracting as much attention as their drivers, and one the Chevelle "that Panch kid" had. It was a former Donnie Allison 1964 Chevelle, and Richie had been set up to really to give the circuit a go. Marvin and Betty had seen to it that he would live with the family of transplanted southerner Tom Tiller and family, in Essex Junction. The car sported an impressive, if somewhat mysterious sponsorship scheme from "MerChecks", a part of an unfamiliar, S&H green stamp – type operation supposedly owned by former Catamount driver Thomas "TBone" Curley.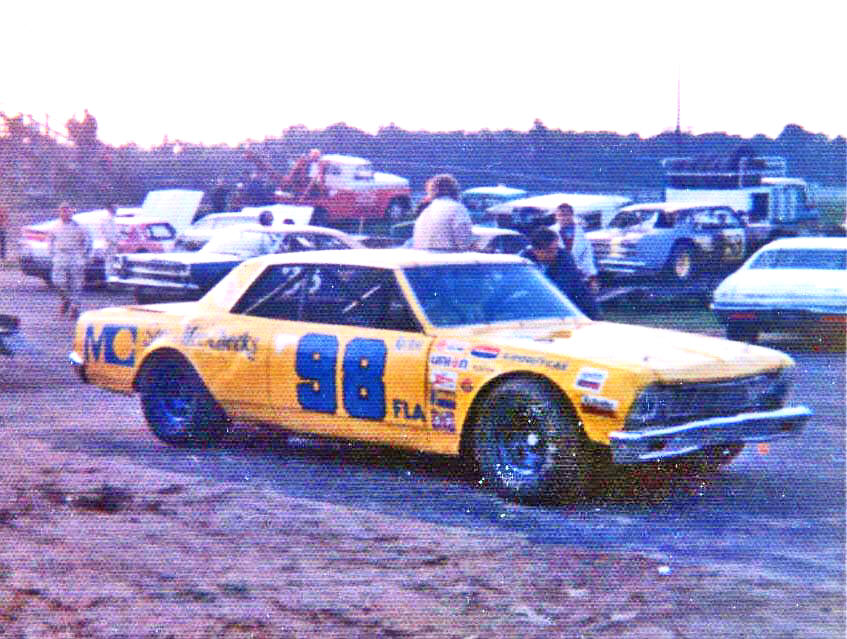 Ladabouche Photo
Save Mer Checks, whatever the hell they were. This is the Allison Chevelle. That's Terry "Ox" Oosterman towering
over the car in the background as Bucklin leans in to talk to Panch.
The #98 Chevelle came in on a professional – looking hauler. Former Panch tire man, Phil Bowler, whose recollections have fueled this column, wrote: "He had a one ton Dodge box truck and we hauled the car on an open trailer with a tire rack up front." It was quite a crew, to say the least. The crew chief was North Ferrisburgh, VT resident [and Panch friend] Kenny Bucklin, a highly talented mechanic. Bowler pointed out: "Bucky could just "look" at a car and tell how it was performing. He had an uncanny race car ability in everything that he did with the car." As I said, Bowler was in charge of tires, and the hulking Terry "Ox" Oosterman, a cattle hoof groomer with a perpetual cigar, was also on the team. Bucklin, Bowler, and Oosterman were all members of Burlington's somewhat controversial "Super Hogs" motorcycle club, and looked the part.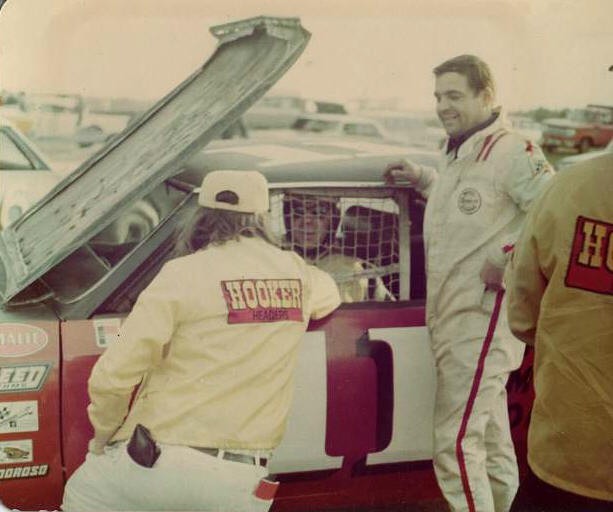 Courtesy of Jack Anderson
Bucklin friend Jack Anderson talks to Ken, wearing the driver's suit he used to warm up the car, at Catamount around 1974.
That is Phil Bowler at left. Below – Bowler [rear with beard] smiles with satisfaction as Claude Aubin, their third racing client, won a feature.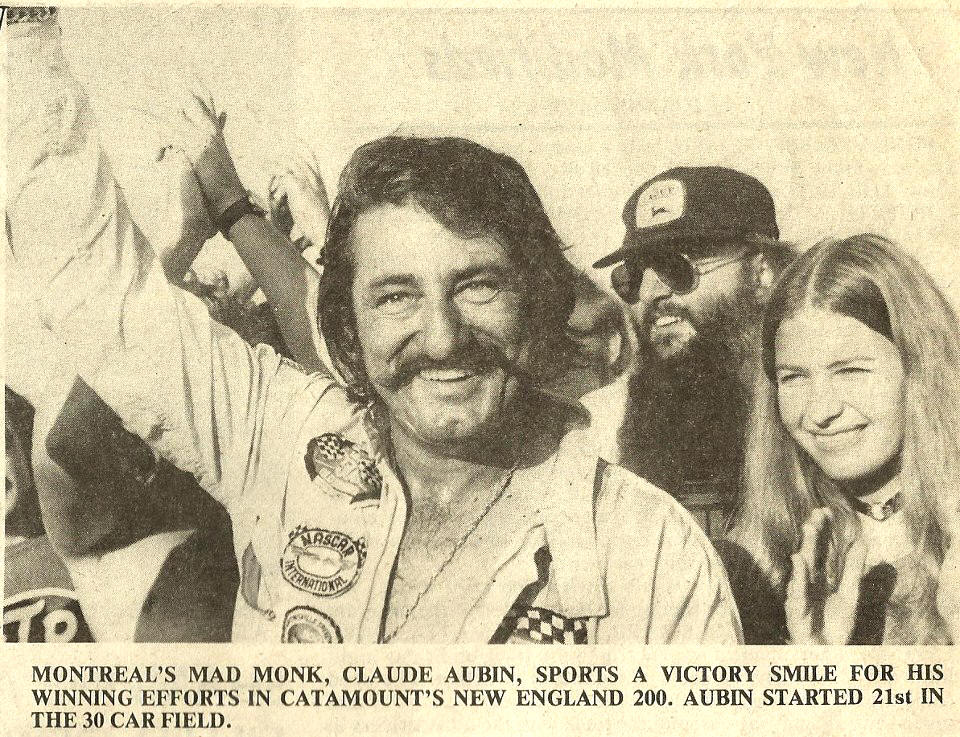 Walter Newell Photo

I can personally recall becoming quite interested in watching the workings of this bunch. Bucklin, a real genius with setup and motors, would always start the car and gently race the end, back and forth, for what seemed like a half an hour, at each track on the busy 3 – track weekly schedule. Bowler feels the relative success of the 16 year – old neophyte driver came largely from their tires. In those days, there were not as many rules as Curley's tightly – clamped ACT has now. Each driver used whatever brand of racing tire he preferred or could afford.

Bowler states: "I think that one reason that Richie won is that was the day when there were open tire rules. I think at that time there was Goodyear, Firestone and maybe McCreary. Marvin was also great friends with Tiny Lund and we frequently got some tires shipped in through that connection that may have been "experimental" or something new in compounds. I know that factor helped a lot!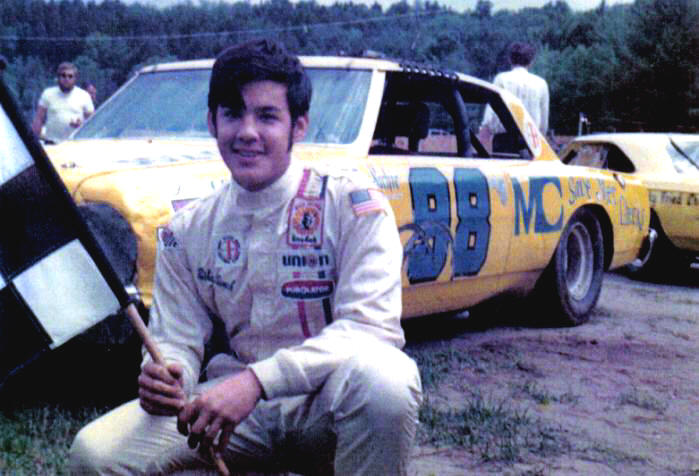 Courtesy of Andy Boright
Richie poses with a flag before the races, with Ken Squier lurking in the background at right. We can't make out the wonder tires in this shot.
However, the ubiquitous "Save Mer Checks" ad can be read on the side. Also, the Bobby Allison sticker is visible on the side of the roof.
Also, I had purchased on my own an ALNICOR tire pyrometer and we were among the very first in the North to use that concept top check tire temperatures. I learned a lot about tires from Dick Renfrew and "Noah" Charles W. Danner, a friend of Marvin's and about his age [since I believe deceased] from Louisville, Kentucky who went with Richie on the Cup Circuit as tire man.
I was in charge of the tires and had wirebound notebooks full of circumference measures, temps and compounds. I was also one of the first ones on the circuit to have a pair of dual 1/100th second stop watches and I timed every lap that Richie raced and fed this and the tire info to Bucky who picked up on it and adjusted the car accordingly."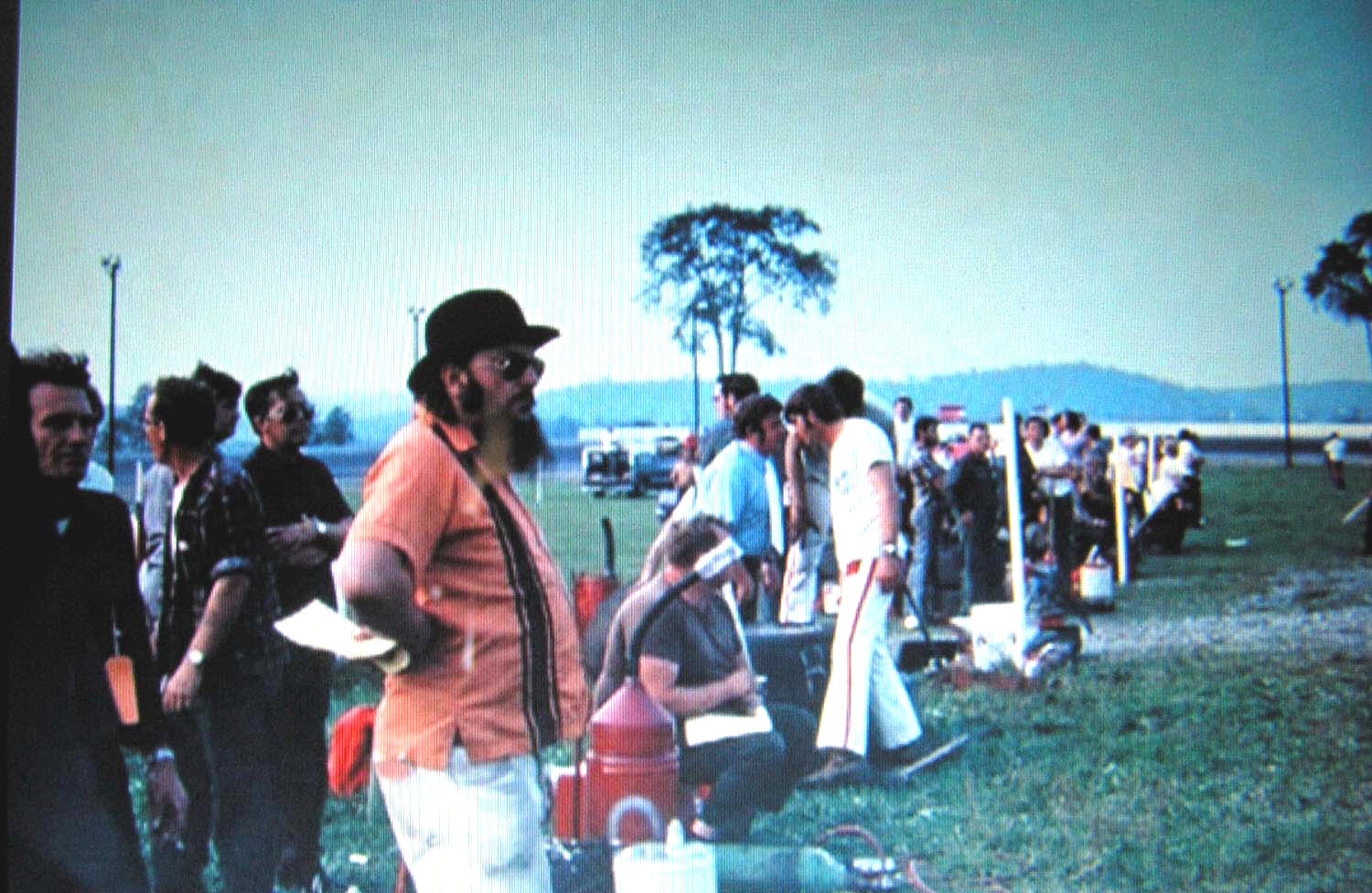 Courtesy of Mike Watts
Phil Bowler awaits action in makeshift infield pits, beside C. A. Crouch. This was Devil's Bowl, where Richie
Panch was at his best. Below – Richie carries checkers at a Devil's Bowl race in 1972.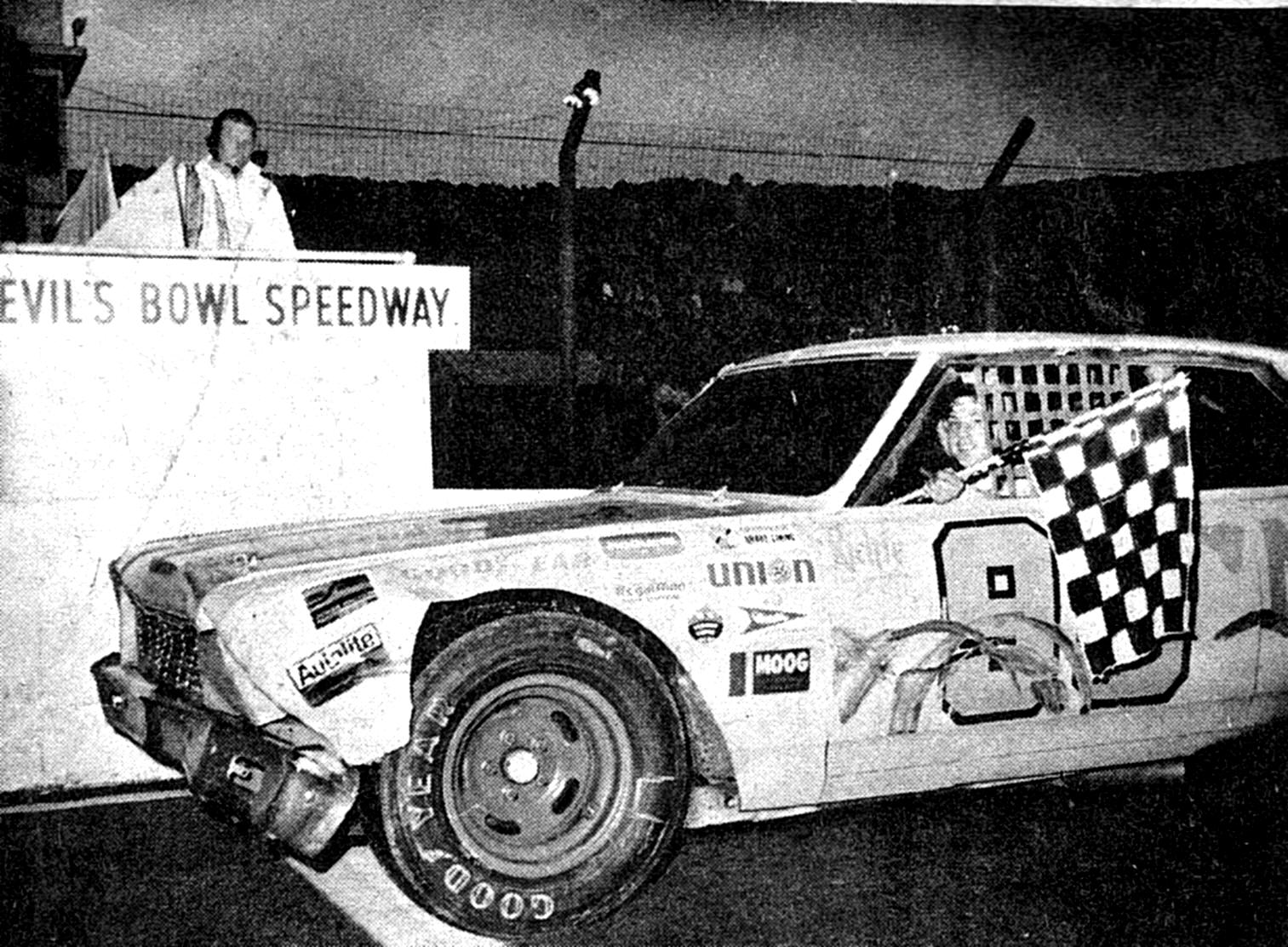 Courtesy of Mike Richards

The races with Panch I recall most clearly were at Airborne, which necessitated all of us coming from Vermont [and I traveled with Beaver Dragon's team] had to use the Grand Isle / Cumberland Head ferry across Lake Champlain. Dragon had a particularly opinionated man who would ride over with the hauler. He espied Bowler, with his long beard and longer hair spilling out from under a trademark bowler hat.
"If I had hair like that I'd call myself a woman! ", came the voice of the big mouth out of the window of Dragon's school bus hauler. There was a little nervous giggling inside as Bowler just rolled his eyes and continued on with whatever he was doing while the Panch crew waited to board. I think Beaver, at some point, must have pointed out he didn't any new enemies before the races ever started, and I always figured the motor cyclist on the receiving end probably could have kicked some butt had he wanted to. But he was the bigger man.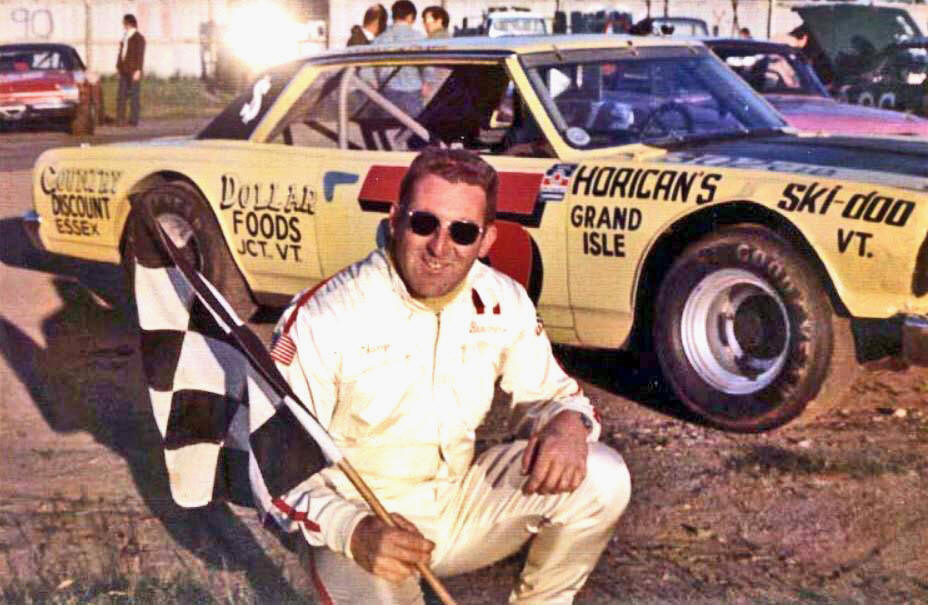 Dragon Family Collection
Beaver, with the car he would had had then, was not much in favor of starting sh— and corruption when there was not any need.
He was having one of his all - time best seasons in that trying year of 1973 and the five - track schedule.
From what Phil Bowler says, the Richie Panch crew headquartered in a building which, at the time, was located right at the entrance of Mountain View Drive – in Theater in Colchester. Many locals mistakenly think the site is in Winooski, and was – in fact – very near Tiller's gas station [which was actually in Winooski]. The distance to actually have it be in Winnoski would be about a few hunrded feet. That building would become the first home for Andy Costello's AC Performance business soon after. Bowler says he and the crew knew the car was sponsored by MerCon and its Mer Checks, but they never recall seeing Curley around the car or garage.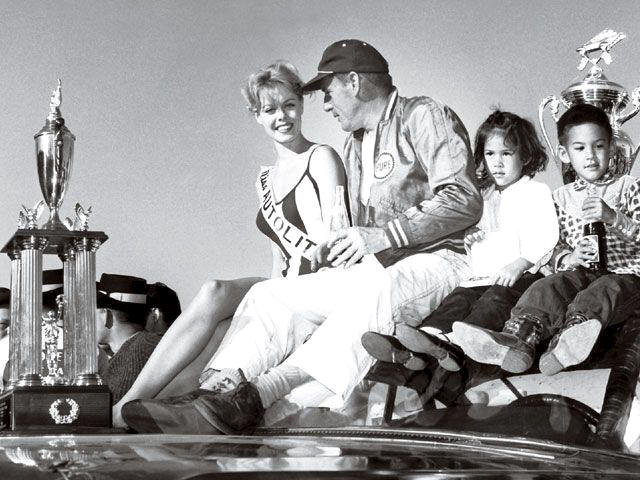 Panch Family Collection
Victorious somewhere, Marvin has Richie and Marvette atop his car with Miss Autolite. Betty must have loved this.
Below – Marvin and one of his earlier rides, one of the famous Fish Carburetor entries.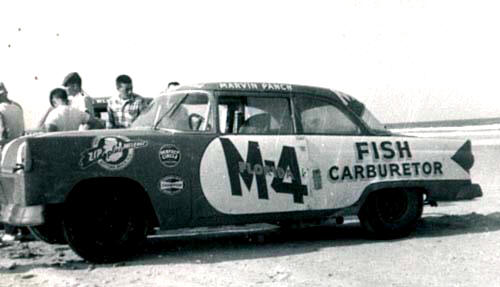 Panch Family Collection

The nationally – famous Marvin Panch would load Betty and daughter, Marvette in the Winnebago a few times that summer and head North to see his son race. They would have ample opportunity because the 98 team was not only running Catamount, Airborne, and Thunder Road; but, Devil's Bowl, have made the controversial step of paving a beautiful clay track in 1970, was now running Northern NASCAR shows. Richie seemed to be particularly good there. His Allison – chassied Chevelle would compete against the Cabana – built Chevelle of local hero, young Bob Ellis from right in West Haven [the Devil's Bowl mailing address].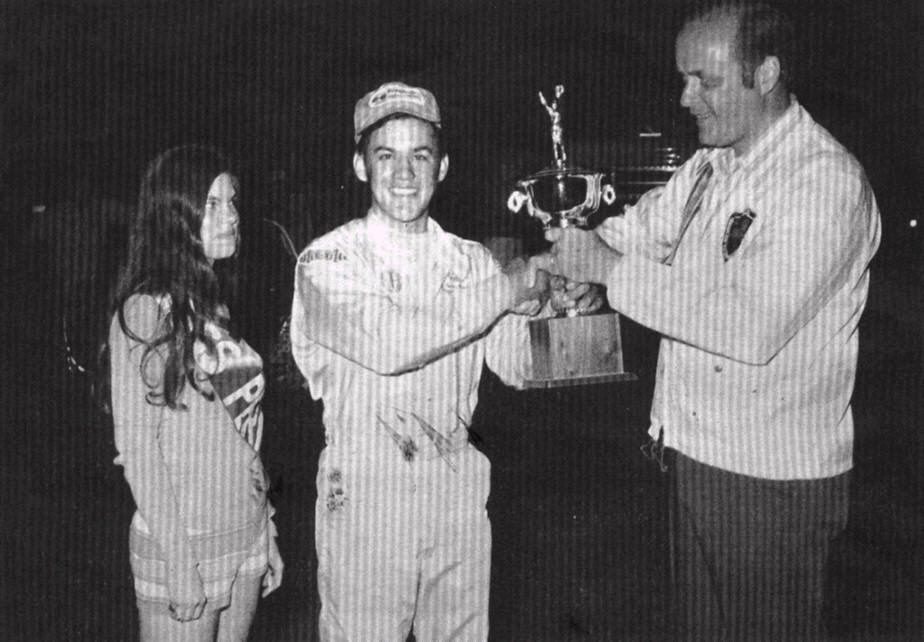 Courtesy of Andy Boright
Richie's Devil's Bowl Victory Lane shot with a trophy. The girl looks a lot like his sister, but Marvette wasn't up here much, so it probably isn't her. Below – Fellow circuit youngster, the much – lower – budget Bob Ellis with his former Jack DuBrul, Cabana – built Chevelle. Ellis would go on to get Rookie of the Year in 1973, succeeding Panch. Bob is is the background, 2nd from left.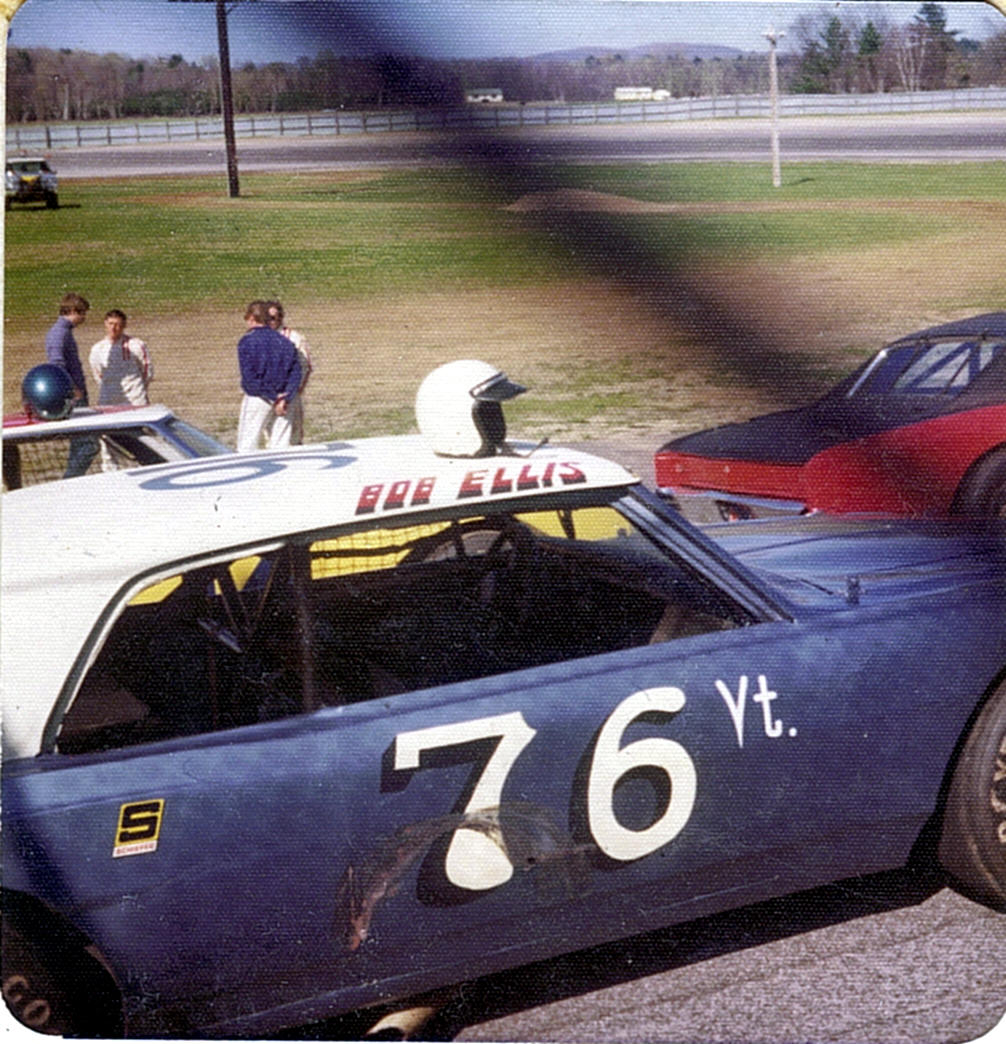 Courtesy of Mike Richards
Richie's eyesight became a hot topic later, when he left Vermont and took on a NASCAR Grand National career. Nobody thought that much of it in the summer of 1972 because it was short track racing and the speeds – while impressive – were not of superspeedway caliber. It first became a bit of an issue with Bowler, who wrote: "I know that Richie had poor eyesight but I never discovered that until I as riding with him at some super-excessive speed on the highway in Michigan and he asked me as co-pilot what the road was like ahead "because I can't see very well!" I went from Caucasian to Albino in about two seconds flat! I don't think his eyesight affected him on the northern circuit at all, certainly not if you look at his performance record."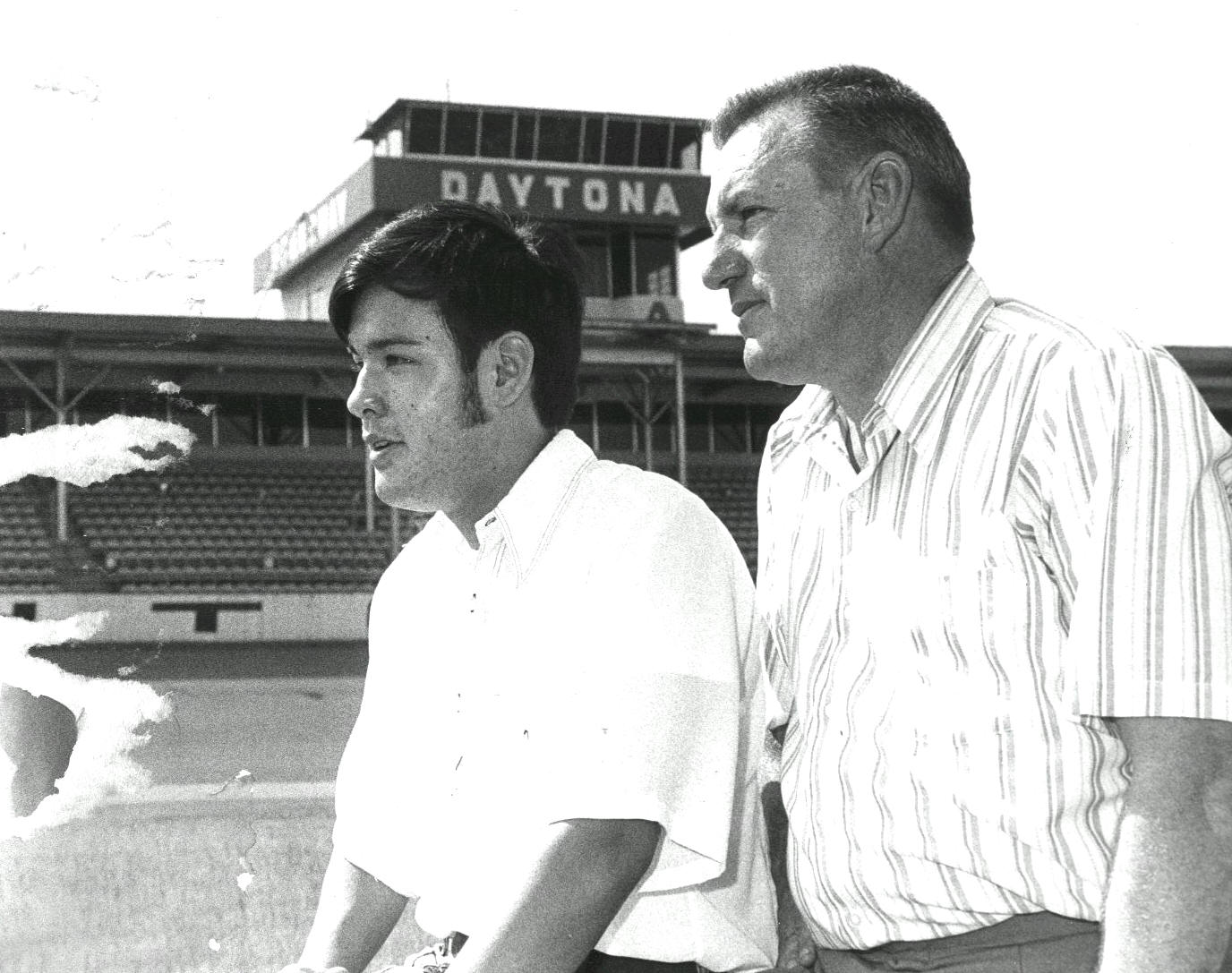 Panch Family Collection
Richie, a year removed from Vermont, is photographed with his father. I wonder if the Panches knew how bad his vision was then.
Below – One of the first Richie Panch Grand National cars, at speed. Elmer's was all the way in the Midwest.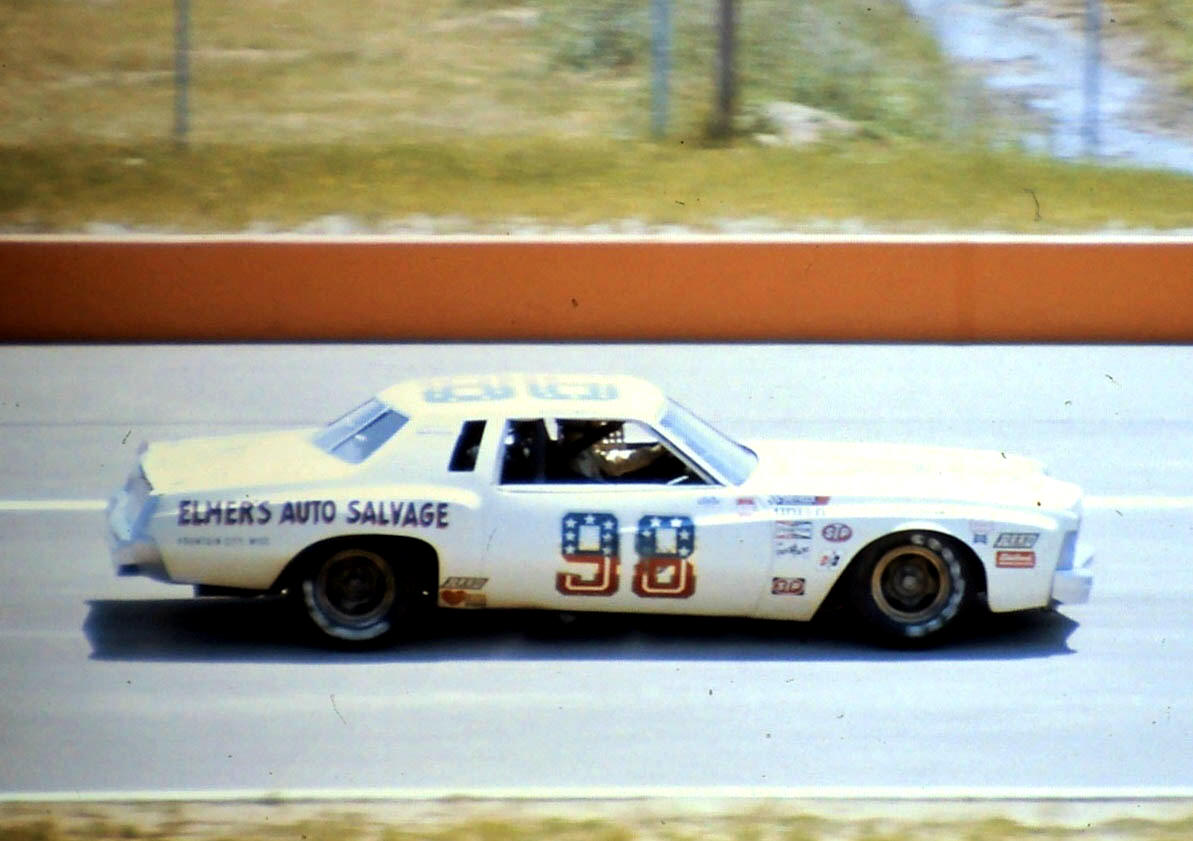 Courtesy of John Evanich

Bucklin [himself somewhat of a celebrity outside of Vermont], Bowler, and Oosterman had to get used to the parade of famous people that would come around Richie's race cars. Oftentimes, according to Bowler, they didn't know enough to be awed. Phil talks about one such time: "Circa October of 1972 I went down south to Hickory, N. C. where Richie raced. He was out practicing and I was taking times. This guy kept peering over my shoulder trying to see what I was writing and I huddled up. I mentioned to Bucky, "Who the hell is that guy who keeps trying to peer over my shoulder? He said, "Oh that's Donnie Allison!, He's OK!"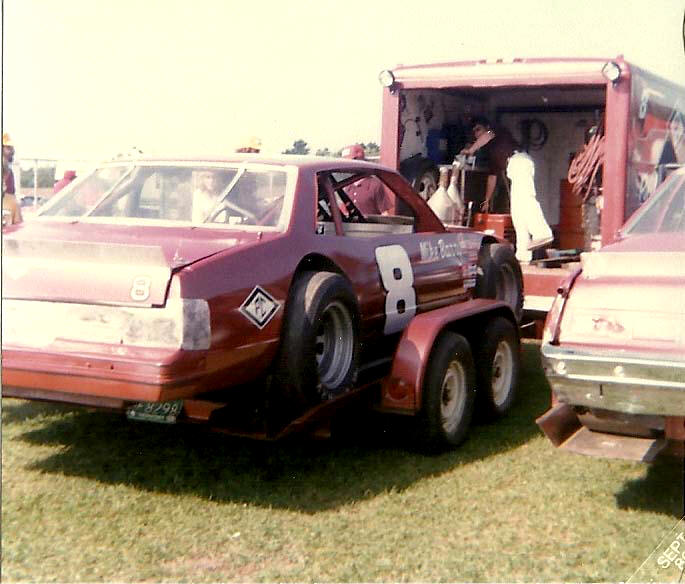 Courtesy of Rich Palmer
Ken, in uniform, talks to fans in front of Mike Barry's potent, Remo Pizzagalli 8 at Catamount in the late 1970's. This was one
of his prima gigs. Below –Hector LeClaire, at Daytona. It is likely this would have been when he had the expertise of the former
Panch crew for tackling the big D and Richmond, as he did.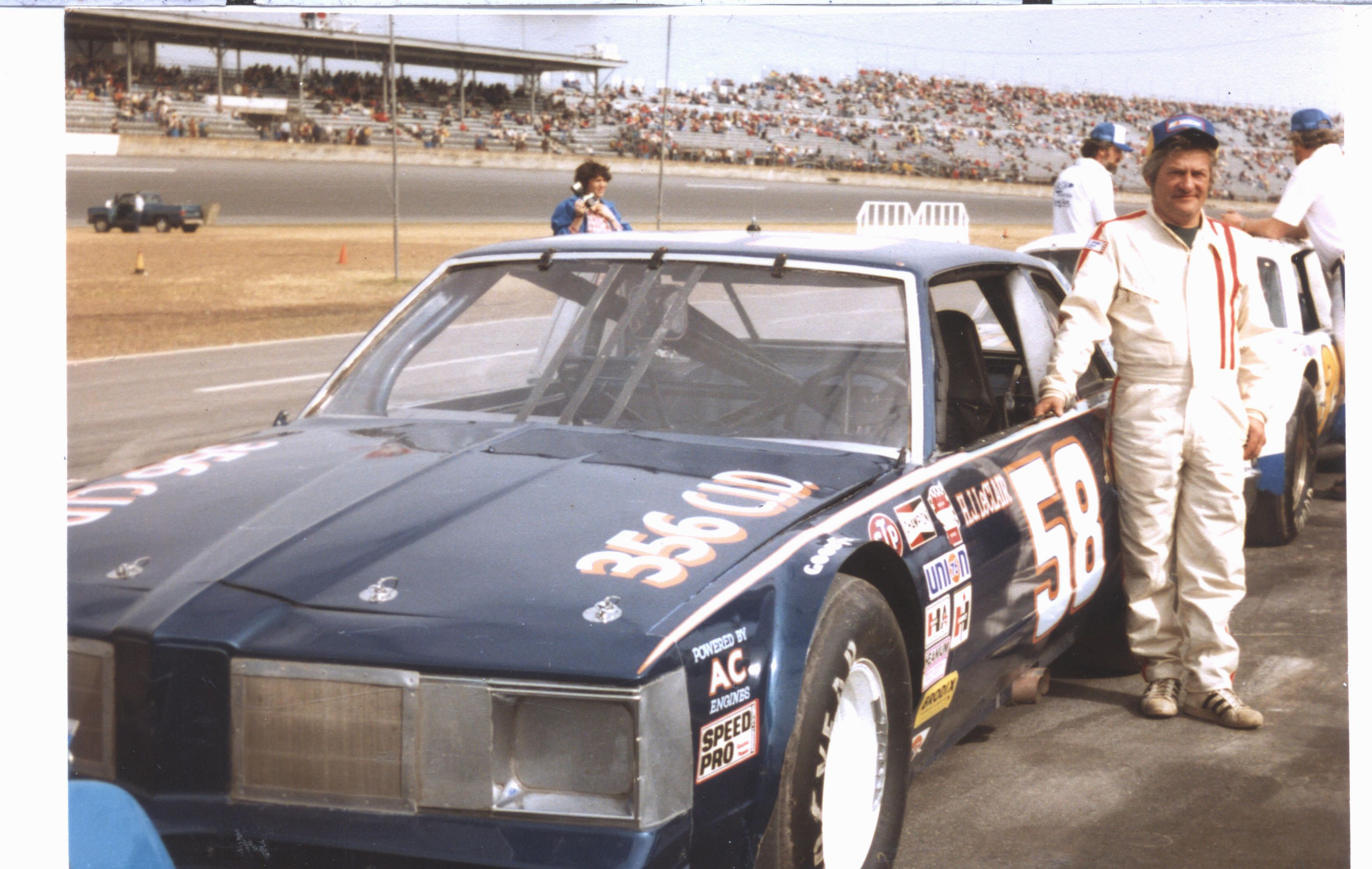 Courtesy of Andy Boright


Bucklin, with Bowler, and Oosterman usually in tow, would go on to several other good crew chief gigs after Richie Panch won his Rookie of the Year award and his five features – and packed back to Florida to begin a Grand National career with the help of Marvin and a host of friends. Bucky and the group would work for Hector LeClaire, Claude Aubin, and Jean – Paul LaRose, to name a couple, in subsequent years. He may have also been on the Remo Pizzagalli teams. We have lost Bucky since, but Phil and Terry soldier on, part of my "old boys club" that struggles to keep racing memories alive.
As for Richie, he became known as absolutely fearless behind the wheel of a Grand National car. He apparently could see particularly well, and that must have been a real concern at places like Daytona. He left us way before his time, part of that group of great guys with boundless potential like Davey and Clifford Allison, Rob Moroso, and the like. Ironically, like so many others, it was not a racing accident. I talked extensively with Bobby Allison this summer, and the loss of his boys hasn't eased up a bit after many years. The same must have been true for Marvin and Betty Panch, and still is for Marvette.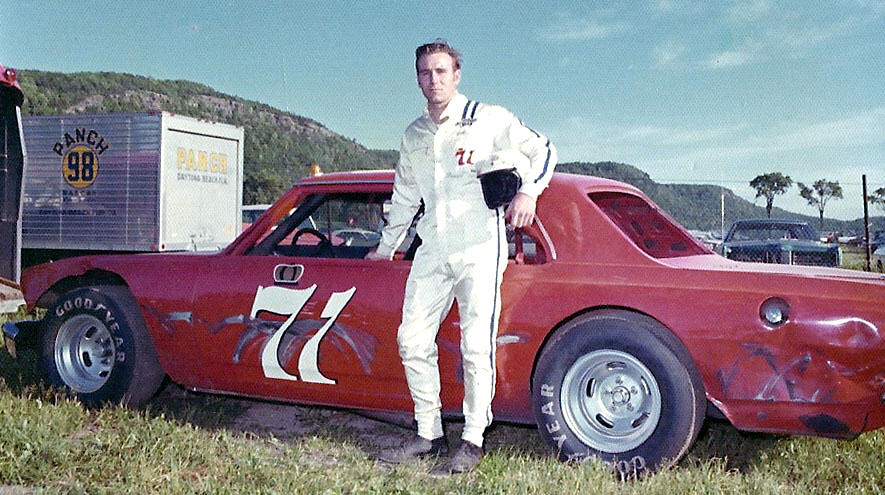 Courtesy of Rich Palmer
This shot gives us a lot about that season. Bob Dragon was the star of the year; the track is Devil's Bowl – Richie's best; and the Panch hauler
is seen behind. Below – A rare quiet moment for a kid sensation who couldn't avoid the spotlight during his time in Vermont.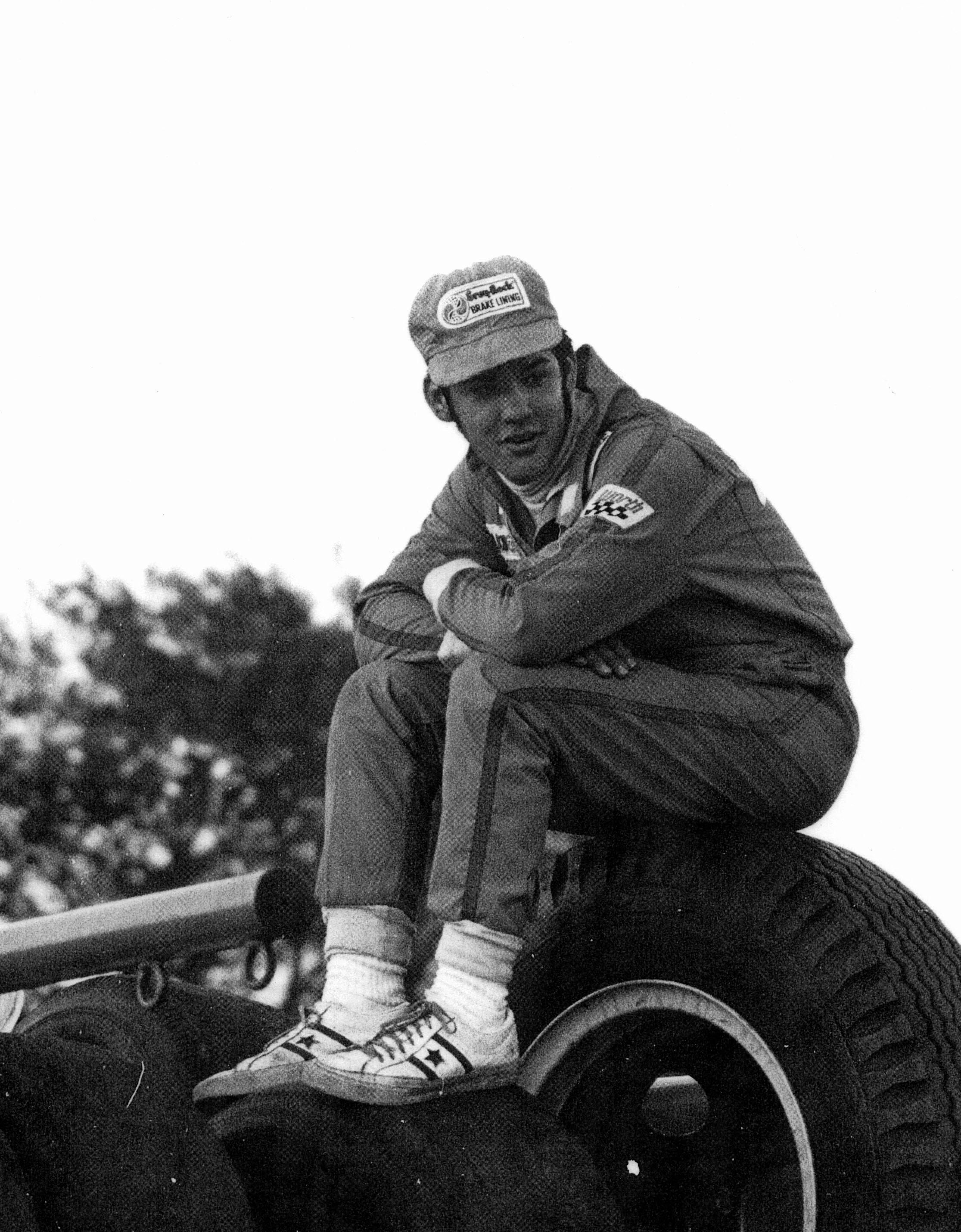 Courtesy of Cho Lee

One thing is for sure – those years of the early 1970's saw fantastic seasons for the Northern NASCAR organization, which grew amazingly until it had a few too may dustups with NASCAR. The racing was great, the fields were huge, and there was still a lot of leeway in the rules to let a team win by having some better ideas and the freedom to try them. The Allison car of Richie's went on to Steve Poulin, whose career took off when finally having some good equipment. Nobody ever heard much about Mer Checks again. The Tiller family went back to usual family life, although young Tom Jr would go on to be President of a major corporation and his dad would find a second career, racing into the 1990's.
Except for the loss of its principal character, all is well with this story. It was fun back in '72.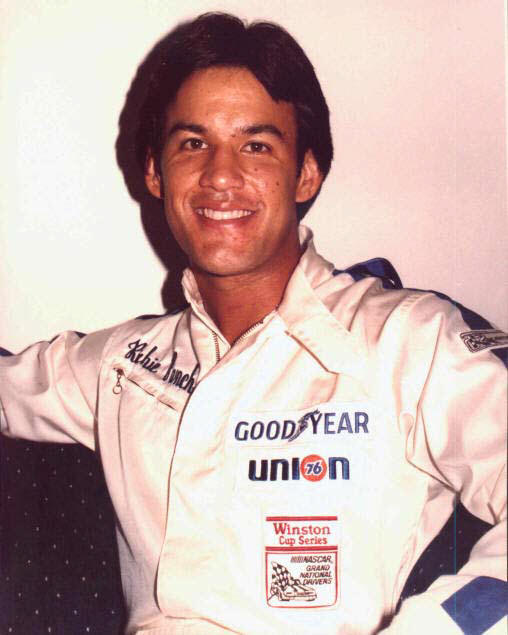 From the Panch Website
The Principal Character
Please email me if you have any photos to lend me or information and corrections I could benefit from. Please do not submit anything you are not willing to allow me to use on my website - and thanks. Email is: wladabou@comcast.net . For those who still don't like computers - my regular address is: Bill Ladabouche, 23 York Street, Swanton, Vermont 05488.
AS ALWAYS, DON'T FORGET TO CHECK OUT MY WEBSITE
www.catamountstadium.com
Return to the Main Page
Return to the Main News Page
Return to the All Links Page
Return to the Weekly Blog Links Page