THE BILL'S BACK IN TIME COLUMN PAGE
Copies of my column in Mark Thomas' "Racin' Paper"
Column #30 from Column 43
BILL'S BACK IN TIME
By Bill Ladabouche
MANAGING WITH VERY LITTLE
Over the years – especially in the old days – there were guys who managed to race with very few financial resources. Some of these racers did quite well, while others never really panned out. We knew some who did this with dignity; and there were those whose families went without while they either ran successfully or not so well. It didn't matter to me because I never could muster any admiration for this last type of runner.
One man today who is managing to field a creditable effort with next to no resources is Ghent, New York's Mike Visconti. Visconti, a contractor, grew up watching his father, Art Visconti, field an assortment of cars over a span of years from the late 1950's to the early 1970's. Mike, who bears a strong physical resemblance to his father, had experienced racing with go – karts in the 1970's, when his father lived in West Addison, Vermont and operated a track there. Among those who competed against young Mike was present – day Devils Bowl driver and successful businessman Gardner Stone, of Middlebury.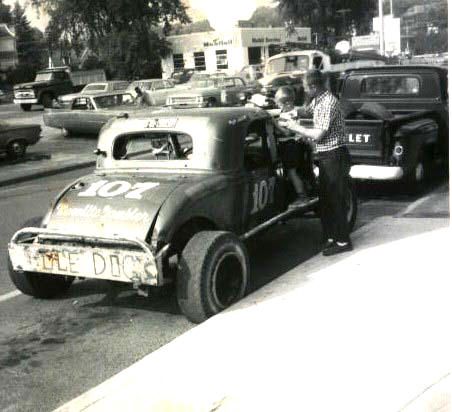 Courtesy of Mike Visconti
Mike, with father, Art, and one of the many cars his father had. Here, they are in
downtown Granville, NY – where Mike first grew up.
Mike recalls once bringing a modified go kart up to Catamount Stadium and, although he was too young to realize it, the kart was simply going too fast on the third mile paved oval to be safe. So, Mike's only chance to race at Catamount went by the board. As time passed, Mike finally went off on his own and tried some stock car racing – first at nearby Lebanon Valley. When he began to have a family, Mike decided the racing would have to be curtailed as there was no way he would ever have his family go without so that he could race.
Along the way, Mike had picked up a series of valuable experiences which benefit him now. He still admires Karl Hauessel, whose snazzy – looking #900's were staples of the Lebanon Valley field for years. Karl had given him a lot of advice and help and Mike has never forgotten it. Mike also worked with New York state legend Ralph "Rufus" Chittenden, whose base of operation was very close to the Lebanon Valley track, in New Lebanon, NY. Mike ran decently in those years, while never having won a race. But, family needs were growing with each new child and the racing stopped.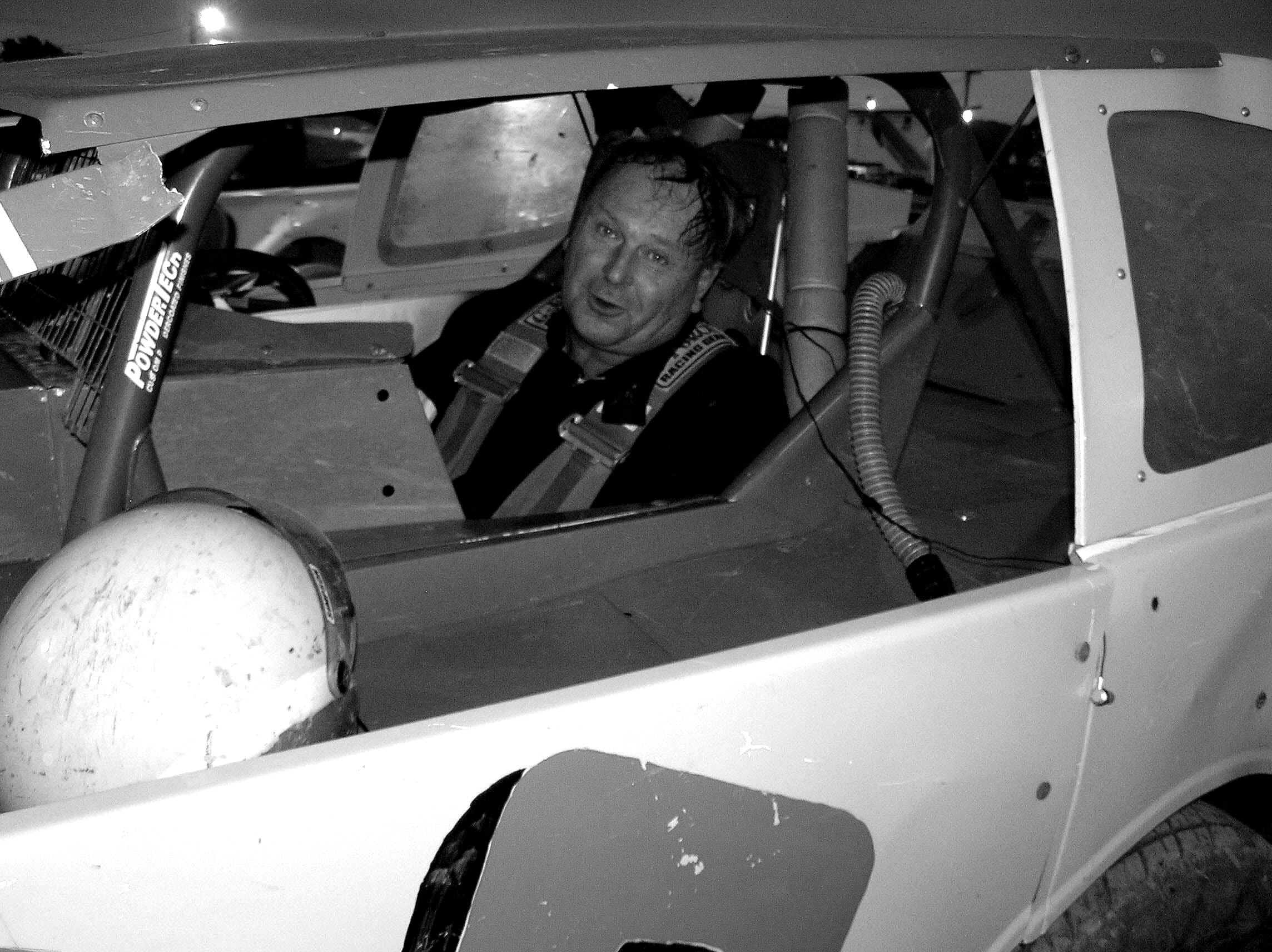 Mike prepares to run a heat with his budget modified. I bet he is complaining because he doesn't want his picture taken. [Ladabouche Photo]
His dirt modified, once state – of – the – art, sat in mothballs and into obsolescence until recently, when the whole family talked him into getting it out and doing a little racing again. The car was pretty well outmoded and beat up. It actually is worth less than the hauler it rides in. At one point early in the 2007 season, Mike estimated he had about $3,500 in the whole operation. Malta and Devils Bowl had begun a novel new division – the Budget Modifieds. This was perfect for the stocky redhead and his tiny budget.
Things have gone better for Mike then he had probably ever dreamed about. While still not having won an actual feature, he was – for quite some time – the points leader for the class at Malta and – as late as August 19 – he was in second place in the overall points race for CVRA. All this is being accomplished with Mike usually appearing at track alone; this has all been accomplished with a budget so low, he cannot replaced badly knicked up wheels or leaking racing tires; this has all been accomplished while always transporting his whole family to every race. It is a family activity or not at all.
<![if !supportLineBreakNewLine]>
<![endif]>
<![if !supportLineBreakNewLine]>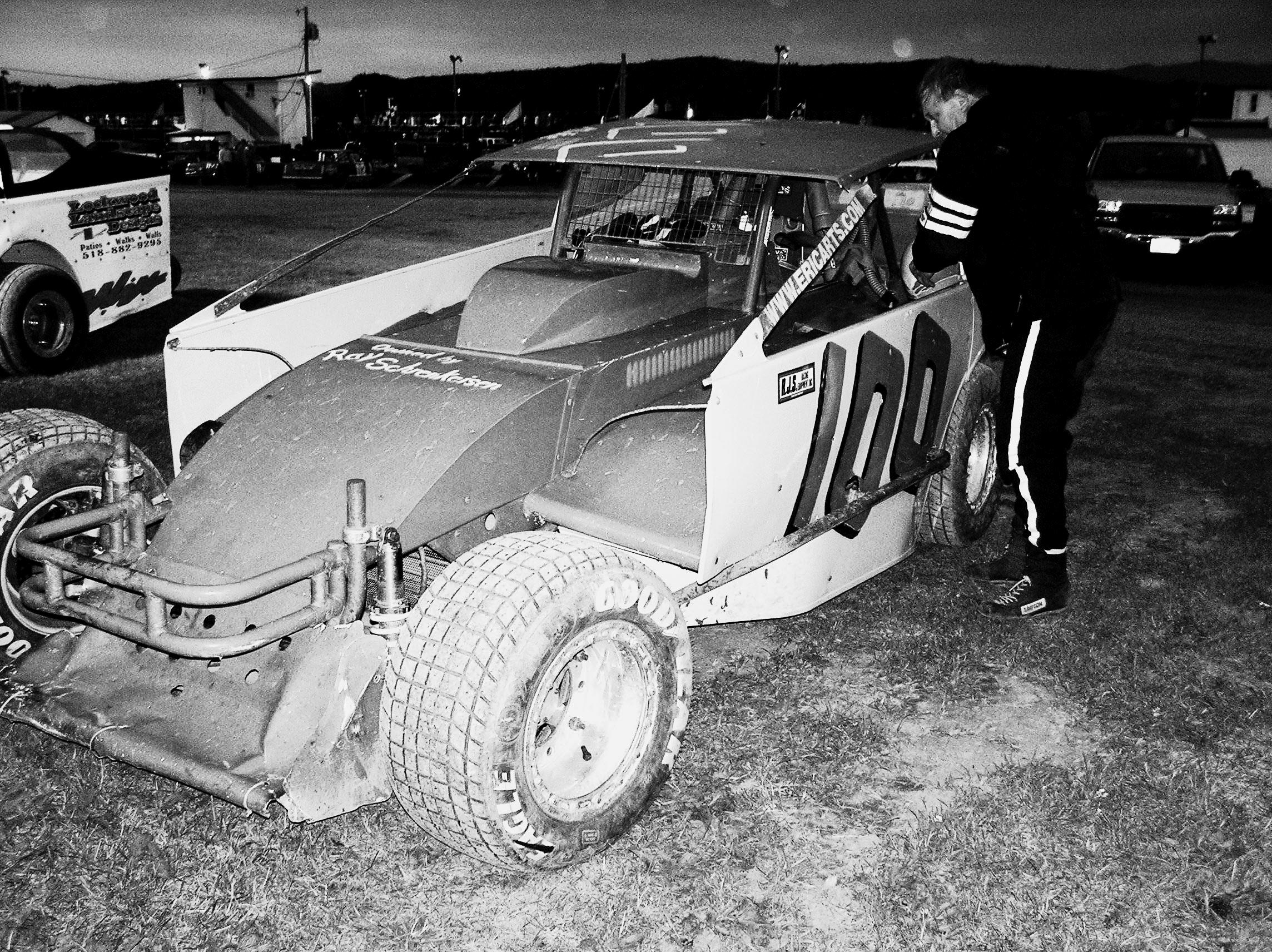 <![endif]>
In true shoestring fashion, Mike works in his car in his driver's uniform, with no other help. [Ladabouche Photo]


The big race on August 19 at Devils Bowl best illustrated what it is like to be a shoestring operation like Mike Visconti. Getting more than the maximum out of his old yellow and blue#100, Mike beat out a field of budget mods, many of whom have three times the money in them as does he, and finished third in the biggest budget mod race of the year. Mike's race was $200. Then while CVRA officials demanded the top three pull the heads off their engines, the subsequent replacement gaskets were going to cost Mike around $300.
"This pretty much ruins the whole thrill of the evening," said a tired Mike as he sat on the front tire of his car and watched his friend Ray tear into the engine, "But, I admire them for trying to keep this division honest." That pretty much sums up what Mike Visconti is. Upbeat, honest, and racing for the love of the sport. Although his number turns out to be the #001 of his father in reverse, the comparison between the two ends there. And Mike Visconti is a man to be admired the next time the Budget Mods run at whichever CVRA track you attend.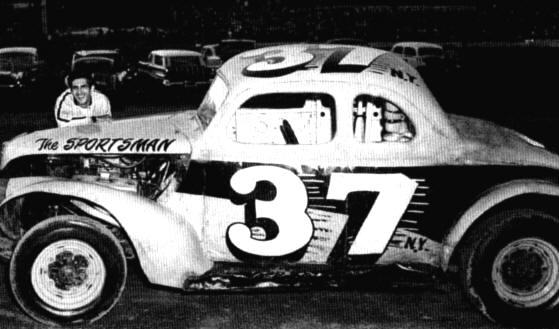 Pete Poses with the new A.C. Caprara car. Little did he know what was to come. [Ric Lucia Collection]
Another, more famous, driver achieved a legendary career while driving under what many would consider a severe disadvantage. Crescent, N.Y.'s Pete Corey was already an accomplished driver at places like Fonda, Victoria, and Stateline when he took on the driving duties for A.C. Caprara, who was fielding a #37 Ford coupe at tracks, the most notable of which was Fonda. Corey put the team at or near the top at that most challenging of race venues. It seemed to be a combination made in heaven when disaster struck in a race at the Track of Champions. Corey ended up pinned in the car by a rail from the track fencing – right inside the car.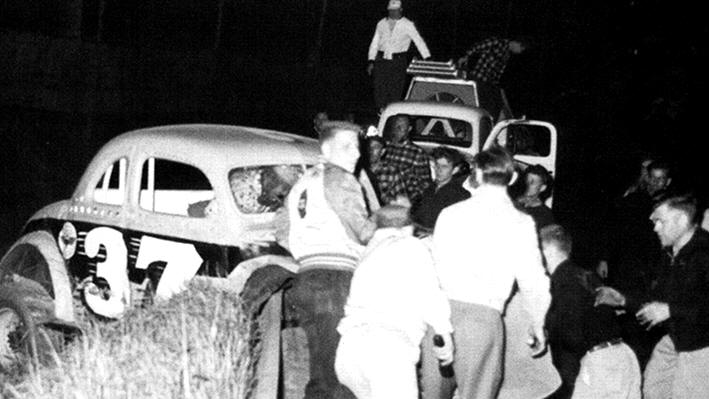 This photo from the Fonda history book shows Pete, in the car, cutting the rail off his leg with a torch. [Feuz Family Collection]
No one could do much to help Pete, so he ended up calling for a torch and he cut himself out of the car. He ended up losing a leg in the tragedy. After being out a short time, Corey came back with a hand control. I really don't know if it was for the brake or accelerator; but, he scarcely missed a beat. He went on to drive for Tony Villano and in his own #3 cars, compiling an impressive record of wins and innovative car designs. Although Pete [ a somewhat touchy man] and racing did not part company on good terms, he was one of the best in the Golden Era of New York racing and one of my all-time favorites.
With Corey in mind, I was making my first visit to Airborne Speedway in around twenty years in 2005 and was enjoying watching the Renegades, a division that reminded me a lot of Catamount's Hurricanes of the early 1970's. Large cars – mostly Monte Carlos, and many were automatic trannies – just like the Hurricanes. I had been watching one particular car, a #45 because the driver, Joe Pion, was a cousin to a memorable student I had taught in recent years. Joe seemed to go just fine out there – on par with the rest of the division.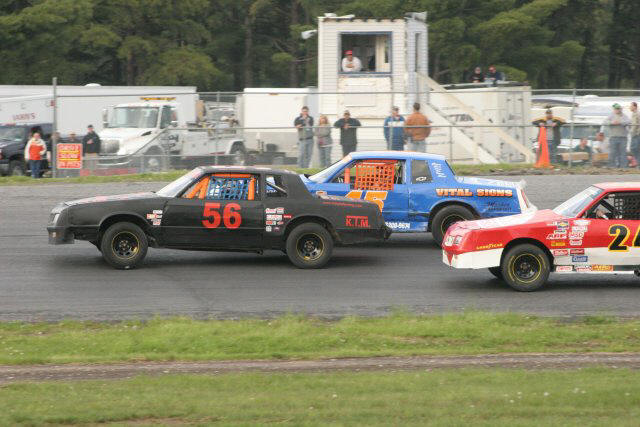 Joe Pion works the outside in the Renegade Feature at Airborne. [Dave Brown Photo]
When I left the VIP tower and down into the pits, I found what was so truly remarkable about Joe. Having suffered an accident a few years ago, Joe is a parapelegic. He was driving that big car out there with no help from his legs at all. Suddenly, a finish in the middle of the pack that night was a minor miracle – a tremendous feat ! Joe's father, Joe, Sr. and a faithful crew get everything ready for Joe. Joe gets himself into the car off a specially-built platform they place by the car. He controls the car with a special level that he operates with his left hand. Push and pull: one way is the accelerator; the other is the brake.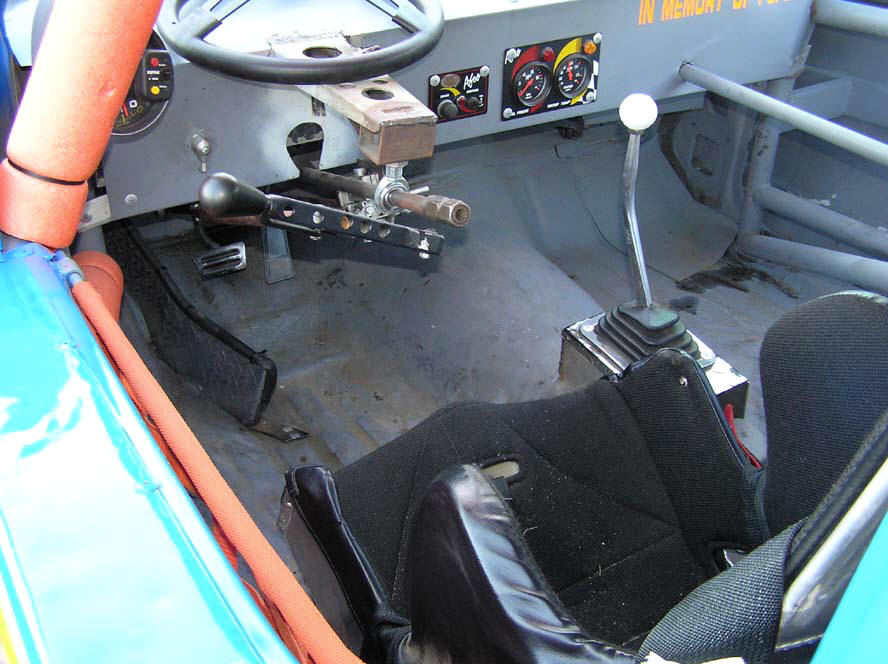 A look inside the car shows the control lever and a special restraint to keep his legs in place. Everything else is typical of a Renegade car. [Ladabouche Photo]
In itself, that would enough of a challenge for most people; but then, you must consider the problem of exclusive braking and accelerating, in competition with others who can do both simultaneously if they want to. It makes handling the blue Chevy a little harder. Joe appears to prefer the outside groove at Airborne, and maybe that is because it is a little less demanding of the more sudden speed changes that you need on the inside.. At any rate, the car is beautifully prepared and I can do nothing but admire the job Joe Pion does. He doesn't complain, he asks for no quarter, and he gets none. Just one of the guys – only a tad gutsier than most. Go Joe !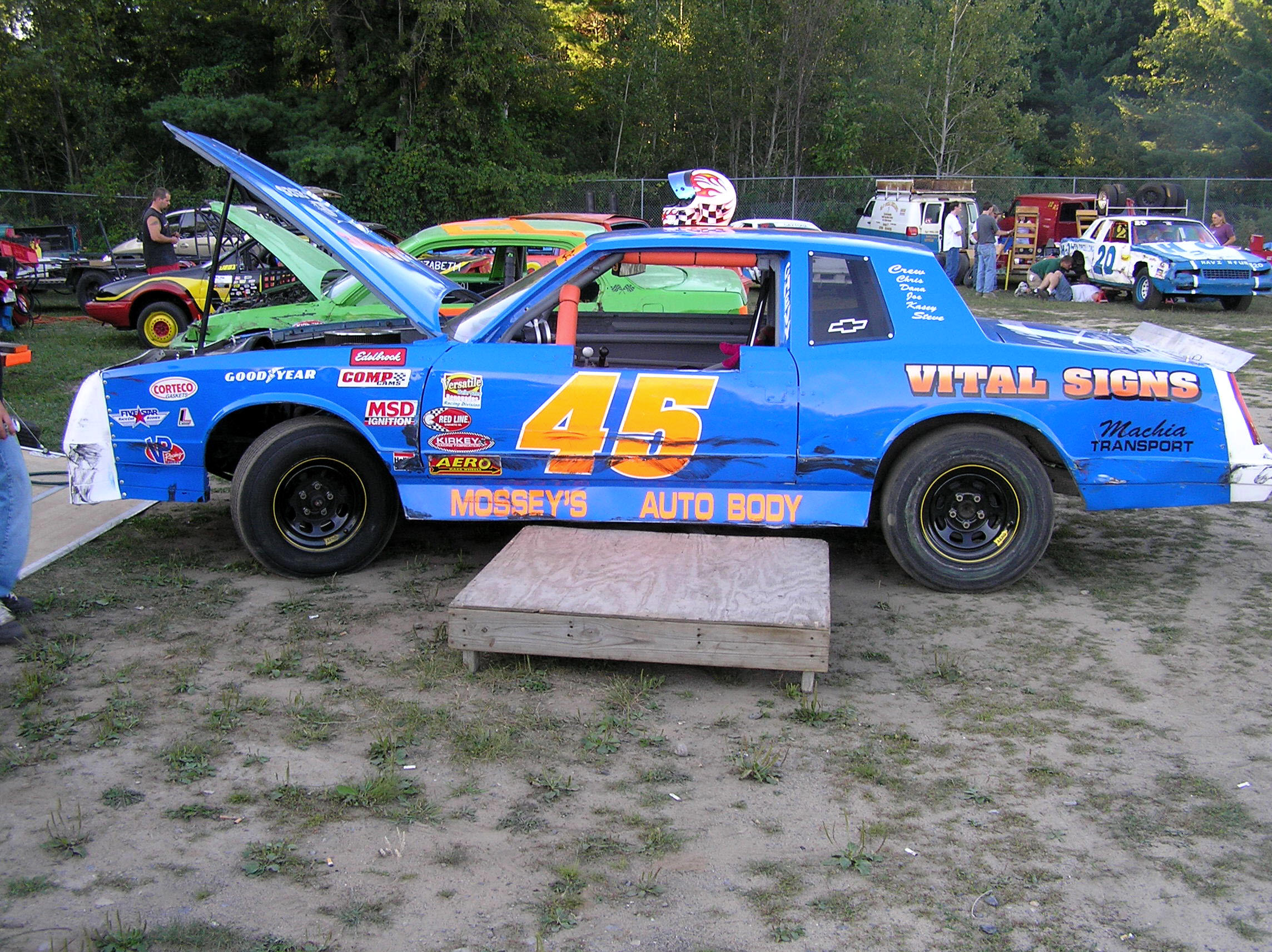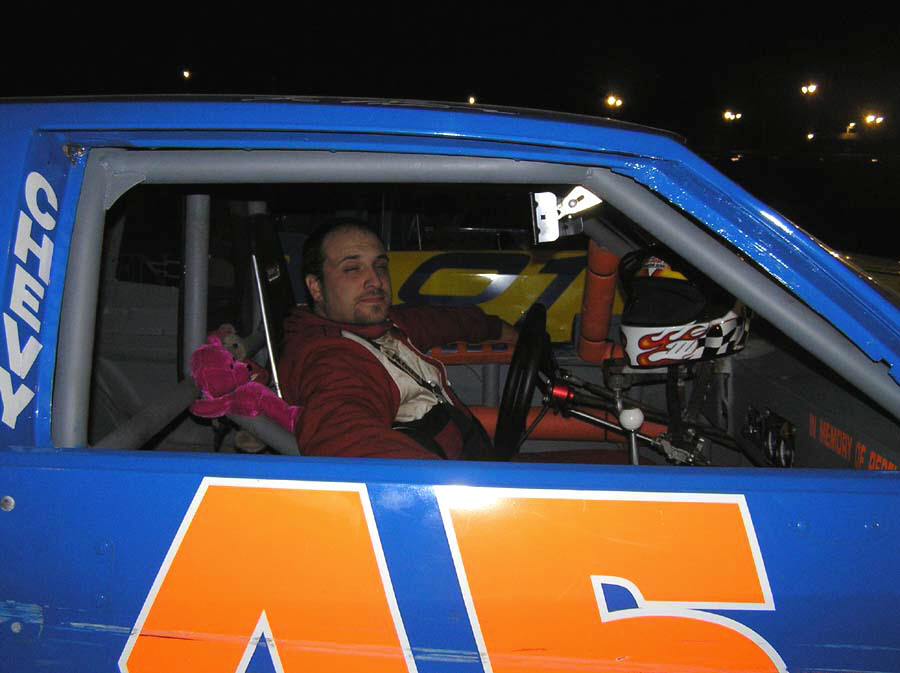 [Left] Joe's car and the entry platform. [Right] Joe, in the #45. [Ladabouche Photos]
Return to the Columns Link Page
Return to the Main News Page