BILL'S WEEKLY COLUMN/BLOG PAGE

BILL'S BACK IN TIME
By Bill Ladabouche
THE VERY COLORFUL, THE VERY POPULAR……
One of the things I clearly recall from those very early trips to the Pico Raceway, in Rutland, Vermont, at a very tender age, was my father and uncle talking to their friend about the flag man. In the early 1950's, almost every starter, in an attempt to be Errol Flynn – swashbuckling, would lag off the races from right on the racing surface. This could be said of Tex Enright, George Welch, Archie Blackadar, Art Prairie, and dozens more like them. The there was Chet Hames.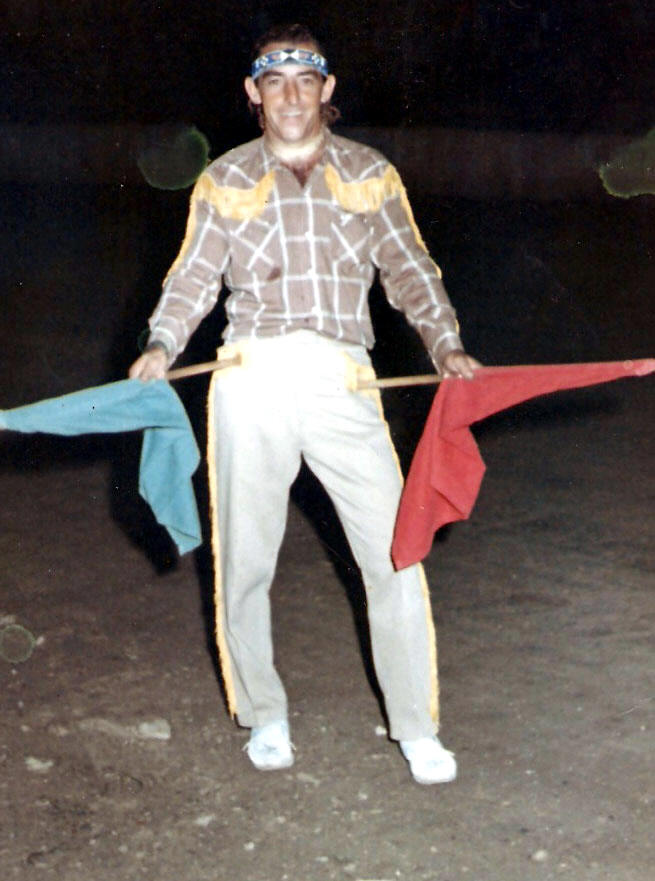 empaonline.com Photo
50% Cherokee and damned proud of it, Tex Enright was arguably the single most colorful flagman in the
history of stock car racing in the eastern U.S. Below – Archie Blackadar was known to start races on the track at Malletts
Bay Raceway and dive into a special ditch made for him to survive.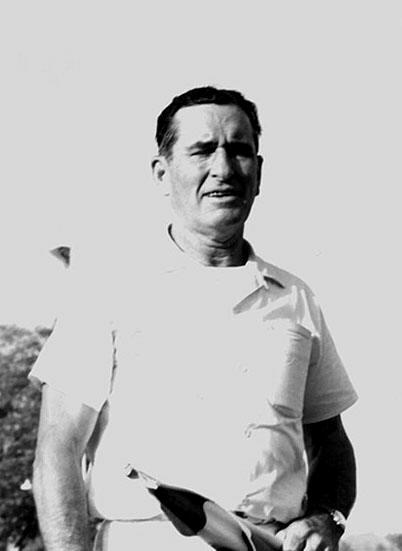 Norman McIver Portrait Photo Courtesy of Cho Lee
What set Hames apart was the fact that he would actually start the race BETWEEN the two rows of onrushing ill-handling missiles often driven by amateurish and less – than – sober drivers. I can still vaguely get a visual image in my mind of him bouncing up and down among those dust – scattering jalopies. It is a darned good thing they didn't go too fast in those days.
Hames circulated in a sort of traveling triumvirate of himself, as flagger; Les King, as photographer; and Red Wildey, as track announcer. The trio served tracks such as Pico, Mettawee Speedway in North Granville, NY; Stateline Speedway, and near Bennington, VT. According to King, they all would have served at the newly – opening Fonda Speedway, as well, had Hames and Wildey not taken off without him, leaving Russ Bergh to get the coveted job there. That was 1954; King was still pissed in 2007.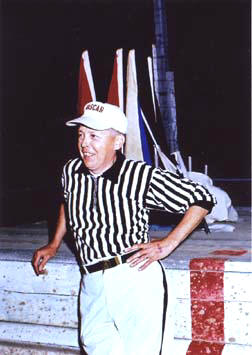 John Grady Photo
Hames, at his traditional flagger's platform that Fonda made him use as Fonda speeds no longer allowed starts on the track.
After Pico and the other nearby tracks all closed down, I had to content myself with second hand Hames stories from Jim Haley, and other lucky local men who got to travel to those other tracks and watch Hames. I recall Jim mentioned Fonda finally made Hames use a starter's platform located in front of the announcer's tower at Fonda, fearing that the ever – increasing speeds were going to kill him.
After years of missing any racing action, some local tracks started up; but none of them hired Chet Hames. I did see his protégé, Danny Rumpf, flagging at Fairmont Speedway. Rumpf's strutting and prancing on the side of the track and flamboyance, I was sure, was prodded on by Hames. Rumpf was a good Hames student, tall and skinny. Chet, himself, was remarkably tall – one of those people who was all legs and not much torso. His height was best illustrated when posing with others, like the diminutive Howard "Jeep" Herbert, one of the guys I remember from Pico days.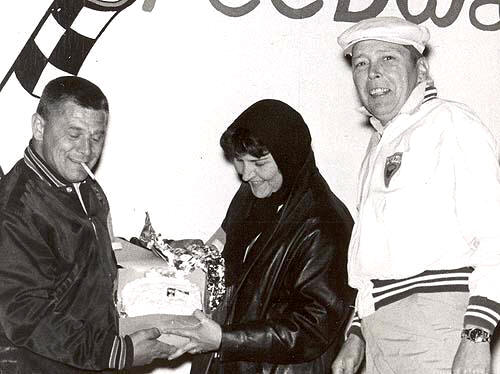 Herbert Family Photo
Chet towers over the much - shorter Jeep and Dolores Herbert at some sort of presentation during a
Fonda race program. Jeep was a star driver and Dee was a scorer there for many years.
Finally, in 1963, I got a chance to get to races in the fabled Fonda fairgrounds. I recall announcer Mike Valchovic introducing Hames, as he prepared to flag practice laps [Valchovic had this nasal accent]: A-a-a-a-uynd your starter for tonight's program ! The very colorful, the very popular, Chet Hames, of Sarato-o-ga !" Hames, clearly drinking in the adulation, postured and strutted about on his platform, scant feet from what was about to be mind – boggling speed on the track below him. According to most who knew him, he was drinking in more than that.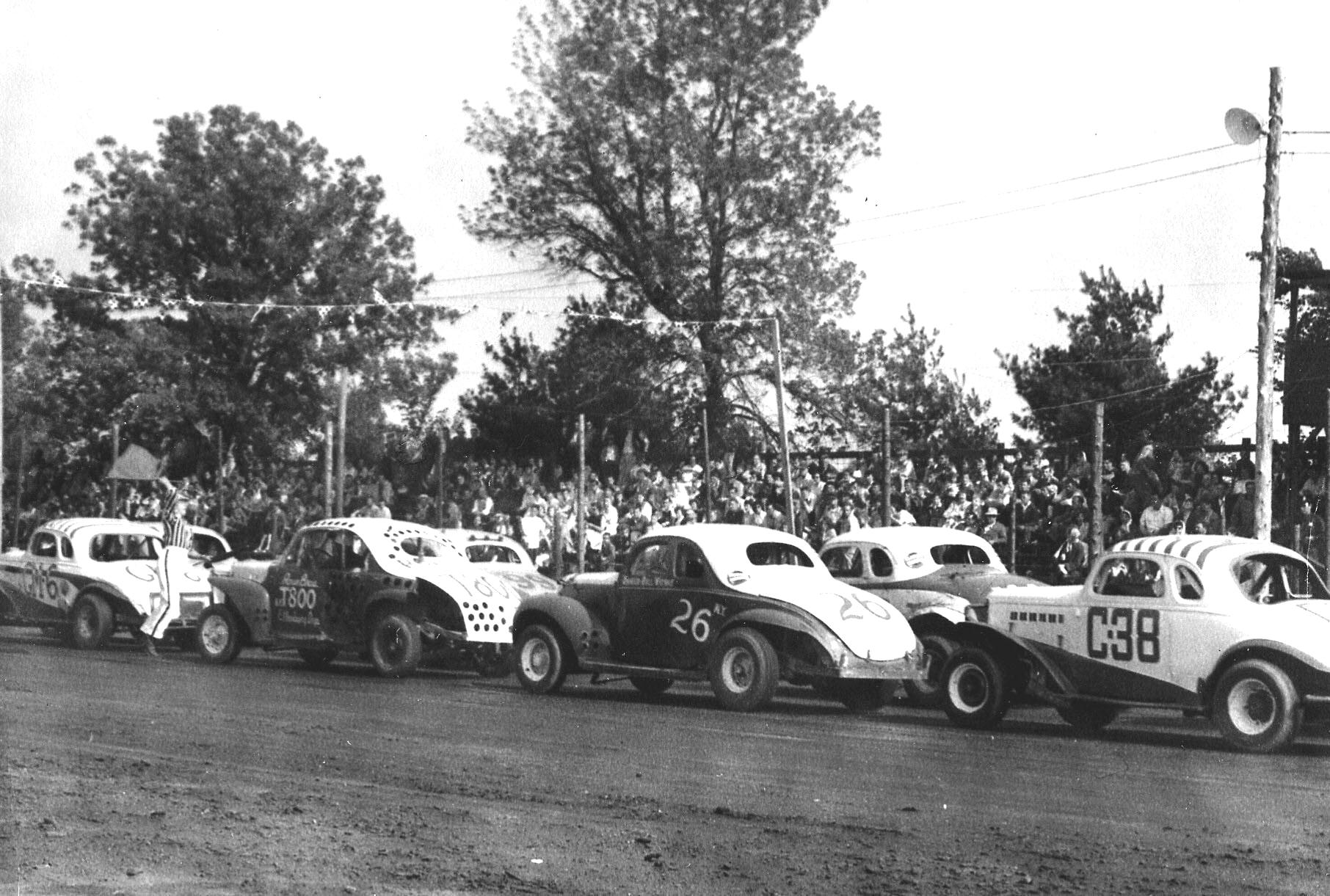 Bob Mackey Photo Courtesy of John Rock
Chet flags one off at Plattsburgh, NY's Airborne Park Speedway. Buck Holliday, Jeep Herbert, and
Bill Wimble, some of his familiar client s at Fonda, are in this photo. Below - Chet keeps
a close eye on an approaching field at Fonda.


Ladabouche Collection
Lew Boyd, Jim Rigney, and Andy Fusco wrote, in the Fonda history book: "Chet Hames was Fonda's colorful starter through The Glory Years ….. Hames' ballet would have been even more awe inspiring had the fans known of his propensity to nip the bottle.
"I'd hear rumors that Chet would stop in the Broadalbin Hotel for a couple every week on his way to Fonda," says Ed Fuez [promoter at Fonda]. "I confronted him once about it and he denied it. Then, one night, I saw him bring in a six – pack of beer into the speedway and hand it to the infield concession stand guy to keep it on ice until intermission.. A confronted him again and again, he denied it. So, I walked over to the concession stand, pulled out the beer, opened it, and emptied it on the ground right at Chet's feet. I said, "Chet, you're done working here. We can't have this."

<![if !supportLineBreakNewLine]>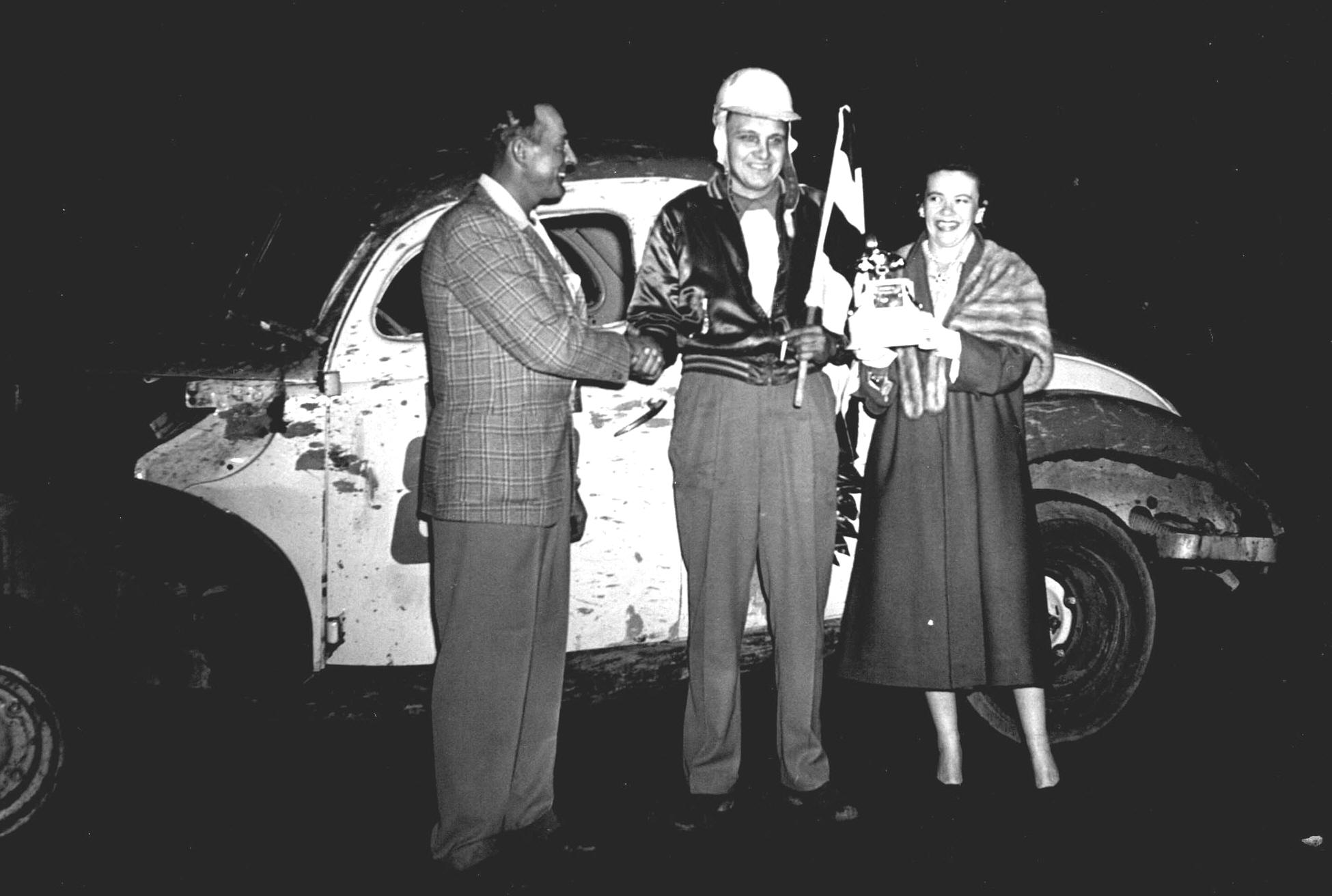 <![endif]>Ed Fuez Collection<![if !supportLineBreakNewLine]><![endif]>
Ed Fuez, the more demonstrative of Fonda's two promoters, had enough of Hames by the mid – 1960's.
Here, he is seen with Chuck Kotwicka, Fonda's first winner. At right is Mrs. Jim Gage, wife of
Fuez's co - promoter, Jim Gage.
As a fan, I had heard about this event all the way over in Vermont; so, I was not completely shocked when our next visit to Fonda revealed a new flagger, Don Phoenix, who we found out had been flagging at Midstate, over in Morris, NY. The gum – chewing Phoenix brought order and organization to the flagstand, but he was not even close to as entertaining as Chet Hames.
Hames' influence had already been felt for years over in Vermont, him having flagged personally at Pico Raceway, Stateline Speedway, and the old Fairmont Park Motor Speedway. Then, too, Hames protégé, Danny Rumpf, another Saratogian, had been C.J. Richards' starter at the re-opened Fairmont Speedway since its first show in 1962. So, it was not totally surprising, around mid – decade, when Hames appeared on the flagstand at Fairmont. The flamboyance and panache were still there. I recall one crash, for which Hames, confined to an elevated, gated flagger's stand, grabbed two red flags and waved them in a manner that would have made a college cheerleader envious.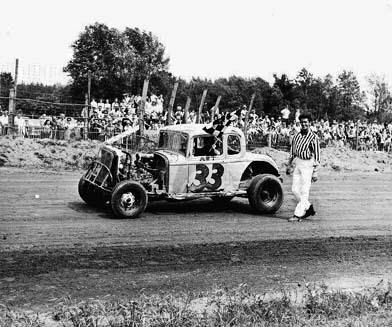 Ladabouche Collection
The Hames influence was clearly evident with Saratoga native Danny Rumpf, the Fairmont Speedway
starter for several years. This is from the track's first week.
Hames' tenure for Richards did not seem to last long. I honestly do not know if drinking had anything to do with it or not. Rumors had followed Chet that he had fallen off the stand at Fonda one night. I never saw any unseemly behavior at either track. I heard occasional reports of how Chet was doing from Fairmont official Jim Frye, who lived very near Chet in Saratoga. Apparently Hames and veteran Fonda driver George Baumgardner lived close by one another. Baumie shared Chet's fondness for refreshment.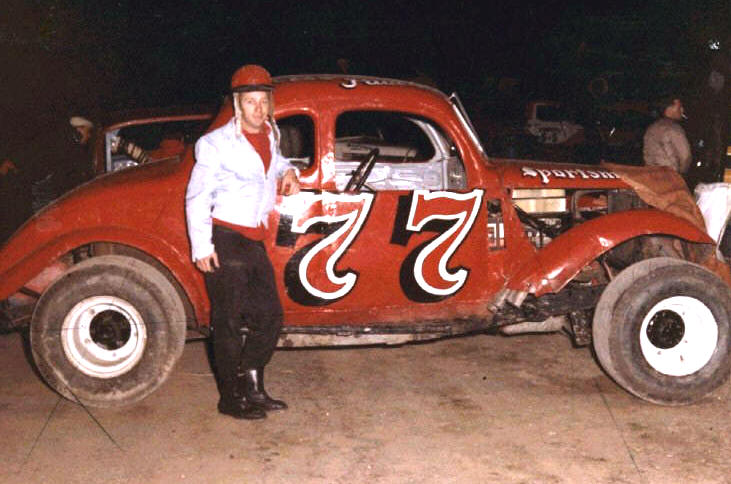 Ladabouche Collection
Hames neighbor George Baumgardner and Chet were definitely two racing figures, for whom they threw away the mold after one casting.
After a fashion the sad news would come about each of the two racing figures passing away, one after the other. For years as a kid, all I ever wanted to be was a flagger – and that was all due to Chet Hames. In our area of the racing world, there would likely never be another like him – he is dearly missed.
Please email me at wladabou@comcast.net if you have any photos to lend me or information and corrections I could benefit from. Please do not submit anything you are not willing to allow me to use on my website - and thanks. For those who still don't like computers - my regular address is: Bill Ladabouche, 23 York Street, Swanton, Vermont 05488.
AS ALWAYS, DON'T FORGET TO CHECK OUT MY WEBSITE: www.catamountstadium.com
Return to the Main Page
Return to the Main News Page
Return to the All Link Page
Return to the Weekly Blogs Link Page