BILL'S [Somewhat] WEEKLY COLUMN/BLOG PAGE

BILL'S BACK IN TIME
By Bill Ladabouche
Oh, That Must Be Uncle Al
When I was going through the small Proctor[VT] Elementary School in the 1950's, we had a kid move in for a couple of years to live with his aunt and uncle. I was in that period of my young life where I had endured severe stock car deprivation for a number of years; there were no tracks operating nearby and no one was driving me to Granville, NY or North Bennington, VT to see any there. So, when it was announced that this was a Romano kid, I immediately beset him with questions concerning what he knew about the old Pico Raceway track, once owned and operated nearby by the Romano family.
The poor kid was from Boston and knew absolutely nothing. When I told him that someone from his family had raced and was somewhat of a hero of mine, he replied, "Oh, that must be Uncle Al".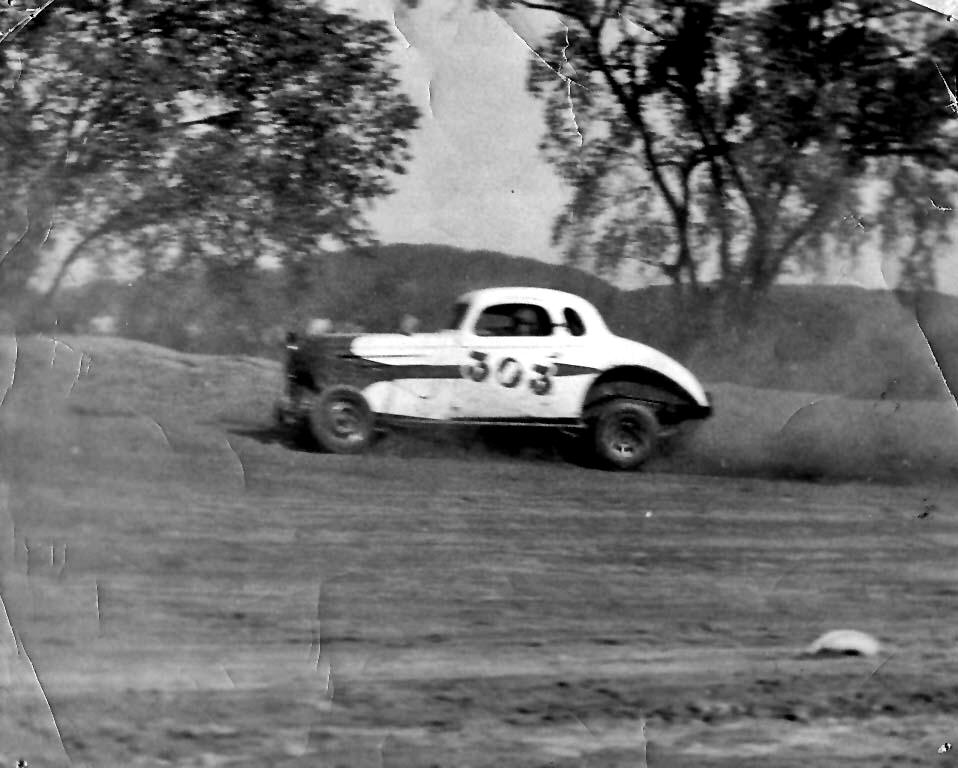 Courtesy of Ed Fabian
Uncle Al shows a little tight condition as he plows the 303
through turn 3 at Pico Raceway around 1952. Below – Fellow Rutland native Jerry King wins one at Pico.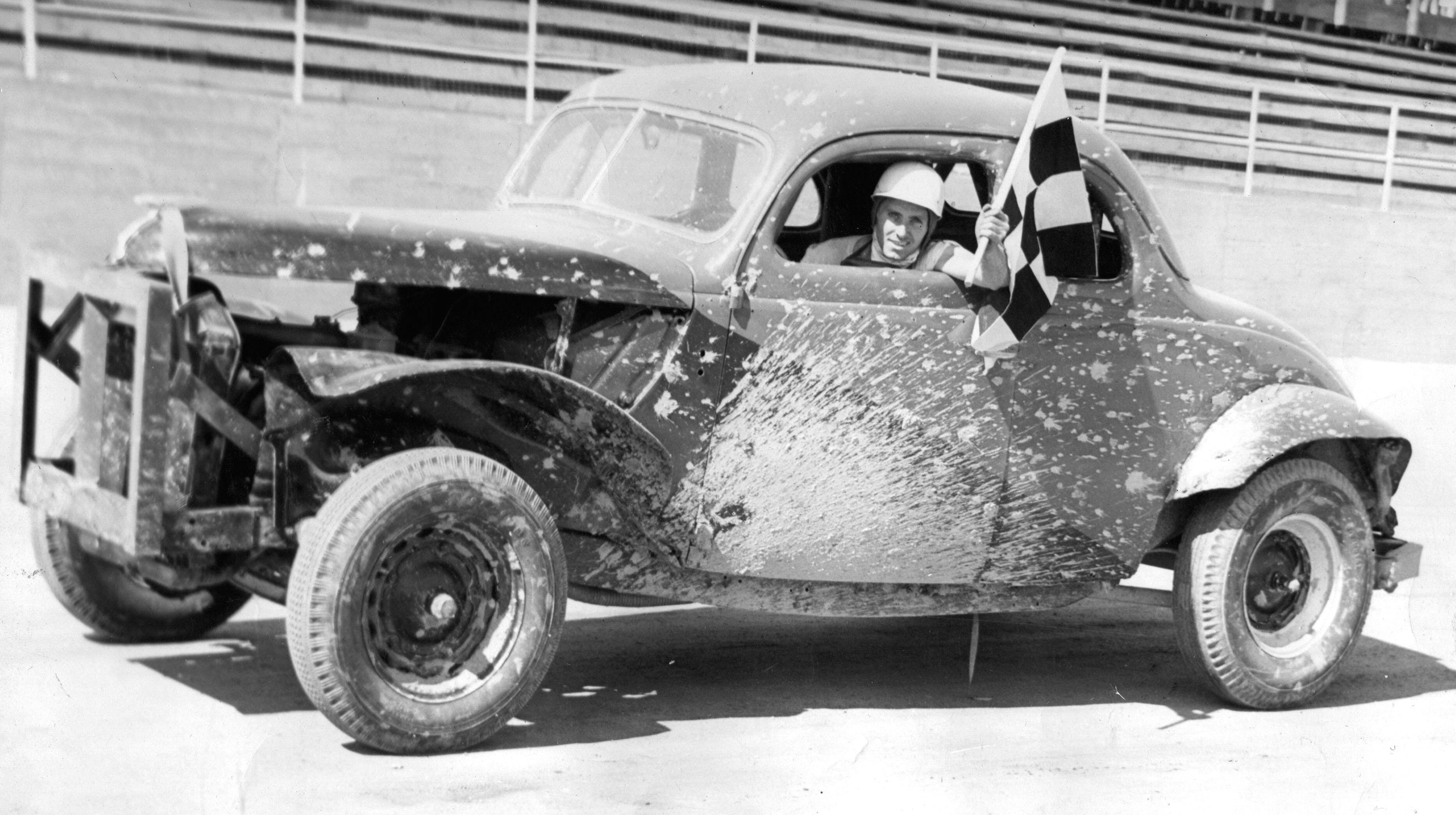 Courtesy of Jerry King
As it turned out, the Romanos [Romano Brothers Transportation] did have a big part at the track, and Uncle – while too young to have money in the track at the time, did play a very important role. Romano Brothers Transportation, Inc. was – at the beginning of the 1950's - a very important Rutland business. The brothers in question were the aforementioned Paschal, as well as Michael and James. As the story goes, a young and mechanically – adept Al Romano and his buddies were getting on the nerves of anyone living or working near the small Rutland Airport because they loved using the often – empty runways as a dragstrip – probably at night.
Things had come to a head when Rutland County Sheriff Geno Franzoni had confronted Al's father, Pasquale "Patsy" Romano about the problem. The excitable Romano had blurted out that these young men needed some place to blow off steam. Franzoni saw merit in that concept and the two put their heads together, coming up with an idea to get in on that burgeoning new sport of stock car racing that was sweeping the nation. They had ideas and willingness to invest; what they didn't have was land.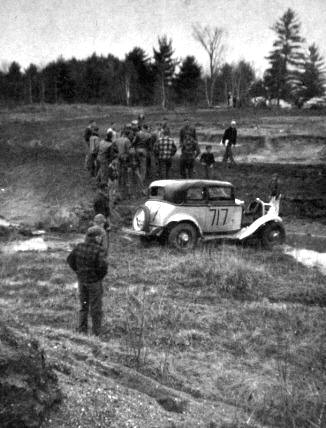 Courtesy of Ed Gould via George Hill
The car 717 of Pop Goodwin pauses at the edge of the crude track operated by his family near West Lebanon, NH. The Goodwin track regulars didn't care much for outsiders like the Rutland bunch. Below – This old newspaper photo shows Pop Goodwin as champion of Claremont Speedway
in the mid '50's.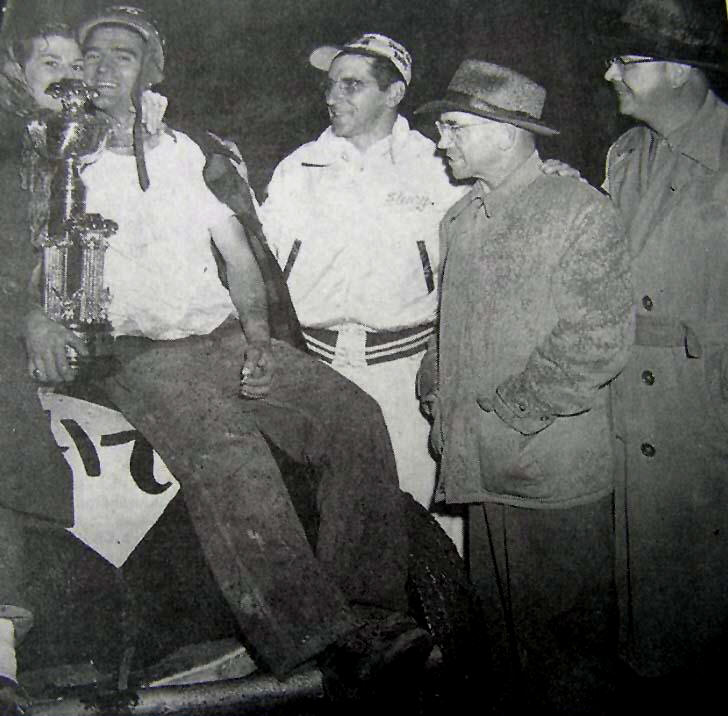 Courtesy of the Davis Family
To make a long story short, the duo approached local farmer Abe Newman, who offered a sizeable portion of his then – unused farm land for a half mile race track. By 1951, Pico Raceway was in operation, and Al Romano was one of its stars. With pals like Big Bill Anderson [who would become a prominent local clothier later], Al had already done a little racing in already – established tracks like the one owned by the Goodwin family in West Lebanon, NH. Then using cars numbered 33 and "8 Ball", the Rutlanders endured the rough treatment waiting for outsiders at West Leb and gained some experience.
During the 1951 season at Pico, Al would drive a 1936 Chevy coupe numbered 303. He would become a popular figure with the fans as track announcer Red Wildey would regularly intone, "...a-a-a-nd Al Romano in 3 oh 3- the Bumblebee !" The Romano car, prepared by Al himself, had an exhaust system modified to rasp and rattle in a very unique way, reminding some of a bee. The family also had a second car, #111, that would be driven by Anderson and others to help fill out the fields of competitors [and maybe occasionally run interference for Al].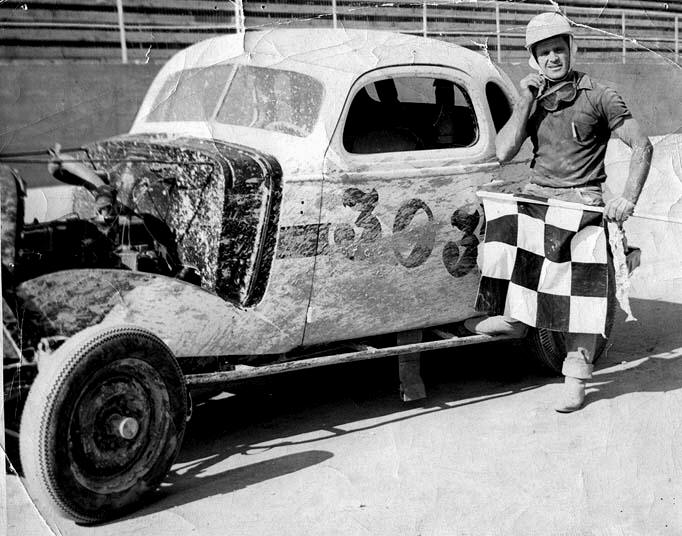 Courtesy of Ed Fabian
Al strikes a dashing pose at Dad's track in 1952 – with the cement retaining wall added to the infrastructure. Judging from the lack of
spectators – it was either a staged shot or taken well after the race was over. Below- Romano, at Fairmont Park Motor
Speedway [left] and Stateline Speedway, chasing the exact same car – Hank Schmidt.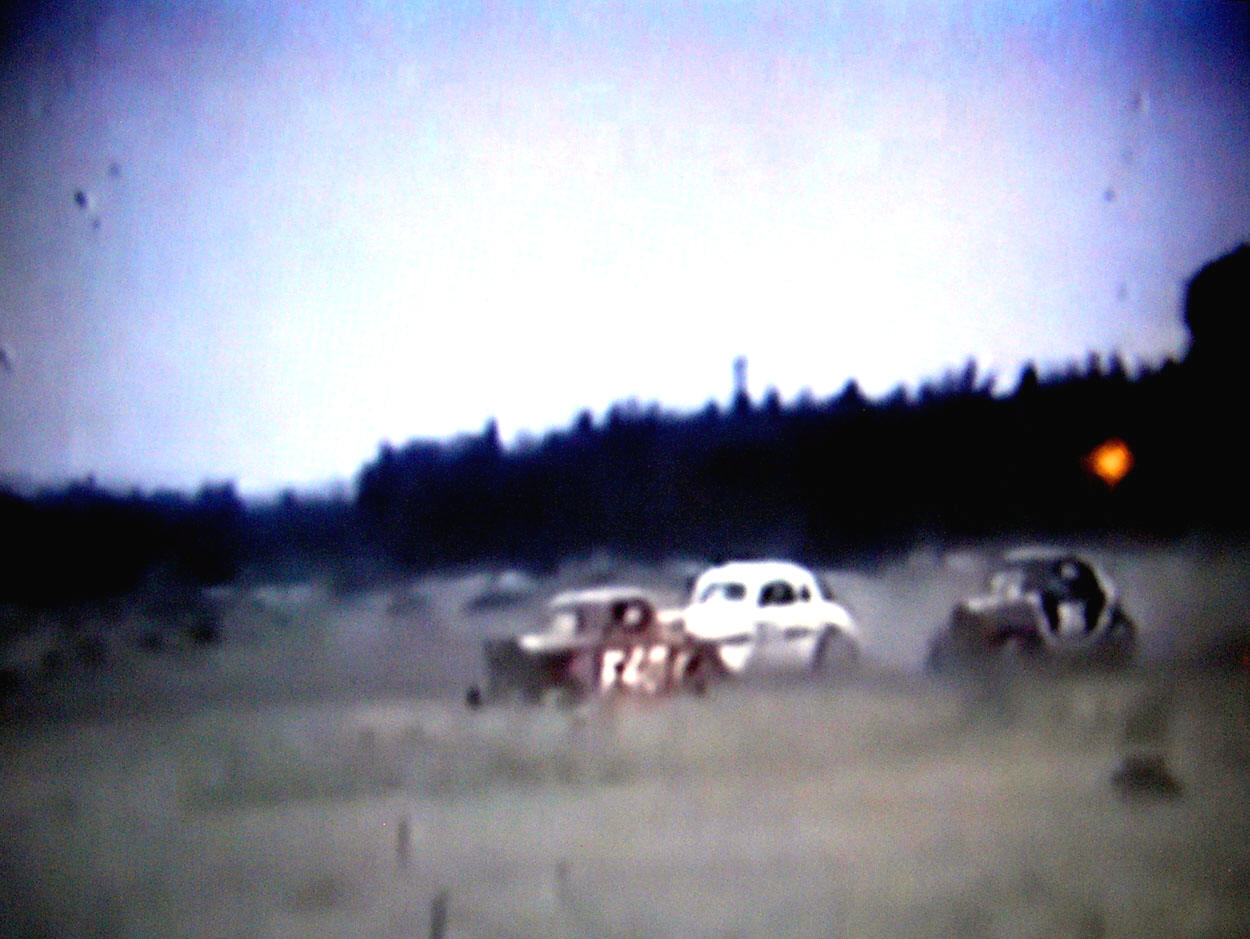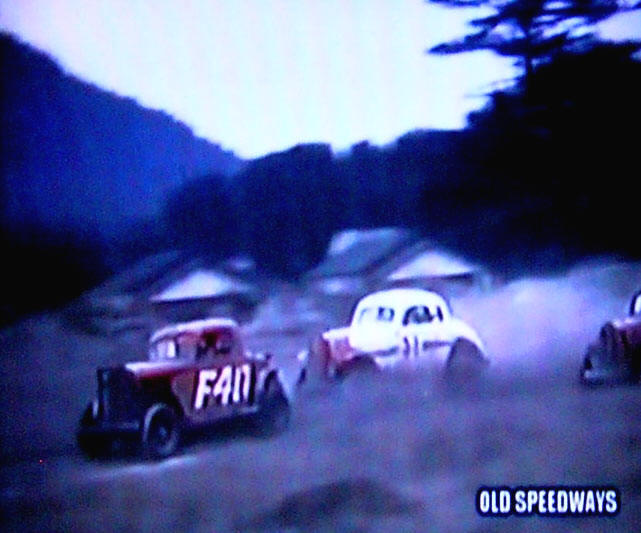 Both From Dan Ody's 8MM Old Speedways DVD's

Al was not above rubbing a roughly – welded bumper edge against somebody's tire in the heat of competition. Gene Tetreault of Manchester Depot, VT did not speak glowingly of Romano when recalling races at Rutland. Al, along with fellow Rutland native Jerry King, would branch out to run at nearby tracks like Fairmont Park Motor Speedway in Fair Haven [twenty minutes to the west], Mettawee Speedway in North Granville, NY, and Stateline Speedway near Bennington. There, away from his father's track, he may have driven a little more conservatively. It is also thought that, in 1950, he may have tried the Manchester, VT fairgrounds track that ran briefly until the death of a mechanic there who was struck by a race car.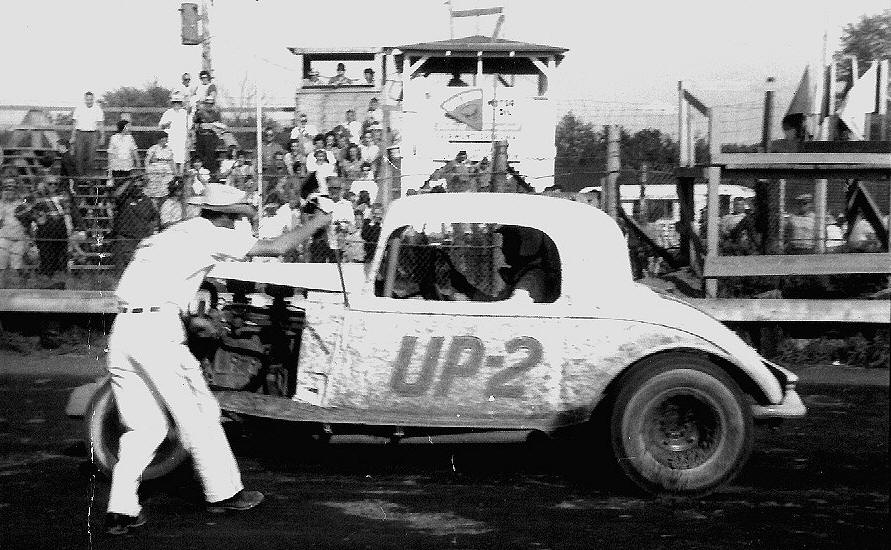 Courtesy of Chris Companion
George Rogers competed against the Romano/Doaner car at Fairmont in 1965. He also raced Romano at the same track in 1951 in a different car.
As Pico and Fairmont eventually disappeared from the racing scene [both by 1953] and increased demands for his mechanic's skills at the trucking company, Al Romano was no longer seen racing much after 1953 or 54. I got to a race, here and there, in that long period from 1952 to 1961; but I never did see Al race again. By 1962, C.J. Richards, himself not much older than I at the time, decided to revive the Old Fairmont Speedway in his home town after not finding his present employment to be particularly satisfying. In those days and in that economy, a young man could still feel that way and not starve to death looking for another job.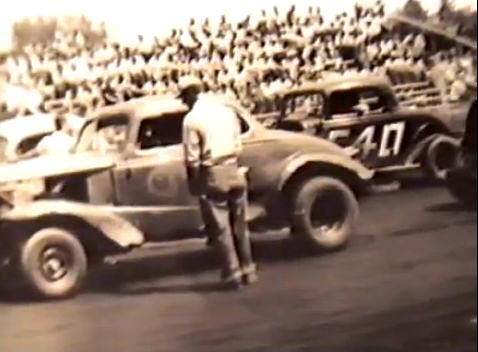 Courtesy of Bud Brooks
Gene Tetreault as his car looked that ran against Romano in the early '50's. Below – The Tetreault car that would
compete against the Romano / Doaner car in 1965.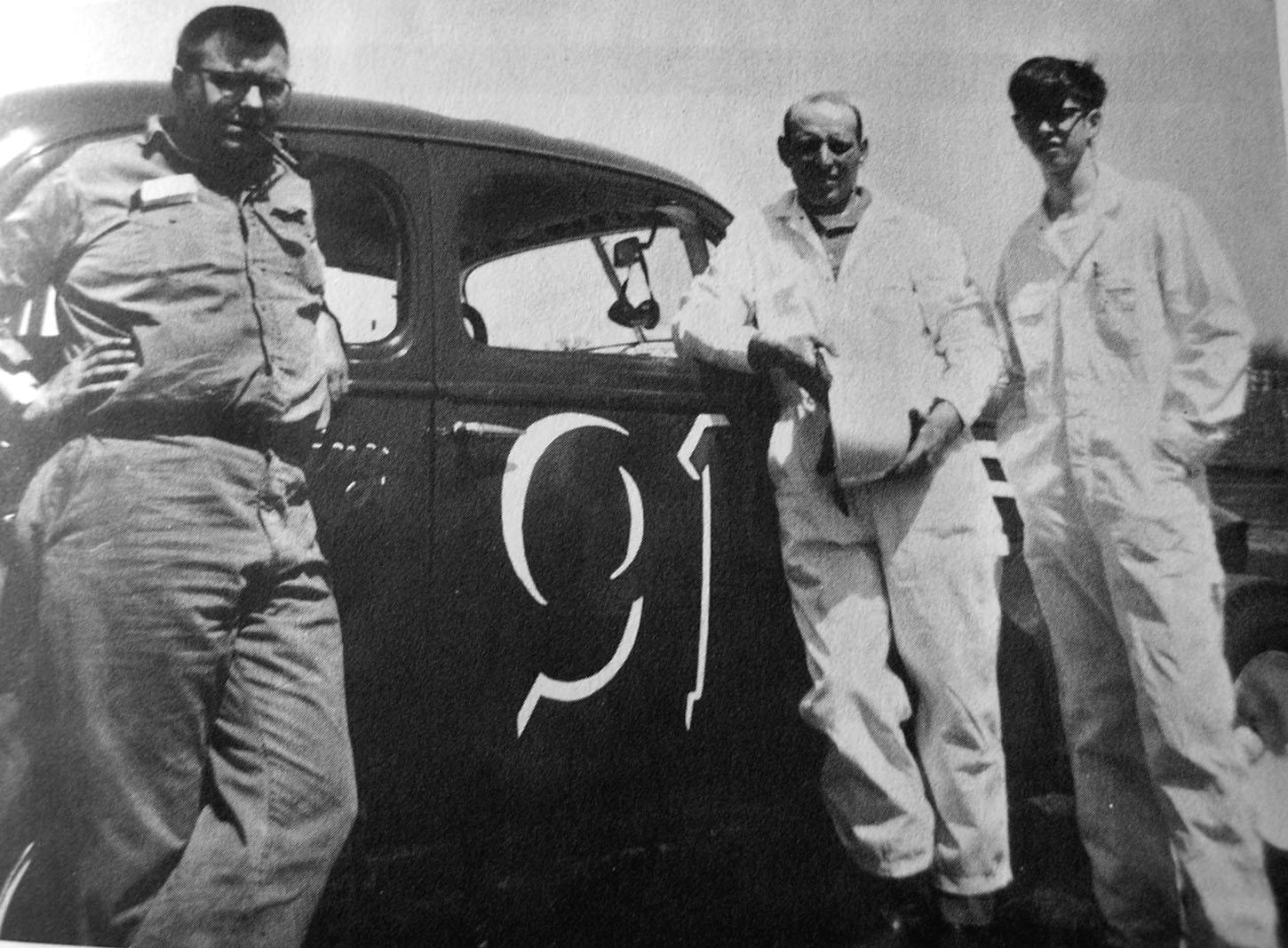 Courtesy of the LaFond Family

C.J.'s track did bring back several of the drivers I had seen at the old Fairmont track and at Pico Raceway: Gene Tetreault, Vic Love, George Rogers, Dave Brooks [briefly], Wally LaBelle, George Pritchard, and Buddy Bardwell were among these. Later, around 1965, when a young Rutland star named Chet Doaner was beginning to show a lot of promise at Fairmont, Al Romano decided to come out of retirement and build Doaner a super car to compete with the new class of overhead V-8 sportsman – type cars that Richards was introducing as his lead division. Coincidentally, Jerry King was returning as a driver and car owner at almost the same time.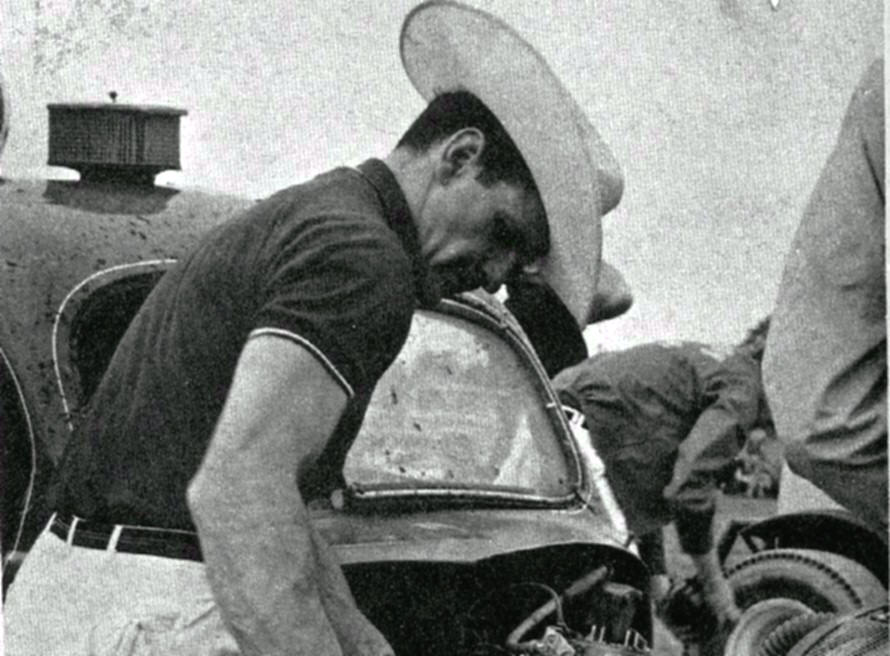 Ladabouche Collection
Al, wearing his trademark cowboy hat, tunes up the Chet Doaner Chevy at Fairmont in 1965. Below – Doaner,
with the Romano creation.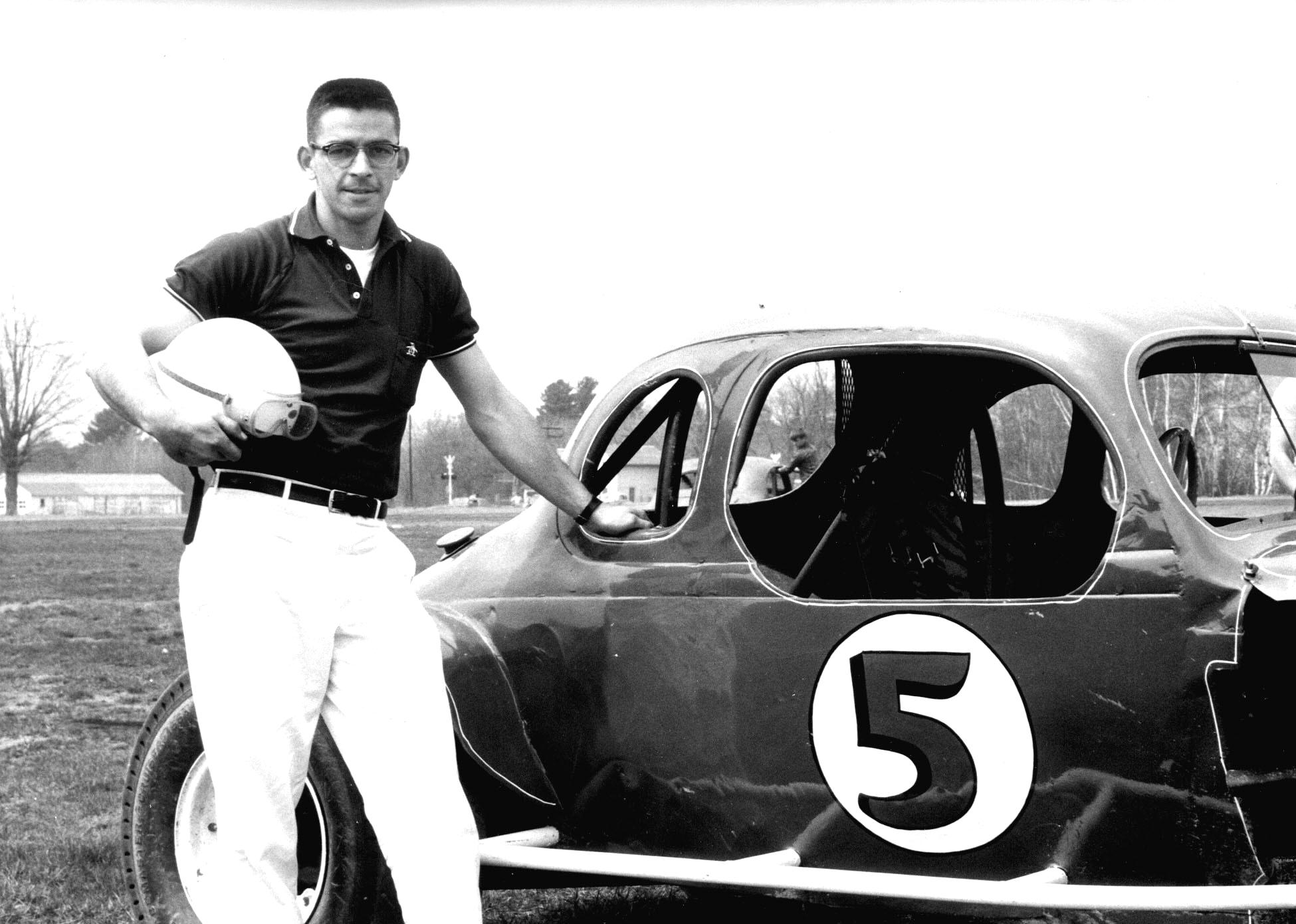 Courtesy of C.J. Richards
The Romano – built car, a profoundly altered 1936 Chevy coupe, was something to behold. It was channeled, narrowed and lowered – resembling a bright red bug. The car, much smaller than most of the new sportsman cars in the class, was quite competitive at Fairmont. Romano, always wearing a trademark cowboy hat, would spend much of the season serving as a crew chief for Doaner, working with Anderson and Bruce Utley. With records in those days not the best or easiest to obtain, it is not clear how Doaner finished that season. He was frequently mentioned as finishing in the top five but seems to have won only one race – August 7, 1965 – with the car.
The following season was the first for Richards' new track, Devil's Bowl Speedway, and Doaner came out with a new, Corvair – bodied car. It is not clear whether Al Romano played a role in that car or not. I never did hear any more about racing – related activities from him. When I started doing this racing history work in 2005, my friend Ed Fabian did considerable work to help dig up materials on both Pico Raceway and on Al Romano. Ed went so far as to once take his street rod a 1934 Ford, up for Al to see with one of Romano's old racing numbers in the sides.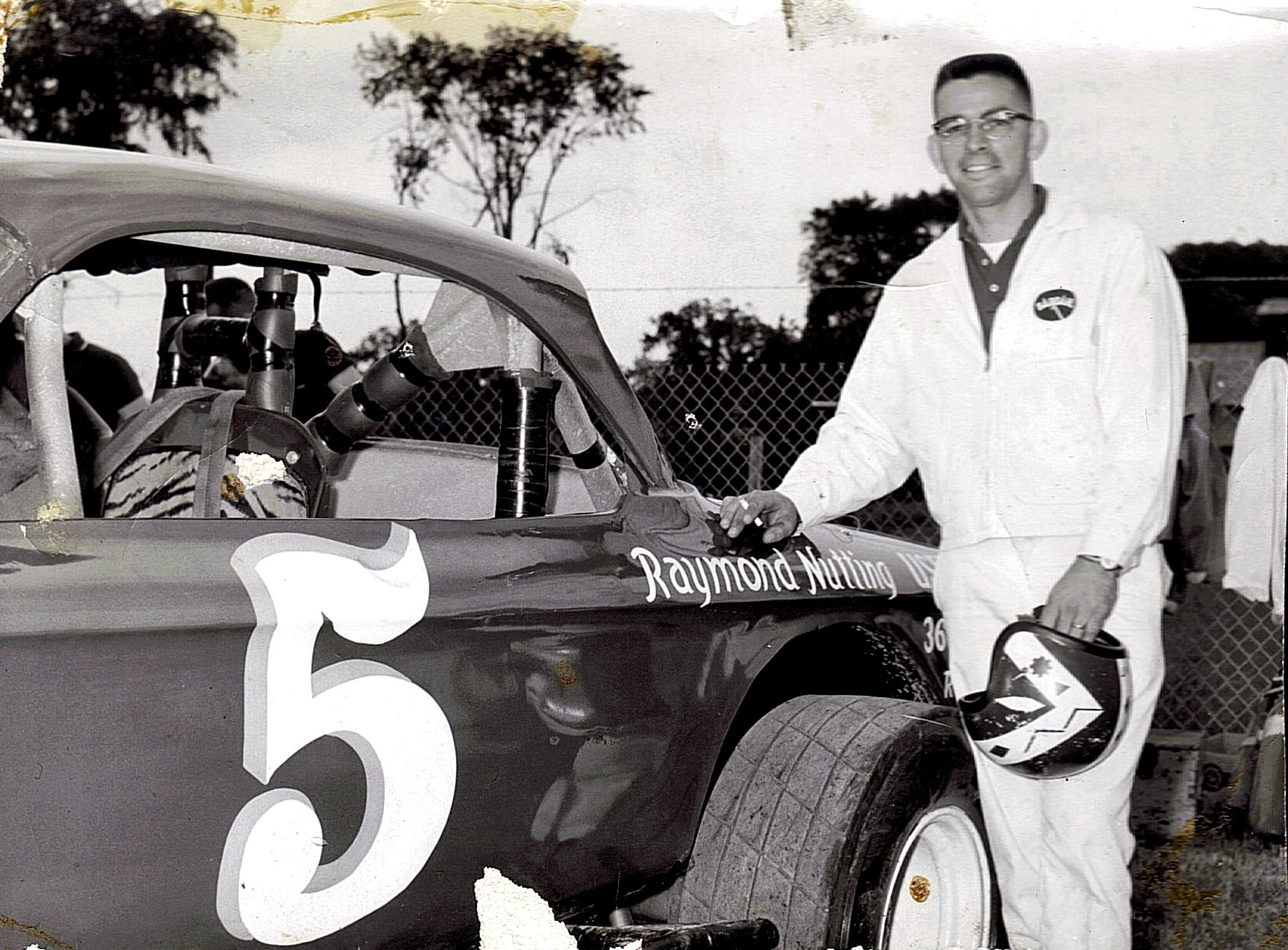 Courtesy of Mike Richards
It is not clear whether Al was in on the Doaner Corvair or not.
I never quite got to interview Al – partly my fault and partly due to his fragile health. My mother, who golfed with Romano, once inquired if he had any materials left from Pico and he said the family had finally disposed of everything to do with the track just five years before. Unlike Tetreault, who ran competitively in modifieds into the 1970's, and Jerry King who fielded cars into the late 1960's, Al Romano's racing history is compacted into a few years – scattered between the 1950's and 1960's. Pico Raceway, largely dormant after 1952, disappeared and its lands were used for a General Electric plant by the 1970's.
Romano Brothers trucking remained a viable business until the family no longer wanted it and sold it J. P. Noonan, another New England – based trucking firm. Al maybe did not have the longest driving career nor did he have the hugest impact on the racing world; but he was really good at what he did and he made his mark in that early era of a sport of which today's version seems to be a more a race to see who can set their kid up with the most expensive equipment. Many viewed Al that way back in 1951, but he was a hands – on guy whose cars went only as well as he tuned them. I miss that kind of guy.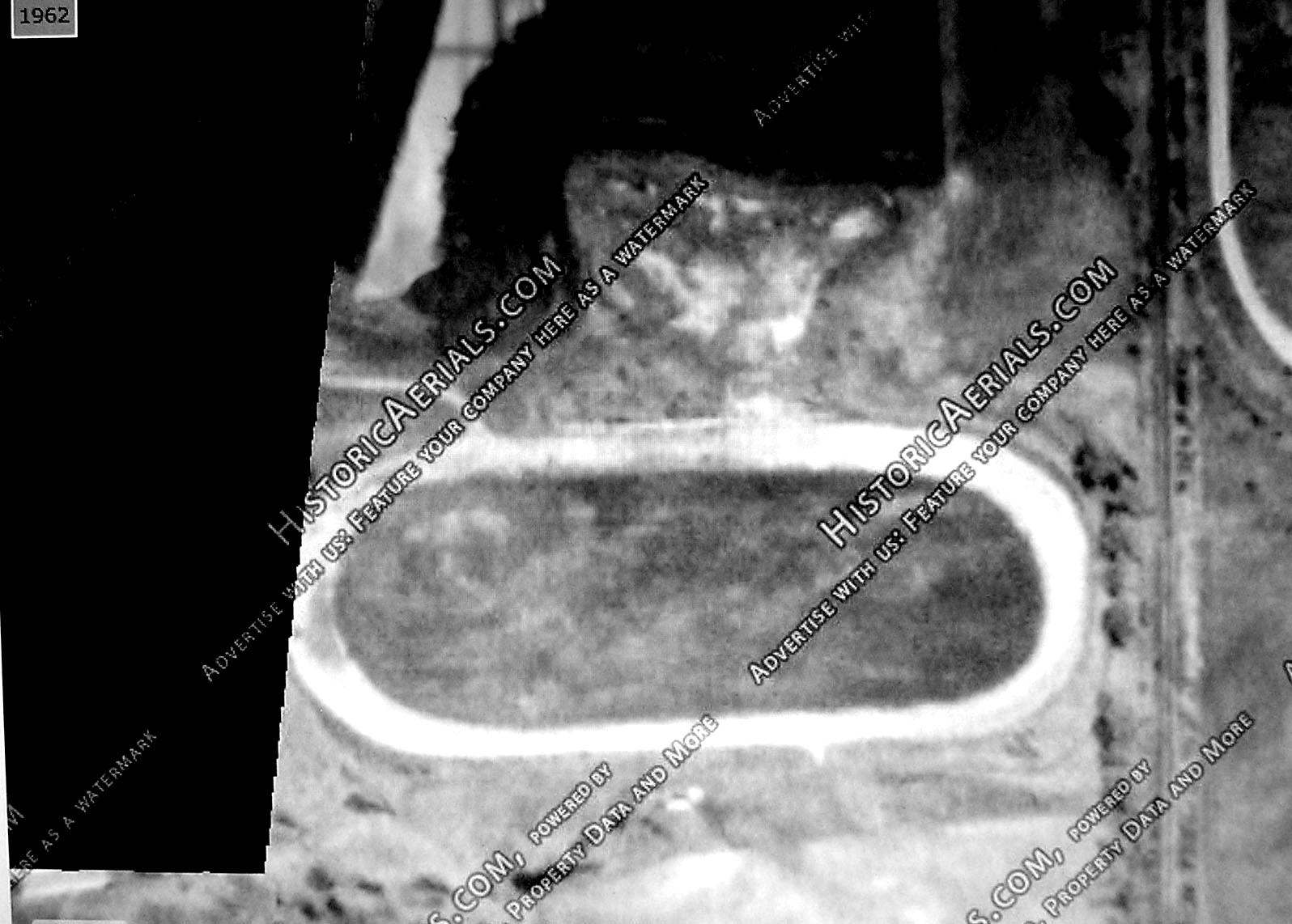 Historic Aerials.Com Photo
Pico is still visible in this 1957 aerial view, but was obliterated in the 1960's by a General Electric plant.
Al Romano [below] did much better, living until 2011.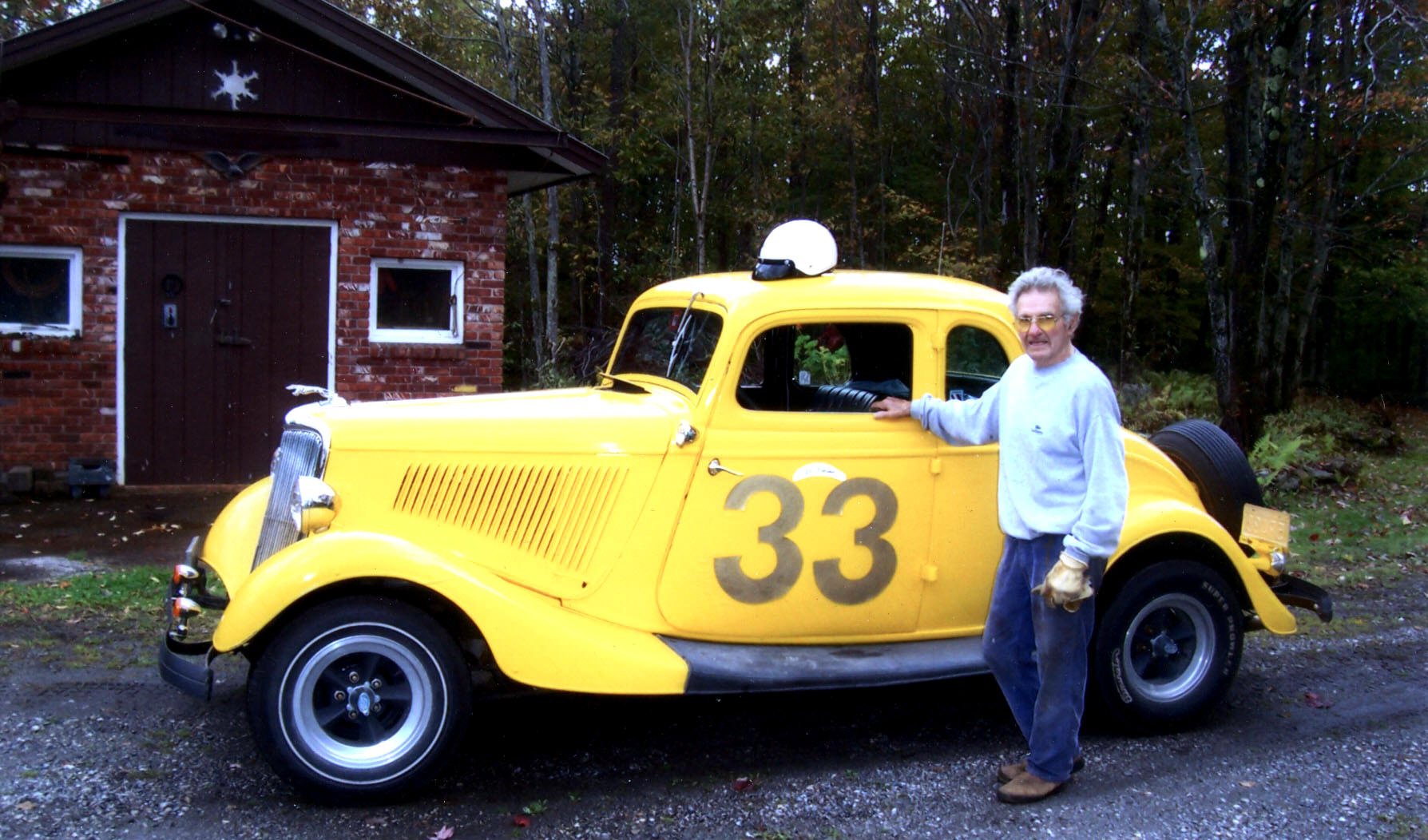 Ed Fabian Photo

Please email me if you have any photos to lend me or information and corrections I could benefit from. Please do not submit anything you are not willing to allow me to use on my website - and thanks. Email is: wladabou@comcast.net . For those who still don't like computers - my regular address is: Bill Ladabouche, 23 York Street, Swanton, Vermont 05488.
AS ALWAYS, DON'T FORGET TO CHECK OUT MY WEBSITE
www.catamountstadium.com
Return to the Main Page
Return to the Main News Page
Return to the All Links Page
Return to the Weekly Blog Links Page