BILL'S [Somewhat] WEEKLY COLUMN/BLOG PAGE

BILL'S BACK IN TIME
By Bill Ladabouche
WHAT IS IT WITH THAT CAR NUMBER ?
One of the few cars or car numbers, for that matter that I can recall from those early days of racing at Pico Raceway in Rutland, Vermont was that of George Connors. Mind you, I was all of about 5 years old at the time, but I knew enough to recognize that two cars had numbers that weren't like the others: Ollie Palmers's J-O, because it was just letters, and the 6 and 7/8 of Connors. I think I recall thinking that track announcer Red Wildey was calling it '6, 7, and 8's", which led me to believe the driver couldn't make up him mind what he wanted to call his car.
I never got to meet George Connors, although I have met his nephew, Paul, who went on from Vermont to become one of the legendary late model sportsman drivers in Florida and who drove in both the Grand National and Grand American divisions in NASCAR. Paul admits he has no idea why Uncle George used that number, either. Uncle George possibly may have run across other cars of that same number because he ran a little at Warrensburg Speedway / Ashland Park and he may have run at a few eastern New York tracks.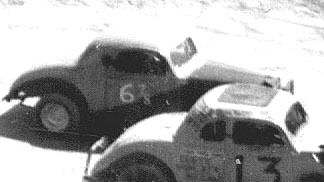 Courtesy of Jerry King
The 6 and 7/8 of Danby, Vermont's George Connors sits in a lineup at Pico Raceway, probably in 1951.
Below - Connors' nephew, Paul, with one of his winning late models in Florida in the 1970's.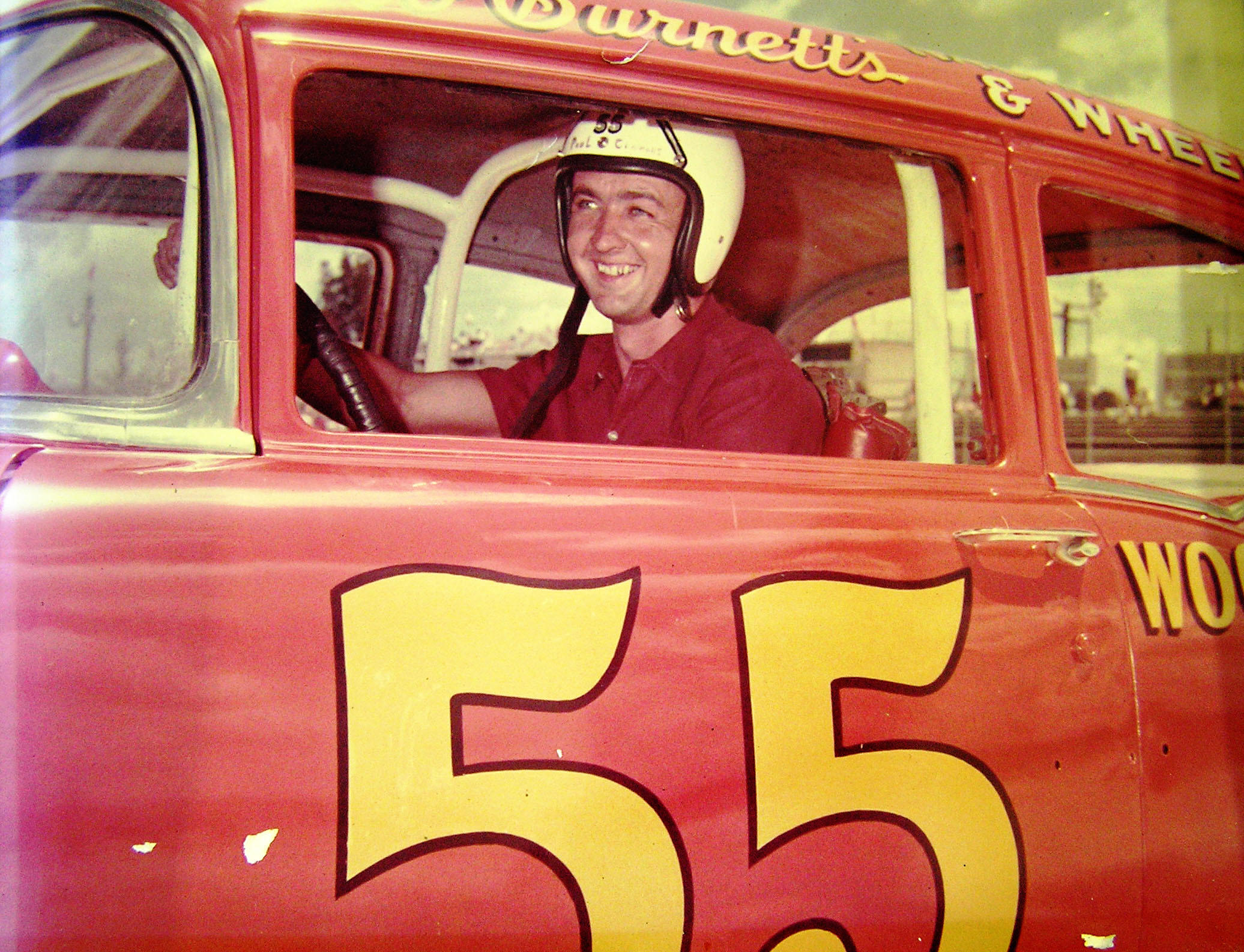 Courtesy of Paul Connors
I could not have imagined that, in fact, there would be at least three other cars numbered in the same manner and running at approximately the same time. When I say Connors could have run into one of these, it is entirely possible, given that one of the 6 and 7/8ths car ran in the Capital District area of New York, not that far from George's home own of Danby, VT. The second car ran out of northern New York; but it might have ventured down as far as Warrensburg. The third car was apparently from Down South, and was, therefore, almost out of the running in the northeast.
Connors lived in the shadow of the Vermont Marble Company's Danby Quarry [actually a mountain that was being gradually hollowed out] as they harvested the white Imperial Danby marble. He, himself, operated his own business, which I think centered around excavating. There is nothing in the location or the choice of livelihood to suggest where the number came from.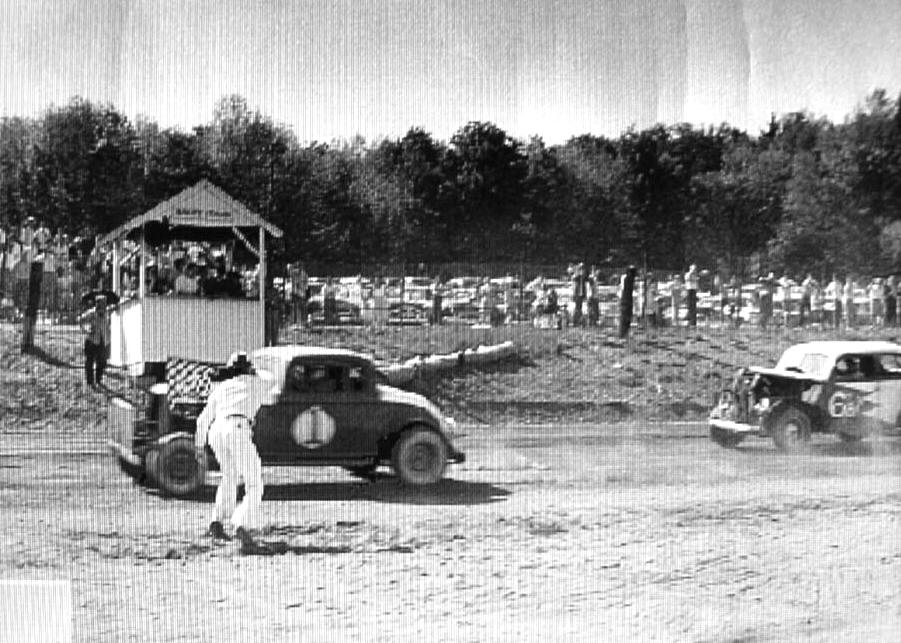 Courtesy of Dan Ody
Perennnial Whites Beach champ Ernie Martin beats out the sedan of D.C. Coville, with that telltale car number on the side.
Below – This might be Dan in a very basic entry level car at Pine Bowl.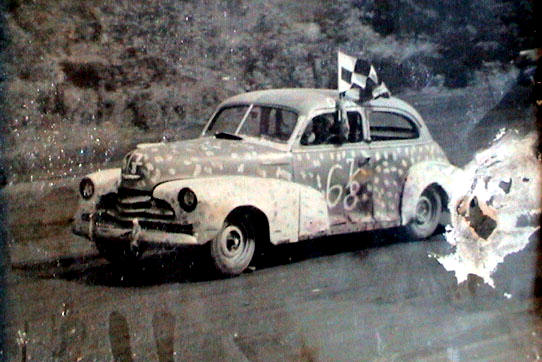 Courtesy of Ken Gypson

Connor's nearest 6 and 7/8ths neighbor was Scotia, NY's Dan Coville, or D.C. Coville. If that sounds vaguely familiar it is because he the father of the storied NY modified driver C.D. Coville [Clarence Daniel]. Dan also used 6 and 7/8ths as his number, and there is – again – no explanation why. His cars have been photographed at such places as The Pine Bowl Speedway and Whites Beach Speedway. It appears as though Coville started out with a very basic starter division car at Pine Bowl and moved up to the modest racing at Whites Beach later, chasing the likes of Ernie Martin, Fred Searing, and Lou Hacker around the small quarter mile near Saratoga.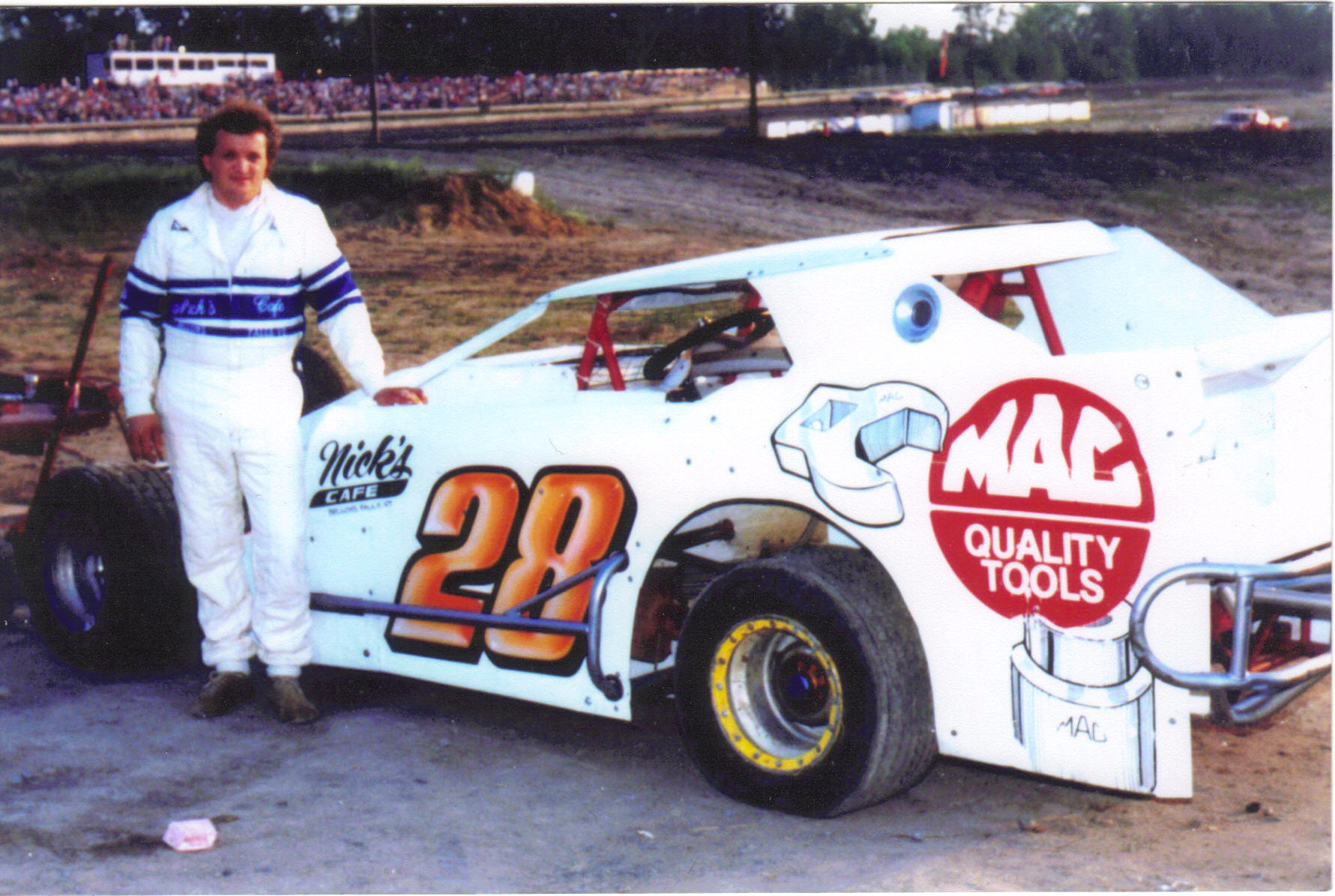 Courtesy of Mike Watts, Sr.
C.D. Coville, who used the number of his hero, Steve Danish - #61, poses here with Jack Ryan's 28VT in the 1980's. He would have accomplished
even more than the Hall of Fame of career he did have had he not encountered serious health problems in mid - career.
Easily, the most successful 6 and 7/8ths cars was that of George Palmetier, who ran out of the very northern reaches of New York. And we DO know where that number came from – it was George's hat size, according to Jackie Peterson, 90, one of Palmetier's early hired drivers. The Palmetier cars were yellow and were driven by the likes of Rusty Reed, Peterson, Red Dooley, and the 1961 NASCAR National Sportsman Co- Champion Dick Nephew. As a matter of fact, Nephew bought the last Palmetier car, and dropped the fraction from the number, giving rise to Nephew's trademark #6.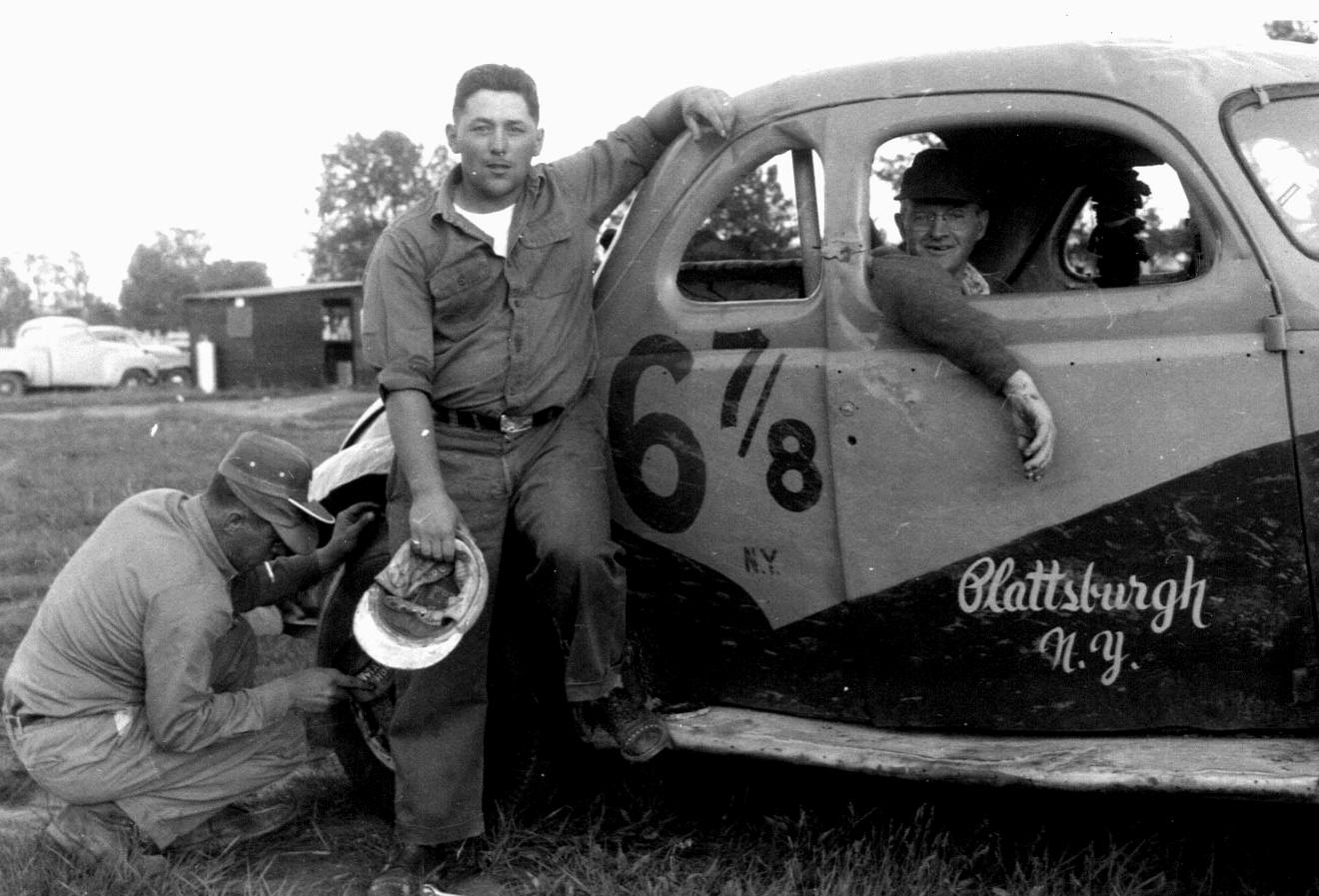 Courtesy of the Nephew Family
George Palmetier sits inside his 6 and 7/8ths car as Ben Nephew works and soon – to – be national champ Dick Nephew poses for the camera.
Below – Jackie Peterson with the Palmetier car. George apparently spent most of his time sitting inside.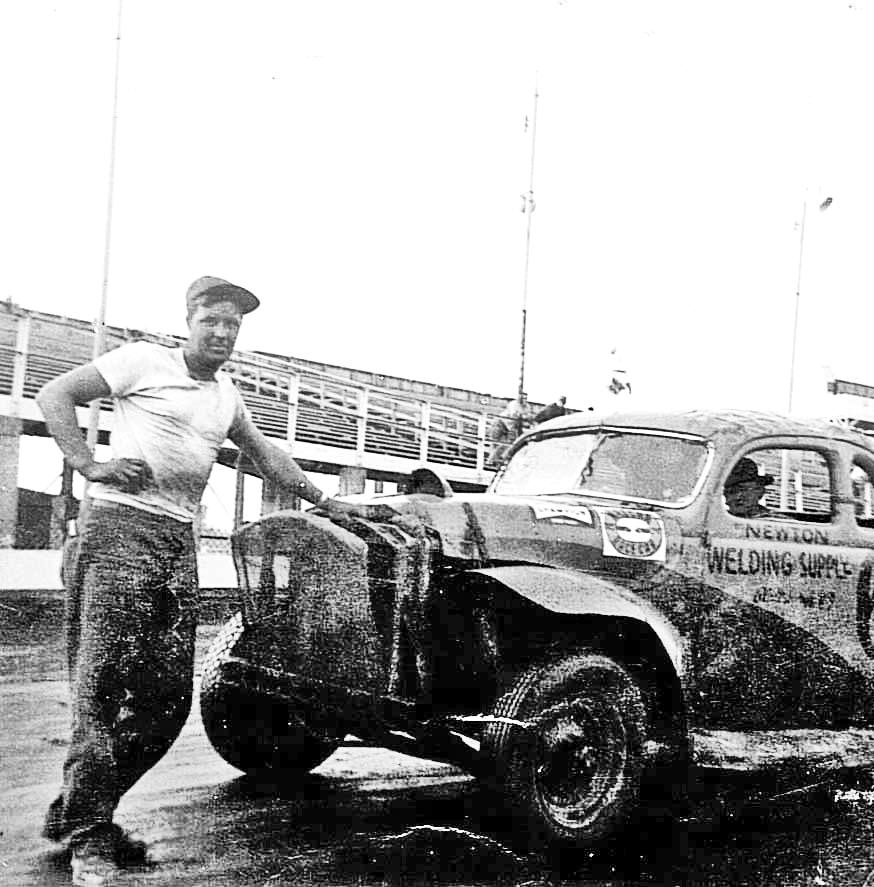 Courtesy of the Peterson Family


Palmetier, apparently quite a piece of work in his own right, did field a pretty competitive car; but, he also had drivers who were all pretty fair hands with a wrench. Peterson tells of trips with George to run races in Canada. His car owner would ride along with a huge paper bag of beer, in case they "ran out of beer" in Canada. Often, according to Jackie, he'd haul the car home and Palmetier would stay behind to soak up some local brews in some bars with whomever was giving him a ride home. Mrs. Palmetier would always berate Peterson for "losing all the prize money".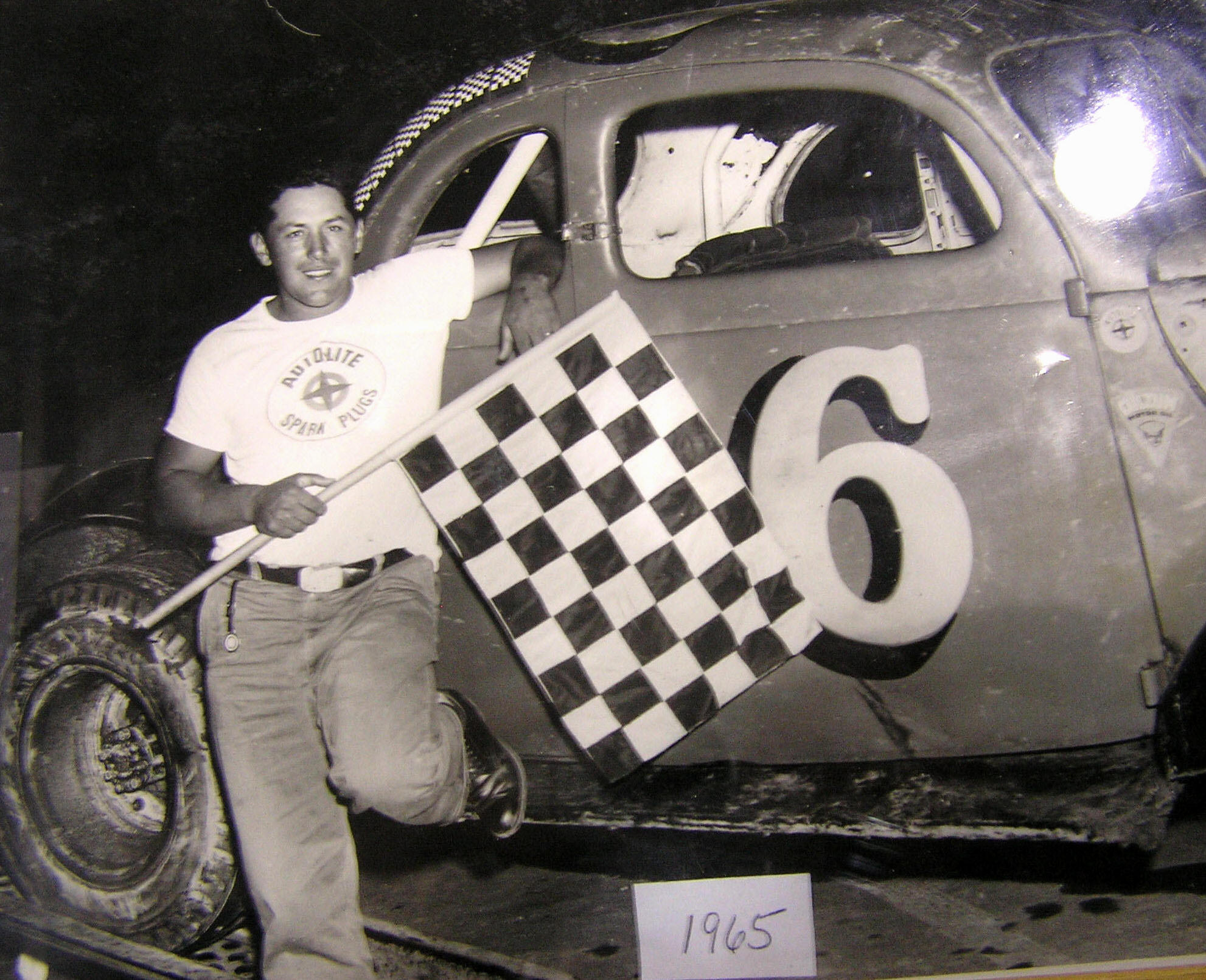 Courtesy of the Nephew Family
Dick poses here with the Ford he purchased from Palmetier. He would realize success with the car
[without the 7/8ths] but went on to campaign mostly Chevy coupes after that.
The final 6 and 7/8ths, my most recent discovery of a car with that strange number, is one Marv Inman, and I think he ran the sedan down south, at the long – forgotten Manhawkin Speedway in New Jersey. This information is from the Benny Nero racing history website. The car, which was also driven by a lady track champion named Myrtle Falkinburg, ended up in a ditch at the rustic Garden State race track and apparently sustained enough damage to be put out to pasture. The New Jersey 6and7/8ths was a sedan quite similar to Dan Coville's, and the race track it performed on was obscure in comparison to the Flemington's and the Old Bridge's, much like Coville's White's Beach was definitely bush league in comparison to the Fonda's and Lebanon Valleys of the region.

From The Benny Nero Site
Marv Inman's NJ version of 6 and 7/8ths, at Manahawkin Speedway. Below - Myrtle Falkinburg, the car's other occasional driver, with a later car.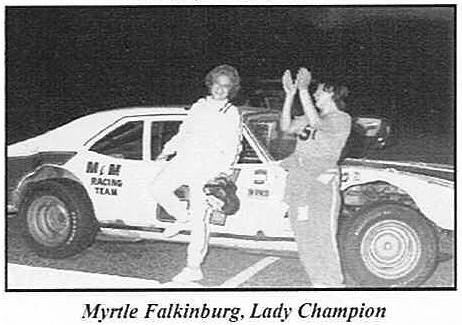 From The Benny Nero Site
I have always asked around to oldsters and mechanics alike as to what the significance of the number 6 and 7/8ths would be. No one has even come close to coming up with an explanation, which surprises me a bit. I am certain they were not all named for someone's hat size; but, beyond that, the popularity of the number is a mystery. It wasn't a lucky dice roll, a World War II fighter plane, or a play on words like #RU21. It's the precise size of something in a race car – but what ?
Please email me if you have any photos to lend me or information and corrections I could benefit from. Please do not submit anything you are not willing to allow me to use on my website - and thanks. Email is: wladabou@comcast.net . For those who still don't like computers - my regular address is: Bill Ladabouche, 23 York Street, Swanton, Vermont 05488.
AS ALWAYS, DON'T FORGET TO CHECK OUT MY WEBSITE
www.catamountstadium.com
Return to the Main Page
Return to the Main News Page
Return to the All Links Page
Return to the Weekly Blog Links Page