BILL'S [Somewhat] WEEKLY COLUMN/BLOG PAGE

BILL'S BACK IN TIME
By Bill Ladabouche
REDISCOVERING THE CROPSEYVILLE COURIER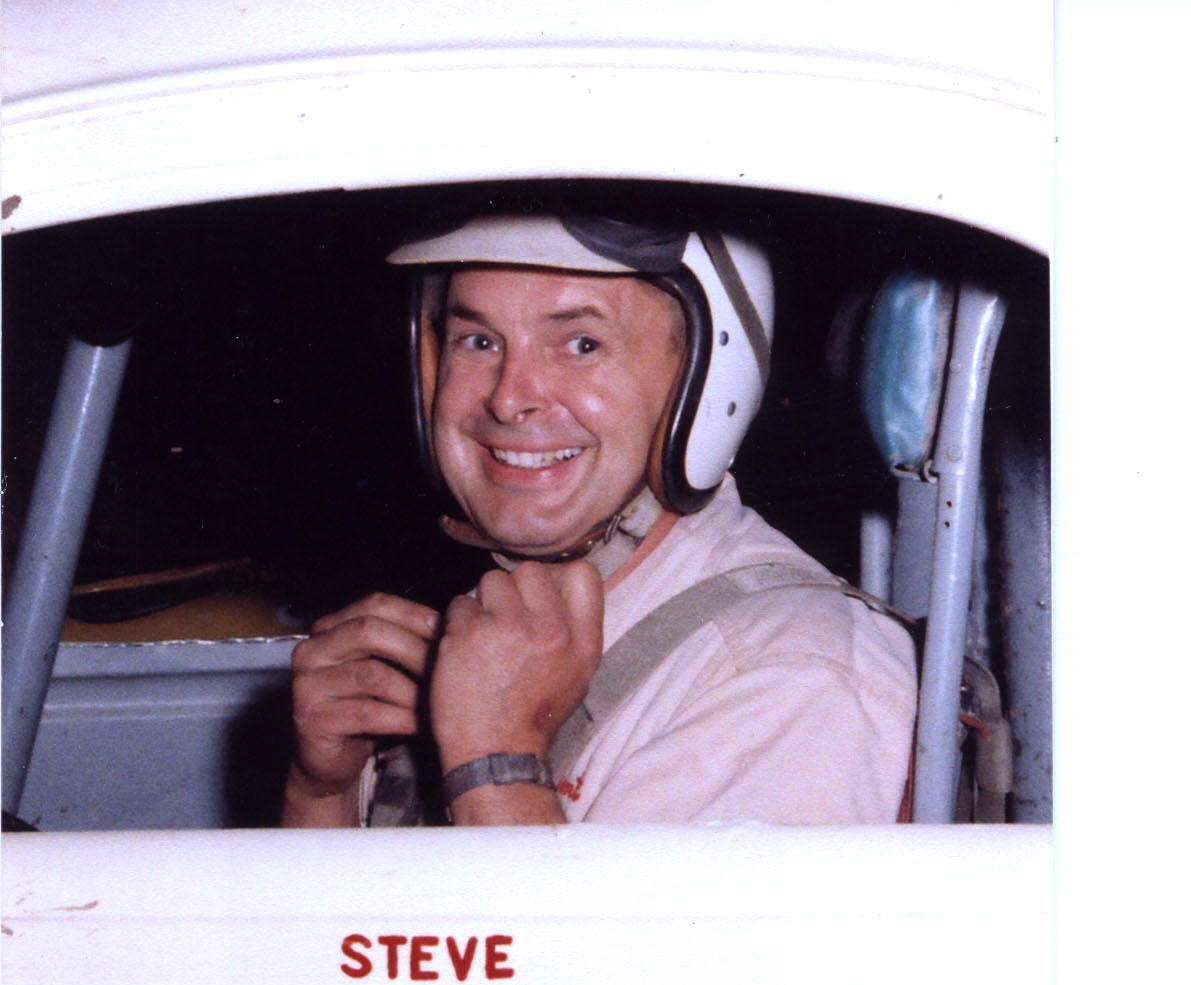 John Grady Photo

When anyone like myself [and I know there aren't many people as crazy and focused as myself] think of the name "Steve Danish", they would assume that the mere introduction of the name on a search engine like Google would spew out more information than one could probably access. After recent email exchanges with Steve's son, John,. I set about to do just such a search to see what would, in fact, spew out.
Just as I was flabbergasted back in 2004 to discover that the name of my esteemed Catamount Stadium was scarcely an afterthought on the internet; so, too, was I again flabbergasted to see how little came out about one of early stock car racing's most accomplished and pioneering figures. I guess I shouldn't have been that surprised. Knowing Steve a little, and knowing what a conservative man he was, he might have been actually upset to know his name was all over that danged internet. So, in that respect, he may be up there with St. Peter, wanting to hurl thunderbolts at me for getting him on there as much as he is [which is not enough].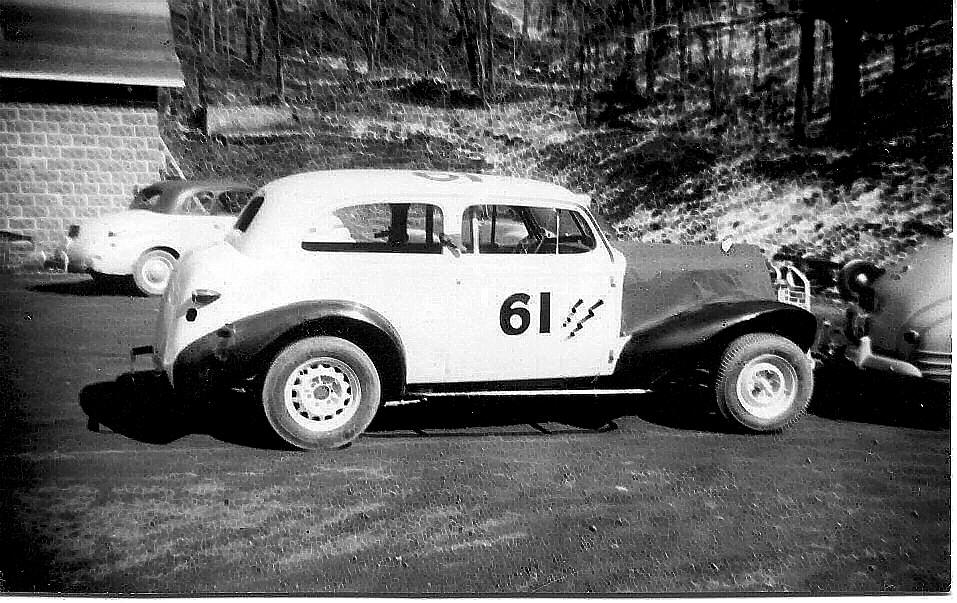 Danish Family Photo
An early Danish entry. Many things would change: 1.) Steve would take over from his driver, Fred Shepard, 2.) he would go to strictly Chevy coupe bodies, and 3.) he isn't using that trademark number style yet. Below – An early Danish coupe, still with Shepard.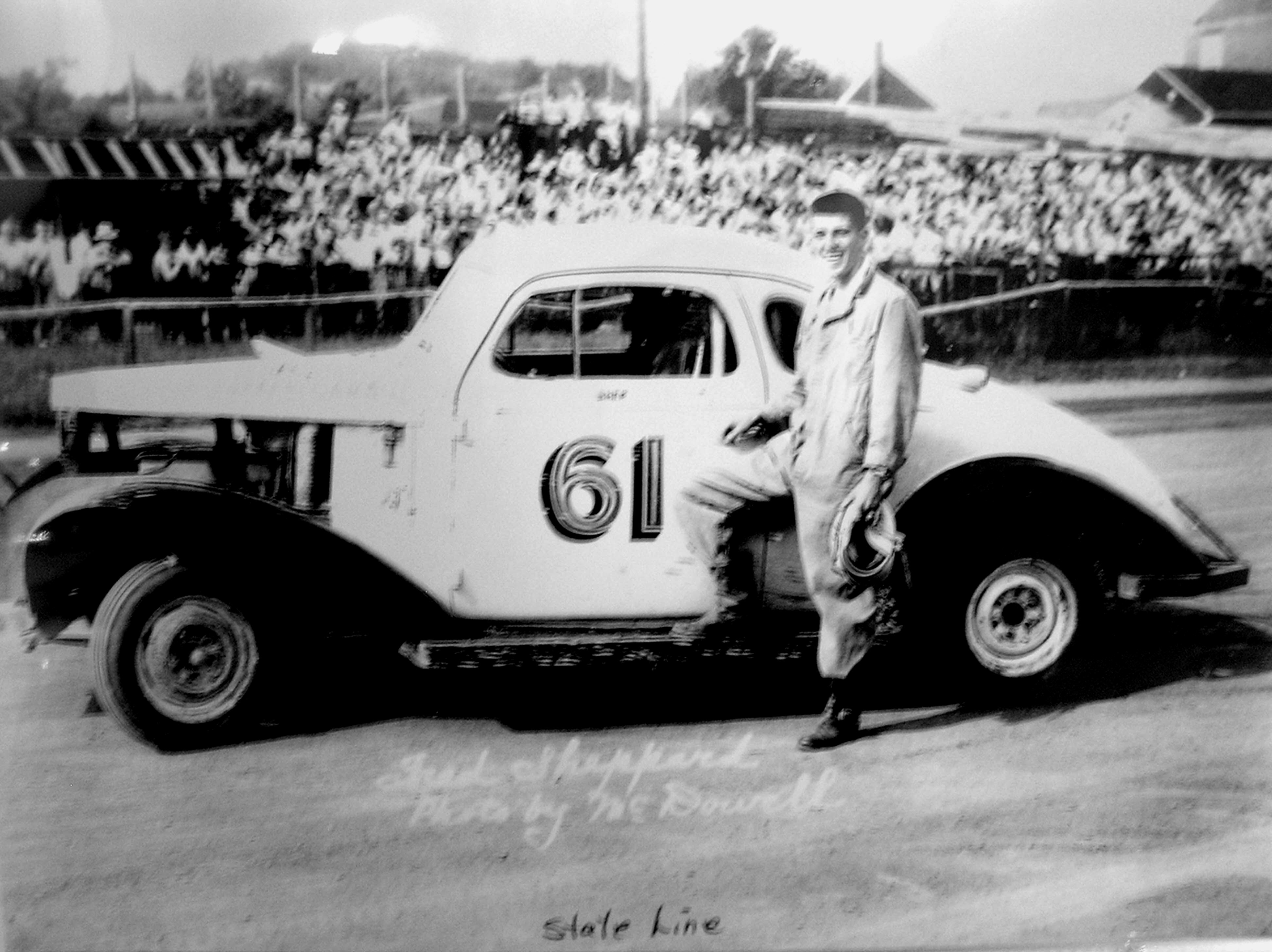 McDowell Photo Courtesy of Ken Gypson
As I have mentioned in previous writings on this man, he was a hero to me. When I first was taken to races in Vermont in 1951 and 1952 [at places like Pico Raceway, Rutland, VT; Mettawee Speedway, North Granville, NY; Fairmont Park Motor Speedway, Fair Haven, VT; and Stateline Speedway in North Bennington, VT] Steve was already a big name in a sport that had hardly begun. These were days when my understanding of racing was conditional on what was said in front of me by the grownups such as Jim Haley, a Proctor, VT friend of Dad's; and the crusty, opinionated Jim held Danish in pretty darned high regard.
Racing dried up in our area pretty much by 1952 and remained so until almost 1962; but I would get the occasional stories from my beloved uncle and from guys like Jim about the exploits of Steve Danish at someplace called Fonda. It would be "Danish did this- Danish did that ..." liberally sprinkled with a few names I knew like Jeep Herbert and a few I was learning like Shoemaker and Corey. Ironically, Shoe and Pete did appear in front of me at Pico in 1952, as did Ollie Palmer and other future Fonda standouts, but the names didn't stick. I was more interested in local guys like Henry LaVictorie and my neighbor, the plodding "Steady Tony" Provencher.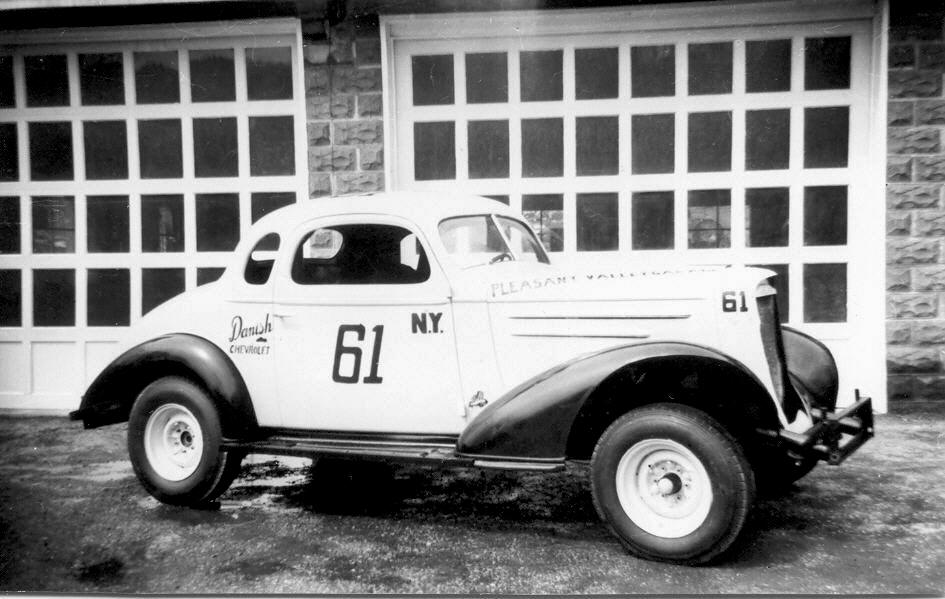 Danish Family Photo
One of Steve's earlier coupes that or Al drove. This is in front of his famed Pleasant Valley Garage.
Below – A rarer shot of Steve, before the Bumstead Chevrolet sponsorship, actually advertising his own garage on the hood.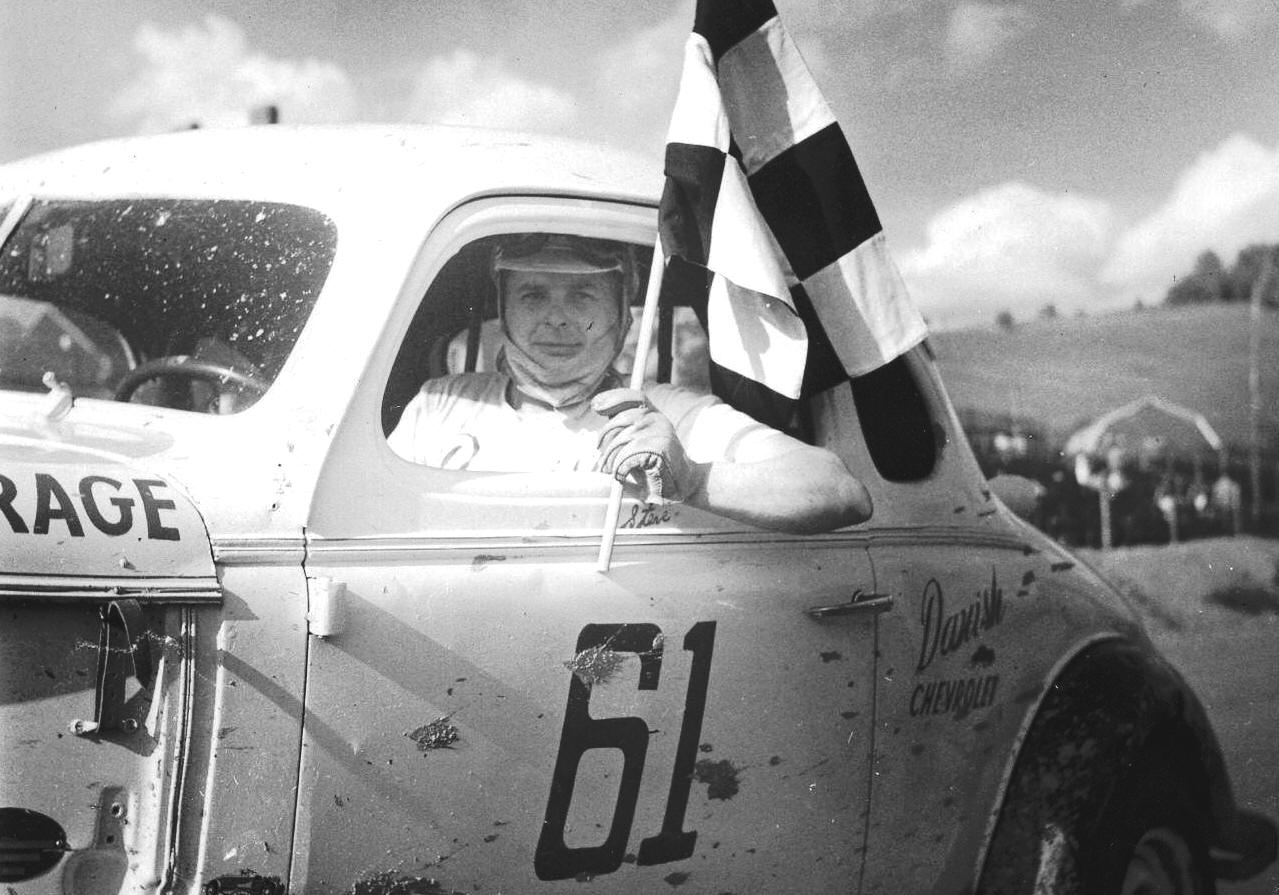 Danish Family Photo
This early '50's time, when I saw my first races as either a kindergardner or a first grader, was a time when one could see almost anything run on a local stock car track. There were still those dangerous, roofless and cageless roadsters running at places like McGregor Speedway, Wilton, NY; Champlain Speedway in Ticonderoga; tracks near Perth, NY. - and some of those made their way particularly to the Fair Haven track which was open before Pico. There were creations that could not even be dignified by being called roadsters – things that defied any other term but "jalopy". Some of these jalopies were merely an engine on a platform of rails with a seat and steering wheel, waiting for some idiot to get on and go kill himself.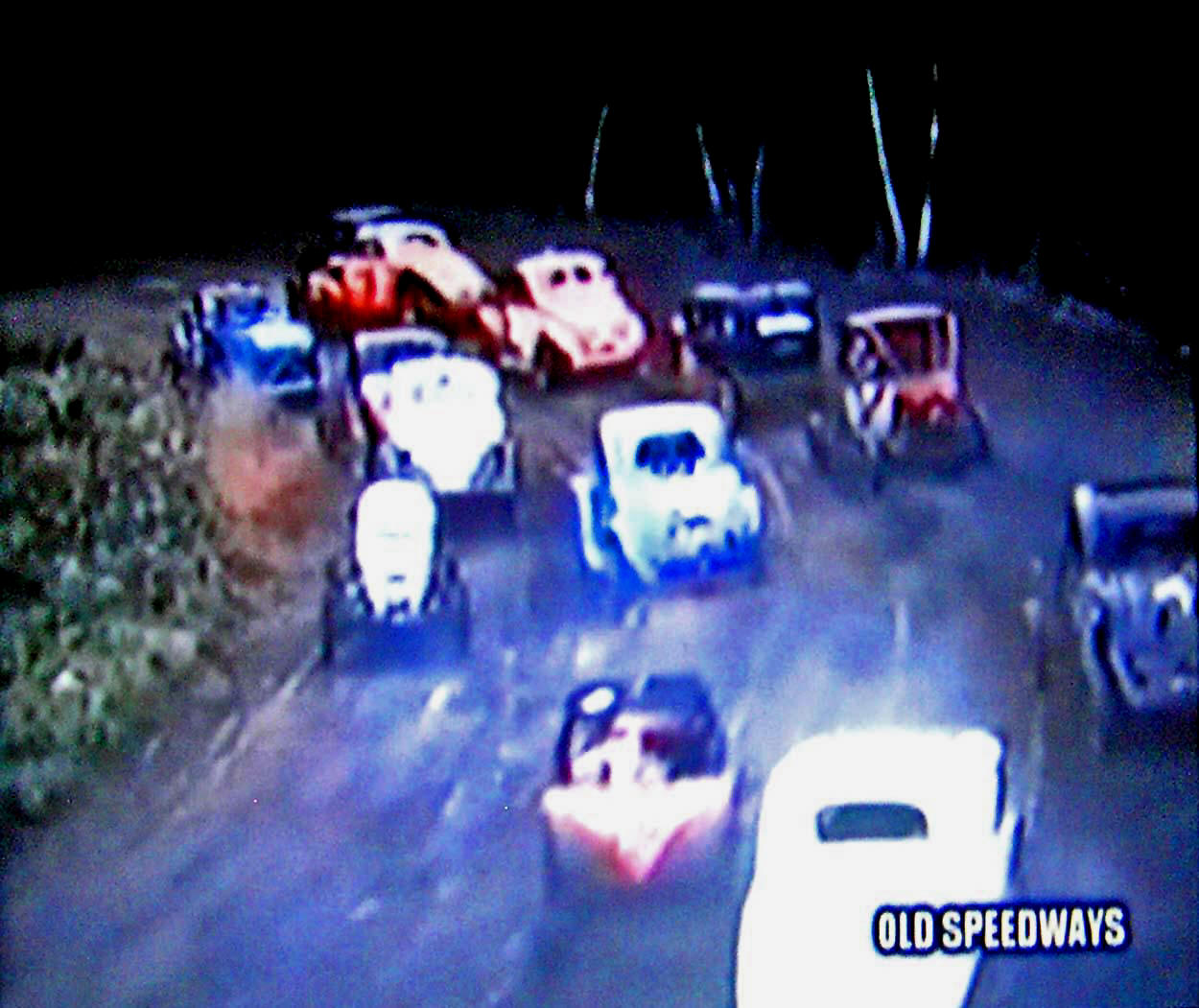 From Dan Ody;s 8MM Old Speedways DVD
Danish, seen here in this grainy frame from old movie footage, is coming up on a very mixed field of jalopies and a roadster, as well as some pretty solid stock car coupes at the old Fairmont Park Motor Speedway around 1951. Below – A Danish coupe sits at what is likely the Mettawee Speedway in North Granville, NY. Again, early '50's.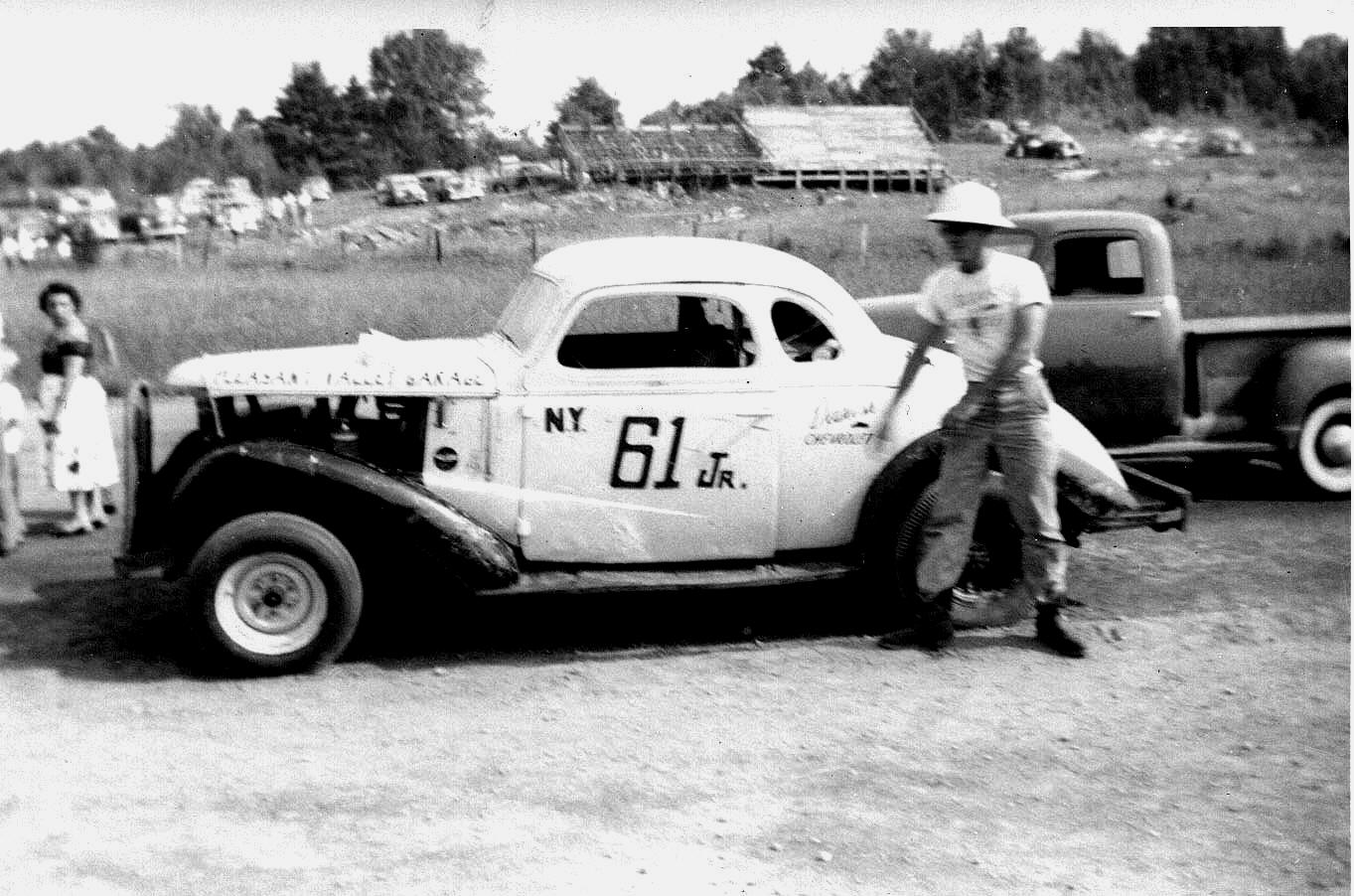 Courtesy of Mark LeFrancois

Then, too, there were numerous guys with coupes and sedans bearing the usual giant radiator – protecting bars and maybe [just maybe] some sort of roll cage or bars. Many of these were nearly as crude as the jalopies. Some of the New Hampshire cars came in from the Triangle Racing Association circuit of Cheshire Fairgrounds, Keene, NH; Brattleboro Speedway, West Brattleboro, VT; and the Rhythm Inn Speedway near Miller's Falls, Massachusetts. These cars were lightweight and fast, albeit not too safe either. Finally, the cars from New York and the few Vermont cars from south of our area were a little more refined racing machines. And, among these last few – Steve Danish stood alone.
Already somewhat older and more mature than most of the early 20 – somethings that were strutting around the pits in the day, Mr. Danish [as a few of the competitors respectfully called him] would come with an immaculately – prepared car, free of any damage or dirt from the previous week. The tow vehicle, whether it was his 1952 Chevy station wagon or the later Suburban, was painted in scheme with the cream – colored #61NY. Everything about the uniformed team bore evidence of the trademark "Danish Chevrolet" trademark Steve was developing.


Danish Family Photo
The suburban is being used here at Stateline Speedway. The crew shot includes: Steve, center and Al to the next right. One of these might be Hully Bunn. Below – Photographers looked to find Danish shots because of his prestige and the exciting moves he made. This one shows him against old friend and rival for years, Jeep Herbert in the potent Bob Mott 3NY.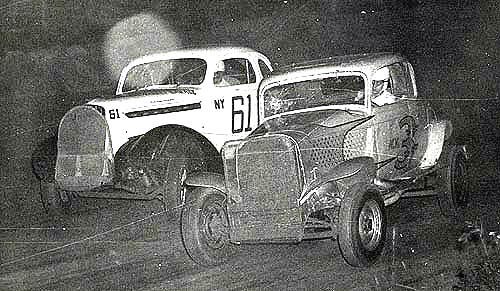 Herbert Family Photo
Back then, after a brief start with a sedan driven by Cambridge, NY's Fred Shepard, Steve was the most respected driver around. Occasionally, brother, Al, would pilot a team car, the 61 Jr. That car was seen frequently at the Vermont tracks and was often also driven by Steve. Knowing Steve, the two cars were probably set up differently and ran better on particular tracks [something we think nothing of today but was unheard of in 1951]. Danish was one of the first to place himself in the center of the car, a safer location; he had innovations like windshield protection before anyone heard of tear-offs; and found ways to protect his engines that few others thought of. Steve is also said to be one of the first drivers to work out in preparation for the start of racing in the Spring. He would sit on his garage floor with a weight- loaded steering mechanism and crank on that thing regularly for weeks, building up strength where he seldom tired for a long race and few others wanted a piece of him in post race rhubarbs.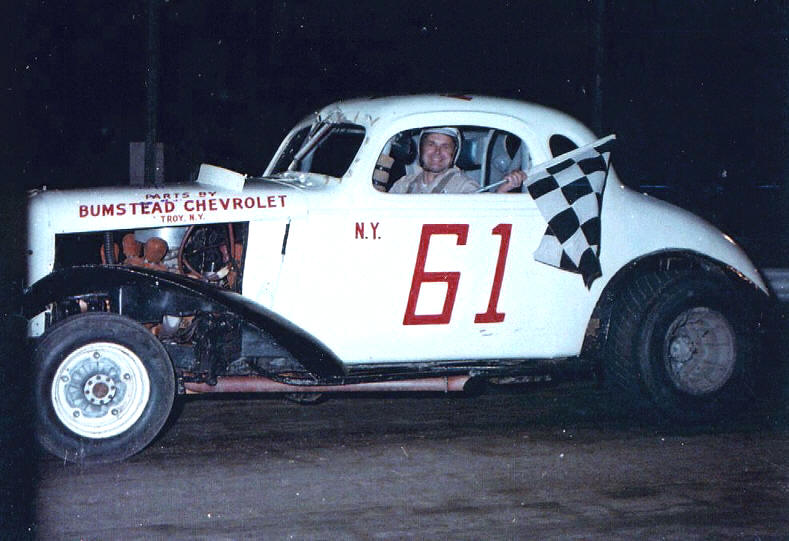 Danish Family Photo
Steve with yet another Fonda win. You can see the wiper on the windshield and traces of what must have been duct tape on the side of the windshield from what must have held the Saran wrap on the windshield. Otherwise he he never would have stood for any kind of leftover anything being seen on his car. Below – A typical crew shot and a car typical of what he ran at the Fonda 200 in 1963. If you look carefully, Jack DuBrul's black coupe is right next door.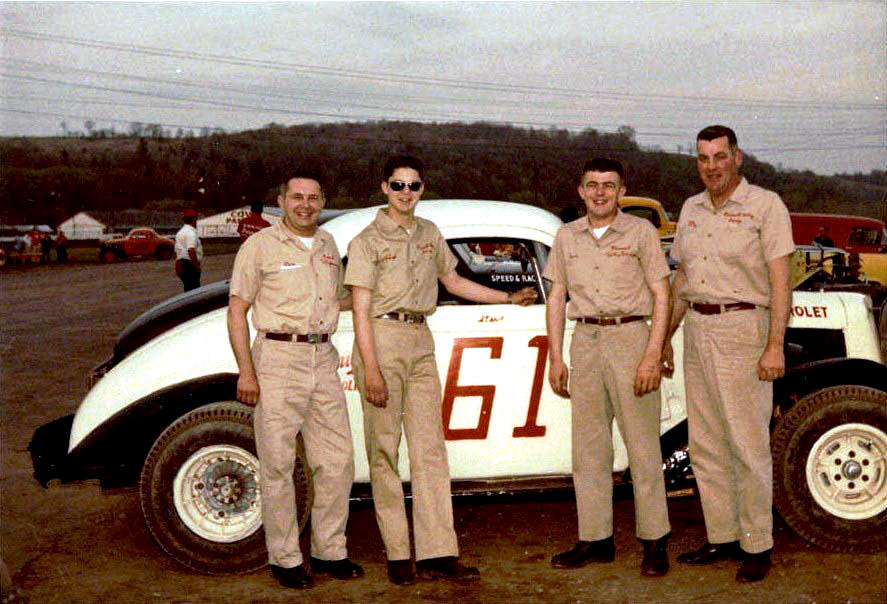 Danish Family Photo
A testament to the Danish training regimen manifested itself in 1963, when Fonda decided to host a long distance race in August. By now, Steve had not only been racing for nearly fifteen years, but – realizing he had started at a later age than most – he not exactly a spring chicken by then. Guys continued to talk about him in glowing terms; but, those terms usually included such as "ol' Steve", or "he still gets around there good". Well, this race race had time trials, as I recall, because we were there. Ken Shoemaker now had the positively – potent Chris Drellos #111, powered by a 327 C.I. Engine tuned by brilliant mechanic Ed "Shortstroke"Wright. Fifth out to qualify, The Shoe put down a lap time of 24.11, outdoing team mate Corey and even besting Western New Yorkers like Ken Meahl and Ed Ortiz who were known to have faster engines.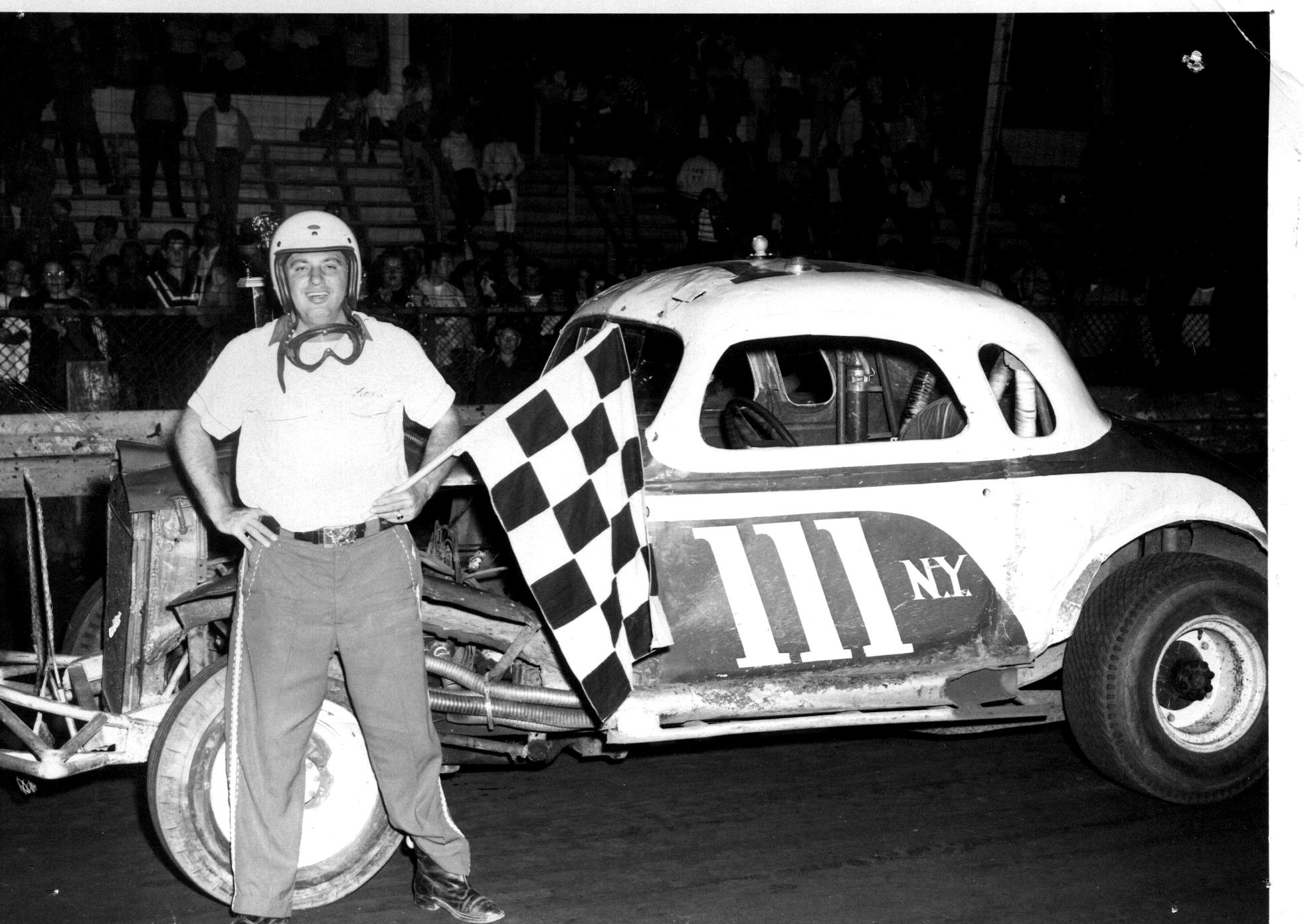 Russ Bergh Photo Ladabouche Collection
Ken Shoemaker with the Drellos 111 – the year he qualified first and burned at the Fonda 200. Below – Jim Luke also
did well in the Fonda 200 and, like Danish, this was the beginning of the end of his career.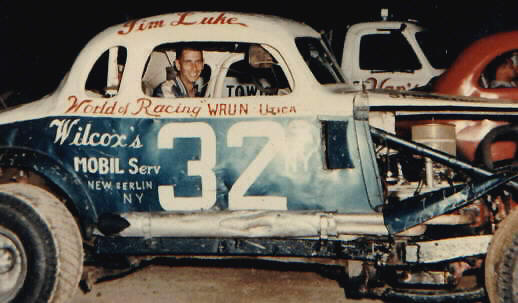 From the Conde and Parry Site


Shoemaker had outdone 53 sportsman teams. Steve Danish, qualifying in the middle of line, ran a very respectable 24.52 – considering he had a six cylinder Corvette engine that did not approach the cubic inches of anyone else. This qualification was one of the things that so impressed a young, suave driver from Burlington, Vermont named Black Jack Dubrul that Jack – whenever he ventured all the way to Fonda or Victoria - would make sure he parked next to Danish. [The family relationships continue to this day].
Danish would start the long race in fourth position, right behind former two – time NASCAR National Sportsman Champion Bill Wimble on the outside. Shoemaker would lead the third – qualifying Corey to the green. As the race wore on, Danish kept the leaders in sight, but was not as fast. A terrible fire during his re-fueling pit stop ended the night for Shoemaker. I can't recall who ran away with the race until the closing laps; but, with little time left, "Ol' Steve" was still strong and reeled in whoever it was, winning for what would be his last Fonda feature win.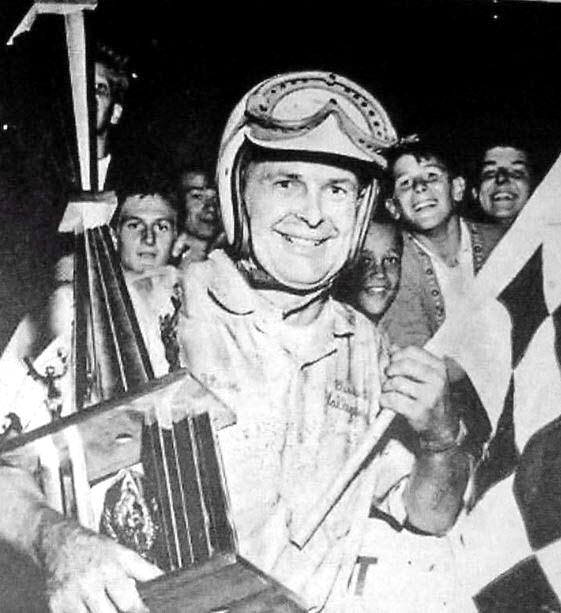 Russ Bergh Photo
Danish, shown in a newspaper photo winning the Empire State Championship a season or two before the final win in the 200.
Below – another longer distance race win. The flag tipped back on the shoulder was the classic Danish pose.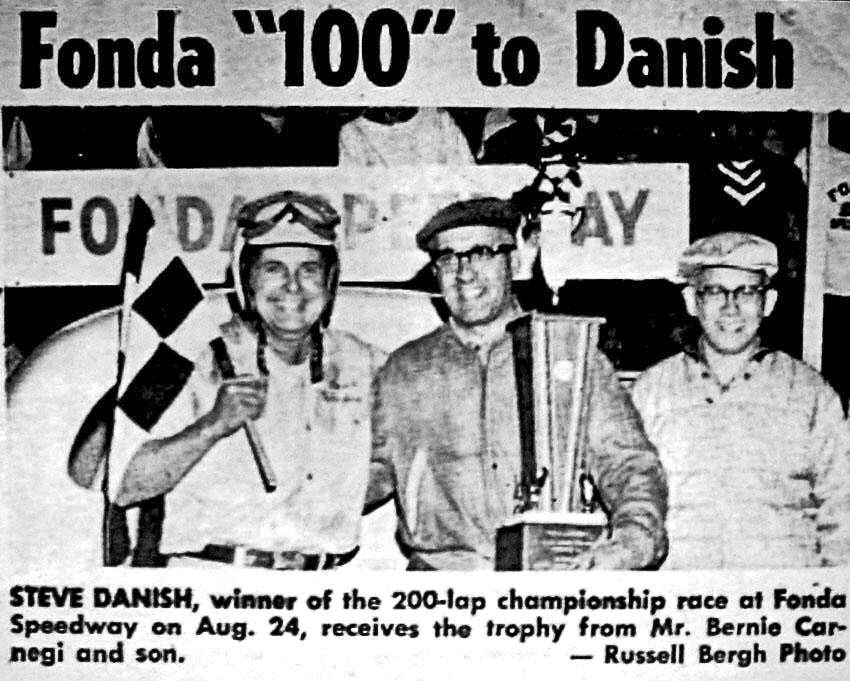 Russ Bergh Photo Int'l Motorsports News
The win was a tribute to preparation both physical and mechanical. Dubrul once told me that he had spent most of the race running almost on the inside apron of the track for a good 15th place finish because he was so tired after a fashion [and he was much younger and a regular exerciser himself]. A lot of the strong -armed, but paunchy competitors in that race sat in their cars a long time [smoking of course] before feeling able to get out. I know, I went out in the infield and saw them. Danish beat another older driver, the tall, slender Jim Luke in that race. Third was Ortiz, in one of those questionably – powered B&M cars from out near Buffalo.
I did not get to see many races at Fonda before Danish saw it was time to retire. He had seen the coming of cars like the Wright / Zautner #24 which was introducing the lower center of gravity along with as muc h offset weight as the rules were allowing. The Danish car was more conventional, often referred to as the upright style with a much higher center of gravity and centralized weight adjusted only by some suspension and tire stagger. Then, too, modifieds with much bigger engines were now coming into Fonda. The traditionalist that he was and getting older, Steve saw it was time. He wanted to spend more time with his family and he wanted to own an airplane, too.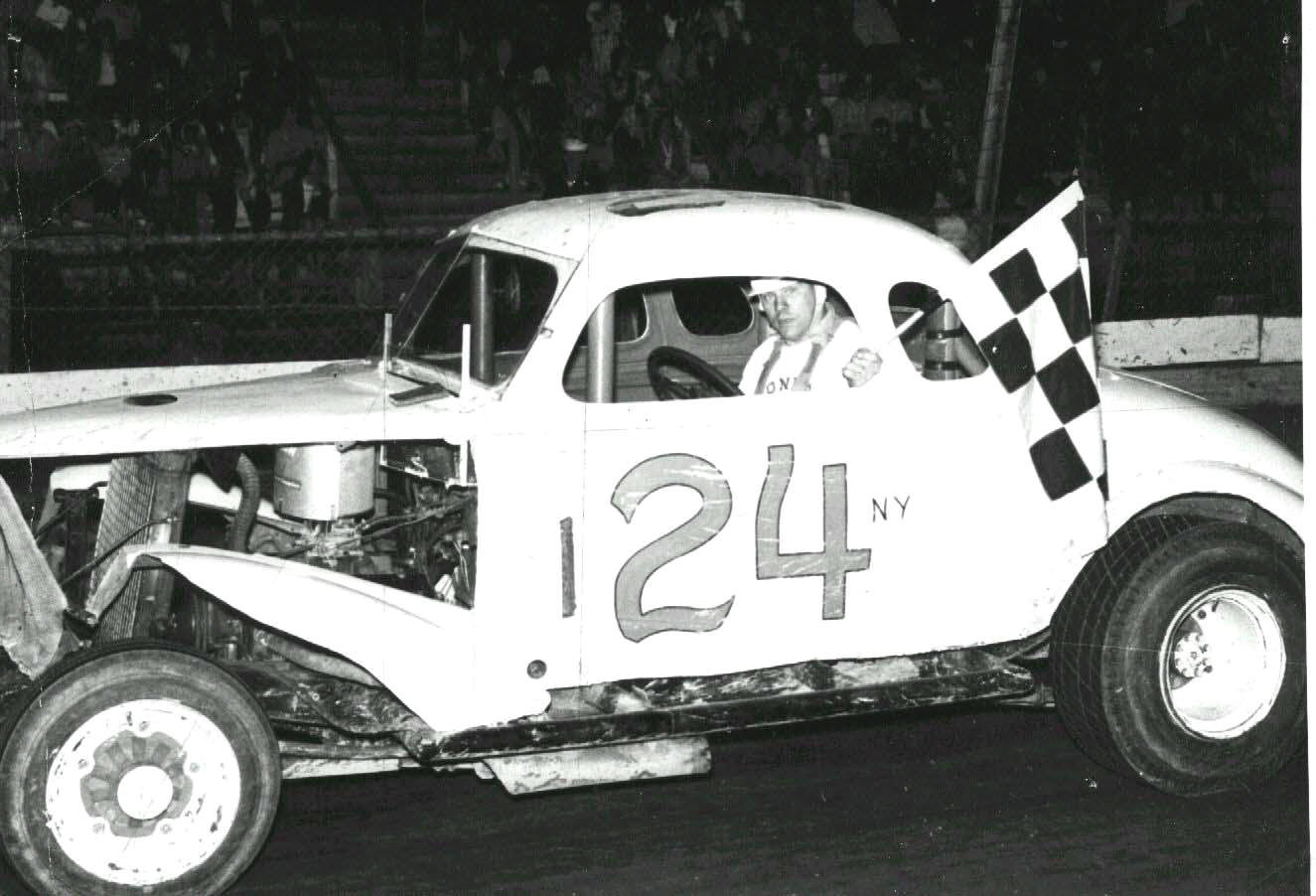 Russ Bergh Photo Ladabouche Collection
The Wright / Zautner car ushered in a new era in the coupe cars. It was actually introduced at Fonda first with Don Wayman [above] as driver.
Below – the Fred Rosner asphalt influence was beginning to bleed into the scene as well – starting with Dave Lape's Chevy II.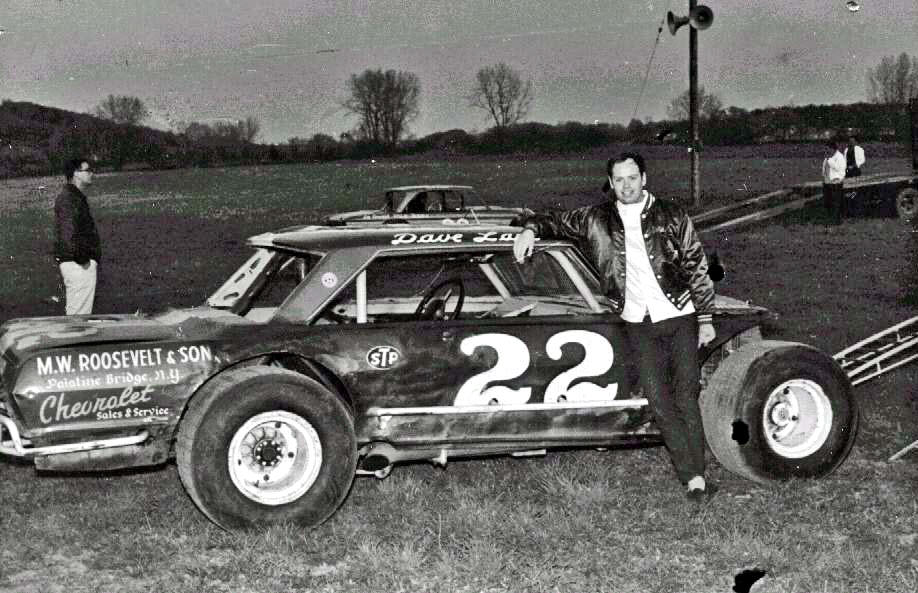 Russ Bergh Photo Ladabouche Collection
But even with those few races I did see from scarce trips to Fonda between 1962 and 1966 [when he bowed out] I could clearly see what the Danish fuss was all about. This was still a time when many teams flat – towed their cars to Fonda. Steve had been using a trailer since the 1950's; but, by the early '60's, he had come up with an ingenious system of flat towing the coupe behind his last hauler, a 1957 Chevy pickup with a cap. The rear of the car, wheel removed, would sit on a dolly like wrecker services used; this spared the rear end from useless extra wear on the way there from Cropseyville.
The Danish car sported several attempted innovations at keeping the windshield clear. This was the time before teams were removing their windshields in favor of an interior window right of the driver, protected by metal screen where the original windshield had sat. Danish had – at one point, an actual windshield wiper and later tried what must have been the first tear – offs, installing the best Saran Wrap he could buy in a layer across the window. I don't know how he would remove it. He never seemed to go for the popular flip-up visor that most of the Fonda cars had over their windshields in those days.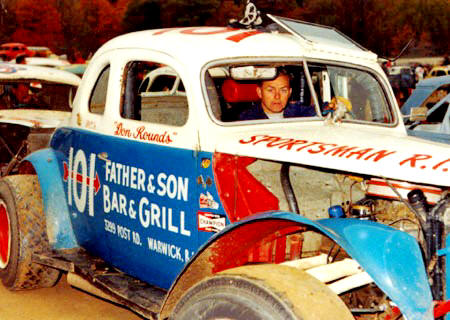 Rounds Family Collection
Don Rounds' 101 shows the flip – up visor popular at the dirt tracks in the early 1960's. Below – Ward Petit
had tried another windshield protection idea on Robbie Kotary's 148.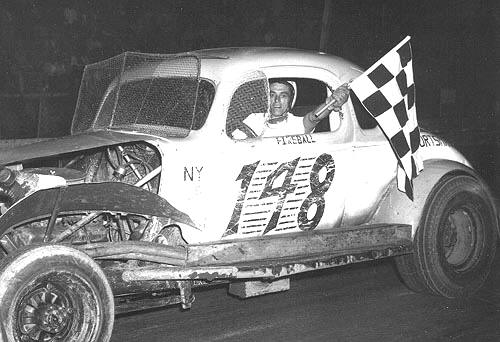 Courtesy of Bill Fifield


On a different front, while many drivers' wives sat in the stands and took notes on race finishes or who showed up that day, Mrs. Danish was an accountant for Steve, recording every cent he won or was paid in appearance money while he would supply her with every expenditure from his end. Like many other families, the Danishes kept careful scrapbooks, as well – sometimes being the only reliable sources for someone tallying seasonal points.
Even from the earliest days, the Danish team was well -appearing, among peers some of whom mostly walked around looking like they had used themselves to clean grease off the rear end. Once Steve came up with the "Danish Chevrolet" idea, it was always found on T-shirts and somewhere on every car. The cream color with black fenders never was changed, nor was the skinny fluorescent red 61 numeral, once it was settled upon in the first few years. While the lettering on the car was always the same and very well – appearing, I think it was done by someone in the family. The only lettering that looked done by a pro was the "Parts by Bumstead Chevrolet, Troy NY" on the sides of the hood. Steve was one of the first to have an effective, business relation with a sponsor in the sport.

Russ Bergh Photo Ladabouche Collection
My first photo bought at Fonda. The Bumstead ad is very evident. Below – Steve plies on at Stateline while a bully or maybe a pung flies off turn one.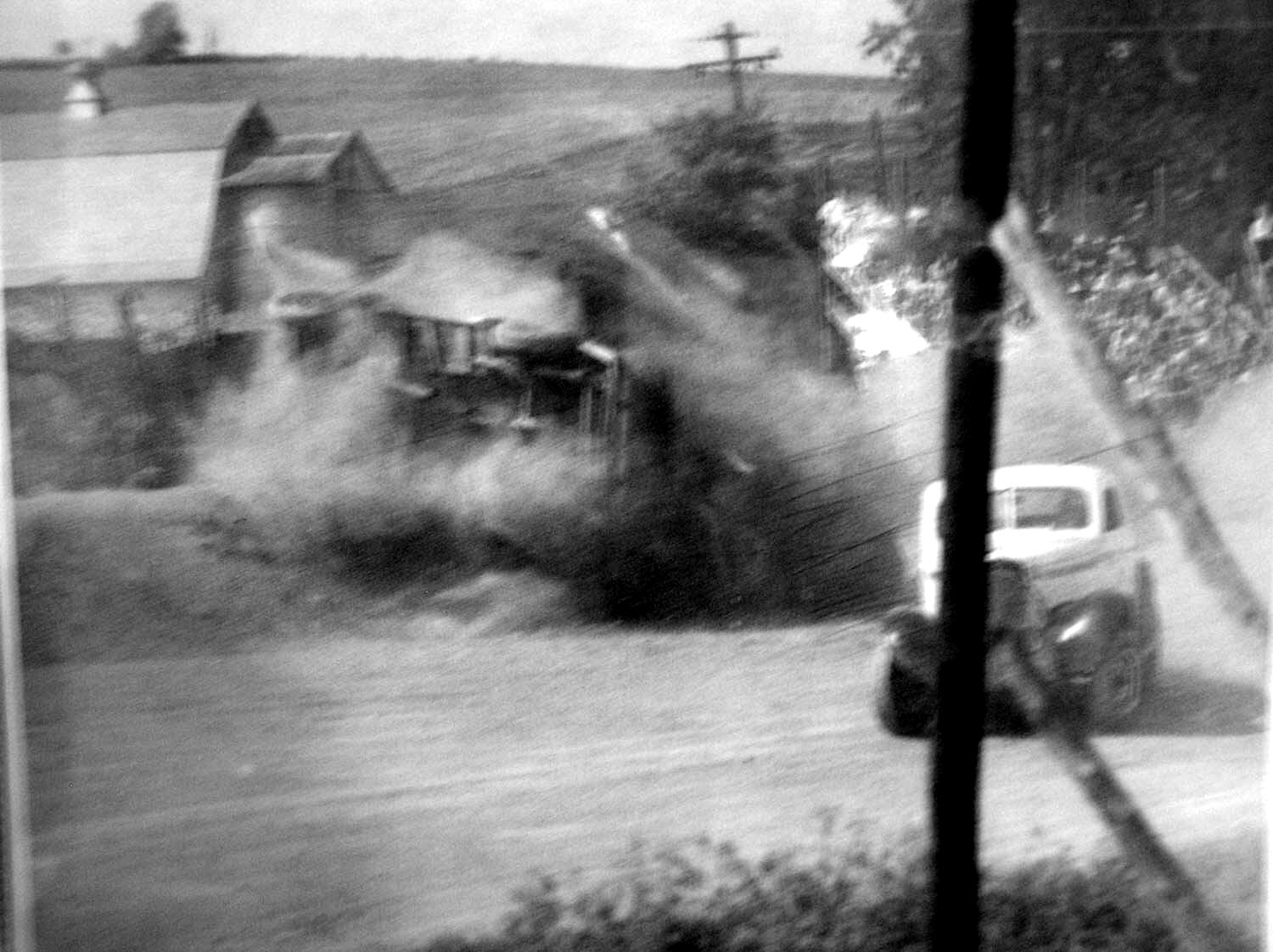 Courtesy of Ken Gypson
From what I can ascertain, Steve Danish, while enjoying immense respect earned by success and fine demeanor, was also someone whom you would not want to start something with for no good reason. Jim Haley liked to tell about attending a particular race at Stateline at a time when the track, located on Route 67 straddling the NY / VT border, was going through some thin times. Stateline wasn't getting the big names it once attracted and would enjoy again later. One driver, whose name I will not use out of respect for a couple of my New York friends, had better equipment than most of "them poor pungs", as Haley called them who lost to him every week. He would bully his way through them, and win most races – until Steve Danish decided it would be nice to return to one of his first race tracks.
The bully was clomping his way through the pungs as Danish tried passing with a little more grace. Finally, he would catch up with the bully, who tried putting him out in the ditches where the pungs usually ended up living. That didn't quite work out and it was the heavy handed one who landed off the track. As Danish was enjoying cheers in Victory Lane, the bully driver stormed up, shaking his fist at Danish. Steve merely looked down and started unhitching his harness. The bully thought better of it, knowing the star's reputation for strength and some degree of touchiness, and thought it better to go park his car.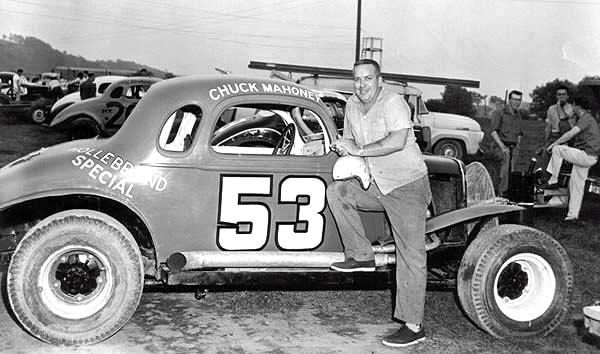 Courtesy of Jo Towns via Otto Graham
Chuck Mahoney, with Peter Hollebrand's potent 53 which Danish drove some. Mahoney, an early NY star, could be damnably hard on equipment.
This must have been an adjustment for Steve. The B&M motor in this thing was more powerful than most anything Steve had "run against at Fonda.
Steve went through a period in the mid 1950's when he became tired of the effort it took to field cars according his own fussy standards. He would go off and race for Peter Hollebrand, whose cars had those huge western NY engines he had competed against before. He would take a turn in the familiar 62NY car of Frank [Frank's Speed Shop] Trinkhaus out of Fly Creek, NY; this ride gave him the chance to win the race at Fonda which was graced by the appearance by Miss America 1958, Marilyn Van Durber. Conditions for the Pepsi Feature that night did not bode well for success.
First, there was a shower before the race began, prompting a marathon effort by Ed Fuez's track crew to return to the always – great surface to race readiness. Then, there was the unforeseen factor of all those Fonda drivers, wanting desperately to be the one presented with the laurels from the beautiful Colorado girl – prompting one crash after another. Chet Hames, the colorful Fonda flag man, was incensed after about the third tangle, running up and down the line of parked cars banging on the fenders with his black flag – a none – too – subtle warning. The wily Danish waited and avoided the wrecks, gunning his car at the end to outrun Kenny Shoemaker, George Welch, and Jim Luke.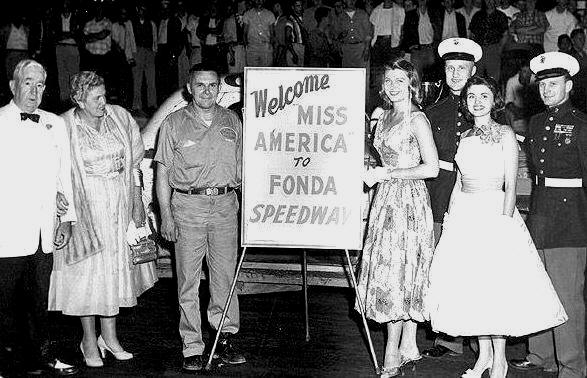 Courtesy of Otto Graham
Steve and the famous "Miss America" win at Fonda in 1958. Below – Bill and Dick Clark's 45 after a Danish wreck.
Steve found out he was happier in his own equipment. Al Sanders would finish this car off later.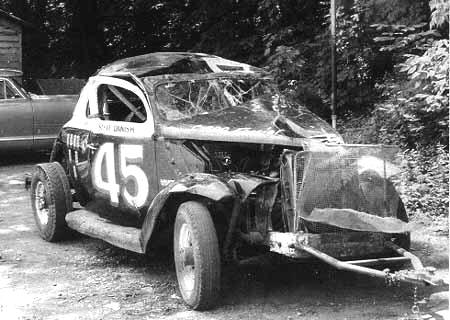 Courtesy of Bill Fifield
Steve presented a very dignified and maybe even slightly uncomfortable front in Victory Lane and was actually joined by his wife to whom Miss America presented a flower. Steve had also spend some time in the Clark brothers' car 45 out of Fort Plain. The Clarks had had considerable luck with little – known Sidney, NY driver Bob Fisk, but summarily dumped him after he wrecked badly. I wonder what they had to say to the great Steve Danish because he not only won a few with the car but also wadded it up. I think the Clarks eventually sold the car to Suicide Al Sanders, who drilled the body full of holes to lighten it up and proceeded to use it up like a cheap government mule.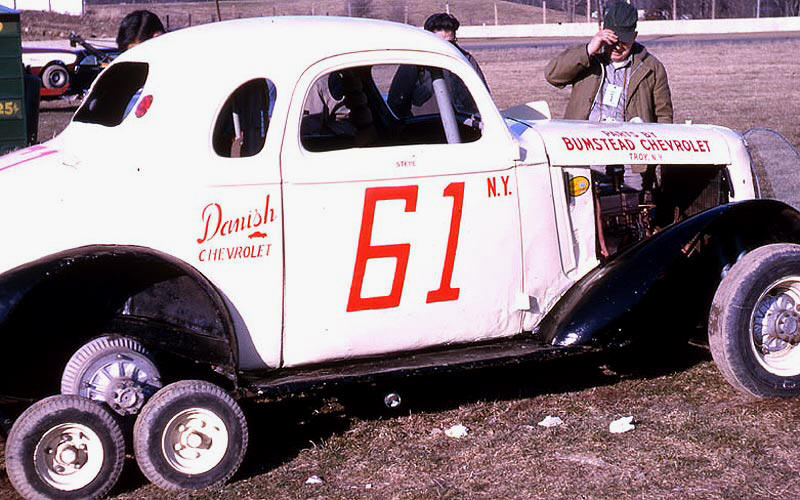 Maynard Johnson Photo
The familiar dolly flat – tow technique he used in the latter years. This is Syracuse and a man stares in disbelief that this car is that fast with a SIX in it. Below – Steve and C.J. Richards at what I still believe to be his last traditional feature win at Fairmont Speedway. The Parker Bohn race was essentially a match race. Further Below – The Danish team arrives at Fonda around the mid fifties - look in the background.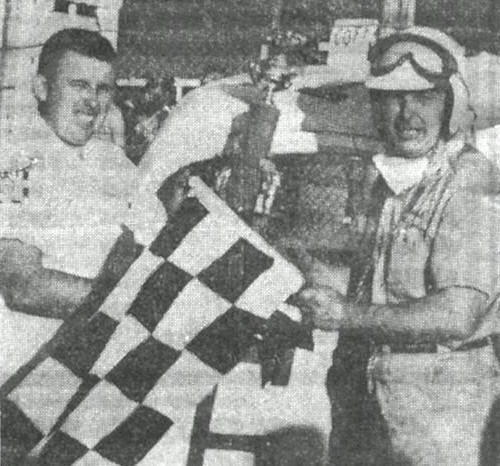 Rutland Herald Photo Ladabouche Collection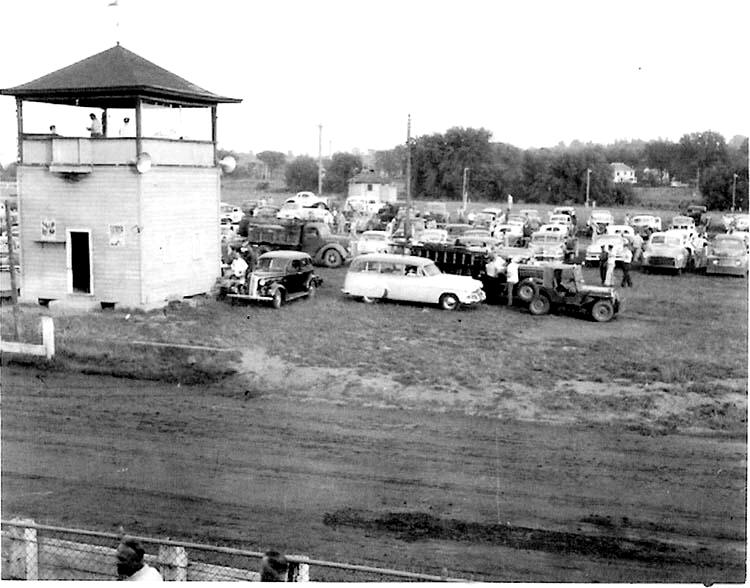 Courtesy of Dan Ody
Obviously, the latter part of Danish's career was spent back in his familiar 61's. I thought I had seen the last feature he ever won, when he visited his old haunt, Fairmont Speedway, in 1964 and took a 100 lapper after Jean – Guy Chartrand [future driver of the famed hemi – cuda] had led for 90+ laps only to have a drive shaft or something fail on the bumpy half mile track. But now, people tell me Steve went on to Middletown, NY and won some sort of special six cylinder feature against the great Parker Bohn of New Jersey, another six banger proponent.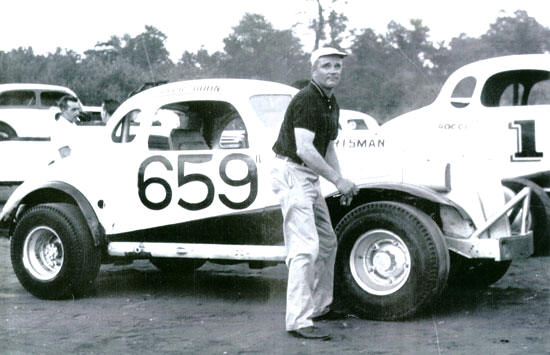 Bob Sweeten Photo Via Danny Rhein
Parker Bohn, working around the six – cylinder Tom Skinner 659 that caused the V-8's as much grief as did Steve Danish's equally – undersized,
but potent 61. Below -The closest I'll get to a Steve Danish autograph – property of Tom and Mike LaFond.

Courtesy of the LaFond Family
At any rate, I thought it was time for one of my all – time heroes to appear on a blog on this website. My previous article had gone in the former "Racin' Paper" out of Conway, NH - and few of the right people ever got to read it. One of my big moments in life was visiting Stephanie Danish Miller and husband, Phil, and getting to go for a brief airplane ride with STEVE DANISH.
John Danish tells me that, in retiring, he has closed the famed Pleasant Valley Garage that his father and he operated since probably the late '40's. I got to visit it once with my dad, who knew about Danish while not being much of a race fan. Steve is gone; Mrs. Danish has gone; and the two Danish siblings don't speak. John wants to move out of Cropseyville as there is no family there. Sadly, as time moves on [and it seems like half the people at race tracks today are about 17] fewer folks will know much about about Steve Danish and what he represented. That's where I come in.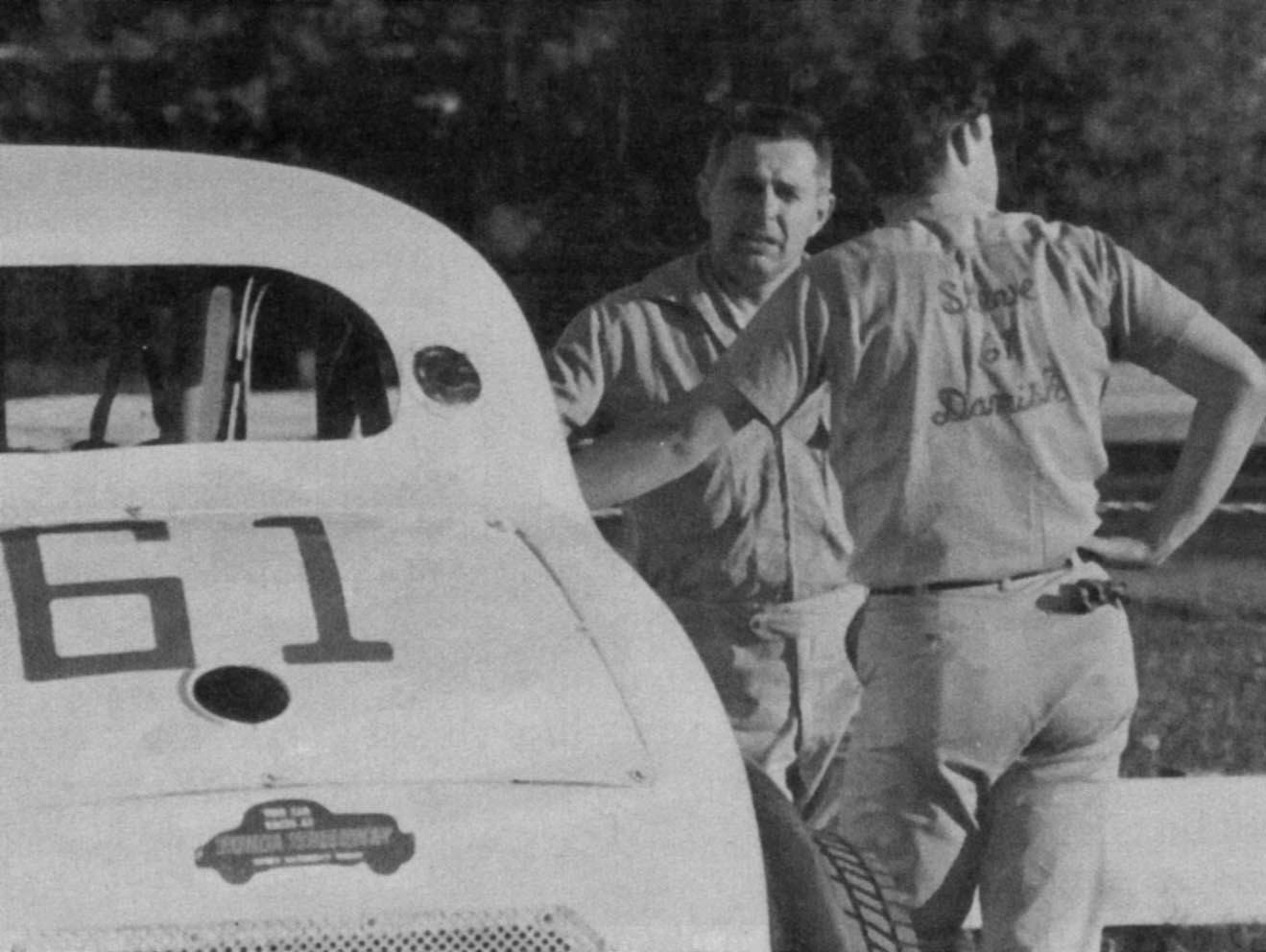 Courtesy of Biitig Collection - Fonda Book
Steve and John Danish confer beside their famed car.
Please email me if you have any photos to lend me or information and corrections I could benefit from. Please do not submit anything you are not willing to allow me to use on my website - and thanks. Email is: wladabou@comcast.net . For those who still don't like computers - my regular address is: Bill Ladabouche, 23 York Street, Swanton, Vermont 05488.
AS ALWAYS, DON'T FORGET TO CHECK OUT MY WEBSITE
www.catamountstadium.com
Return to the Main Page
Return to the Main News Page
Return to the All Links Page
Return to the Weekly Blog Links Page