BILL'S [Somewhat] WEEKLY COLUMN/BLOG PAGE

BILL'S BACK IN TIME
By Bill Ladabouche
IT SEEMED LIKE JUST ANOTHER STOCK CAR AD
I want to preface this blog by saying that much of the factual background came"from Ken Paulsen's piece on George Hay, as shown on the 176 Racing website. I appreciate Ken's obvious research effort and want to make it clear I am using many of his facts and a lot of my impressions.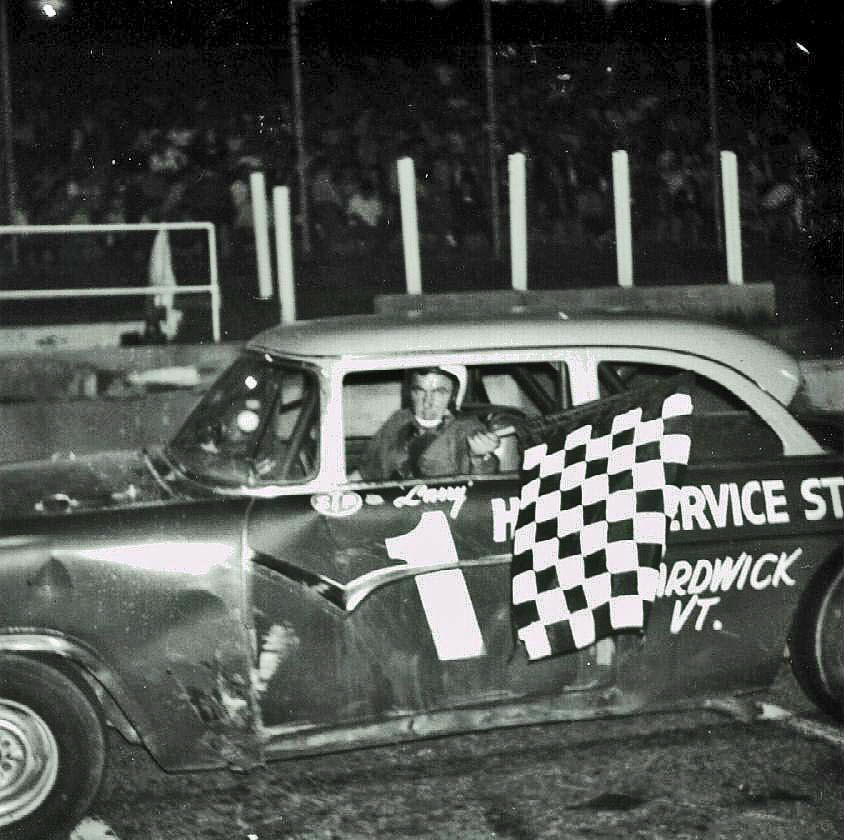 Courtesy of Cho Lee
The ad says Hay's Service Station, Hardwick, VT
I had moved up to Milton, Vermont in 1968 just about in time to find out that the nationally – famous modifieds I had moved up there to see were no longer racing at Catamount Stadium. Well hell ! There I was, kind of young to be totally away from home, stuck with a year's teaching contract at a school where I would no absolutely no one; and the one thing that was going to make that all worth the struggle [and it was a struggle] was going weekly to see Jerry Cook, Don MacTavish, Bugs Stevens, Leo Cleary, and all the rest of the Catamount Stadium stars.
So I went to the track anyway and there were these horrible – looking late model support division wrecks, the only one of which I had ever even heard of was Beaver Dragon [and that was because he had invaded Fairmont Speedway one time in 1965 [three years before now] to take on "The Unbeatable Lennie Wood", Fairmont's unbeaten hobby class champion. Beaver, by the time I got there in 1968, had been through two sportsman division cars, won a legendary upset win over the mods, and was now settled back in the Flying Tigers in a potent Ford owned by George Blake and Ray Devarney.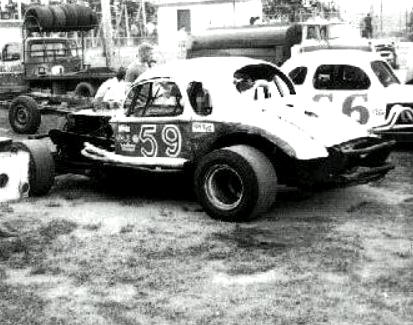 Ladabouche Collection
Out went the modified and sportsman coupes ….. and
only the Flying Tigers remained. [Below]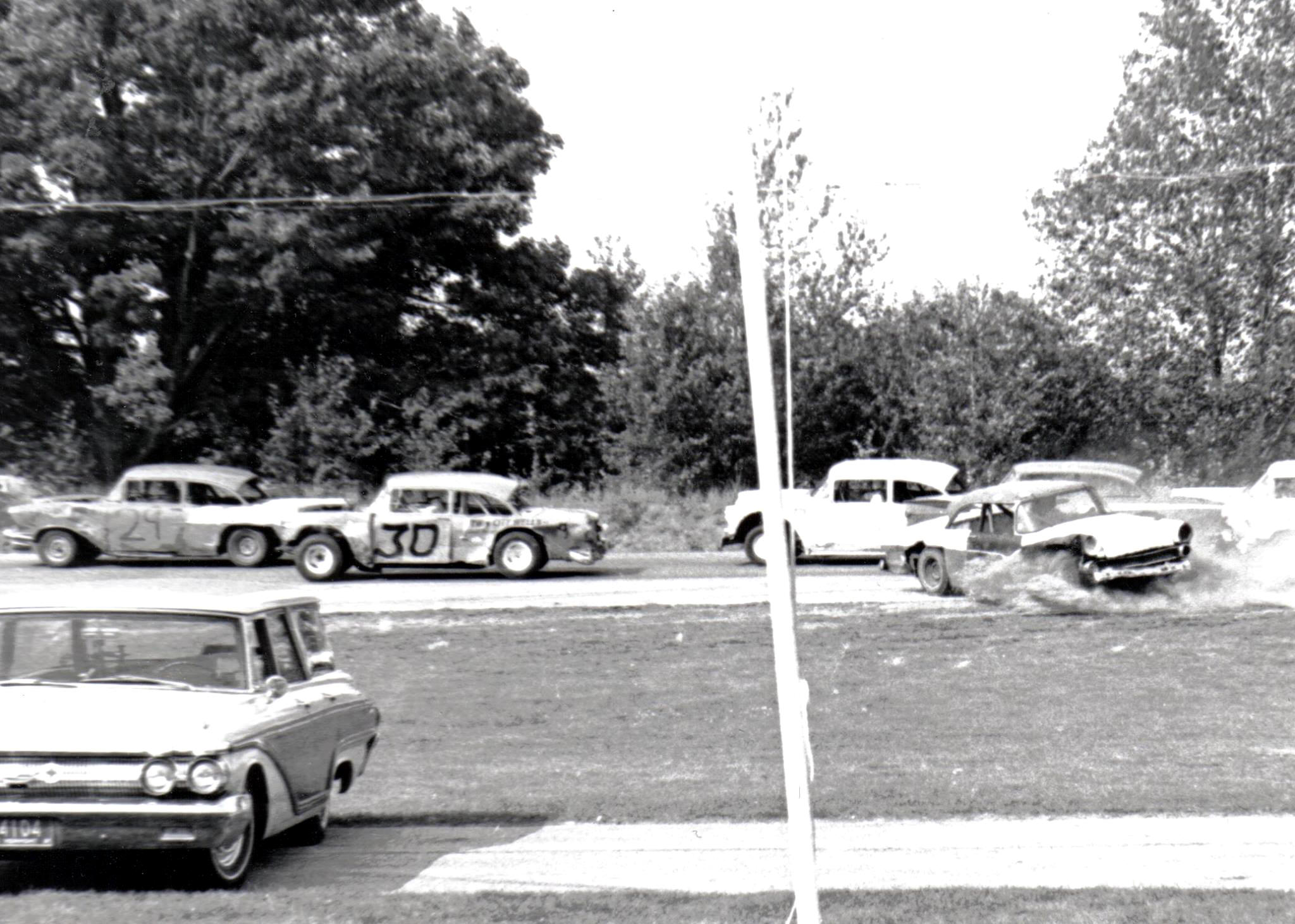 Ladabouche Collection
Despite the fact, before the program opened that night, Beaver was shuttled out onto the Catamount track and introduced as having won several races in a row, the attention that night went to a battered, two – tone blue Ford driven by a scruffy – looking character named Larry Demar. A seemingly all – knowing curmudgeon sitting in front of me allowed as how this was really the best star at Catamount.
"Ayuh", said my information source for the night, "That Demar feller gets more out of a low dollar car that anyone else here."
After the races, with no more than a five minute drive to get home, I decided to wend my solitary way into the pits and look at some of these late model beauties sitting there, steaming and pinging away as assorted groups of supporters yelled insults back and forth at one another across the pit area. I happened upon the Demar car and – being interested in sign painting at the time, looked at what appeared to be professional lettering on the side of the pummeled '55 Ford.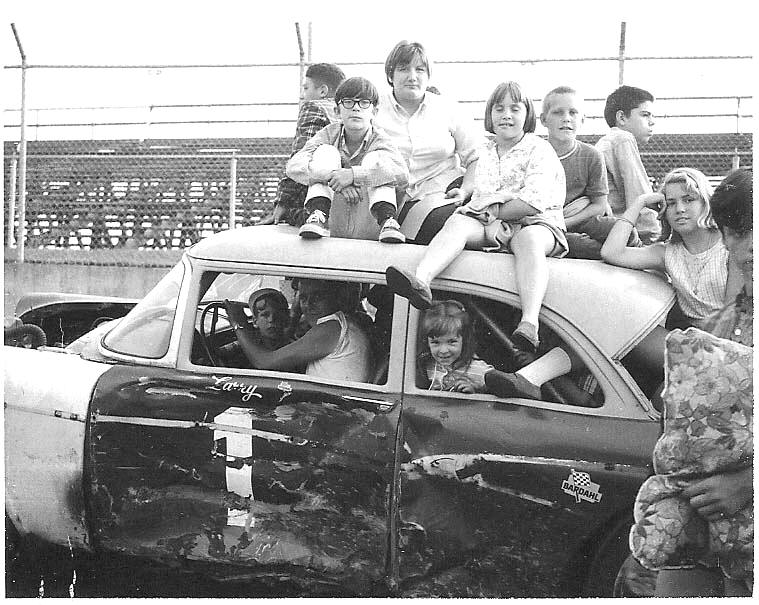 Courtesy of Steve McKnight
By this time in the season, the Demar car was starting to get comfortable. So Larry could care less how many kiddie riders
sat on his roof. Below – Larry cuts a decidedly common man's pose on the victory stand with the snappy
Tom Tiller and young feature winner Bobby Dragon.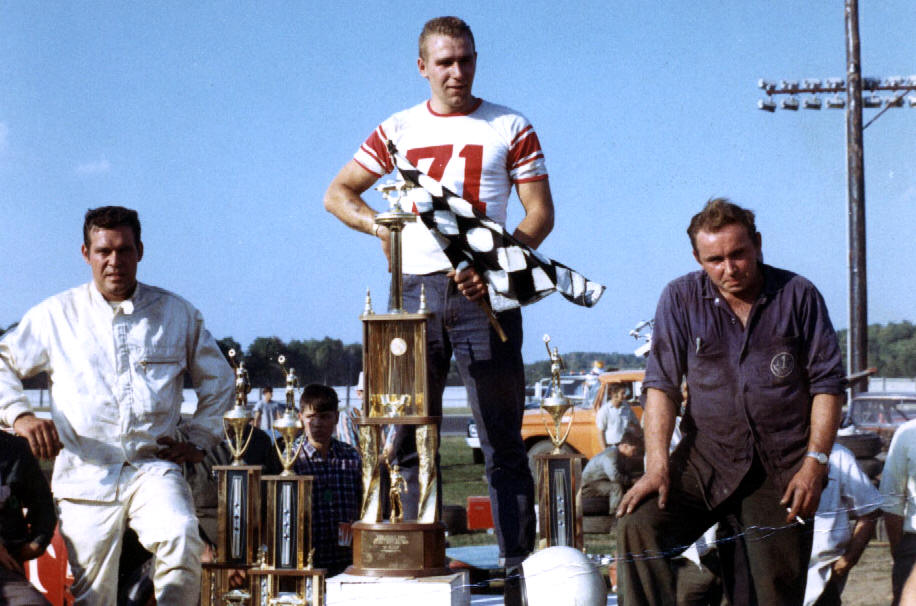 Courtesy of Cho Lee

It said 'Hay's Service Station" Hardwick, VT" It sort of looked like thousands of other ads placed on stock cars all over the country. It certainly could not have possibly given how enormously significant that ad was. Given the amount of time most body panels stayed intact on Flying Tigers in that era, it not only was inadequate but also likely not there for very long. Demar's cars, I would learn, would get comfortable looking real quick – much like those horrible beat – up pants I use to paint houses in in the summer. Larry, actually, would usually look "comfortable" like that, too.
What I have come to learn, over these years of studying about northern Vermont racing history is that there was a lot about Larry Demar's car hat speaks to another person in his town of Hardwick – a person whose influence on a number of racing people was perhaps unintentional but very profound. George Hay, Sr. had operated a service station in Hardwick for a number of years. His name appears in a 1940 census sheet, so it can be assumed he had been a resident there for along time.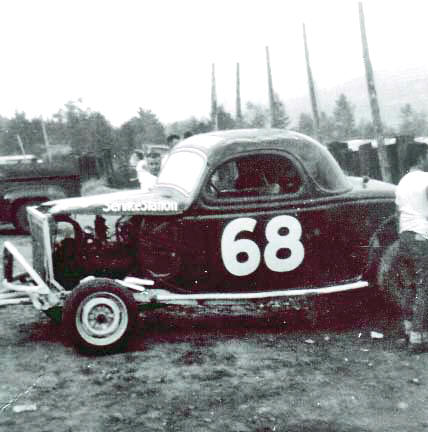 Courtesy of Mike Gilbert
The first George Hay coupe, driven by Al Corey – at his familiar
stomping grounds – Dog River Speedway in Northfield. Below -
Al and the Hay car in trouble at Northeastern Speedway.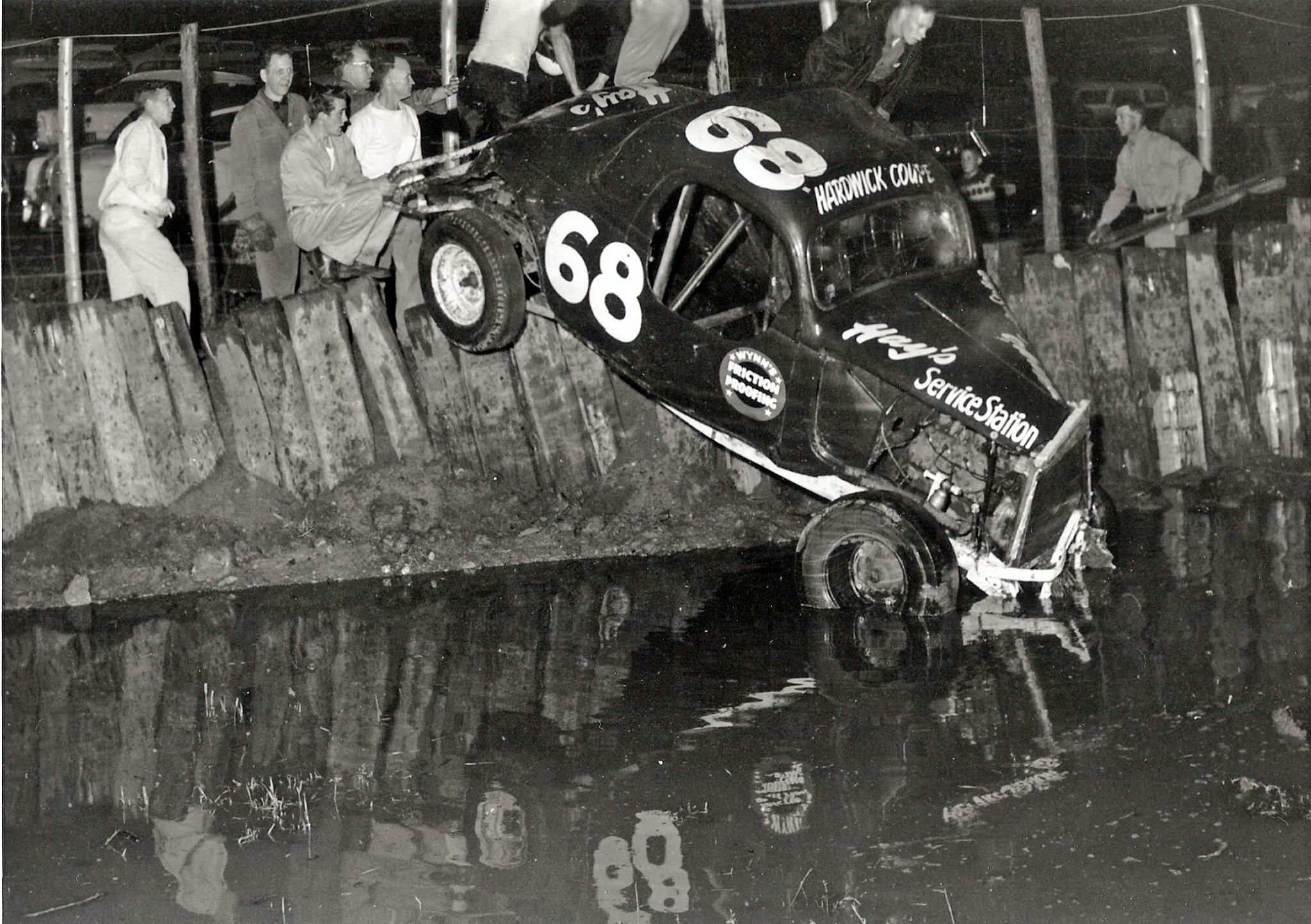 Courtesy of Phil Whipple

Considered a very good mechanic and repairman, Hay had plied his trade while such nearby racing efforts as the tracks in Morrisville, Lyndonville, Sheffield, Newport, Burke and Barton came and went without his feeling the need to get involved. Perhaps it was the need to establish a business and support a family; perhaps the relative crudeness of the racing just did not interest him. Racing in that neck of the woods, in those early '50's, was more like rugby or roller derby than like most auto racing seen at the time.
However, when the two highly – organized and much more civilized venues of Northeastern Speedway [Lower Waterford] and Thunder Road International Speedbowl [Barre] came into being in 1959 and 1960 respectively, Hay got the urge to build something and try his hand at building a winner. As Ken Paulsen has stated in his work, Hay's first hired gun was Al Corey. Hay and Corey ran the first number 68 at such venues as Northeastern Speedway, Thunder Road, and even the Dog River Speedway in Northfield.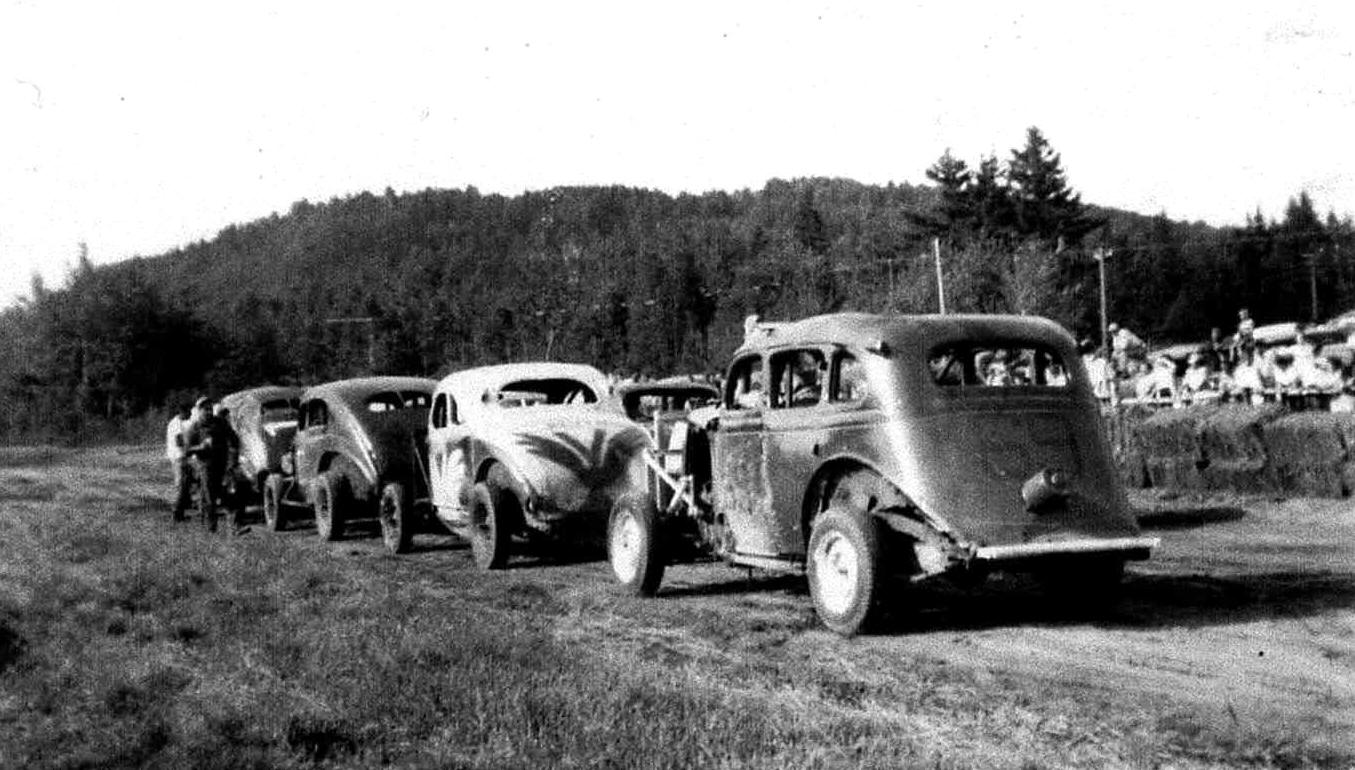 Courtesy of R. Scott Haskell
A lineup of jalopies at Lyndonville's Webster Flats awaits action.
Below - Al Corey.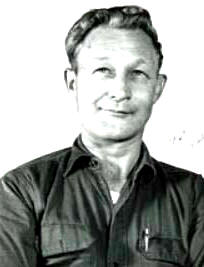 Courtesy of Cho Lee

Al, who had been the 1960 champion at the Northfield track, had varying degrees of luck. One photo shows him hung up on a barrier, partly in the water at Northeastern around that first year. Paulsen pointed out that, in their first race, the Hay team started first and finished last. The car that year was a three window 1936 Ford coupe, and had the color scheme that would endure through the years in Hardwick cars – tow tone blue. And, yes, Hay's Service Station was painted on the hood. The first crew consisted of Hay, Bob Jones, Jack Morrill and George Valentine.
Obviously, they caught on fast because the following year [1962] was much more successful. In 1962, Hay secured the services of driver Ray Stygles. The patriarch of a long line of racers that is still continuing today, Stygles would drive the new 1934 Ford coupe primarily at Thunder Road because the fortunes of both Dog River and Northeastern were in a downward spiral. Top ten finishes were the norm and things seemed to be going perfectly when Stygles suffered a devastating crash into the Widowmaker retaining wall at Thunder Road.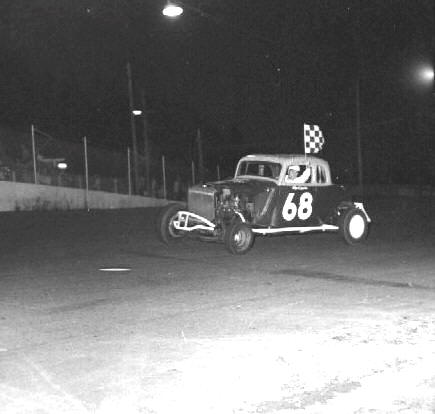 Courtesy of Cho Lee
Stygles and the Hay 68 in better days, at Northeastern. Below – The
devastating wreck on the Thunder Road Widowmaker is cleaned up.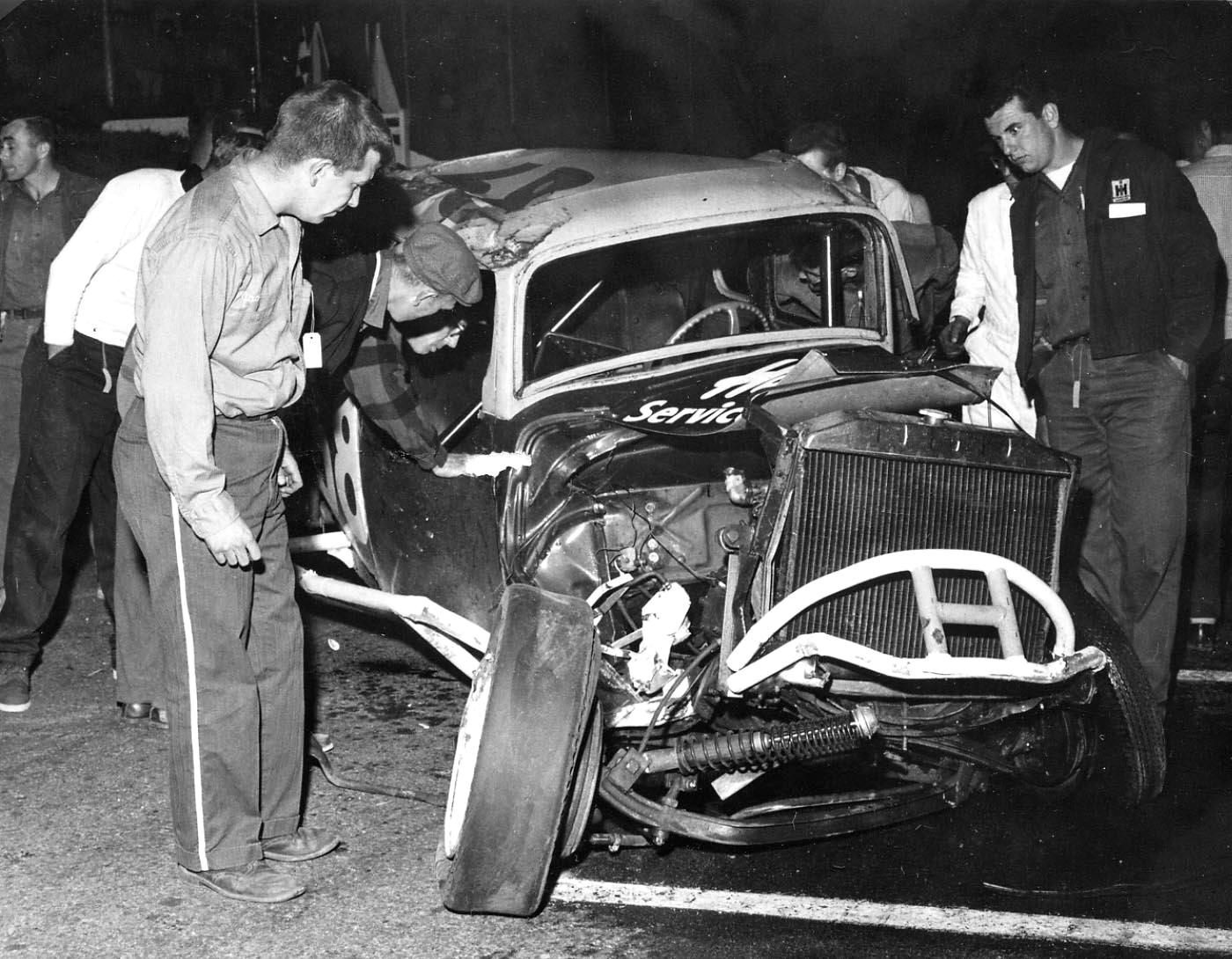 Courtesy of Johnny Gammell

Stygles had already been in serious condition for weeks, comatose at times from a previous accident. He had climbed up the wall and then landed back on the track, destroying the car. The tree wreck had about done it for George. He didn't want Ray dying in his car. Hay would repair the car and find New Hampshire driver Doug Ingerson to finish out the year. A middle brother in a family of four race drivers, Doug would do well enough with the car to win that year's Rookie of the Year award.
George Hay considered how well Ingerson had done while also feeling loyalty to a recovering Stygles. So, he built a second car over the off season. Stygles would again drive the Hay #68 while Ingerson would pilot a new #58 – a very similar looking car. Ingerson would win the Mid Season Championship race with that car. Unfortunately Stygles, who was already tempting fate by racing after having suffered serious head injuries [something that wouldn't be allowed today] had another crash in 1964.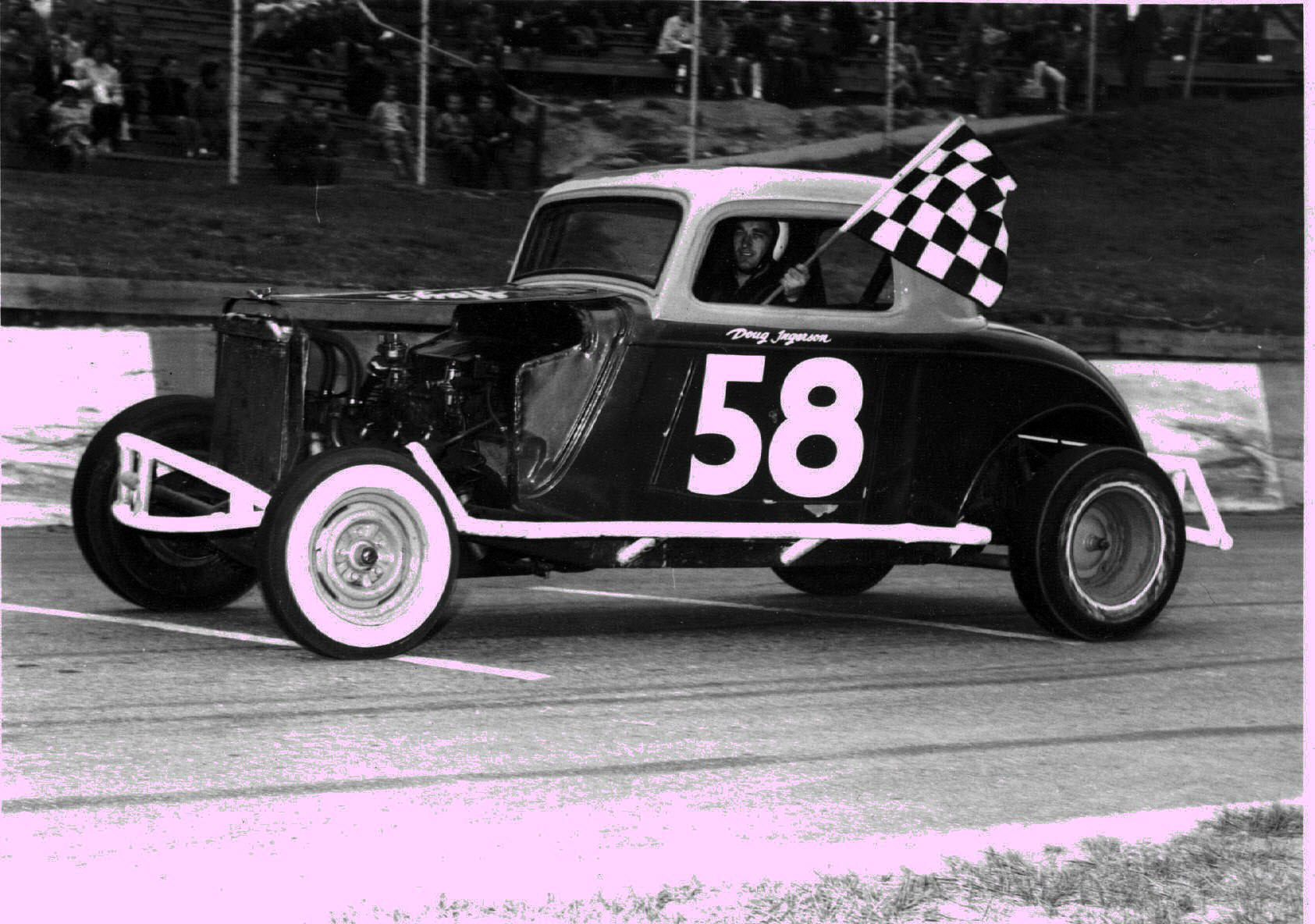 Courtesy of Cho Lee
Doug Ingerson with the repaired Hay 68 proceeded to have a good rest of the season.
Below – The Hay Team cars in 1964 – before the last Stygles
crash.

Courtesy of the 176 Racing Website
Forced wide going through turns three and four, Stygles flew off the track and struck an oak tree while still airborne. Anyone who has seen an airborne car strike anything knows that, for some reason, the damage is worse. This was Stygles' signature crash; many people think that it the one that put him in the coma. He did suffered a broken arm, but it had the effect of ending his career. Geoge was one of the first people to reach the car after it hit the tree. Even if Ray or Mrs. Stygles had not had enough of racing after that, perhaps George had.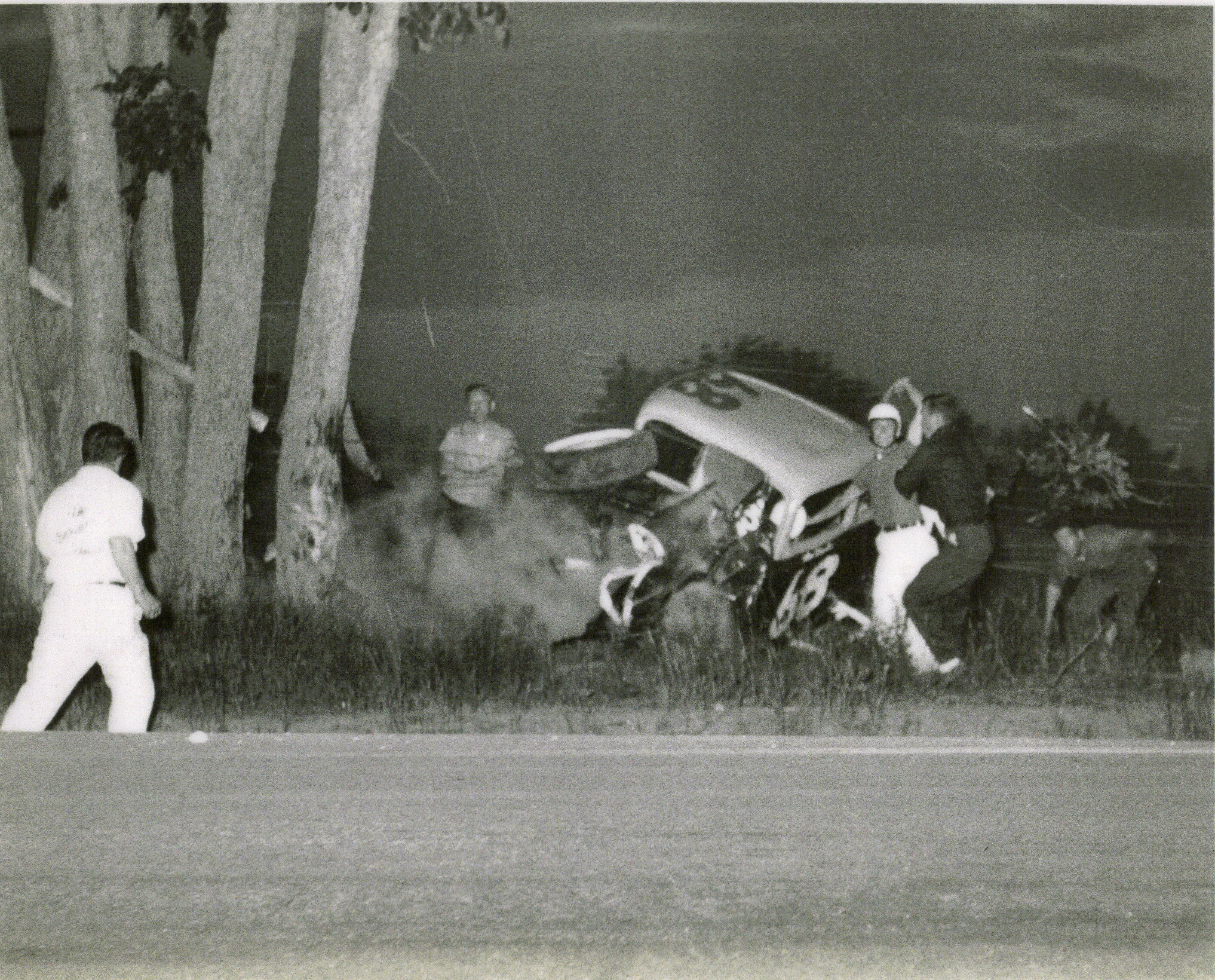 Courtesy of Mark Austin
The Stygles car sits splattered against a tree as help ruses in from all
directions. Below – This is the only photo of George Hay I have. He is
at far left.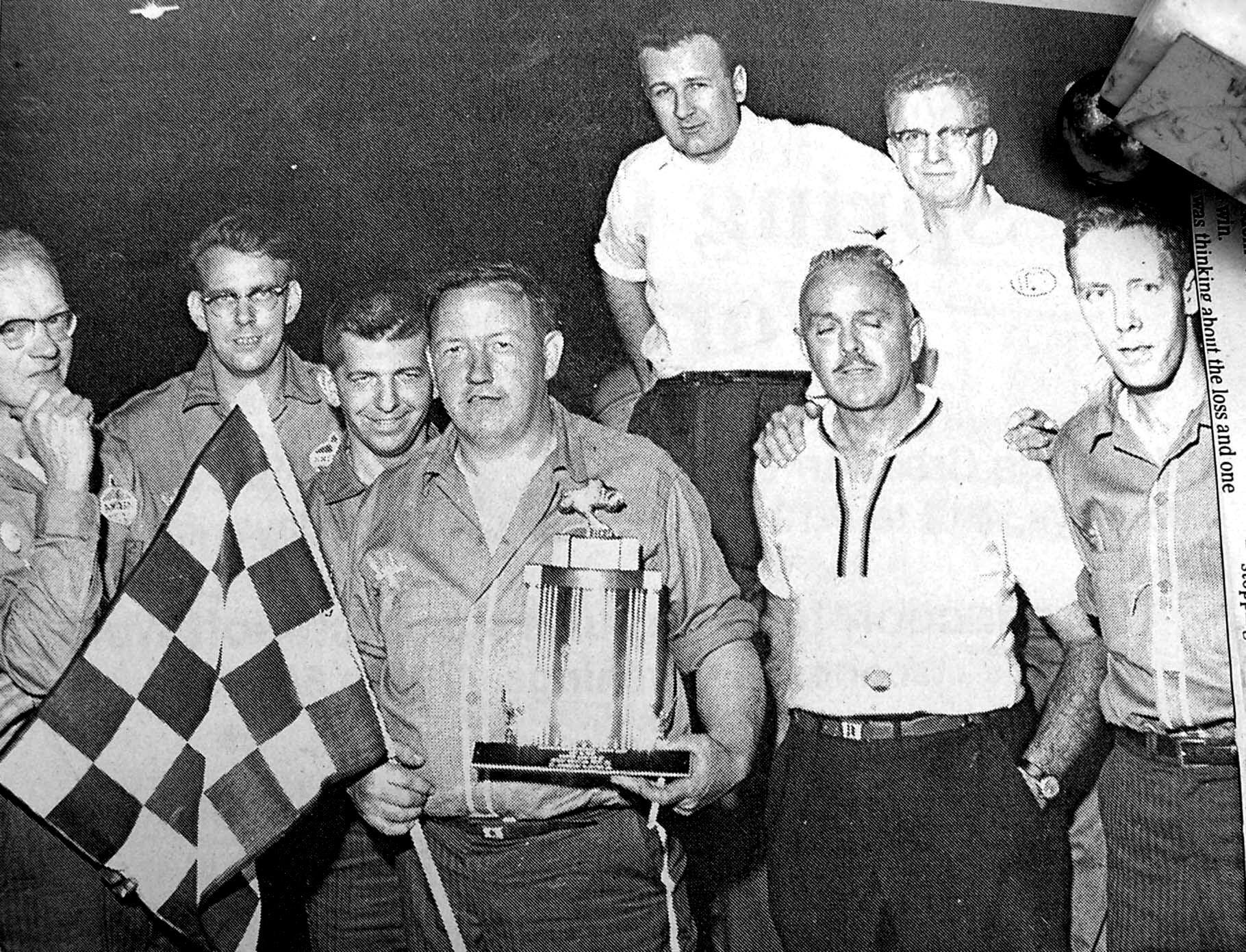 Courtesy of Johnny Gammell
The following year was a pivotal one for Thunder Road. Catamount Stadium had been built and the two tracks were now under a NASCAR sanction. NASCAR frowned upon the flat topped, pre 1936 coupes and basically gave T Road's legendary flat head coupes one grandfathered season more. This might be another reason why Hay sold one of his coupes before the season started. He had the remaining car lettered as #68. He would use current NASCAR National Sportsman Champion Rene Charland as his driver in the car.
Charland, in the midst of a four – year reign as champ, did so by finding every means possible to drive cars and pick up points. He was driving the Hay flat head coupe against many of the old flat head teams, as well as invading overhead V-8 sportsman teams mostly from New York and Quebec. The unique ingredient in that mix of Charland opponents was big Ronnie Marvin, whose Andy Cote #13 was a profoundly souped – up flat head which ultimately carried him to a top ten finish in national points behind Charland that year. Charland's big moment [if you will] was ending up on his hat in the Milk Bowl that year.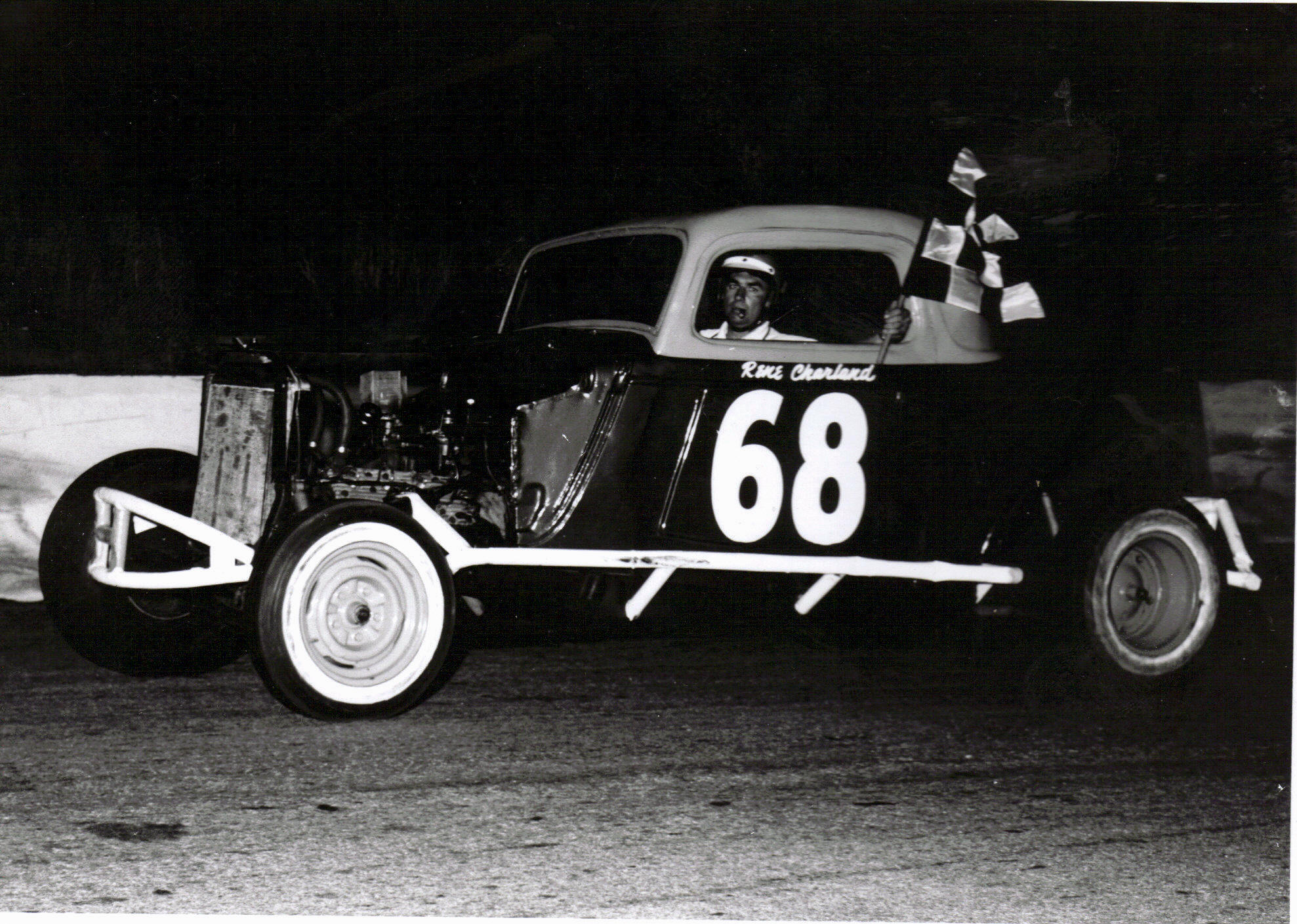 Courtesy of Cho Lee
Rene Charland had his ups and downs with the Hay 68 in 1965.
Above – An up. Below – Down – upside down at the Milk Bowl.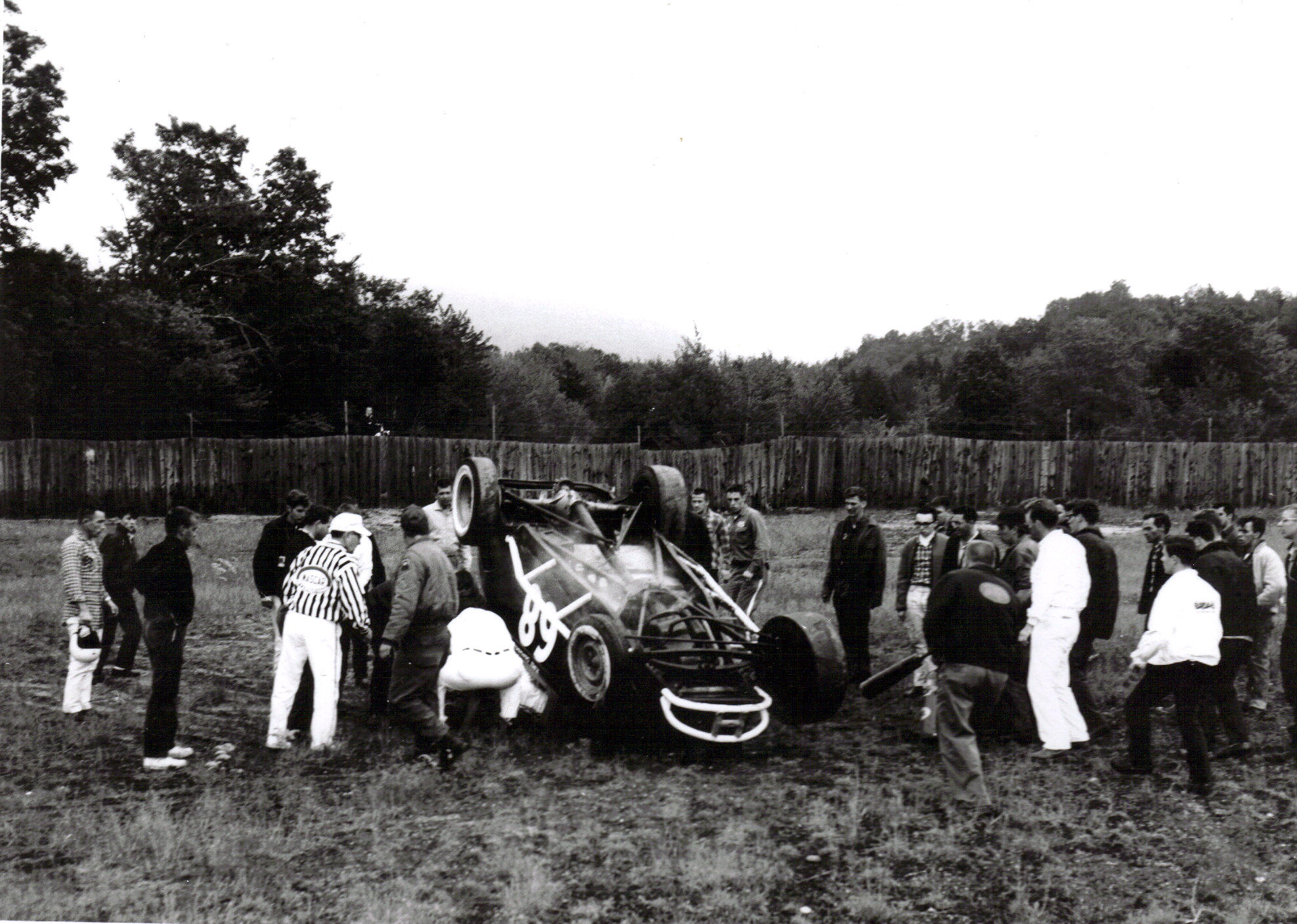 Courtesy of 176 Racing Site

In 1966, with the flatheads now banned, George Hay disappeared from racing. However, his influence remained in the person of Hardwick neighbor Larry Demar. Demar, a Ford fanatic through and through, would at least start out the seasons in the Flying Tiger division with a two tone blue Ford [which he numbered 1] and would show himself and Hardwick proud. The hard driving, chain smoking Demar would amaze people with his driving prowess.
Bob Dragon, then just starting out in racing, likes to tell two Demar stories [both about practice]. Bob says he was out practicing one time and working his tail off to even get up near Demar. He glanced over when they were side by side and could not believe that he was seeing Demar eating a sandwich while wheeling the Ford. The other time, under similar speed, an amazed Dragon watched Demar touch off a match and light himself a cigarette while under full speed and in a turn.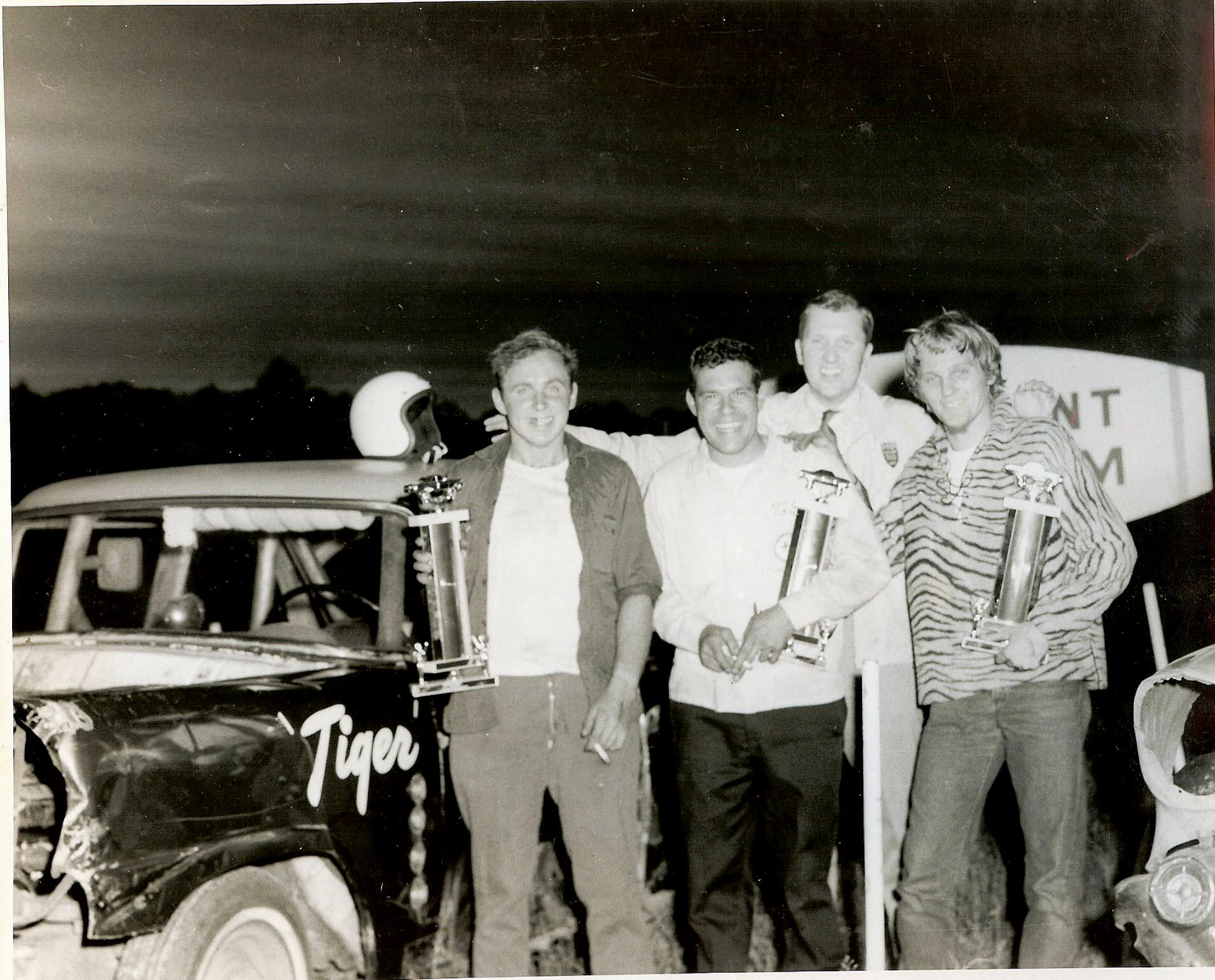 Courtesy of Melanie Mattson Anukem
Larry, perpetual cigarette in hand, in Catamount Vic Lane with
his usual finish partner Tom Tiller and Lennie Stockwell. Below – Red Mead's first Hurricane car
was an exact tribute to Demar.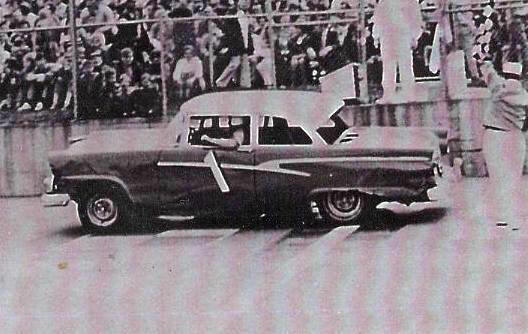 Courtesy of Andy Boright
Demar would begin to fade about the time racing in Northern NASCAR became pricier. He did finish well when he raced and won at least one track title. But, by 1971 or so, he was only running an occasional race, substituting for someone who couldn't drive that night. Larry never had the money for late model sportsman level racing.
Still, the Hay influence and color scheme remained. In 1971, Catamount instituted a support class called The Hurricanes. One of the original members of that division was from near Hardwick, in Hyde Park. Red Mead would drag his 1955 Ford to the races, hooked up behind a trash compactor truck. Another Ford nut and a great admirer of Demar, Mead's Ford was two tone blue and bore the number 1. Red would turn out to be one of the most loyal and long – sustaining racers in the history of the circuit.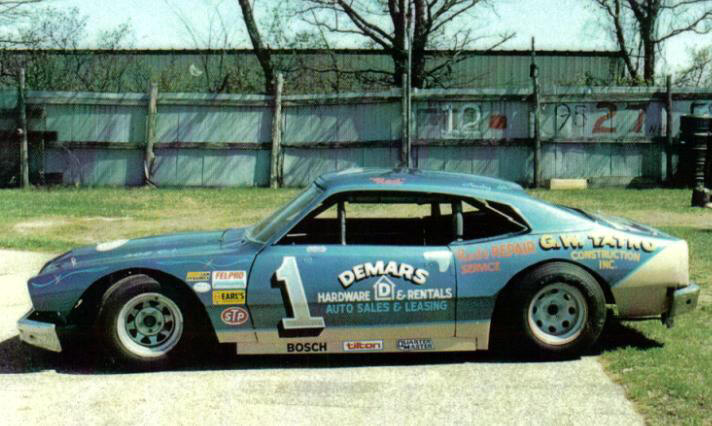 Courtesy of Andy Boright
Red Meade always had very well – appearing cars as he
went through his various years and divisions. Below – A young
Ray Hay ran this car as another Hay tribute in the new
Tiger class. Even the number was spot on.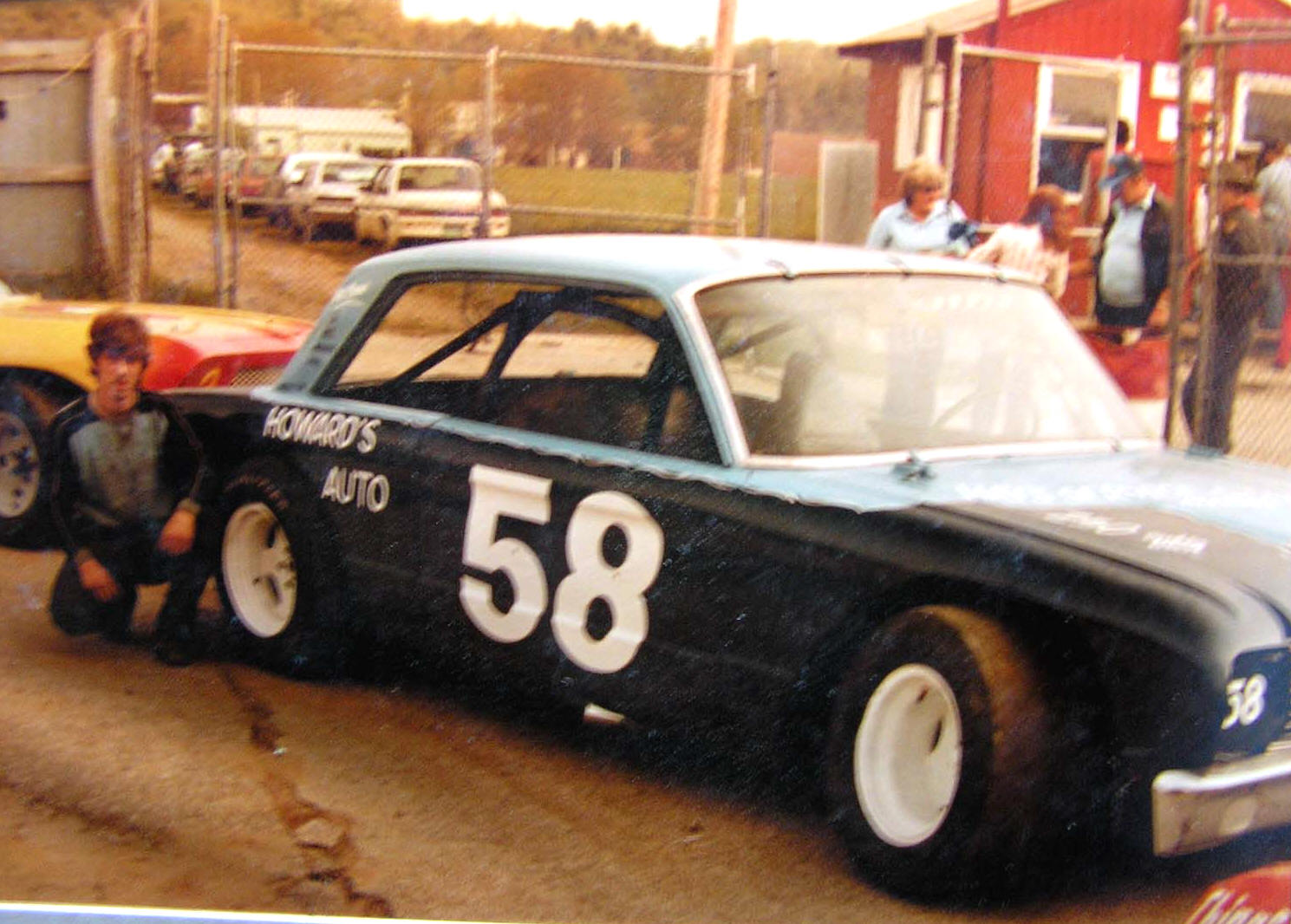 Courtesy of Cho Lee


He would get through those early Hurricane years and would finally end up in what was generally called the New Flying Tigers, in the 1980's. Always in a Ford, he fielded some of the nicest looking cars in the class, trying the Mustang and other Ford bodies. Red did manage to win the Thunder Road Hurricane championship in 1974. I don't have enough other data to determine what else he may have accomplished. Suffice it to say, he did the two tone Hardwick blue scheme proud in his long career as a driver and car builder.
So, the ad may have simply said "Hay's Service Station, Hardwick, VT"; but, there was a whole lot more to the story than that. We are sadly lacking in not having a Vermont Racing Hall of Fame up here; but, if we did. He'd be a shoo – in to be inducted.
Please email me if you have any photos to lend me or information and corrections could benefit from. Please do not submit anything you are not willing to allow me to use on my website - and thanks. Email is: wladabou@comcast.net . For those who still don't like computers - my regular address is: Bill Ladabouche, 23 York Street, Swanton, Vermont 05488.
AS ALWAYS, DON'T FORGET TO CHECK OUT THE REST OF MY WEBSITE
www.catamountstadium.com
Return to the Main Page
Return to the Main News Page
Return to the All Links Page
Return to the Weekly Blog Links Page