THE BILL'S BACK IN TIME COLUMN PAGE
Copies of my column in Mark Thomas' "Racin' Paper"
BILL'S BACK IN TIME
By Bill Ladabouche
Site Column #79 from My Column 95

HARTS AND DOZERS
We have often heard and read about the booming 1950's , when tracks sprung up all over the country – seemingly in every cornfield and fairgrounds. The very early '50's were a boom time for the sport, and the end of that decade saw most of those blooming tracks die out. The 1950's also saw a strong effort, on the part of New York, and particularly Vermont, to use the old Sunday Blue Laws to close down the sport of stock car racing.
One of the causes of that strong censure of racing was the dangerous roadster racing in the Empire State. Actually, the roadsters were caused to disappear soon after. But, in Vermont, there were – for all intents and purposes – no roadsters. Strangely, the critics put up with equally – dangerous midget and sprint car racing at the various Vermont fairs, with very little complaint. What happened in Vermont was a series of injuries and fatalities among non-driving participants at some stock car races in the earliest part of the 1950's.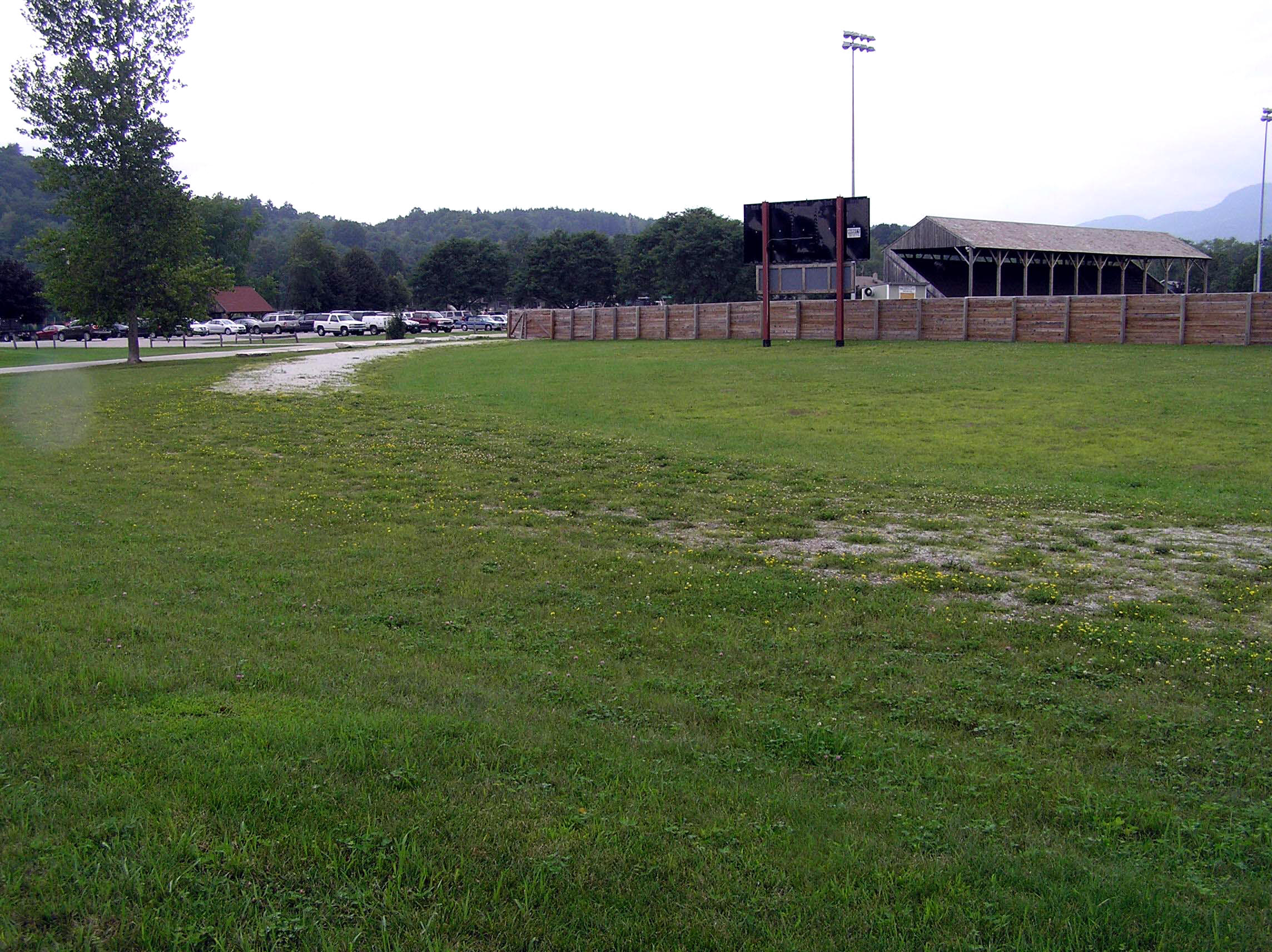 You can still see the old turns three and four at Manchester today. [Ladabouche Photo]
Below - An aerial view of the peculiar Manchester track. [Historic Aerials.Com]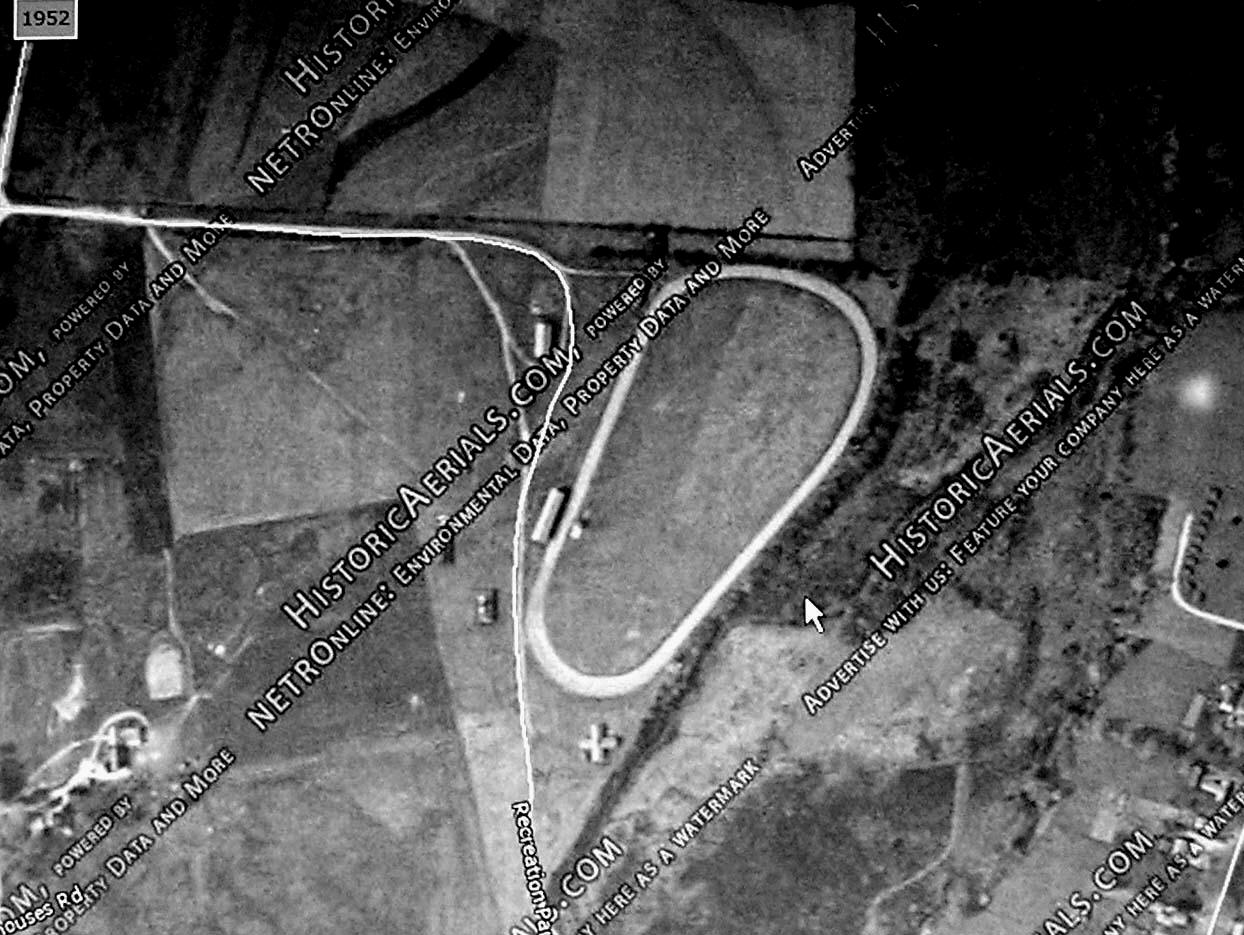 Firstly, a mechanic was killed in racing at the old Manchester Fairgrounds. Over two thousand spectators saw a car spin out, go into the infield, and strike Arnold Gagnon, a mechanic from Holyoke, Massachusetts. Judging from the time and the home town, Gagnon may well have been crewing for Rene Charland. As a result, racing there was soon discontinued.
The next problem came later in 1950, when an accident at Ivanhoe Smith;s Colchester Raceway resulted in the cars of Ronnie Farnsworth and Frank Hart entering the spectator area, through inadequate fencing. Most of the onlookers scrambled top safety. But two women and a girl were struck down, resulting in significant, but not critical injuries. Chittenden County's publicity – seeking District Attorney immediately went on a crusade to use the Sunday Blue Laws to shut down racing in his region. To make a long story short, it did not work.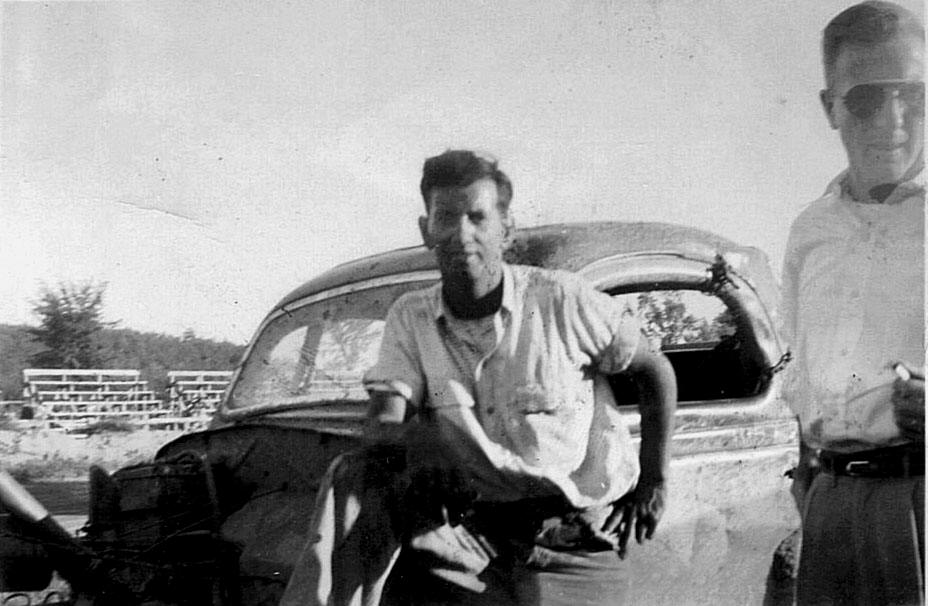 Frank Hart [left] poses with a friend at a practice session at Harvey Moody's track. [Hart Family Photo]
Very recently, when spending some time around the Flying Tiger Sportsman car of Eric Badore at Thunder Road, I realized aa potential connection to one of those men in that accident. The car is sponsored by A.H. Fence Co., and I asked Arnie Hill if he ever worked for the F.E. Hart Fence Co. [which is what Frank Hart ended up doing with his life]. Sure enough, there was a strong connection between Hill and the Hart family. Although Frank had passed away, Mrs. Hart believed she had some photos of that era, with her husband's cars.
I have learned that Frank Hart raced for a number of years in the early 1950's, and that he and his wife ran the Beacon Light Restaurant in Alburgh, VT before getting into fencing. Hart would travel with, among others, Bob Bushey to get over to Plattsburgh, NY and race at Airborne Park Speedway. Bushey is currently in the spotlight after being portrayed In Bill Wimble's book as a bit of a bully [and the leading driver] at Airborne.
Hart may have had the misfortune of going through one fence and hitting some people, but the rest of career is a lot less remarkable – at least as far as more disasters were concerned. Photos offer proof that he had at least three cars, in the course of the career, and that he often joined others in Chittenden County in practicing with his car on off – racing days. One picture shows him with what I believe is a trophy for a high points finish at Colchester – Bayview Speedway [usually just known as Malletts Bay].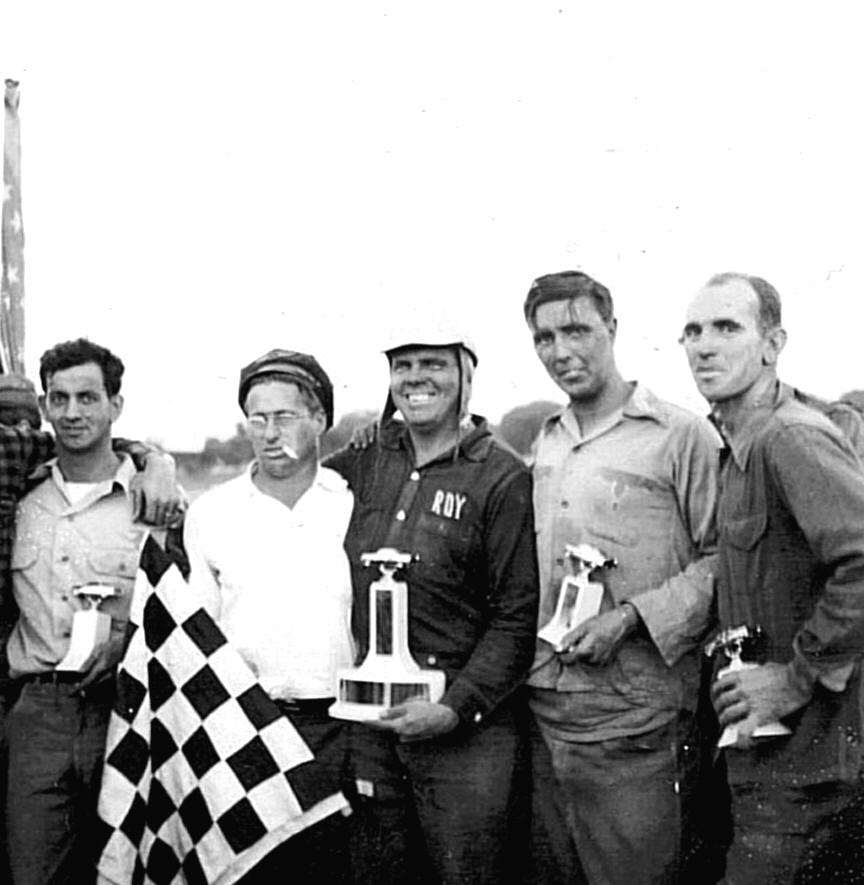 Frank Hart, [far left] with flagger Henry LeClaire, Pappy Forsythe, Jackie Peterson, and Ernie Barcomb, receiving
trophies for high points finishes at Colchester – Bayview in 1952. [Hart Photo]
I have now seen or heard of at least three guys using the 5/8ths mile – long Green Mountain race track in Colchester for practice sessions. Harvey Moody's sandy, crude track, out on the Brigante truck farm, couldn't have been that helpful because no other track they raced on was nearly as long. Ronnie Cooley and Gordy Owen were others known to do the early version of "track testing". That came to a halt when Colley went through Moody's fencing and took down some bleachers.
Hart's name appears in most of the track results in that era and that area: Champlain Valley Fair, Colchester Raceway, Colchester – Bayview Speedway, and Airborne. He left his mark with his highly – successful fencing business, not auto racing. The photos we are getting from the family are an invaluable look at the primitive racing of the early 1950's.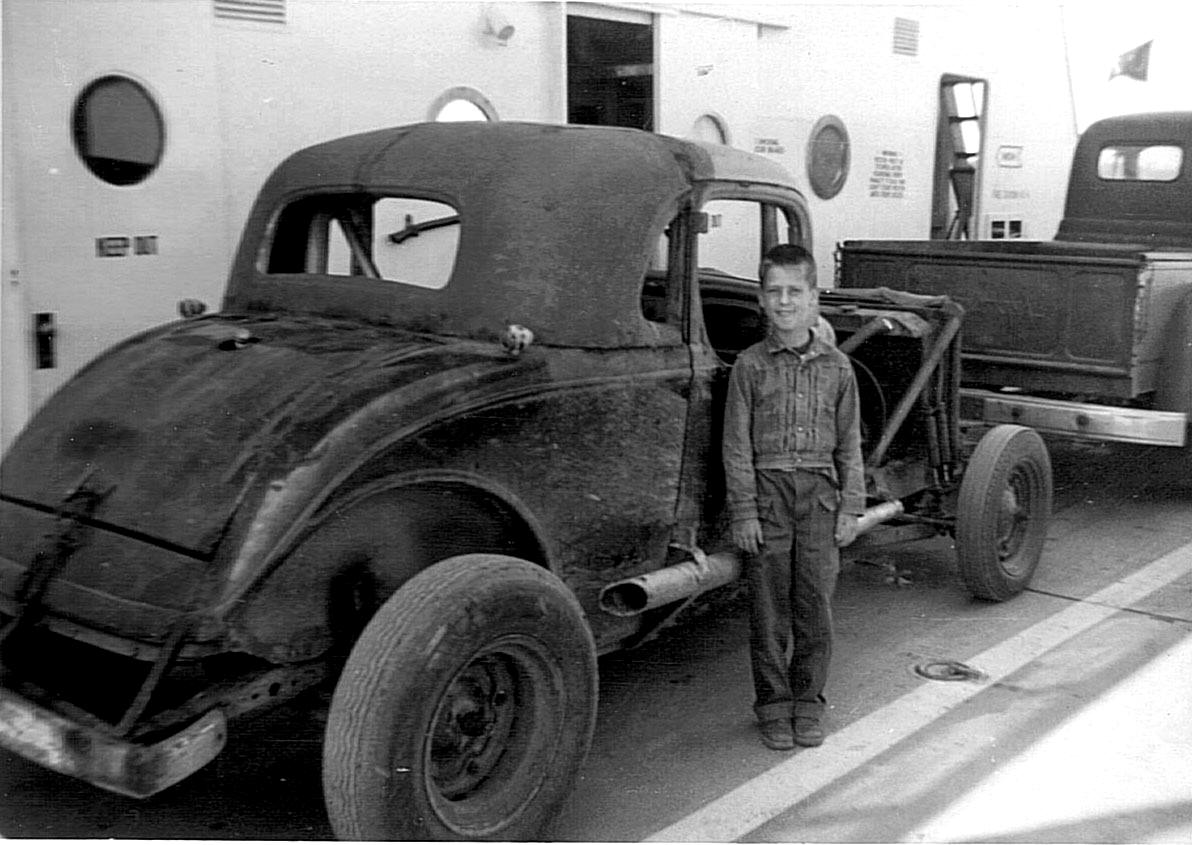 Ed Hart, Frank's son, with somebody's coupe on the ferry headed for Airborne. [Hart Family Photo]
During that same era, across Lake Champlain, Plattsburgh, NY had been lucky enough to be named as a site for a Strategic Air Command air base. By 1954, the Dutcher Construction Company had moved in to perform that part of the base construction for which it had been contracted. This involved building a base of operations that was bigger than many villages in the area.
In order to get the job done, Don Dutcher had hired on legions of workers, and he need skilled mechanics and heavy equipment operators. Jackie Peterson, the early racing star from South Burlington, Vermont moved across the lake to work as a mechanic, joining the likes of Vic Wolfe, Bud Besor, and Jim Patten – working for Dutcher. Men like these formed the groundwork for Airborne Speedway's drivers, owners, and mechanics.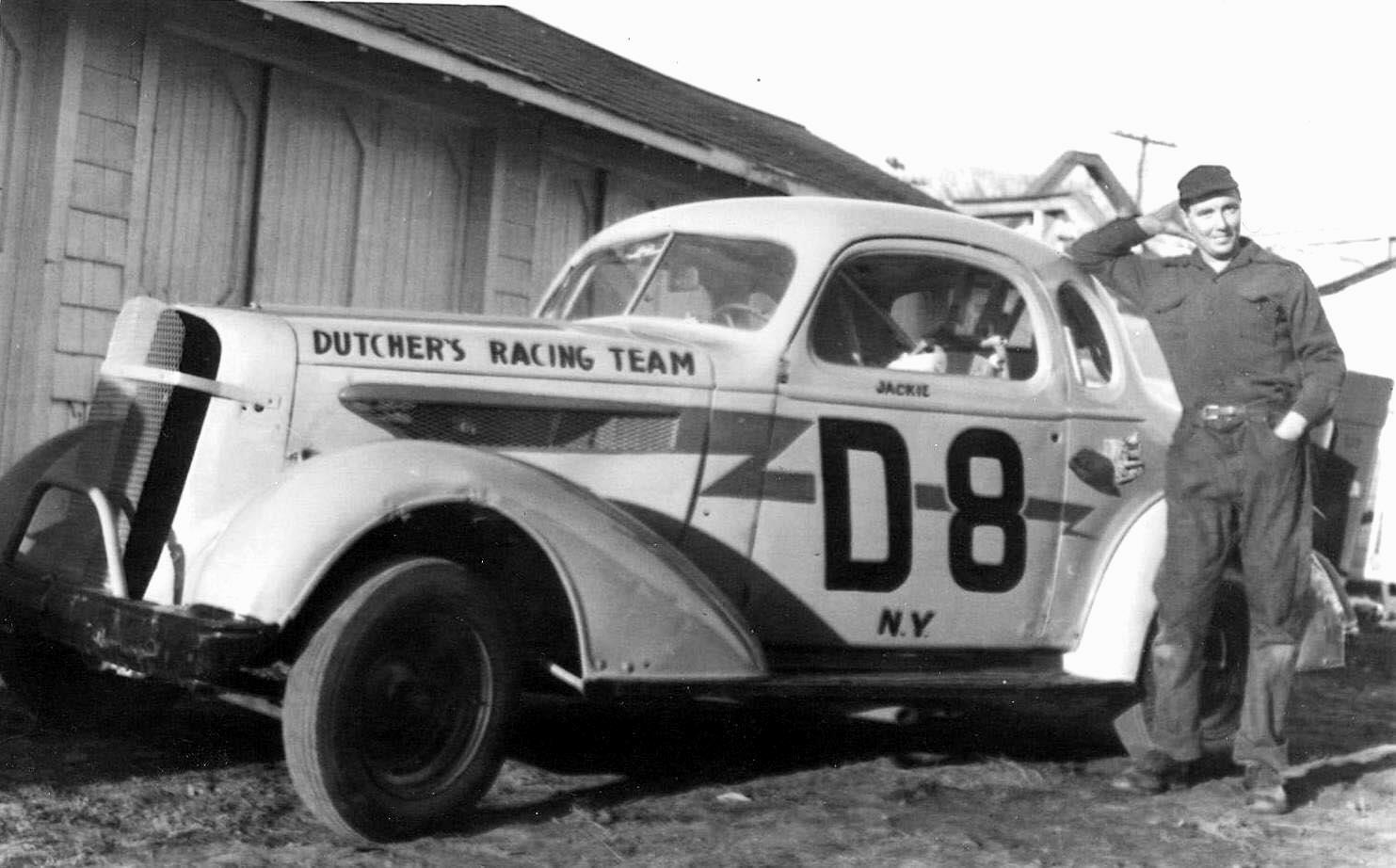 Jackie, with the D8, around 1954. [Courtesy of Rick Reome]
The boys from Dutcher Construction, over the course of the years needed to build the massive air base, fielded some cars right from the Dutcher work site. The cars, naturally, would bear numbers like D7, D8, and D9 – which I guess are models of caterpillar bulldozers or something like that. Everything needed for a stock car, including some of the junkers guys were driving to work in, were available to set up a racing team.
Little is known about the D7. I don't know who drive it or who owned it. The D8, a good – looking 1936 Chevy coupe was driven for a while by Jackie Peterson. But anyone who knows Jackie knows he didn't stay in one car for very long. Whether he was always looking for the better ride, whether his poor hearing played a part, or whether it is just coincidence – he tells me he wasn't in the D8 for more than a season.

Jim Patten, with his popular D9. Check out the bulldozer drawing. [Courtesy of Rick Reome]
The D9, a 1938 Chevy coupe, elicits more enthusiasm among the old guard at Airborne. The driver was a Chateauguay, NY man named Jim Patten, another heavy equipment mechanic with Dutcher. It was built off – site – at the garage of Vic Wolfe, who is arguably the dean of Airborne car owners. The D9 and Patten were regulars during the early years at Airborne. Photos of the Dutcher cars and of the Hart cars have enriched my view into those magic years of the early 1950's, whose participants are being lost to us regularly.

This shot shows the majority of the Dutcher Construction racing team: Big Bill Agonier, a motorcycle racer and Peteson crewman,
Jim Patten, Jackie Paterson, and Gale Wolfe, brother of legendary Airborne car owner Vic Wolfe. [Courtesy of Rick Reome]
Return to the Main Page
Return to the Main News Page
Return to the Columns Link Page
Return to the All Links Page