THE BILL'S BACK IN TIME COLUMN PAGE
Copies of my column in Mark Thomas' "Racin' Paper"
BILL'S BACK IN TIME
By Bill Ladabouche
Column 63 - From Original Column 78
THREE TROUBLESOME CARS
Every once in a while, a race car comes along that stands above the rest. In some cases, it is a season-long dominance and others times it is a one – race. I have a story about a one – race deal, a season – long deal, and one deal somewhere in between.
Perhaps the most notorious one – race wonder was the infamous Batmobile of Gary Balough. The big DIRT race at Syracuse every Fall had become almost the Daytona 500 of dirt modified racing. Each year, the best of the New York, New Jersey, Vermont, and Pennsylvania dirt mod scene would convene at the New York State fairgrounds in Syracuse for a huge race on the mile track.
One particular year [I really don't recall which, but it was around 1980] Gary Balough and Greg Weld showed up at the event with the damnedest – looking rig ever seen – a Lincoln Continental roof over the most high-tech car that would ever grace the dirt mile in central New York. I am not a mechanic, but I have heard a few things about the black #112. Its wide flat roof was canted to be a huge, controllable wing for the wide-bodied car. There were wind tunnels along both sides, the entry slats to which could be controlled by Balough while at speed.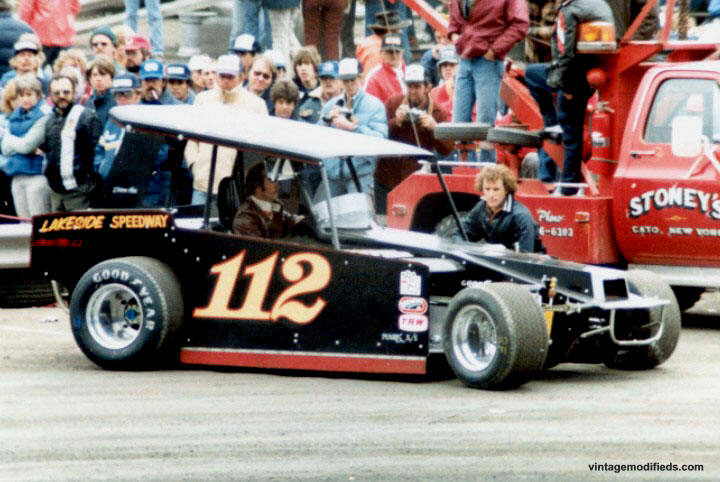 Balough, Weld, and the Batmobile [Vintage Mod Web site Photo]
Even the wheels were different. Weld, who had connections within the Indy car world, had installed Indy car knock-offs on the car, in contrast to everyone elses' regular lug nuts. The driver sat in a contained compartment, with a curved cowl similar to a sprint car. By the time the race was lining up to begin, it was clear to all in attendance that Balough would win – the only question was either by how much or, if not, what broke on the car to stop him.
From what I have gathered, he was lapping the field of the best dirt modified racing had to offer before halfway. Nothing failed, and Balough was a big winner. I guess the pair of Weld and Balough were told never to show up at another DIRT race with the thing. It survived a strange chain of events thereafter and ended up on display at museums such as the Saratoga Automobile Museum.
Some time, in the year after the big Syracuse win, Weld, Balough and several others were accused of dealing in drugs and the Batmobile was actually seized for while. The following year, a group closely associated with the Weld group showed up at Syracuse with another radical, Ford – bodied car. But, the effort was not to be successful as it wasn't the same engineering and the driver, Anthony Ferrioulo IV was no Balough. Gary would eventually race Camaro's down South – even with the same black 112 motif, but nothing would ever replace the Batmobile magic.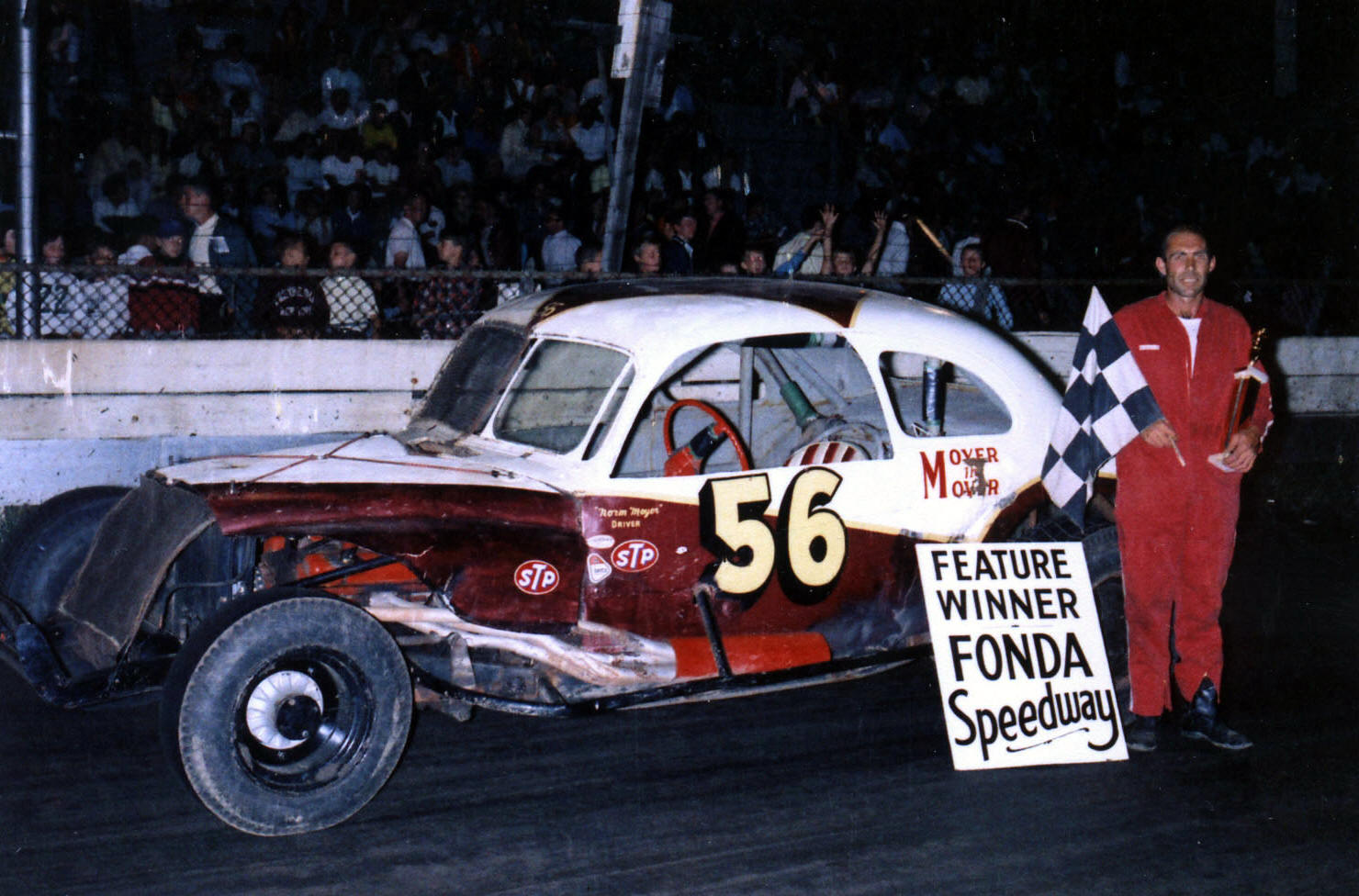 "Boo! Boo ! Modified ! Modified ! [John Grady Photo]
Our season – long nightmare for the opposition had the unlikely nickname of the Bald Bandit. Norm Moyer was a furniture moving contractor from Oneida, New York, and I first saw him running in the semi late model division at tracks like Utica – Rome and Albany – Saratoga. At that time, Moyer had an old Oldsmobile that he plied around those asphalt ovals, and I recall watching him during one late afternoon practice session at Malta. He spent much of the time bouncing off the front stretch wall, but he finally got it dialed in.
The following year was another story. Fonda had now broken with its stodgy tradition and allowed the late models in, much to the amusement of many of its oldest railbirds. The division was, in spirit, supposed to be devoted to the same semi late models, from around 1948 to 1975. Moyer had capitalized on the fact that Chevrolet had produced an actual business coupe as late as 1948. he built his familiar #56 into a lethal, modified – like field killer. Week after week, Moyer would dominate fields of cars that included Harry Peek, Kenny Platt, Jerry Pennock, and several other future stars. He would pull into Victory Lane with angry shouts of "modified" from Fonda's cantankerous and opinionated fans. Moyer the Mover would move up to the modifieds for real later, but never with as much success. Irv Taylor's brother, Gardiner, would also blossom out with a Chevy coupe, but never with the win record tallied by the Bald Bandit.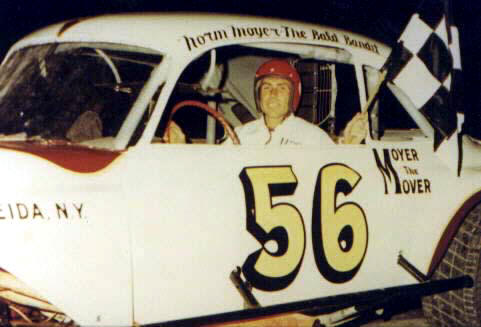 The Bald Bandit [Probably John Grady Photo]
Our in betweener came along in the pivotal 1965 season at Fairmont Speedway. I recall my friend picking me up at Castleton State College to go to a Friday night at the Vermont State Fair in Rutland, Vermont. He told me of a car that had showed up at the track, that last Saturday night – a night I had happened to miss. Fairmont was in the midst of possibly its best season in its history. Besides the lead division having been upgraded to V-8 sportsman cars, its Saturday night shows were drawing big fields and big crowds. But, one of the most unexpected drawing cards that year was the unbroken win streak of West Pawlet's Unbeatable Lennie Wood. Wood had arrived at the end of the previous season with the well-designed John McGuire F30, a 1955 Chevy. By 1965, they had the car all dialed in, and it sported a set of bullhorns on the roof that served as a sort of chip on Lennie's shoulder, waiting to be knocked off. And it never was. The F30 certainly qualified to be in this "troublesome car" category, but it is not the third subject in this column.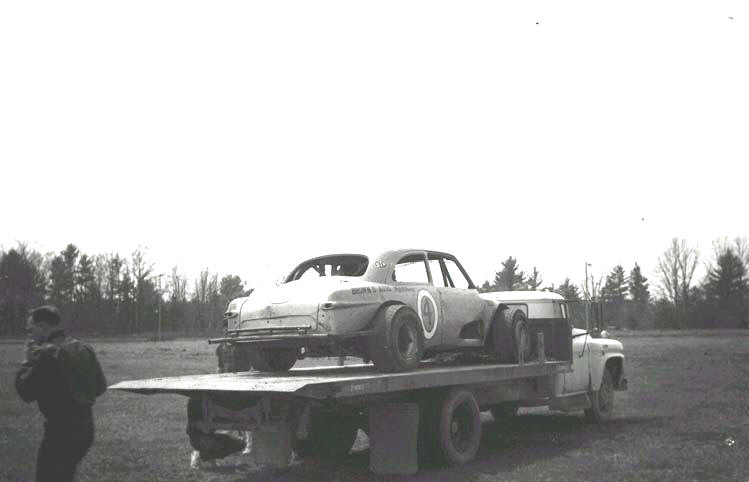 The questionable Fairmont hobby car arriving (or leaving). [Ladabouche Photo]
Apparently, while the management might have been enjoying the drawing card that Wood was, they were getting kind of tired of his brashness and they might have been concerned that the competition might get sick of the futile chase after a while. A local Orwell, Vermont boy was building a car to enter the Hobby Division fray, and hoped to knock those bullhorns off the F30's roof. The thing was, Graham Trudo [that local boy] wasn't building a conventional hobby like that of Wood and his competitors. There were whispers that the track brass had either been in on the car or had given it a very questionable OK to continue construction.
The car was supposedly a 1949 or 50 Ford. But it was very imaginatively designed, with the engine in the front seat and the driver in the back. The car's hood and front sheetmetal was bent forward in an arc, secured in the front near the bumper. Trudo created his first uproar at the sister track of Fairmont, Hillside Raceway, near Vergennes when he hauled the primered masterpiece up to the track in the cow pasture for a trial run. It was there that my friend, Neal Davis's father, former Pico Raceway driver Carroll "Crash" Davis, looked at the Trudo car, spat, and pronounced that it was a damned modified.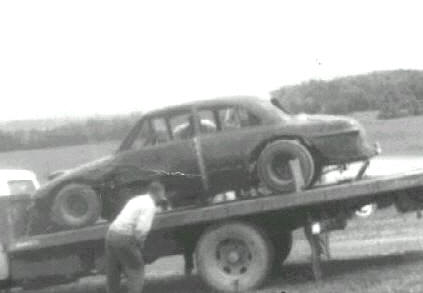 Carroll Davis: "Yep, It's just a damned modified" [Courtesy of Neal Davis]
The car's outings in the latter part of that season were nothing short of sensational; but little things often kept it from victory lane – accidents, small breakdowns, etc. Trudo would go on to a distinguished end to the season, including racing against real modifieds up at Saranac Lake Speedway, but Wood's streak remained unbroken, according to those with whom I have spoken who were related to one of the participants. The Unbeatable maybe got his worst scare from an unknown invader from Catamount Stadium named Harmon "Beaver" Dragon, but Trudo never quite broke through. I am not sure what happened to the Ford after that season, because I didn't get to attend Fairmont as much as I would have liked.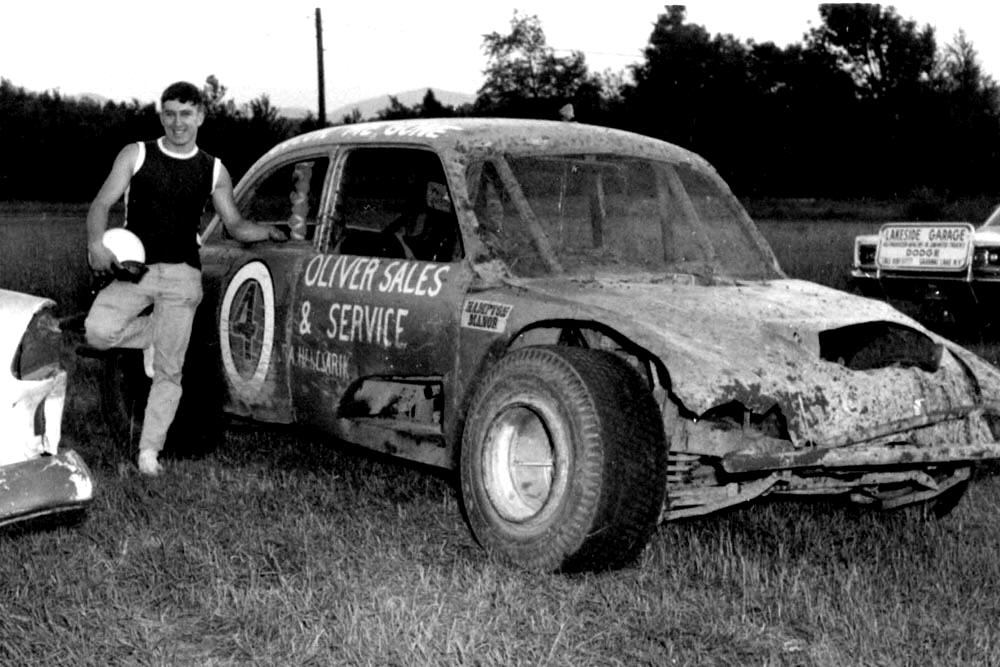 Perhaps the best shot of Trudo and the car – at Saranac Lake
Speedway in 1965.[Courtesy of Mike Watts]
Graham drove a more conventional Chevy at Devil's Bowl and ended up having to go to Viet Nam, as did so many men of his and generation. He also drove an actual modified [a Falcon] for C.J. Richards at Catamount one time, but that ended in a crash some people still talk about in the northern Vermont racing scene. But, there were few cars like that one he built in 1965, then – or since.
Return to the Main Page
Return to the Main News Page
Return to the Columns Link Page
Return to the All Links Page