BILL'S [Somewhat] WEEKLY COLUMN/BLOG PAGE

BILL'S BACK IN TIME
By Bill Ladabouche
WE LOVE OUR STOODEES !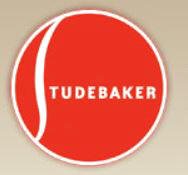 I made the comment one time how much people around the early Airborne Park Speedway seemed to love their Studebakers. Well, sadly, the track may be going the way of the Studebaker; but, that notwithstanding, there were a number of the outnumbered but innovative Studebaker cars which I fondly recall from my years as a race fan.
According to Wikipedia, Studebaker was an American wagon and automobile manufacturer based in South Bend, Indiana in 1852 and went under the name of the Studebaker Brothers Manufacturing Company, originally making wagons for farmers, miners, and the military.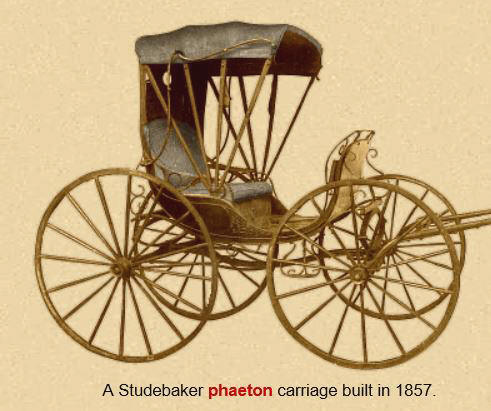 Studebaker History Site Picture
Yup, this is actually a Studebaker. Below – This might have been one of the last Studebakers made at their assembly plant in 1966.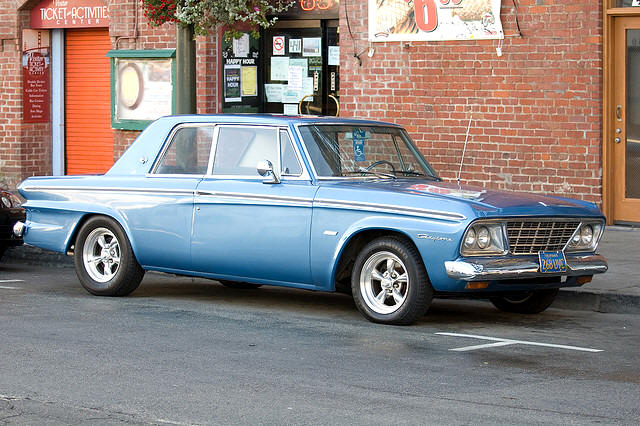 Studebaker History Site Picture
Studebaker entered the automotive business in 1902 with electric vehicles and gas vehicles two years later. Although Studebaker made a good car, it had ecomomic problems by the 1950's and 1954 the company merged with luxury carmaker Packard in 1954. After starting out as the Studebaker / Packard Corporation, the new company struggled, the Packard marque was phased out, and the company returned to the Studebaker Corporation name in 1962. The South Bend plant ceased production on December 20, 1963, and the last Studebaker automobile rolled off the Hamilton, Ontario, Canada, assembly line on March 16, 1966.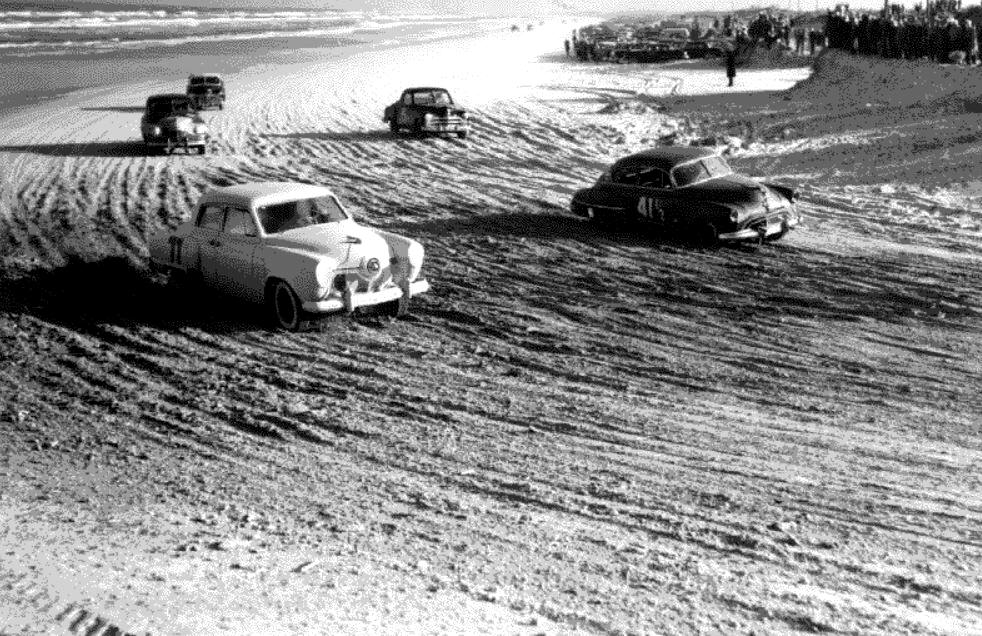 Studebaker Racing,Com Photo
Dick Linder drove John Marcum's Studebaker Commander in Grand National racing. Marcum founded MARC,
which morfed into ARCA later on. Below – Harold Smith's Lark was the first racing Lark of any note.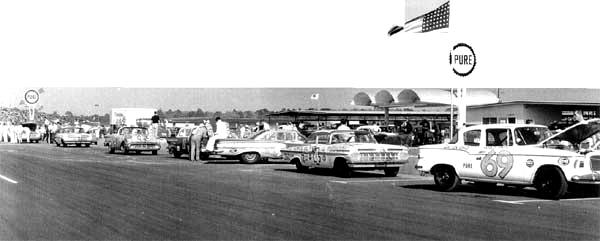 Studebaker Racing.Com Photo

The Studebaker cars had always been a little different than most of the competition – particularly after World War II. In my opinion, they had some of the most appealing – looking cars on the market. Much like Hudson, Willys, Kaiser, Nash, Packard, and even the short – lived Tucker, Studebaker just could not stand up to the mammoth Chrysler, Ford, and General Motors corporations.
From as early as 1903, a Studebaker could be fojund somewhere participating in the limited auto races of the day. The cars really did not get into racing all that much until the end of the seond world war and the establishment of NASCAR and stock car racing. According to Bob Cooper, a man named Ralph Zmirsek campaigned a Studebaker in the Grand National racing from the outset of NASCAR. As the newer, re-designed Studebakers came out by 1953, more and better – known drivers tried their luck with that brand.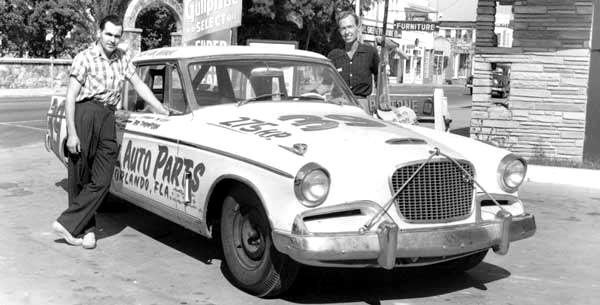 Studebaker Racing.Com Photo
Ray Thompson's Johnny McCoy – owned Golden Hawk bore a resemblance to those big, white Chrysler 300's
Kiekhaeffer fielded a few years before. [Not as impactful, however]
Stock car racing had a real ove affair with the Hudson, and there was a considerable contingent who felt just as strongly in favor of the innovation Studebakers. While the Hudson Hornet ruled the day in the earliest NASCAR Grand National racing while the Studebaker was seldom seen, the Studesbakers did have their adherents at local tracks [such as Airborne]. The appearance of the smaller Studebaker Lark did excite a rebirth in the brand, as pioneered by Harold Smith.
The best of the Studebakers, including the Hawk , did not see much time in the big leagues, but they were a big hit on the bullrigns all over the U.S.. Arguably, the best known Studebaker in the Northeast was the Golden Hawk body used by Pete Corey for his modified in 1966. Already regarded as an oddball, in sofar as his choices of bodies went, Corey came out with the long Studebaker in the earliest parts of the 1966 season, running the ark at Fonda, Stafford Springs [and Victoria if it was still running then].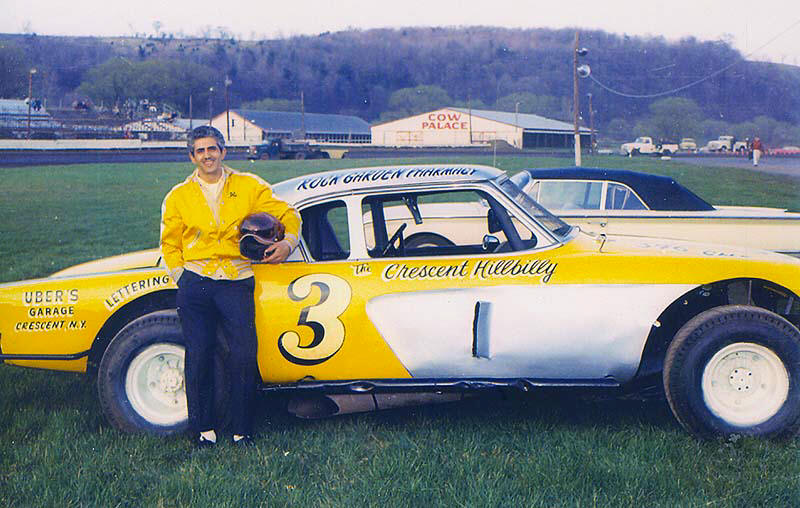 Ladabouche Collection
Pete Corey poses with the behemoth Studebaker at Fonda early in the 1966 season, when he was tearin' 'em up.
Below Left – Pete was a force at Stafford with the Studebaker before [Right] he dumped it.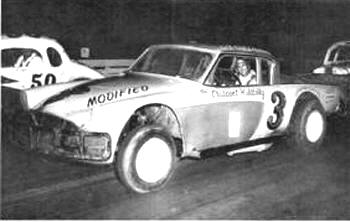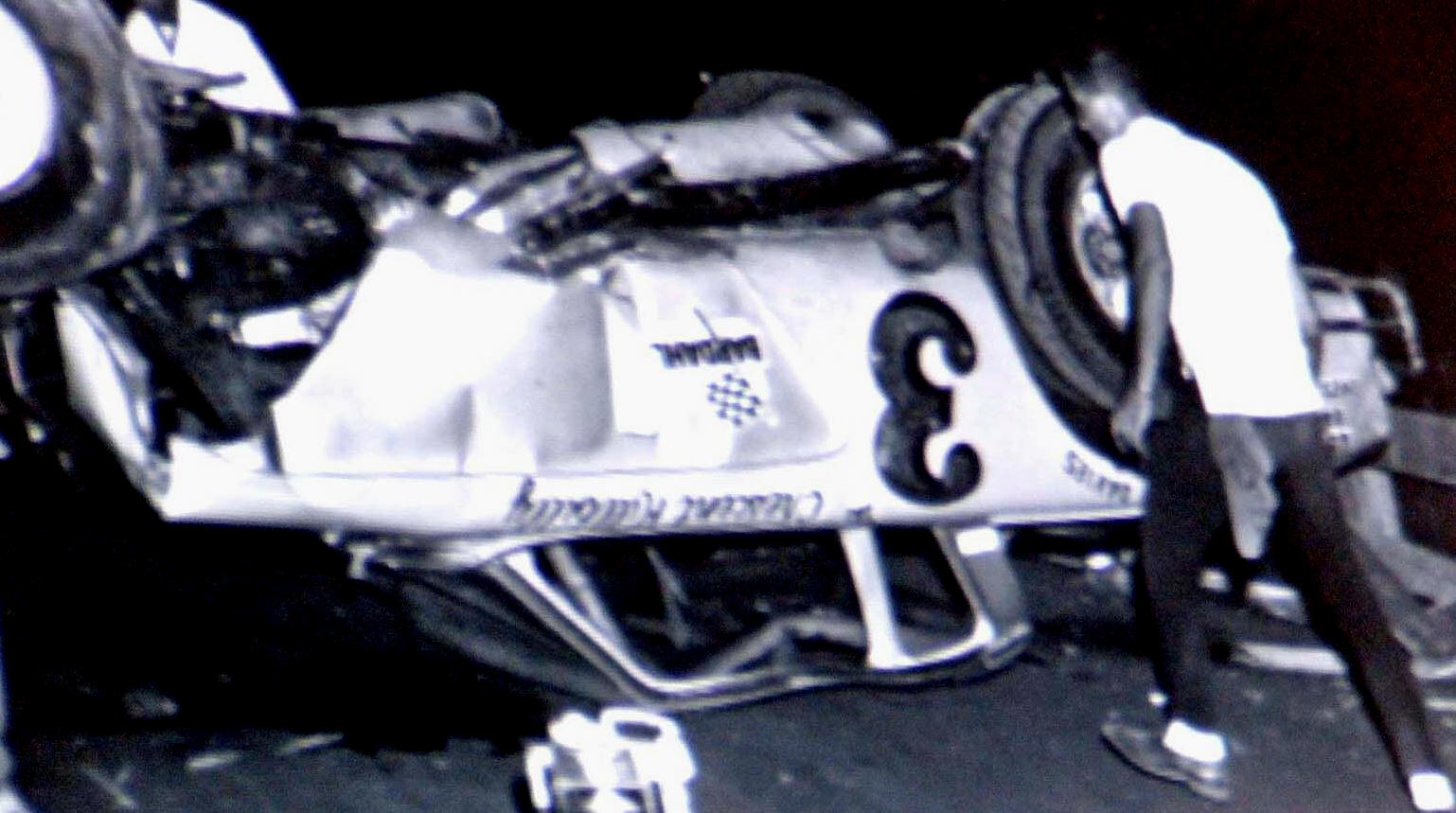 Courtesy of Ed Mudd Shany Lorenzet Photo
Pete was able to manhandle the monster in the wet, heavy track conditions of late Spring eand early Summer. I recall watching him throw the thing sideways in turn one at Fonda, and I am not sure anyone could have gotten by him due to the ssheer amount of blocked track. Boyd, Fusco, and Rigney, the authors of the Fonda book, point out that Corey had six victories at either Fonda or Stafford in that early portion of 1966, establishing a strong points advnatage. However, good fortune was not to continue.
As Summer [and the heat] wore on, tracks became direr and harder. The Studebaker, already giving up five hundred pounds of advantage to its competitors, nop longer could live on the small aerodynamic edge it had. Pete tried lightening the car as much as he possibly could – but to no avail. In a typical Corey impatience, he took a torch to the car one night and pulled out the unusual – looking Chevy coupe he had built after he permanently wrecked his famous Falcon a season or two before.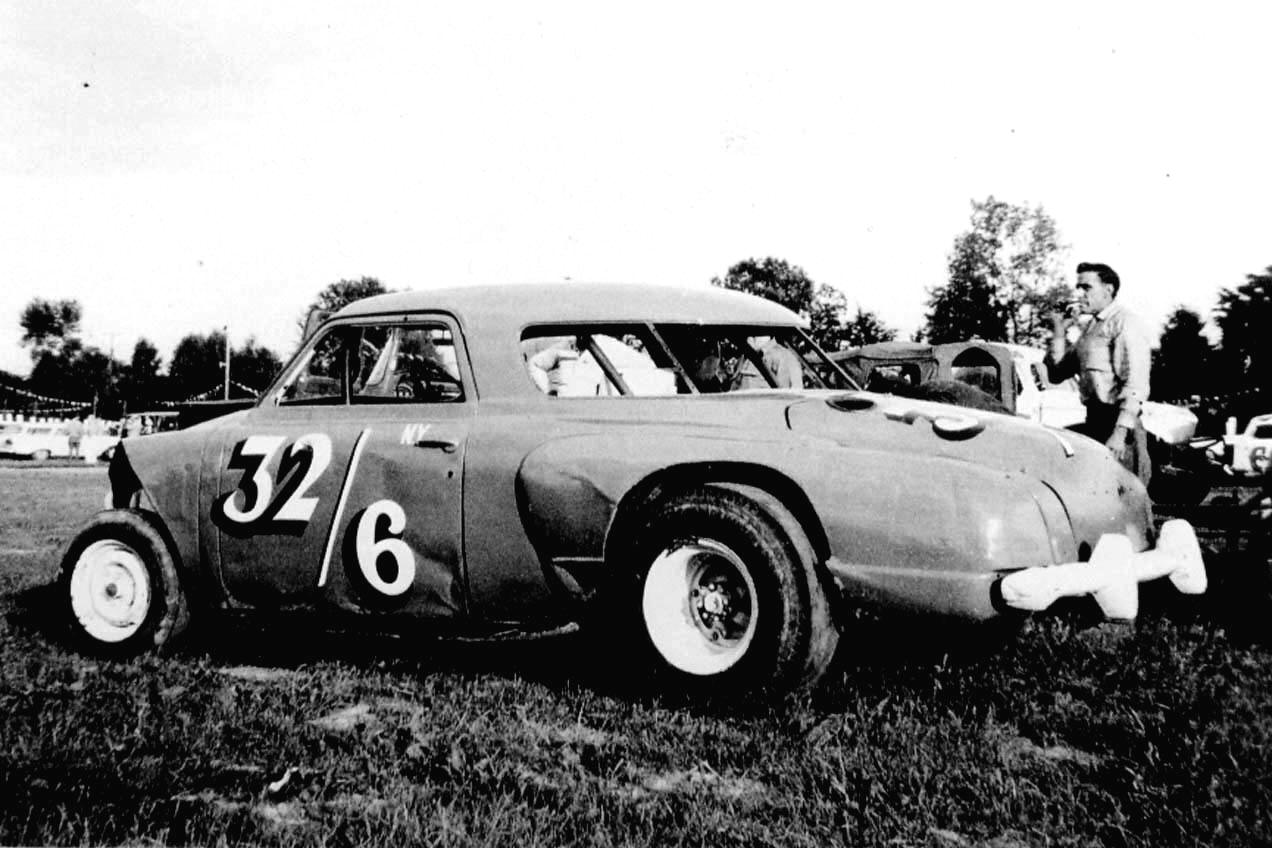 Bob Mackey Photo Courtesy of Mike Watts, Sr.
While Corey was trying his Studebaker body experiment further south, Fran Kane [background] had built a
similar car for the use of both Rod Ritchie [32] and Dick Nephew [6]. Below – Vermont Champion Johnny Gammell drove
the Bill White 4 Studebaker at Northeastern Speedway for a while before Bill finished it off at Thunder Road.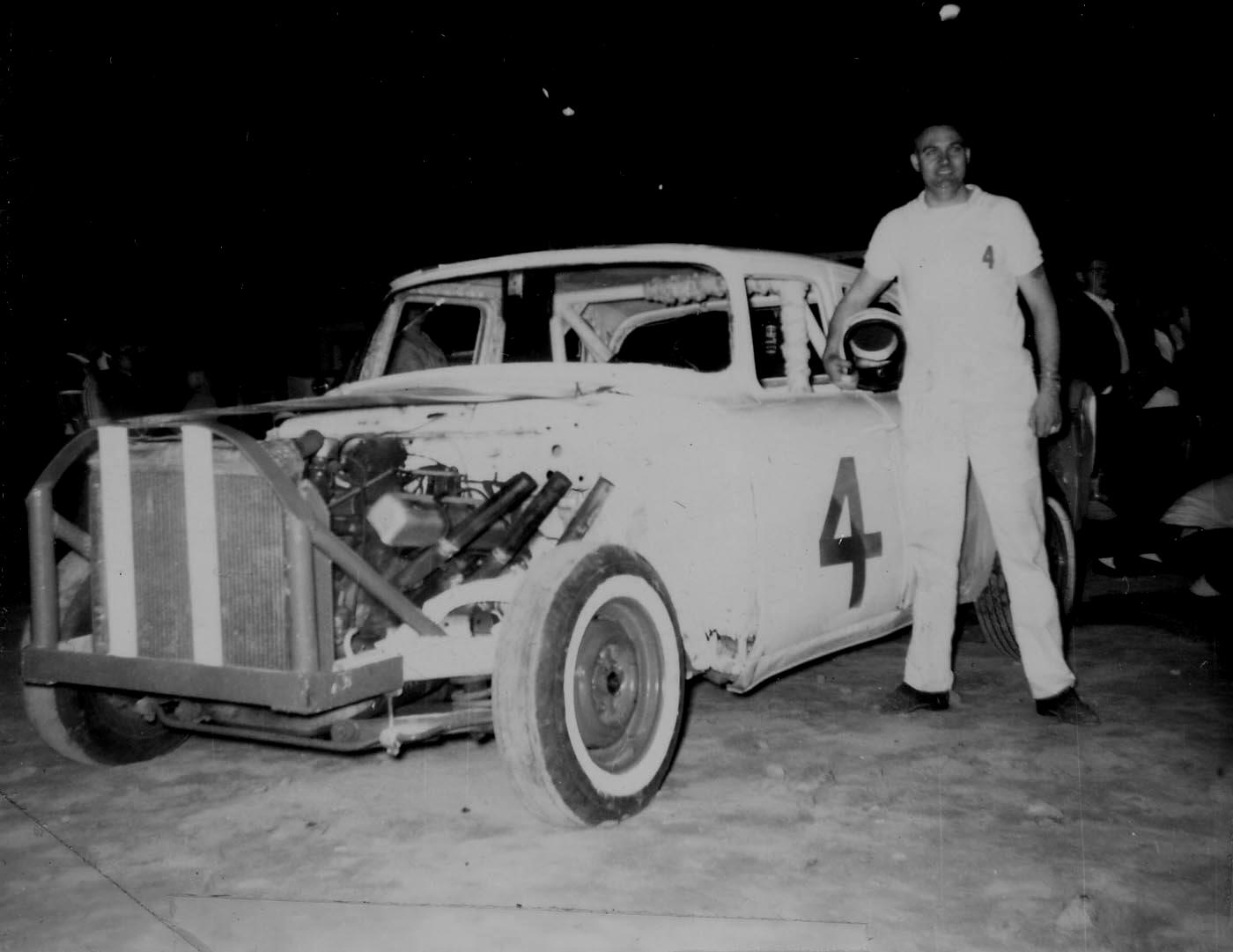 Norman McIver Photo Courtesy of Ken Paulsen
Corey went on a tear with the coupe, and never went back to a Studebaker. But, much like the Falcon body, which became all the rage in the Northeast for years, his next move to a Mustang fastback body by 1968 would again put him in vogue. Studebaker was done in NASCAR's big leagues by the time of the Corey experiment, but a pair of brothers at Plattsburgh, NY's Airborne Park Speedway seemed not to notice. They would drive nothing but Studebakers.
Norm and Don Burl would field Studebakers – particularly Golden Hawks, for a number of seasons. Often these cars were numbered 7UP, and not only did the Burls drive them but so did other well – known chauffeurs like Bill Branham. The Burk cars would perform in Airborne's support division in the late 1950's and early 1960's. Later in 1965, when Catamount Stadium was built across Lake Champlain in Milton, Vermont, at least one of the 7UP's would particiapte in what that track called its support division – the Flying Tigers.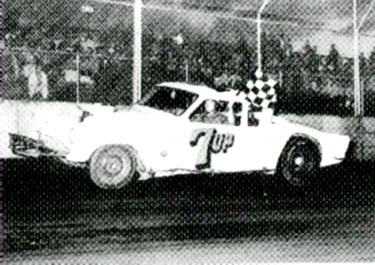 Bob Mackey Photo Courtesy of Cho Lee
Norm Burl with the legendary white 7UP Hawk at Catamount. Below – Don Burl
and another family Studebaker run afoul of the Catamount ARMCO. This particular
wreck [and others like it] led to the rapid removeal of the ARMCO at Catamount.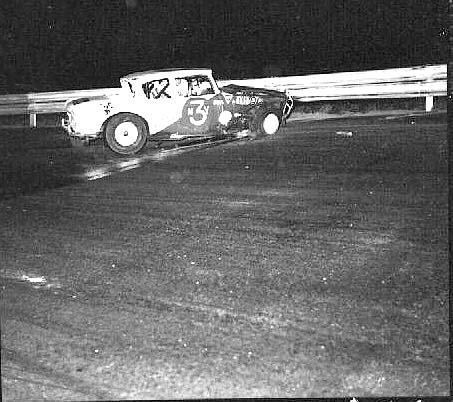 Courtesy of Cho Lee
While Jim LaFountain, another Airborne regular, was the king of the Catamount Tigers and Milton's hometwon hero Beaver Dragon was the best – loved, Burl's white 7UP might have been the Flying Tigers' most recognizable car. Ironically, that division came not only from the Airborne late models but also from Thunder Road's B Class, a third group very similar to its Catamount peers. And, in that B Class, was another notable Studebaker- Clem Despault's 1957 Studebaker full – sized sedan.
Despault, who actually raced a race at Thunder Road this October at age 75, likes to tell how Ken Squier got the Studebaker from someone he knew who didn't need it any more and that it was the future hall of fame announcer who supplied the car to a young Despault, who could have afforded it himself. It is very possible that the Burl and Despault cars may have shared the track at Thunder Road at least a few times – although Norm's 7UP was a much better – suite race car.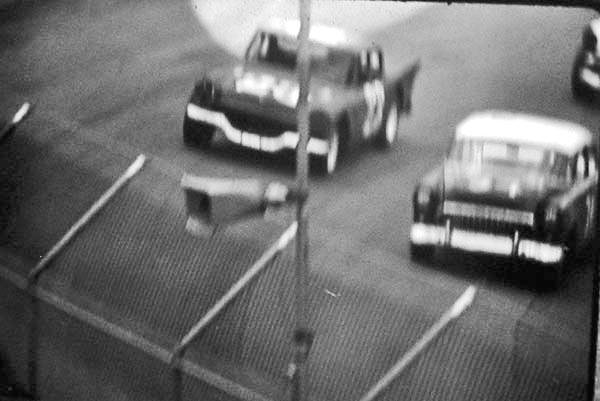 Courtesy of Robert Flanagan
Clem Despault takes B Class Studebaker outside of Jimmy Saltus at Catamount around 1965.
Below – Mert Hulbert used John Danyow's Studebaker a little in gaining the 1967 Devil's Bowl title before the Stude ended up on fire in one program.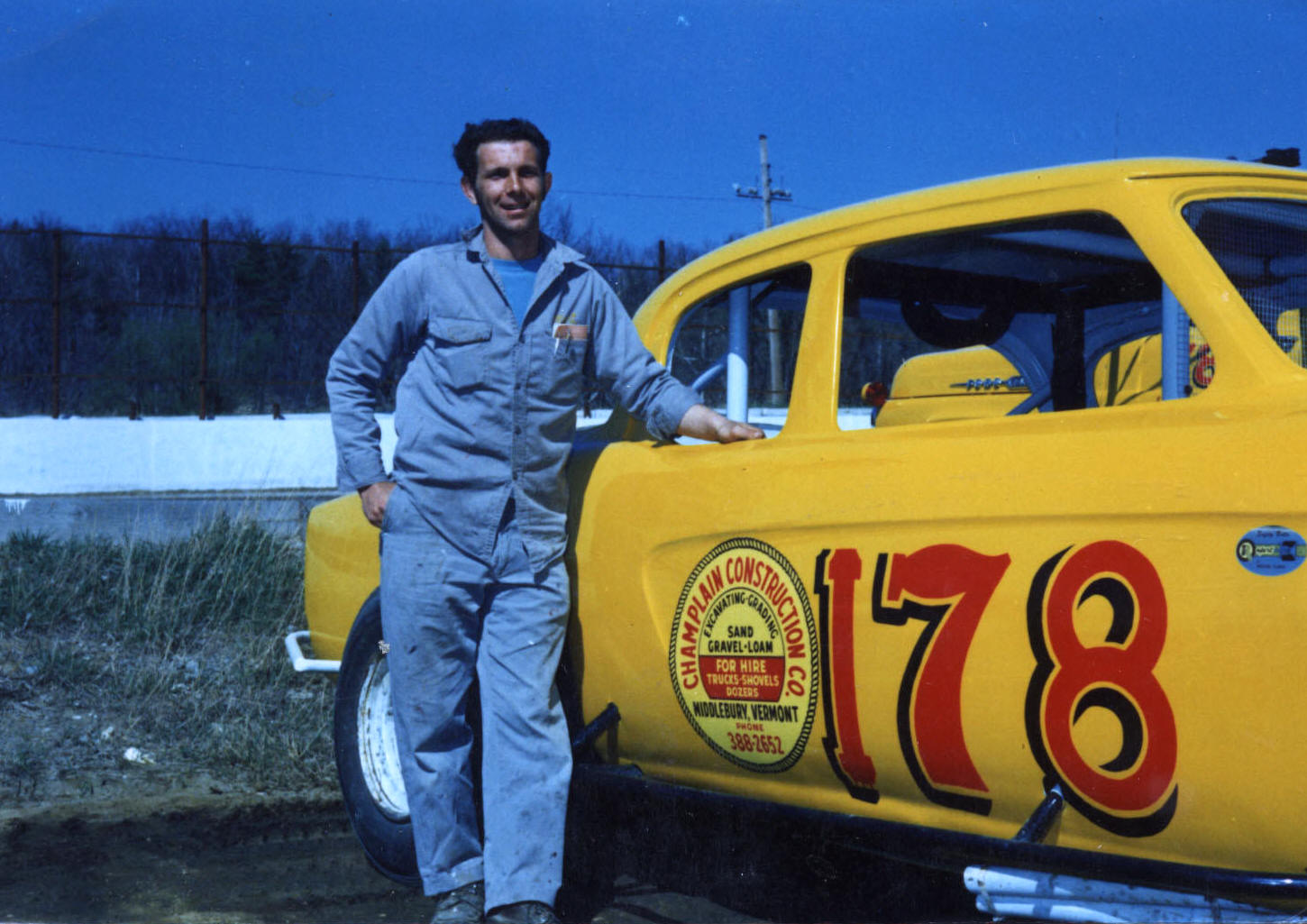 Bob Frazier Photo – Ladabouche Collection

NASCAR hobby points from the first year at Catamount Stadium show that Norm Burl finished sixth at Catamount and tenth at T Road that year. When Airborne is thrown into the mix, he finished sixth overall, behind LaFountain, Dragon, and others. Don apparently concebntrated more on Airborne, not appearing in any Vermont top ten standings. Later on, as the Hawks might have worn out, one of the Burls [likely Don] would appear in some Catamount photos with a Lark. The accident that is pictured may have been one of the main reasons Catamount got rid of the ARMCO barriers it had much of the way around the oval when it was first built. Burl's Lark, like some others, had become somewhat wedged under the ARMCO, delaying the program, I am sure.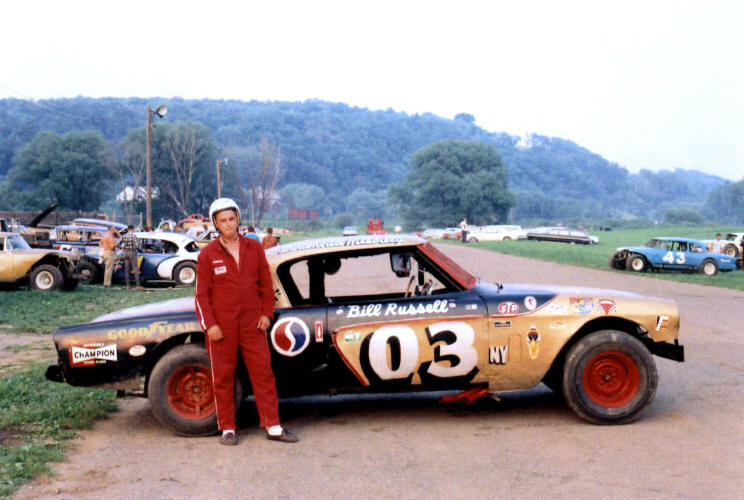 John Grady Photo
Corey admirer Bill Russell, from Burtonville bought Ed Brockett's hobby class Studebaker and dubbed himself as
The Burtonville Hillbilly. Below- Check out Corey's Studebaker and the nickname given to him by Ken Shoemaker.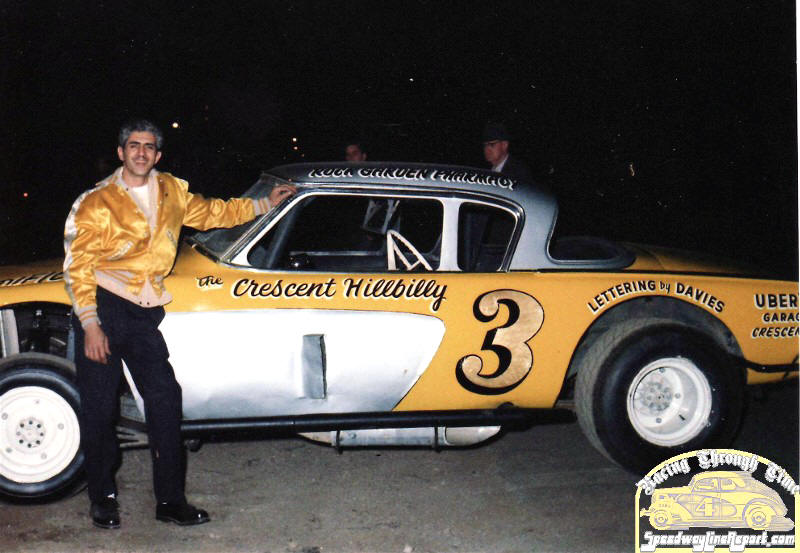 John Grady Photo
The final Studebaker in this story appeared at Catamount, long after the Burls had stopped coming and Despault had foresaken the Studebaker for a very potent '55 Chevy. Lee Carpenter, a Colchester driver, had grown up around the many race tracks in his home town, eventually doing some driving at Thunder Road. A friend of the Barcomb family, Carpenter had also driven Ron Barcomb's backup Ford limited late model sportsman on severa.l occasions. Around 1970, Carpenter, who has other Studebakers, appeared at Catamount with a white Lark, bearing his familiar nuimber 23.
The underpowered Carpenter Lark was the darling of Catamount fans in that time when the track had lost its modifieds and was trying to develop the old Flying Tigers into late model sportsman cars similar to what was running in NASCAR down South. Carpenter's Lark was more of a limited late model, and his principal accomplishment was winning a B Feature late in that season. He may have dscrapped the poor little Lark on his property up in Grand Isle County near Lake Champlain as I know he lives up there. One cold day, when I was leaving a store in Swanton [where I now live] after having down some sign painting for somebody, Carpenter pulled in with a very battered white #23 Lark on his construction trailer. It certainly looked like the late roundup for thelitte Studebaker.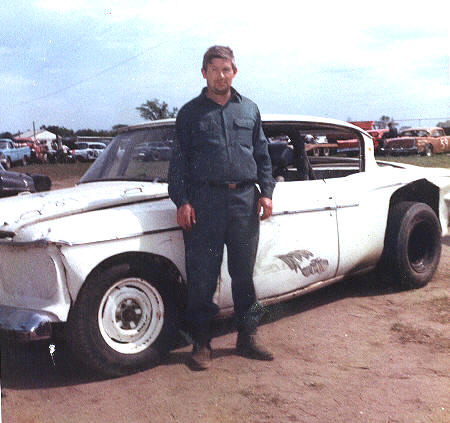 Courtesy of Rich Palmer
Lee Carpenter and his loveable Lark. Below – Thhis Burlington Free Press
photo shows Carpenter and the Lark running for their lives in a huge
Catamount limited sportmsna tangle up in 1970.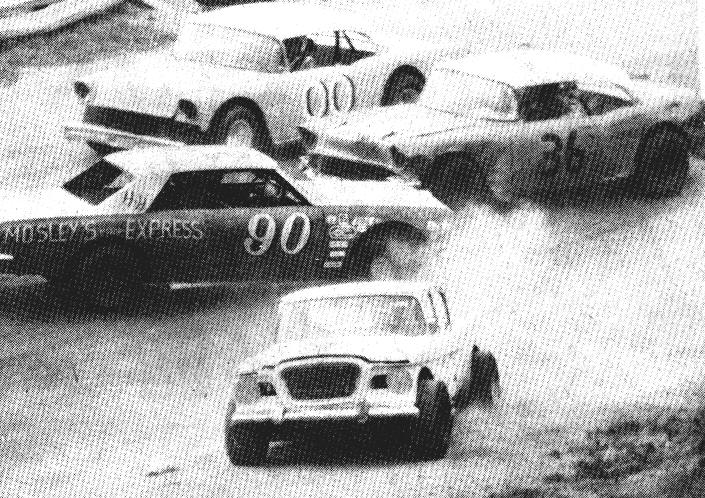 Burlington Free Press Photo
Nothwithstanding the popularity of Studebakers in support classes, the Hawks went through a period inthe February Daytona Permatex races when their aerodynamics made them very much in vogue. Cars from all over the East would appear annually to run in that Daytona preliminary race. The best – known Studebaker, to me, was the Cam Gagliardi – prepared Hawk, a yellow #70 that was driven by Lee Roy Yarbrough among others. Gagliarrdi, a Lockport, NY crack mechanic and race driver would prepare those trademark yellow Permatex cars [mostly Chevies] for local New York drivers like Lou Lazzaro, Bill Wimble, and Jerry Cook. The Yarbrough car was a more ballyhooed deal, but not all that successful.
All in all, Studebaker race cars were more of a curiosity than a powerful force in stock car racing. However, given their exciting design and the innovative ideas they contained, they certainly deserve the small niche in our racing history that they have carved.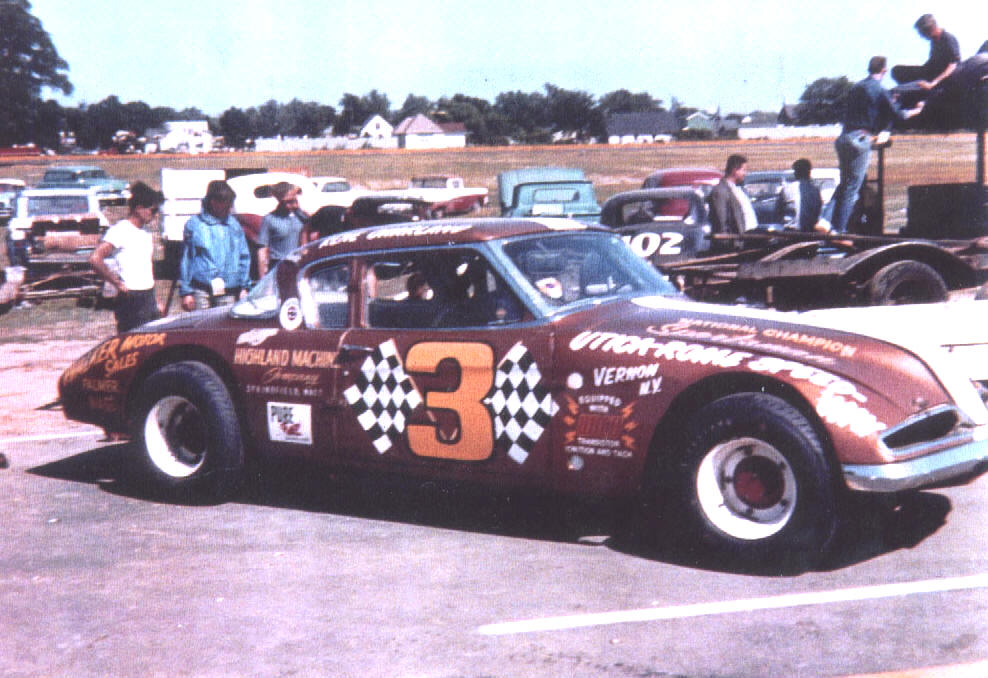 John Grady Photo
Two of the Permatex Studebakers that were popular in the 1960's: Four – time national
champion Rene Charland's car and the Gagliardi – prepared #70 of Lee Roy Yarbrough.
Randy Ayers Modeling Forum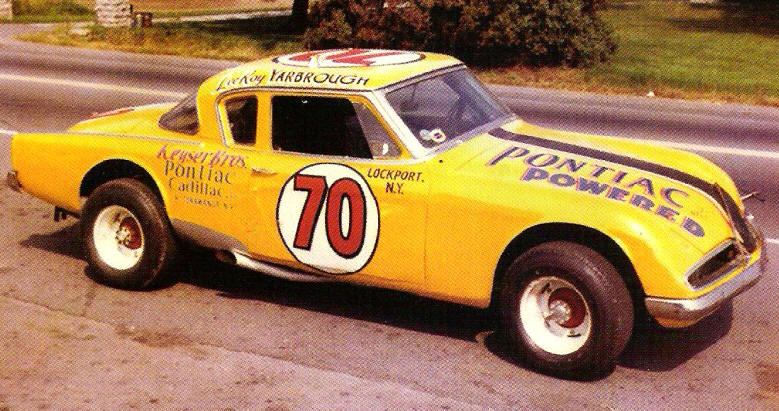 Randy Ayers Modeling Forum

Please email me if you have any photos to lend me or information and corrections I could benefit from. Please do not submit anything you are not willing to allow me to use on my website - and thanks. Email is: wladabou@comcast.net . For those who still don't like computers - my regular address is: Bill Ladabouche, 23 York Street, Swanton, Vermont 05488.
AS ALWAYS, DON'T FORGET TO CHECK OUT THE REST OF MY WEBSITE
www.catamountstadium.com
Return to the Main Page
Return to the Main News Page
Return to the All Links Page
Return to the Weekly Blog Links Page