JOEY LAQUERRE, SR
He May Last Longer Than Moses
Cho Lee recalls hanging around the LaQuerre garage in East Montpelier, Vermont as a youth. Firstly, the operation was run by the elder LaQuerre, Armand, who was a 1950's stock racer himself. The small town had a modest race track briefly in theearly '50's, and the Armand LaQuerre Rocket 88 coupe would have been one of the entries. Later, Armand would field cars for drivers such as the brawny granite cutter, Norm Chaloux. Joseph, the eldest son, was to take an active role in the family business and in auto sports from the beginning. My first familiarity with Joey LaQuerre's career is when he fielded an attractive black 1955 Chevrolet in the waning years of the original Flying Tiger series at Thunder Road and at Catamount.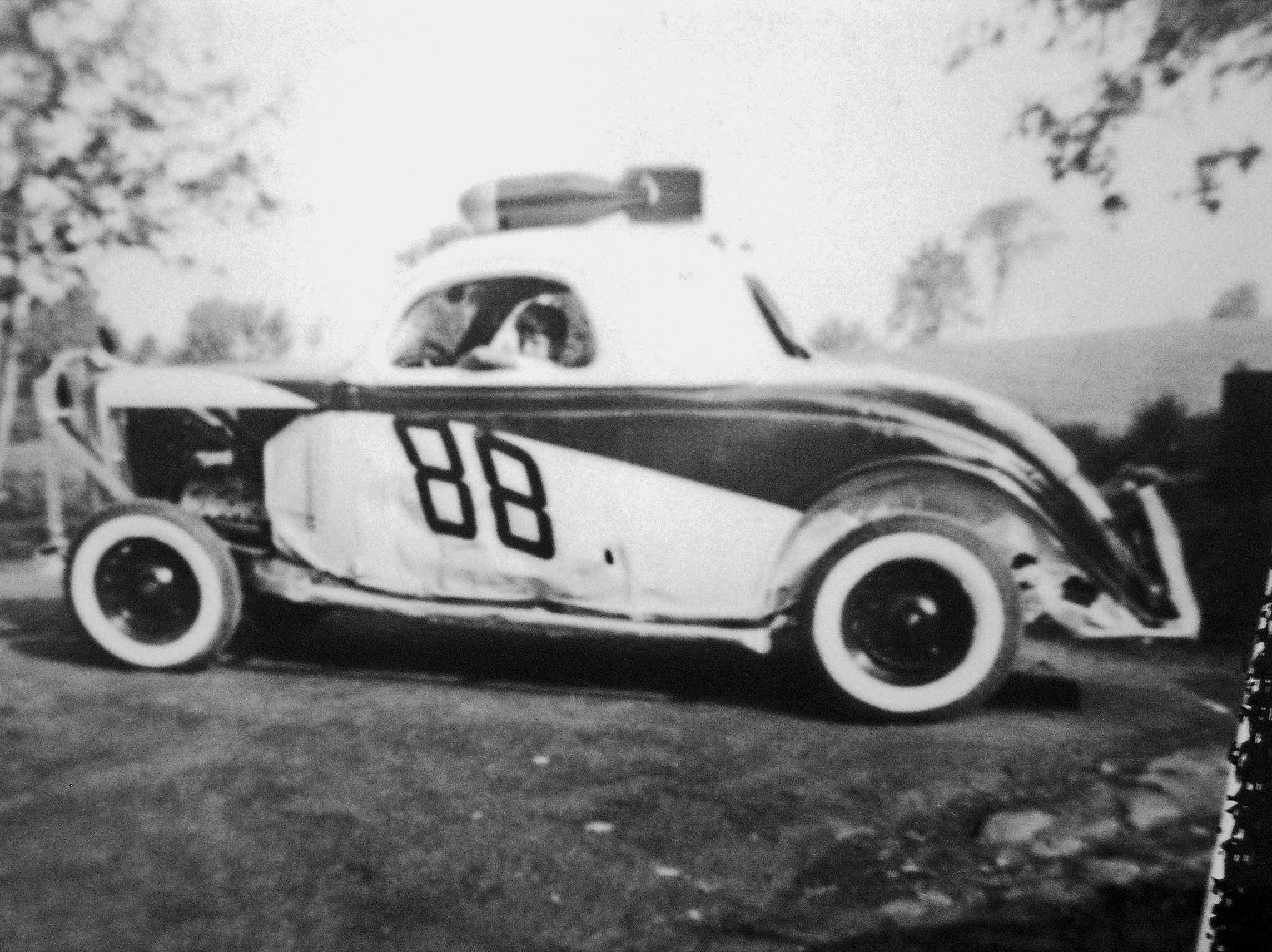 LaQuerre Collection
The Armand LaQuerre Rocket 88 entry.

The first LaQuerre entry was jet black, beautifully - lettered, and numbered GT-1 -maybe after a motor oil of similar name. LaQuerre had long observed the successes of one Larry Granger, who had capture championships with the Libero Buzzi #93 coupe and who had also run the 46 for the legendary George Barber team, after the seat had been vacated by the legend, Pappy Forsythe. Partly because the competition had caught up with Barber and maybe because Granger wasn't getting any younger, he never did a lot with the 46.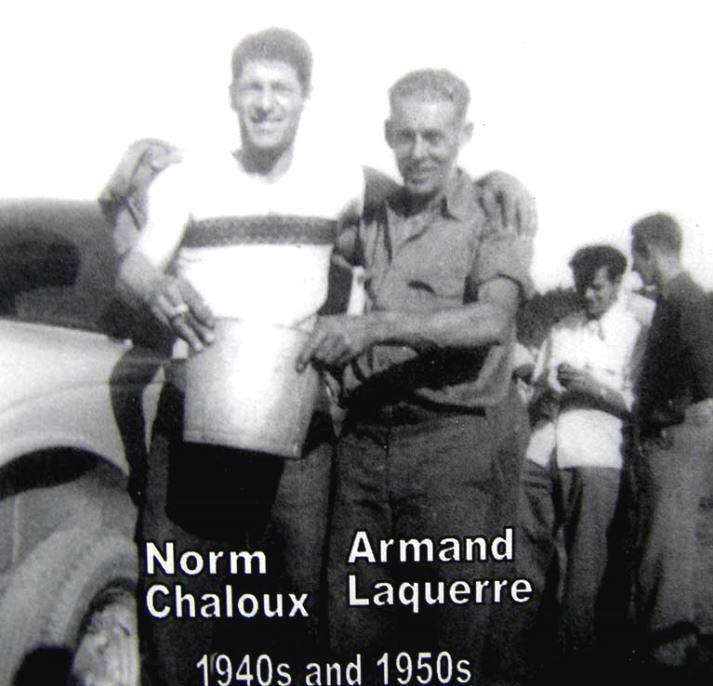 Courtesy of Neal Davis
Armand LaQuerre [rt] with Norm Chaloux.

Nonetheless, when the LaQuerre family fielded their beauty of a car, Granger was installed in the driver's seat. Larry had a pretty good stint in the car, although NASCAR gave the team grief for not using a NASCAR-approved two digit number on the door. The following year, one of the last for the Tigers before they converted over to limited sportsman cars, LaQuerre repainted the car and re-numbered it as "HAWAII 5-0", probably the origin of the number 50 he used frequently later in his own driving career. LaQuerre seated another enormously popular but aging veteran into the car in the person of Johnny Gammell. Gammell had some wins with the car, along with a few eye-catching wrecks.
With the conversion to limited sportsman cars, Joey moved to join the new mini stock ranks by around 1972 and became a staple there for years to come. Joey also toyed with the new Flying Tigers in the late '80's and ended up in the late model sportsman cars that took over T Road by the 1990's. He still drives in that division and the Tigers today - an ageless wonder, to say the least.
Of late, Joey has taken ownership and the promotion of Groveton, NH's track, the former Roiverside Speedway. Renamed in honor of Joey's grandson, the track [which has always struggled to survive in an ecomonically depressed area] has been his biggest challenge.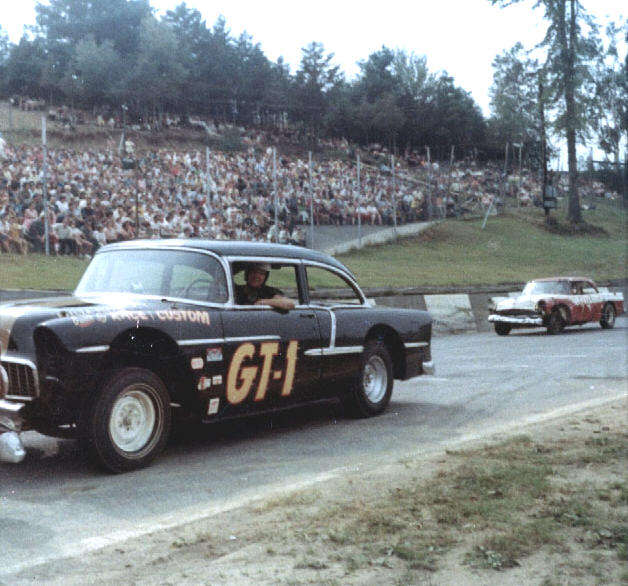 Bob Doyle Photo Courtesy of Cho Lee
Larry Granger, in LaQuerre's snazzy Race and Custom GT-1- around 1968.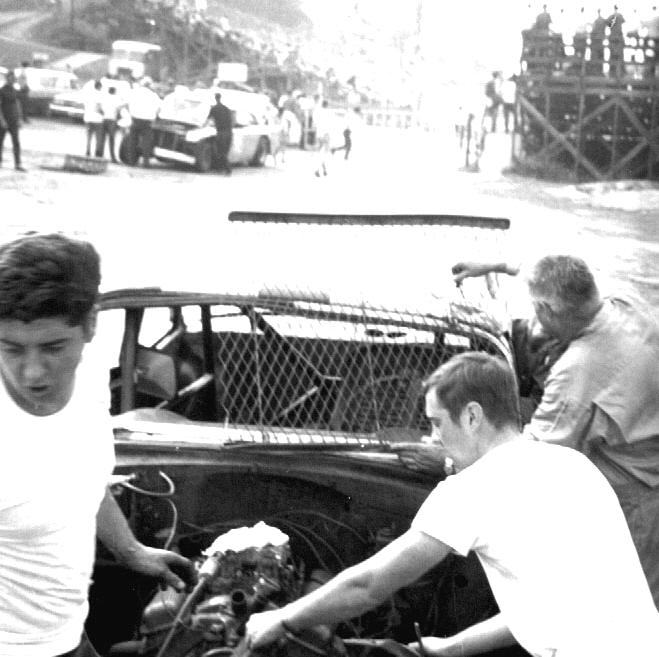 Bob Doyle Photo Courtesy of Cho Lee
A very young Joey LaQuerre, left works on the HAWAII 5-0 after Gammell
dumped it at Thunder Road in 1968.

Courtesy of Cho Lee
Coming off Blake & Loso's
Wrecker at T Road.

Courtesy of Cho Lee
Gammell walks away in
disgust after dumping
HAWAII 5-0 off the
banks at T Road.


Courtesy of Doug Farrow
Johnny poses with the
HAWAII 5-0 Chevy.

Courtesy of Cho Lee
Gammell with his wife, while
driving for LaQuerre. That's
Cho Lee peeking over Joan's
shoulder.

Courtesy of

Dave Moody


A much younger Blake & Loso
team unloads the Hawaii 5-0.


Courtesy of Cho Lee
Joey with one of
his first mini's.



Courtesy of A. Boright
Coming out, onto the
track at Catamount.

Courtesy of A. Boright
A "new Tiger" with an
old. familiar graphic scheme.


A and A Ward Photo
In action, at Barre,
in the New Tigers.



Courtesy of Cho Lee




Joey,

with a win at Catamount.




Courtesy of A. Boright
Joey is #16 in this
Catamount mini -
stock pileup.



Courtesy of Ch

ris Companion


Bob Dragon hitches a ride
with Joey in the 1970's.


Courtesy of Andy Boright
Joey takes a victory lap with
his Tiger, the former Ray
Lasnier Firebird.


Courtesy of Walter Newell
Joey was the winner of the 1976
T Road Mini Milk Bowl.


Courtesy of Andy Boright
Joey stands with starter Paul Boyer
and the huge Ronnie Marvin. Must be
both won a race somewhere that day.



Courtesy of Cho Lee


Joey, with one of his
better mini-stocks.



From Cho Lee
Joey shows up at Catamount
with one of his cars and the
Tiger of Ralph Baldwin. He is trying
not to get involved in one of Barney
and Fran McRae's animated discussions.

Courtesy of

Johnny Racer




Joey

once had one of the
former Lammell T Birds.

From Kathy DeBoer
The productive 16 Camaro.

From Johnny Racer
Another Tiger win with
the car once owned by
Ray Lasnier, then Joe Myers,,
and also Norm Andrews.



Courtesy of Cho Lee


Joey, Jr

.



Courtesy of J

ohnny Racer


Joey, Jr with one of his cars.

From Outside Groove
The LeGault 07 at Cat
with Joey, Jr.

Courtesy of Justin St.Louis
Joey gets a goose from
Eric Chase at an
undetermined track
around 2010.

Courtesy of Justin St.Louis
A recent victory



A more recent ACT shot.


Buzz Fisher Photo


A more recent

shot. Ken Squier talks with now - fellow - promoter Joey Laquerre.
Return to the Main Page
Return to the Main News Page
Return to the All Links Page