BILL'S [Somewhat] WEEKLY COLUMN/BLOG PAGE

BILL'S BACK IN TIME
By Bill Ladabouche
OBSERVATIONS UPON A PHOTO OF LOUIE ARRIVING
A lot of us are interested in seeing photos of the good old days of stock car racing – particularly at a venue such as Fonda Speedway during its golden age [late '50's to mid '60's]. However, you then separate the few fanatics like myelf and Lew Boyd [to name two] from the rest. We see a certain photo and it is like a religious experience. We drink in every detail of the shot and strip it apart, layer by layer, to get out as much of the goodness as can be derived. We are truly people in need of help. Take that any way you want.
I recently came upon a photo I had taken, standing at the gate outside Fonda, watching the cars of those racing gods be towed into the infield through the fence on NY Route 30A. Often, I held brief conversations with a pleasant man who was always standing out there, seemingly doing the same thing that I and several other teenagers were doing. But this turned out to be co – promoter Jim Gage and he once admitted he was "worrying his stars to the track" each week. The photo was one of the arrival of Utica's young superstar Lou Lazarro.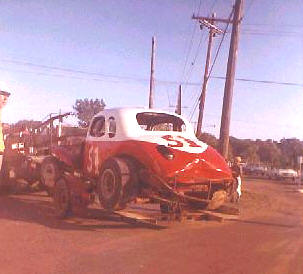 Ladabouche Photo
Jim Gage, shown at extreme left in this shot, watches as the well – used Allie Swears #51 out of Glens Falls arrives at Fonda for the hired Swears driver of the night. Nelson Moore or Paul Marshall were the most likely possibilities at that time.

Louie had already been running Fonda longer than he should have because his heavy frame and very premature balding made him seem older than he was. He was already standing shoulder to shoulder with the likes of older, more established drivers like Pete Corey, Bill Wimble, Jeep Herbert, Steve Danish, Jim Luke, Ken Shoemaker, Paul Marshall, and many more. But, he was, in some cases, half their age.
So, on this particular June dearly evening in 1963, I had out the trusty Kodak Hawkeye box camera and I was snapping everything I could manage. Many of the cars merely slowed and never came to a stop, making my photo blurred; but, Lou was one who came to a complete halt with his almost ten year – old Mercury tow car to make conversation with the guys manning the pit gate. So, ti was a good shot.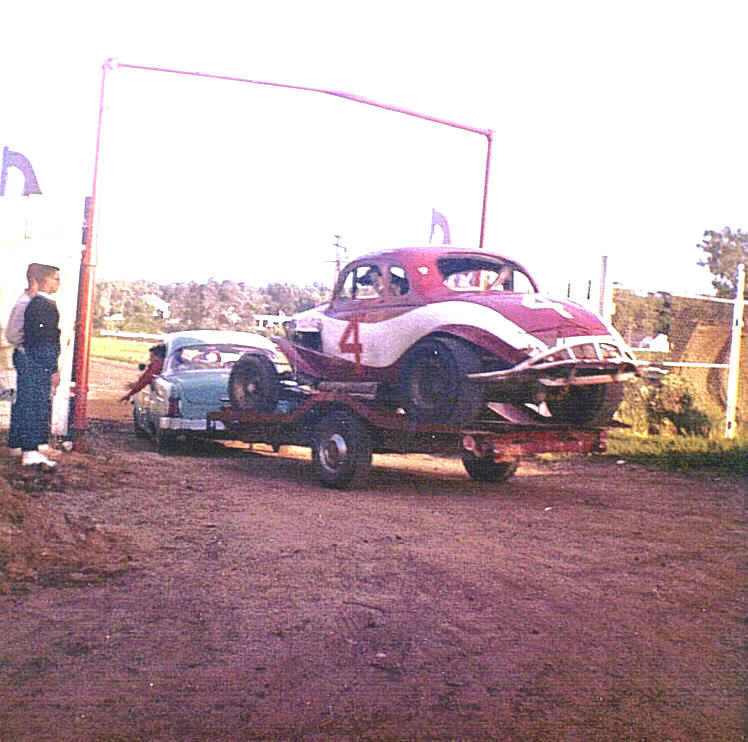 Ladabouche Photo
The Lazarro car is towed into Fonda, as the sunlight is starting to fade a bit. Blackie is keeping an eye
on the two youths at left, who are fascinated to see him riding in the race car.

I have no idea how the races on this particular night turned out. I recall the fun of crossing the track after the races and feeling how warm the smooth Fonda clay surface still was; but my uncle and I always headed towards more familiar drivers like Danish and Herbert, who had actually appeared at our local track [Pico Raceway] back in the early fifites. This Lazarro guy was an unknown. When I reached out to Lew Boyd about the shot, we agreed this turned out to be a wonderful shot, in terms of what it tells us about that man and that era.
Firstly, in looking at the people in the photo, you get a feeling for the Lazarro team. Unlike many others who just zipped on through, the team is talking to the gate men, gesturing towards them and leaning out the window, genuinely pleased to see them there. That carful would represent a good chunk of the Italian population of Utica, NY [jokingly]. Lazarro came into his career as a part of that Italian neighborhood around Proctor High School in Utica, whose maroon and white colors he would run on his cars for decades. He and I once shared a laugh as I, too went to Proctor High School [only mine was from Proctor, Vermont and was considerable smaller]. Our schools shared the same school colors, as well. He joked that I "shouldda transferred".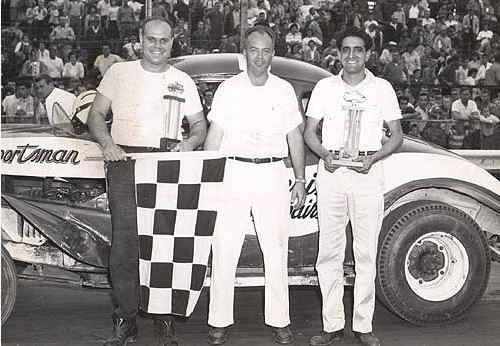 Courtesy of Mike Russo
Lou, with Fonda Chief Pit Steward Ralph Oudekirk [center] and Vinnie Maugieri. Below- The whole
Maugieri bunch: [left] Lou, Johnny Velletto, Junior Bianco, and Jan Manazzi.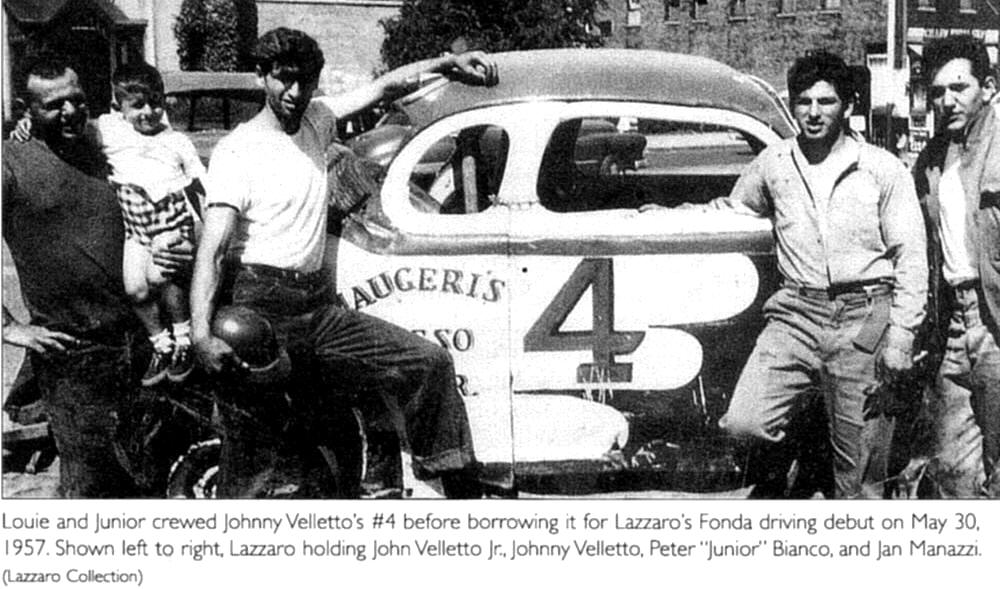 Lazarro Family Photo via the Fonda Book
The Maugieri bunch that produced Lou had been very busy in the 1950's. The Vincent Maugieri garage in Utica was the meeting place for all of the local Italian motorheads, and that group already had run two previous stock cars as early as 1951. A Maugieri car had won at Pico Raceway [near my home in Rutland, VT] and – maybe on the same weekend – the team had run at Beech Ridge, Scarborough, ME. Too young to run then, Lou might have gone along as crew support. Among the gang that helped lift Lazarro to the point where he was entering Fonda as a young veteran by 1963 were Maugieri, Jan Manazzi, Junior Bianco, and Johnny Velletto.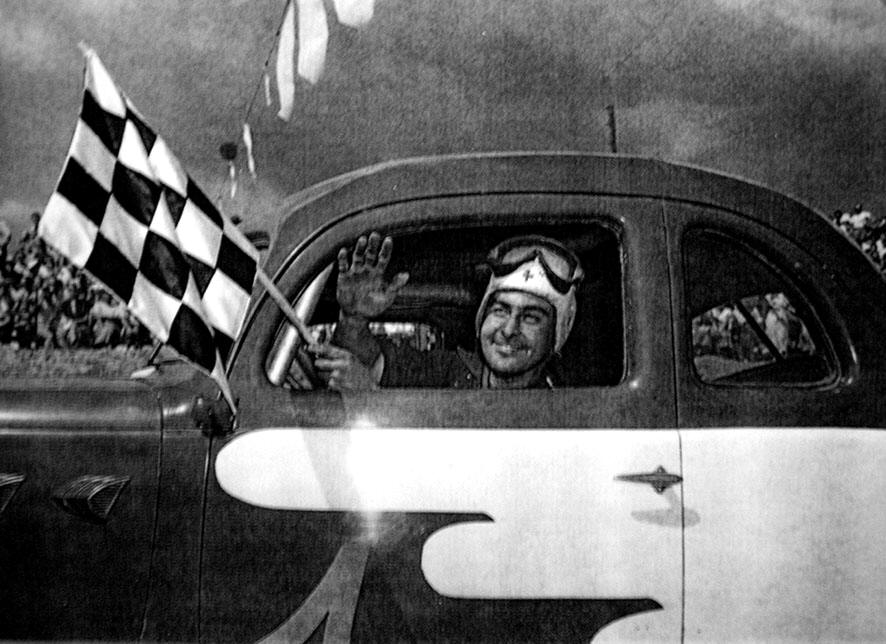 Aldo Merusi Photo via Rutland Historical Society Photo
One of the Maugieri bunch, possibly Junior Bianco, wins one at Rutland, Vermont's Pico Raceway in 1951. A car obviously from the same team nearly destroys the front stretch fence at Beech Ridge Speedway in Scarborough,Maine that same year. I don't recognize the amused crewman.


Maine Vintage Race Car Association Photo


The teenagers at left in the photo appear fascinated by the cars and the personnel streaming through that somewhat tacky water pipe portal into the fairgrounds. They appear mesmerized at finding Louie's faithful dog, Blackie, sitting behind the wheel of the coupe as if he were ready to back it off the single axle trailer. The trailer speaks volumes. The single axle suggests a limited race budget and its mere existence suggests they weren't hauling in from next door. Many of the nearer teams just stiff hitched into the track.
The two boys standing at the pit gate were, like me, delighted to be that close to the entering teams. Unlike most other tracks then and now, the teens at Fonda generally actually watched the races and were often quite knowledgeable on the participants. I recall a kid with a greasy yellow Villano jacket and a speed impediment filling me in on how how the team with Jerry Townley's orange Thomas Chewins – owned 108 had just "got ahold of some money" and therefore would be soon lighting the world on fire. He turned out to be moderately correct. Townley was better that night [at least the orange #108 didn't start on fire that night like last time I was there]. The following year, just before he went over to the Pop Wilcox 32, Townley and Chewins came over to a race at our local fairgrounds and beat up on the local cars.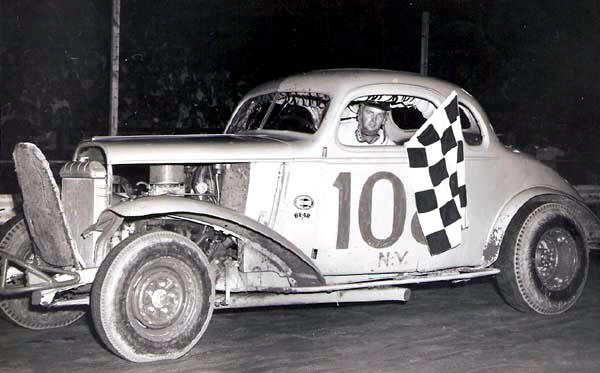 Ladabouche Collection
Jerry Townley poses with Tom Chewins' low budget 108 in 1963. The car did struggle against the stiff Fonda competition
until they took it to Vermont and cleaned out the flatheads and the GMC sixes at the Rutland fairgrounds, in 1964.
The fading sun in the photo suggests that the #4 team was none too early in arriving. Although considering that dirt tracks had little or no practice time, there was probably not much to be done. Looking at the single car, towing the single axle trailer, is a far cry from almost anyone towing into Fonda in 2104. If there were any spare tires or parts, Blackie must have been riding with them in the car. The tools, such as they were, were likely in the trunk of the ten year – old Mercury. And, unlike today, I doubt Louie's chassis builder was going to arrive at the track and advise him on how to set up the car. The chassis builder was almost certainly driving the blue Merc into the infield.
Anyone who followed Fonda racing or Lazarro knew to expect to see Blackie not far from Lou at any time except during an actual race. Blackie was with Lazarro for many years. His loss [if it came before Lou's passing] must have been the biggest blow in the Lou's life. The dog would pose in Victory Lane. Fonda used to have its cars pull onto the front stretch during lenghty race delays. I recall one time, as Lou got oout to check on one of his wheels, a crewman had to chase Blackie and keep him from going out onto the track for another photo op.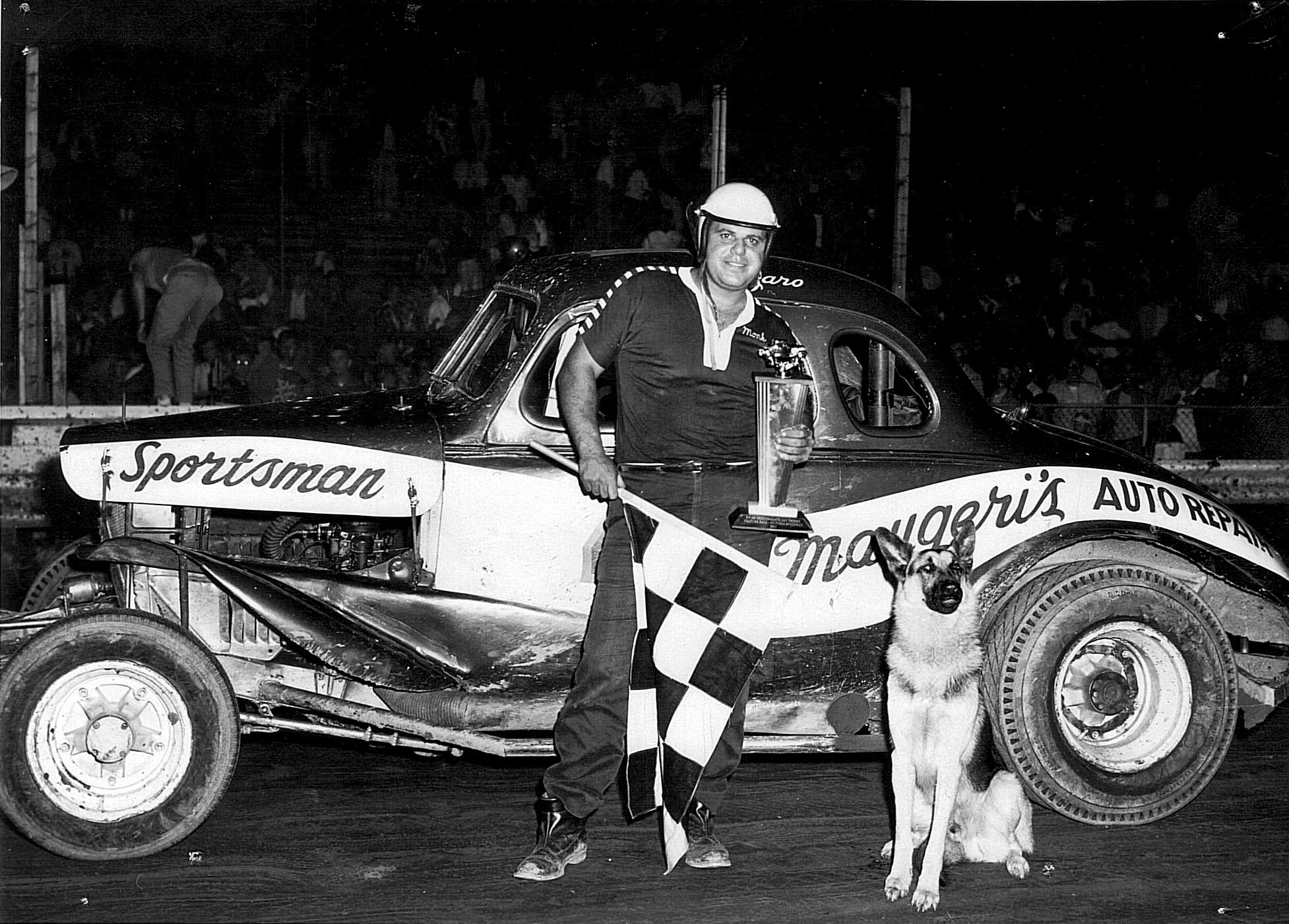 From the HAMB Web Site
Blackie patrols Fonda Victory Lane in the above shot. Below, much
later in the career, Lou is still enjoying the company of his faithful dog.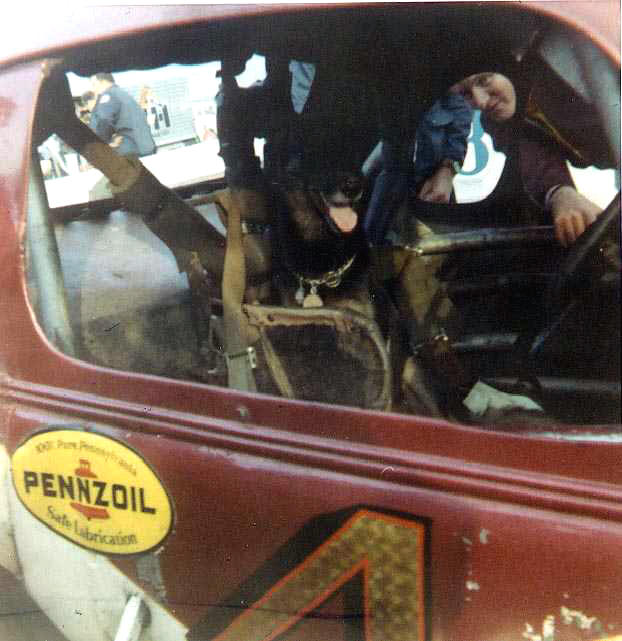 Greybeard Gil Photo
The Lazarro car was pretty state of the art for that time. He actually had a feature or two that were on the innovative side. Always thinking, Louie was one of the first to run his car without the original radiator cowling that surrounded the old front grill. It made his car stand out among cars like Danish, Wimble, and Corey. It made the car look almost toothless, but he probably was getting more air to the radiator. The car was still in that period of what I call the upright sportsman, with the first lowered car car I saw at Fonda being MacTavish's L&R, about a year or two later.
What little you can see of the surroundings remind me of what it was to see the outside of Fonda in that period of the late '50's and early '60's. Cars arrived on 30A and went through the gate, not far from the main ticket window for people not entering the track from the fairgrounds parking lot. After injuries and deaths to spectators on step ladders outside the fence on 30A, the track had installed large cloth barriers to block out the view and policed the sidewalk for stepladders. One can see across the grounds to buildings just off the New York Thruway. There is some ARMCO barrier visible along the road that would eventually lead cars to the pit area by the Cow Palace in later years. That barrier did little to keep errant cars out of the Mohawk Canal that abutted the speedway. You can also see the little dirt path they used to get to the infield pits, as they tried not to overuse the drag strip.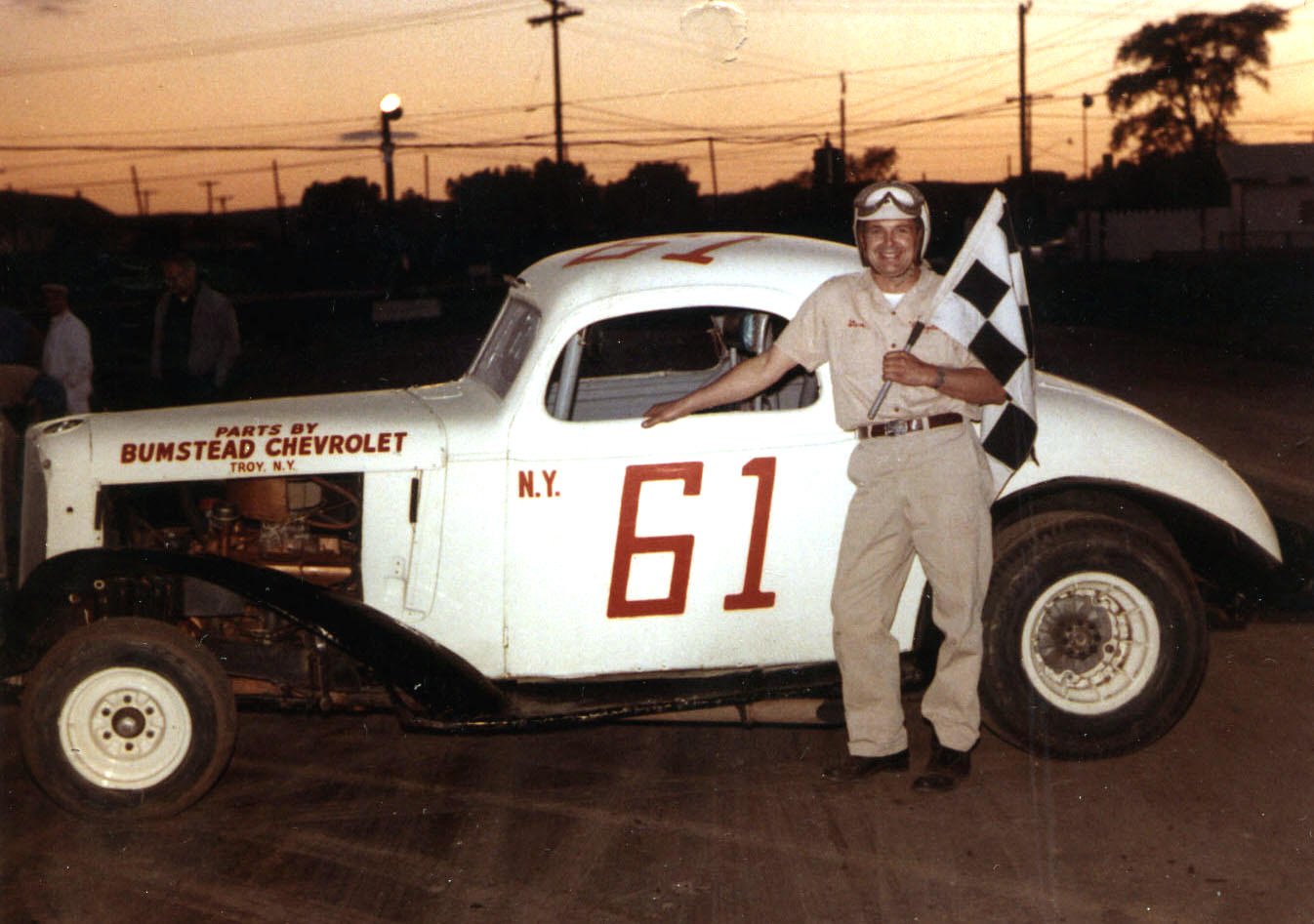 Courtesy of C.J. Richards
Cheers: Mr Danish, at Fonda, engendered almost 100% respect from everyone.
Below – Jeers: Corey could scarcely set foot near the place before calls like "Put 'im in the river !" would start.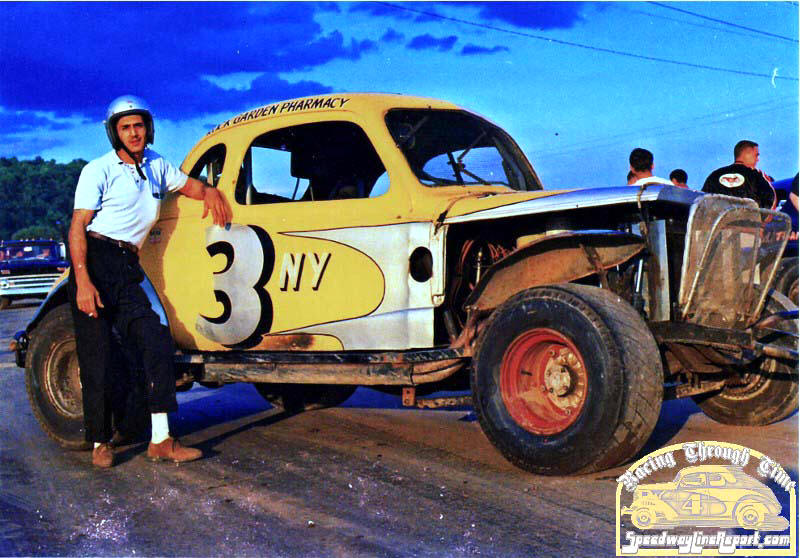 Ladabouche Collection
Route 30A, and that road coming from the thruway were focal points with fans looking for teams like Lazarro's to appear, on their way towards the track. Depending on how much they were winning, Lazarro, Corey, and Shoemaker might be greeted with cheers or catcalls – even minutes before they got to the gate, having crossed those rusty iron canal bridges. The venerable Danish, the beloved Jeep Hebert, and others generally were spared any abuse. Louie didn'[t mind the noise upon arrival but he didn't like the occasional shower of beer cans that would cascade upon him in Victory Lane when he won too many races.
Finally, in this shot, the Lazarro car is seemingly kind of free of graphics. Even the Maugieri Auto Repair ad usually found on the white waves on the rear sides of the car is missing, Seeing as there was no problem between Lazarro and Maugieri at that time, the car had either just seen some extensive body work or was maybe fairly new. The bumper looks well used, so I deter to the body repair theory.

John Grady Photo
This is Lou, winning one at Victoria Speedway, poor sister of Fonda. It appears to be about the same time as in our subject photo.
Below - Contrast the front of Lazarro's car with that of Bill Wimble's car.

Russ Bergh Photo Ladabouche Collection


It gets a little stale to say that a picture is worth a thousand words; but, this one got over 1,700 out of me without much of a stretch. These were the finest days of racing I can recall, without exception. I saw more racing that might have been better, but I was not an impressionable teenager by then. It just isn't anywhere near as fun now, as it was then. Those guys didn't need half – million – dollar haulers and professional crew chiefs to be nearly like gods to us. Those stiff old sportsman cars didn't tear up the track surface into unmanageable ruts like now. It was cheaper to run and the purses were more rewarding.
I am sure Louie and the gang drove into Fonda nad had a great night – and I am equally sure I loved it !
Please email me if you have any photos to lend me or information and corrections I could benefit from. Please do not submit anything you are not willing to allow me to use on my website - and thanks. Email is: wladabou@comcast.net . For those who still don't like computers - my regular address is: Bill Ladabouche, 23 York Street, Swanton, Vermont 05488.
AS ALWAYS, DON'T FORGET TO CHECK OUT MY WEBSITE
www.catamountstadium.com
Return to the Main Page
Return to the Main News Page
Return to the All Links Page
Return to the Weekly Blog Links Page