BILL'S [Somewhat] WEEKLY COLUMN/BLOG PAGE

BILL'S BACK IN TIME
By Bill Ladabouche
DIM MEMORIES AND THOUGHTS
BY THE RIVERSIDE
This is, in no way, intended to educate anyone on anything to do with Riverside Park; what I do not know about that lost track would fill volumes. My expertise on the track died with my friend, Cho Lee, who loved the place dearly. This is just a muse – a collection of thoughts about a track whose history and lore seems to almost supersede the sport, itself.
Sometime in the mid 1950's, my parents loaded me into the black 1950 Chevrolet and we headed off to Springfield, Massachusetts to visit one of his childhood friends there. I had almost never been out of Proctor, Vermont at that time, being only around 8. My stock car racing experience was limited to a few races at the old Pico Raceway near Rutland, VT. Although I had not been near a race in over three years, my thirst for seeing more never died off. So, when we were brought out for an afternoon and evening at Riverside Park, Agawam, MA on a Saturday night you can imagine what I was about to see.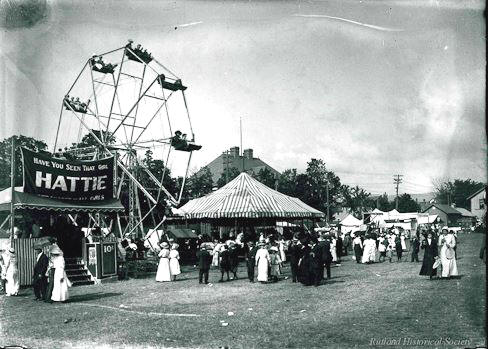 Rutland Historical Society
High rides were never my cup of tea, but - if they could serve as a sort of press tower - maybe.
My folks and the Billings family were headed for the amusement park [now a Six Flags, I believe]. But, I caught sight of stock cars being towed and trailered into the entrance of the adjacent stock car track at Agawam. Oh Lord ! I tried everything I could to get out of the park and all those great rides; I wanted STOCK CARS ! Everybody else would go on the rides, while I spent as much time pressed against this one fence where I could actually see something until my mother's and father's were starting to get that sort of purple look which meant it was time to quit.
Get one thing straight – I am now and always was – terrified of heights. But two things have caused me to put that aside: 1.) getting my only meeting with childhood hero Steve Danish, which meant going up with him in his tiny airplane; and 2.) riding the ferris wheel at Riverside Park repeatedly, once he races over the fence had begun. I didn't get to see much but just the sight of those wondrous cars sitting in the pits was better than nothing.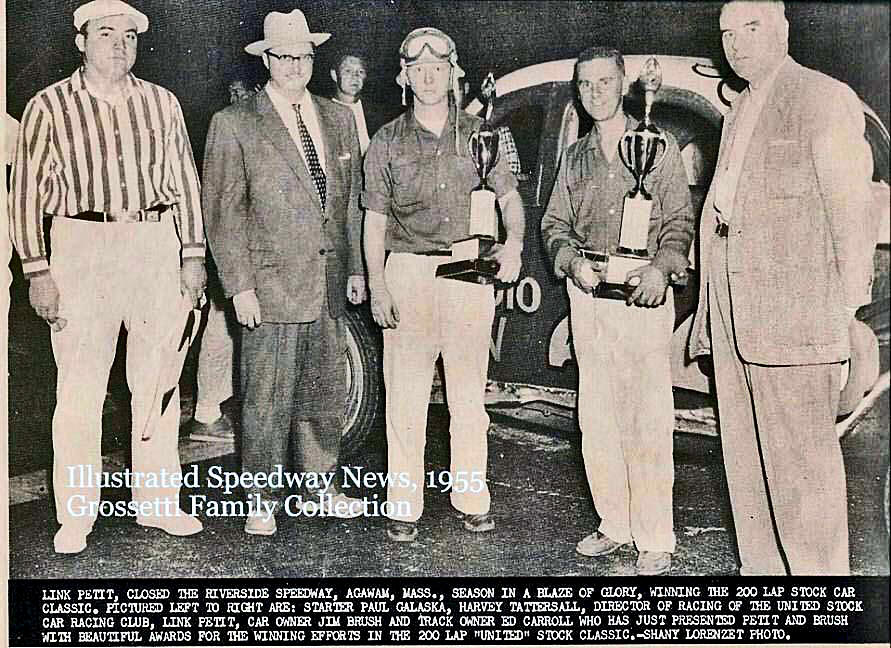 Shaney Lorenzent Courtesy of Joe Grossetti
Although Riverside is better known for other names, Link Pettit won a race there about the time I would have visited.
Link's name is more associated with Pine Bowl and Lebanon Valley; but there was an early relationship with Riverside
and the tracks in the Troy, NY region.
After I was older and came to read material about the track, I began to realize what a special place it was and how important Massachusetts was to the sport in those formative years. I cannot possibly begin to name even a small portion of the drivers who starred there during the time I was growing up; but, it became clear that many of these same guys were traveling extensively and hitting places like Brattleboro Speedway, West Brattleboro, VT; the Keene, NH fairgrounds; Rhythm Inn Speedway, Millers Falls, MA; the Pine Bowl Speedway, Snyders Corners, NY and even as far away as Rhinebeck, NY.
The names of some of these early invaders includes Buddy Krebs, Ed Patnode, Dick Dixon, Rene Charland, Jokko Maggiacomo, and many more. Then, too, the New Yorkers would invade Riverside back in the persons of Stan Disbrow, Doug Garrison, and Kenny Goodermotte. This went on throughout the 1950's until the racing technology coming out of Massachusetts tooks giant steps in pavement racing and that level in the Empire State became focused only on dirt, at such places as Fonda Speedway and Lebanon Valley. The little tracks like the Pine Bowl and its kind either stayed rooted in less sophisticated racing or [like Brattleboro] died out entirely.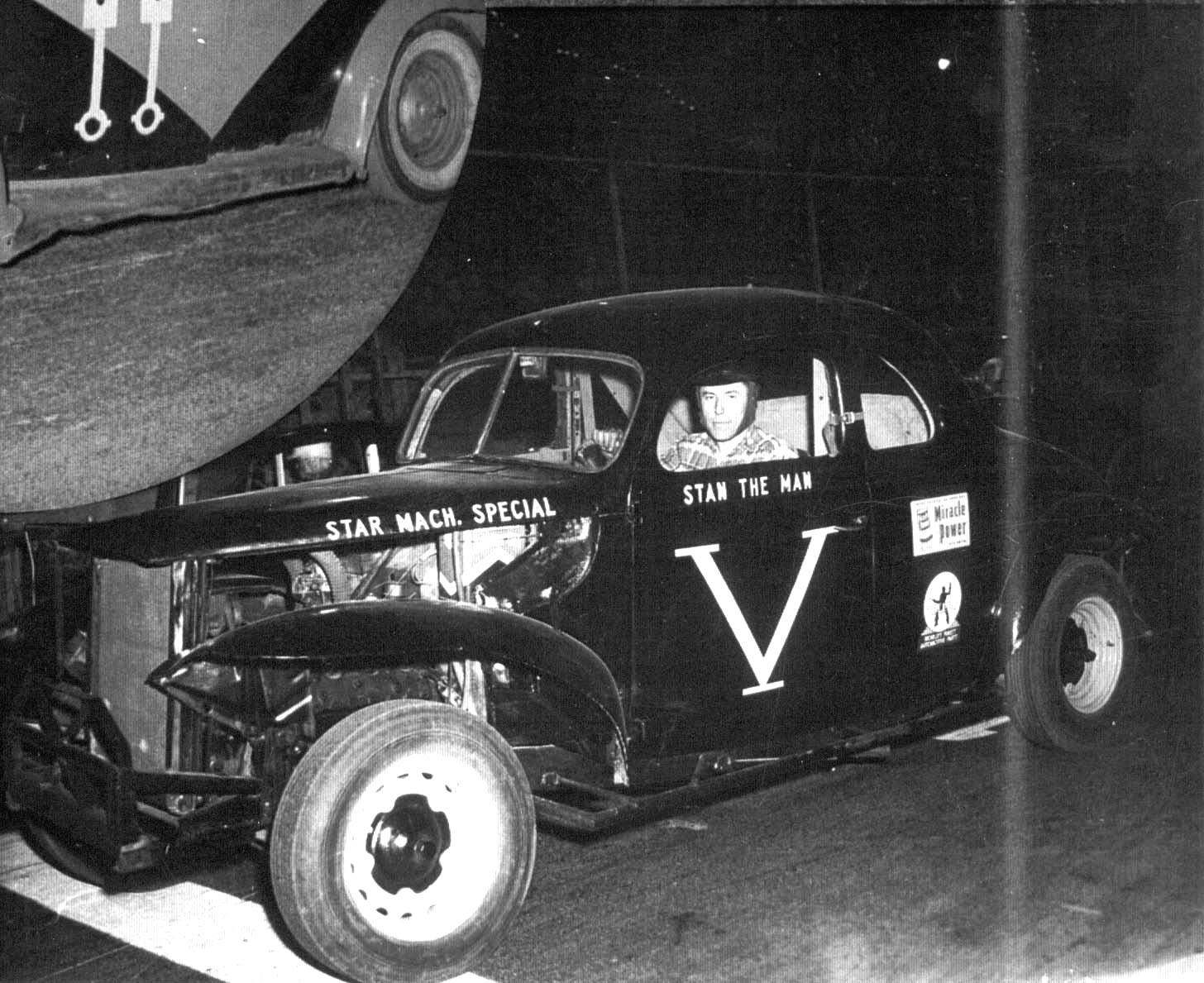 Courtesy of Cho Lee
Stan Disbrow was an early power at all the tracks in the Riverside Park circuit. Below - Buddy Krebs, another early
Riverside star, went on to a far - ranging modified career - almost entirely on asphalt. Here, his Suffield Auto 5
is next to another top runner, Joe Ryan [X].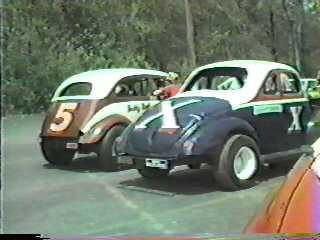 Courtesy of Walt Ryan
The Riverside sportsman racer took the place of the infamous Southern New England cutdown cars that were increasingly under fire as unsafe. One could recognize a Riverside sportsman or modified coupe almost anywhere. They sat a particular way and performed beautifully. Technological thinking was coming out of Massachusetts with Charland, Zimmerman, Rosner, Czepiel, and legions of other great race car designers. New York had a little of this pavement development, but their national claim to fame was the dirt sportsman. New Hampshire and Vermont were sticking pretty close to flatheads, and Maine had no one particular racing genre at its many tracks.
One of the most fascinating things to read about was the Riverside 500. From what I have been able to understand, the 500 lap race was run by teams of two stock cars with their different drivers, alternating every 100 laps or something like that. They apparently actually had to tag bumpers to replace one another. You could often recognize photos from this race because the cars' traditional numbers would be replaced by big stick – on numerals denoting the number of the team. It was a sort of All Star League before there was an All Star League.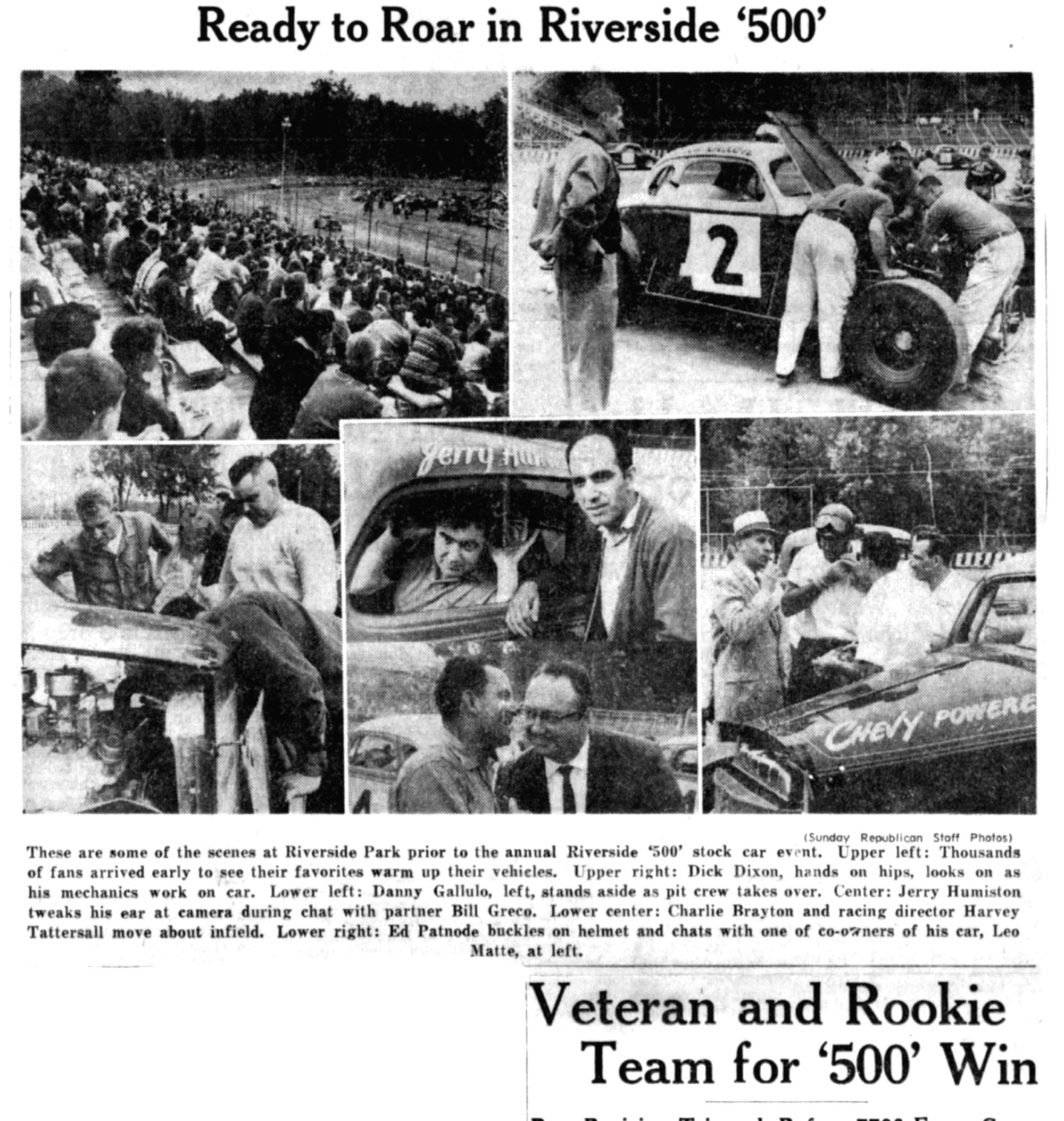 Sunday Republican Photos - Source Unknown [Sorry]
This layout from a local paper shows an earlier Riverside 500 program. Below - Bill Greco, wearfing an All Star League helmet,
at a Riverside Park race in the late '60's or early '70's.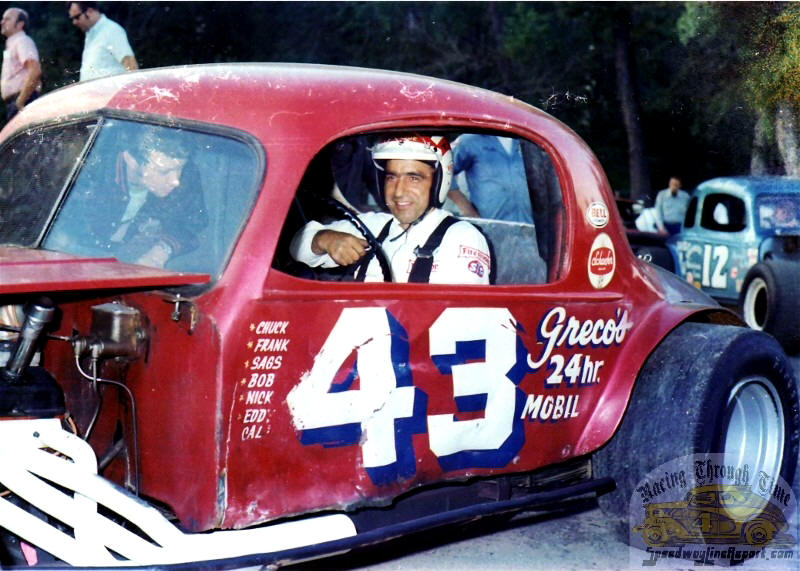 There is no doubt that, somewhere, there is a place one can go to learn of every winning team in the Riverside 500, but that knowledge would do nothing to add to the magic of just hearing an excited Riverside veteran participant just talk about it. Promoter Harvey Tattersall, apparently quite a character in his own right, was just as much a part of the story as the big stars like Flemke or Krebs. My favorite photos of the 500 show car lining up with the Riverside Amusement Park roller coaster looming over the bleachers in the background.
My late, good friend Cho Lee actually raced mini modifieds at Riverside for a few years, hauling all the way down from Barre, Vermont and forsaking his beloved Thunder Road for those seasons. It always amazes me how Cho, who was extremely rotund in those years, could even get into that little car, let along compete with it. But he did, and he always loved the track ever since. Its closing hit him as hard as losing him hit me.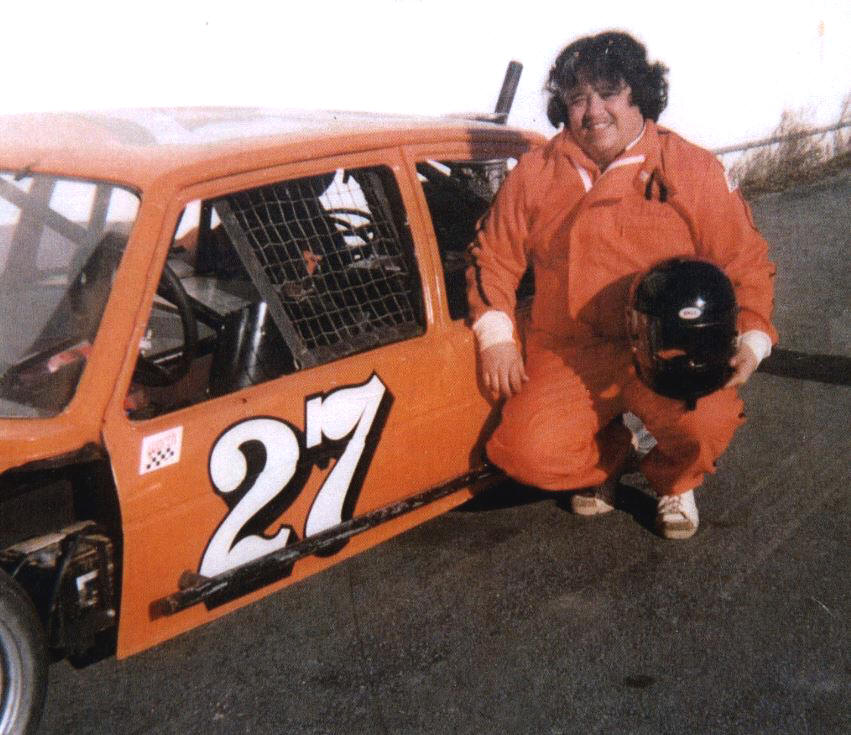 Courtesy of Cho Lee
Cho used to haul this mini mod all the way from Barre, VT to Agawam. Here, he's a little rounder than I remember him.
I ended up spending over forty years living in Milton, Vermont, teaching there, or both. I signed a contract to teach there so that I could see the likes of Hamilton, MacTavish, Flemke, Harrington, Cleary, and more run there; but, the coupes had moved out of there before I arrived in the fall of 1968. I did get to see some of the Agawam, MA influence on racing when the Rosati's came up to Catamount to try their hand at the late model sportsman racing in 1971, bringing Rene Charland along with them. This exposed me to Charland and to Fred Rosner – two men who had a lot to do with making Riverside what it was.
Charland did not have much luck and got out early; the Rosati family had more luck, stayed longer, and ended up seeing Tommy win an Oxford 250 while Little John returned to the modifieds at home. Being immersed in teaching, sign painting, and the burgeoning Northern NASCAR circuit, I sort of lost track of Riverside until it had closed. Cho got me up to date on what I had missed. I don't think I would get on another ferris wheel to see it, but I sure as hell would have tried to get some press credentials !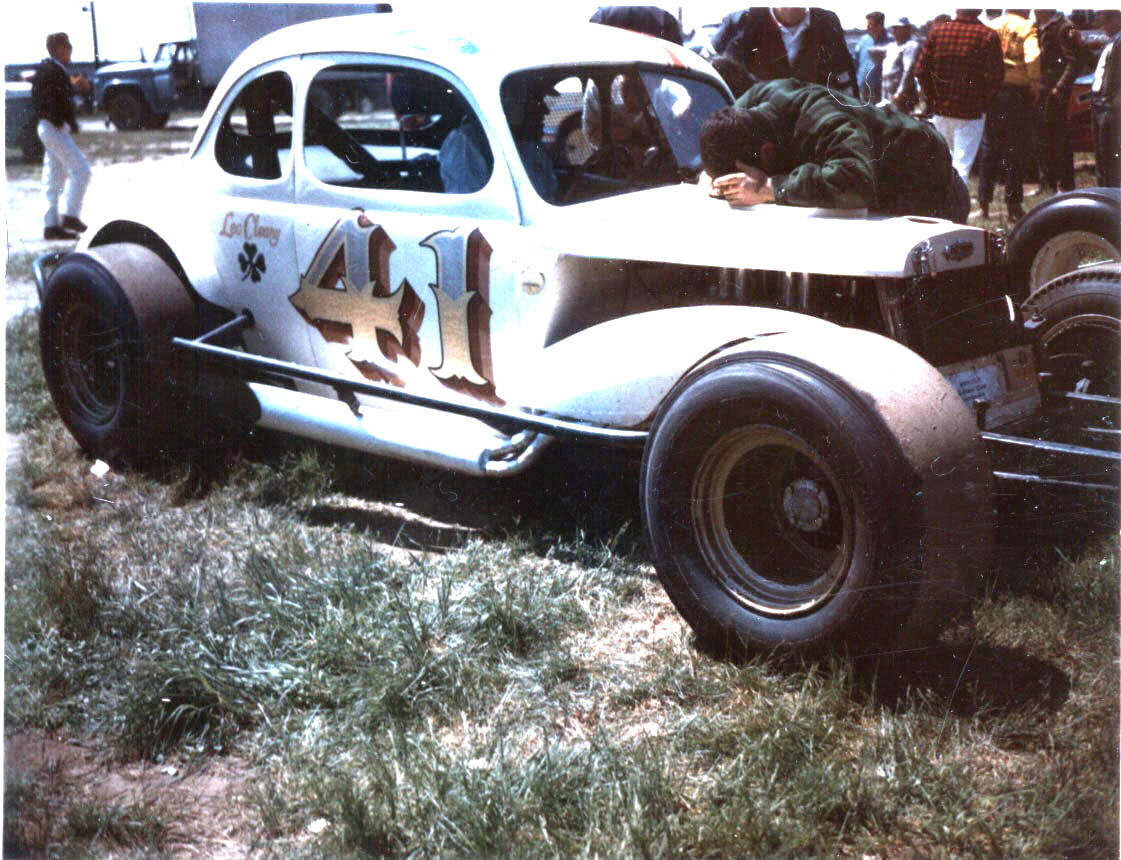 Courtesy of Chris Companion
Leo Cleary, at Catamount. I arrived in Milton too late to see the moidifieds run there.
Please email me if you have any photos to lend me or information and corrections I could benefit from. Please do not submit anything you are not willing to allow me to use on my website - and thanks. Email is: wladabou@comcast.net . For those who still don't like computers - my regular address is: Bill Ladabouche, 23 York Street, Swanton, Vermont 05488.
AS ALWAYS, DON'T FORGET TO CHECK OUT MY WEBSITE
www.catamountstadium.com
Return to the Main Page
Return to the Main News Page
Return to the All Links Page
Return to the Weekly Blog Links Page