BILL'S [Somewhat] WEEKLY COLUMN/BLOG PAGE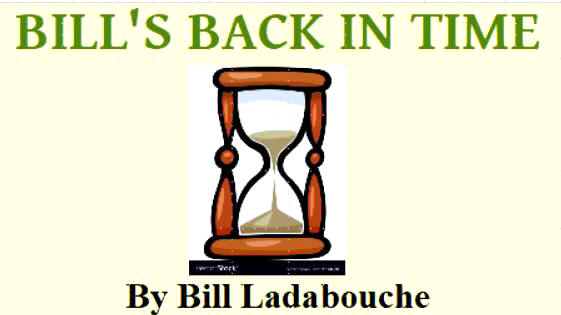 AMAZIN' ERNIE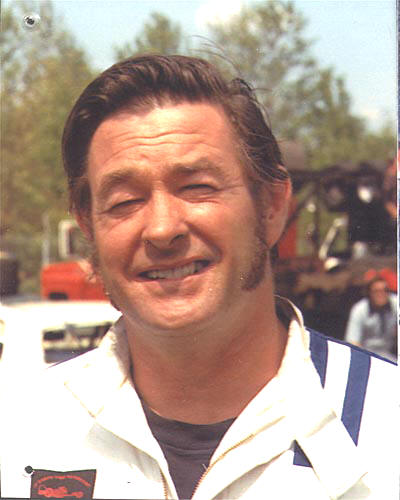 Source Unknown
If you happened to run into Ernie Gahan at some event like Ron Bouchard's annual reunion, and you didn't know who he was, you'd probably assume he was just one of those guys who recalled the old days of racing because he hung out at the tracks or maybe helped work on somebody's car. I would be an understatement to say he lacked the self – promotion aspect of personality that some of his contemporaries had.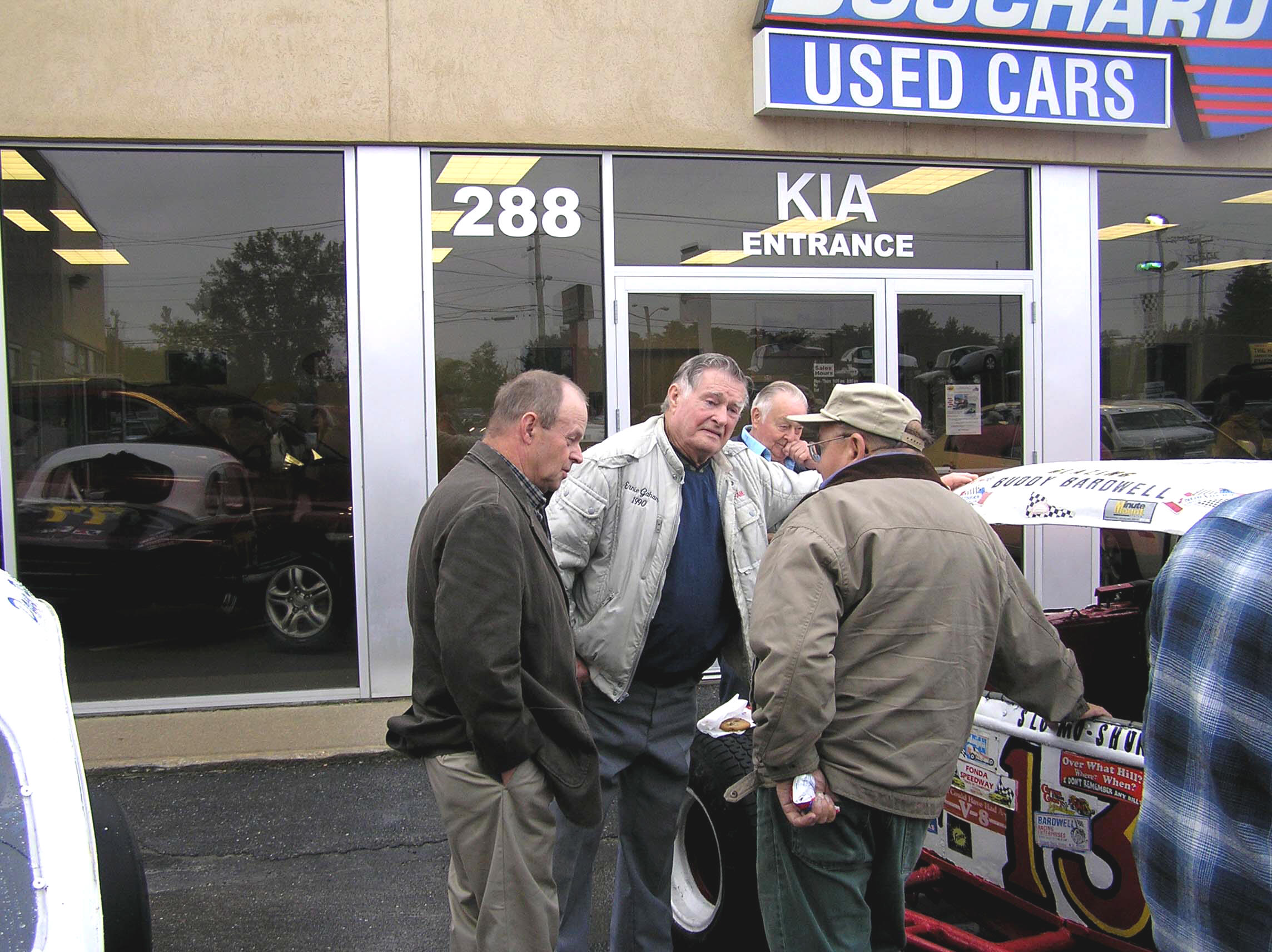 Ladabouche Photo
Buddy Bardwell talks to Ernie at one of Ron Bouchard's reunions in Fitchburg in 2007. Don Rounds
Can be seen in the background. Below -Ernie, early in his career, being awarded along with
Art Rousseau from racing at the track in Keene, NH. he is at far right.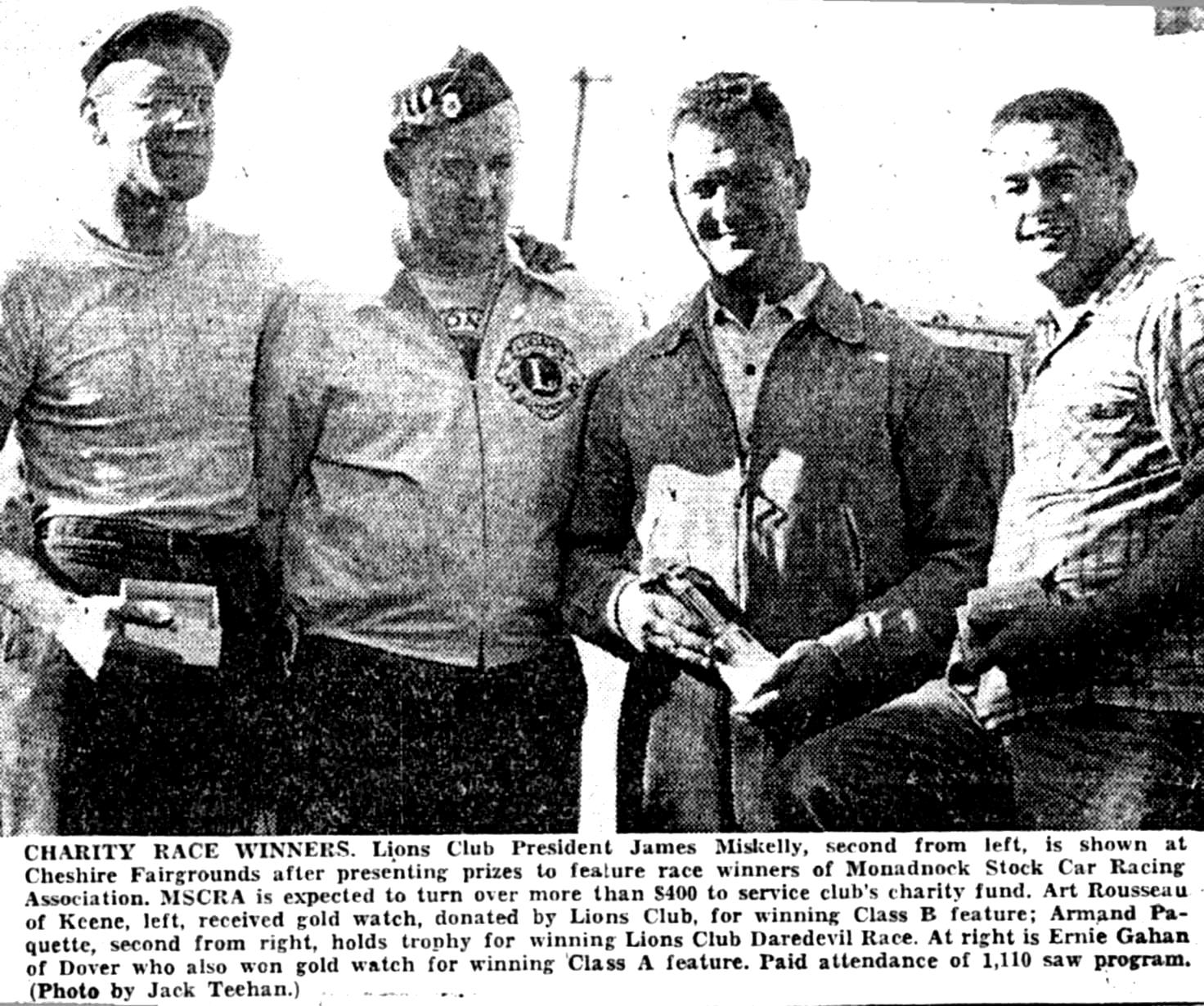 Keene Sentinel Photo by Jack Teehan

The single one thing about Ernie that always stuck with me was the many times people have said how he would depart from Dover, NH – usually alone – on his way to a number of race venues scattered around the Northeast having given Mrs. Gahan every penny he could leave behind. This meant he had to race, race well, and do as much to keep the car in one piece at the same time. That is no small order in the days when he would be facing Wimble, Charland, Corey, Slater, Danish, Cleary, or who knows who else.
Apparently, as time went on, his son Bobby would take the wheel of the tow vehicle while his father tried to get some sleep. Whenever they would get pulled over [and Bobby was too young to be driving] Ernie would resume the wheel until the coast was was clear. Then it would be back to trying to get some rest. Because Ernie did much of his most important racing at tracks far from Dover, NH, this went on for years.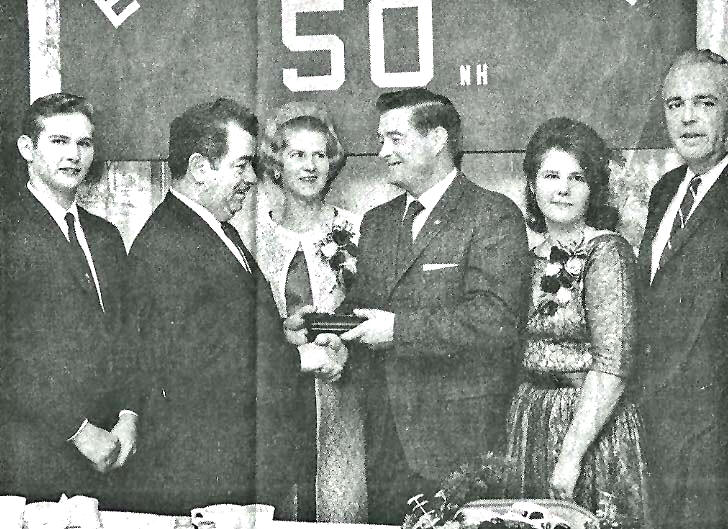 Foster's Democrat Photo via Debra Willard Powers
Bobby looks on proudly at left as Ernie is presented with an award
in Dover in recognition of his national modified championship.
Below – A familiar scene with the Gahan car towing Ernie's
modified to some track somewhere.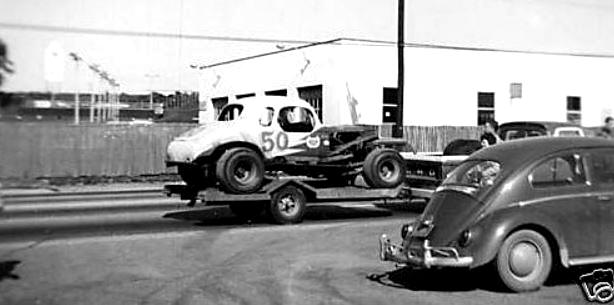 Lew Boyd Collection via David Topham
I want to take a moment here to credit Mike Whaley of Foster's Daily Democrat for a lot of the background information I will borrow from here; but I just thought I needed to pay tribute to Ernie myself, as I profess to cover the area from which he came. There were a ton of race tracks that began springing up in the late 1940's and were rapidly dying out by 1953; Ernie hit several of those to kickstart his career.
Whaley says he began at his hometown Dover Speedway track in 1947 – that could mean he may have had a stock car. But it is equally possible they were still running roadster – like jalopies. Mostly, the "mud buggies ran at Dover and nearby Newmarket before the war. Ernie really started out with the stock cars that came out in the late 1940's. While still at tracks like Dover and the one at Keene, NH, he would drive mostly stock cars; but one photo suggests he did spend a little time in a car that looked a lot like one of those New England supermodifieds.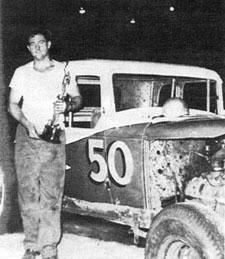 Maine Vintage Race Car Association Site
Ernie's Stoney's Diner car at Sanford Speedway. Below - Perhaps
his earliest car, at Dover Speedway.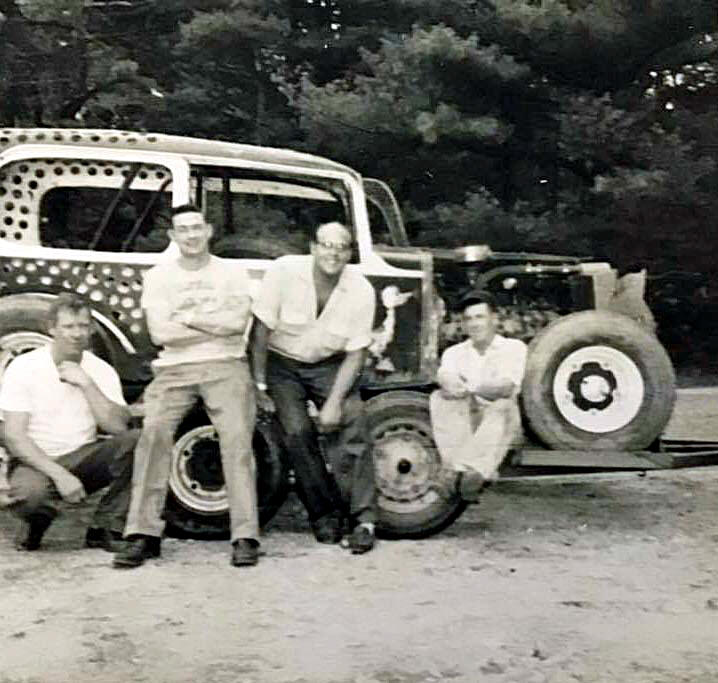 Courtesy of David Topham
I have seen ample evidence that, beyond running the local tracks such as Sanford, ME; Beech Ridge, ME: and others – he also began travelling to venues such as Rhythm Inn Speedway, Millers Falls, MA; Safford Park, the Cheshire Fairgrounds, Keene, NH; Brattleboro Speedway, VT – all members of what was called the Triangle Racing Association. The competition at these tracks was stiff, staffed with future hall of famers like himself, Rene Charland, Buddy Krebs, Sonny Rabideau, Lionel Arel, Big Ed Patnode, and more.
At this time, Ernie was driving what I must assume was his own number 50, supported by Stoney's Diner. His success must have put that small eatery on the Northeast map. As most of these earlier tracks fell by the wayside, he would eventually run almost all NASCAR tracks. That meant travel to such places as Fonda Speedway, Fonda, NY; Stafford Springs Speedway, Stafford Springs, CT; Utica – Rome Speedway, Vernon, NY and anywhere else he could fit in a program. He was even mentioned as having signed up for a race at Otter Creek Speedway, near Vergennes, VT.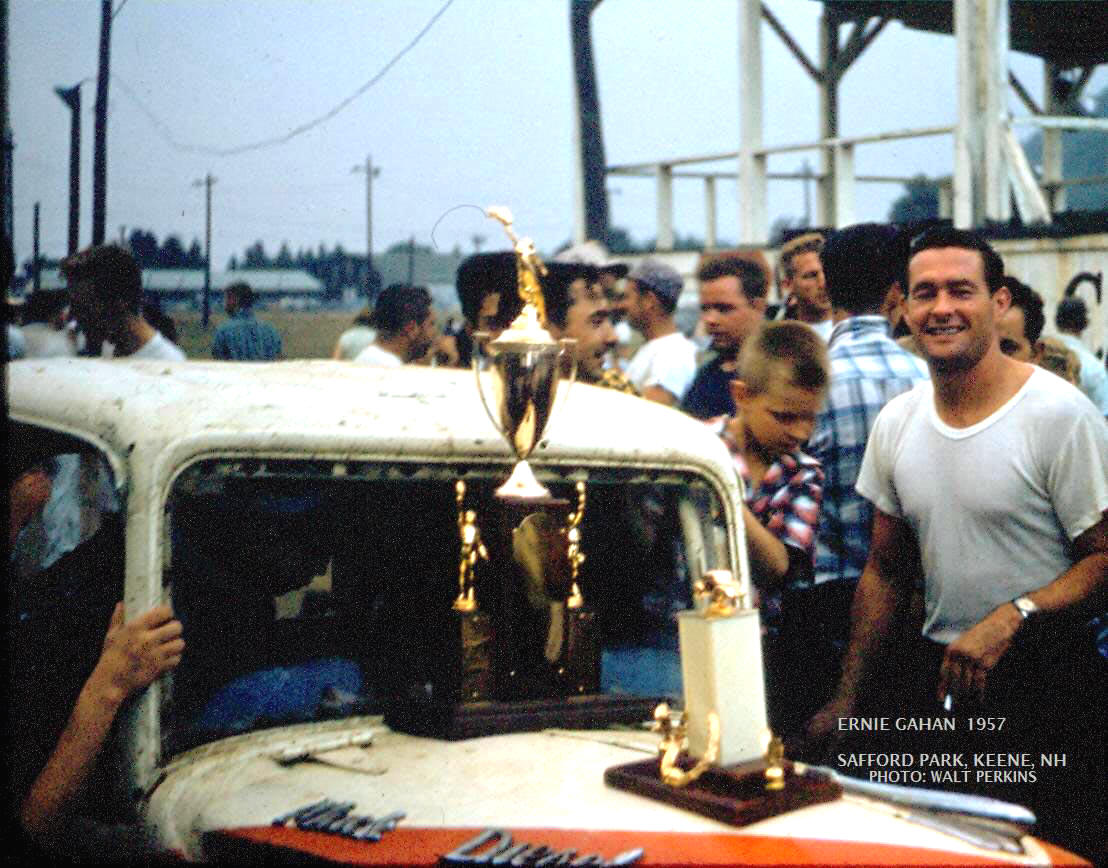 Source Unknown
Ernie at Safford Park Speedway, Cheshire Fairgrounds, Keene, NH in
1957 with a Stoney's Diner 50 car. Below - At Stafford with an
early Koszella entry.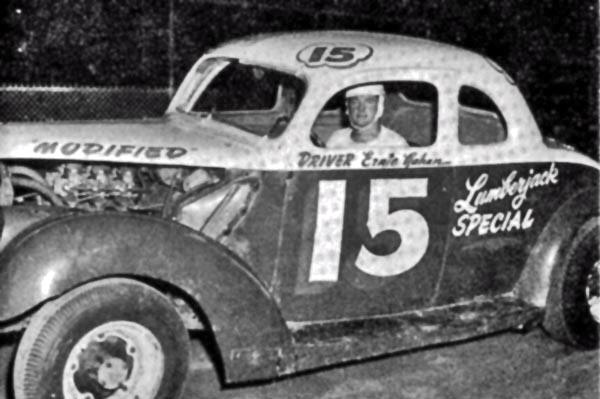 Cavalcade of Auto Racing, Likely a Shany Lorenzet Photo
Ernie also managed to get in some "big league" NASCAR racing, even some in the Grand Nationals. It was his being down at Daytona in 1963 for that reason that he, Bill Wimble, Tiny Lund, and some "Firestone guys" were able to pull Marvin Panch from a flaming sports car wreck. Typically, even with burned hands, Gahan raced the Permatex race soon thereafter and finished first in the sportsman class. A young Richie Panch, racing in Vermont in 1972, told me how the family revered those men for saving his father.
Daughter, Jean Gahan told stories of how it was to be Ernie Gahan in those days. As I mentioned, he would leave her mother with all the money he could to run the household and venture off, sometimes sleeping in the the truck; sometimes not sleeping at all. Like Bill Wimble, he had stories of falling asleep on the way to or from races. According to Jean, he seldom had any help, working alone or maybe having some locals pitch in a bit.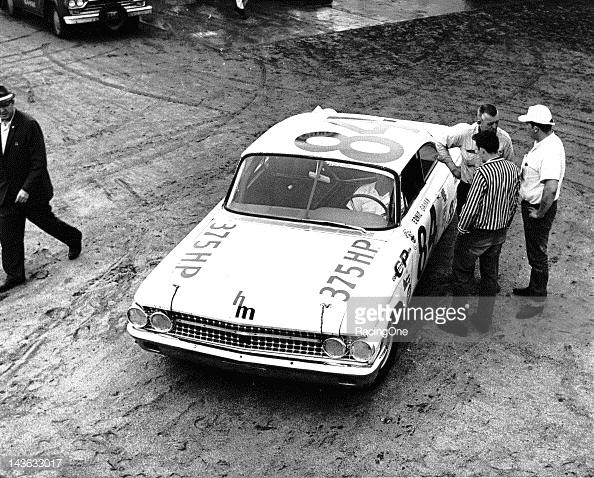 Getty Images
Ernie with one of his Permatex rides. This was best way to get big points. Below – Ernie and Bill Wimble,
with Marvin Panch [2nd from left and team members. Judging from how good Ernie's hands look, this is not 1963.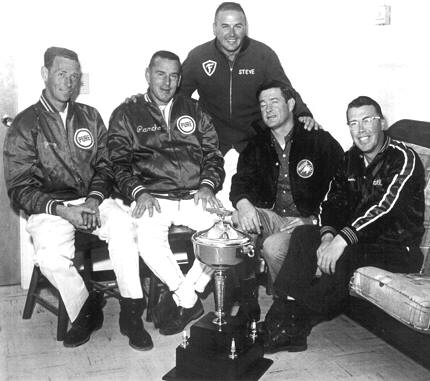 Source Unknown
Ernie managed to work out an arrangement with Connecticut car owner and lumber man, Sonny Koszella to sometimes race the 15CT cars. Not much to look at but very fast, the Woodchopper Special and the Log Roller Special gave Gahan good equipment to run and a break for his often tired 50NH cars. I got a good shot of him entering Fonda one early evening in 1964. The Koszella outfit wasn't much to look at, from the rough flatbed truck to the coupe badly in need of spiffing up; but Ernie was a force with those cars.
Ernie eventually went over to running modified NASCAR coupes almost exclusively, with his 50 NH's and some other rides that included those number 29's he ran for awhile. At the end of the 1964 season he had purchased the newest #111 from the Chris Drellos stable and it would eventually become a 50NH; but, I am not sure if it stayed sportsman or whether he put in a bigger motor. One thing is certain, Ernie far preferred dirt tracks while yet being proficient at both.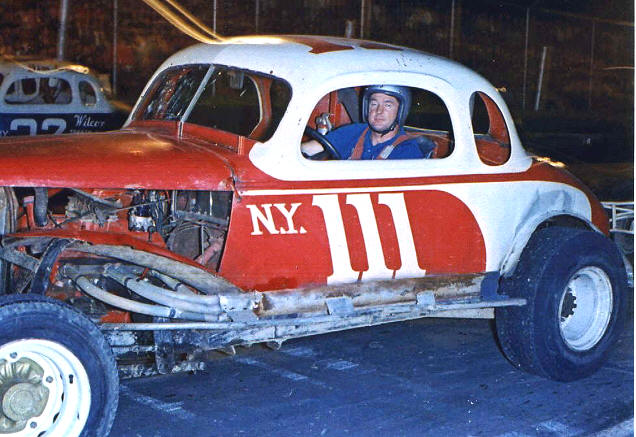 Russ Bergh Photo Ladabouche Collection
Ernie with the newly – purchased Drellos 111, at Fonda. Below -
Ernie arrivng at Fonda around 1965 with the Koszella rig.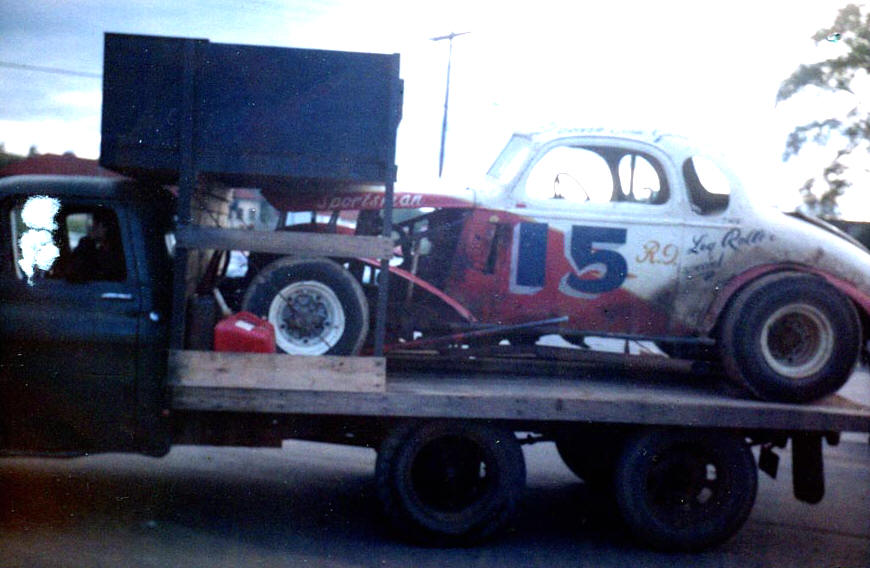 Ladabouche Photo

One thing I find interesting is that, given his high esteem and level of proficiency, he never played much of a role in the All Star Stock Racing League [1967 – 73]. He performed on the original Fonda Speedway team in 1967 [and they won the ASL title], but he never again was on any track's driver team. I find that amazing. If I had to guess, I'd say he felt that the additional financial strain of running those extra shows when he did n't have extra cars or much help was just not worth it.
Ernie did attend a number of All Star League shows. I recall him and his familiar motor home [he was gettin' fancy by the early 70's] showing up at the All Star League show at Catamount. It was ironic how the Milton, VT oval wasn't in the League when it HAD modifieds, but joined it after they had been dispatched in the late 60's. I can't say if Ernie raced much as Catamount, but I have photographic evidence he ran at Airborne Park Speedway – across Lake Champlain in Plattsburgh, NY. I do know that many of the pit folks that night weren't all that sure who he was, being pretty much committed to late models and being a little younger.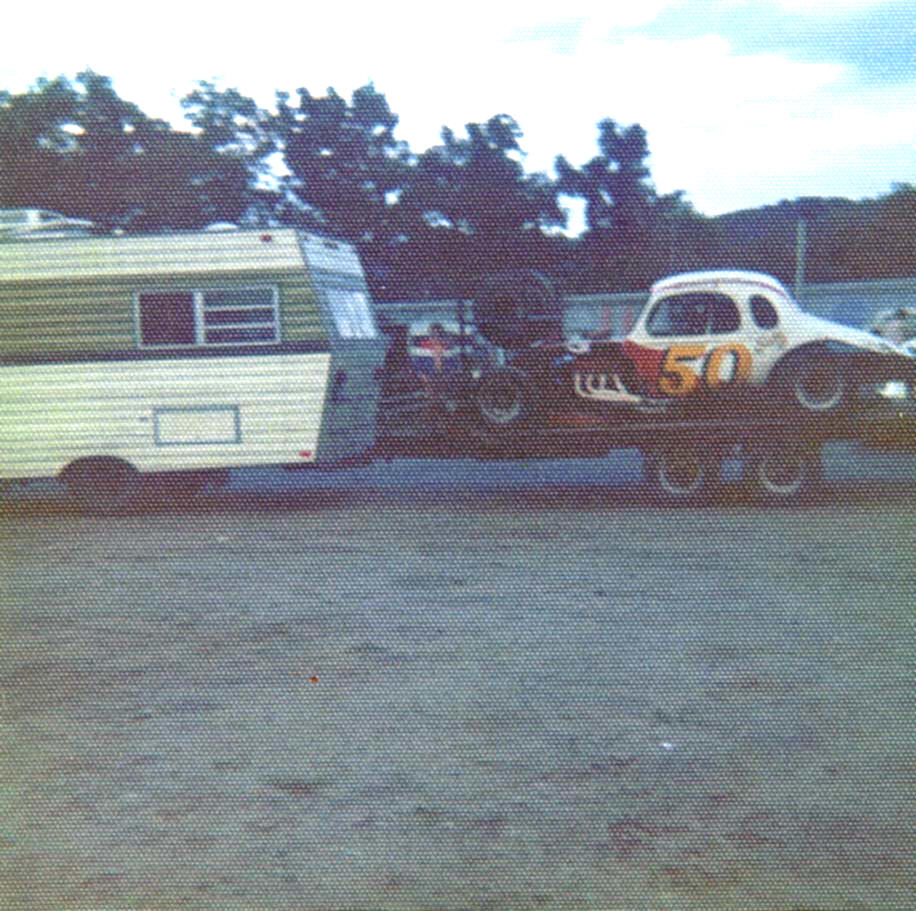 Ladabouche Photo
I snapped this Gahan arrival for the 1972 Catamount All Star League
show in fading light. There's the motor home. Below – This shot shows
Ernie, with the Koszella equipment in an Airborne Park Speedway
qualifier full of talent around the mid '60's.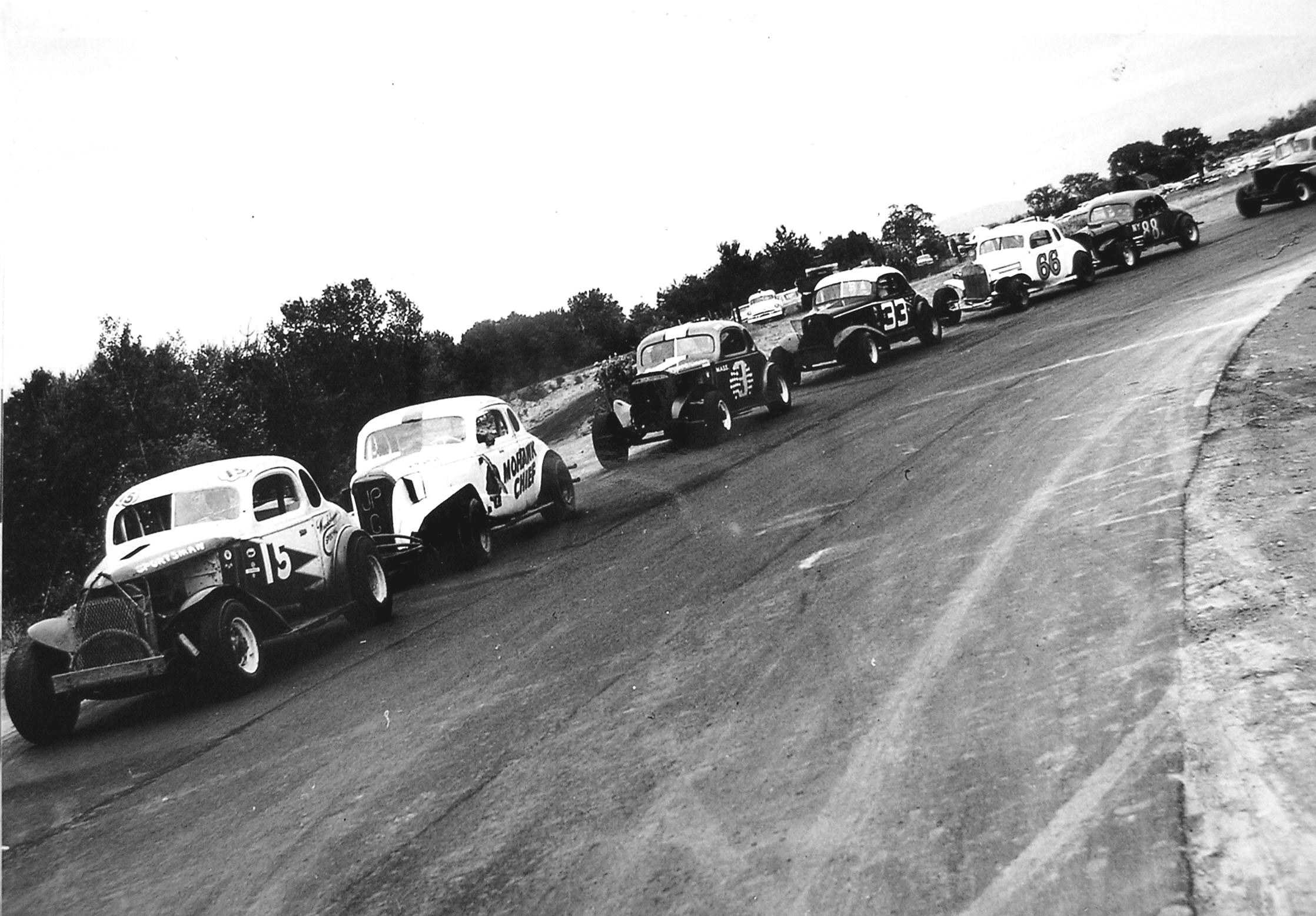 Bob Mackey Photo via John Rock
In looking, for instance, at the 1964 NASCAR points, he finished sixth at Fonda, twelfth at Utica – Rome, seventh at Stafford Springs, fourteenth in New State points, and eleventh nationally that year. That doesn't even include the sojourns he made to dozens of other tracks and the time Down South. After having switched to the mods, he won the 1966 NASCAR National Modified Championship, while another Dover native – Dover, MA driver Don MacTavish won the sportsman title – breaking the strangle hold held on it by Rene Charland [a Gahan contemporary].
Mike Whaley wrote: "In 1966, his championship season, Gahan drove a 1936 Chevrolet Coupe to 15 wins in 71 races, but only led Ray Hendrick by 48 points heading into the finale in Atlanta, Ga. According to Jean, Gahan showed up for that race, the biggest one of the year, without a car, and had to borrow one, and an inferior one at that. Hendrick, however, got caught up in an early accident and Gahan, despite his inferior ride, crossed the finish line in 10th to take the crown." I would say that this was classic Gahan and a summary of how he went about his business.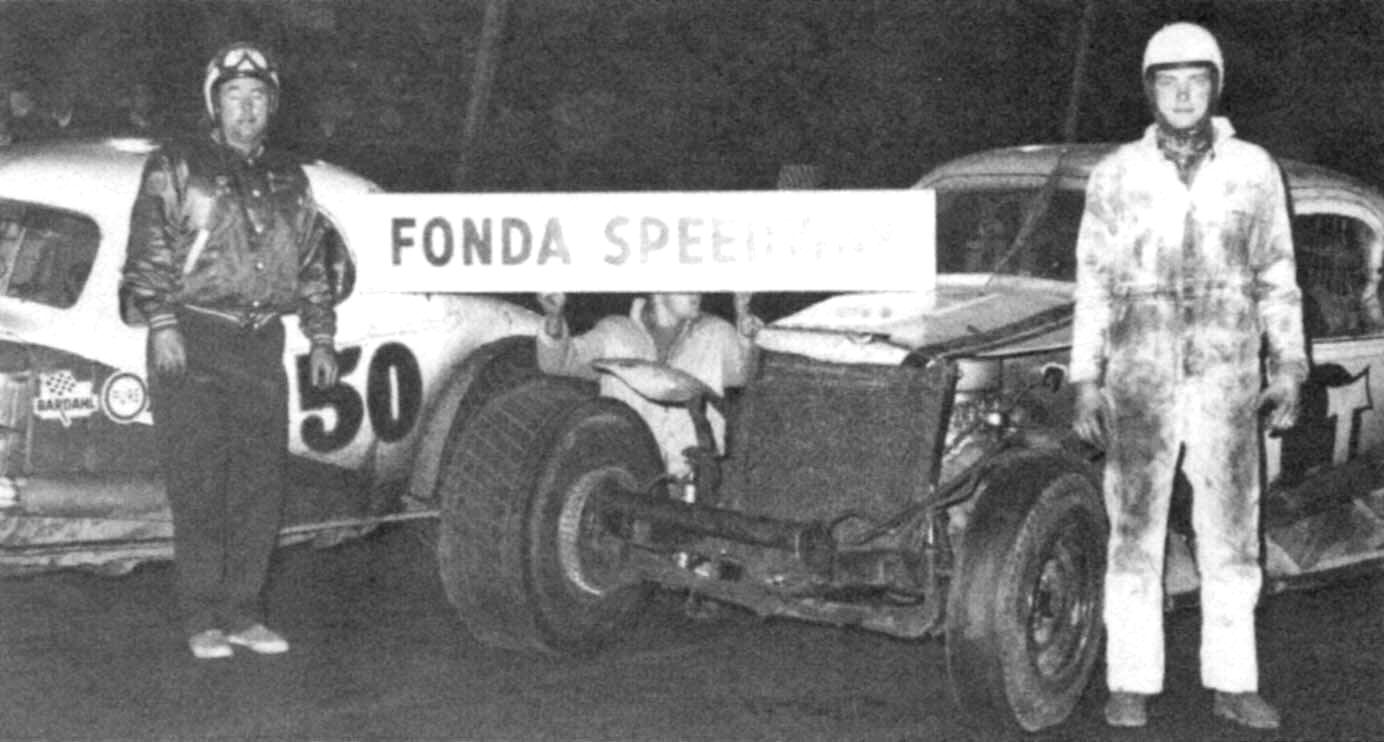 Russ Bergh Photo via Paul Mascitti
It was a big deal at Fonda in 1967 when both national champions showed up at once.
You can see that MacTavish [like Gahan] worked on his own car.

Ernie would continue to be a force in modified racing for years to come, racing his final show [along with son, Bobby] in New Hampshire in 1976. Ironically, it was on pavement, not dirt because the dirt tracks were getting to be too far away to be financially worth it and the sport was starting to get to be about fat walletts and big teams. Ernie would make appearances at many of the reunion events despite increasing health problems. We lost him in 2009. I was relieved that I had gotten to speak to him in 2006 at Bouchard's.
In the Mike Whaley article, there is this reference: ''I remember those races," Jean Gahan said. "They'd go out there four abreast and put a show on for the crowd. They raced centimeters from each other and stay like that for 10 laps. Those crowds used to stand on their toes screaming. He was out to race and win and that was it. It was such a wonderful time." That made me recall an experience of my won from Fonda.
My uncle and I would get to Fonda Speedway every time we could – and that wasn't often enough. But, when we did go, there were the same people usually sitting in almost the same spots: the barber from Gloversville, the geek with the Wimble jacket; and … "the Gahan women". This pair of women who sat almost in front of us, wore home knit "Gahan" sweaters with a picture of the 50NH. If I had to guess, I'd say it was likely Mrs. Gahan and maybe Jean, but I have no idea. But it was another great memory.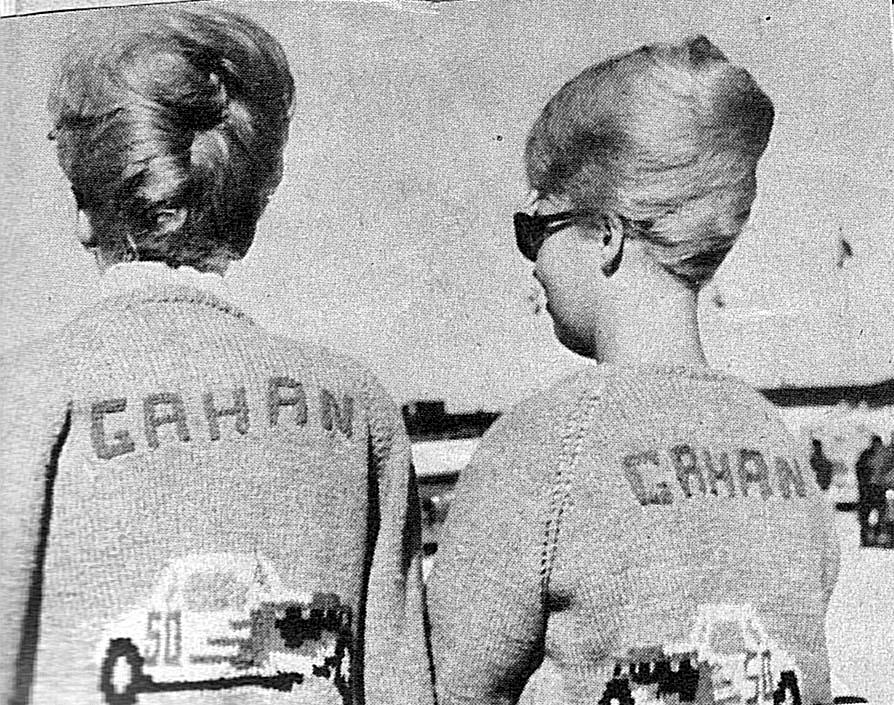 From Stock Car Racing Magazine
The Gahan women, just as I recall them. Below – The "Erine" car,
driven by good ol' Erine Gahan.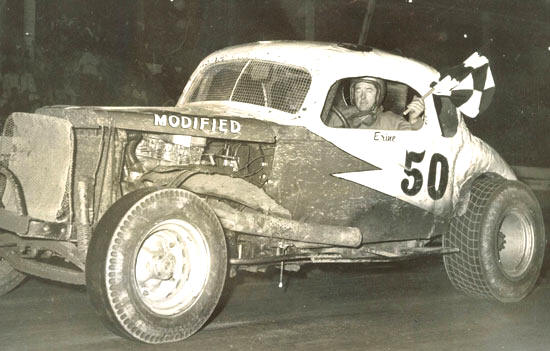 Lew Boyd Collection

My other fond silly little memory centers around that last '37 Chevy coupe – the one he may have gotten from Drellos. Whoever the sign painter was who was in on converting it from 111NY to 50NH did something I often did in my sign painting career – letter reversal. That car was always then driven by "Erine". When the car was found in Broadalbin, NY and restored, they had it re-lettered as Erine. I think it still is.
I am sure there are are more through stories of Ernie [like Whaley's] and there are higher honors – like the NEAR Hall of Fame – first class; but, this is my way of giving some props to one of our own here in New England who made it in the New York – dominated modified/sportsman world big time.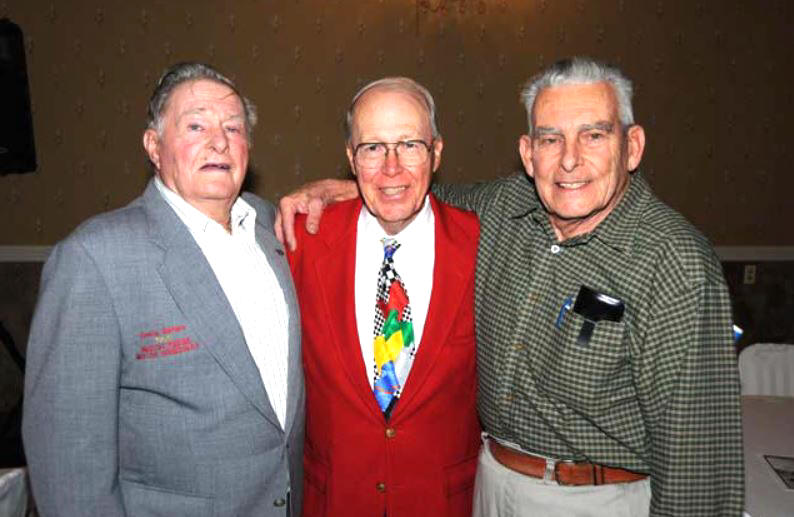 Source Unknown
Below – Ernie, with original ASL Fonda team mates Wimble
and Narducci. Below – An extra photo of one of Ernie's very
early stock cars, back home at Dover and maybe Sanford, ME.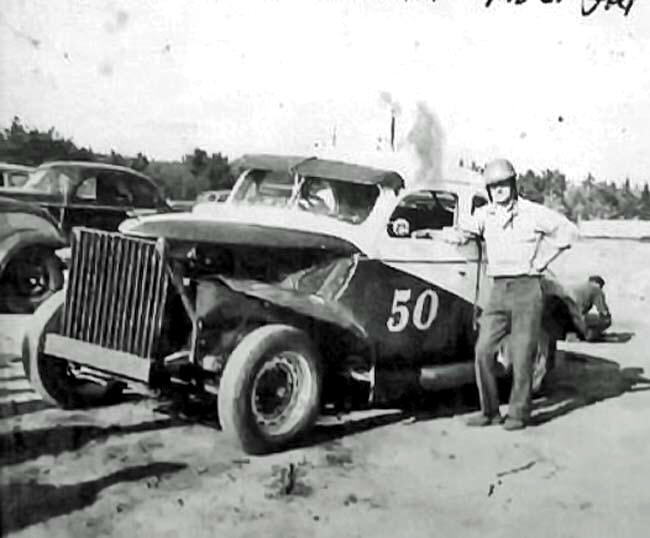 Courtesy of Tim Drake­
Please email me if you have any photos to lend me or information and corrections I could benefit from. Please do not submit anything you are not willing to allow me to use on my website - and thanks. Email is: wladabou@comcast.net . For those who still don't like computers - my regular address is: Bill Ladabouche, 23 York Street,Swanton, Vermont 05488.
AS ALWAYS, DON'T FORGET TO CHECK OUT THE REST OF MY WEBSITE
www.catamountstadium.com
Return to the Main Page
Return to the Main News Page
Return to the All Links Page
Return to the Weekly Blog Links Page