BILL'S [Somewhat] WEEKLY COLUMN/BLOG PAGE

BILL'S BACK IN TIME
By Bill Ladabouche
IT JUST GETS CURIOUSER AND CURIOUSER
I forget which famous American writer used that line, purposely fracturing the English language rules, but the line aptly describes a lot of stories of early stock car racing – anywhere you go. Because I have some good connections to the early 1950's racing scene in Chittenden County, Vermont – particularly in the town of Colchester – I seem to have more little anecdotes from there than most places.
From sources like families of some of the drivers of the time, as well as from people like former driver, 90 year – old Jackie Peterson, and from authorities like he legendary announcer Ken Squier, one can pick up all sorts of little stories of those crazy days of stock cars in the early '50's. One of my favorite stories Squier tells is about a particular, easy – going guy who was a pretty fair driver at tracks like Malletts Bay Raceway and Colchester Raceway, driving a car for Winooski used car dealer Ivanhoe "Smitty" Smith.

Courtesy of John Nelson
The local Burlington Free Press was often full of ads for stock tracks racing around 1950 through 1952.
Even the South Burlington track featured the same driver base.
One particular Sunday afternoon late in the 1950's Malletts Bay Raceway [later, Colchester – Bayview Speedway] was featuring a powder puff race, something very common at stock car tracks in those days. So, of course, everybody's wife was there, along with [according to Jackie Peterson] "some hot woman' who was looking for one of the guys to lend her his car. The wives made it very clear that no one better give that trollop their cars or else.
Finally, the easy – going driver in question said OK and off she went to race. Later on, the men had their races and his car rolled into the infield. Leaving the car there [because it was the pit area], he made his way across the infield, crossed the track, and proceeded to enter the spectator area through a gate in the fence. Mrs. Easy Going Driver met him there and punched him right in the face, in the full view of the assembled crowds who were howling with laughter.
Smitty had a flair for promotion. It is reported he was one of the first people in Vermont to use the new medium of television to further his enterprise was putting himself, personally, on commercials. Smith would put one of his drivers, also an employee, up to rolling his car every week, with a veiled threat if he might not be in the mood. Another Smith driver, Clarence "Bud" Poirier, was often put in the car and encouraged to be a villain of sorts, like those in pro wrestling.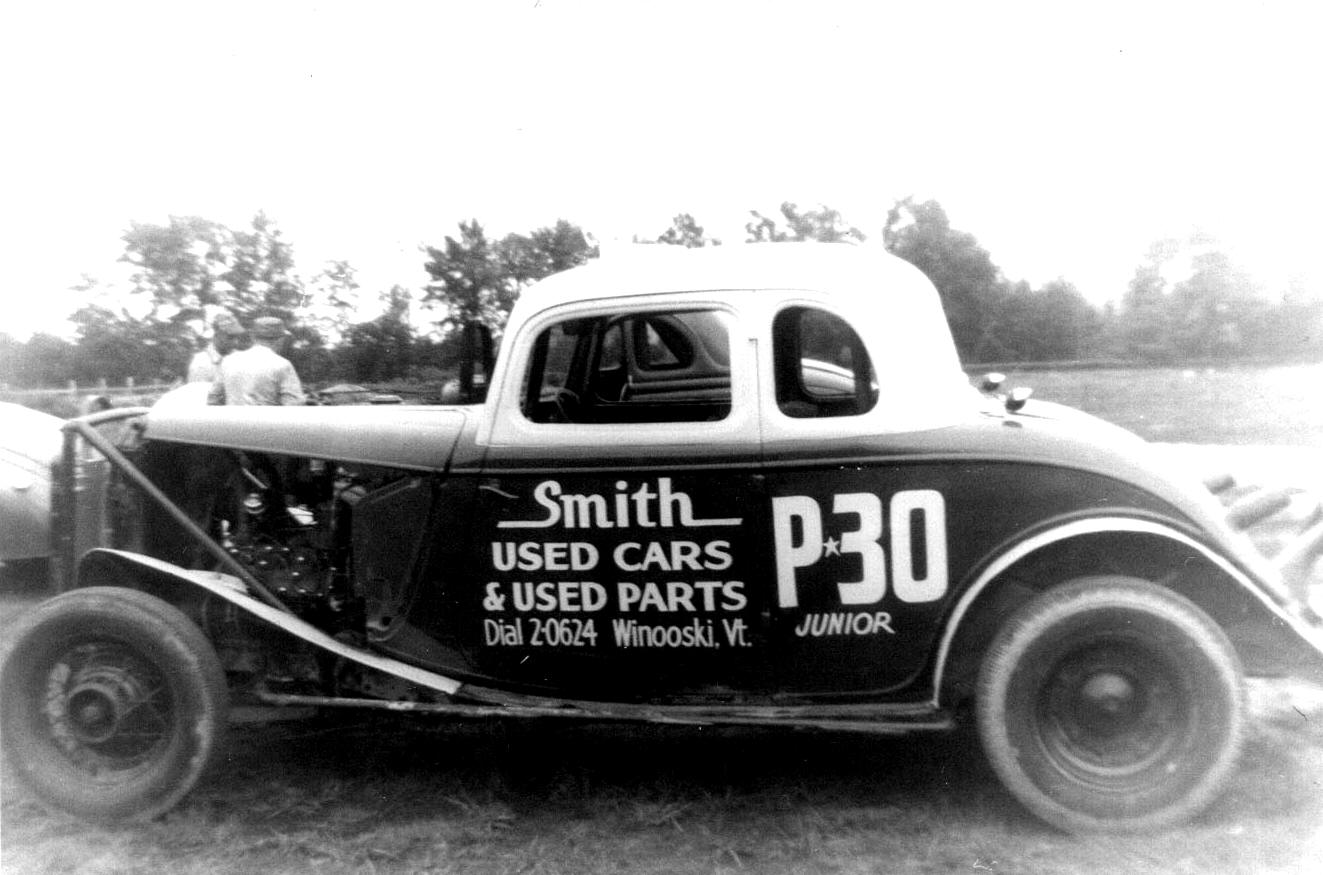 Courtesy of Mark LeFrancois
Bud Poirier [below] and Clarence Rock [above]were ingredients to the unique flavor of early Chittenden County racing in Colchester.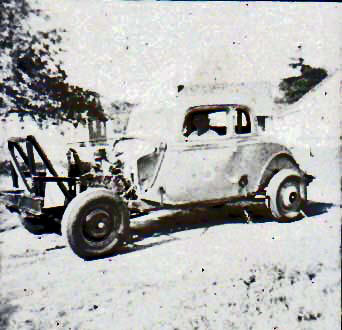 Courtesy of Gary Poirier

Poirier's nephew, Gary, recently shared a story about his father, Leonard, and his uncle Bud. It seems that Leonard had a particularly scary crash, rolling his car several times and being struck by other cars as well. The largely uninjured Leonard was told by his fiancé that, it was either going to be racing – or her – but not both simultaneously. While Leonard wisely chose the girl, Bud went on to a few years of slamming around the various tracks in the vicinity, including the aforementioned tracks and others like South Burlington Raceway, Green Mountain Speedway, and more.
Peterson has more outrageous stories than anyone else. It seems like two of the most colorful characters on the circuit were the "Fightin" Trayah Brothers", Carl and Herb. According to Peterson, Carl was the more ornery of the two; but, if they couldn't find anyone else to fight, they'd tear into each other. There was only one person the Trayah boys wouldn't want to mess with – and that would be their sister, Viola, a sometimes girlfriend of Peterson's. it was nothing for Viola to clear out a section of the bleachers at Colchester Raceway if someone said the wrong thing about Carl or Herb.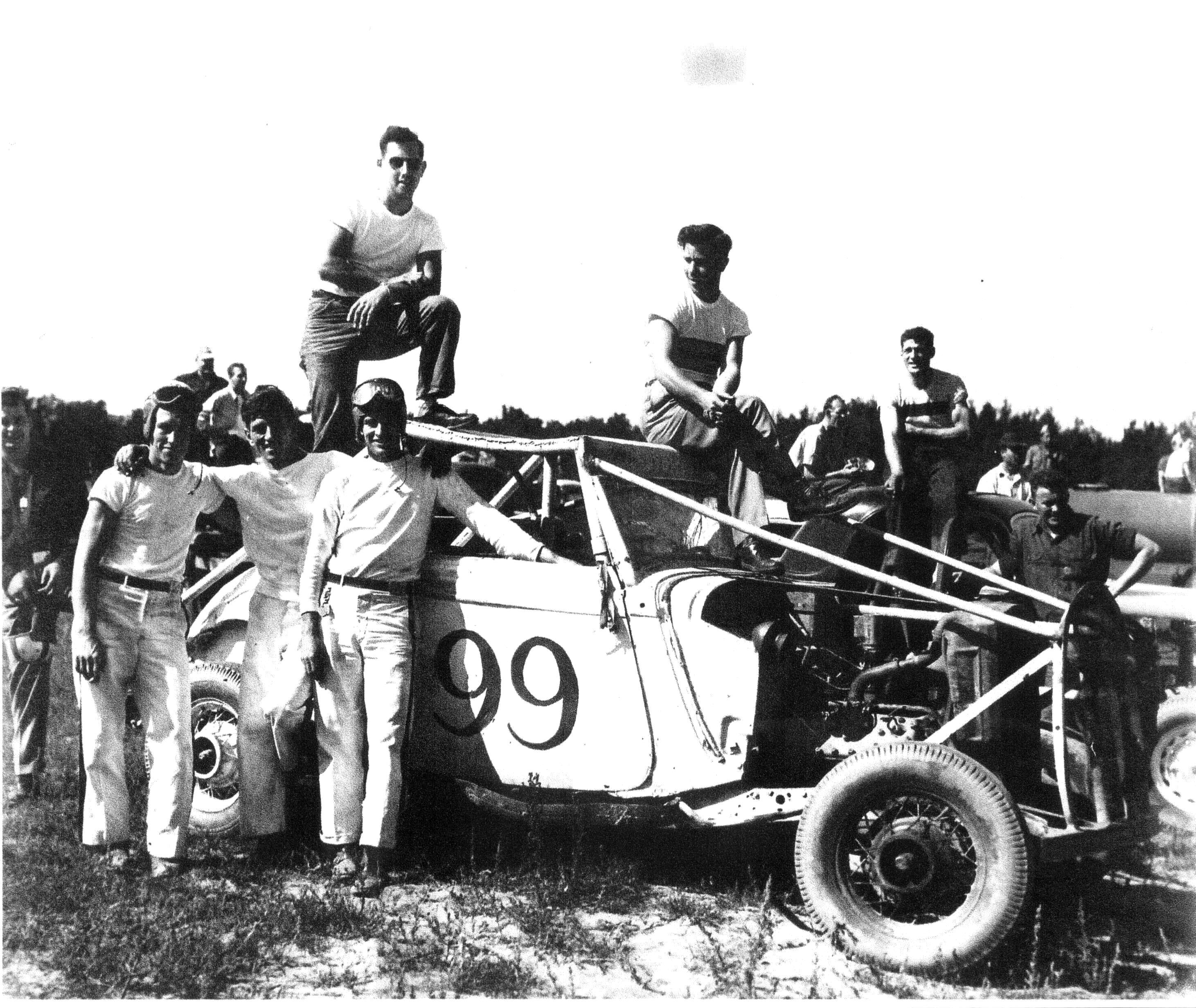 Courtesy of Jodie Trayah, via Steve Jangraw
The "Fightin" Trayahs", Carl and Herb [in helmets] flank starter and sometimes driver Ira Farnsworth. Other men in the photo include
Ed Charbonneau, Herbie Cobb, and the muscular Barre legend Norm "The Flying Frenchman" Chaloux [background].
Peterson talks about the time Viola was entered into a powder puff race at the old Northfield track. According to Jackie, she was finding something no t working right on the car she was driving and she pulled over to the side of the track near where her brothers had their cars. An incensed Carl went out to the car and proceeded to let his sister have it for dropping out. From what I was told, the corresponding set-to on the side of the track became better entertainment that the powder puff action on the track. It is not clear if Carl made it out of there in one piece.
Around 1951, when Ivanhoe Smith and his Colchester Raceway defied the edict from States Attorney Lawrence DeShaw [who was using archaic Sunday Blue Laws] to stop stock car racing on Sunday afternoons] Peterson was one of the handful of loyal Smitty supporters who were arrested by state police as Viola stood by them, telling the wary cops where their "g—d---ed tin stars" ought to be shoved. After a spell in the clink, a bailout by Smith, and a subsequent beer party. Peterson was hammered. Viola picked up the over – 6 – foot – tall man, carried him upstairs, and dumped him in bed with her equally – blitzed brother.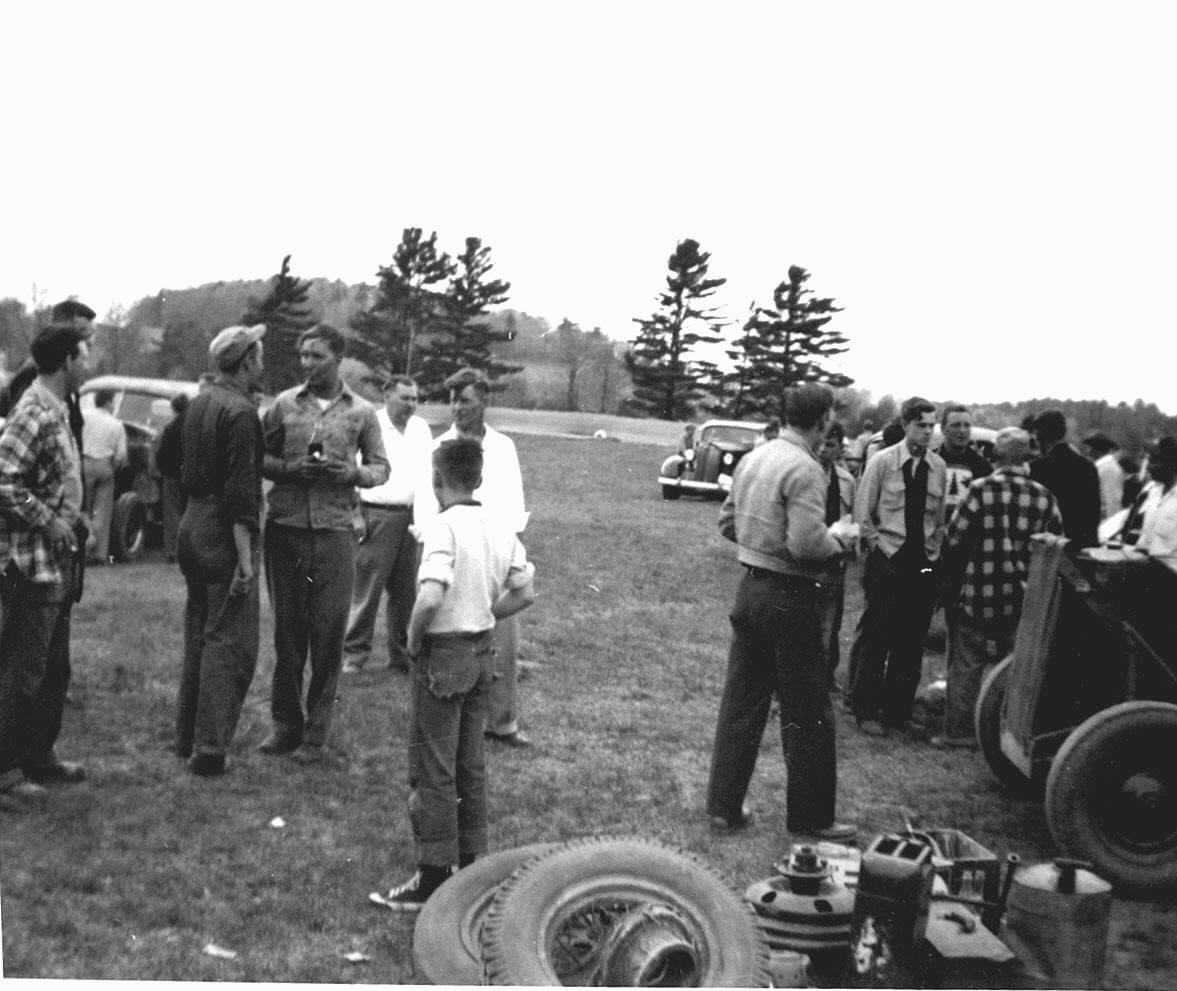 Courtesy of the Bob Bushey Family, via Jack Anderson
Jackie Peterson [center with soda bottle in hand] talks to Bob Bushey after races in Colchester. Ralph Bushey [stocky man with white shirt, background]
was another key figure. Peterson was the only one of the three to take the fall for Smitty after the Blue Laws showdown at Colchester Raceway.
Peterson tells one story of taking one of his engineering marvels out for whatever type of limited practice they had back in the day. He recalls speeding by an object lying in the track that turned out to be a gas tank. He chuckled to himself that somebody was about to get a rude surprise as he gunned his car around the corner. The second time by, the tank was beginning to look somewhat familiar. Right about then, his car began to sputter, and you know the rest of the story. This is a man who, by his own admission, had managed to run over his own hearing aid on another occasion [and, believe me, he NEEDED them].
By far, the most famous track in Colchester was the one that most old hands simply refer to as "Malletts Bay". Walter Barcomb's Malletts Bay Raceway had been built, next to the Malletts Bay Drive – In Theater, by Walter Barcomb, from a hard – living family of racing folks that eventually produced Northern NASCAR star Ron Barcomb. The Raceway had succeeded earlier venues like the Malletts Bay Speedway and the Sunset Speedway, both also in Colchester;, and it was fully capable of competing with its two Colchester contemporary tracks – the aforementioned Ivanhoe Smith Colchester Raceway and Harvey Moody's Green Mountain Speedway.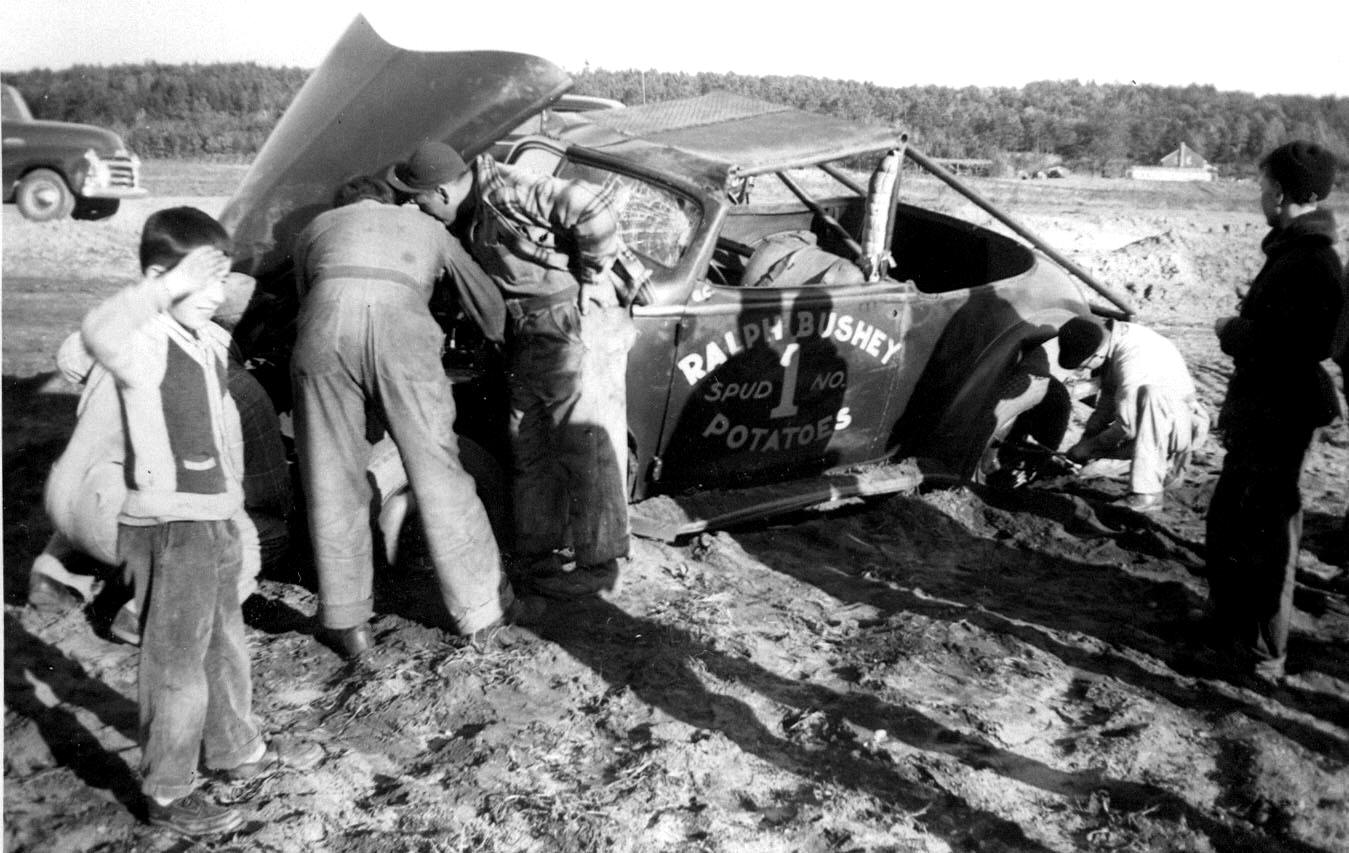 Courtesy of the Bob Bushey Family, via Jack Anderson
Ralph Bushey's crude stock car is having a private practice session at Harvey Moody's Green Mountain Speedway around 1950. Bushey's cars
got better; the track did not. One old hand recalls the track as a "chicken wire deal" Below – The Malletts Bay Raceway was
the place to be in the Colchester racing scene. It even had rainbows available.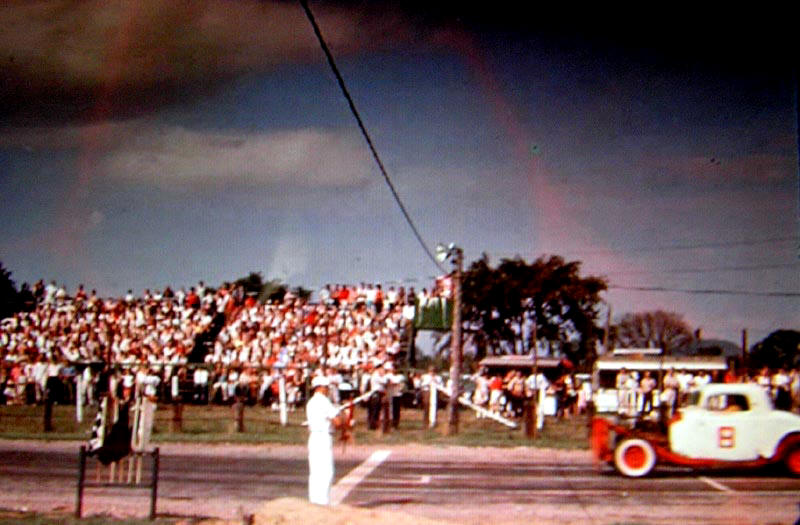 Bob Mackey Photo Courtesy of Mike Watts


Malletts Bay Raceway often ended up with the cars both from its own pits, but also those from Moody's track. If Barcomb was drawing big and Harvey was not, the latter would often pull up stakes and send both his fans and his cars over to Barcomb's [probably for a little kickback]. Land owner Sam Brigante was just as happy when his brother – in – law, Moody would do this because Brigante was a nervous wreck when races were actually going on at Moody's rather hastily – thrown – together facility. Maybe Brigante had a point. Moody was given to letting cars do private practice sessions at the track. One afternoon, future Thunder Road co – owner Ray Cooley went off the track, tearing down the frontstretch fencing and most of the bleachers.
Anyway, by the late 1950's, only Barcomb's track had survived, eventually paving, running a NASCAR sanction, and operating with promoter Gordy Owens under the name Colchester – Bayview Speedway. The neighboring drive – in hated the track, as errant cars and tires would often scatter early drive – in arrivals. Finally, according to one local legend, Barcomb was looking to sell the track to someone who would continue operations. The drive – in owners surreptitiously purchased the track and, one day later, had torn up the racing surface and razed the buildings. Colchester had gone from five tracks in 1951 to none by 1960.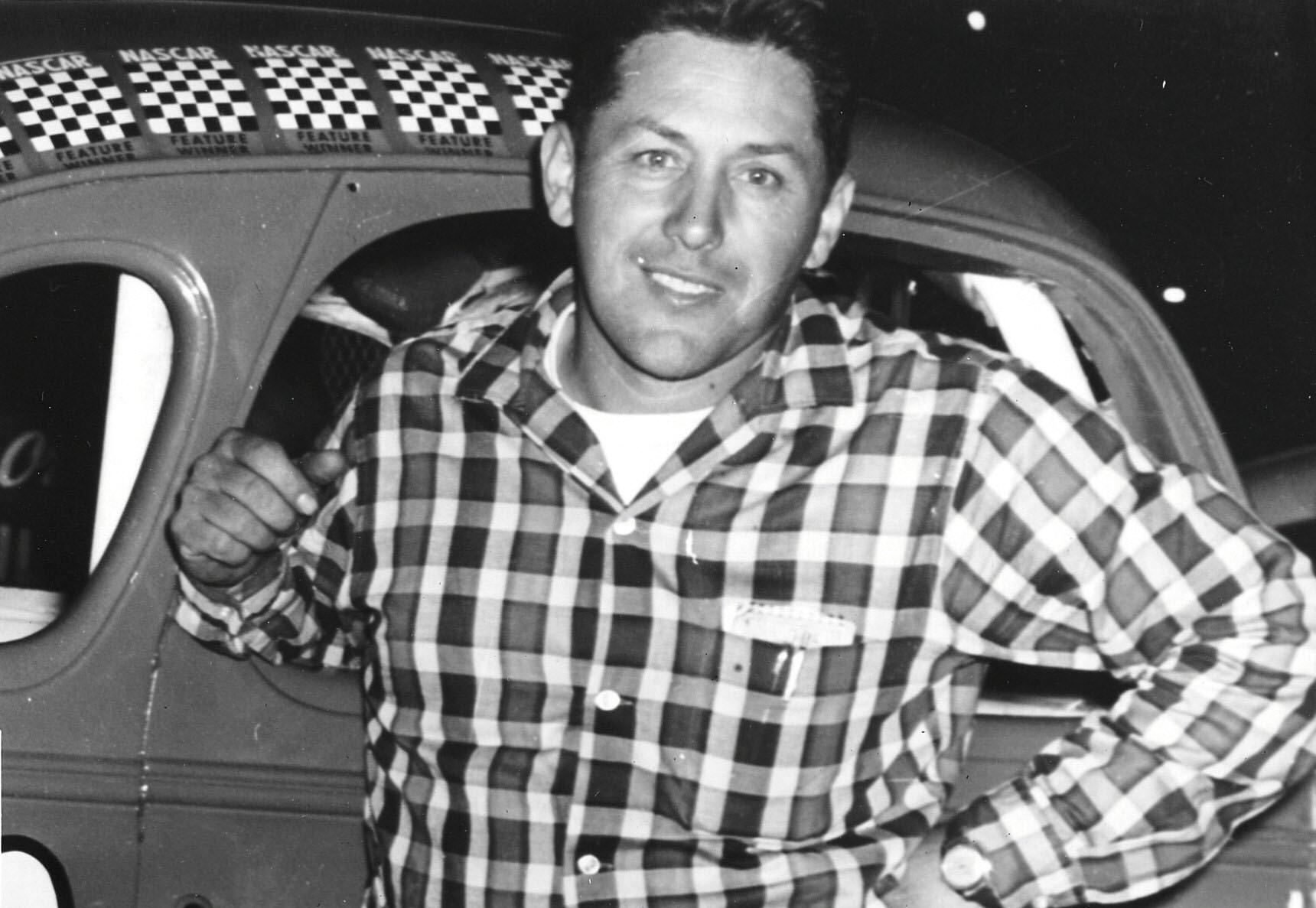 Bob Mackey photo Courtesy of John Rock
Dick Nephew [above] and Bill Wimble [below] were two future national champs who definitely came from New York to run at Colchester - Bayview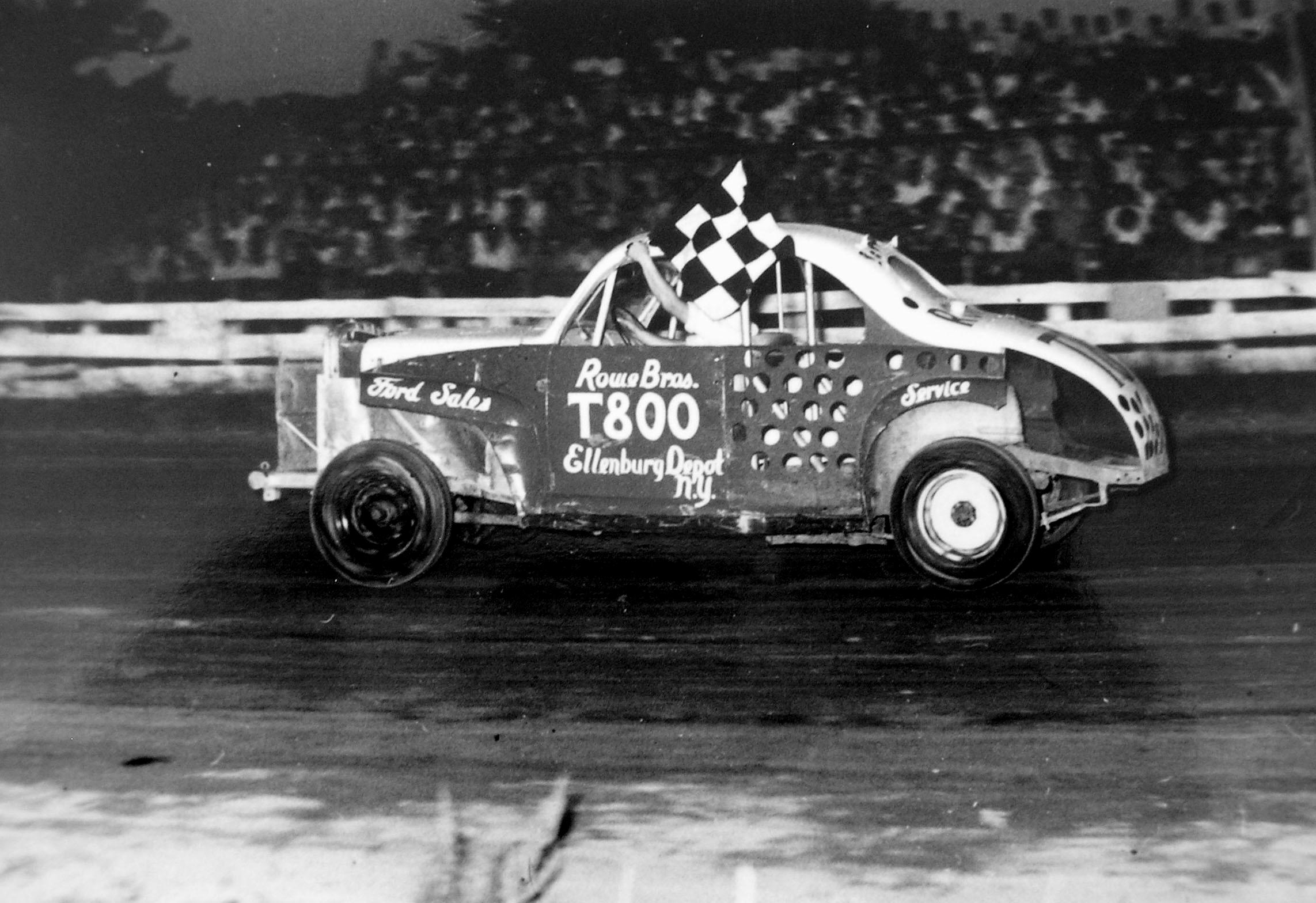 Bob Mackey Photo Courtesy of The Rowe Family
Before this dastardly deed was done, the Colchester – Bayview promotion had become a very important part of a burgeoning NASCAR presence in northern Vermont and New York. That track, along with Airborne Park Speedway in Plattsburgh, NY would help along the careers of two NASCAR national sportsman champions in Dick Nephew and Bill Wimble. It is very likely that four – time NASCAR National Sportsman Champion Rene Charland may also have run the track on rare occasions.
The destruction of the Colchester – Bayview Speedway effectively ended Chittenden County stock car racing until Catamount Stadium would be built in 1965. A few refugees from the Colchester scene would run at Thunder Road, which opened in Barre, VT in 1960; and at Otter Creek Speedway, which opened with a NASCAR sanction in 1961, but the Colchester scene was essentially dead. A few names from that scene would go on to bigger and better things in the late sixties and 1970's, while not having made much of a mark at any of the Colchester venues: C.J. Richards, who would have a Hall of Fame career with his CVRA promotion in southern Vermont; Beaver Dragon, who would enjoy a HOF career and would win several major late model sportsman championships; Vince Quenneville, Sr, a hall of famer who ran in the middle of the state; and many more.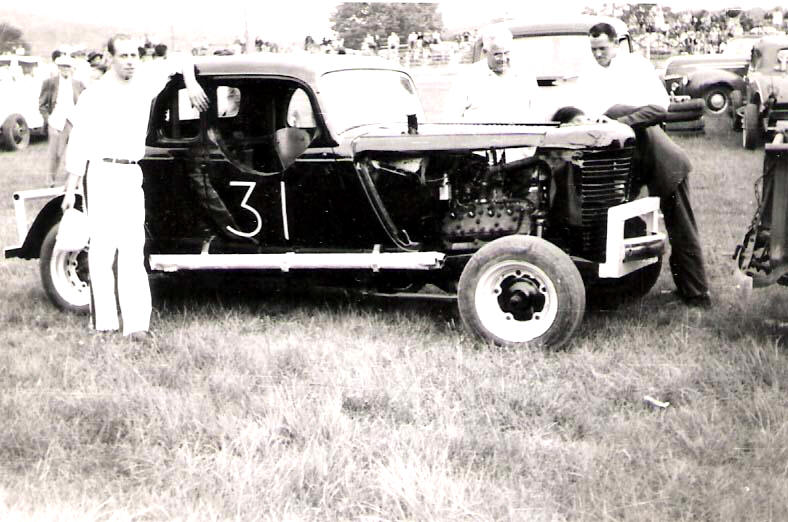 Courtesy of Bill Baker
Gordy Owen [posing] and Harold "Cannonball" Baker [far right] were among the big names in the Colchester racing scene in the 1950's.
But, more important than these names was that corps of regulars who raced at those early tracks and had so many zany experiences. Peterson, the Trayahs, the Farnsworths, Owens, the Maynard brothers, Cannonball Baker, Rex Shattuck, Bob and Ralph Bushey [who teamed up but were not related] were all major players on that stage. Then, too, the lesser – known participants such as Buddy Barnes, the Poirier brothers, Lloyd Gilbert, Ollie Wescott, Junior Graves, Bob Santimore and the rest all helped to make up one of the best chapters in Vermont's racing history.
Peterson also likes to relate how Cannoball Baker was ruling the roost at both tracks in Sheldon, VT, as well as the Enosburgh Speedway, out on Davis Road near Enosburgh Falls, VT. The track was so short and sharply – turned that the faster Chittenden County cars that appeared there would often just fly off the turns trying to get slowed down for the turns. Most of the northern cars were heavier, slower, and used like bulldozers.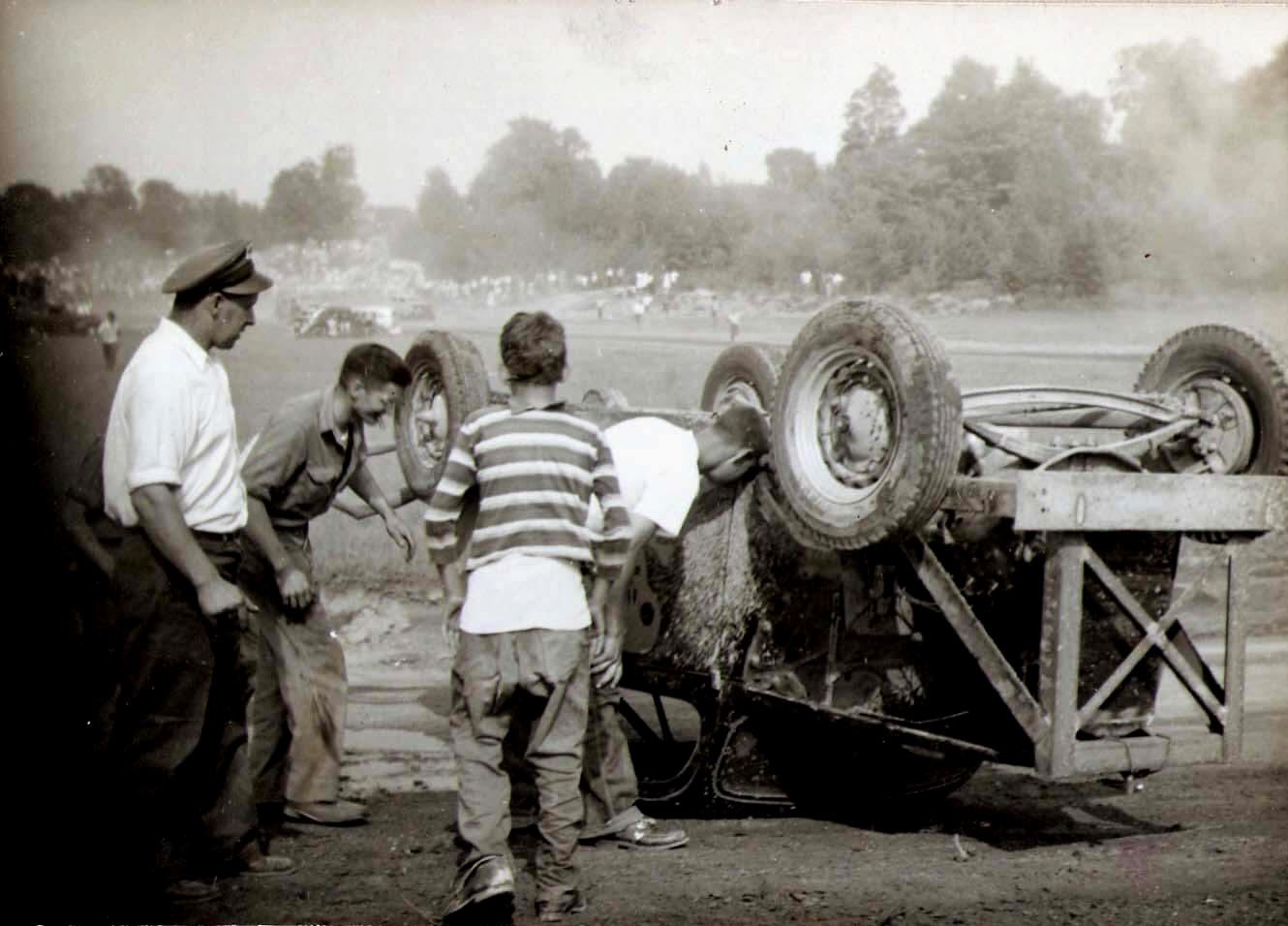 Courtesy of Bill Baker
Cannonball Baker, even with the cement, could manage to get in trouble – as shown here at the Goodwin track in West Lebanon, NH.
Below – Here is the infamous grass skirt dance, which he probably more trouble than a mere rollover.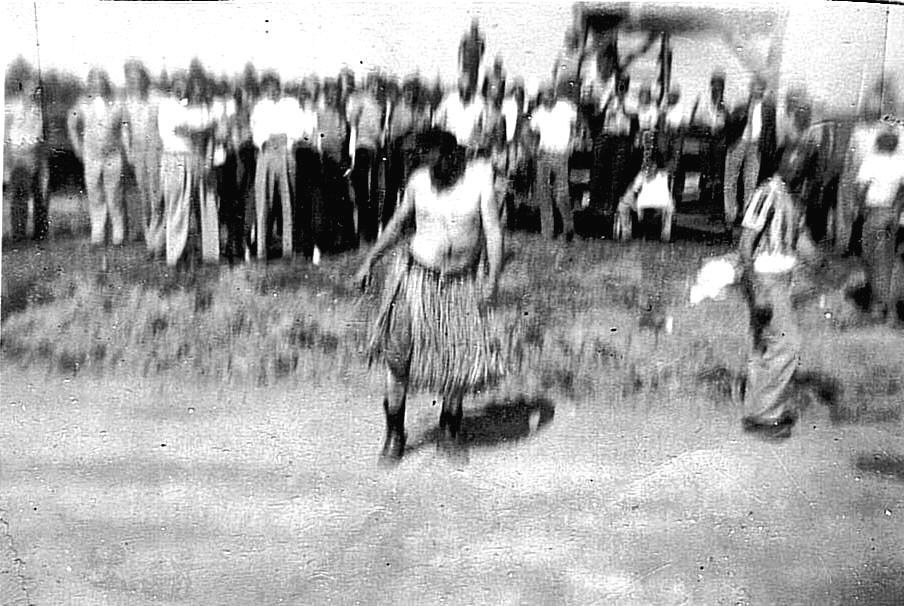 Courtesy of Jackie Peterson


It seems that Peterson found out that Baker, who was one of the few men not to remove the original gas tank in his car, had the tank filled with cement; and that was somehow giving him a cornering advantage. Baker had just made a loud boast that if any of the newcomers could beat him, he'd dance on the track in a grass skirt. When officials removed the offending cement, and Baker was summarily dusted off by Peterson, the crowd at the Green Mountain track on Don Moore's farm in Sheldon was treated to the homeliest burlesque dancer in history.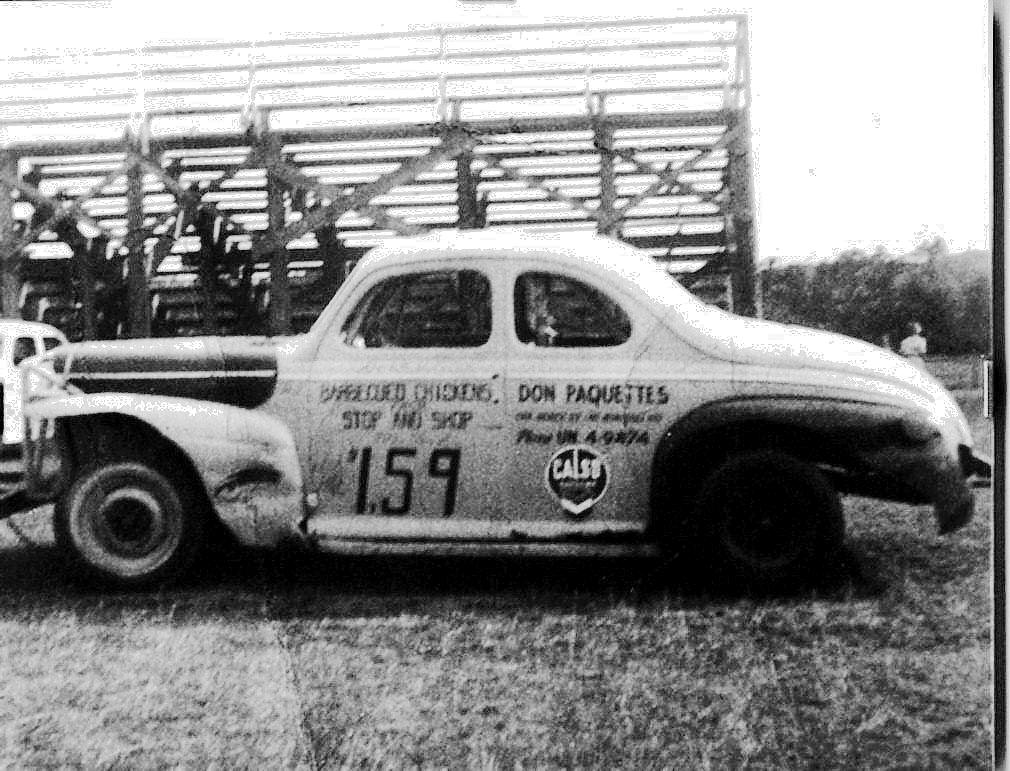 Courtesy of Lloyd and Greg Gilbert
The little guys like Lloyd Gilbert, who used his Ford to advertise his store's weekly special, helped keep Colchester's tracks healthy.
When a crowd gathered around a wrecked 1934 Ford at Colchester Raceway in 1952 to find out what had happened, they were told by the shaken driver that the wheel had come off. After they confusedly looked around at his intact tires, he handed his steering wheel out the window to the nearest man. Another curious story….That's what I'm talkin' about.
Please email me if you have any photos to lend me or information and corrections I could benefit from. Please do not submit anything you are not willing to allow me to use on my website - and thanks. Email is: wladabou@comcast.net . For those who still don't like computers - my regular address is: Bill Ladabouche, 23 York Street, Swanton, Vermont 05488.
AS ALWAYS, DON'T FORGET TO CHECK OUT MY WEBSITE
www.catamountstadium.com
Return to the Main Page
Return to the Main News Page
Return to the All Links Page
Return to the Weekly Blog Links Page