BILL'S SEMI-WEEKLY COLUMN/BLOG PAGE

BILL'S BACK IN TIME
THE TANGLED STORY OF BOB WHITBECK'S HOLEY COUPE

Bob Whitbeck goes back as far as does post – WWII stock car racing in the northeastern United States. Bob was already involved in racing before most people had turned their minds to something other than getting re – settled after the biggest war in history. Bob would make his name as a prominent and successful car owner [particularly at tracks like Fonda Speedway], but he also served as a track promoter and as a track official, as well. However, it is one of his less – hearalded creations that this column is about.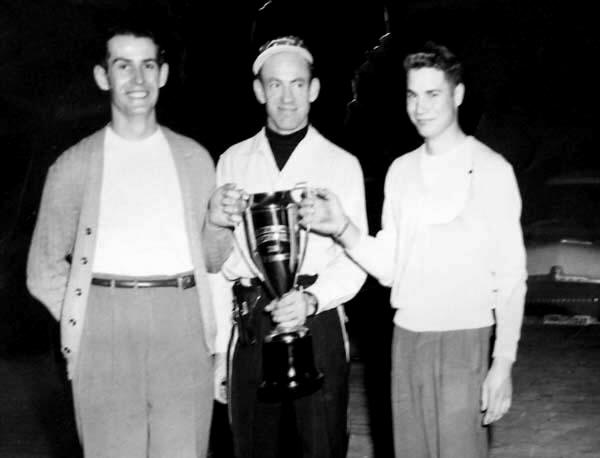 Courtesy of Harold Weaver
Bob Whitbeck, as a Fonda official, receives an award for bravery in pulling Stan Bellinger [right] out of a burning car. Bill Fake, left,
was also in that fiery crash in 1955. Below – Cars at Whitbeck's cinder track.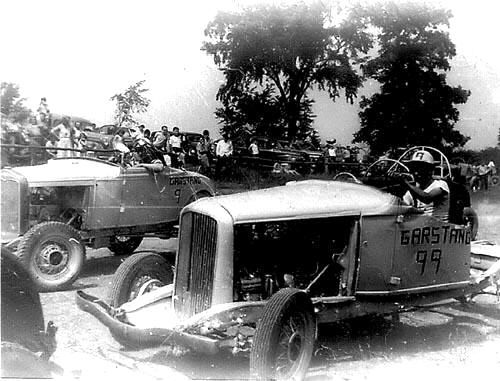 Courtesy of Harold Weaver

By the mid 1950's, 1954 to be precise – Bob Whitbeck had already tried running one of the first race tracks that was not a previously – established fairgrounds oval in New York. I only know it as "the cinder track", and it was in Fultonville. The track featured jalopies which were the forerunners of the soon – to – come roadsters that had about a two had a half – year run in New York before being outlawed.
Whitbeck's track attracted a number of men who would go on to make names for themselves in New York stockcar racing. One such person was Harold Garstang, who would end up promoting races at both the Burden Lake and Route 66 Speedways near Troy. Garstang would back two or three of the roofless jalopies at the Whitbeck track. Bob Whitbeck would go on to build a competitive roadster which would be driven by a young Vermont transplant to the Capital District named Pete Corey.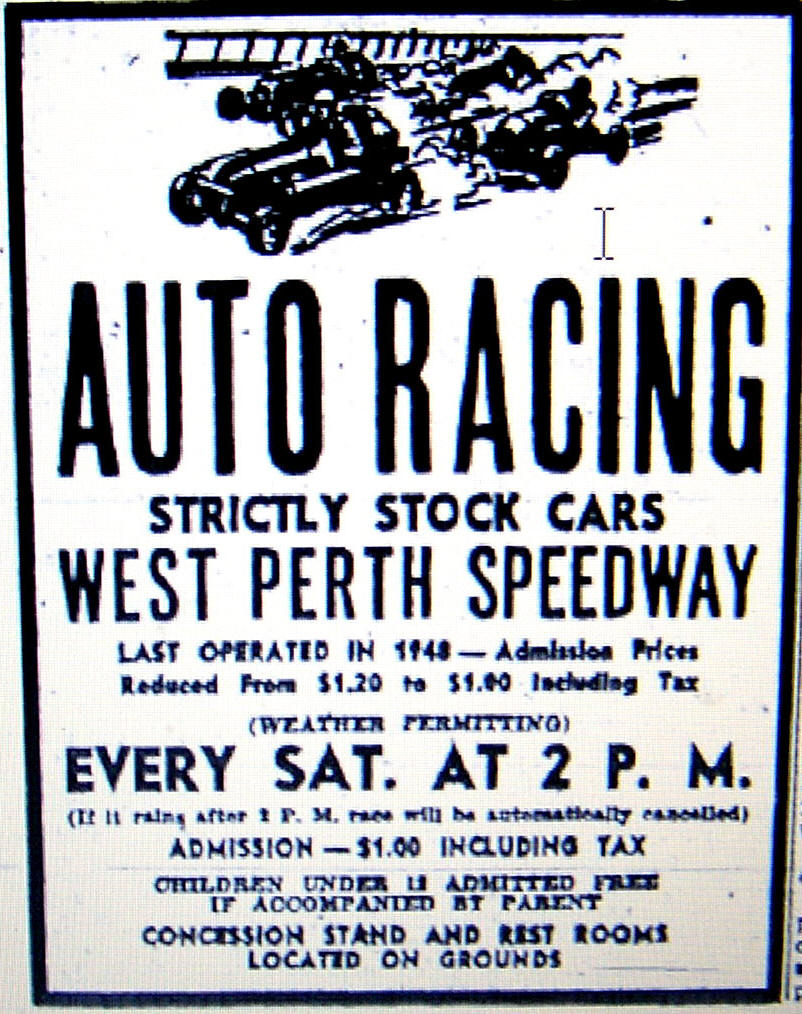 From Tom Trynski's Old Fulton Postcards Site
A late 1940's ad promotes the roadster track run by George "Jerry Jerome" Emden, Eric Deumler, and
Tex Hernacle. Below – Roadsters line up at the Burden Lake track near West Sand lake, NY.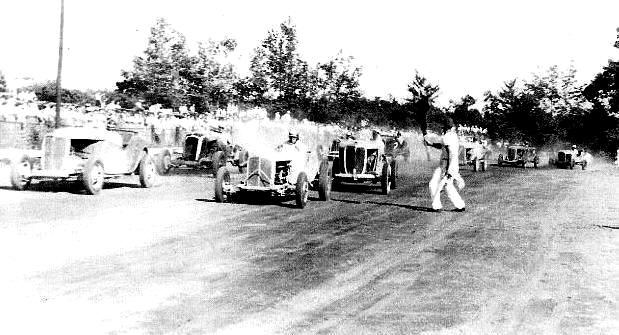 Courtesy of Andy Fusco

By the time the roadsters had been run out of the state by a combined initiative of the Attorney General and New York State Police, stock car tracks were popping up all over. When the now – legendary Fonda Speedway was established by promoters Jim Gage and Ed Fuez, Bob would be moved to field cars and later become an official there. It seemed that his sister, Sally, was married to co – promoter Jim Gage, and the struggling new operation needed all the cars it could get.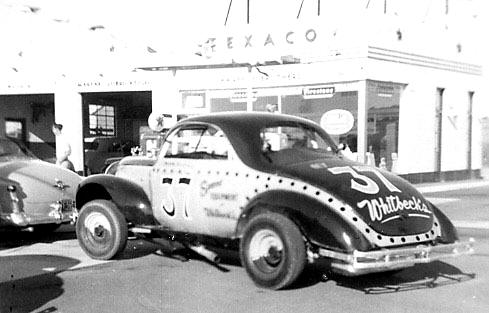 Herbert Family Collection
The newly – constructed, tricked – out Whitbeck car sits, waiting for a tow to the track, outside Whitbeck's
garage and speed equipment business. Below - Pete Corey with the 1954 Whitbeck entry.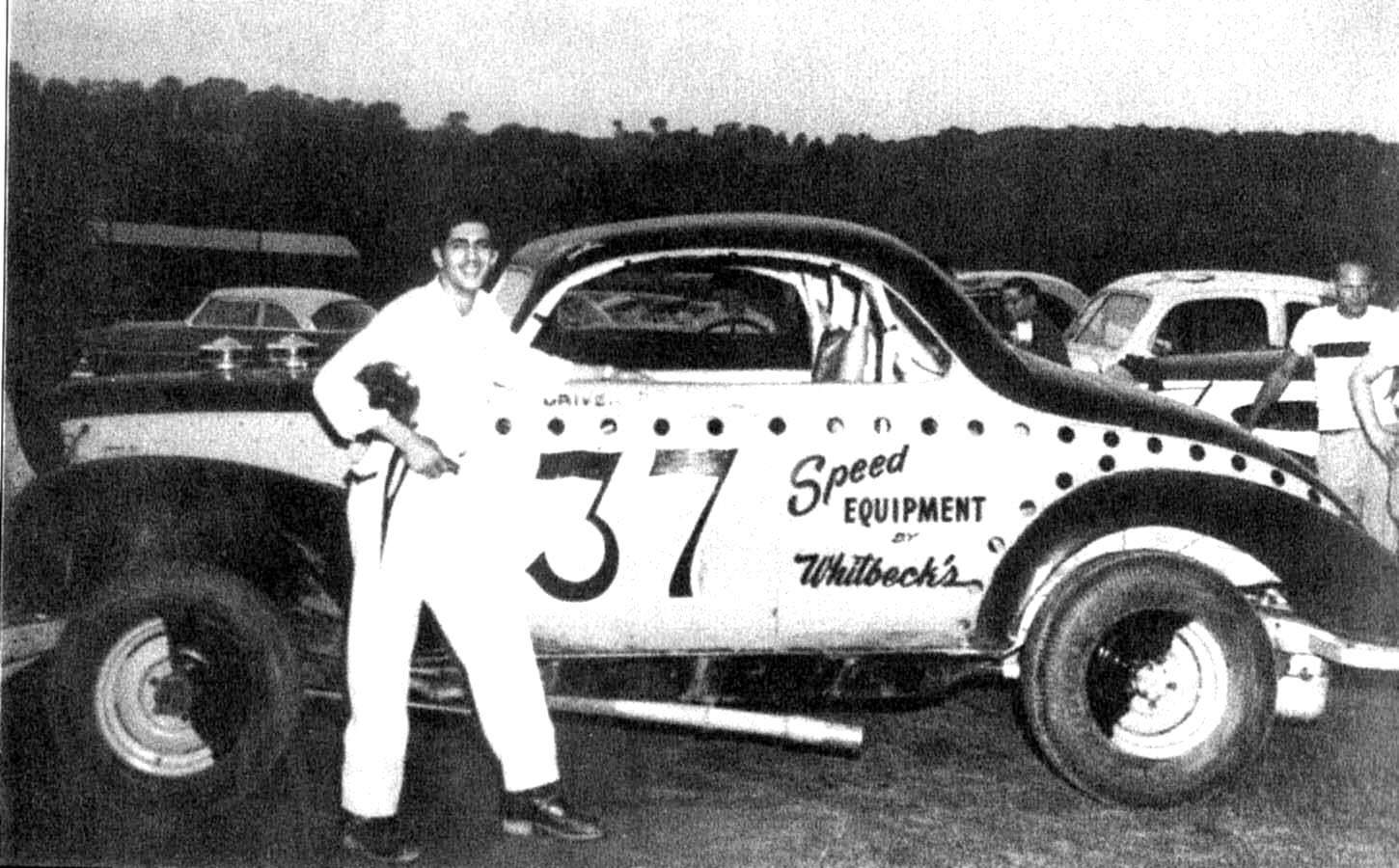 From the Fonda Book – Biitig Collection

After Whitbeck had used Corey as his roadster driver at the Perth track and at the Adirondack Speedway in West Glens Falls, Corey went on to drive a regular stock for Art Spoar, a former motorcycle racer, in a car that ended up running a sponsorship from Whitbeck. After running the Spoar #95 for a while, Corey returned back to Whitbeck, who had fielded a speedy Ford coupe [numbered 70 because his familiar #7 had been taken]. The new Whitbeck car was drilled full of holes to reduce weight and had a number of other little homegrown innovations that attracted the demanding Lebanese driver to it.
Now it was 1954, and Whitbeck [like most of the Fonda teams] was determined to end the steel - gripped domination that had been extended over the speedway by the legendary Steve Danish of Cropseyville. Danish won so many races in 1953 the record still stands. Whitbeck went about building a car with all of the tricks from the #70 car and a few more, to boot. He would now use the number 37 on the car – and that started one of the greatest runs for a car number in the history of northeastern racing. Whitbeck would later sell out his team and the number to Sam Kittler and Gibby Wolfe, who would sell to A.C. Caprara, who would pass the baton on to Tony Villano, Sr., and last #37 owner would be Hank Spetla.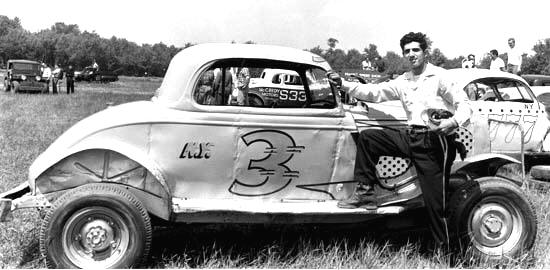 Courtesy of Lew Boyd
Pete Corey poses with Bob Mott's potent 3NY coupe. Visible in the background is the Whitbeck – built
car, now owned and re – numbered by Jerry Jerome.


However, Whitbeck had apparently pushed the envelope a bit far with this car. The authors of the Fonda Speedway book described the car as "low, light, and temperamental". Corey captured an impressive number of qualifying races, but no features. Before the 1954 season was even over, Whitbeck decided the car, which bore the name of his speed equipment business, was a bad advertisement – and sold it to Jerry Jerome. Corey would go off to Bob Mott and a tremendously successful run in 1955 until NASCAR banned the Mott car. Whitbeck became an official, for the time being.
Now the Whitbeck car became a white – colored #777, perhaps in tribute to its builder's favorite number. Jerome, whose real name was George Emden, had been a partner in the roadster tracks around Perth, NY and had seen the stock cars enter the scene to far more acceptance than the dangerous hot rods. He may have run some other stock cars prior to 1955; but, this was to be his high – quality ride. The car appeared all over – at Fonda, Stateline, and probably places like Whites Beach or maybe Route 66. Jerome always ran the car with a flathead Ford engine.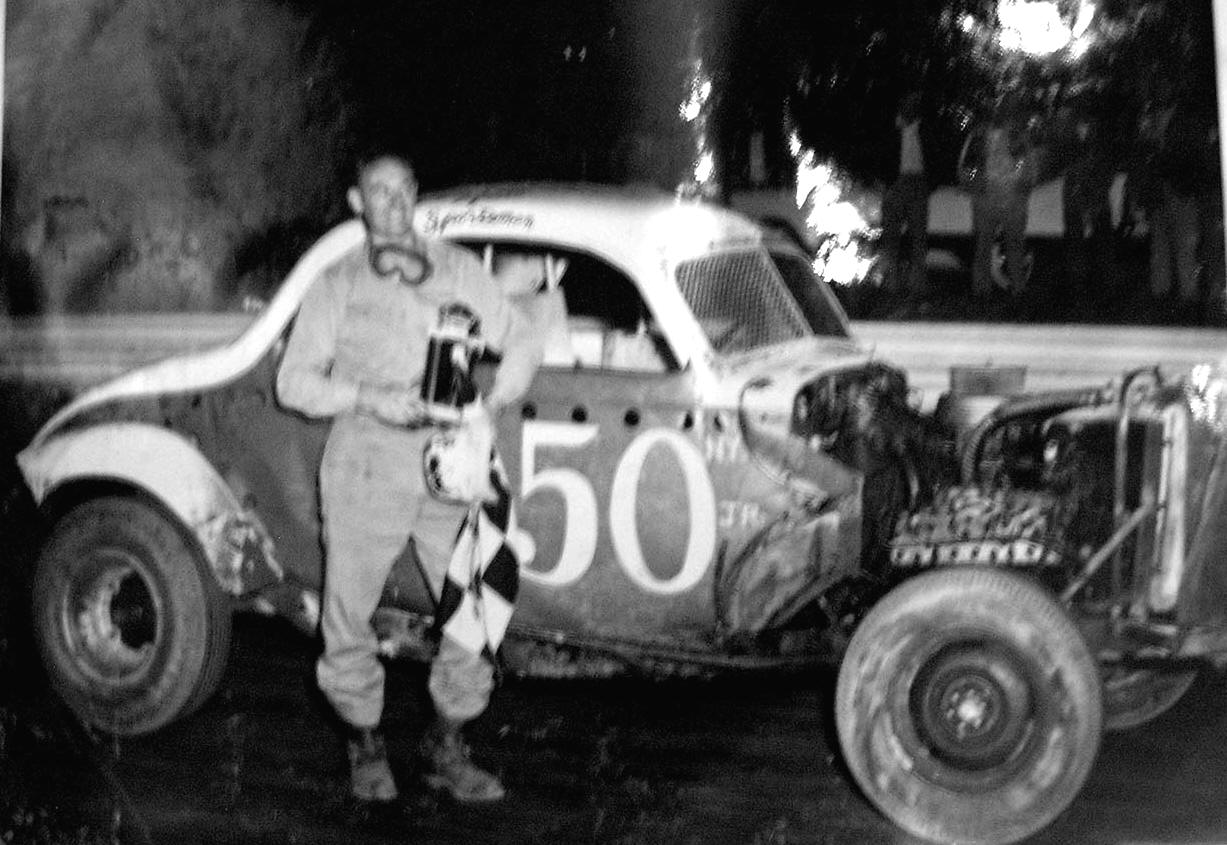 Starrin Family Collection
Jerry Jerome, in Fonda's Victory Lane after a flatheads only win at The Track of Champions. Below – Jerome and Starrin friend
George Baumgardner in the Ray Vine 75, at Fonda. The big diameter wheels were to make up for lack of gear, according to Lew Boyd.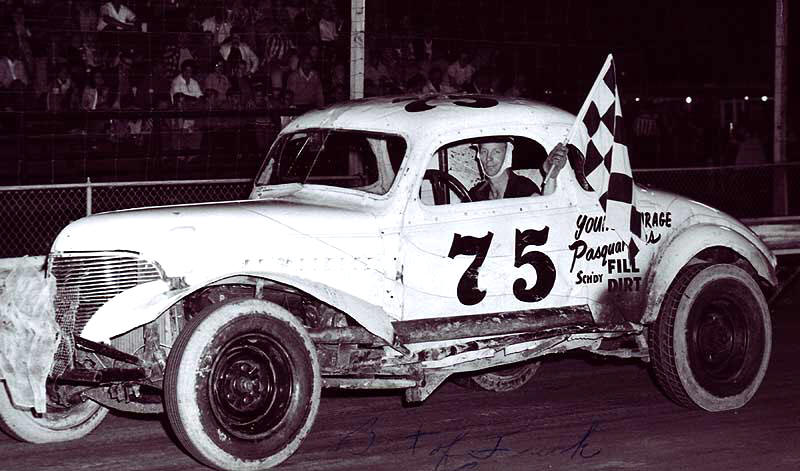 Courtesy of Mike Russo

Somewhere along the way, Jerome's path crossed with that of Sonny Starrin. The #777 became the #550, to go along with at least two other cars coming out of the Starrin garage near Gloversville. Jerome and former t rack partner Eric Duemler were friends with Ed Abel, who did the machining work on Starrin's cars. The group around the Starrins was an interrelated bunch: the Starrins, at one time or another, employed Jerome, George Baumgardner, Stan Burroughs, Ken Jones, Jack Harris, and even Sonny's wife, Jackie, as drivers. The Starrins even occasionally garaged the Pea Picker Six #18 of Lynn Delong.
Baumgardner also drove the Ray Vine 75NY sportsman for a long time, and Vine was brother – in law to Jackie Starrin. It was Baumie who stood up for the couple. The Starrins' two #550's were generally run at Whites Beach and were mostly campaigned by Burroughs and Harris. Jerome operated with the ex – Whitbeck car more independently, and ran more at Fonda. At that time, Fonda was trying to offer some encouragement to the few flatheads which were still trying to run in with the overhead V-8's. Some weeks there would be a separate flathead feature; and, sometimes, the top flathead finisher in the regular feature would receive something extra like a Bardahl or Oilzum jacket.
Jerome was still in that competitive mode, looking for flathead glory, late in the 1958 season. This was the second time that the flippant Pennsylvania driver Don Stumpf would be running at Fonda. Stumpy had a pavement setup, and it would become more and more evident over the years that a car with the lower pavement setup had a strong advantage over the upright sportsman which frequented the track. Around 1964 Jim Hoyt would come in and run past several Fonda regulars before having one of the most spectacular crashes the track has ever seen. Ironically, Stumpf would figure into the other most spectacular crash that night.
Apparently, Stumpf, when unloading, had made some sort of smart alecky remark about Jerome's flathead – powered car. Jerry heard it and – considering most of the Fonda regulars already hated Stumpf to begin with – he was absolutely incensed and determined to show Stumpf what was what. Jerome recalls that his car was running better than it had in ages, and he was coming up through the field to within one car of Stumpf. That one car happened to be the 55NY of Donny Wayman of Cobleskill, a man destine to go on to being one of the most well – traveled drivers – for – hire New York modified and sportsman racing would ever see.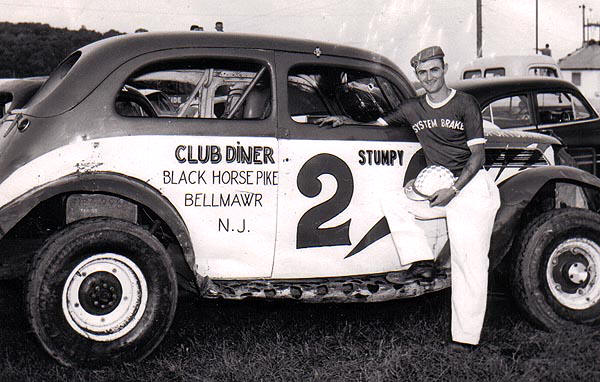 Courtesy of Otto Graham
Cocky Don Stumpf, shown here in his first visit to Fonda, could apparently try the patience of a saint – at least at Fonda.
After getting by Wayman, Jerome went out of turn four only to have Wayman come in under him. The two cars rolled the entire length of the front stretch. Sonny Starrin tells the story from his view: The team had flat – towed to Fonda through Johnstown. Right by Fonda driver Red Knoblauch's house, the bumper came off the 550. Red brought it to the track that night when he towed in his #13NY and gave Starrin a hard time. Sonny promised him that bumper would never fall off again, and went off to stand in turn one of the Fonda infield.
Sonny had been instructed by Jerry Jerome to stand by turn one with a white handkerchief. The track was quite dusty and Jerome wanted Starrin to wave the hankie if someone was trying to pass him. Of course, with the way the 550 was going, the hankie was generally still. Sonny found himself thinking the next lap was taking an inordinately long time when a cloud of dust began to pass over him. He turned to see the carnage, just settling. Jerome's car was in several pieces, the body lying on its side. Wayman's car, while intact, was horribly smashed and Wayman hung out the window, unconscious.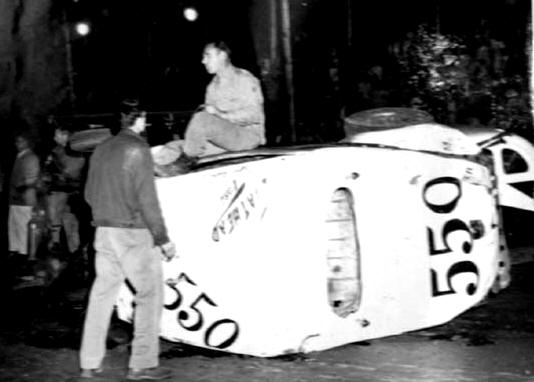 Starrin Family Collection
Jerry Jerome sits, dazed, on his wrecked car as track personnel rush first to the unconscious Dony Wayman, whose car is shown below.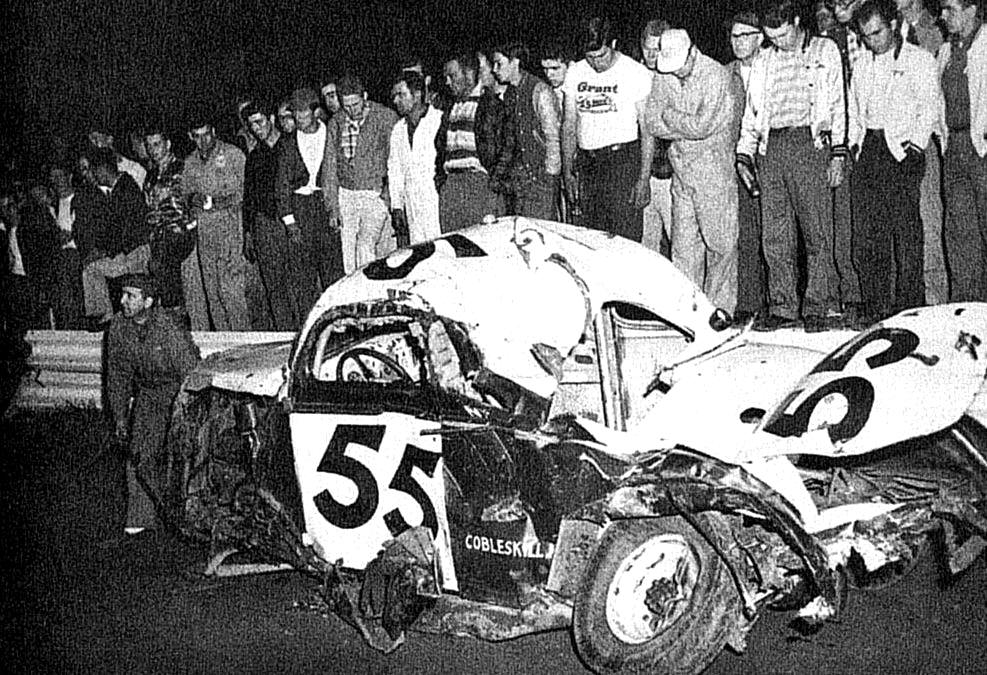 Ed Feuz Collection

Ed Abel had run out and began talking to a stunned Jerome, who was now sitting on the door of his overturned car. Wayman was waking up and would turn out to be only slightly injured. The lightened, drilled, and tricked – out Whitbeck car had not been built to withstand a high – speed barrel roll. Jerome was done driving stock cars, and the Starrins would finish up their racing at a tamer Whites Beach Speedway. Starrin would add that parts from the Jerome car went through the windshield of Doc Blanchard's #49, as well. One eight year – old spectator who was horrified by the crash, but obviously not discourage was a young David Lape.
Jerome, perhaps should have known better. His close friend, Stan Bellinger, had had his career cut short by a fiery crash in which he was rescued by BobWhitbeck. The Fonda history book tells the story wherein Bellinger had a dream in which God told him Jerome was going to have a problem in the next race. Bellinger was always after Jerome to quit. The next race just happened to be the Wayman crash race – only exactly three years later. Jerome [or Emden], who just recently passed away in Johnstown, would tell this story.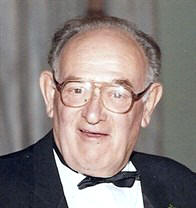 From AG Funeral Home Site
George "Jerry Jerome" Emden, later in life, having survived the crash.

Whitbeck – built cars were not done have tragedy strike. Bob's favorite driver, Pete Corey would be driving a famous Whitbeck – built black #22 at Langhorne. The Harold Smith – owned car experienced damaged steering under speed just as the throttle decided to stick open. Corey plowed into a crowd of spectators in the infield, causing some fatalities and multiple injuries. One of those injured was Frank Trinkhaus' familiar mechanic, Willie Seamon, who had been up on a light pole taking photos when it was struck by the Corey car.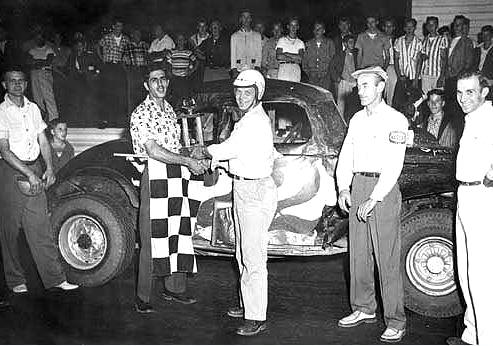 Herbert Family Collection
Pete Corey is congratulated by Jeep Herbert after a win in the Whitbeck 22 as Bob Whitbeck looks on from the far right. Below – Apparently undeterred by the Jerome/Wayman crash, Dave Lape went on to race for decades and used the Whitbeck color scheme for quite a while.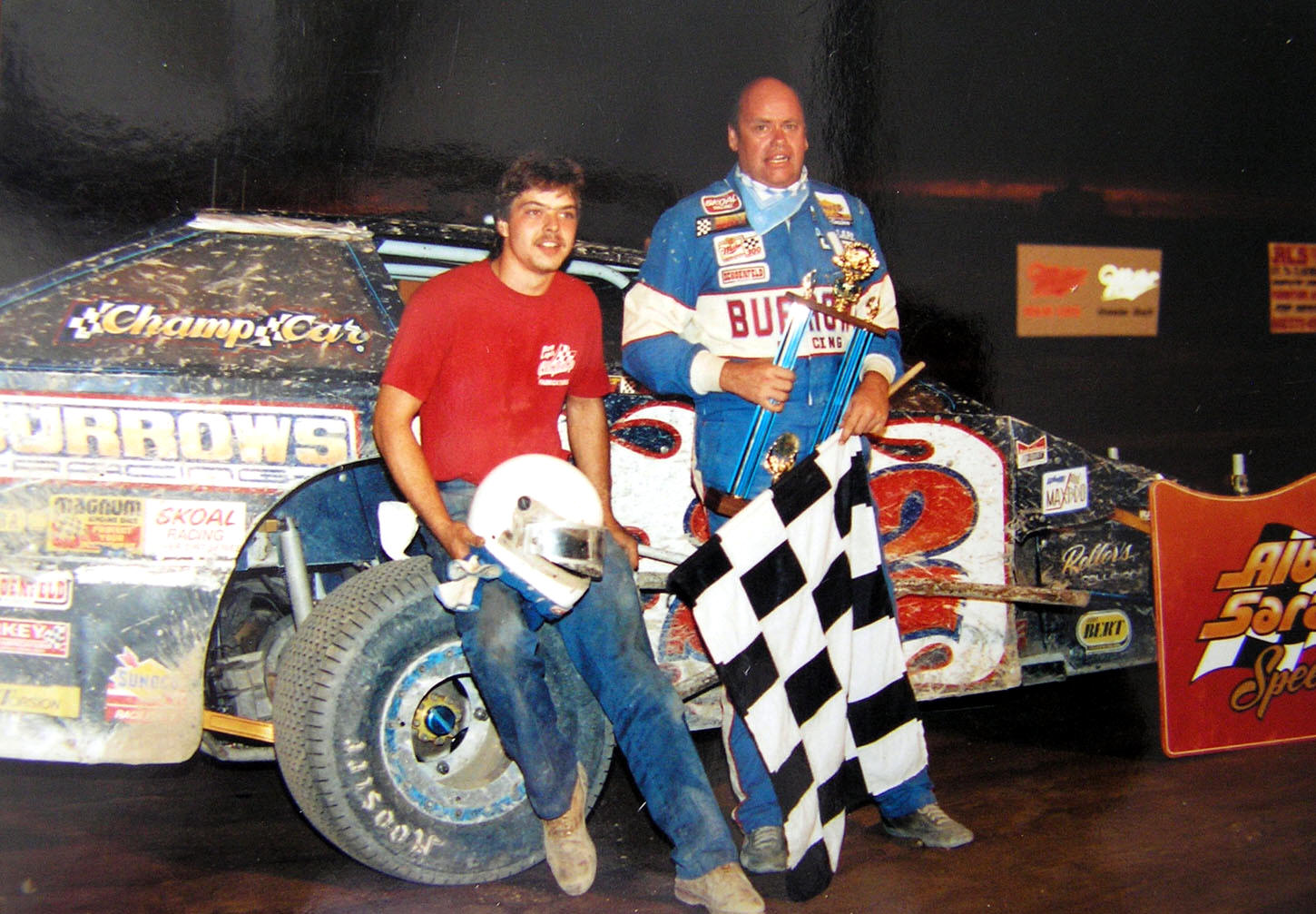 Courtesy of the LaFond Family

Bob Whitbeck is respected as one of the best car builders of the mid to late 1950's in his entire region. He just happened to sometimes have one of his cars be in the wrong place at the wrong time. Jerry Jerome will go down in racing history both for the accident and for those roadster tracks he helped promote. The Starrins are happy to have field several good cars and for Jackie to have been a pioneer of sorts in female driving. Baumgardner should be in the hall of fame if he isn't already. It's these little stories and how they tie into one another that make the history of the sport what it is today.
Please email me if you have any photos to lend me or information and corrections I could benefit from. Please do not submit anything you are not willing to allow me to use on my website - and thanks. Email is: wladabou@comcast.net . For those who still don't like computers - my regular address is: Bill Ladabouche, 23 York Street, Swanton, Vermont 05488.
AS ALWAYS, DON'T FORGET TO CHECK OUT THE REST OF MY WEBSITE
www.catamountstadium.com
Return to the Main Page
Return to the Main News Page
Return to the All Links Page
Return to the Weekly Blog Links Page