BILL'S [Somewhat] WEEKLY COLUMN/BLOG PAGE

BILL'S BACK IN TIME
By Bill Ladabouche
JUST SIT THERE AND RAKE IT IN
I was recently sitting in the pit bleachers at a Devil's Bowl show when I heard one of the local windbags [and most people know who he is] expounding on the track's former promoter, C.J. Richards. The gist of what was drifting my way was that Richards, when running both Fairmont Speedway and Devil's Bowl, just sat back, raked in the money, and – along the way – screwed about everybody he could. Well, I am not going to get into all that, but I can assure he didn't often just sit back during any of the years he owned his tracks.



Ladabouche Collection
C.J. Richards poses proudly by the sign to his race track. It was the fastest half mile in Vermont. Hell it wasand the ONLY half mile
in Vermont. His mamma didn't raise no fool. Times then, in 1962 were calmer at Fairmont.
The middle years of Fairmont [1964 and 1965] were particularly taxing. He spent a difficult season in '64 gearing up to switch his lead division over to the overhead V-8 sportsman car in 1965. That would have been challenging enough, by it self, but 1964 also provided some unanticipated tribulations. Fairmont experienced some bad wrecks, and I mean they were doozies. The first and worst came on one sunny afternoon around midseason, when James van Guilder came in with a hitherto – unseen #39 coupe and somehow slipped it through inspection.
During the earlier laps of the feature event, the Van Guilder car somehow became airborne in the middle of the track's long front straightaway, barrel rolling and simultaneously disintegrating as it went. Had the whirling car only cast off loose body work, it wouldn't have been half bad; however, the roll cage was apparently only hitched to the floor of the car and Van Guilder was ejected out of the car, flying through the air with various pieces of body metal. The prostrate driver, perhaps already near death was then narrowly missed by a speeding George Rogers.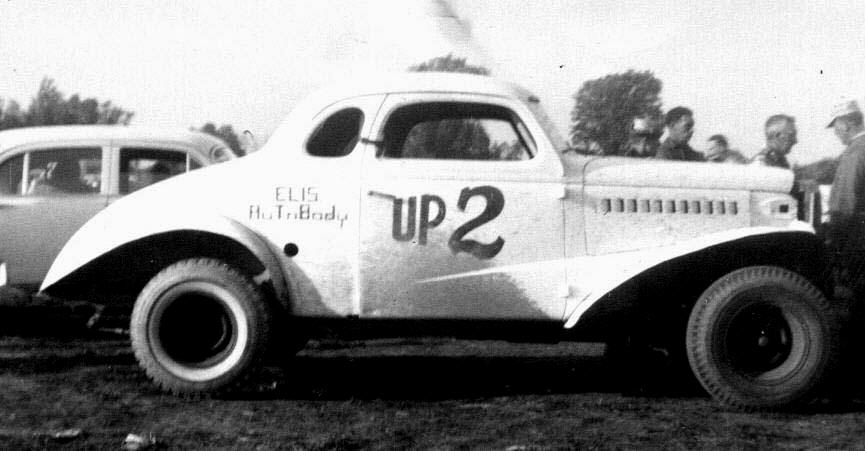 Ladabouche Photo
Check out the ground clearance on George Rogers' second UP2. This is what insured that he would pass over
the fallen driver on the track.Below - This old photo from central New York shows that stock car drivers being
ejected from their cars was very possible in the old days of racing. Yup that's him above the car.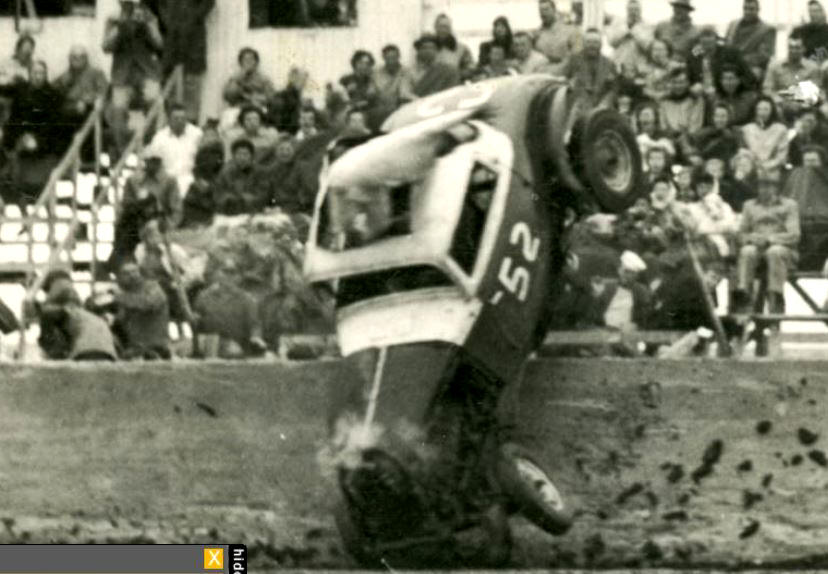 Courtesy of Half Fast Video
The Rogers UP2, first edition, was built high up off the ground, and as Rogers put the car sideways, mostly out of reaction, he passed cleanly over Van Guilder, never touching him. A horrified Rogers could not be convinced, at first, that he didn't hit Van Guilder and resolved to never drive a race again. It took quite some time before he did. The New York driver did die of his injuries soon thereafter, and the incident cast a dark cloud over the track for awhile. It definitely cleaned some fans out of the stands. It was a horrific sight to behold, as I can attest to, first hand.
In that same season, with Richards' hobby division of low cost late model cars improving perceptibly by the week, fields were getting bigger, local interest was growing, and speeds were increasing. Recognizable names like "The Unbeatable Lennie" Wood, Tim Baker, Charlie Towslee, Graham Trudo, Dexter Dorr, Charlie Laduc, and members of the Manchester – based Hoard family were among those creating this new interest in the hobby class. After James Blackmer's first hobby, an incredibly crude rig had started the class, some rather impressive cars such as Dorr's 29 and Wood's F30 were being built.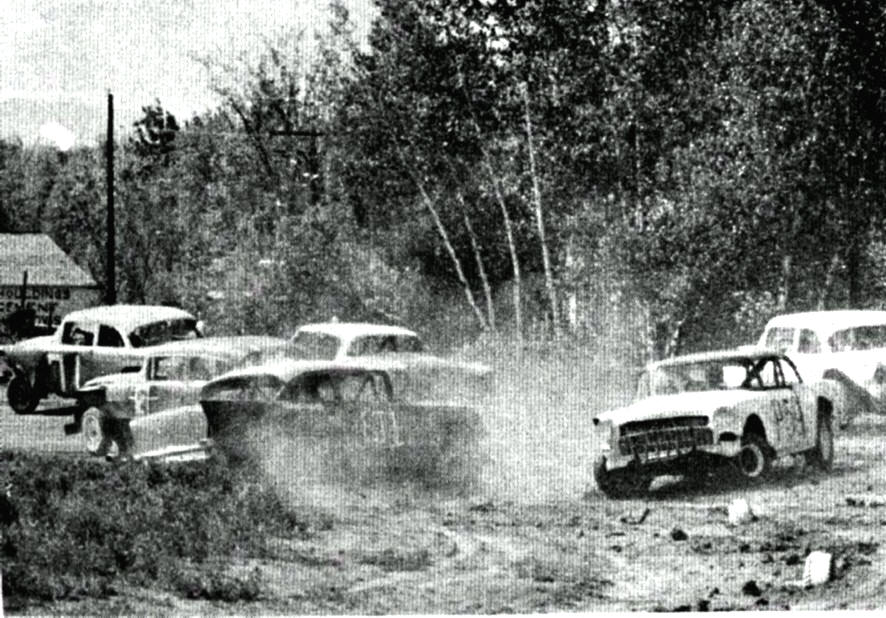 Cavalcade of Racing Photo
The hobby class was getting faster and the problems that came with that were increasing, as well. The Studebaker seen above the
spinning EJ1 car was much like Ed Eisler's, and the P59 of Bob Ames was the famous Dexter Dorr – built '55 Chevy. Below –
The Dorr car ,when new, was the hottest rig in the division.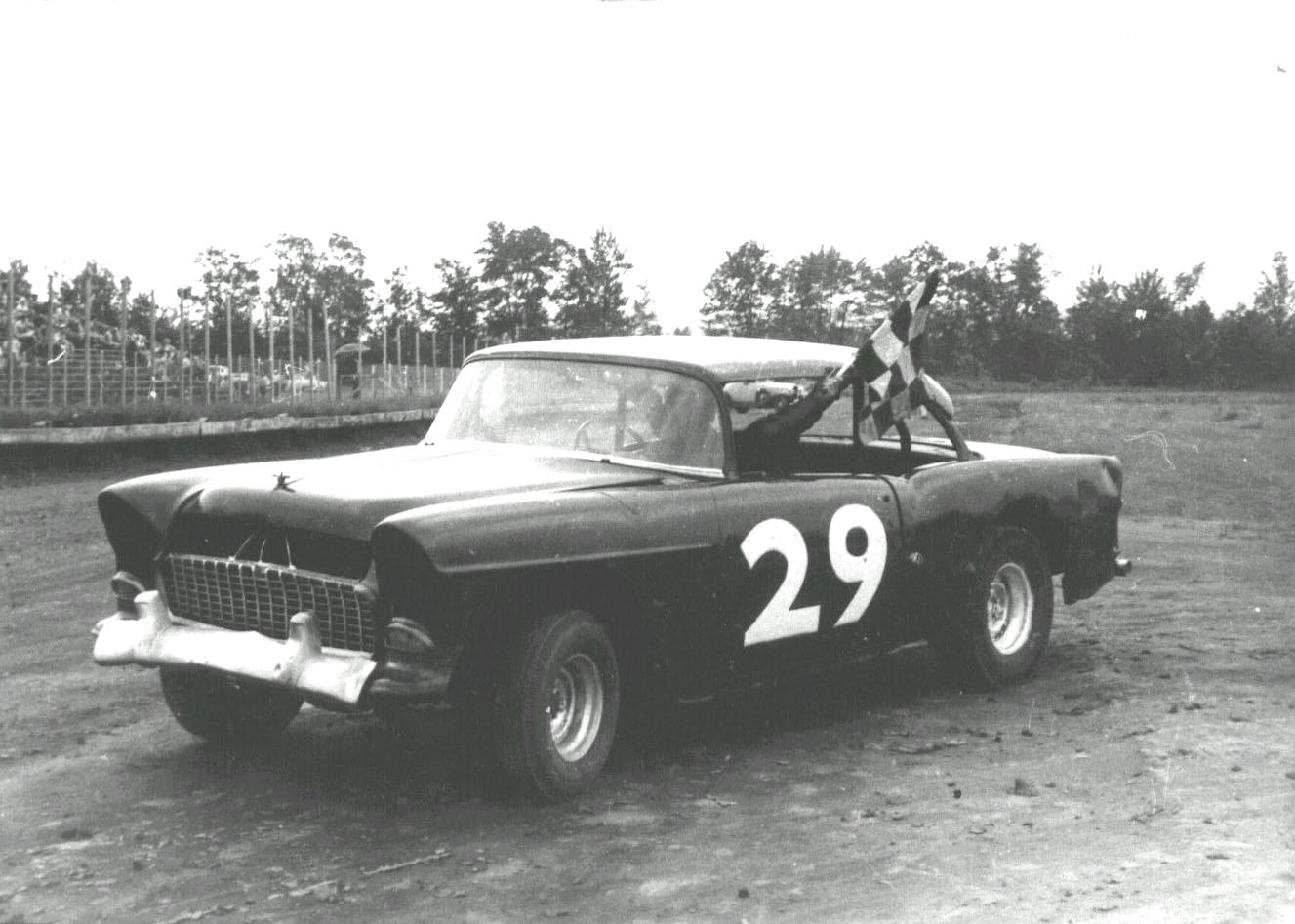 Ladabouche Collection – Bob Frazier Photo
You could have seen it coming when Warrensburg driver Rusty Duell brought down a Studebaker [which very well might have been used at the old Warrensburg Speedway in the previous decade] and ran into problems. The Duell car was numbered RD2, in the manner of his family that had raced at Warrensburg Speedway and Whites Beach Speedway extensively. He began a spectacular series of flips and rolls; but, unlike the Van Guilder car, his cage held up and he suffered only minor injuries. The Studebakers were not done vexing C.J. yet.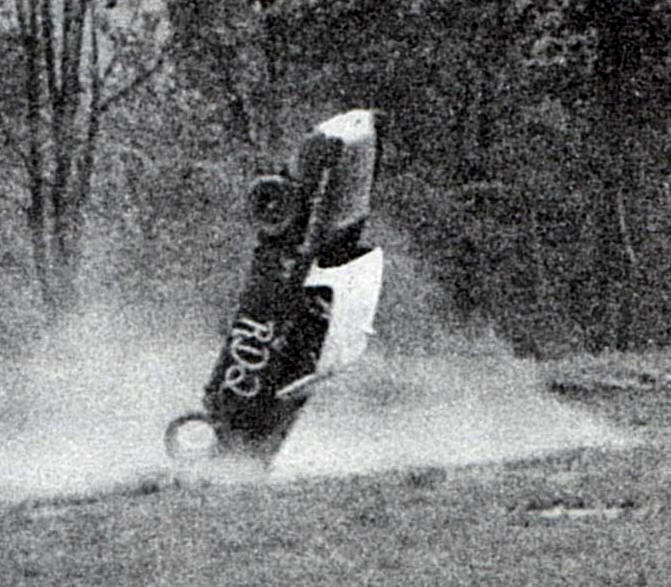 Bob Frazier Photo via Cavalcade of Racing
Rusty Duell, in the midst of one of his flips that day at Fairmont. Below – A later Devil's Bowl program, trying to be funny, had captioned this shot of Duell's Warrensburg friends checking out the remains of his car in the infield as "Remember when races cars were a feat of engineering ?" It was, the cage held that day. The man in the foreground is John Maguire, car owner for the Unbeatable Lennie Wood in that class.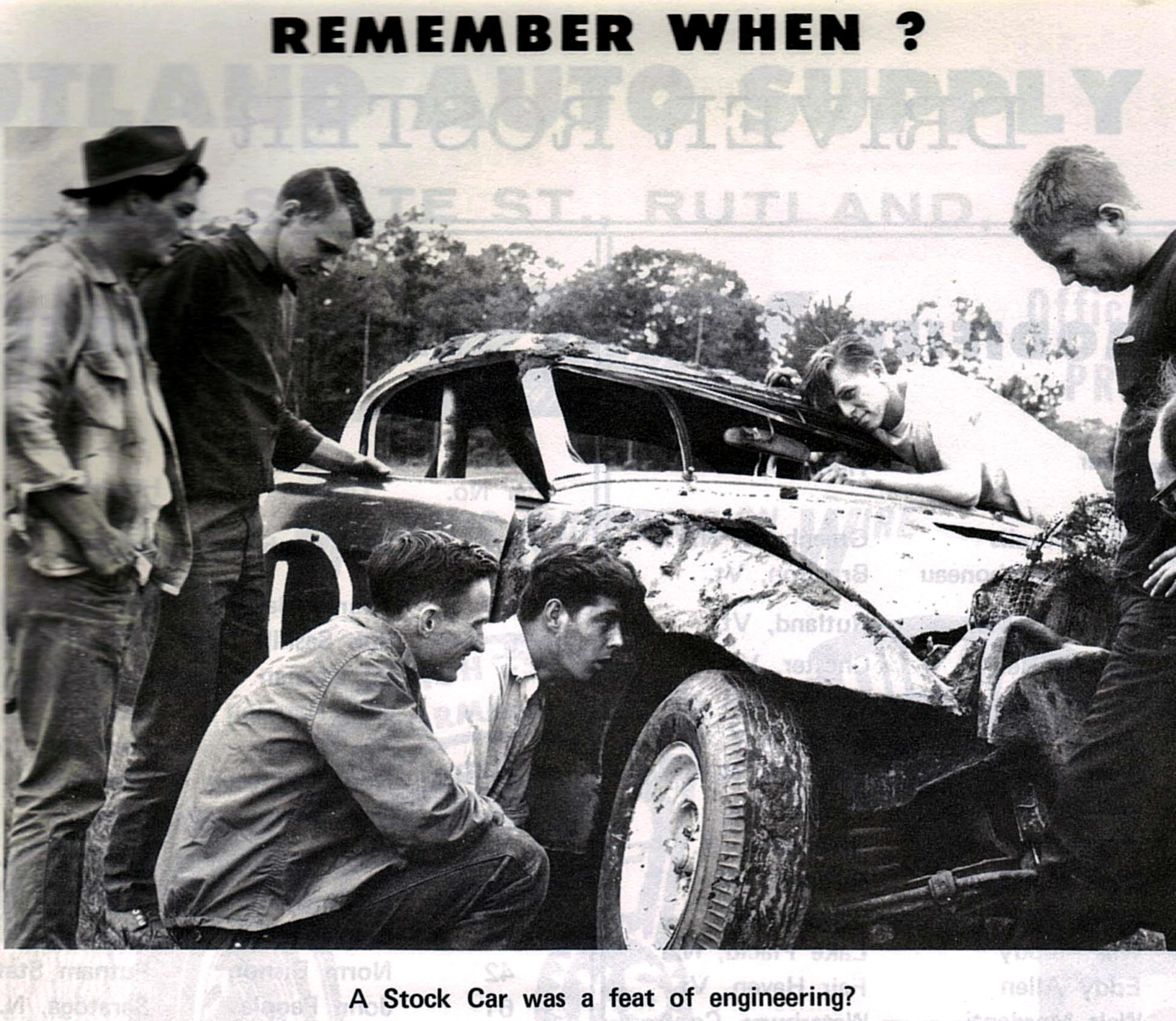 Devil's Bowl Program – Bob Frazier Photo
Later in the '64 season, a popular local motorcycle club member named Ed Eisler showed up at Fairmont with a Studebaker hobby car. In one of his first races, Eisler apparently had a wheel come loose and he stopped on the track. Inexplicably, Eisler exited the car with the race still coming to a caution; bear in mind tracks did not had receivers in the drivers' ears nor did they have traffic lights all around the tracks. New driver Harry Duffany of Shoreham came around the corner towards the stalled Eisler vehicle and swerved, shocked to see Ed on the track. The Duffany #535 Ford ended up sliding down the slight banking and into Eisler, who was by then standing next to his car. The collision cost Eisler his leg.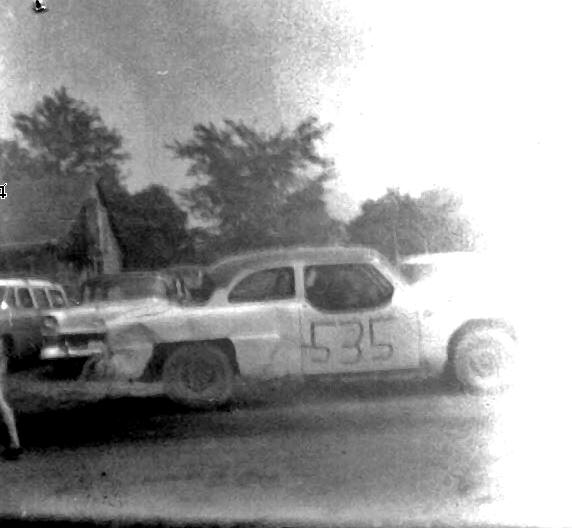 Courtesy of Barb Laduc
Barbara Laduc caught her neighbor, young Harry "Boo" Duffany arriving at Fairmont for his first race. Considering
what happened next, it's a good thing no one told him to "break a leg ".
That would have been plenty for C.J. Richards and the Champlain Valley Racing Association to get through for a season, but they weren't done. The track had been attracting a number of powerful, non – NASCAR cars from eastern New York, many of whom competed often at Lebanon Valley. Such was the case with Lou Searing, Stan Wetmore, Ralph "Rufus" Chittenden, George Proctor, and the legendary Joe Messina, of Troy. Messina's name was already vaguely familiar to the Fairmont locals as he had won a 1961 race at the Vermont State Fair in Rutland that had been put on [with encouragement from Richards] by Lebanon Valley.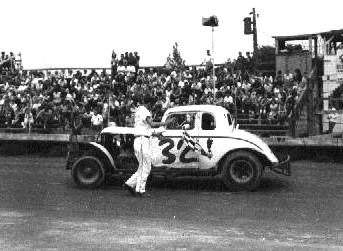 Ladabouche Collection
Ralph "Rufus" Chittenden was a strong runner at Fairmont, as were many of his competitors from eastern New York.
Below – Joe Messina takes a heat win in Al Green's lovely car before throwing wheels at the unsuspecting spectators seen in the
background. The baby carriage would be just out of sight to the left.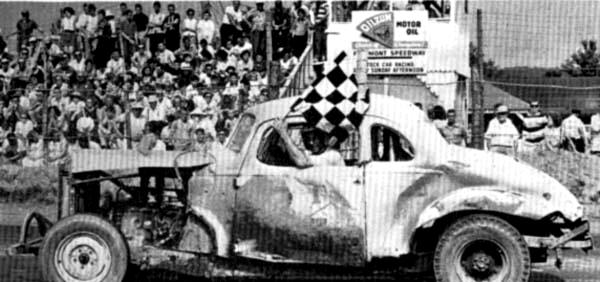 Courtesy of Ed Fabian

Messina, known for his penchant for Hudsons, had arrived not with his own Hudson #13, but, rather, with Al Green's fast but wrecky – looking # 3 and 1/7 Hudson. The Green car had been successful at such tracks as Rhinebeck, Whites Beach, and even the prestigious Valley. Messina was flying with the car in qualifying, dusting off his heat in short order. In the feature, Messina had been put far back in the field, as he was not a CVRA regular. He was wending his way up through the traffic when, coming down the front stretch, the white Terraplane threw off the outside front wheel, which held a huge racing slick bigger than most Fairmont cars could use.
The errant Messina wheel headed straight for the dirt birm that bordered the front stretch catch fence. It hit the birm in such a way as to launch it, bounding, right over the catch fence. Seated in those stands, I could watch the whole progression of events – it seemed like it was slow motion. The wheel bounced in front of the first row of the bleachers, so close to an occupied baby carriage that its impact on the ground slight moved the carriage. It then bounced high into the air, cleared the stands, and landed upon a car parked nearby. I don't think Richards ever knew how close a call that one was.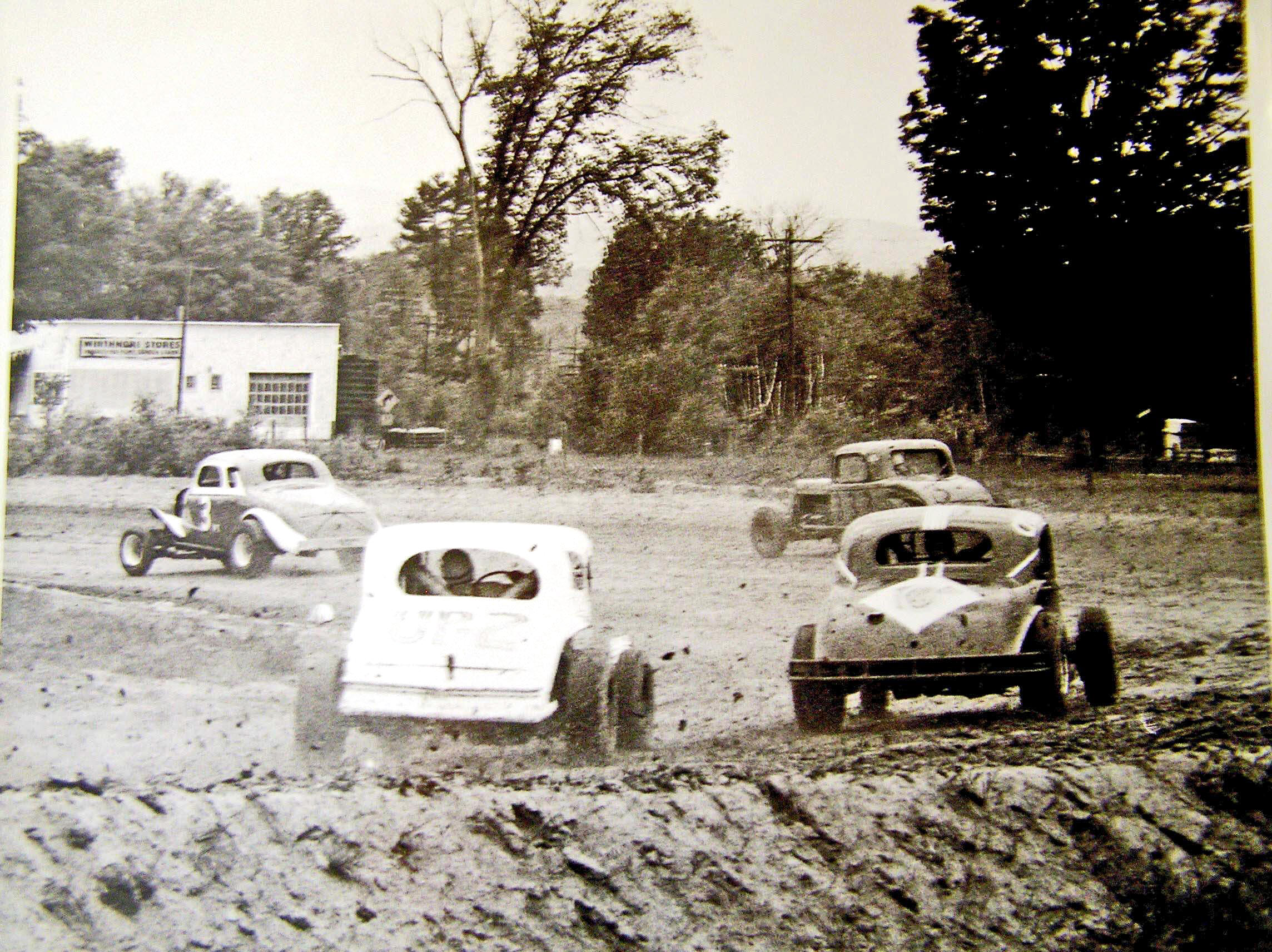 Courtesy of Wes Moody
This 1965 shot by Bob Frazier shows the eclectic mix Richards had at the track that season: Quenneville [3] in a purchased sportsman, Stevens [333] in a converted flathead coupe, Bosworth [far right] in a newly – constructed sportsman, and Rogers, in the old – style, but fast six banger. Below – This is further illustrated by this 1966 pit photo. #71 is Harry Duffany; 3 is the lowered Quenneville car; and 31 was this beast from New Hampshire – basically a V-8 overhead stuffed into a creaky old '34 Ford. It was fast – for a few laps.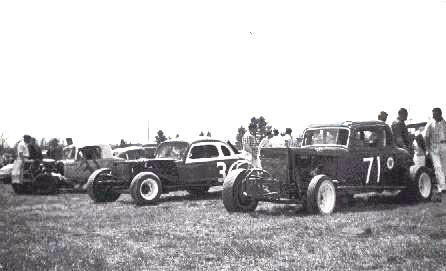 Ladabouche Photo



The 1965 season would mercifully be relatively short of those kind of accidents. It was still a tempestuous year because – despite the fact that several local regulars such as Vince Quenneville, Charlie Laduc, Howard Stevens, Norm Scarborough, and Cecil Bosworth did blossom out with overhead V-8 sportsman cars, the old flatheads and 6 cylinder powerplants in some of their competitors were, at first, making them look bad. It took some getting used to: for instance, Quenneville's car owner, Gael Dundon, had gone to southern New England and had purchased a 1936 Chevy coupe there that had been running asphalt. The #3 team struggled mightily much of the season getting the beautiful red and white coupe dialed in.
Richards probably foresaw this problem due to a few unrelated incidents in 1964. At the end of that season, he had welcomed in some NASCAR sportsman cars for one race, allowing their overhead V-8's to run against his flatheads and six bangers. In these special races, his guest had ranged from the legend, Pete Corey, to journeymen drivers like Wayne Coon and Jollie Ollie Palmer, a man whom fans had watched 12 years before at the old Pico Raceway, nearby in Rutland. In between, Fairmont had seen the likes of Peppy Peppecelli, Jim Koehler [who would run the track regularly the following year], and Dutch Reed. The sportsman cars had varying rates of success against the CVRA cars, except for Corey, who dusted everyone off.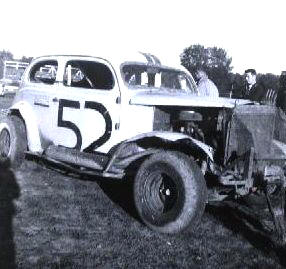 Ladabouche Photo
George Proctor arrived with little fanfare at Fairmont and left with a resounding and dominant feature win – twice.
Below – Peppy Peppecelli was one of the NY sportsman cars to invade Fairmont in 1964.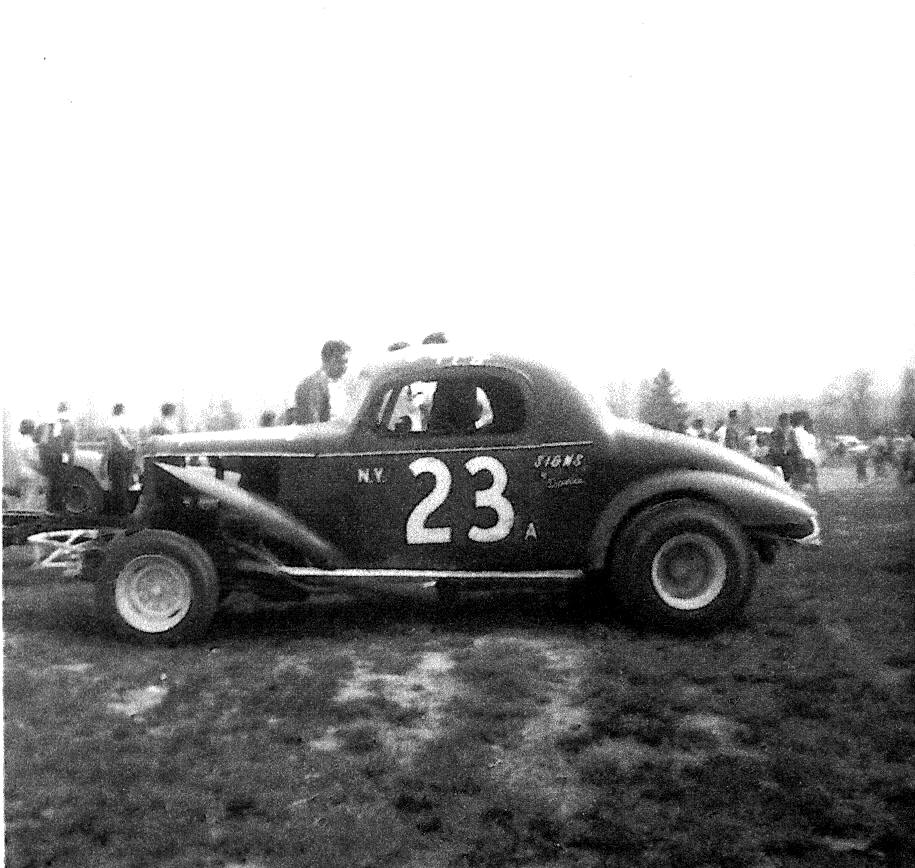 Ted Vogel Photo
The most telling case might have been when Waterford, New York's little – known George Proctor arrived at Fairmont with a yellow Plymouth sedan, with a Chrysler non – overhead engine.. Proctor's #52 was either fabulous or laughable, depending on which track he ran at. He was achieving good success at the long, flat Victoria Speedway, sometimes running in with the V-8's. But then, at the tight and well – banked Pine Bowl Speedway, he looked ridiculous. It was all about gear, and the low budget Proctor had only his one set.
Well, Fairmont was to Proctor's liking. In 1964, he ran at the track twice, and turned both of those features into routs. In his second win, there were some overhead V-8's allowed into the race, and they had nothing for George, who son Ron has won two track championships at the Devil's Bowl track in 2010 and 2011. So, the stage was set for a promotional nightmare in 1965. True to form, in the beginning of the season, while the new cars were struggling with setup, Sonny Rabideau's potent, flathead – powered #311 cutdown was showing the way. Rabideau's Stroker Smith – owned car was the hot ticket until the increased strain of staying ahead of the improving overheads caused a series of expensive blown engines.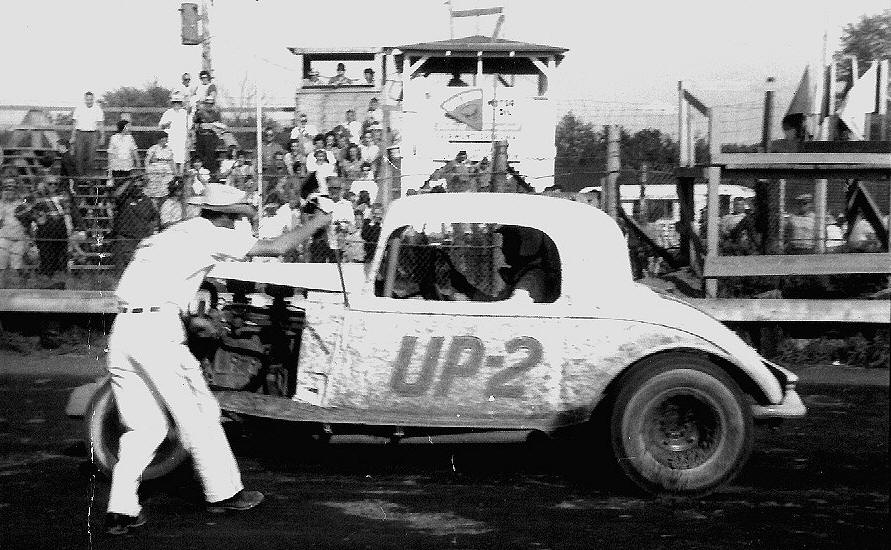 Courtesy of Chris Companion
George Rogers' six banger wins a feature from the overheads at Fairmont in 1965. But really, George, whose car ya callin' a
death trap ? Below – My illustration of Graham Trudo's " rattlin' death trap [which utterly dominated in 1966].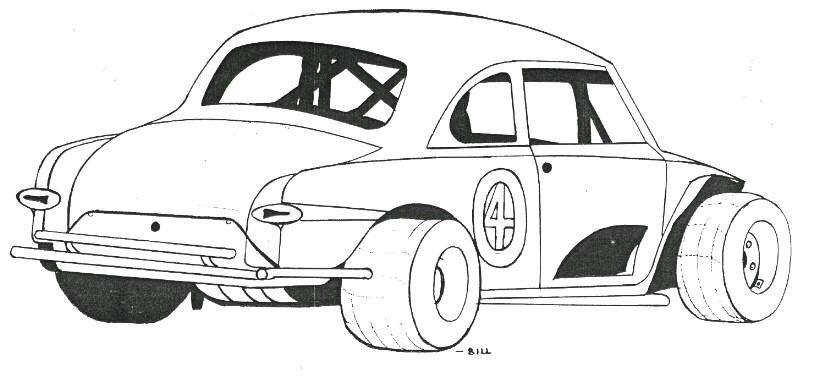 Ladabouche Illustration
Then, with the V-8's apparently beginning to take over, local driver George Rogers [the guy who had just missed running over Van Guilder a year before] came out with an extremely lightened – up, GMC cylinder Ford coupe. The second generation UP2 was first thought to be a futile attempt by the sometimes – stubborn Rogers to hang onto the old days. But, after a convincing feature win, it was clear that the overhead V-8 was still not king – at least at Fairmont. And this, in a year when – to the North – Catamount and Thunder Road were phasing out the flatheads and sixes, as well.
It is a bit ironic that the outspoken and opinionated Rogers would, one year later, label the 1949 Ford hobby car of Graham Trudo as " a f%#$ng, rattling death trap" as he examined the nearly undefeated, radical late model car in the Fairmont infield pits. That Ford coupe of Rogers, according to many of the old hands who knew him and the car, was very lightened up and gutted out. These locals recall the roll cage as made of thin , light tubing that probably would not have held up well in a big impact. Rogers and his son, Butch, were excellent welders – and apparently he was counting on that to add the strength and make up for tube size.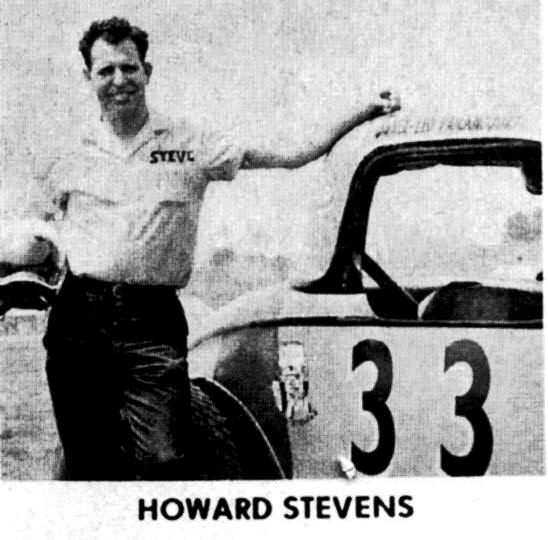 Cavalcade of Racing Photo
Unassuming Howard Stevens was well ahead in the Fairmont 1965 points race when he had his race car yanked out from
under him. Below – Rabideau, with the same car, in the same year.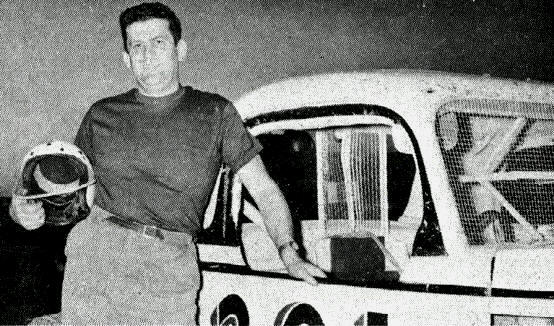 Cavalcade of Racing Photo
As icing on the cake, Richards had a crowd favorite leading the 1965 points well into the season. The Leo Vallaincourt – owned #333 had come in from Claremont Speedway in the 1964 season and become an instant hit, with the pleasant and unassuming Stevens winning a few features. In 1965, the team came back with the same car – only lowered, professionally lettered, and sporting a small V-8 powerplant. Stevens and Vallaincourt were cruising through the season with the combination of the more powerful overhead V-8, in a car already set up for the track. It was magic.
The CVRA had actually used the success of the Rutland – based team in its efforts to fill the stands on a Saturday night. They held a City of Rutland Trophy race that year, I believe. Then, one early August evening, the crew [which let me help and wear their uniform] was cleaning the clay out of the car when we all noticed a quiet conversation going on between Vallaincourt and his friend, the already – legendary Sonny Rabideau [whose car owner had tired of blowing flatheads and had retired the car]. Before anyone could react, the points – leading driver was without a car. Rabideau had bought the orange #333, and it would show up the following week as the yellow and black #301. That took a little wind of the Fairmont sails, in terms of local fan appreciation.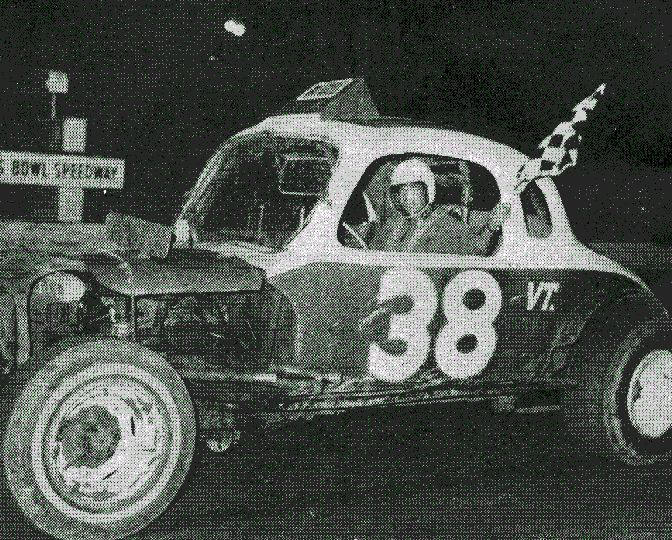 Ladabouche Collection
Vince Quenneville [with the former Dexter Dorr coupe] and Charlie Laduc [below with the lovable Henry J sportsman] were two of
several old Fairmont hands to make the trip with C.J. up Route 22A to Devil's Bowl. Laduc's loyalty would earn him the nickname "Old Reliable".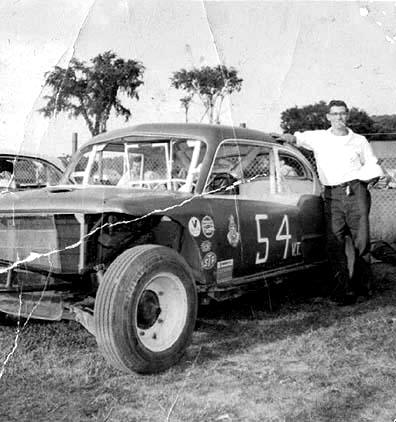 Laduc Family Photo
C.J. and Fairmont had a very good [and mostly calm] final season in 1966. He already knew he wouldn't be there another season. The ungrateful town of Fair Haven had given him major grief over "dust, noise, and traffic" while gladly pocketing the extra revenues that a race program would attract to the stores, snack bars, restaurants, and gas stations. Devil's Bowl would open up in 1967 with many of the familiar names from Fairmont, including Quenneville, Laduc, Timmy Baker, Ralph Soulia, Russ Shaw, Mert "Socks" Hulbert, and many more. Rogers would appear briefly in a 1956 Chevy late model car before having to retire due to a debilitating and rare disease. His car would continue on to glory under the guidance of Rutland used car dealer Ray Nutting.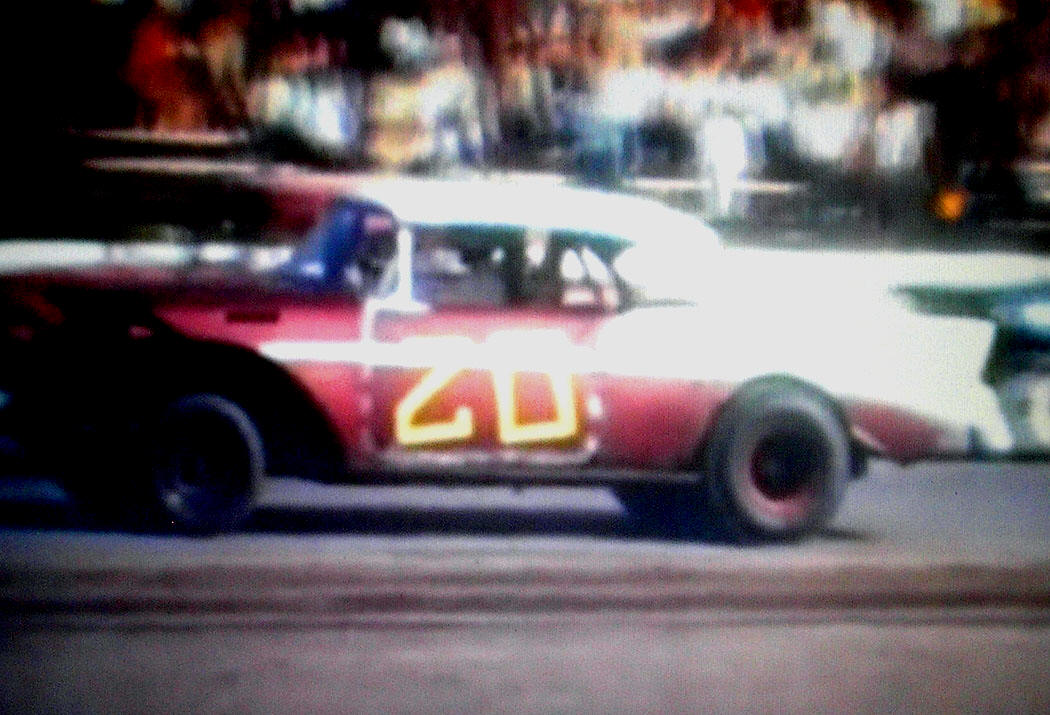 From Dan Ody's 8MM DVD
George Rogers, central to this whole column, made his last stand with this Chevy late model in the first year of Devil's Bowl. Fussy by nature, I would assume the unfinished exterior was probably due to his deteriorating health.
C.J. would face some new challenges at the Bowl, such as hostile neighboring relatives spreading cow manure on race nights and a new track that had been laid out with frost still in the clay that spring. But, he would have a great opening season and nothing even close to those seasons of 1964 and 1965 would occur.
Knowing what he had been through in those last two seasons at Fairmont, I stood there as a local guy, meaning no harm, asked Richards if it wasn't a great time promoting races and making all that money.
"Oh yeah", CJ replied with a furtive glance my way, "I just sit there and rake it in."
Please email me if you have any photos to lend me or information and corrections I could benefit from. Please do not submit anything you are not willing to allow me to use on my website - and thanks. Email is: wladabou@comcast.net . For those who still don't like computers - my regular address is: Bill Ladabouche, 23 York Street, Swanton, Vermont 05488.
AS ALWAYS, DON'T FORGET TO CHECK OUT MY WEBSITE
www.catamountstadium.com
Return to the Main Page
Return to the Main News Page
Return to the All Links Page
Return to the Weekly Blog Links Page