---
WHITES BEACH SPEEDWAY
---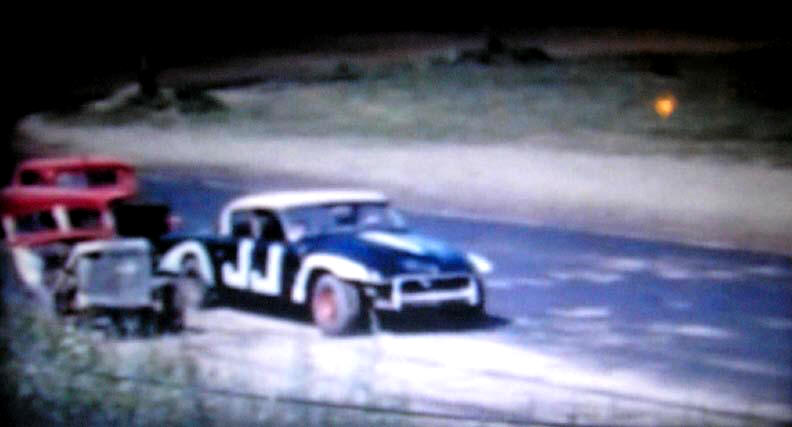 From 8 mm Home Movies on Dan Ody DVD
Ashland Park and Whites Beach veteran Johnny Jones takes green in his Studebaker.
Ballston Lake is located off New York Route 50, to the South of Saratoga Springs, NY. A portion of the western shore of the lake was known as Whites Beach, and some land in that neighborhood was fashioned into a race oval. After running very informal local jalopies on a track without much safety or spectator facilities, some interested parties from the region began to develop the facility a little more, putting in bleachers, a judges' stand, a ticket booth, and some safety barriers.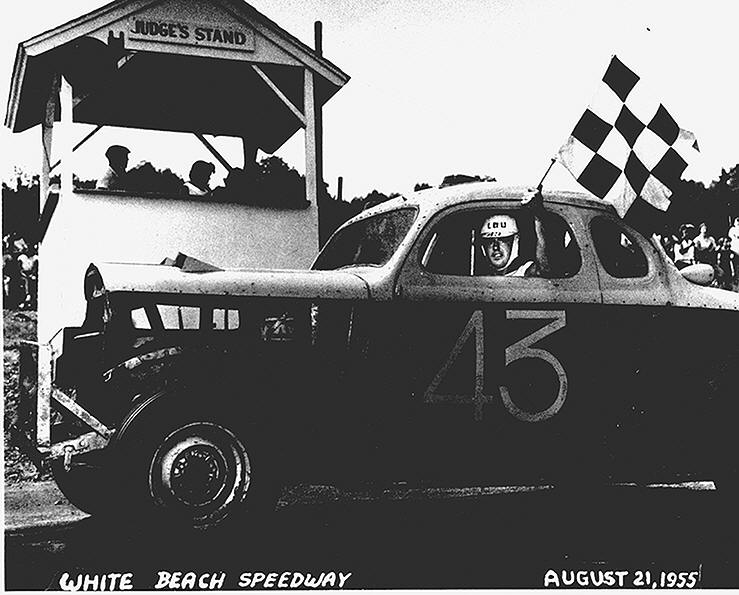 Photographer Unknown
Heat winner Lew Martin poses in front of the judges / announcers' stand built
on the grounds of Whites Beach Speedway.
The track soon developed its own cadre of drivers and teams, almost totally independent of some of the more established tracks around it, like Fonda and Empire. This may have been because of local indentity; but, more likely, it was because you could run a much more low-dollar operation and still compete at Whites Beach. According to Bruce Keith, whose mother was an established scorer at several New York tracks, some of the same promoters who ran Ashland Park in Warrensburg, ran Whites Beach.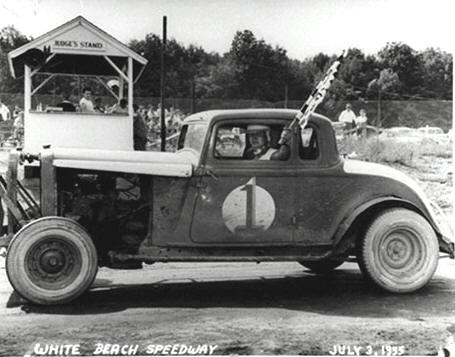 Photo Most Likely Les King or McDowell
Ernie Martin, a name synonymous with Whites Beach, poses with checkers on the front stretch.

Bill Ladabouche Photo
Ernie Martin sits and listens to Ron Hedger at the April 15, 2007 conference on lost race
tracks at the Saratoga Automobile Museum. Martin spoke to the conference about Whites Beach.
Mrs. Keith scored at Whites Beach, and she may be in the photo above - up in the Judges' Stand. Warrensburg Promoter Wilbur Baker took a turn at running Whites Beach, as did Rick Patterson and Ward Tower - according to Keith. In information supplied by the Saratoga Automobile Museum, Bob Ruckdeschel was definitely someone who ran Whites Beach. Irv Conron and Les King were, most probably among the photographers who plied their trade at Whites Beach; and, MacDowell and John Grady may have joined them. Someone said Pappy Delong may have promoted the track, too.
Between the recent book on the history of Fonda Speedway, and the even - more - recent display about Whites Beach at the Saratoga Automobile Museum, Whites Beach has suddenly burst into the consciousness of the region's followers of vintage stock car racing. I have decided to give it a page on a web site devoted to Vermont racing history because several of its participants also tried their luck at Fairmont Speedway, in Fair Haven, Vermont.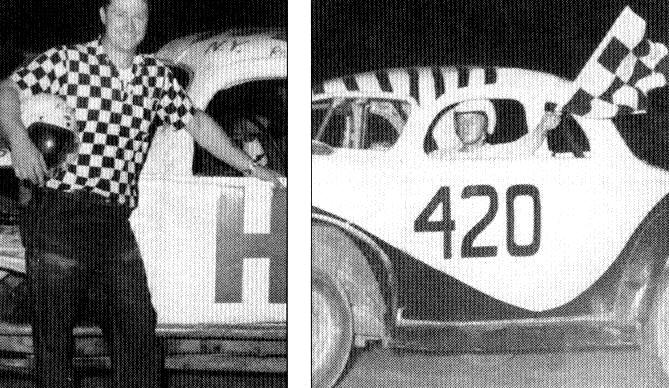 Fonda History Book Photo
Dale Horton [aka Rebel Ross], from Broadalbin and Chuck Dwyer were two drivers featured in
the Fonda history book. I remember Horton appearing briefly at Fonda.

Today, there is virtually no trace of the race track. The land is owned by someone who raised deer on the very part of their property that once housed the track. That area is surrounded by a high wire fence. From the Whites Beach Road, you can look through the fence and see a portion of their deer compound that nearly comes right up to the road. There is a clearly - discernable curved banking that a neighbor tells me was turns one and two. You can still make out the track layout from satellite photos - both Terraserver, from the 1990's and Google Earth, which is more recent. There is also a little, ramshackle building on their yard that was once the ticket booth. A faded sign on the east side of the booth says "Thank You Come Again".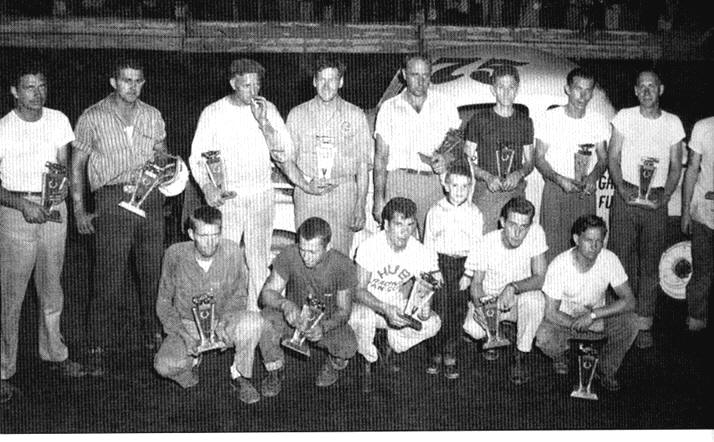 Fonda History Book Photo
A contingent of Whites Beach drivers [and a few others mixed in] pose
during the memorable George Welch Benefit Night held at Fonda: From left - front -
Stan Burroughs, Dale Horton [Rebel Ross], Ron Quackenbush, Bunny Dicenzi, and
Paul Dwyer. Rear - Earl Madison, Doc Blanchard, Chuck Dwyer, Jack Roode, Herb
Dunleavey, Louie Luft, Earl Spellburgh, Ed Rykowski, and Joe Wunderlich.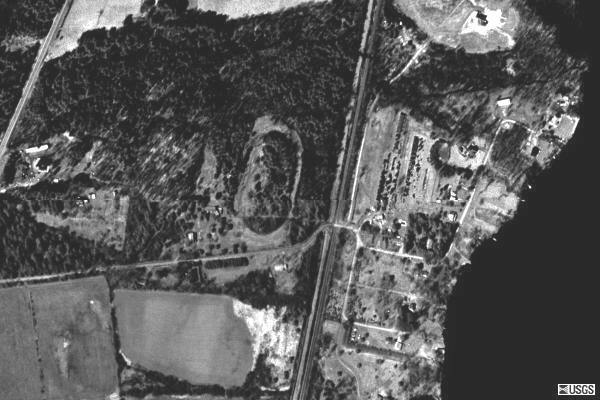 Terraserver Satellite Photo - 1990's
TOM FISH PHOTOS
Contributed by Tom on behalf of his father, former Whites Beach participant Bob Fish.
PHOTOS FROM DAN ODY'S MATERIALS
Contributed to Dan from Various Sources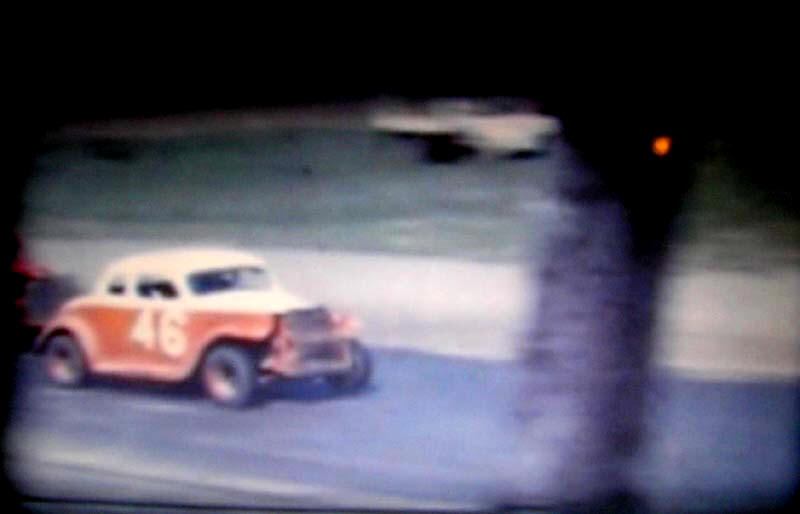 From 8 mm Home Movies on Dan Ody DVD
An unidentified car 46 plies the front stretch.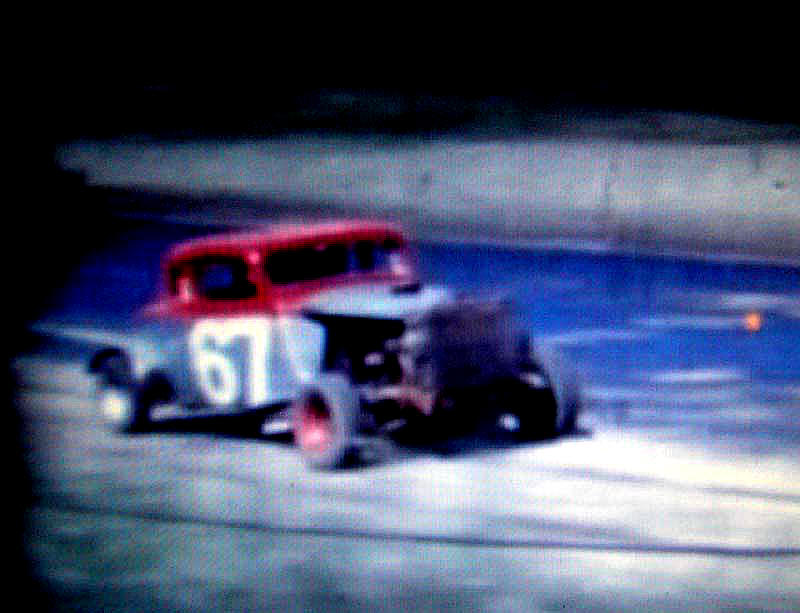 From 8 mm Home Movies on Dan Ody DVD
Jack Roode heads down the front stretch.
PHOTOS FROM DAN ODY: A CRASH SEQUENCE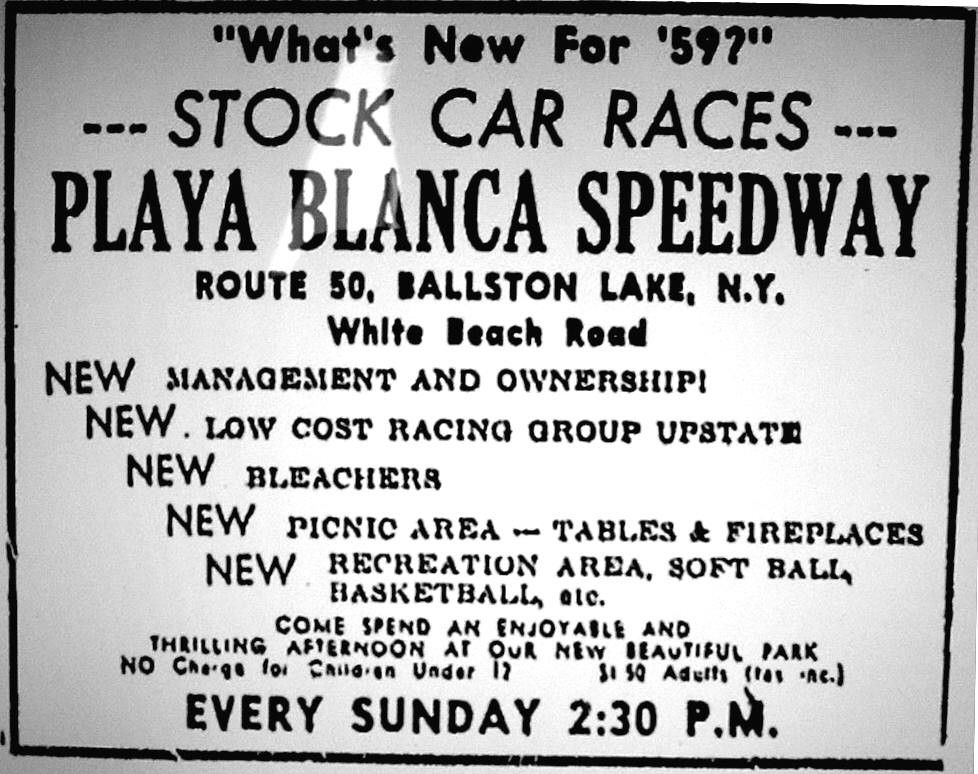 Courtesy of Joe Grossetti
A new name [meaning "white beach"] for the 1959 season. Never heard much about it.
1955 OLD SPEEDWAYS 8MM CAPTURES



From Dan Ody's 8MM




Old Speedways DVD's




via Bob Miller


A busy pits in 1955.



From Dan Ody's 8MM




Old Speedways DVD's




via Bob Miller


More busy pits in 1955.



From Dan Ody's 8MM




Old Speedways DVD's




via Bob Miller


More busy pits in 1955.



From Dan Ody's 8MM




Old Speedways DVD's




via Bob Miller


A 1955 race start.



From Dan Ody's 8MM




Old Speedways DVD's




via Bob Miller


Lining up to race in 1955.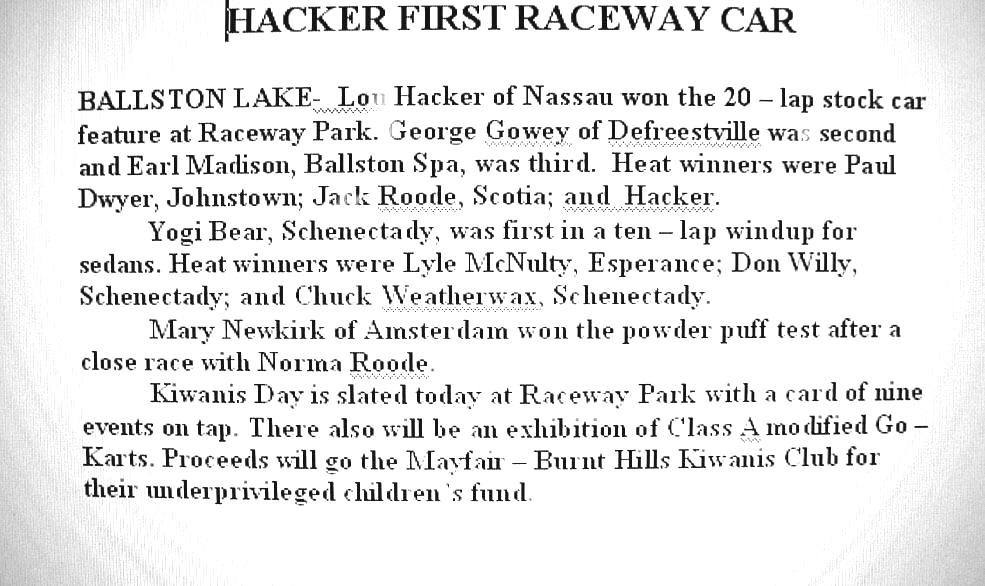 Courtesy of Dan Ody
This is a small article on the track when it was called Raceway Park [perhaps after
the track of the same name near Chicago]. There are familiar names in the text.
For a better look at the whole thing, CLICK HERE for its own page. Yogi Bear was
obviously a Fonda driver hiding from discovery by NASCAR.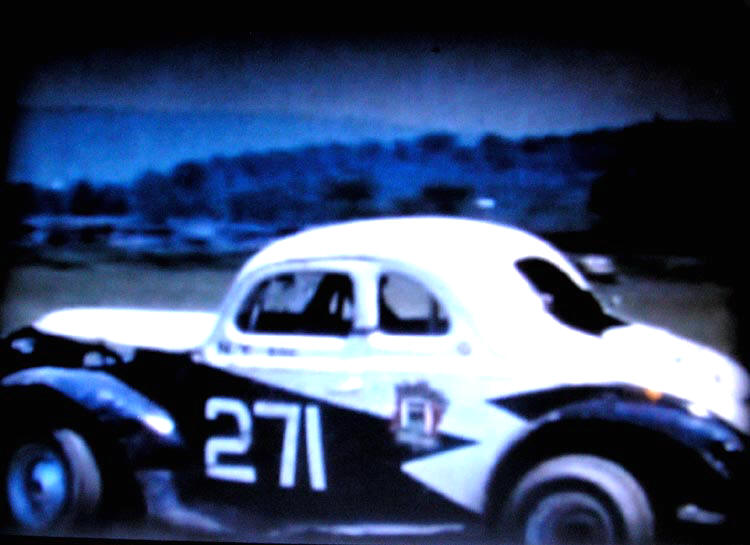 From Dan Ody 8MM DVD
According to Andy Fusco, this car belonged to Herb Root, and - with Doc Blanchard driving _
It had some moments when it dominated Whites Beach competition. This shot is at Stateline.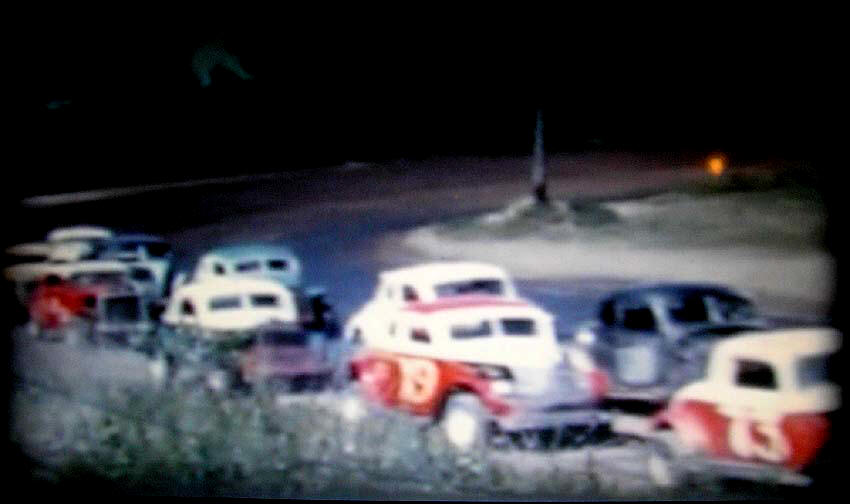 From Dan Ody 8MM DVD
Great shot of a field under caution. I recognize Ken Delong [middle, blue and white car] and Bob Hoffer
[X9 looks like 19]. 73 might be Fred Searing.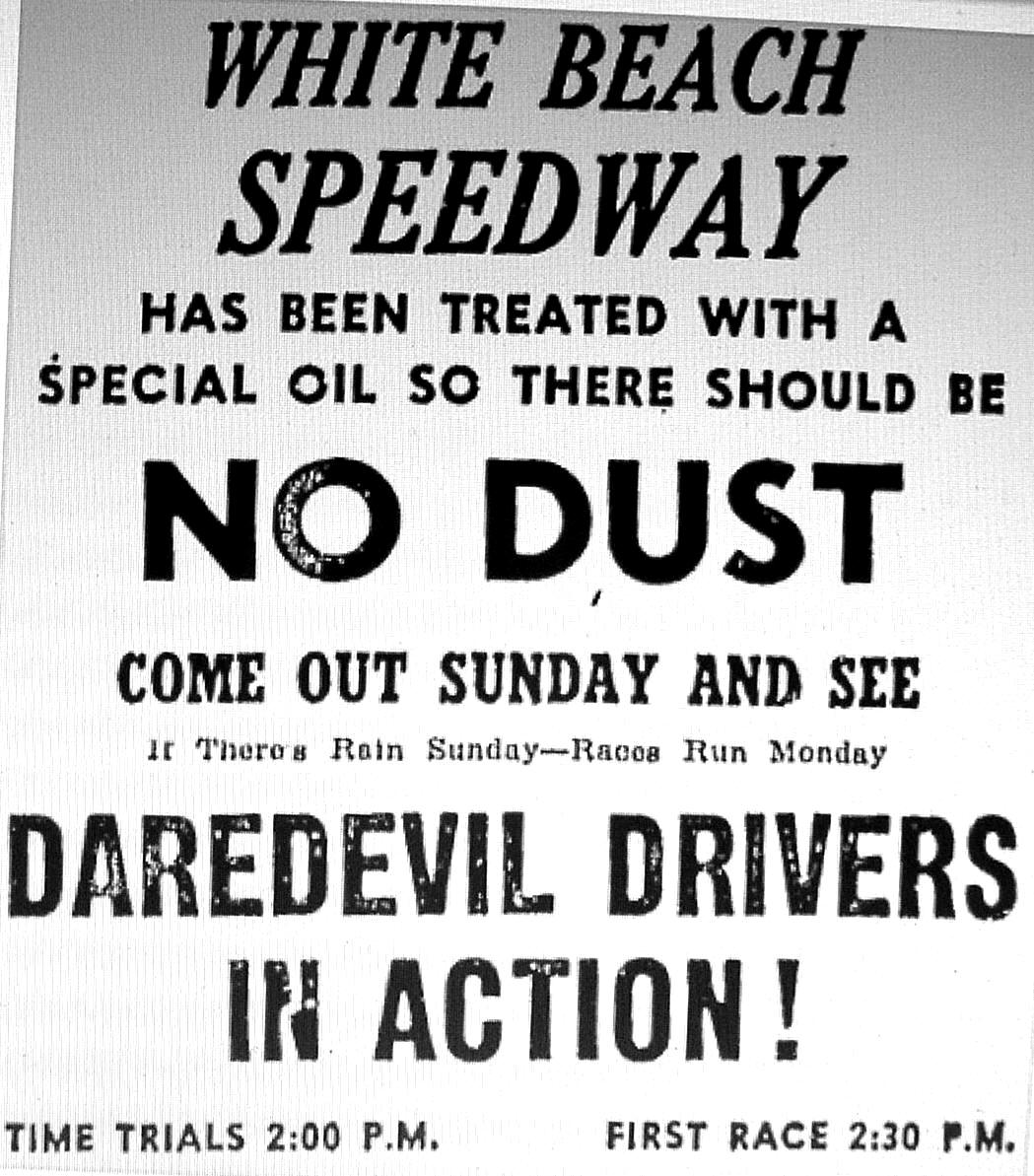 Schenectady Gazette Archives
It was treated all right. Dan Ody says you could probably strike oil if you could find the racing surface.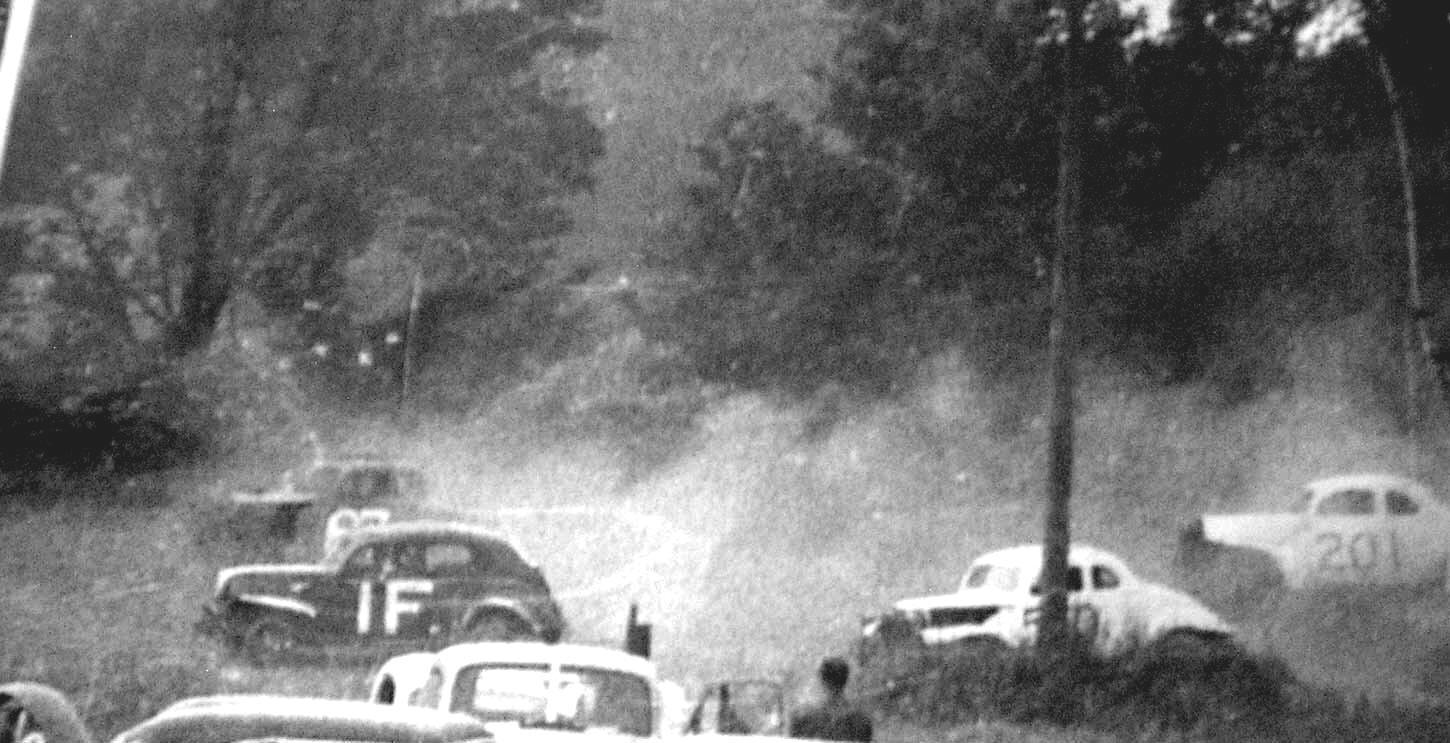 Courtesy of the Starin Family
Whites Beach action. The car 1F, a Warrensburgh regular, leads Jack Roode [outside], Stan Burroughs in the
Starin 550, and a car 201 that is often seen in Whites Beach photos.
RETURN TO THE MAIN PAGE
RETURN TO THE MAIN NEWS PAGE
RETURN TO THE ALL LINKS PAGE