THE BILL'S BACK IN TIME COLUMN PAGE
Copies of my column in Mark Thomas' "Racin' Paper"
BILL'S BACK IN TIME
By Bill Ladabouche
Site Column #51 from My Column 65
THE LOYAL PEOPLE EVERY SPEEDWAY HAS
I don't think any speedway could survive without that small core of loyal supporters who serve it in one way or another. Sometimes, it is generations of the same family, simply lugging their cushions into the grandstands to watch, week – after – week, month – after – month, for decades. Other times, it is families who serve the track as employees, faithfully, into three or four generations. But the best examples center around owners and drivers of the race cars.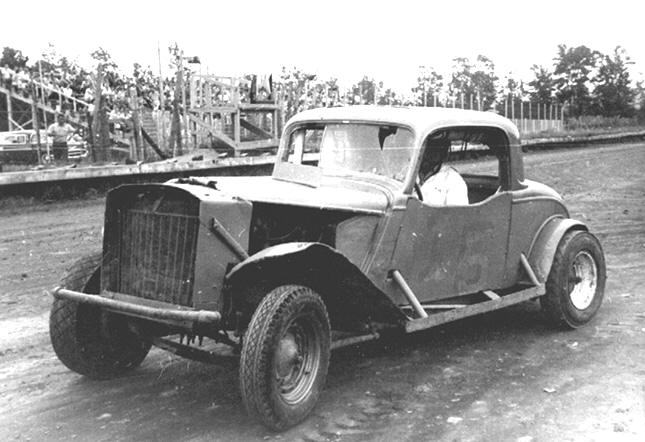 Ray Richards, in possibly the last stock car he drove himself, at Fairmont. He eventually put
Jim Spaulding in the car. [Courtesy of Chris Companion]
When C.J. Richards decided he wanted to promote stock car racing in his native Fair Haven area, he had few choices – the old Fairmont Speedway [ie, the old town fairgrounds horse track] or somewhere much further away. When Richards got the Fairmont Speedway Phase II going, one of the participants he could count on was brother, Ray – who lived in nearby West Haven. Some 47 years later, Devils Bowl still has a member of that family participating as a car owner for his uncle C. J.
Ray Richards started out with a big old coupe, numbered RR [guess why]. Ray ran the car for a while before turning the wheel over to George Pritchard, a veteran of the old Fairmont Motor Park Speedway of the 1950's. The 1937 coupe ran regularly at Fairmont and was tried at the Rutland Fair, as well. Later, Ray mothballed the body, and it would not re-surface again until he fielded a car for Northern star, Beaver Dragon at Devils Bowl in 1968.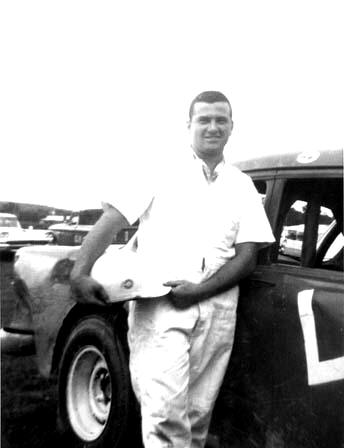 Ray Richards poses with his Chevy. He is considered to have had the first technically – effective
car in the Hobby Division. [Courtesy of CJ Richards]
Ray also did a stint in the late model hobby division, when C.J. first created it in 1963. After a while, Ray settled in to being a car owner on a permanent basis. In addition to Pritchard, Ray employed the late Jimmy Spaulding as a driver in the Fairmont era. When Devil's Bowl opened as a replacement and upgrade to Fairmont in 1967, Ray began what would be a long history of Richards-owned cars at the track that still goes on today.
Ray dug up the old '37 coupe body from the RR days, they made a decent little sportsman for Milton's Harmon "Beaver" Dragon, who lived in the shadow of Catamount Stadium. For a number of years, Beaver either ran exclusively at the Bowl or he would run both venues. Although not frequent feature winners, the Richards/Dragon #75 team was one of the track's more effective teams, fending off challenges from a number of other talented locals such as Vince Quenneville, as well as meeting similar challenges from an ever-changing invasion of big names from New York.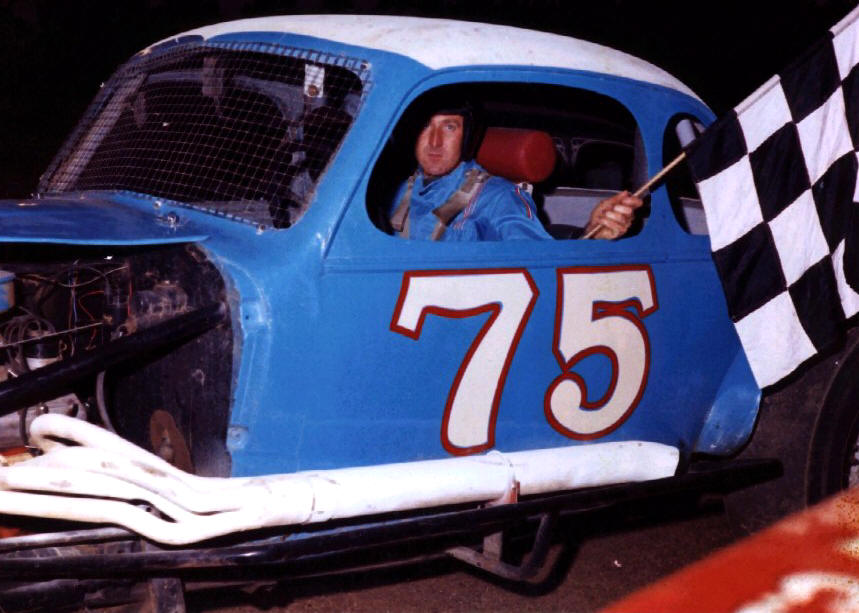 The Richards coupe took on all comers at Devil's Bowl, with
Beaver Dragon at the controls. [Dragon Family Photo]
As Ray's son, Mike, became old enough to be of significant help, Richards had been swept up, along with many other Bowl regulars, in the incursion of Northern NASCAR pavement late models. Because his brother had paved the Bowl, Ray had little other choice. The team bought the former Jack DuBrul 1964 Chevelle and placed fellow West Haven resident Bob Ellis at the wheel.
The soft-spoken Ellis, who had started in the Bowl's Dare Devil division in 1967, was the perfect man to wheel the Richards car. Not only had he considerable driving experience, but he had served as a crewman on the Dragon 75 car. Bob and Mike Richards were somewhat near to the same age. Perhaps even more significant is the fact that the town of West Haven is about one half Richards and one half Ellis. It was almost expected that Ellis would drive for Richards.
Eventually, Ray wanted to step back, and Mike took over most of the ownership duties. He and Bob raced Devils Bowl through good times and bad – like when C.J. stepped out and his announcer, Tom Perry, had to promote the place as West Haven Speedway. Mike entered the modern dirt modified era with Bob still at the wheel. When he and Ellis parted ways, in favor of New York driver Bob Savoie, there was very hard feelings in West Haven – nearly civil war. Savoie, who was a good mechanic as well as good driver, was one of Mike's best hired guns. The Richardsdale Farms car has been a familiar figure in the starting fields for years until Mike reached out for bigger sponsorship from companies like Kendall Motor Oil.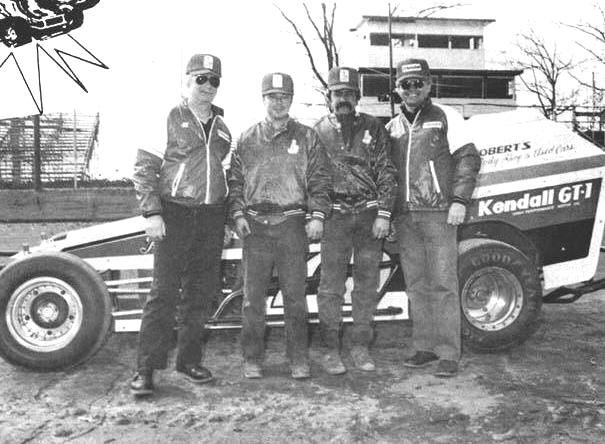 The Kendall GT-1 year with driver Savoie was one of the best Mike Richards
had at Devil's Bowl. Mike is second from left. [Courtesy of Ed Fabian]
Mike and the 75 modified have been one of the most consistent runners at the Bowl for decades. It is poetic justice that the Richards 75 team ended up with Benson, Vermont's Gene "The Flying Farmer" Munger as driver. Munger is another local favorite son. The sponsors are smaller and more plentiful on the car. Don Tupper has been loyal to the team for some years now. It is remarkably calm and laid back to hang out with Gene, Mike, and the team. By nature, dirt racing is more that way because they can't practice constantly like on paved tracks.
Devils Bowl would not have been Devils Bowl without the Ray and Mike Richards of the world, along with the LaDucs, the Scarboroughs, the Mungers, the Quennevilles, the Hoards, and all the other families that support it, year after year. The quiet, unassuming Mike Richards will never extol his loyalty and support, but tracks like the Bowl could not exist without his kind.
In the Catamount/Thunder Road arena, another such loyal supporter was a big, red-headed guy named Red Meade. No one was ever any more loyal to the tracks he ran on than Red. The first time I laid eyes on Red, Catamount had just started the infamous Hurricane division in 1970, and this big old garbage truck pulled up to the pit gates with a 1956 Ford somehow hooked to the back – that was Red. Red would go on that year to win few races, but he would win a lot of friends, despite the best efforts of his temperamental little wife, girlfriend [or whatever she was]. From that year on, Red would never drive anything but a Ford. He kept the '56 for quite a while, becoming more proficient by the second year of the division.
When the management eliminated the Hurricanes just when they were getting good, some guys quit, but not Red. He built a six cylinder Grand American with his familiar dark blue color and the #1. He ended up having a pretty neat little Mustang, by the time Catamount closed and the circuit had switched from the Grand Americans to what they called the New Flying Tigers. About this time, I stopped going to the races for several years, but – before I left - we went through awful time when the owners of Thunder Road foolishly sold the track to a New York man, who ran it into the ground before disappearing.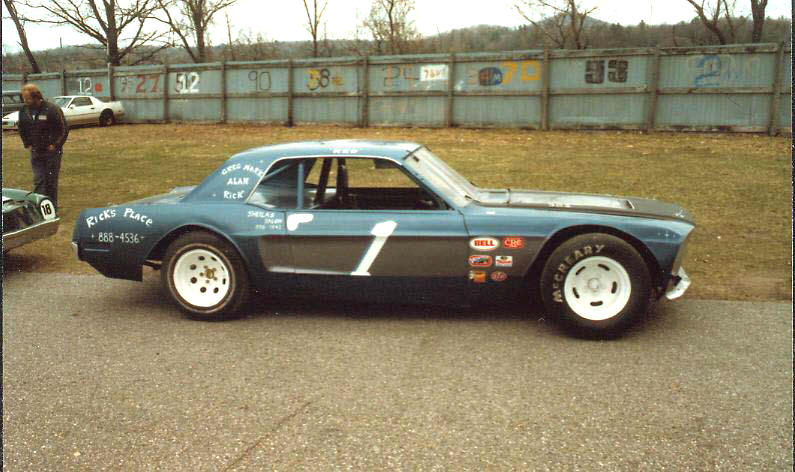 Red chats with Owen Wimble behind his slick new Grand American
division Mustang at Catamount around 1983. [A and A Ward Photo]
After frustrated locals vandalized the closed track, Red Mead was one of the first volunteers to help without compensation to put the ruined track back into usable condition. During the period I wasn't watching raced locally, Red and his wife Stella [a woman from a strong racing family, herself] continued to race Fords, some of which were some pretty sharp-looking T-Birds. I also believe he may have served some time as an official for Tom Curley, although I am not certain nor am I anywhere where I can find this out.
Red and Stella reportedly do not live in the area any more. They began a strong tradition of racing out of their town of North Hyde Park, Vermont. Today, racers out of that small town - such as late model driver Eric Williams, who is from that area somewhere – are carrying on the racing excellence. Red and Stella Meade were the perfect models of loyalty to a particular track or association. That model is becoming harder and harder to find today.
Red and Stella [to his left] pose with the Maverick at Catamount, just before the track closed.
I believe some of the crew are their kids, but I am not certain. Andy Ward leans against the car
to the right of the 1, and Red's wife, Stella, is at right. [A and A Ward Photo]
Return to the Columns Link Page
Return to the Main News Page