---
ALBANY - SARATOGA SPEEDWAY
"Malta", to Most of Us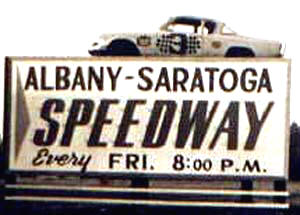 Here's a long - overdue start on a track that really affected Vermont racing.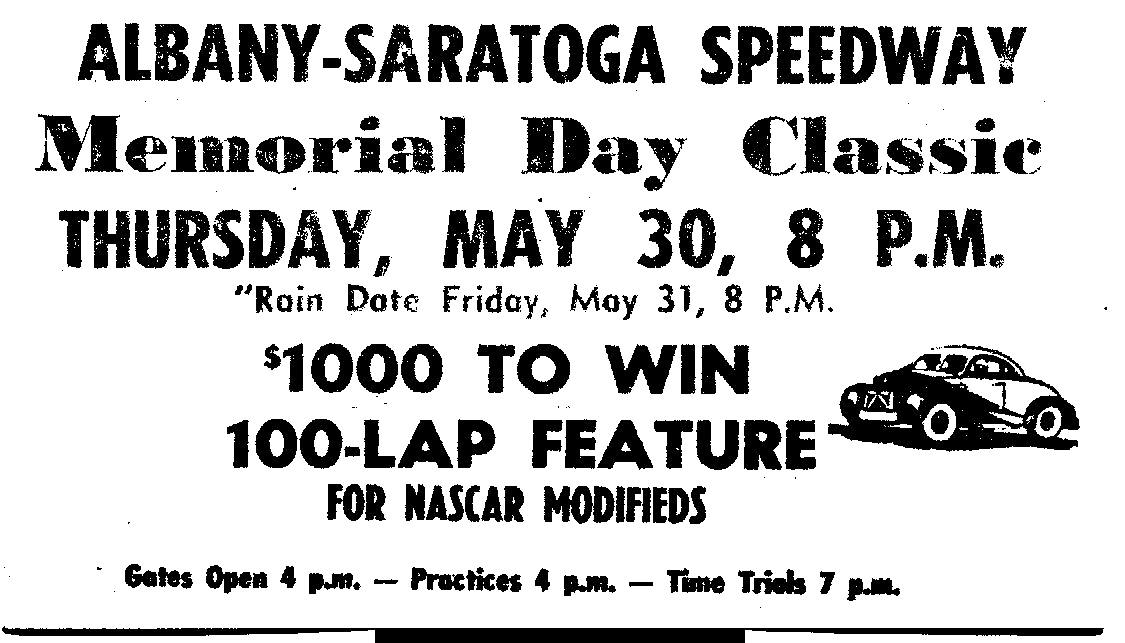 Ladabouche Collection
An advertising postcard mailed to my uncle, around 1964 or so. Not sure of exact year.
The image of the Albany - Saratoga Speedway, when it started out, was not even close to the way the track is looked at today. On the wings of recent television successes on ABC's Wide World of Sports with demo derbies, the asphalt racing interests from the Greater New York City area came up to the Capital District area and built a state - of - the - art race track, square in the middle of traditional New York dirt coupe country. I was not very old when this was done, so some of these facts may need adjusting, but it appeared that the same bunch that worked with Larry Mendelson around Long Island, seemed to be hooked up with these guys. The promoter was listed in Cavalcade of Auto Racing as Joe Lesik.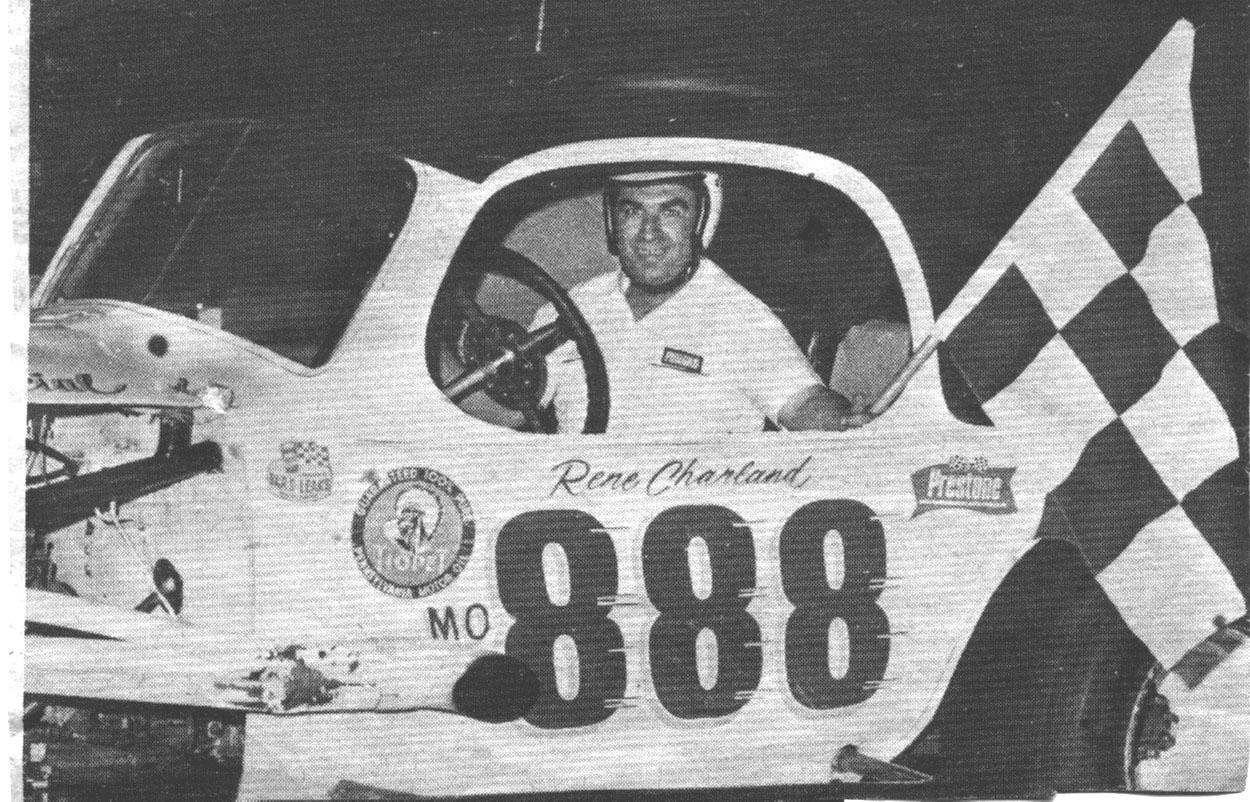 Cavalcade of Racing Photo
Charland was a big factor with the Czepiel 888, built by Fred Rosner.

The new track would remind me of Ken Squier's Catamount Stadium design, with modern facilities and attention to getting away from that bucolic, outhouse-style facility that had, for so long, been the norm for small-time stock car tracks out in the country. Located in the town of Malta, right on Interstate 87 [the Northway], A-S attracted the leading pavement teams of the day. At first, it didn't appear that many of the dyed - in - the - wool dirt guys from places like Fonda or the Valley would be interested in running there.
Eventually, locals like Lou Lazarro and others would change their setups on a Friday night and join the fray against out-of-staters like George Pendergast and Don MacTavish. Eventually, as evidenced by the fields that Catamount would get, the dirt and pavement modified teams all became one big group. My particular favorite at Malta was the Semi Late Model division, that featured mostly early 1950's late model - bodied cars. But, it did leave a loophole that allowed a group attached to Rene Charland to field two 1937 Chevrolet sedans which raised hell in the division, driven by Al Fini [Red Carr] and George Rettew.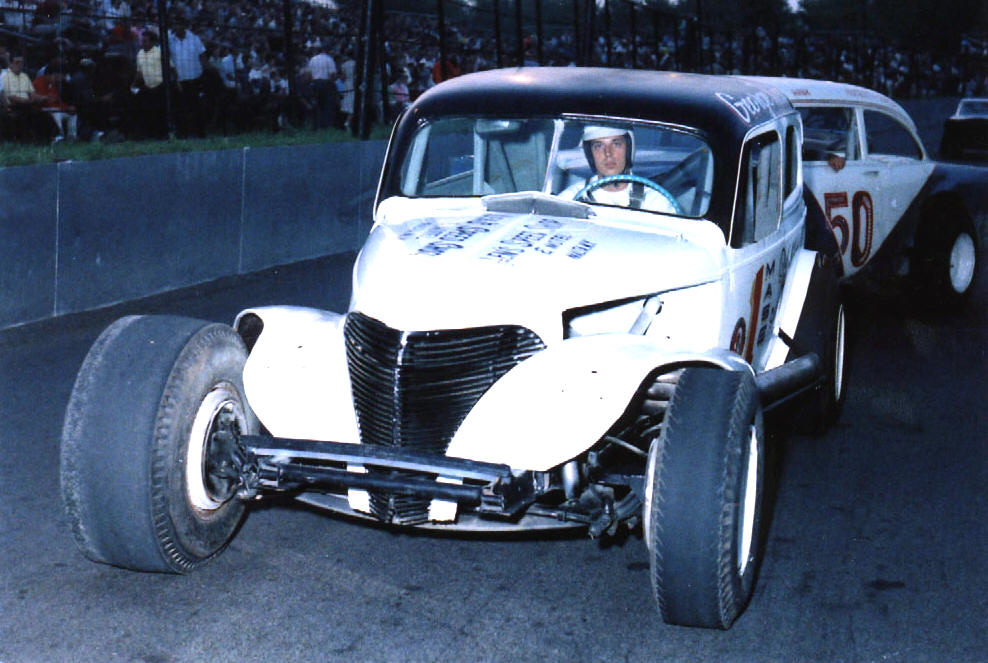 Riverside Park History Site Photo - Probably by John Grady
George Rettew, with one of the Charland cars.

The track began to have a strong connection to Fairmont and then to Devil's Bowl, as teams like Donnie Antolick, from Stillwater, NY would bring their semi late models up to Vermont to race, when they could. Eventually, as we all know, the original promoters cleared out and C.J. Richards took over the track, making the unprecedented move of placing good Devils Bowl clay on top of the paved surface. It's been that way ever since, and seems to be prospering now under second generation Richard family members - in particular, Bruce.
EARLIER SPORTSMAN AND MODIFIED TEAMS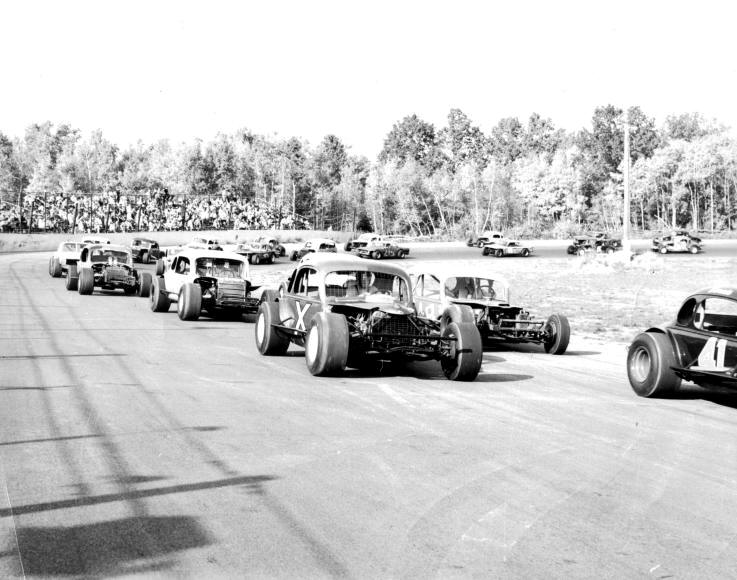 Photo Source Unknown
Phil Spiak leads a full field down to the green prior to his going South to run the Grand Touring Division.
Also identifiable are - 41, Bernie Miller; and 97, Andy Romano.
8MM FILM STILL SHOTS OF EARLIER SPORTSMAN AND MODIFIED TEAMS
SEMI LATE MODEL TEAMS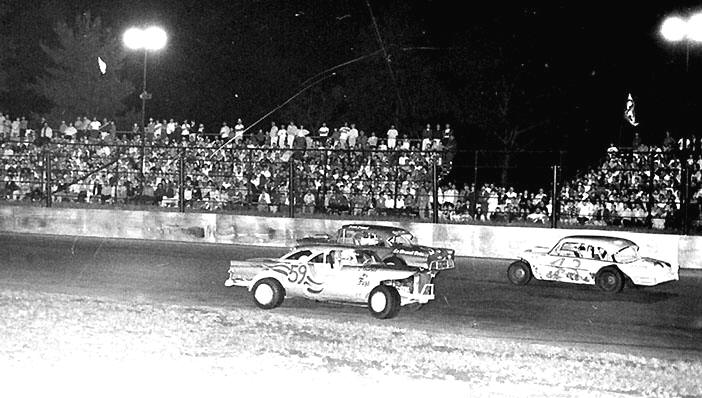 Ladabouche Collection
Classic Semi Late Model action at Malta. Jerry Pennock, Warrensburg, NY spins the 59 as Kenny Platt,
Rome, NY and Donny Antolick, Stillwater, NY find room to avoid him.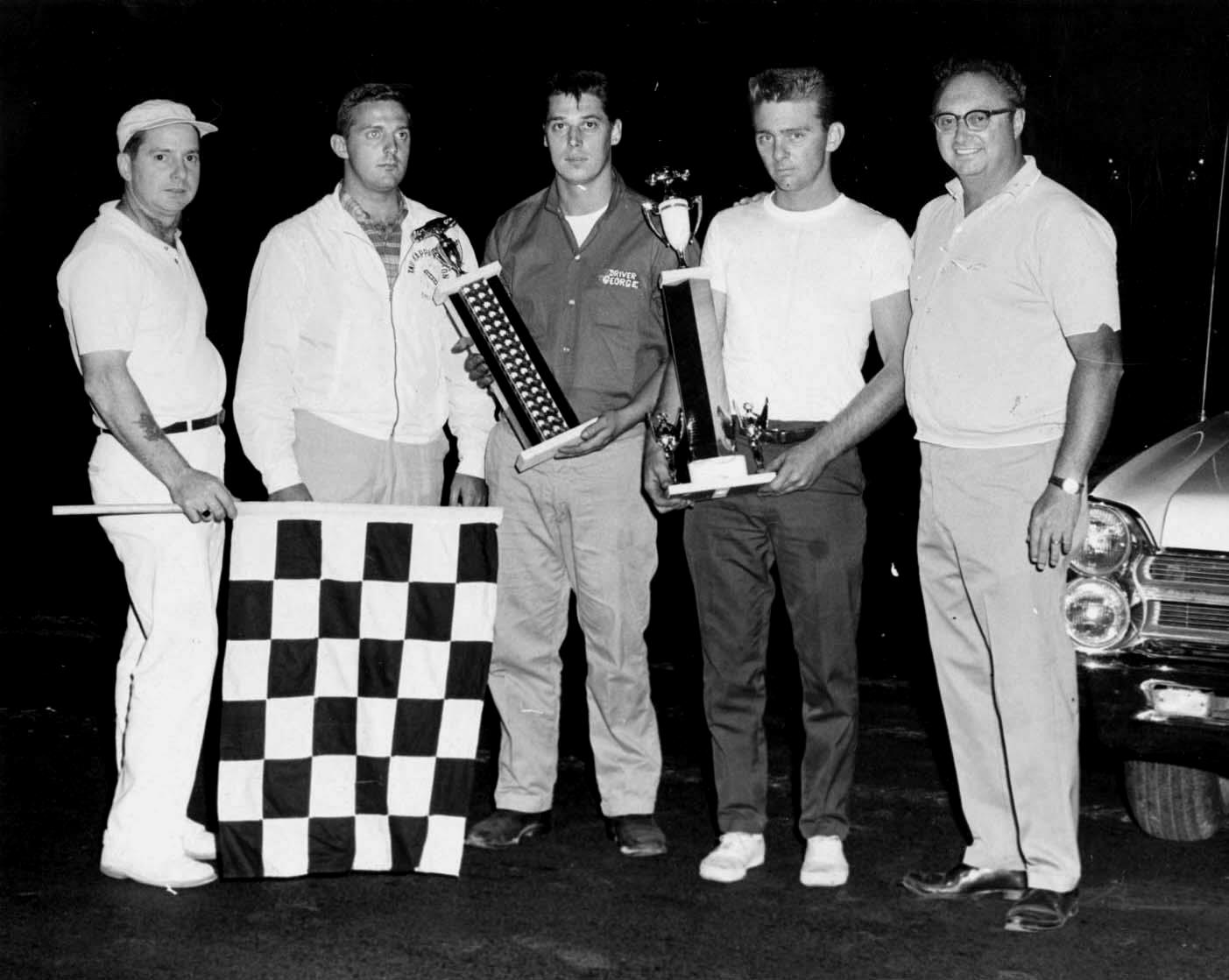 Source Unknown
Bill Richards and Harvey Tattersall, Jr. join semi late model winner, George Rettew
and starter Johnny Telleni in victory lane in the track's earlier years.
CHARGER TEAMS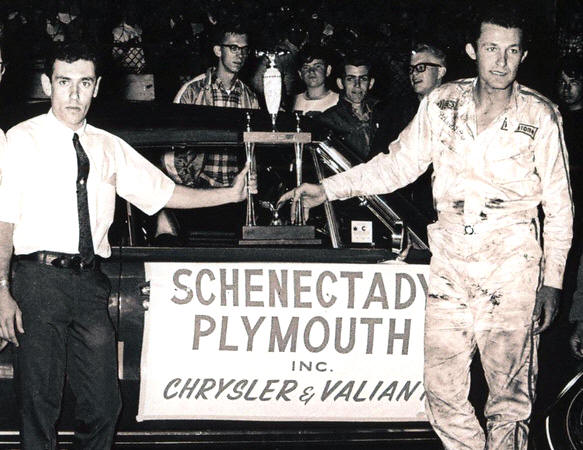 HAMB Photo
Albany - Saratoga hosted NASCAR Grand National races in both 1970 and 1971 - both called
The Albany - Saratoga 250. Richard Petty won both. Bobby Isaac led a lot of laps at both races. Return to the Main Page
Return to the Main News Page
Return to the All Links Page