THE BILL'S BACK IN TIME COLUMN PAGE
Copies of my column in Mark Thomas' "Racin' Paper"
Column #25 from Column 37
BILL'S BACK IN TIME
By Bill Ladabouche
VERMONT RACING'S BEST KEPT SECRET
When it comes to celebrating Vermont's successes in the big leagues of NASCAR racing, there isn't much material to work from. Of course, we are abundantly aware of Kevin Lepage [and equally frustrated with his inability to get a break in getting competitive equipment]; we can recall Dave Dion's cameo role in the Grand Nationals; and we know Jamie Aube occasionally drove in the Craftsman Truck Series. The first Vermonter to ever spend time in the Grand National division of NASCAR is scarcely known – his name is Paul Connors. I can tell you a lot about this unsung man, while apologizing for the poor quality of the photos I managed to get on him.
When Pico Raceway had its brief life in Rutland, Vermont in the early 1950's, one of the familiar drivers there was George Connors of East Dorset, with one of the several cars numbered 6 and 7/8 from that era. Connors primarily ran Pico, but he did venture to the Cheshire Fairgrounds in Keene, NH and to the Stateline Speedway in North Bennington, Vermont during his career. George's nephew, Paul, was affected and inspired by what he saw his uncle doing; and he decided to do the same thing when he was old enough.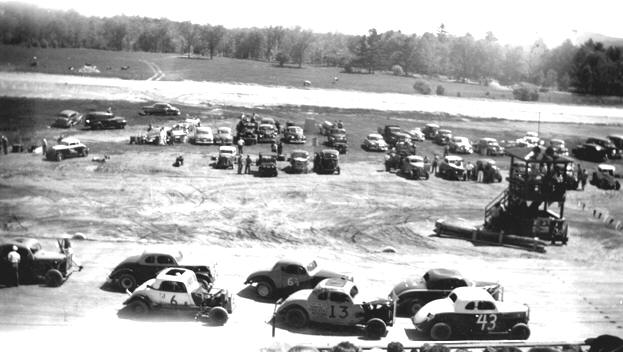 Jerry King Collection
The 6 and 7/8 of George Connors is one of the few cars I remember from those early days of Pico Raceway.
A young Paul began to build a car in East Dorset by the time he was 18 or 19. It never was completed, as he ended up getting married and subsequently moved to Florida, leaving the stock car behind and not recalling whatever happened to it. Little did he know then that he would eventually be rubbing shoulders [and fenders] with some of the sport's greats of that time.
Paul Connors was born in East Dorset, Vermont November 22, 1934, smack in the midst of the Great Depression. Most of the Connors family lived in the shadow of the Vermont Marble Company's massive Danby quarry, an underground chamber that came from the gradual hollowing out of an entire mountain there. While the depression hit Vermont, as everywhere else, the company did manage to keep its thousands of employees afloat throughout the depression years. Thus, the Connors family made it through.
By 1952, Pico Raceway was opening in the city of Rutland, twenty minutes to the North on US Route 7. George and Eileen Connors had decided that he would try this burgeoning post – WWII sport. It is not documented how successful Connors was; but, as a child of around six, I can clearly remember the track announcer, Red Wildey, intoning "6 and 7/8 – George Connors !" fairly regularly throughout the program.
Young Paul would often joke with Uncle George – "Put me in that car and I'll make it win !" It didn't get him into the coupe, but it strengthened his resolved to race his own car. Paul would be married in 1956, and leave Vermont by 1957. Before that, however, he began construction on his own coupe; but, it was never completed and was left behind upon their departure for the Sunshine State. One photo in Paul's album shows a young man on a Harley Davidson hydroglide, motorcycle. His new wife insisted only on one thing going with them [and the motorcycle] – her ironing board.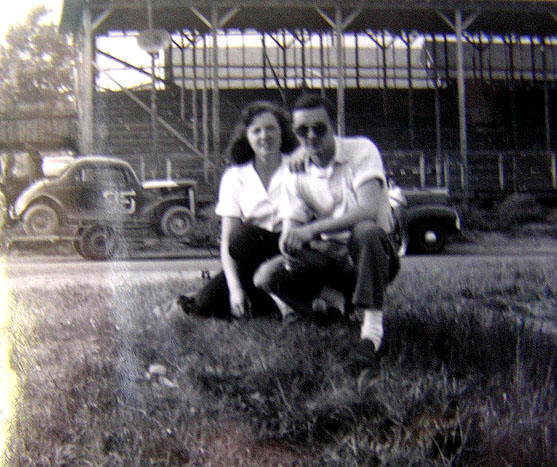 Paul Connors Collection
The Newlyweds pose at the Stateline Speedway, on the Vermont/NY border in North Bennington, Vermont around 1956.
Could that be Ted Vogel's car in the background ?
Once settled at an inevitable trailer park, Paul and neighbor John Kettle starting working on an old sedan which would become his first real ride – the 71Jr. He had conversed with Kettle as they spoke of the racing at nearby Fort Pierce Speedway. When asked if he had any experience, he fibbed and said, "Oh yeah, I drove in Vermont." Friend, Robert Anderson, knew a girl who worked at a drugstore. She was able to procure some ether, which the team had been assured would really spice up the motor. The hybrid fuel would have to be brewed in a large kettle, mixing it with the gasoline and lacquer thinner.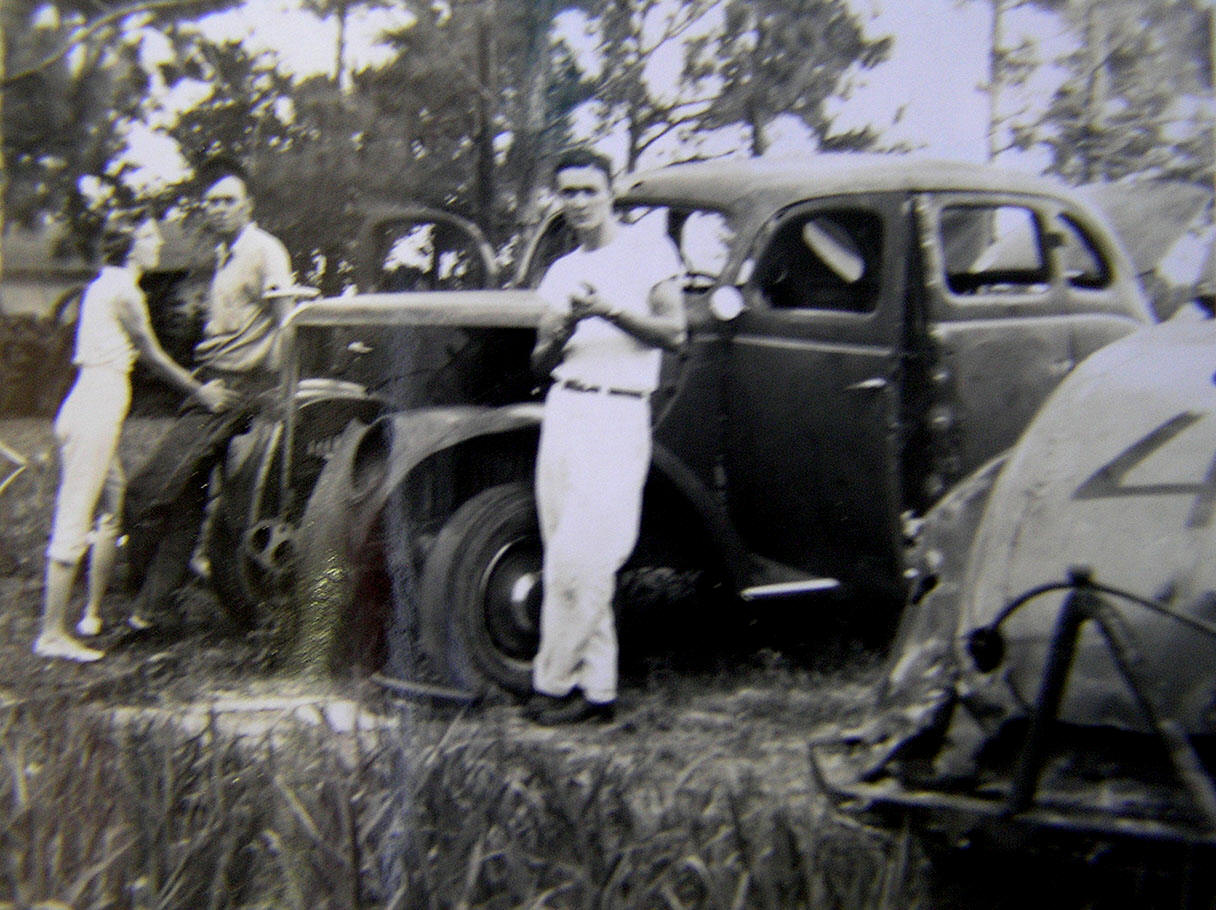 Paul Connors Collection
Paul [foreground] and friend Robert Anderson working on the soon-to-be 71 Jr. Could that be the girl with the ether ?
In the first race, they didn't use the new fuel and he finished last in his heat. Then, carefully, they funneled the brew into car for the second race. Paul explains how ether will not completely mix with gas – it is sort of "spider webbed" among the gas. So, the car never consistently burns ether – goes through the engine in spurts and stops. In that second race, he started out as sluggishly as in the first; but, as the ether kicked in, he suddenly shot forward as if hit from behind and passed three cars at once. Then, after another slowdown, a whole bunch more ether kicked in at once and blew the engine.
Other experiences were to follow, including a 1949 Ford Tudor coupe numbered P38, and an interesting Ford numbered 91. That car lasted a while, sponsored by Bruno's Restaurant and owned by Fred Parham. The car was powered by a six cylinder GMC truck engine. When Paul finally joined forces with Gilbert "Hilde" Hildebrand and his #33 cars, Connors' career took off.
The 33 was a genuine southern late model, and – when you see scenes of Wendell Scott's early late model career in the movie "Greased Lightning", Paul was one of Wendell's regular rivals. Connors and Hildebrand found themselves up against the likes of Bobby Allison, Donnie Allison, Red Farmer, Scott, Tiger Tom Pistone, Tiny Lund, Bob Burcham, Randy Tissot, and Pee Wee Griffin – to name a few. Part of this time, Connors drove for Tiny Lund, running the 55Jr, while Tiny wheeled the 55. At this point in his career, a young Paul looked very much like one of the Allison brothers, with whom he associated frequently.
Hilde and Paul eventually ended up with a 1964, like almost everyone else running Down South at the time. This car was run in NASCAR, at tracks like Columbia, SC, Savannah, GA, and Augusta, GA. A fourth track in McCray, GA was visited regularly, as well. Paul was very dominant, and so Eddie MacDonald, a local hotshot was brought in to bring Paul's string of victories to an end. After being badly shown up in the qualifying race, MacDonald came over to the Connors pits and inquired as to whether Paul would tell him what gear ratio he was running. When told 5:83, Eddie declared this to be too much gear and went out to run the feature.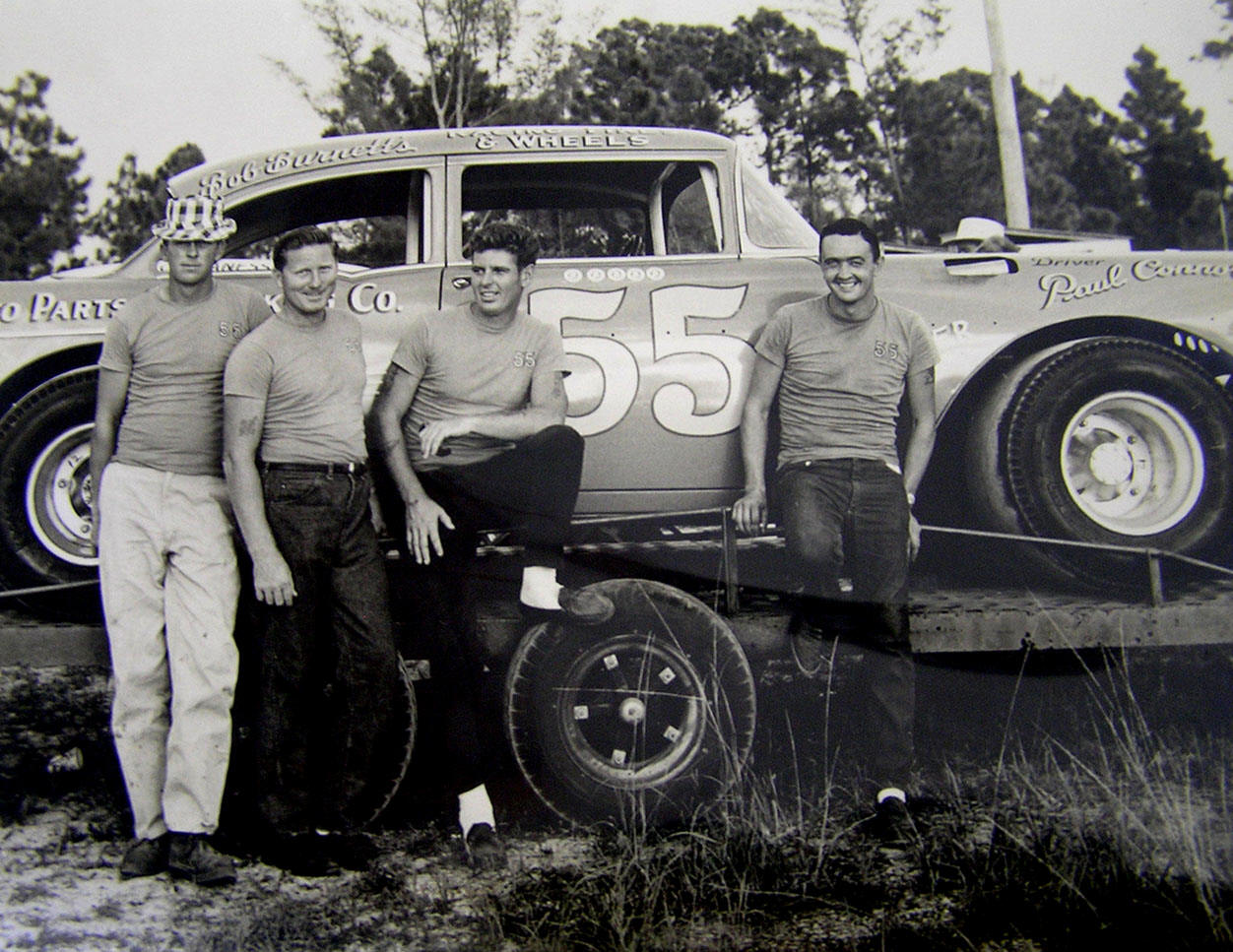 Paul Connors Collection
Paul and his crew from the #55 days, running with the likes of Wendell Scott, the Allisons, and Tiny Lund.
This was before his team - up with Hilde.
Paul was smoking MacDonald badly, when the feature was rained out. The promoter, who was actually very fond of Paul, came up to him and politely asked that he not return to the track because his domination was starting to affect crowd size. So Paul and Hilde, who was like a second father to Paul, dutifully left, never to return again. When NASCAR began the Permatex race series at Daytona, the Chevelle was brought down to Daytona. Hilde was told that, if they made the field, the car was a shoo-in to win a best appearing car award. Unfortunately, the car was not technically a late model sportsman, and it broke something in the rear end, canceling the chance to win the prize and subsequent cash award.
Paul moved into the NASCAR Late Model Sportsman division the following year; then they could legally do some beefing up to the #33 Chevelle. While Paul continued to be highly successful around the Carolinas and Georgia, he never seemed to be able to beat The Iron Man, Jack Ingram. Paul recalls that he almost caught Ingram one night at a track in Tennessee when Ingram had a rear wheel catch fire.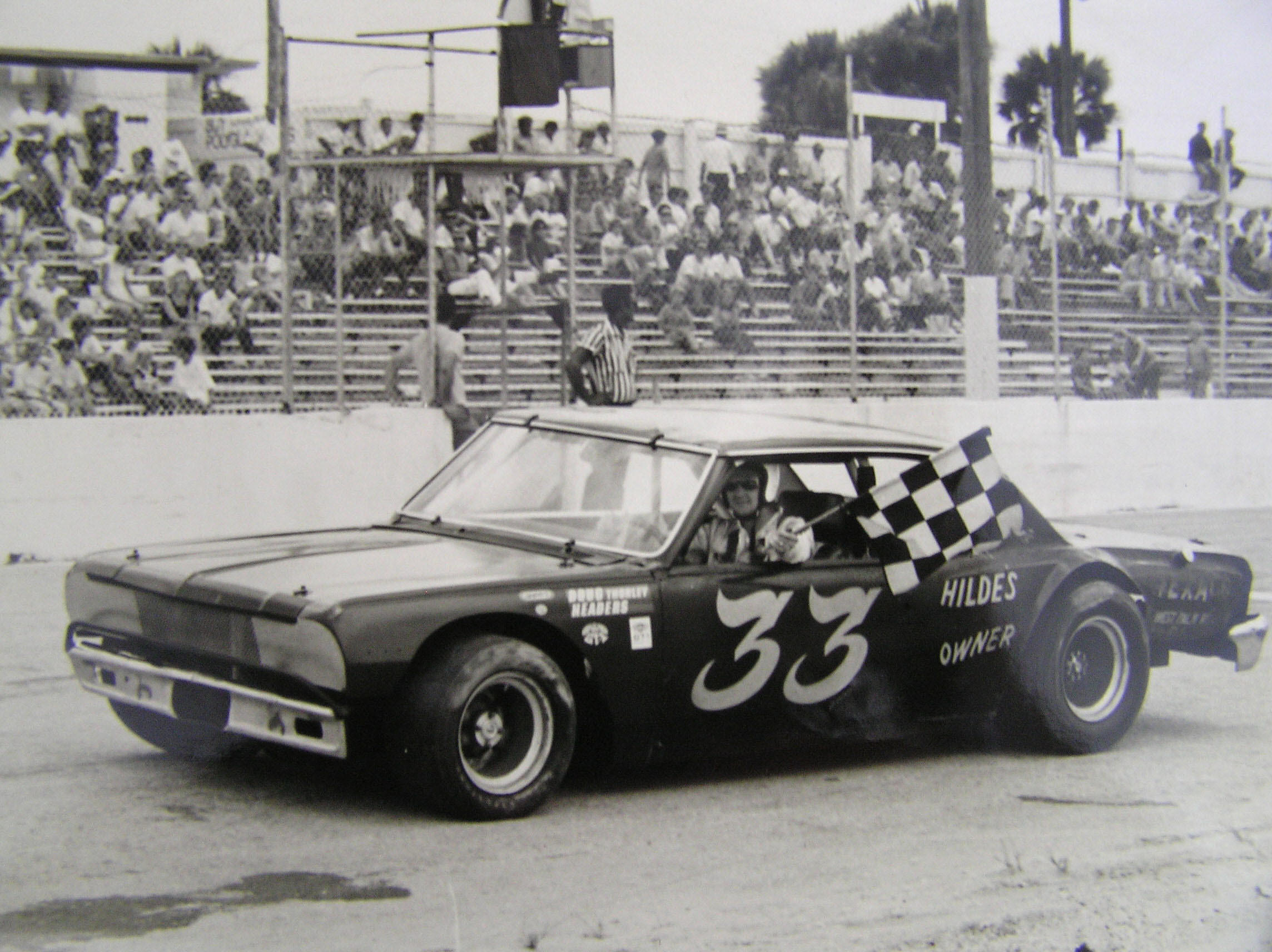 Paul Connors Collection
Paul and the Hildebrand 33 Chevelle were sometimes almost unbeatable.
Paul missed running on some of the dirt tracks he had done so well on a few years prior. One night he and Hildebrand ended up at Columbia, SC, a dirt track. He found himself running pavement slicks against guys with treaded dirt tires. To make matters worse, the 200 lapper that night had attracted stars like Curtis Turner, Tom Pistone, and Tiny Lund in with the very – competitive local drivers. So, the 33 team acquired dirt tires which didn't fit within the fenders. They mounted the treads, and cut away sections of fender to go out and qualify.
Paul got on the gas for qualifying time trials and found the car would throw itself sideways, across the track toward the wall. Refusing to lift, Paul called upon his previous experience and cranked on the wheel, managing a magnificent full-opposite-lock slide through the turns at full song. The car would fly up to the top of the turns and run the berm, like one would see sprint cars do at some Indiana race. No one else ran that way. When he came back into the pits, he saw the normally placid Hilde stomping on his hat. Paul turned off the engine and looked out at Hilde.
"You just qualified third overall out of 50 cars, you crazy S.O.B. !" yelled an agitated Hildebrand.
In the 200 lapper, Connors had outrun everyone by the halfway point and looked to drive away when the oil pressure gauge dropped and the temperature gauge began rising. Paul had to pull out to avoid losing the engine altogether. It turned out that a $1500 crankshaft was cracked and disintegrating. The oil cooler screen was full of metal shavings. Paul already knew that racing could be a heartbreaking sport, but this confirmed it.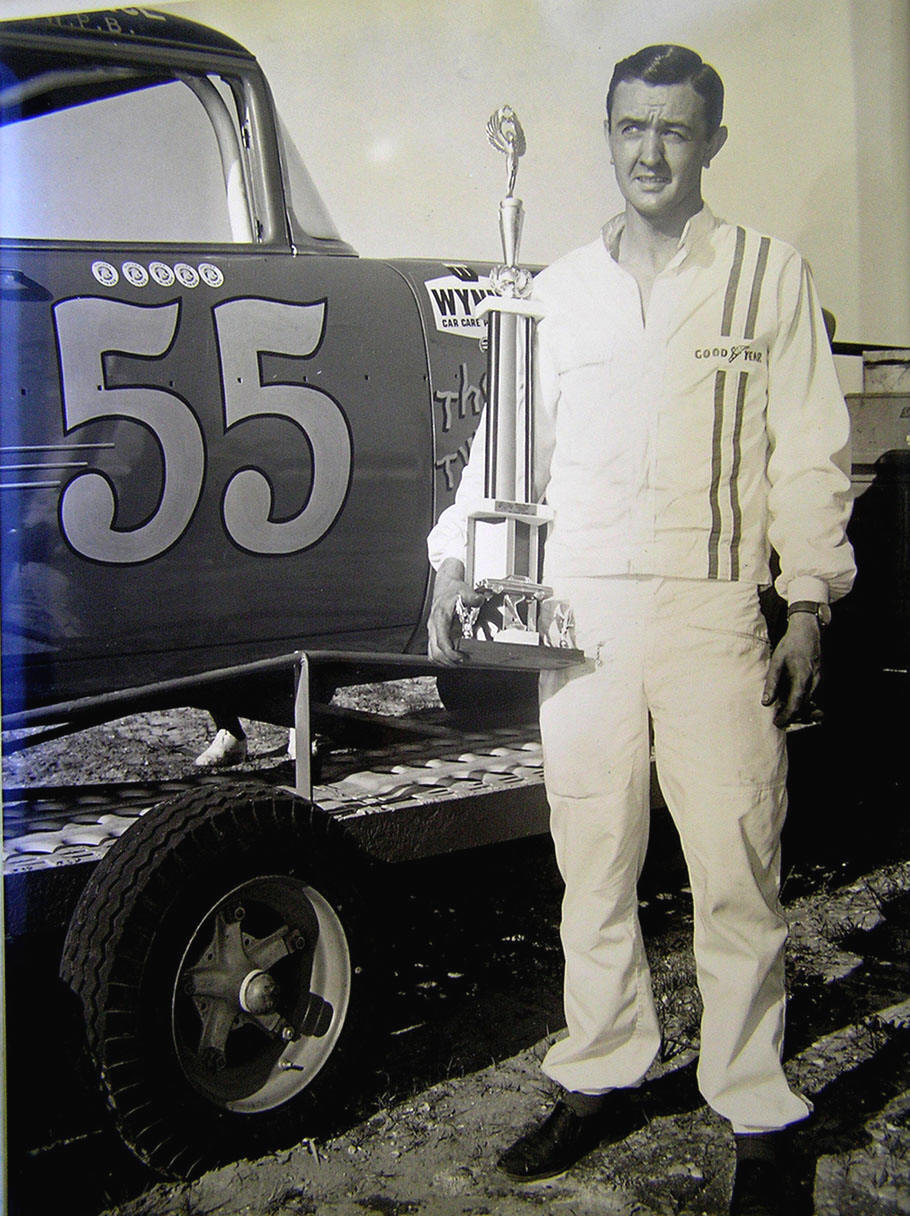 Paul Connors Collection
This is one of Paul's proudest photos. The track stickers give evidence to the five straight features
he had won against soon-to-be-legends like Lund, Pistone, and Allison.
The amazing thing about all that he had accomplished to this point is that Paul drove with vision in only one eye. He claims this was never a problem because he was born with the difficulty and he didn't know any other degree of vision; so, it caused him non troubles as it would someone who suffered an eye injury after years of normal sight. The Paul Connors story is too much to do in one column, so this will continue in one of the next ones I do
In the last column, we left Paul Connors, native of East Dorset, Vermont, tearing up the talent – laden Southern late model circuits of the early 1960's. Paul had one of the best records in that division – spanning asphalt and dirt – and which included names like Curtis Turner, Tiny Lund, Bobby and Donnie Allison, Tiger Tom Pistone, Bobby Brack, Pee Wee Griffin, Red Farmer, Jody Ridley, Jack Ingram, and many more. But, his friendship with the massive Lund is one of the most compelling aspects of the Paul Connors story.
It was not made clear when or how Paul, a transplant from New England, came to be friends with DeWayne "Tiny" Lund, a part – time fisherman from Cross, SC. But many of Paul's stories directly involve Lund, who is familiar with many Vermont fans after his visits to Catamount and Thunder Road in the early 1970's. Tiny Lund's racing world [and therefore Paul's too] was a rough and tumble one, where – more often than not – you shoved competitors to gain what you needed.
Paul had left Hilde and was driving for Curtis Haygood, and the Grove Cultivation Company team. Haygood, a former high school football team mate of Fireball Roberts, had Paul running asphalt some of the time at Florida tracks like Hollywood, Vero Beach, Hialeah, and Palm Beach. Here, Paul would be up against the new Petty kit cars driven by people like Bobby Isaac, Joe Milliken, and Pete Hamilton. He outran them Cale Yarborough and local stars like Bobby Brack on a weekly basis.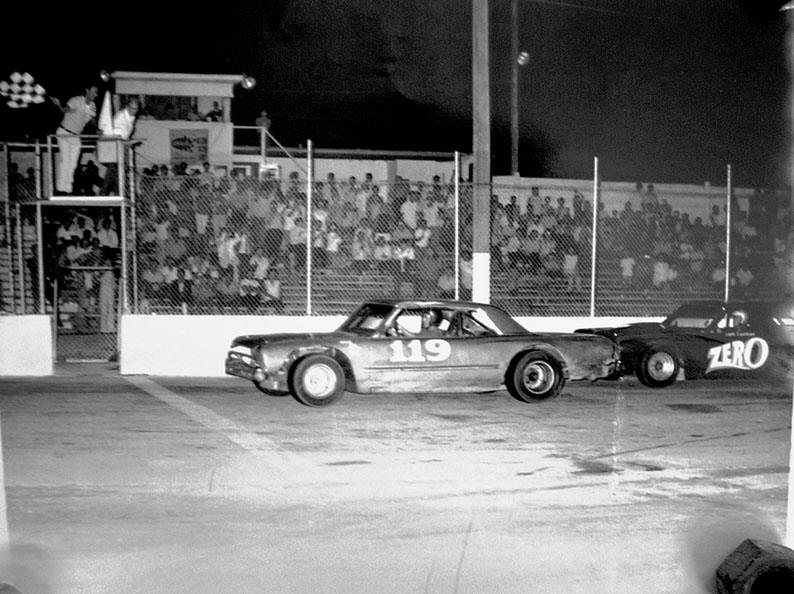 Paul Connors Collection
This photo shows Paul, in a car he drove later in his career, dusting off Florida's legendary
Bobby Brack at somewhere like Hialeah or New Smyrna.
Paul had dozens and dozens of races involving Lund. More often than not the big guy would find some way to shove his way past. One night, at the Savannah, Georgia dirt track, Paul was sore enogh at his big pal to plot catching him and spinning around at just the right time in the main event. Trouble was, no Tiny at the beginning of the night. At intermission, Lund showed up with one of his Grand National Fords. Now he knew why Lund had lent him dirt tires for a late model. With no practice laps, Tiny qualified with ease and was there in the feature for Paul to catch. Every time Connors would pull up to the rear of the big Ford, Lund would flip him the middle finger and motor away.
Lund was always pulling something on someone. He loved to take the physically – tiny Tom Pistone, pick him up by his ankles, and shake him until everything fell out of the pockets of his driver's suit. He would stroll off , leaving Tiger Tom crawling around the pit dirt retrieving his money and valuables. One had to be careful to check for snakes in the car seat and hijinks like that if Tiny was around and he liked you.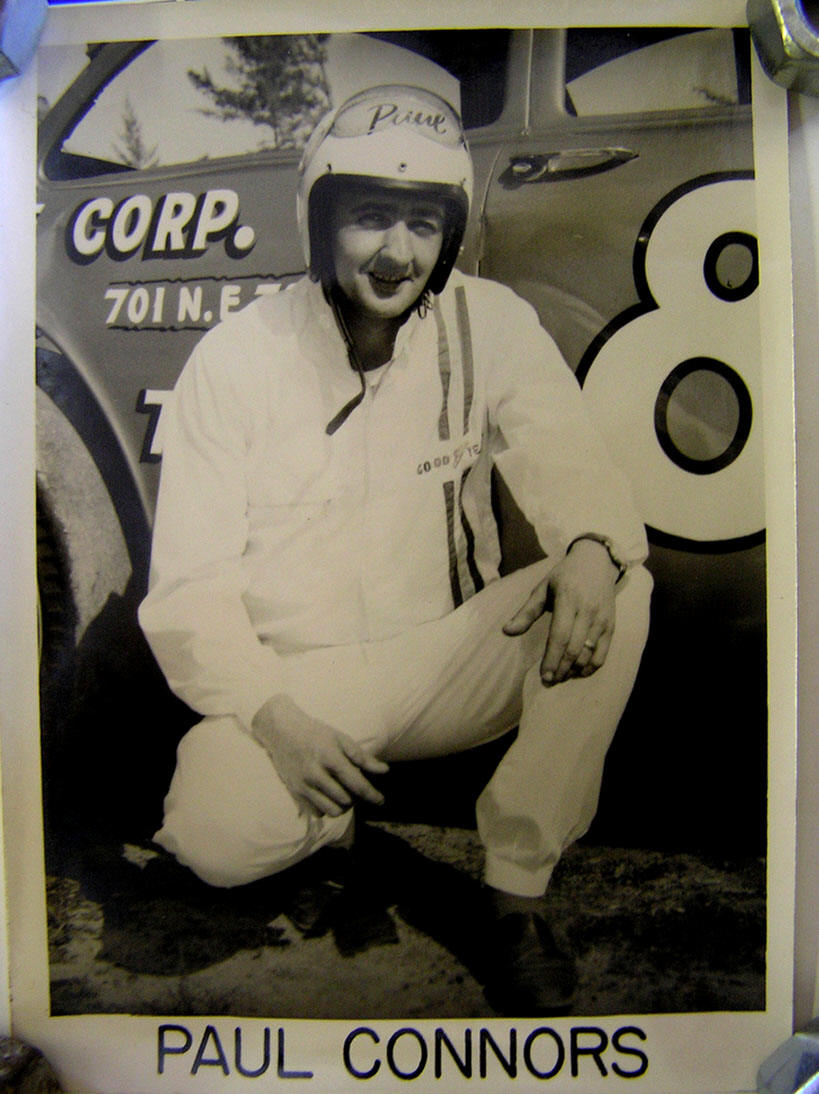 Paul Connors Collection
By the time Paul was posing for professional photographers on labeled cards, he had
come quite a way from the 71Jr built in a Florida trailer park.
One night, when Lund and Connors were starting an obscure Grand National race at Dog Track Speedway in Moyock, S.C., they ended up side by side. Petty had qualified first and Lund and Connors were in row two. At the fall of the green, Lund reached over and tossed a full cup of water in Paul, and drove away laughing while Connors had to drive and dry off the visor. With Buddy Baker right on Paul's heels, he ended up hitting the wall. Paul finished twelve; one of his crewmen had cut himself badly trying to pull out the fender, and Paul had a few words for the giant Baker, whose father Paul was driving for.
"That's part of racin', boy", was all Buddy had to say. He didn't care as he wasn't driving for his father.
The whole Grand National thing seemed to start around 1964, at Daytona. Lund and Connors were both hired out to a Hollywood movie crew to do stunt driving. Lund was not only busy helping with the movie "Tiny Lund, The Charger", but he had was trying to qualify Lamar Allen's car in addition to fielding his own familiar red #55. Tiny had Paul try to qualify the Ford and Paul did – finishing ninth in one of those harrowing 125 mile qualifiers held a few days before the 500.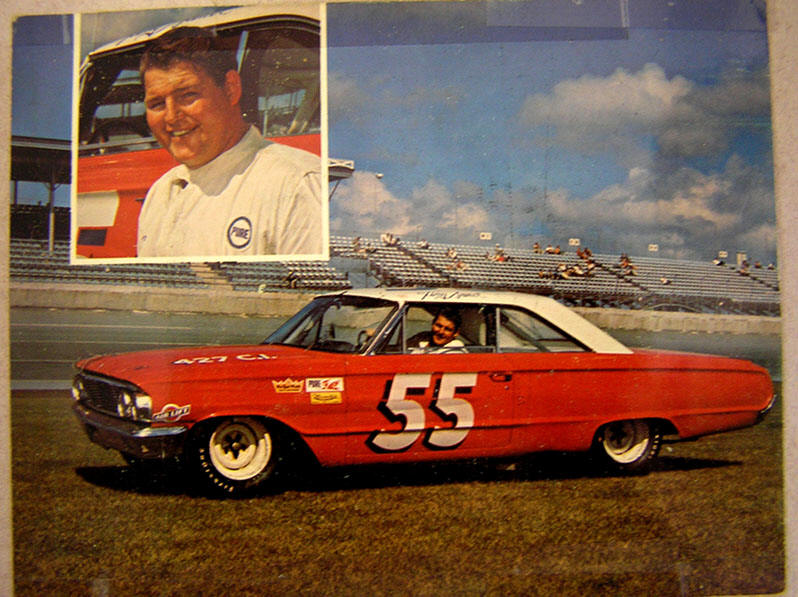 Paul Connors Collection
Tiny Lund poses with the Ford Paul drove to a ninth place finish in the 1964 Daytona qualifier.
But, Lund had blown the Allen car, and the movie crew HAD to have Tiny running in a race, so Paul lost his first chance to drive in an actual Grand National event. The day of the 1964 Daytona 500 was very cold and Lund was late getting on the starting grid. Connors half thought he might have to jump in the car after all; but Tiny came blowing onto Pit Lane, fired up the car without warming the engine, and promptly blew the oil filter clean off.
In between fishing with Lund at Cross and driving lots of late model races, Paul Connors did manage to get on the track for Grand National races. One of his bigger accomplishments was the 1966 World 600 at Charlotte. Buck Baker had fielded a three-car team, with him driving the best of the three cars – a new Chevelle #88. Veteran GN driver and Hollywood stunt man, Neil "Soapy" Castles drove a 1964 Oldsmobile #87, and Paul was to pilot the 1964 Dodge., #86 [usually Castle's number]. When the smoke had cleared, Connors had out-finished his owner and the other, bigger stars.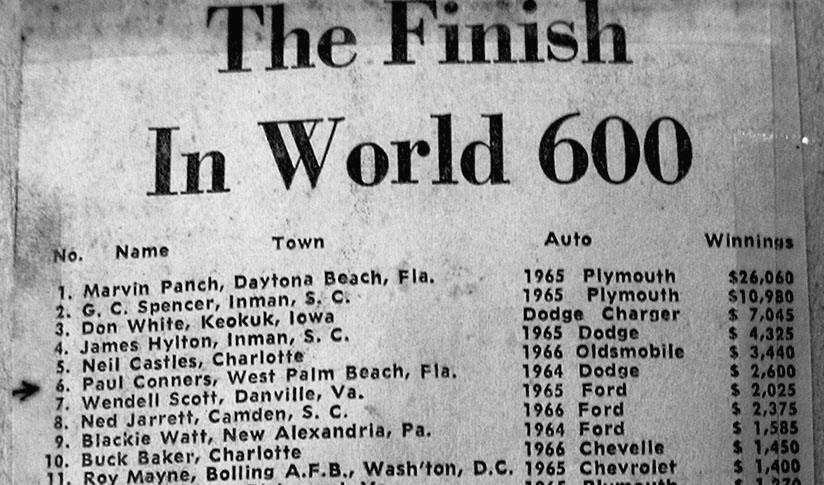 Paul Connors Collection
As this results sheet shows, Paul outdrove the boss, in this long race and finished right on
Castles' heels. In those days, it was strictly who could last through such races.
By the late '60's, Paul had run cars or both Lund and Baker. Before the 1968 season, he purchased one of the potent Petty Plymouth Super Bees and set up with Hildebrand and mechanic Dave Smith. Unlike today's corporate, factory-like team headquarters, all you needed back then was a good car, a decent mechanic, and enough money to race in the ones you chose to try. They numbered the car 53, borrowing the old Jimmy Helms numeral, and won best appearing car award at Rockingham. Paul had suffered a piece of steel in his eye while finishing the car and was scheduled for more treatment: so he forewent the doctor and went to collect his trophy. Playing fast and easy with his eye was a risky business, as you might remember he only had one that worked.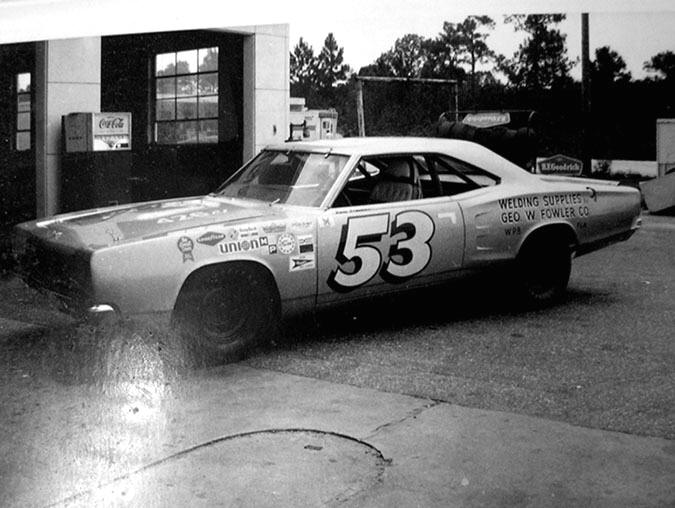 Paul Connors Collection
Paul and the crew had managed to incorporate the Petty – style 3 with a similar five
to keep the hint that this was a former car of the King.
After a couple of seasons with the Mopar, NASCAR had started the Grand Touring division, to include the rapidly-growing Pony Car market – like Mustangs, Camaro, Cougars, and Javelins. They approached Paul to construct a Javelin, for the lesser-known American Motors Corporation. This may have been because of the fine workmanship they had seen on the Plymouth. Paul completed a great – looking Javelin and was able to run with the leaders in this division, guys like Lund [Cougar], Donnie Allison [Mustang], and a host of Camaros, which even included an occasional Smokey Yunick 13.
The car would have trouble on really banked tracks, running too lean in the corners, and Connors knew they would have to come up with something. "Some guy" from the AMC factory came long one day and glued a piece of balsa wood into the carburetor, which would then absorb a little extra gas for the right times. Paul had separate thermometer gauges on each head- and that extra help not only lowered temps, but it gave "an awful wallop" to an already-potent AMC powerplant.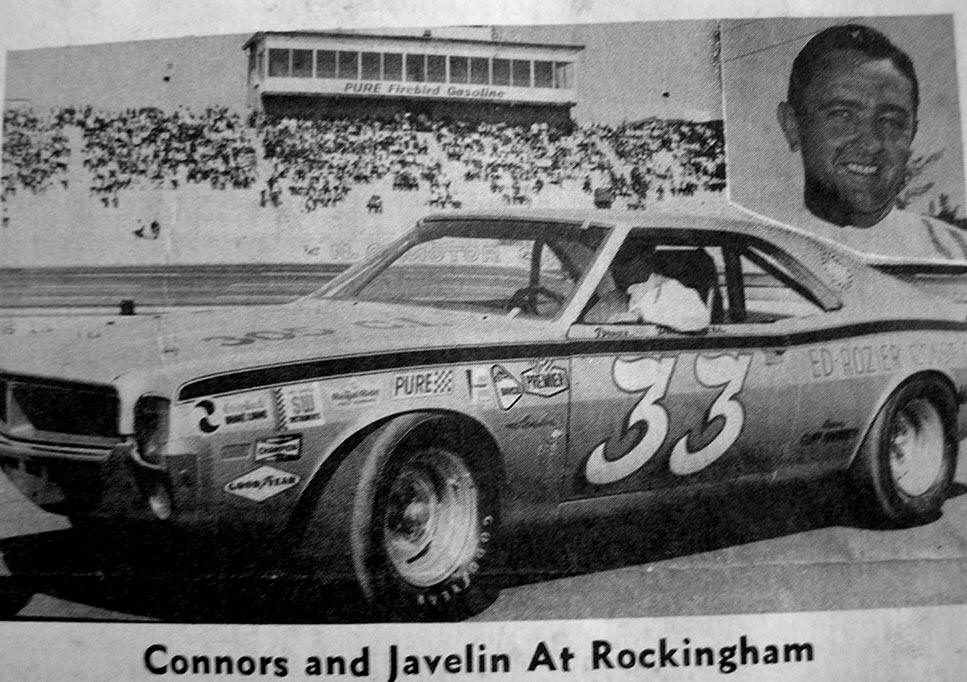 Paul Connors Collection
Paul appeared on the front page of the NASCAR newsletter with his effective Javelin in the early 1970's.
Paul was hauling the Javelin through Georgia, on Interstate 75, when he approached the city of Macon. As he went toward the exit which would take him to the track [and the latest GT race], he espied a billboard beside the road that advertised the impending NASCAR race program he was headed to. There, beside Richard Petty, was a huge photo of himself, with the Javelin, representing the GT boys. He had quite a feeling of pride [but no camera to record the moment for posterity].
Petty jealousy is not restricted to the playgrounds, the office, or the Saturday night bullring tracks; it was in full bloom in the Grand Touring division, as well. Maybe it was stuff like Paul getting the billboard space, or maybe it was just the success he was having with an underdog car brand; but something was stirring resentment.
At that same Macon race, the hood was up on the Javelin in the pit area and Donnie Allison walked by, having finished second to Paul the week before. He took one glance at the engine and proceeded right over to one of his buddies in tech to tell them about the twin manifolds he saw on Connors' car. Paul contended that the setup came straight from the factory; but, the intakes said either "Edelbrock" or "Ford" on them; so the official made him take them off, despite the fact that was exactly what AMC motors were using at the time. [It may be recalled that a lot of the equipment on any AMC car came from other makers].
Disgusted, Paul loaded up and prepared to leave. The NASCAR officials finally relented and said he could run that night but that they would have to be removed for the following week. While fighting the urge to run that night [right over the top of Allison], Paul ended up leaving the team and handing the car over to Bob Burcham, a journeyman Alabama driver. But once the twin intakes were gone, the car was a nightmare and Javelin did not do well again until Jim Paschal came along with one that NASCAR was much more helpful with.
Paul could have worked for a number of other GN or GT teams after that, After all, he would do most of the work and he could drive very well. But, that was about all the NASCAR big league politic BS he could handle. Paul would return to his late model sportsman roots for a while before retiring altogether. He had one of the most interesting, and little-known careers on record [at least up here in the North]. At 68, he built his last car – a dirt late model – from the ground up. Racing used to full of guys like Paul Connors who could do almost anything in racing and make a living while doing it. Now that all that seems to be lost. Good going, Paul !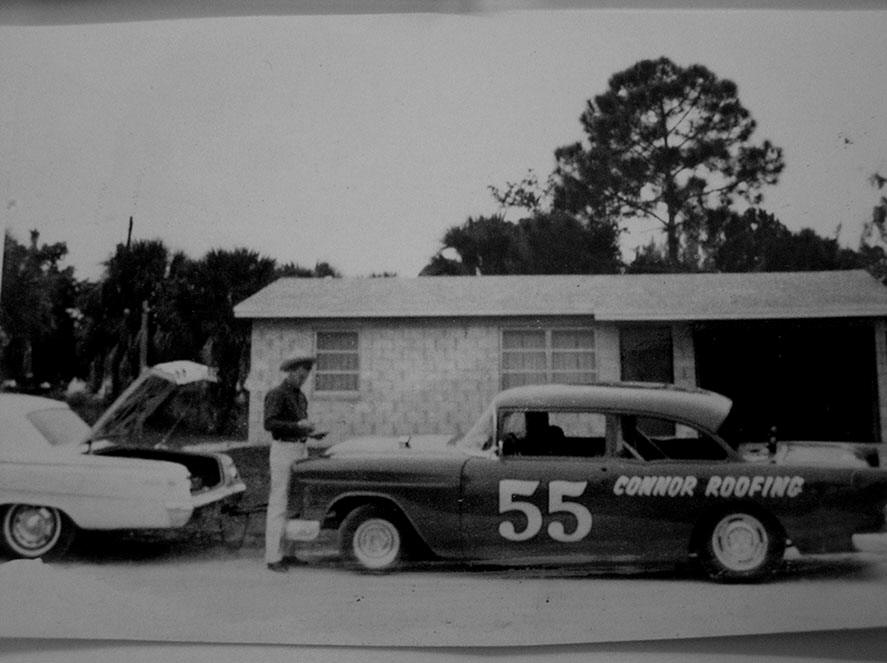 Paul Connors Collection
In a scene typical of thousands like it in the 1960's, young racer Paul Connors
stands outside a modest house somewhere in Florida and prepares a 1955 Chevy for racing at the local bullring.
Return to the Columns Link Page
Return to the Main News Page